Want to build a DIY console table? Here are a ton of ideas, step by step tutorials, and PDF woodworking plans to get you started!
I love a good console table. They can fit into so many spaces in your home – even a narrow, awkward space – and can instantly make it more functional and beautiful.
Uses for a console table
Console tables are basically just skinny tables.
Console tables can fit anywhere where you have a narrow space that needs a piece of furniture to define it or make it more functional. My favorite spots for a console table include:
As an entryway table
In a wide hallway
At the top of a flight of stairs
Behind a couch (AKA as a sofa table)
In a dining room in lieu of a buffet table
Under a television
In a bathroom to hold toilet paper or towels
What is the average size of a console table?
The great thing about building a DIY console table is that you can design it to fit your exact space and personalized needs.
A console table is typically 2-4 feet long, 2-3 feet tall, and up to 18 inches deep.
The larger your room, the larger you should build your console table. In a narrow hallway, go for a very narrow table. If you need more surface area, add a lower shelf for storage!
Sofa tables are typically the length of the sofa. Console tables under TVs are typically at least 12″ wider than the TV (measured width-wise, not the diagonal measurement sold on TV boxes).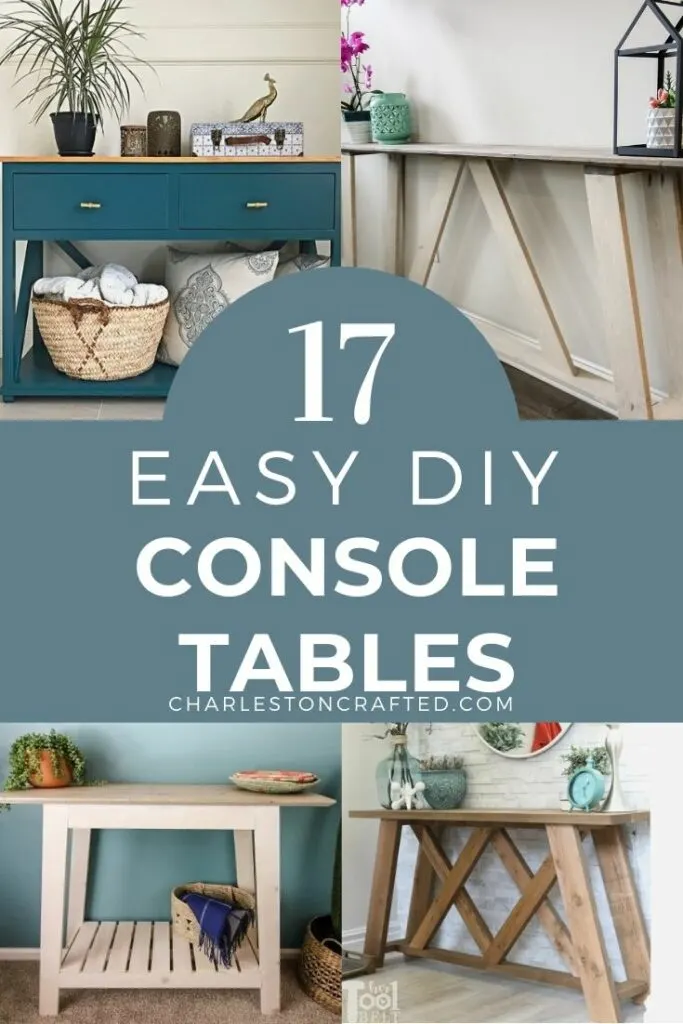 How to build a console table
All you really need to build a console table is a tabletop and legs, probably 4 legs.
You can build these from scratch (check out lots of console table plans below) but if you want a DIY project without any woodworking, consider buying table legs and just attaching them to a top!
You can purchase metal or wooden legs on Amazon or at many hardware stores.
Just screw them into wood pieces for a top. Or use something unique like an old window or door!
If you want a more elaborate project, you can build a console table from scratch and even add drawers or doors for more of a cabinet type look.
Console Table PDF Plans
We have a few PDF printable woodworking plans for console tables!
DIY Console Table Ideas
Want to build a console table for your home? Check out these amazing ideas including step by step tutorials, how to videos, and PDF woodworking plans to show you exactly how to build a console table!