If you love the look of barn doors in a home, you might be wondering, can any door become a barn door?
Maybe you found the perfect vintage door. Like we did with our pantry door!
Or, maybe you just have a regular door on hand and don't want it to go to waste.
I understand wanting to turn an old door into a barn door.
However, not all doors can be barn doors. Some just won't work.
To be a barn door, you need to make sure that the door:
Is wide enough to cover your door opening with a little overlap
Is tall enough to cover your door opening with a little overlap
Has a solid frame (not hollow) so you can attach the sliding hardware on top
Does not have a door knob hole (or you will need a plan to fill)
Does not have hinge holes (or you will need to fill them)
Has an aesthetic where it looks like a sliding door and not a standard type door
If you find a door that meets all of these criteria, you can definitely turn it into a barn door!
Frequently Asked Questions
What can I use instead of a barn door?
If you have a spot that a barn door just won't work, consider using instead:
A curtain and curtain rod
Pocket doors
Bifold accordion doors
A standard swinging door
How far does a barn door stick out from the wall?
This will depend on your hardware and door thickness, but usually add 1-2 inched to the thickness of the door.
Can I use a hollow door for a barn door?
Hollow doors can be used for barn doors IF they have solid frames at the top and bottom. The barn door hardware will need to have something solid to mount into to be secure.
It is possible to "open up" hollow core doors and add 2×4 or similar lumber to attach the hardware to. Ideally, avoid hollow doors due to the unknown inner structure.
Can you lock a barn style door?
Yes, they make inexpensive locks just for locking sliding barn doors. Read all about barn door locks here!
Can I use a barn door as an exterior door?
I would not recommend using a barn door as an exterior door. The seal is not as tight as a typical exterior door and air and elements will be able to get inside. Stick to interior doors for barn doors!
How do I convert a hinged door to a sliding barn door?
In order to use a hinged door as a sliding barn door, you will want to remove the door and repair the hinge cut outs. You will use wood filler to do this. If you are painting the door, it can be ok, but if it is solid wood, it will be noticeable.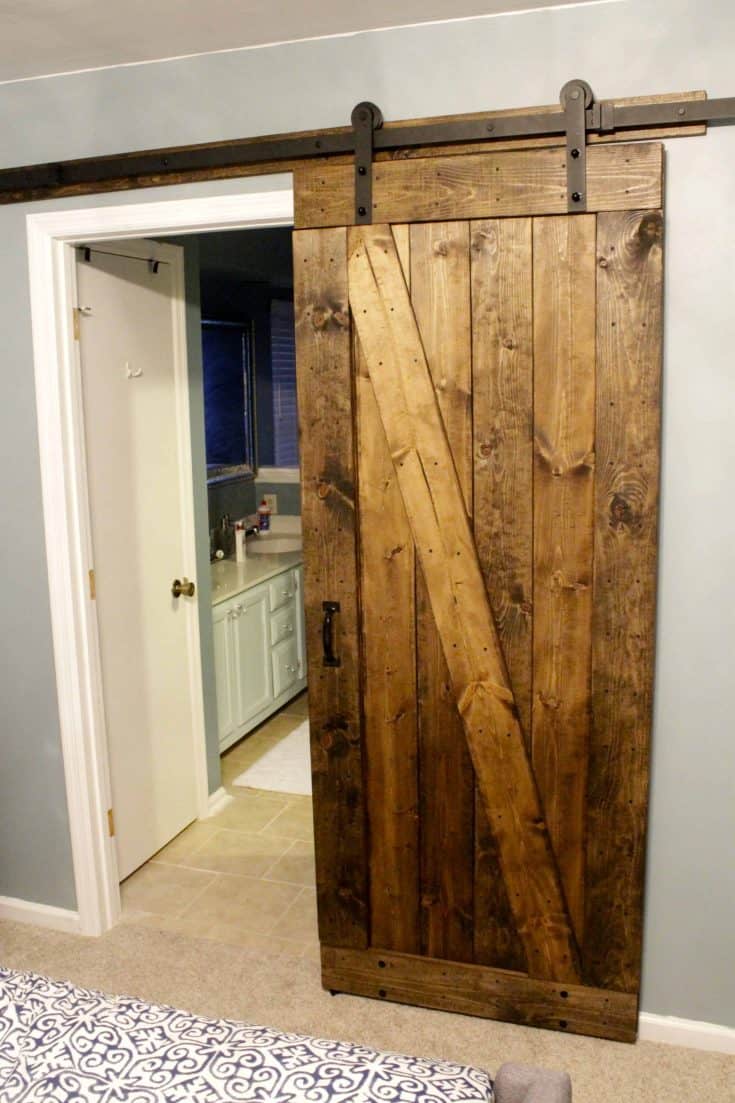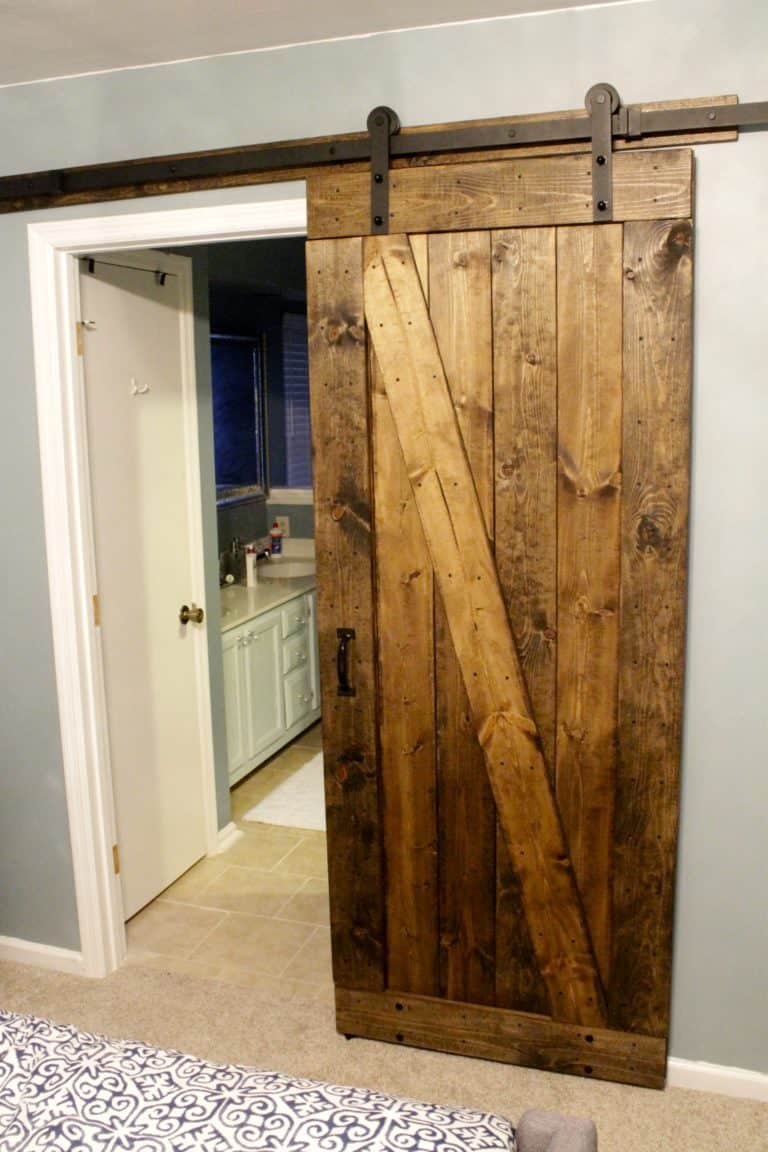 Yield:

1
How to Build and Mount a Barn Door
Barn doors are trendy and fashionable and can add a rustic flair to your space. Here's how to build a barn door and how to mount a barn door.
Materials
Roughly nine 1x6 boards
Screws
Barn door hardware
Instructions
Measure the space you want to cover
Design your door. Use two layers.
For the back layer, use as many 1x6 boards as needed to cover the gap of your door.
For the front layer, cut two 1x6 boards to span the width of your door space and attach at the top and bottom of the back layer. Then cut 1x6 boards to span the gap between those two boards vertically. Finally, cut a board to go diagonal from the top corner to the bottom corner.
Use 1 1/4" screws to attach all the boards from the front layer to the back layer.
Stain or paint your door to fit your decor.
Add a pull for a door handle.
Order barn door hardware. Different brands will differ slightly, but the idea is the same.
Attach a 1x6 board to your wall in the studs if your doorway has a frame that you need to go past. If your doorway doesn't have a frame, you can mount your rail bar directly into the wall.
Mount your rail bar.
Add bumpers for the barn door rollers to hit where you want to door to stop on each end.
Attach the rollers to the top of your door and hang the door on the rail bar.
Add a bottom guide for your barn door so that it doesn't swing back and forth.
Recommended Products
As an Amazon Associate and member of other affiliate programs, I earn from qualifying purchases.
Everything about Barn Doors
We have written a ton about barn doors - here is everything that you need to know!
Facebook | Instagram | Pinterest | Twitter | YouTube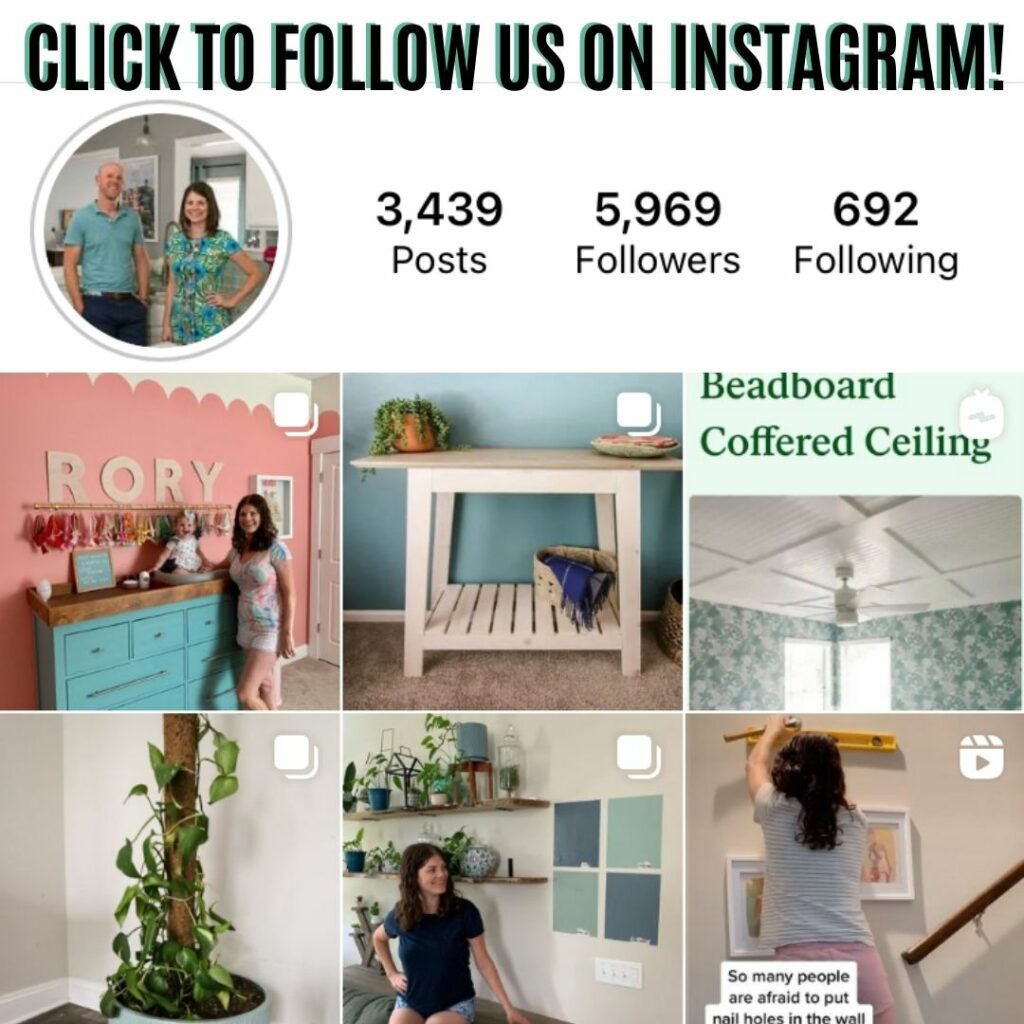 ---
Can we send you our newsletter?
Another great way to keep up with out latest projects is by joining our weekly newsletter! Get alerts of our latest projects and special peeks behind the scenes!
Follow along on Instagram
Join our online community where we share real time behind the scenes looks at our DIY projects and peeks inside our home + family!
---