A newborn coming home outfit shadow box makes beautiful sentimental wall art for your baby's nursery. Here's how easy it is to make one yourself!
I have really been enjoying designing Rory's nursery.
One of the benefits of not decorating her nursery until she's already 7 months old is that I can do some things that I couldn't do before she was born!
In this case, framing the baby clothes she wore home from the hospital after being born.
This little dress was a gift from my mom and is so precious and sweet. Plus, the coral color matches her wall color perfectly. It's meant to be!
Anyways, it was really easy to pop the dress into a shadow box, the hardest part was finding a shadow box that I liked!
So let's walk thru what to look for when shopping for a shadow box.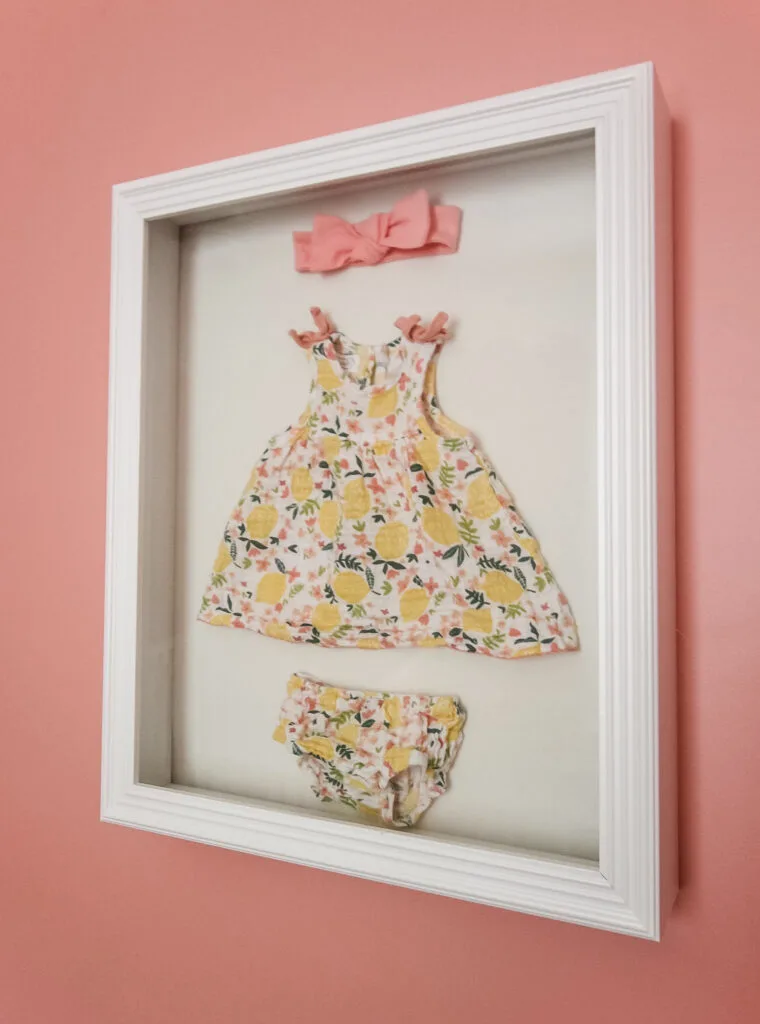 Where to get a baby clothes shadow box
Shadow boxes are sold at most craft stores, frame stores, and places like Target or Home Goods.
There are a few things to look for when shopping for a shadow box.
Size
This was the biggest factor for me, and bigger shadow boxes were hard to find!
Lay out your clothing or items and measure around them. You want to be sure that the shadow box frame is big enough to fit everything without it being crowded.
Frame type
I wanted a white frame but they come in many colors and wood tones.
Shadow boxes also come in a variety of designs ranging from intricate molding to straight flat boards.
Select something that coordinates with your decor both in color and style.
Backer
I love that the shadow box that I got had a linen backer. Definitely keep the backer in mind because, unlike in a normal picture frame, it will show behind your items.
It is worth it to pay slightly more for a shadow box with a nice backer, since otherwise you will need to add fabric or scrapbook paper for a background.
Opening
Some shadow boxes open on hinges from the front. This was a big no from me. I only looked at those that opened in the back like a typical photo frame.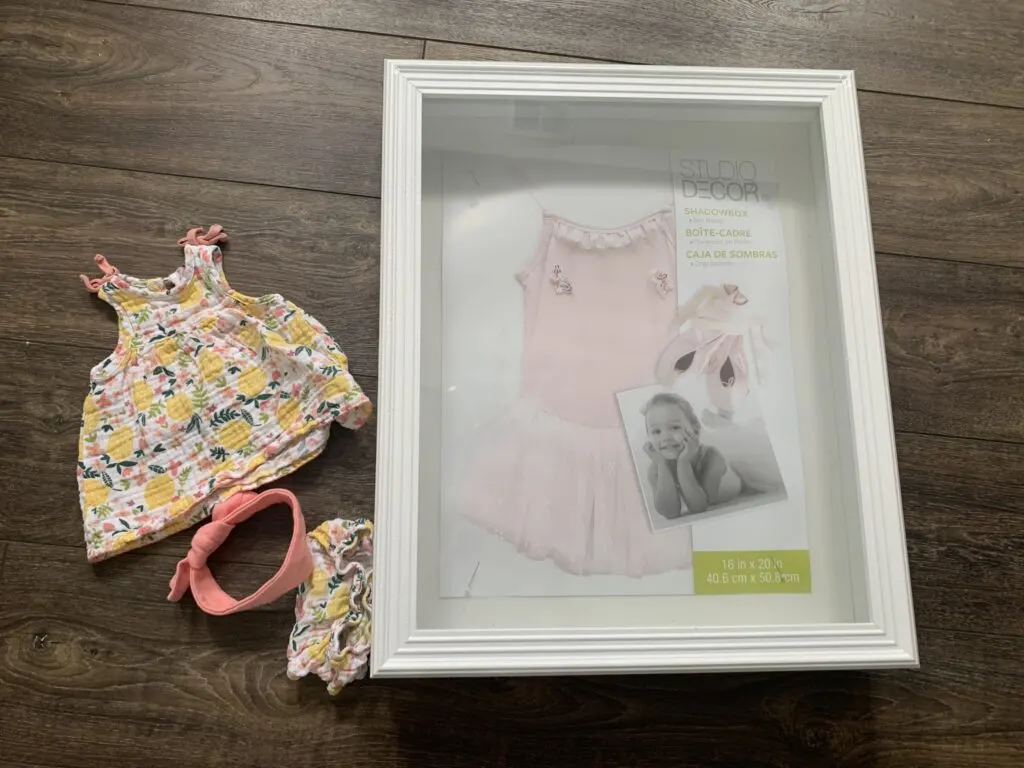 How to display old baby clothes in a shadow box
Once you have purchased your shadow box, it's time to display baby clothes in the frame!
To do this I used straight pins. My shadow box for some reason came with two pins, but I supplemented with some from my sewing box.
You could also use double sided sticky tape to attach items, especially if they were very lightweight like paper.
Lay your items out on the backer of your shadow box until you have them arranged like you like.
Then, pin in place. I positioned my pins from the back so that the entire pin was hidden from the front.
You will want to pin all things in place. For example, the dress has a pin on either shoulder, one on each side of the flare of the dress, and one on the lowest hanging part of the center of the hem of the dress.
It's important to remember that shadow boxes have depth to them – there's an inch or more of space between the glass and the backer.
This gives space to add 3D items – but it does mean that things need to be pinned or taped well or they will flap around.
How to hang a shadow box
Shadow boxes should include hardware for hanging built in on the back.
Mine had 2 D-hooks, so I tapped 2 nails on the wall.
The easiest way to line these up is to hold up the frame where you want it on the wall and mark that spot with a pencil.
Then, measure down the back of the frame to see how many inches below the top the hooks are.
Measure down on the wall and tap in your first nail.
Then, measure tie distance between the two D-hooks. Use a level to measure a straight line from your first nail and tap in a second nail.
Easy peasy!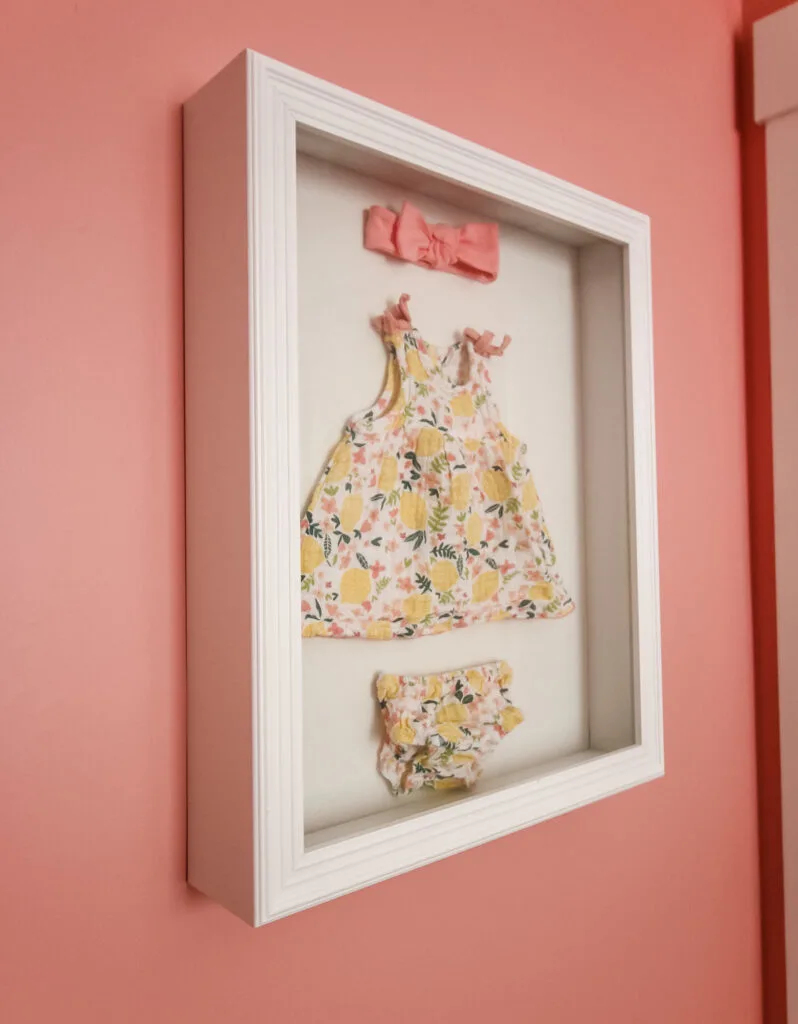 Ideas for a baby shadow box
If you want to make a shadow box that has more baby keepsake items in it, here are some ideas of what you might include:
Hospital bracelet
Hat from the hospital or other tiny hat
Cutout of handprints or footprints
Pictures of the baby
Ultrasound photos
Photo of mom very pregnant
Birth announcement
Small blanket or swaddle
Umbilical cord or lock of hair (if you dare!)
Pacifier
Tiny baby socks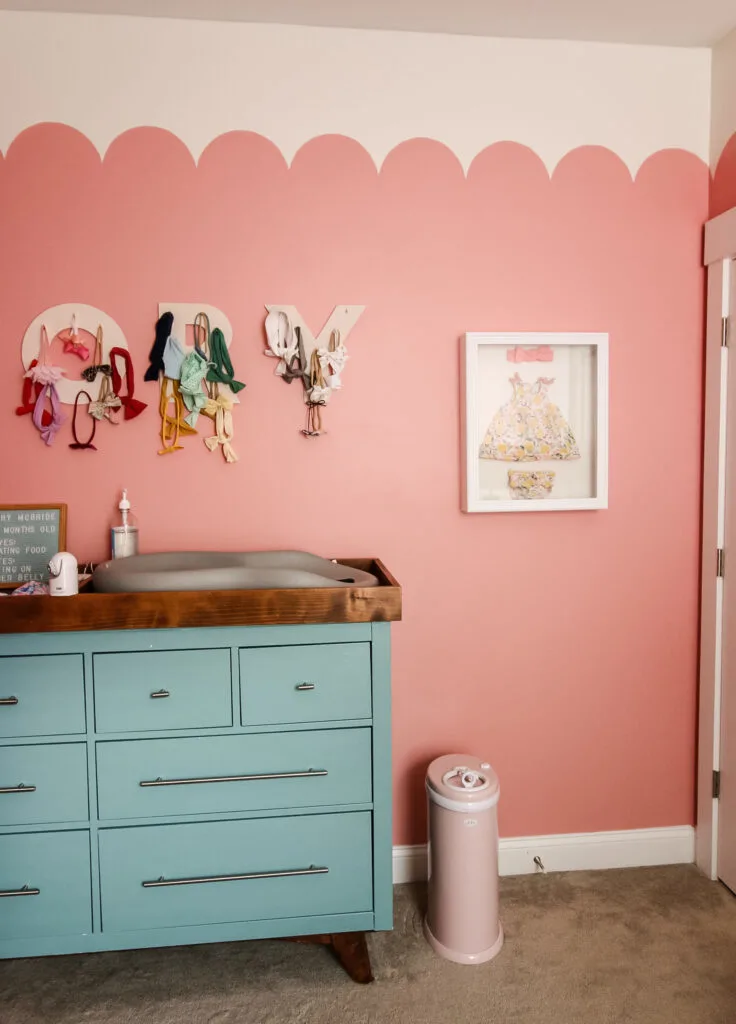 I think that if you are looking for a baby shower gift idea, an empty shadow box is a really great idea for them to make their own newborn shadow box, too!