Beadboard ceilings are beautiful! They add texture and interest to your space. They can be traditional or modern. They are a great option for many ceilings!
We went on a mission to get rid of all of the popcorn ceilings in our home! Check out all of our ideas for covering popcorn ceilings!
We hung a beadboard ceiling in our stairwell and a coffered beadboard ceiling in our son's nursery.
Today I want to chat all about beadboard ceiling panels and answer all of your FAQs!
If you have any additional questions, please ask them in the comments so I can reply!
Beadboard Ceiling Panels
Beadboard is a great option for a ceiling covering!
Can you put beadboard on the ceiling?
Yes you can put beadboard on a ceiling! It is a really easy DIY project, too.
How do you hang beadboard paneling on a ceiling?
You will want to hang beadboard paneling on a ceiling using a brad nail gun and construction adhesive.
Click here to read all about our DIY beadboard ceiling and to get a step by step tutorial.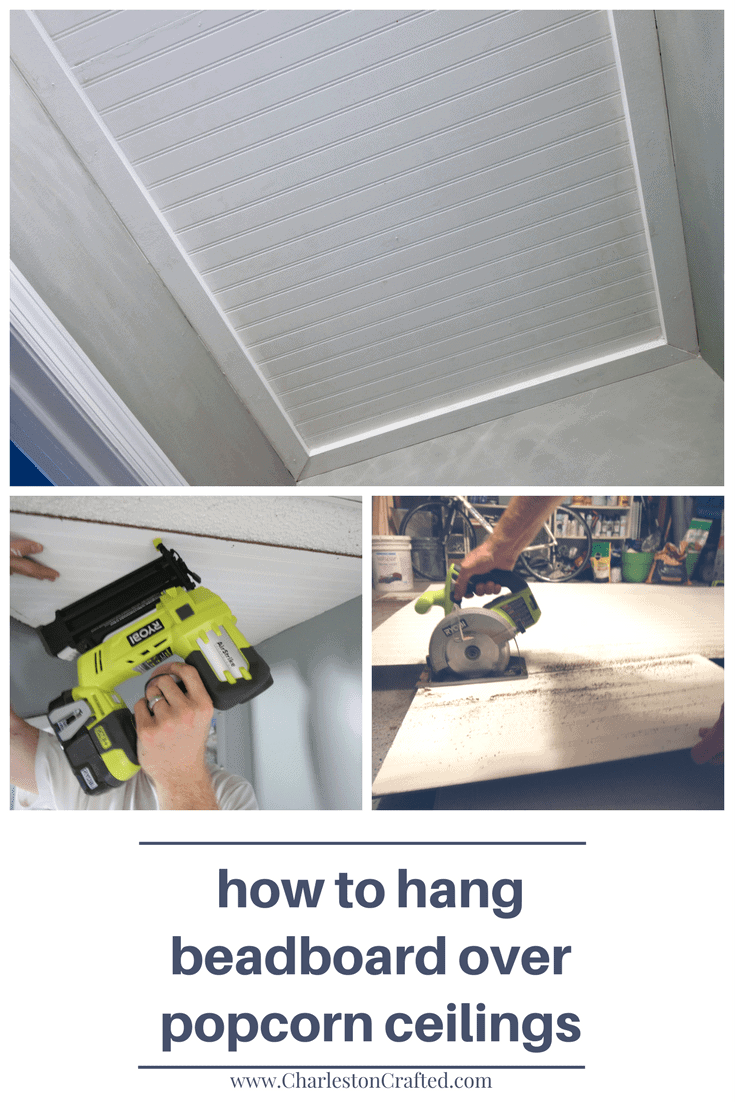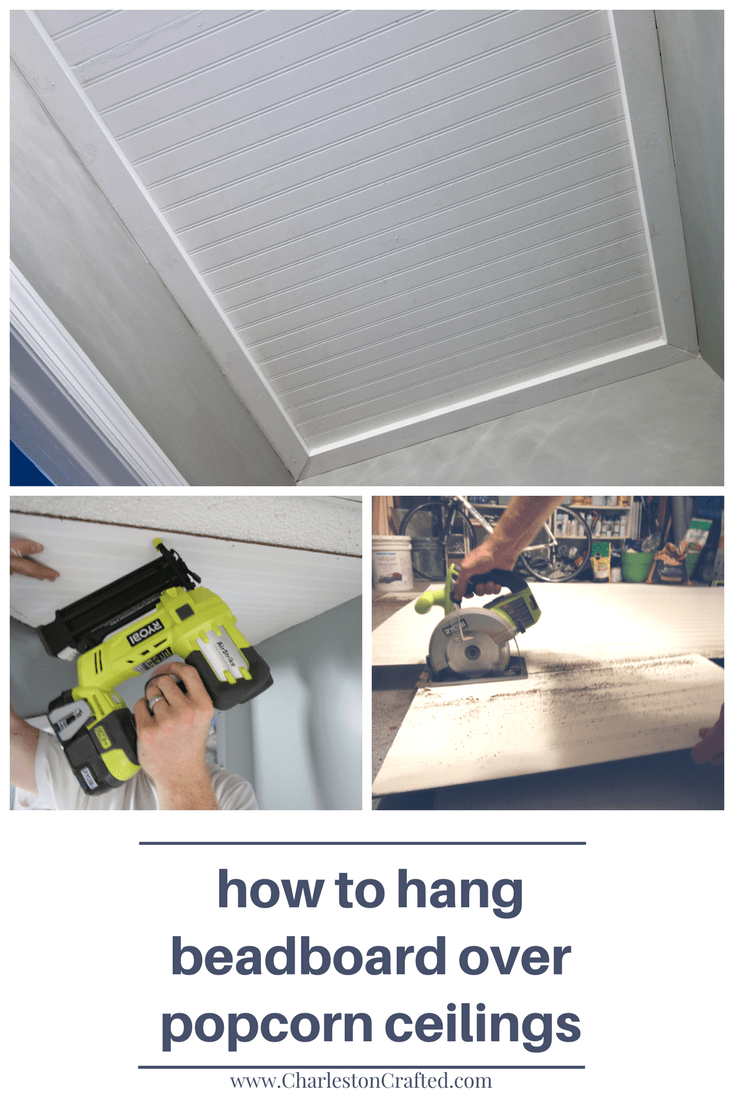 Yield:

1 awesome ceiling
How to cover popcorn ceiling with beadboard
Hate your popcorn ceiling? You can scrape it (we have a tutorial for that!) or, you can cover it. Beadboard is an easy way to DIY cover popcorn ceilings. Here's how we did it.
Materials
Beadboard
Trim
Paint
Caulk
Wood filler
Tools
Circular saw
Brad nailer
Paint sprayer
Instructions
Measure your ceiling and determine how much beadboard you need. Remember - you need all the stripes to go the same way.
Determine where you would like trim lines to go to cover any gaps between boards.
Cut your beadboard to size.
Hold beadboard in place. Brad nail into the ceiling. If you can identify the ceiling joists (by knocking) be sure to pop some nails in there, too.
Repeat until all the ceiling is covered.
Add trim. Use trim to cover the seams and create a clean border around the edge.
Caulk all seams and nail holes. If an edge is flat, you might want to use wood filler for a smooth finish.
Sand if needed.
Paint. We prefer to use our paint sprayer.
Notes
We have covered popcorn ceilings a lot of ways:
Recommended Products
As an Amazon Associate and member of other affiliate programs, I earn from qualifying purchases.
Is beadboard ceiling expensive?
Well, hanging a beadboard ceiling will cost more than leaving your existing ceiling alone, which would cost $0.
However, it is much cheaper than hanging new drywall or hiring out the removal of a textured ceiling.
How much does a sheet of beadboard cost?
The cost of beadboard will vary depending on where you live. It varies based on the size of the panel and the exact design that you select.
We paid about $20 for 36 square feet of beadboard (one sheet) at the Home Depot.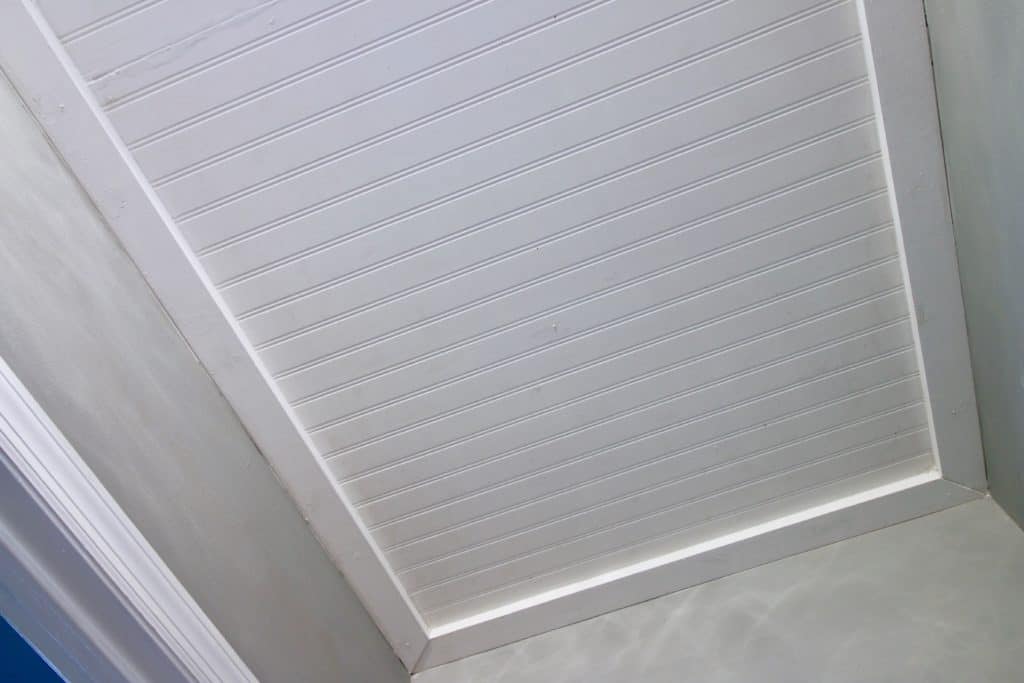 How much will my beadboard ceiling cost?
You are going to have to do some math. Measure your space. Go check out the price of panels of beadboard in your area.
Remember – you want the seams to line up with each other like a grid. The lines must all point the same way!
Where can you hang a beadboard ceiling?
Beadboard can hang anywhere! Bedrooms, hallways, or even bathroom ceilings are all great places to have bead boards installed.
What are other options for ceiling planks?
We also covered a ceiling in our home with tongue and groove cedar planks.
This was even easier to do than installing beadboard panels! It was less time consuming because the boards were smaller and easier to handle.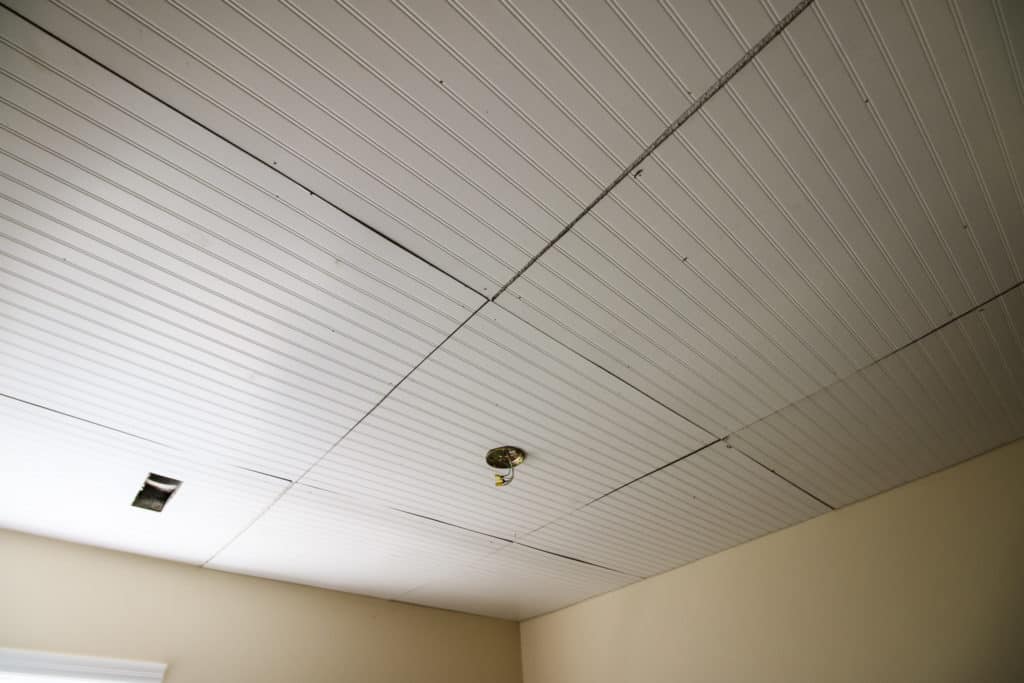 How do you cover beadboard seams?
You have two options for covering beadboard seams:
Cover with wood filler and sand until smooth
Hang a slat, plank, or beam to cover the seam
Which way should a beadboard ceiling run?
Best practices say that beadboard should hang perpendicular to the ceiling joists in your room.
I like the lines in the beadboard to go the longest length in the room. I think it makes the space look larger!
Is beadboard water resistant?
Not all beadboard! Pay attention to the material that you select. PVC beadboard is water resistant.
What is the difference between beadboard and tongue and groove?
Beadboard is arranged in panels, while tongue and groove planks are individual boards. Both work great for hanging on ceilings!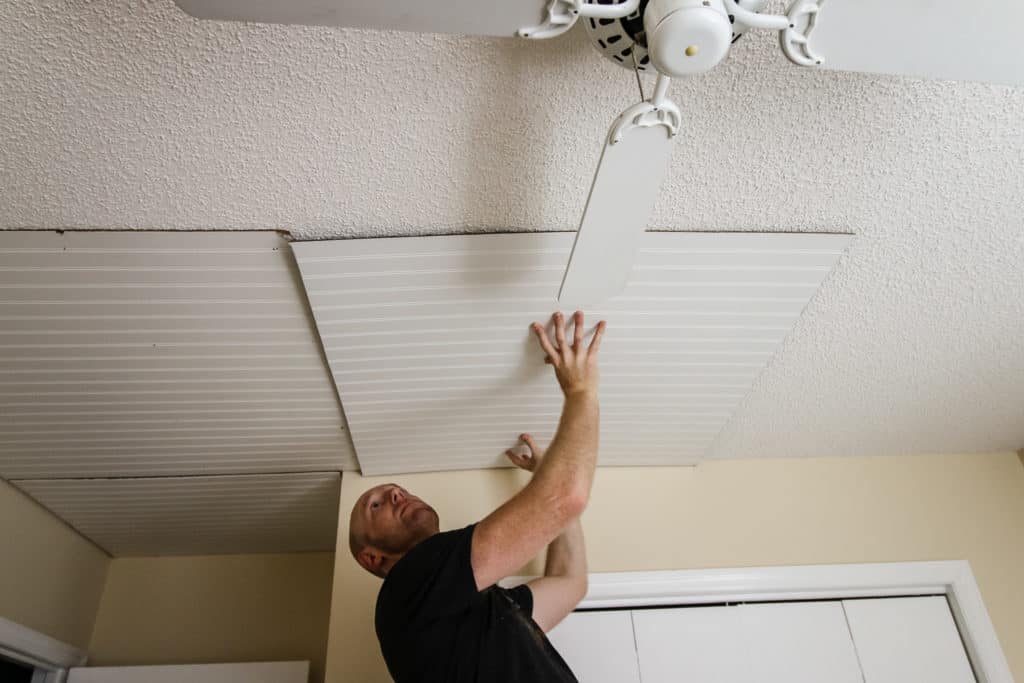 Can I put beadboard over popcorn ceiling?
Yes, we have put beadboard over a popcorn ceiling very successfully.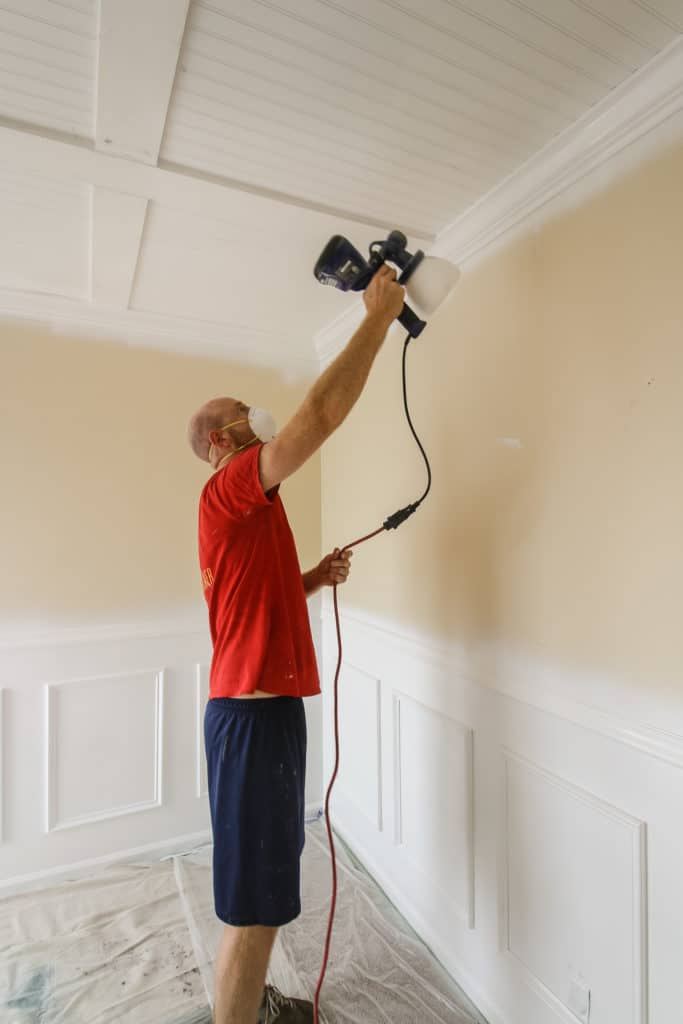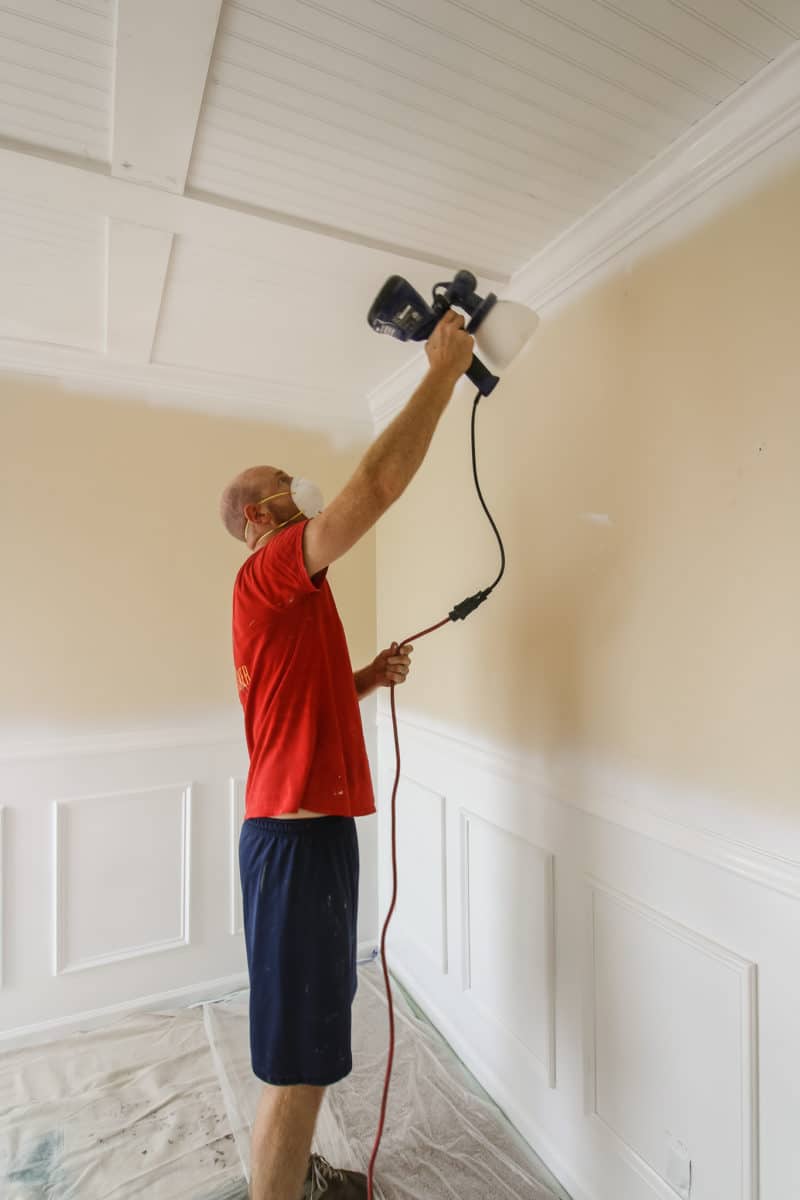 How do you paint a beadboard ceiling?
We painted our beadboard ceiling with a paint sprayer! This tool made it a fifteen minute paint job. We highly recomend using this method.
What other questions can I answer for you?
Facebook | Instagram | Pinterest | Twitter | YouTube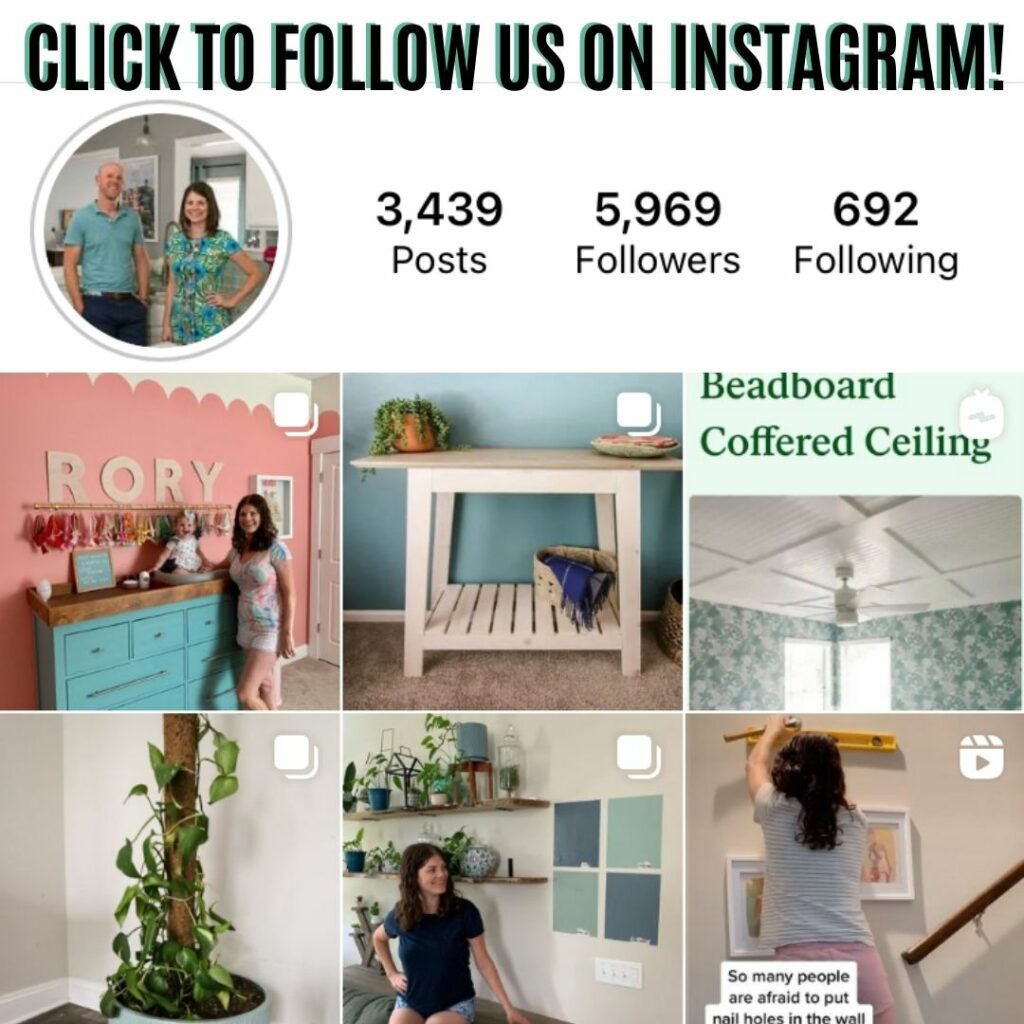 ---
Can we send you our newsletter?
Another great way to keep up with out latest projects is by joining our weekly newsletter! Get alerts of our latest projects and special peeks behind the scenes!
Follow along on Instagram
Join our online community where we share real time behind the scenes looks at our DIY projects and peeks inside our home + family!
---