Want to cover your popcorn ceilings with beadboard? You'll love this simple how to!
We're excited to be continuing our attempt at this year's $100 Room Challenge with what is the biggest part of the room makeover and most expensive part, where we decided to cover popcorn ceilings with beadboard.
We've tried scraping our popcorn ceilings in our master bedroom and two bathrooms and it was disgusting. Then we had a contractor cover the ceilings downstairs with drywall when they took down two walls. We decided that that looked so much better and wanted to try covering this area with beadboard.
Reminder, we're working on the stairwell and upstairs hallway for the $100 room challenge.
Here's how we covered our popcorn ceilings with a coffered ceiling!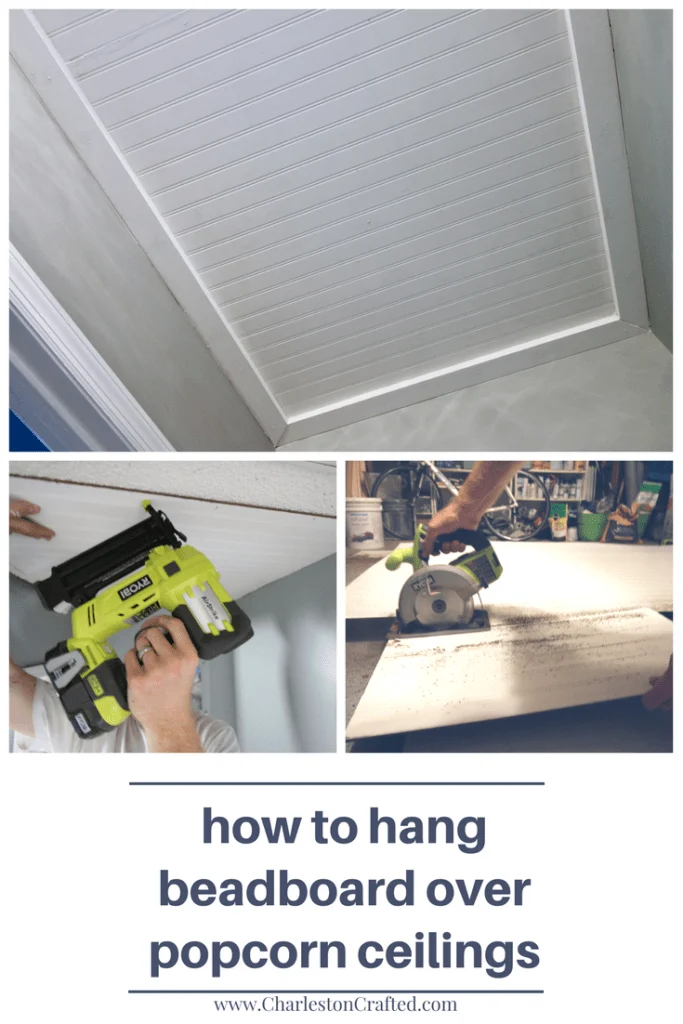 How to cover popcorn ceiling with beadboard
To do this, we needed to get enough beadboard to cover that area, which was three 4'x8′ sections of beadboard. We also needed trim for the edges and chose 1″x3″ pine boards to cover the rough edges. As for equipment, we borrowed a friend's ladder that was extendable on both sides.
This allowed us to adjust it to the point that we could set it up on angled stairs and reach the highest point in the stairwell, which was 17 feet. We also could not have done this project without our RYOBI Cordless Circular Saw and RYOBI AirStrike 18 Gauge Cordless Nailer.
I was a little skeptical at first about the thought of using a nailer with no air compressor, thinking it wouldn't have enough power to drive the nails. I was seriously wrong. This bad boy drove the nails right through the boards into the ceiling with no problems and was so much more convenient than lugging around an air compressor and hose.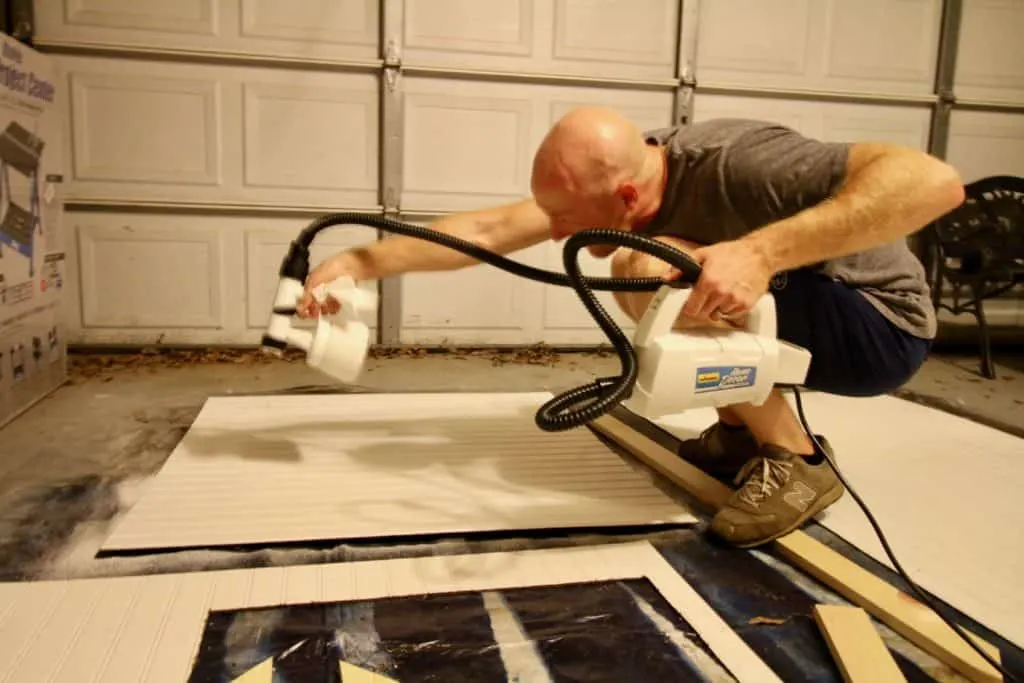 To start the project, we drew out a diagram with measurements of the whole ceiling and then cut the beadboard and border wood to the appropriate sizes and sprayed them all with ceiling paint using our Wagner Studio Home Decor Paint Sprayer.
Even though the beadboard was primed white, we wanted to give it a coat of the same color ceiling paint as the boards would get. Not all ceiling paint is created equal…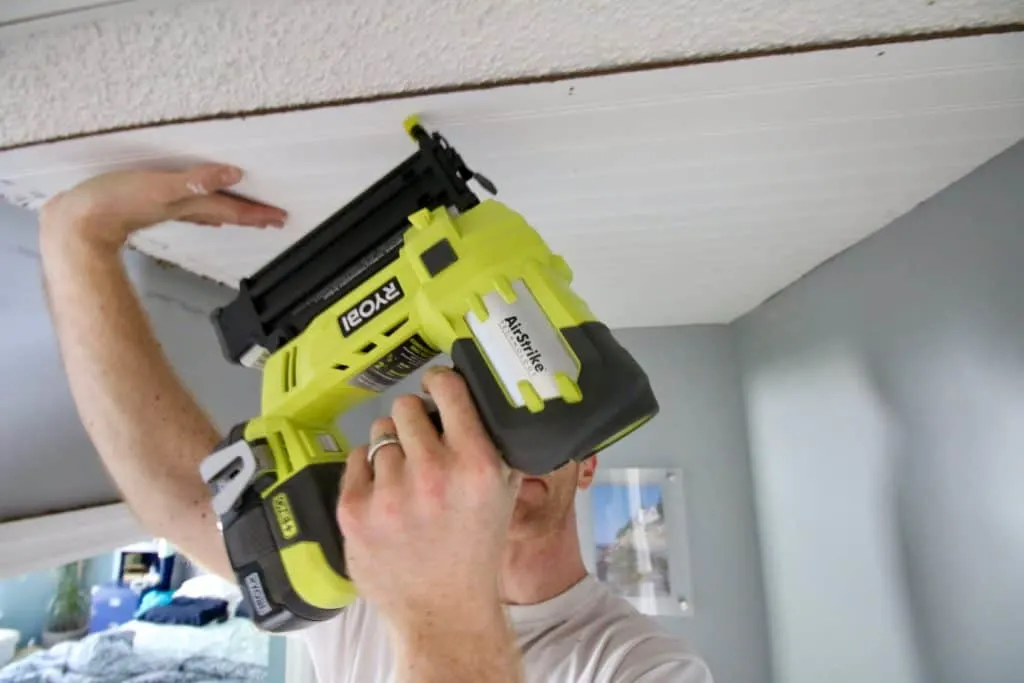 On construction day one, we started in the stairwell and set up the ladder, making sure it was secure and sturdy before setting foot on it. Then, we added construction adhesive to the beadboard and nailed it up to the ceiling. It worked perfectly. The nailer was quick and it took mere seconds to get it secured to the ceiling.
We continued on with the rest of the beadboard panels in the same fashion. These were a little more difficult because we had to make some refinements to the cuts since they were fitting around the air filter, light fixture and attic ladder. This made it take a little more time, but no big deal otherwise.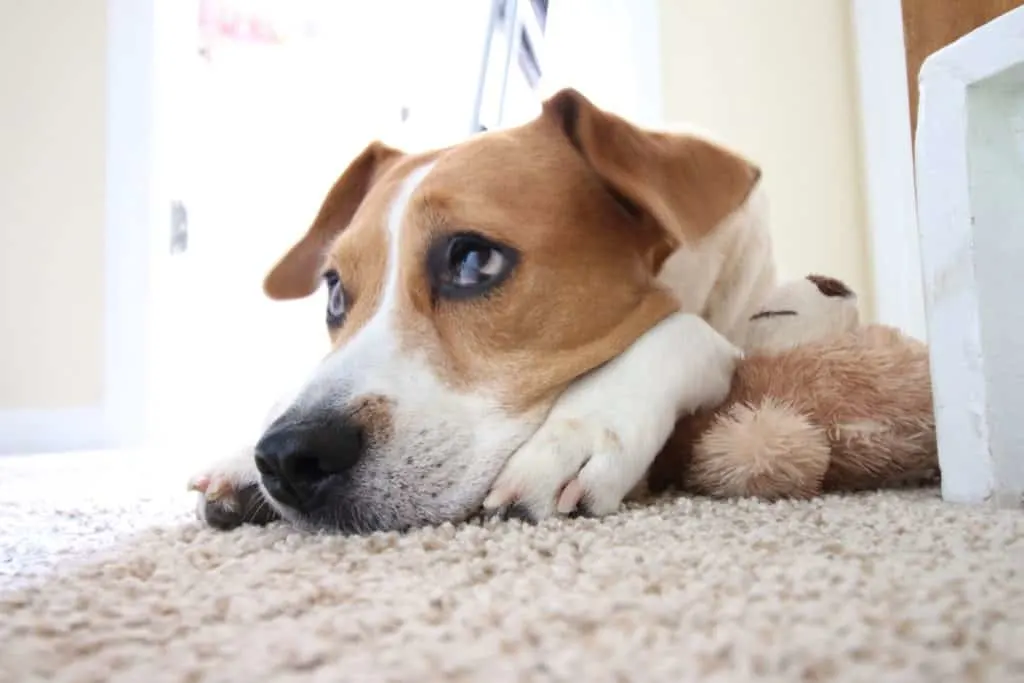 CiCi was SUCH a help on this project.
After all the board was up, we added the 1″x3″ pine board edges. Again, we just popped them up with the RYOBI AirStrike and they were in place quick and easy.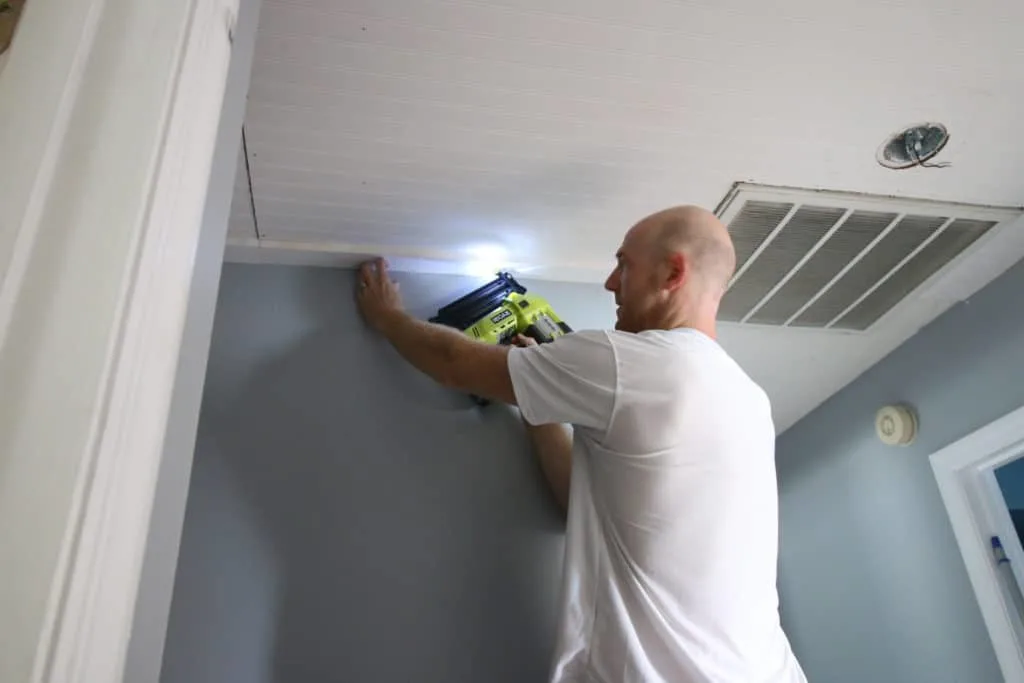 The part that took the longest span of time was caulking and painting. We needed to go around and caulk all the seams of the boards to the wall and the ceiling to cover any holes.
We also didn't do edging around things like the air vent and the attic door, so we had to go in and fill gaps with caulk. After it was all dry, we painted.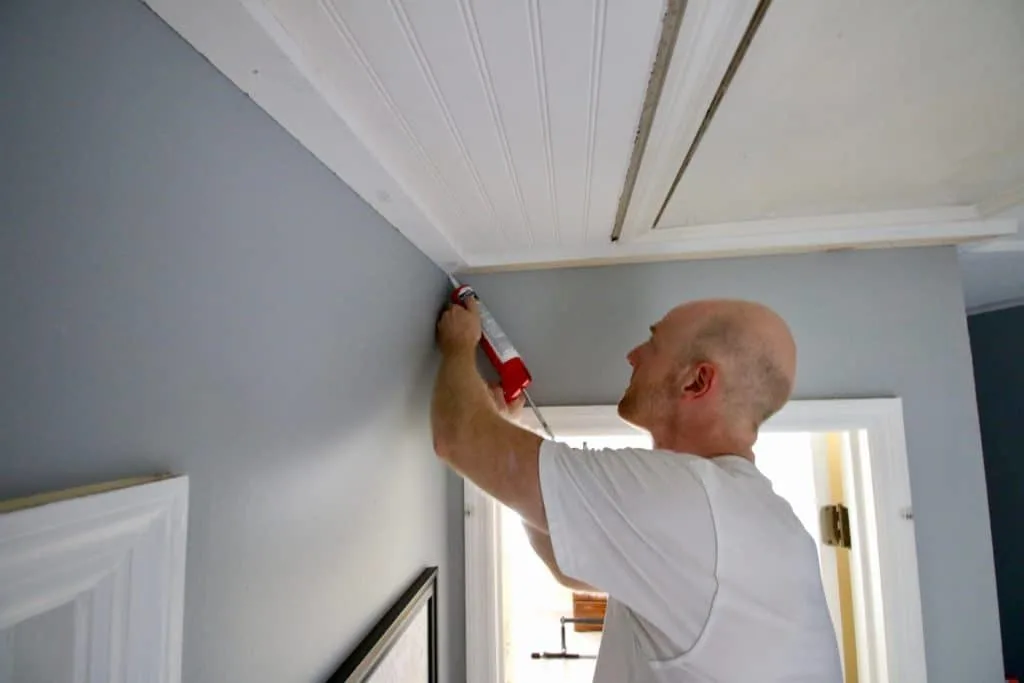 In the end, it looks really good.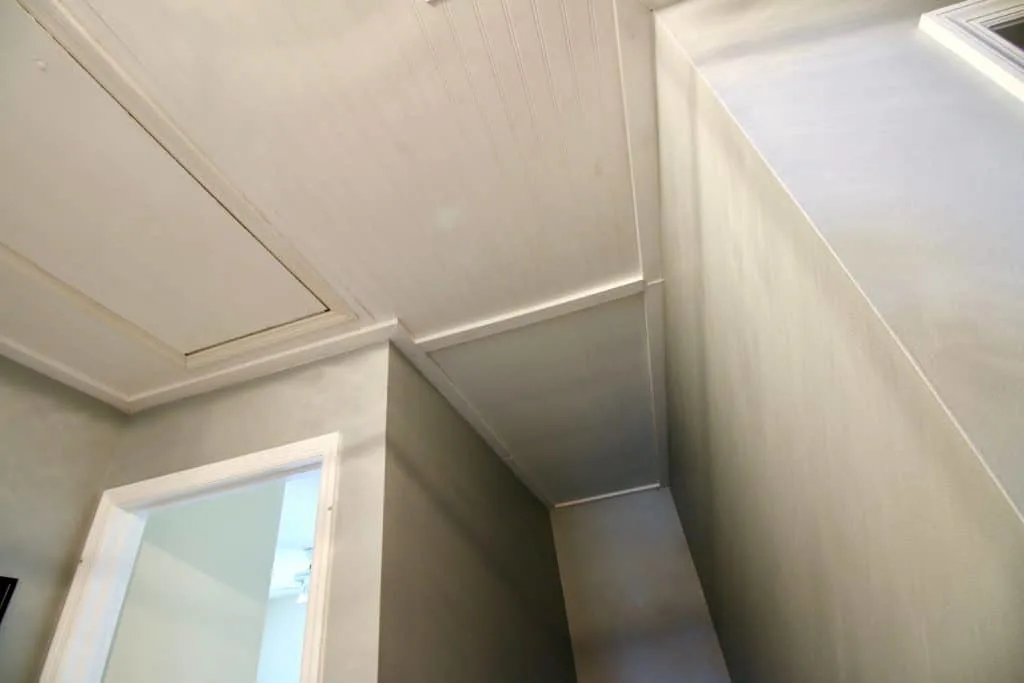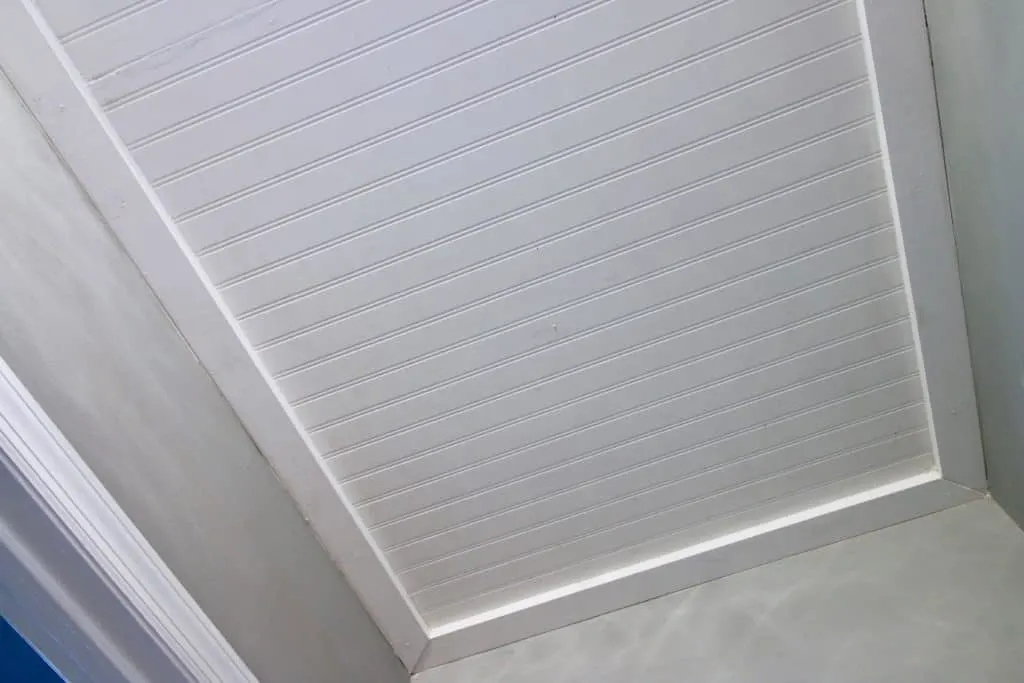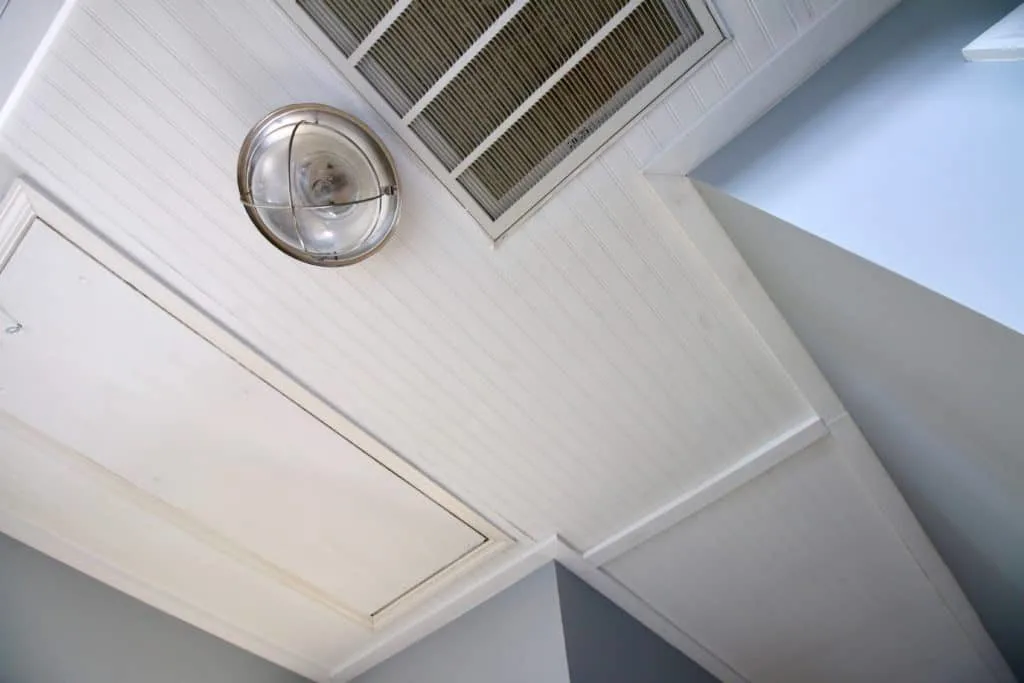 Our analysis of trying to cover popcorn ceilings with beadboard is that it is more difficult than scraping, but easier. That sounds dumb, but what I mean is that it is a little more difficult to work with big materials and we had to prep the cuts ahead of time, but it was much easier and neater than dealing with scraping, sanding, mudding and painting.
Those steps take so much more time and are so disgusting that I don't really ever want to scrape again. The beadboard also looks a lot more finished. The material costs are higher than scraping, but it's worth it.
Of course, nothing is as easy as paying someone to drywall over it for you. That's my favorite method, but my wallet prefers the beadboard. Speaking of, here's what it cost us.
Budget Breakdown:
3 sheets of beadboard: $19.95 each
Five 1″x3″ pine boards: $3.95 each
Caulk: on hand
Ceiling Paint: on hand
Ladder: borrowed
RYOBI AirStrike: on hand
Total Cost: $79.60
As you can see, that's 80% of our $100 makeover. We were planning on doing a DIY chandelier in here, but I forgot to budget in the 1x3s for this project which ended up being about $20 ($3.95 x 5) and so I kind of think that I won't have the money left to do it.
Whomp, whomp. I have some clear balls on hand already from Christmas crafts, but I don't think that it is enough. After this + the balusters (that I already bought all the supplies for) I think that we will have $4…
Check back in on Wednesday for more $100 Room Challenge updates!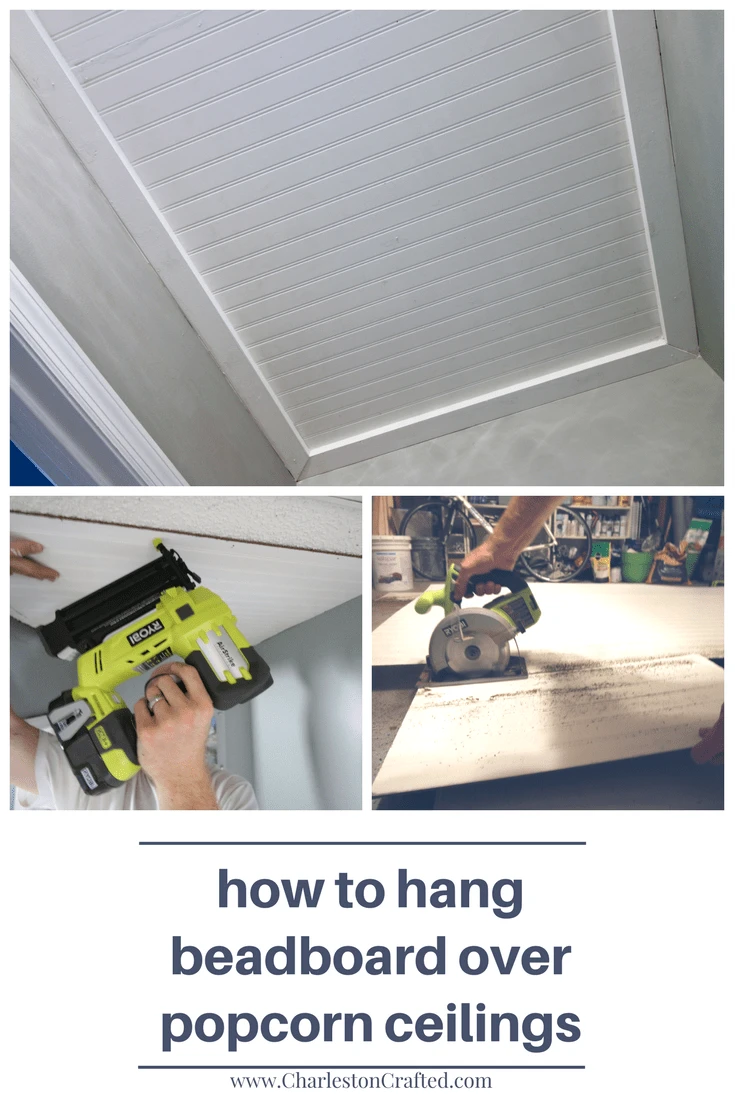 Yield:

1 awesome ceiling
How to cover popcorn ceiling with beadboard
Hate your popcorn ceiling? You can scrape it (we have a tutorial for that!) or, you can cover it. Beadboard is an easy way to DIY cover popcorn ceilings. Here's how we did it.
Materials
Beadboard
Trim
Paint
Caulk
Wood filler
Tools
Circular saw
Brad nailer
Paint sprayer
Instructions
Measure your ceiling and determine how much beadboard you need. Remember - you need all the stripes to go the same way.
Determine where you would like trim lines to go to cover any gaps between boards.
Cut your beadboard to size.
Hold beadboard in place. Brad nail into the ceiling. If you can identify the ceiling joists (by knocking) be sure to pop some nails in there, too.
Repeat until all the ceiling is covered.
Add trim. Use trim to cover the seams and create a clean border around the edge.
Caulk all seams and nail holes. If an edge is flat, you might want to use wood filler for a smooth finish.
Sand if needed.
Paint. We prefer to use our paint sprayer.
Notes
We have covered popcorn ceilings a lot of ways:
Recommended Products
As an Amazon Associate and member of other affiliate programs, I earn from qualifying purchases.