We've done some awesome travel the last few years, including our honeymoon to Italy and our first anniversary to Kauai. Well, a year later, time for our second anniversary trip. We chose to go to Yosemite National Park and Sonoma, California for a week of hiking and wine-ing. First up, we spent three days in Yosemite enjoying the outdoors.
Right off the bat, our accommodations for Yosemite were right outside of the entrance to Yosemite Valley in a place called the Blue Butterfly Inn. It was an amazing B&B right on the Merced River with filling, hot breakfasts from two really nice people. They don't allow kids, so it's perfect for us and in a great location.
So here's the thing we learned about Yosemite in April: Morgan summed up the trip with the word "waterfalls" and I summed it up with the word "closed." There are TONS of gushing waterfalls flying over the edges of tall cliffs, but, at the same time, more than half the park is closed for winter. Yosemite in April is gorgeous for flowing water everywhere, but we were snowed on and the half of the park that was normally open had trail and road closures due to recent snow. So you have to take parts with grains of salt. Because of all this, we didn't tackle as much of the park as we thought we would, but here's the highlights of what we did get to do.
The first day we were there, we started at Bridalveil Falls, which is basically the first place you can stop when you come in the valley main entrance. Probably only 300 yards from the parking lot is a footbridge with a view of the falls. From there, you can walk up about 100 yards and be right at the falls. Because the waterfall was rushing so hard, you couldn't actually see it from that point because we were just getting pounded with water… and it was about 35 degrees out.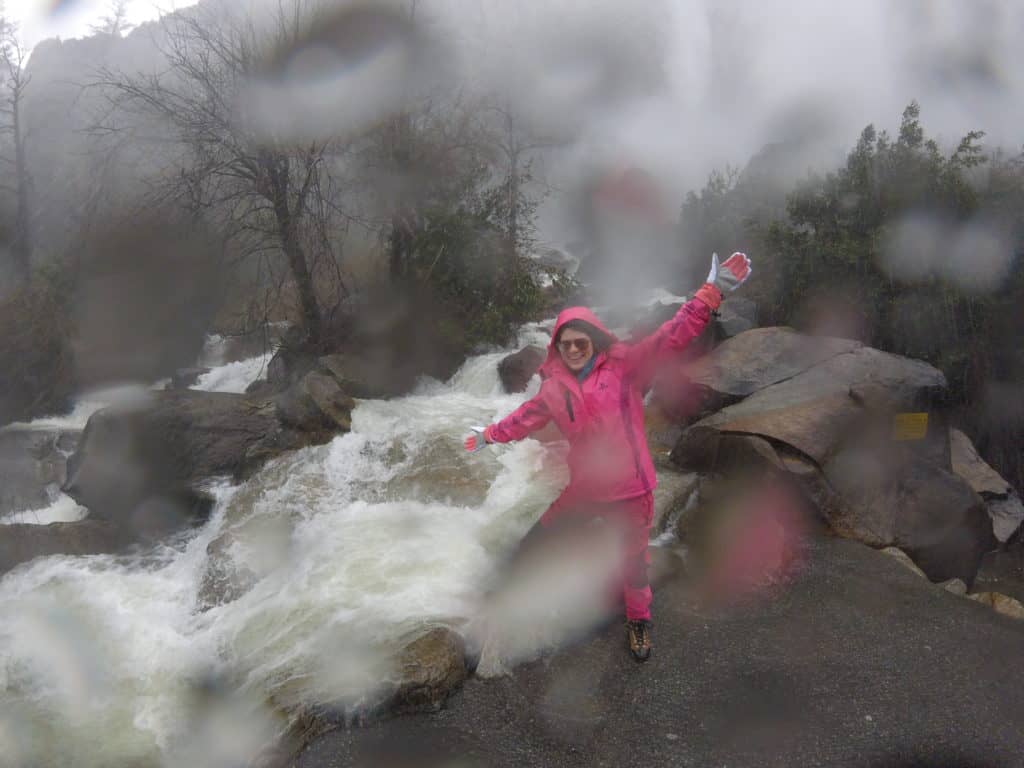 From there, we drove over to Tunnel View, which is a spectacular, picturesque, panoramic view between steep rock cliffs through the valley. It's amazing, a must-see, and really quick to see near-ish the entrance to the park.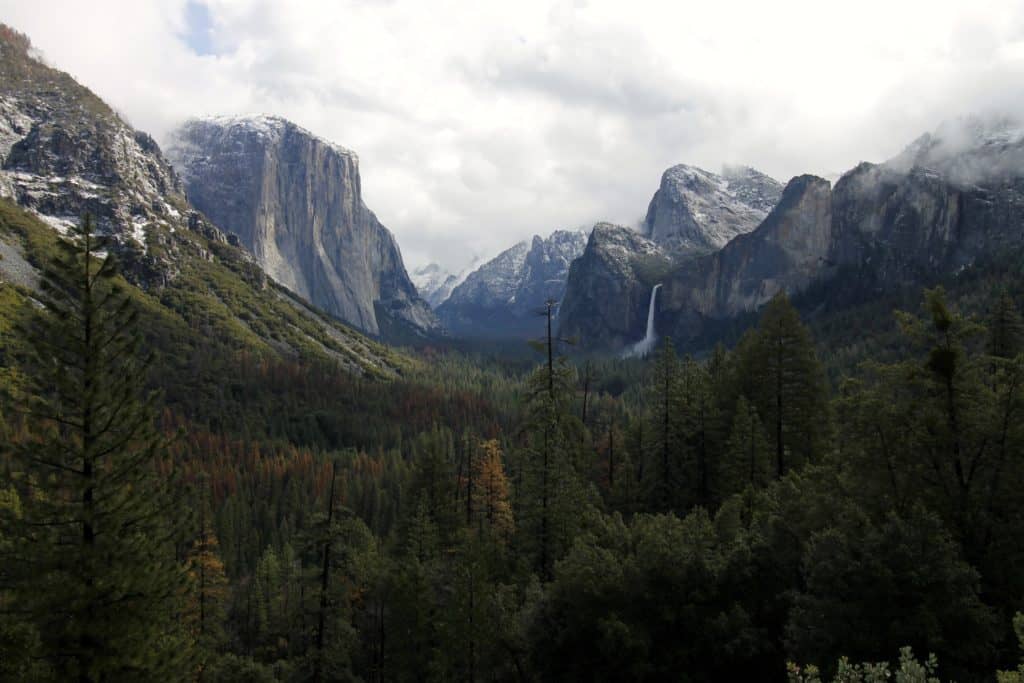 From here, we drove down the main road, where you can get an excellent view of El Capitan without actually having to spend three days rock-climbing it.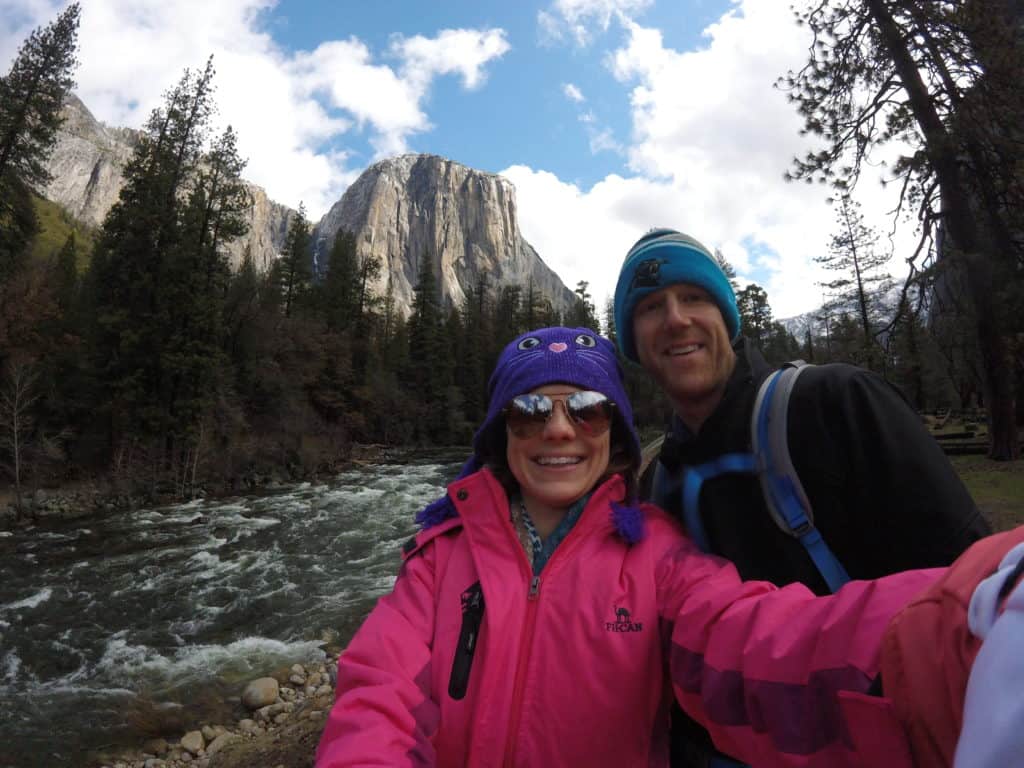 Then, we drove over to Mirror Lake. We had to park about half a mile away from the trail due to a road closure, then walked the trail to the "lake." This was pretty disappointing because it was basically just some runoff water in a shallow marsh. It's supposed to be a picturesque lake that reflects Half Dome, but no. Considering how much water was running off the mountains, we expected more. We hiked on a bit more and it started snowing. Then it started snowing harder with big fat flakes. We were out there for probably another 1 1/2 hours hiking in this. The big loop trail around Mirror Lake took about 2 1/2 hours. It was a good hike, but don't go to see a lake.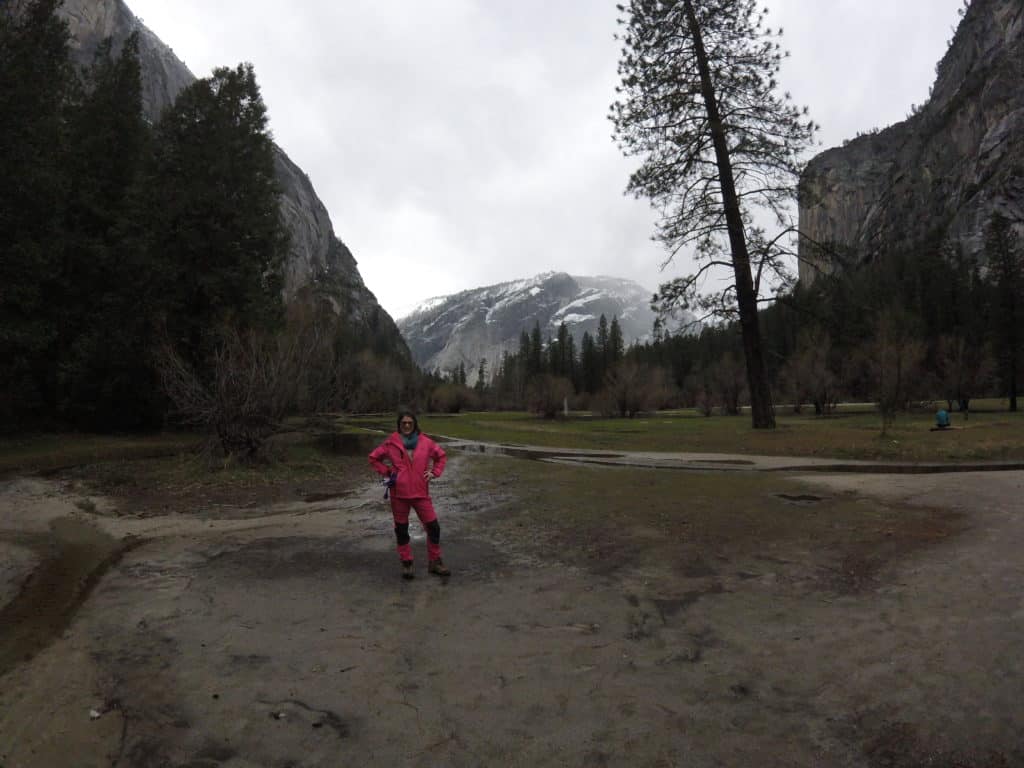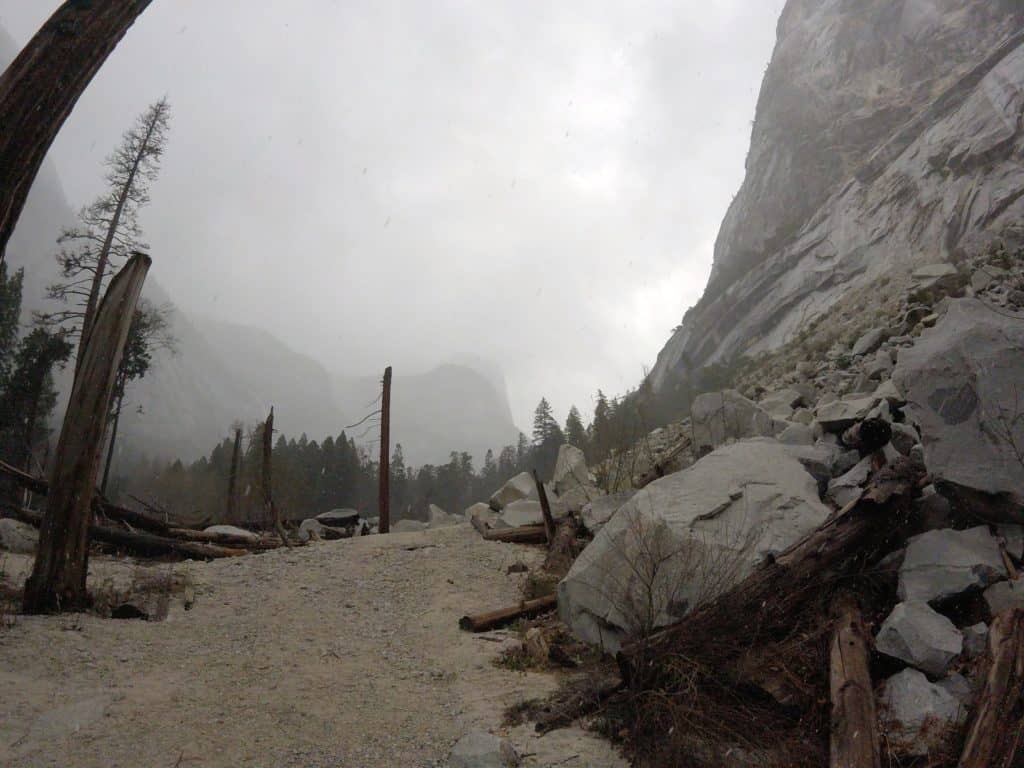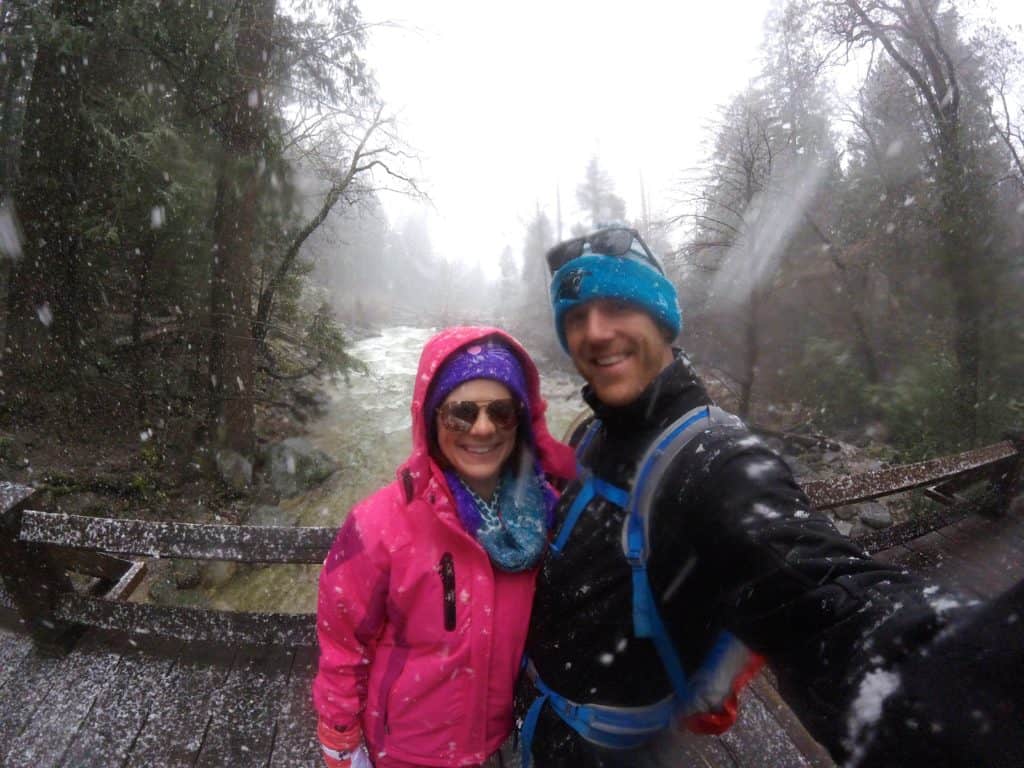 The next day, we started by heading to the Vernal Falls and Nevada Falls trail. It starts out going pretty straight uphill on a paved path until you get to a footbridge with a great view of Vernal Falls. We walked on until we got to the bottom of where they have rock stairs for a bit. A park ranger was there turning us around saying "it's closed." Shocker. What happened was that the waterfall was rushing so much that the mist it put off was going onto the trail and freezing into sheets of ice. Literally… in April… We walked out onto a big rock in the river to get a better view of the falls and you could see people still trying to go up and down the stairs and struggling. We decided to listen to the ranger and sit it out. But we still had a great view of Vernal.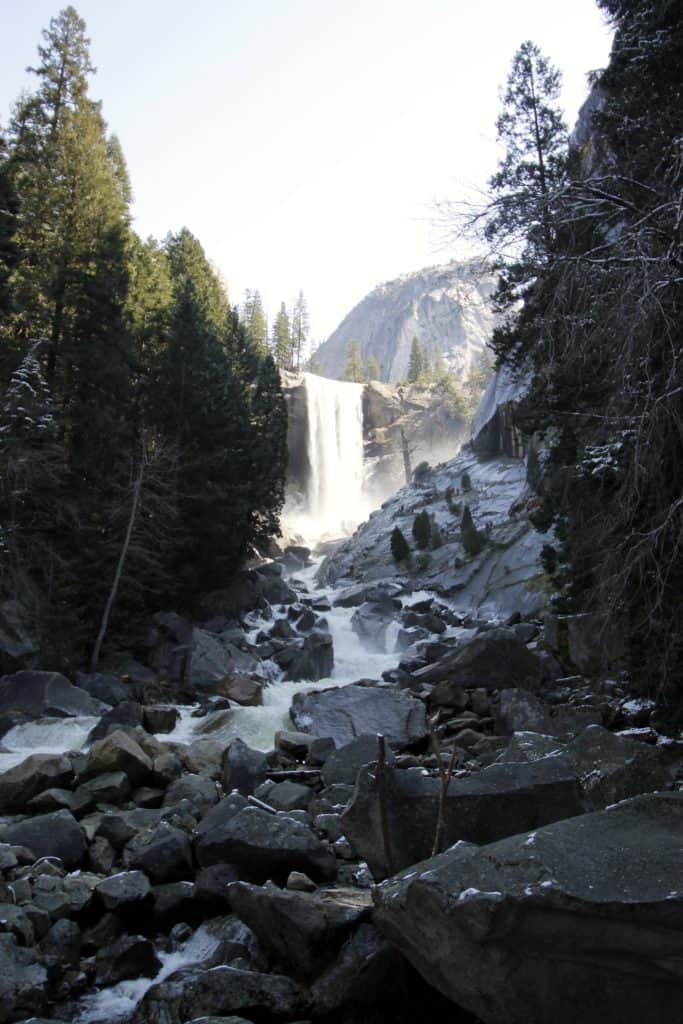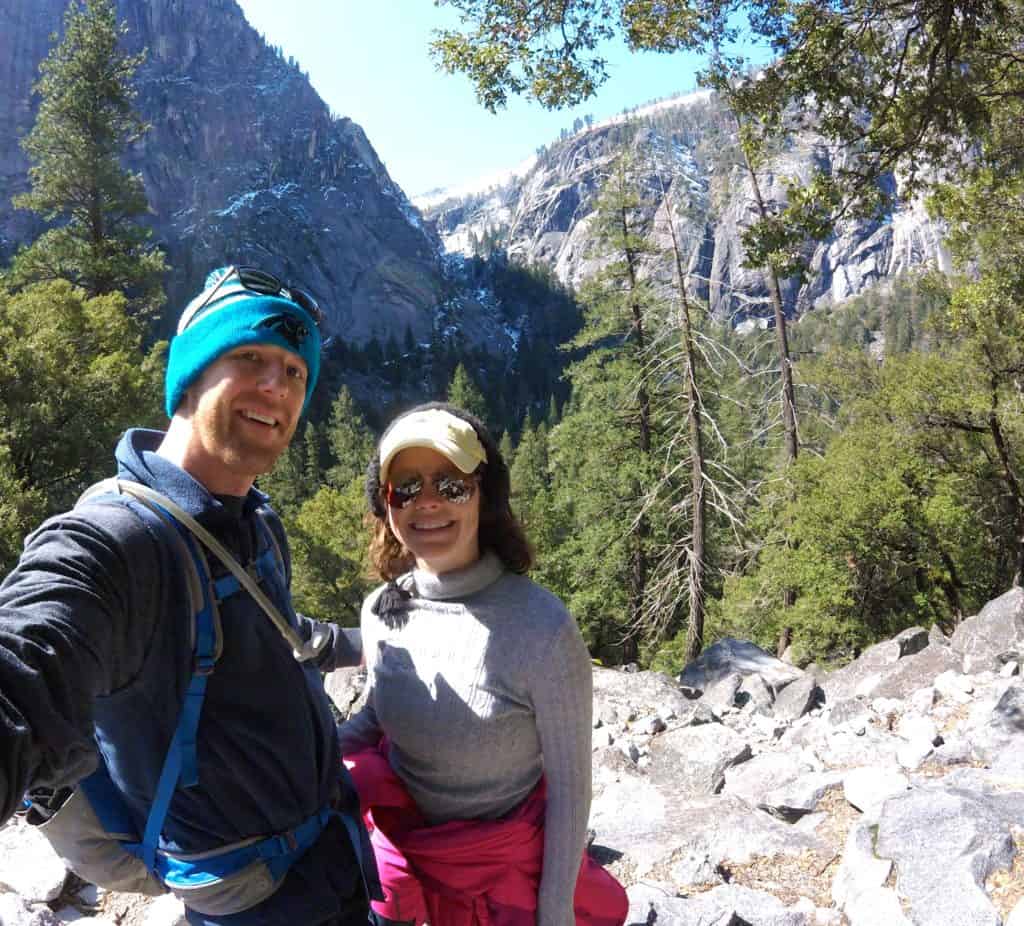 Next we drove over to the Visitor's Center and quickly left when we realized it was the dinkiest visitor's center since we went to Congaree National Park. We walked over to Lower Yosemite Falls and walked with about 200 of our closest friends to get a good view. When we tried to hike a little bit toward the Upper Falls Trail, guess what… closed. Oh well. You can't actually see the Upper Falls from that spot, but you see them from all around the valley. This is the only place you can see the Lower Falls.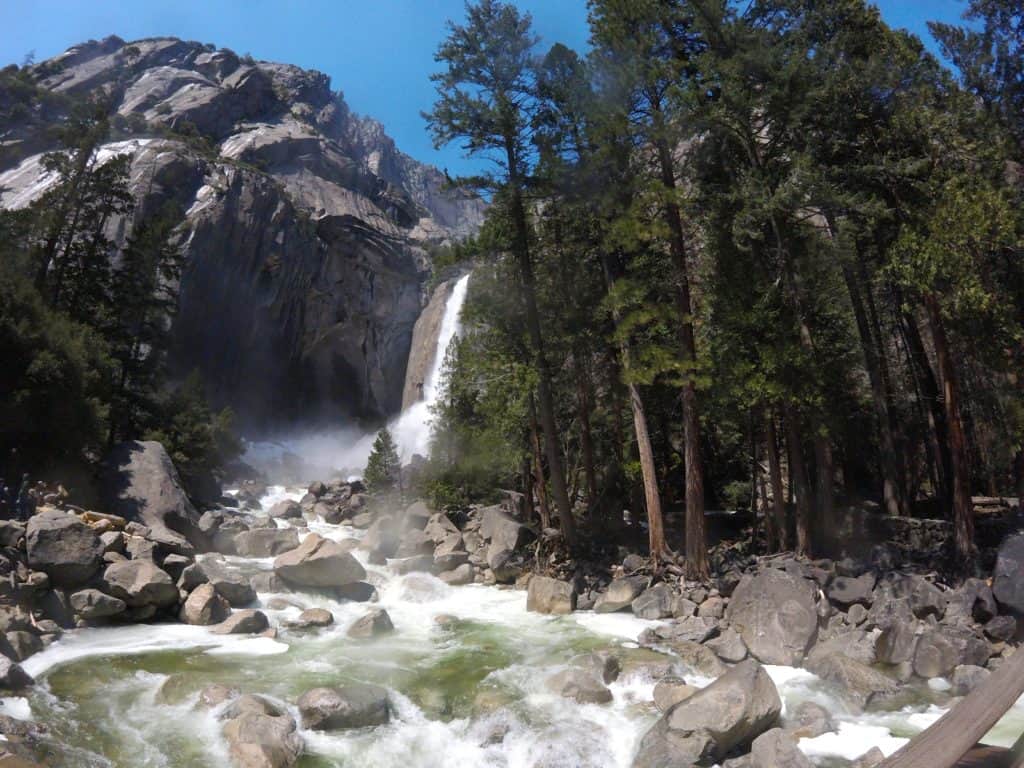 So next we actually did a fantastic thing and just walked around the dirt trail in the middle of the meadow that's in the valley. It was amazing. It was warm at this point and there was virtually no one around. You wind around next to and over the river that runs down the middle and have fantastic views all around you of cliffs, El Cap, Half Dome, Upper Yosemite Falls and Bridalveil Falls. Take an hour if you go to Yosemite and casually walk around the meadow. Take a book and a blanket even and picnic here.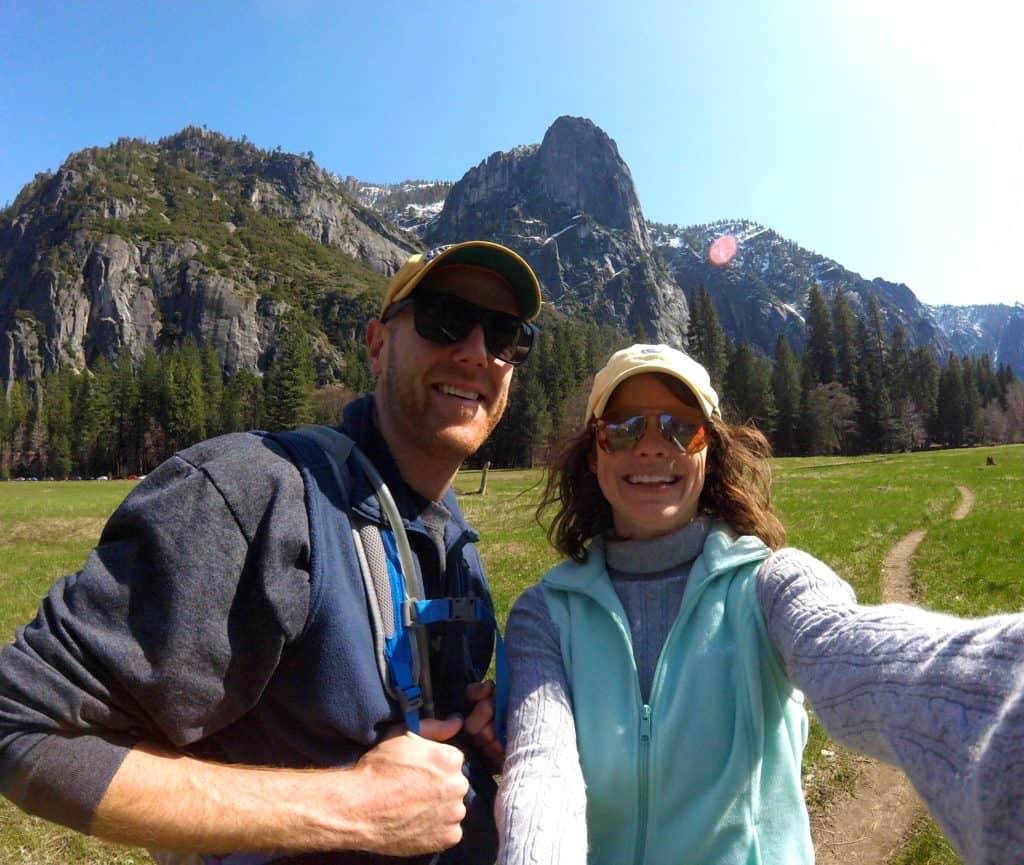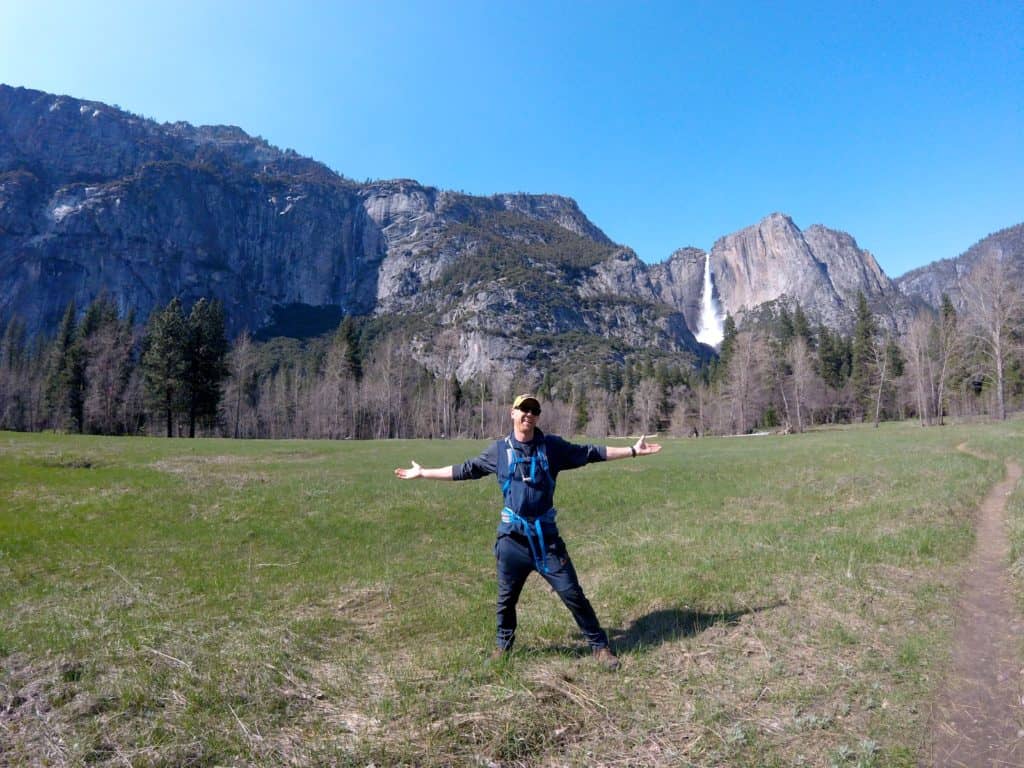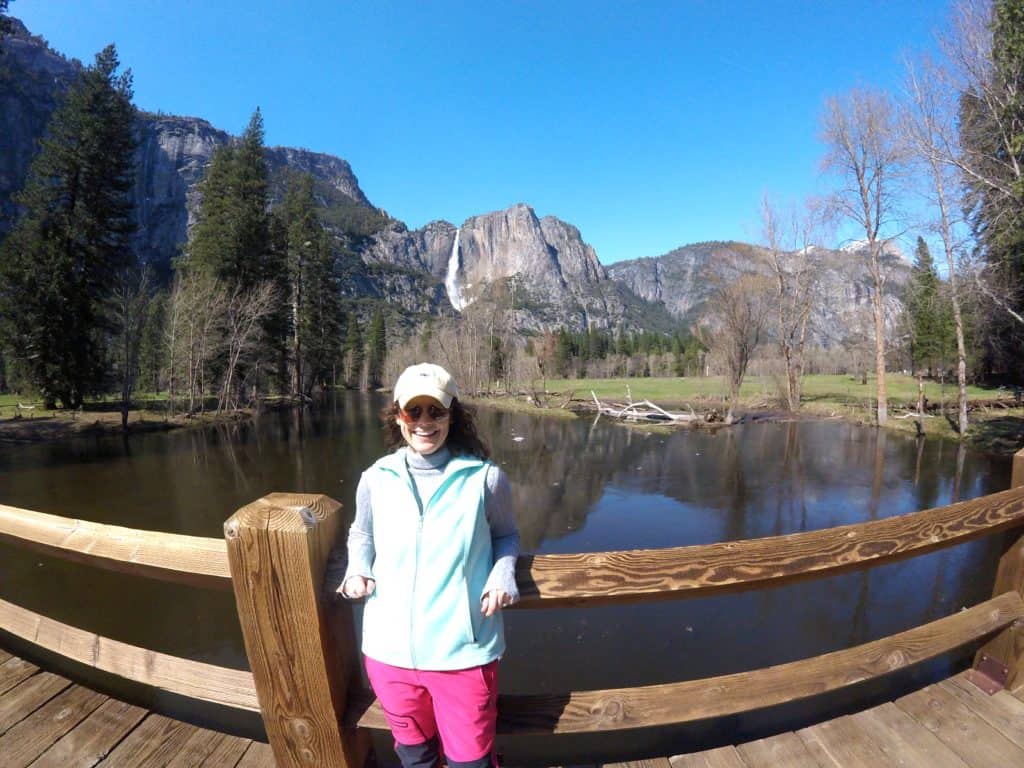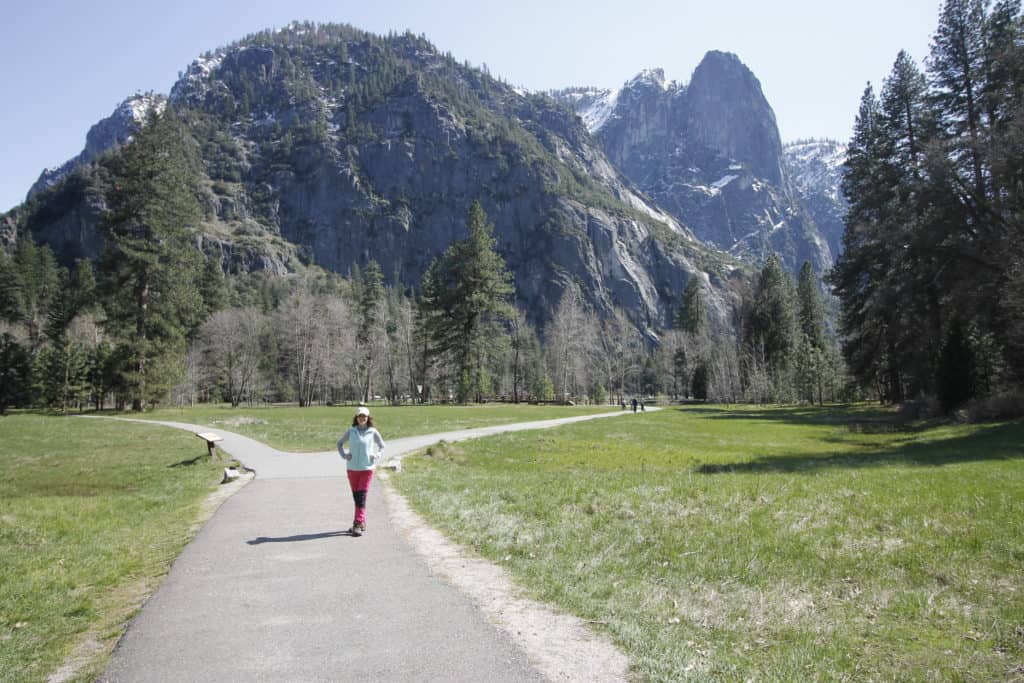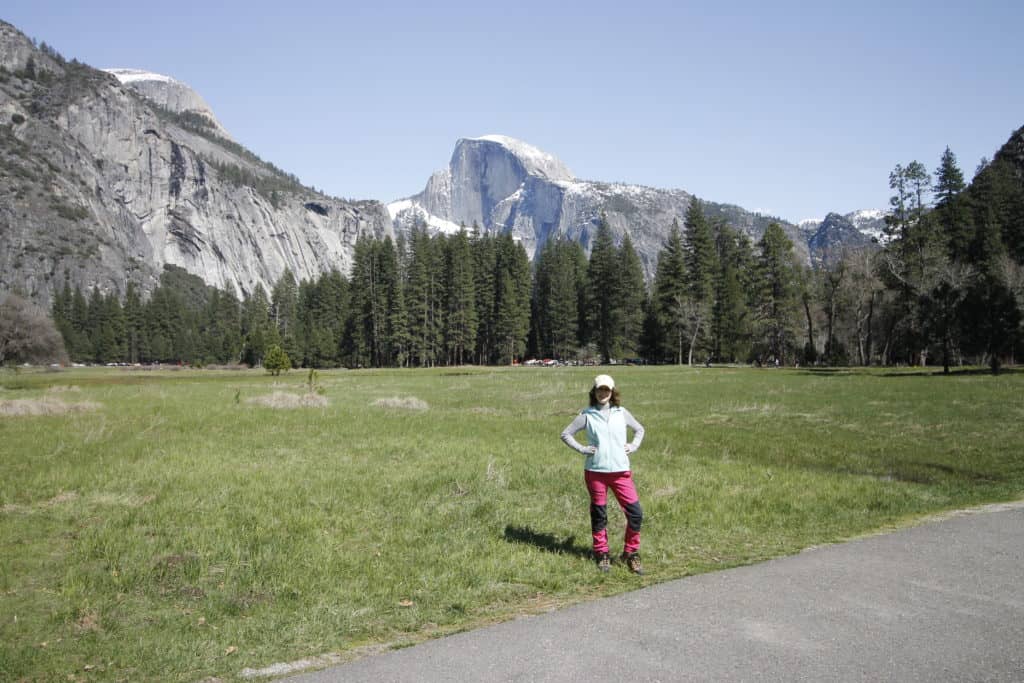 On our last day in Yosemite, we drove up to the northern section called Hetch Hetchy. What? Yeah, it was, dude. Anyways, this area is where they have a dam and water reservoir and good hiking. It normally should only take an hour to drive there from Yosemite Valley, but that road was… closed (see, you're getting good at this now!), so we had to go around it, which took about 3 1/2 hours. We had to do it because we had planned to spend the night up near there before we moved on to Sonoma the next day, so oh well.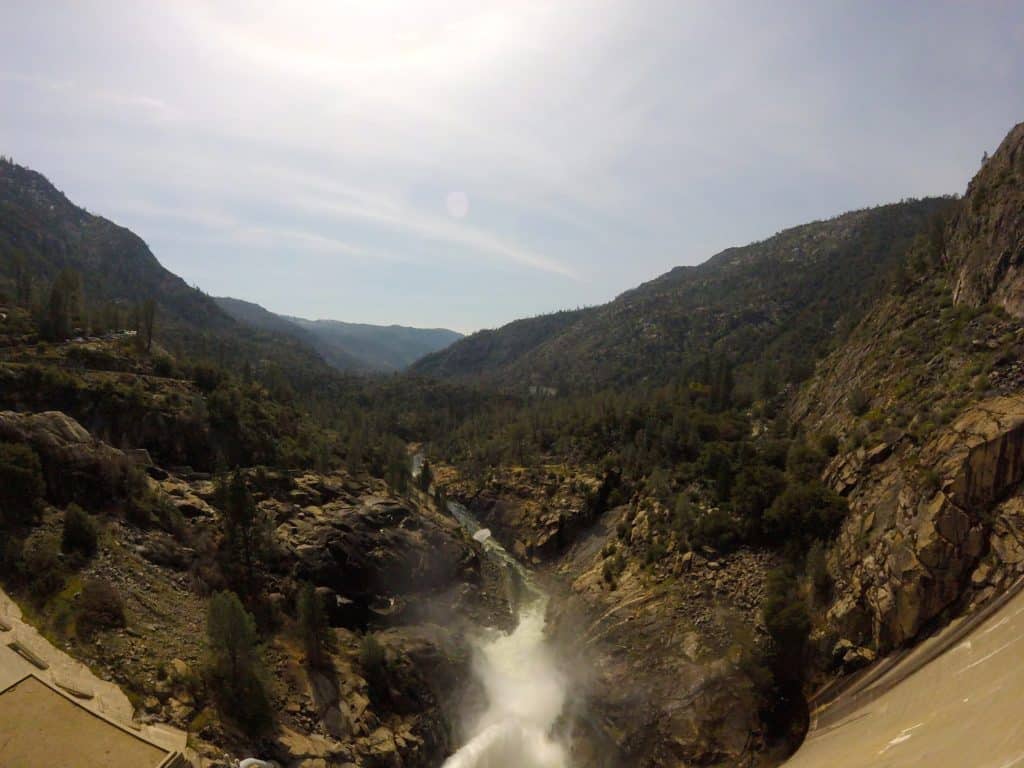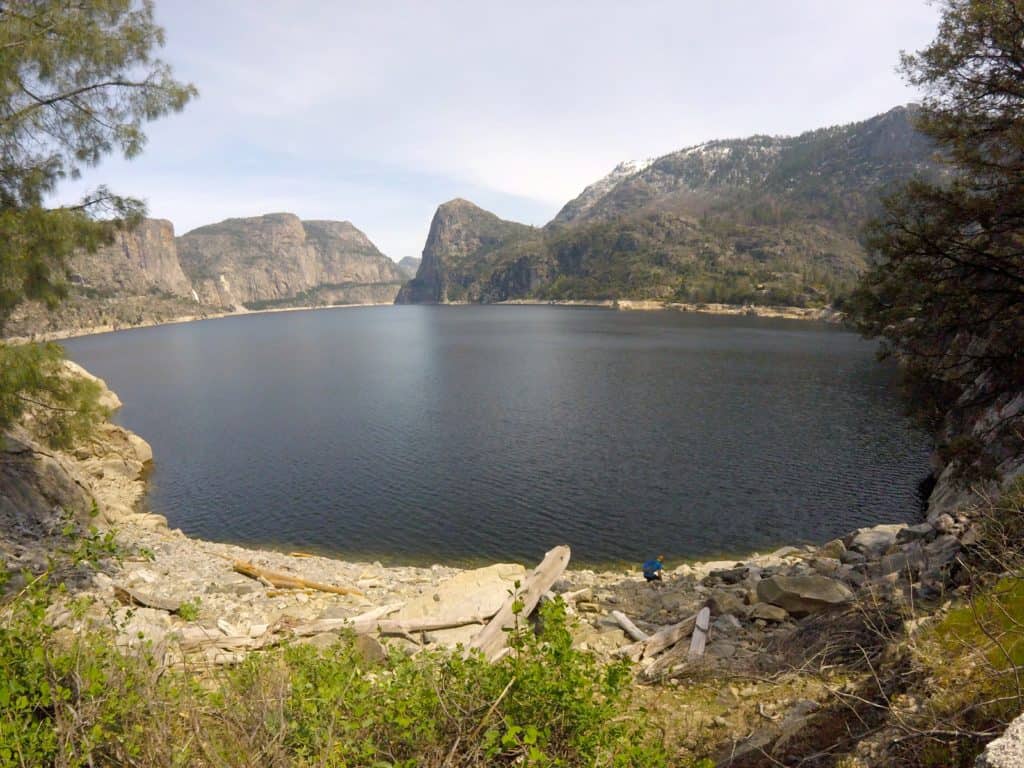 I'm so glad we went to Hetch Hetchy. It was stunning. Mountains around a lake that reflected and were snow capped with waterfalls everywhere. We did the main trail from the dam to Wapoma Falls and back, which took 3 hours. You could do it faster; you could do it slower. Depends how many times you wander over to the cliff edge to take a panorama. The trail is perfect and there is a great place halfway through to take a lunch break and play in a river pool (if it was summer). You can also keep hiking past Wapoma Falls for about 13 miles if you so choose.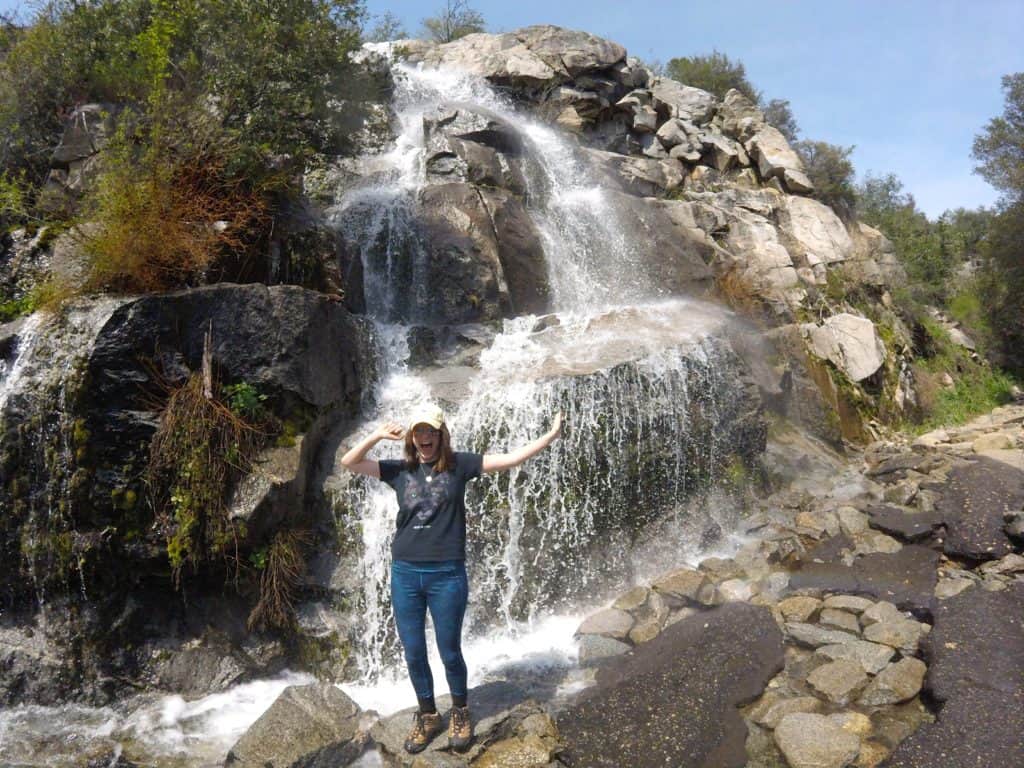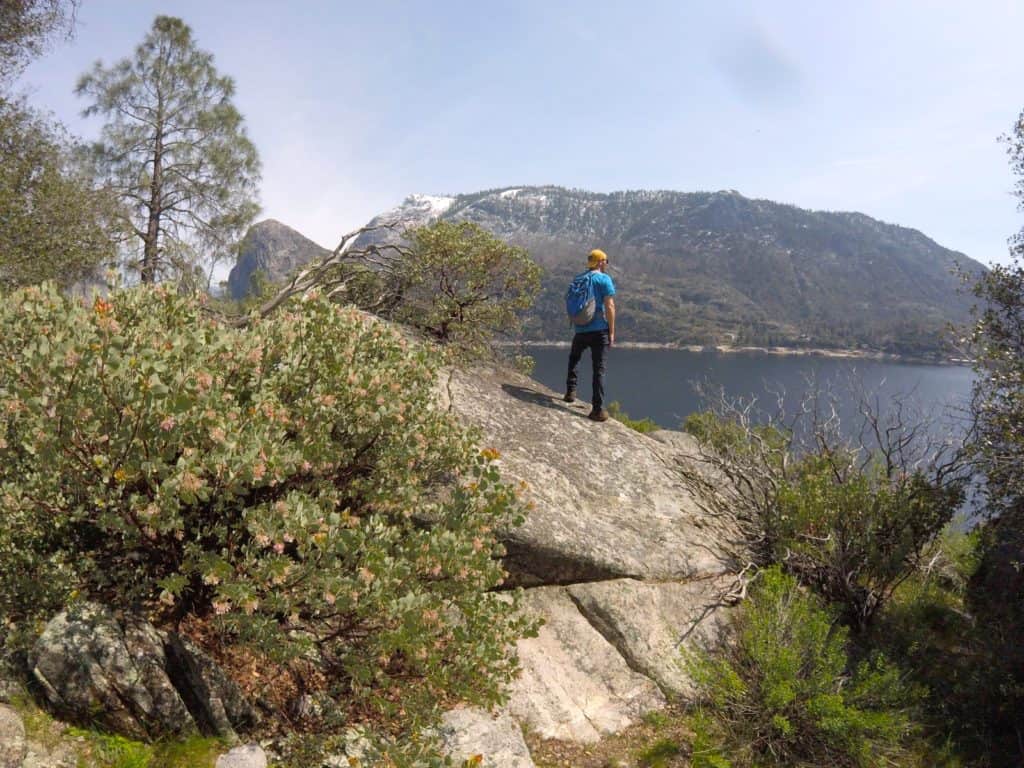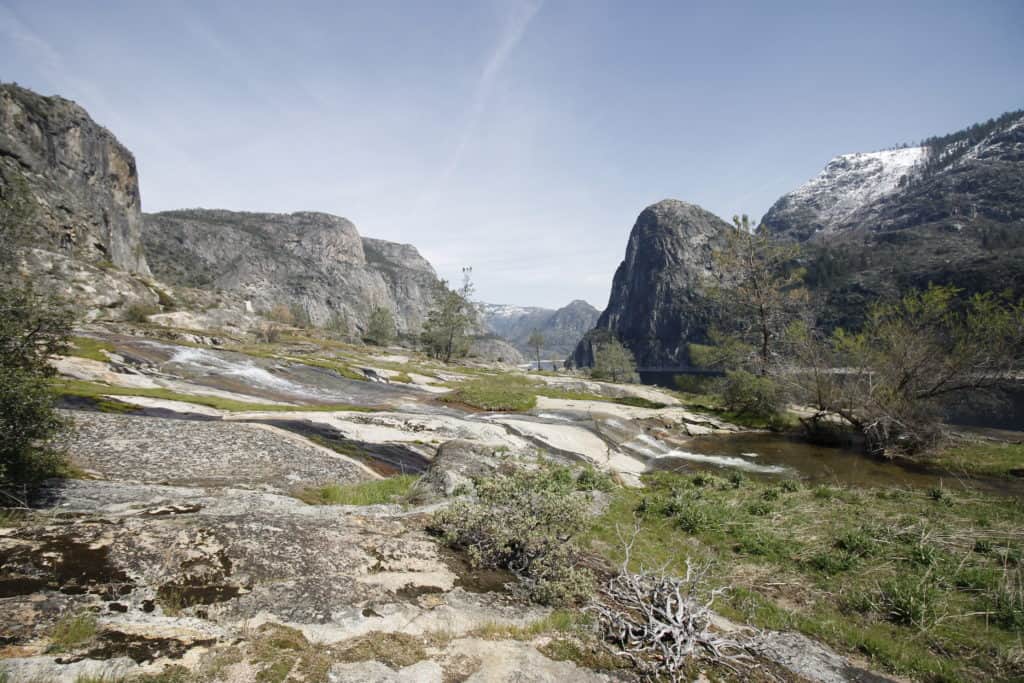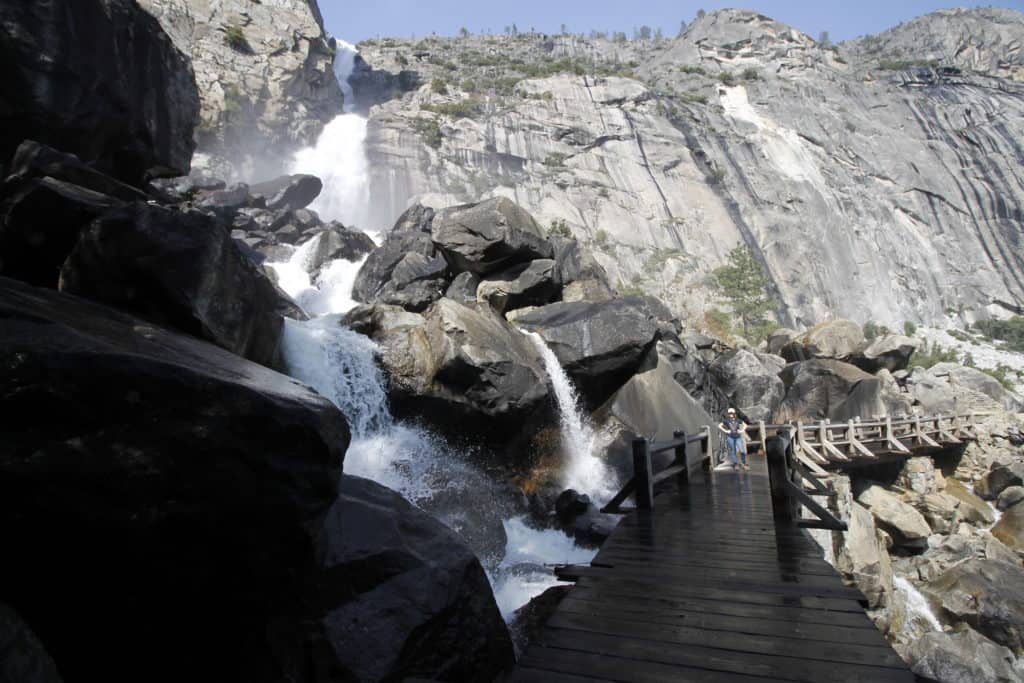 Yosemite was really cool, but we learned that things are still a little tumultuous in April. The weekend before we were there it was 65 and sunny. The weekend after we were there, they started plowing the roads in the parts of the park that were still closed for winter. I never would have thought that it would be "winter" in April, but it was. April is a great time to go to Yosemite for the waterfalls and the lack of crowds, but you run the risk of closures. Depends what you're willing to risk. We still had a great time and enjoyed that extra view of winter for the year, but we definitely can't wait to go back one day and see more of the park!