Truly, I am not that into decorating for random holidays. However, I have really been letting myself get into wreaths lately (did you see me on Facebook live making one recently?) as a fun way to decorate my front door.
Whether you want to make them or buy them, wreaths are a fun and relatively low effort and low cost way to share a little holiday cheer. I have gathered a variety of Valentines Day wreath ideas for you including some that you can buy and some that you can DIY!
They include flowers, mesh, felt, and fabric options!
I love making festive wreaths because wreath forms are inexpensive to buy and you can often re-use them for different holidays.
Types of wreath forms
Wreath forms generally come in a few different options:
Wire wreath form
Grapevine wreath form
Foam wreath form
This time of year, you can often find heart shaped wreath forms at places like Walmart, craft stores, and even the dollar store! This makes DIY Valentine wreaths easy and affordable to make.
Budget friendly hack!
You can also often buy end-of-season wreaths on sale at places like Michael's and easily remove some of the decor pieces and replace them with new seasonal decor.
This way, you don't have to store tons of different giant wreaths – just swap out the decor on your one wreath form.
Ways to decorate wreath forms
Some of my favorite ways to decorate wreath forms are:
Burlap wreath
Pom Poms (made from felt)
Tassels
Ribbon wreath
Fabric-wrapped wreath
Flower wreath
Wooden shapes and cut outs
Use hot glue to attach almost anything lightweight!
Valentine's Day decor is generally going to be red, white, and pink. I love that some of these wreaths include natural elements – like sticks, wood slices, or more natural looking felts and fabrics.
This can be great contrast and help the wreath better incorporate into your home's everyday style.
Where to hang a wreath
Don't want to hang a wreath on a door? How about:
A window – inside or out
On the wall
Over the fireplace
On the back of a chair (small wreaths)
As for hanging wreaths, I prefer to use a large outdoor command hook that lives permanently on our front door. Just be sure that your wreath is within the weight limit of any hook that you hang.
Here are some of my favorite DIY Valentines Day wreath ideas – I hope that they will inspire your Valentine's day crafts!
DIY Valentines Day Wreath Ideas
DIY Valentine's Day Wreath Ideas
Want the perfect wreath for Valentine's Day? Here are tons of DIY ideas to inspire you!
Prefer to purchase your Valentine's Day wreath? Here are some options for doing that!
AMAZON
tulips // felt // peonies // roses // lavender heart
Amazon is a great place to purchase wreaths from – they ship quickly and have a great return policy. Be sure to double check the measurements – I have ordered a wreath before not realizing it was miniature!
ETSY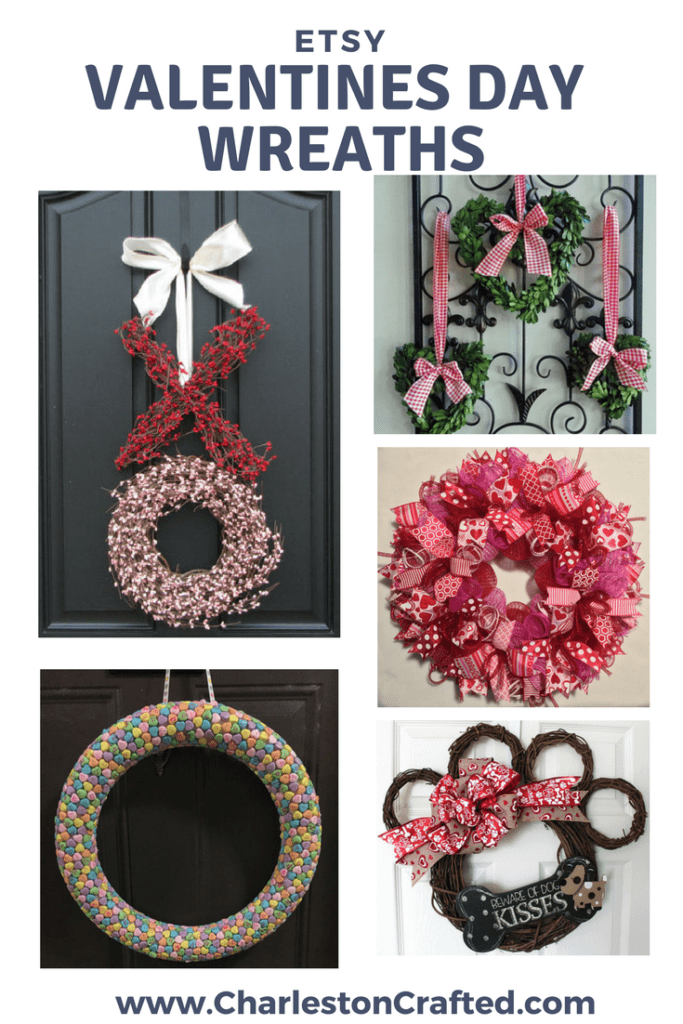 boxwood hearts // XO berries // ribbon // candy hearts // dog lovers
Etsy has a great selection of handmade wreaths. I mean, how cute is this conversation heart wreath?! Just be sure to check the lead up or shipping time, as many are custom made and take a while.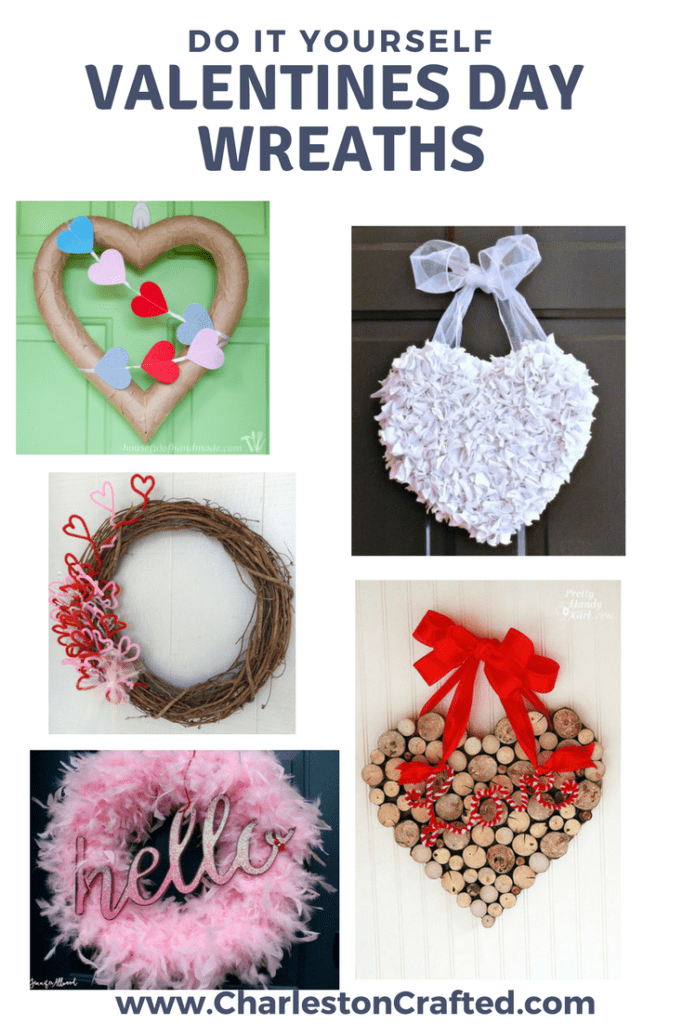 Be sure to check out some of my favorite wreaths that I have made!
DIY embroidery hoop spiderweb wreath
How to make a tobacco basket wreath
How to make a scrap wood wreath
What kind of wreaths are you shopping for?!