Wondering how to propagate a plant? I hope that this comprehensive guide helps!
So, you love plants. I can't blame you. So do I!
However, plants can be really expensive. Even if they aren't, to get enough plants to get that lush, green, Instagram look, it's going to get pricey.
That is where plant propagation comes into play.
Plant propagation is the process of growing new plants from a parent plant.
So, all you need is a plant to start with – it could be your plant or a friend's plant (cutting swaps are fantastic!)
You are going to take a cutting from that plant and propagate it, or grow roots. Then, you will plant your new plant in soil!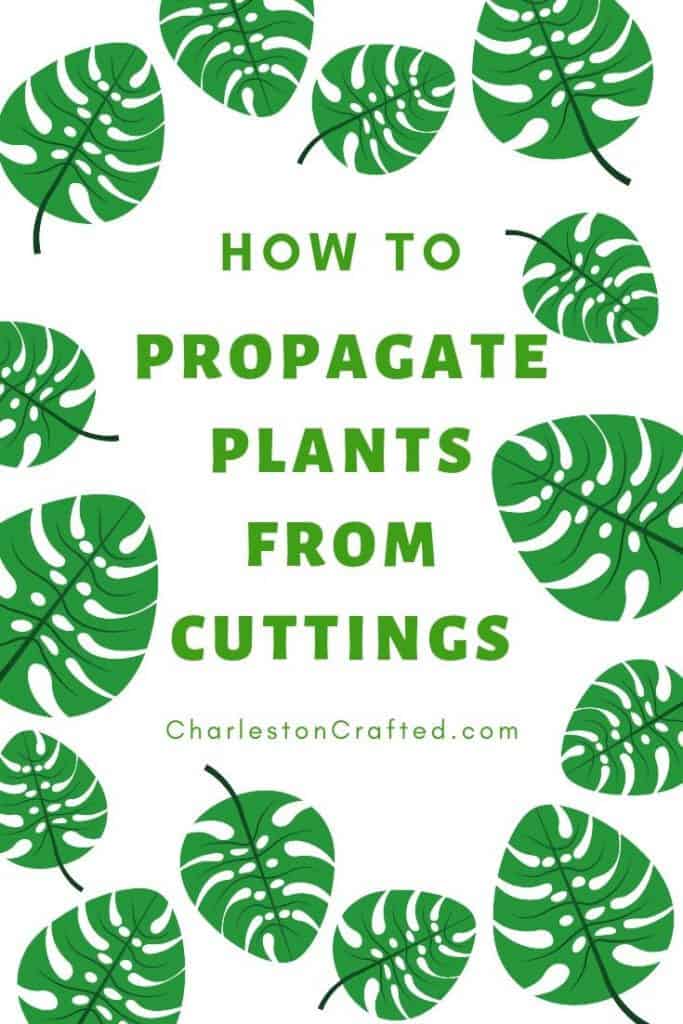 How to propagate plants
You can propagate plants via a lot of different methods. My favorite is propagating in water. It is the most beginner-friendly and the focus of this post. However, there are other methods.
Plant propagation methods
Propagating from stem cuttings
Propagating from root cuttings
Propagating with leaf cuttings
Root division
Grafting
Air layering
For this article, I focus on beginner level plant propagation, which I consider propagating from stem cuttings in water. You can also propagate stem cuttings in soil.
How to propagate plants in water
You don't need special tools or skills to propagate plants. All you need is:
A starter plant
Sharp clean scissors
A jar or cup of water
Indirect light – such as a sunny window
What plants can I propagate in water?
In general, for propagating in water, you want to look for plants with green stems. Plants with woody stems do not propagate easily in water.
Click here for a list of 20 plants that propagate easily in water.
How long do plants take to root?
The length of time that a plant takes to root will depend on a lot of things – how healthy the parent plant was, the amount of sun and water it gets, even the time of year.
You should see some growth within a month. If you don't see anything, I would re-cut the end off of your cutting (just an inch or so) and stick it back in the water and reset your clock.
It will take a little longer for roots to be long enough to plant in soil.
What temperature should I keep plant cuttings at?
Plant cuttings are good to be kept around 70 degrees. Anything below 55 degrees will be hard for roots to grow. Anything over 75 degrees and you are likely to grow green gunk.
Want a plant propagation PDF eBook? I wrote one just for you!
Here are some plant propagation examples that I have blogged about: