One of our top decorating priorities for the beginning of this year was a sunroom makeover to better meet our current needs. Be sure to click over and see our full design plan for this space here!
Sunroom Makeover Reveal
Our main goals were to make this space more child-friendly and also to just mix up the decor a bit, since it has been the same for a couple of years.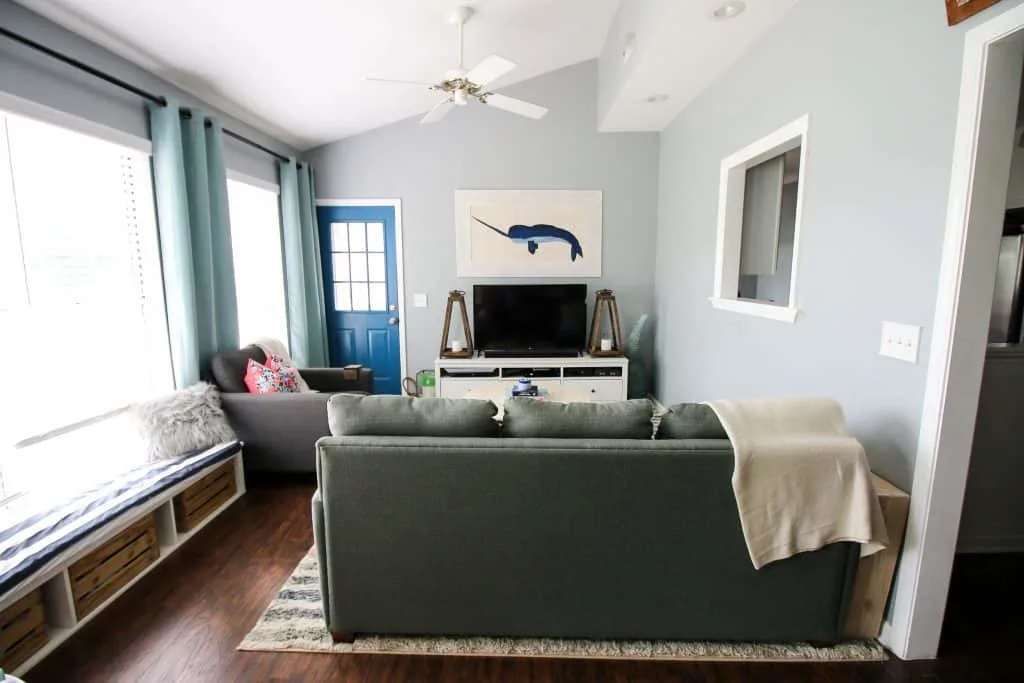 Seating Adjustments
First, we replaced the sofa. It didn't get a blog post – though we did talk about some of the physical problems with the old sofa when we re-stuffed it here. Despite re-stuffing it, the chaise really started getting in the way of the baby. So, we replaced it with a simpler, 3 seat option (La Z Boy brand, via Homegoods).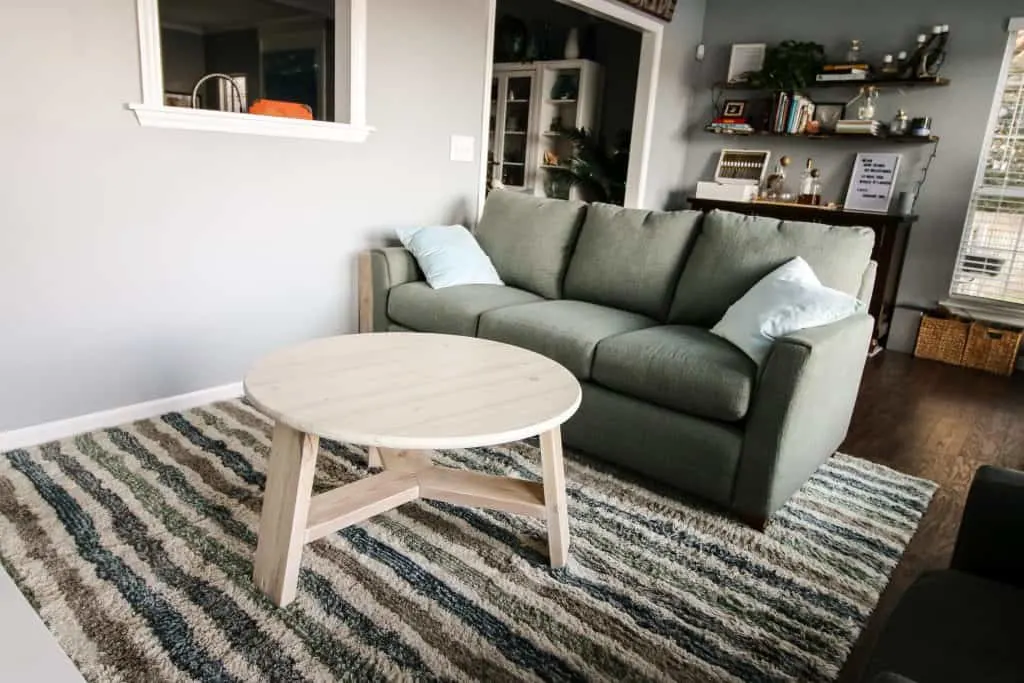 After replacing the couch, we were able to get the perfect size for a new DIY modern coffee table! We love our driftwood table (and hoarded it in the attic!) but the glass table top was just not baby-friendly. It showed fingerprints and would be dangerous for Luke once he starts pulling himself up.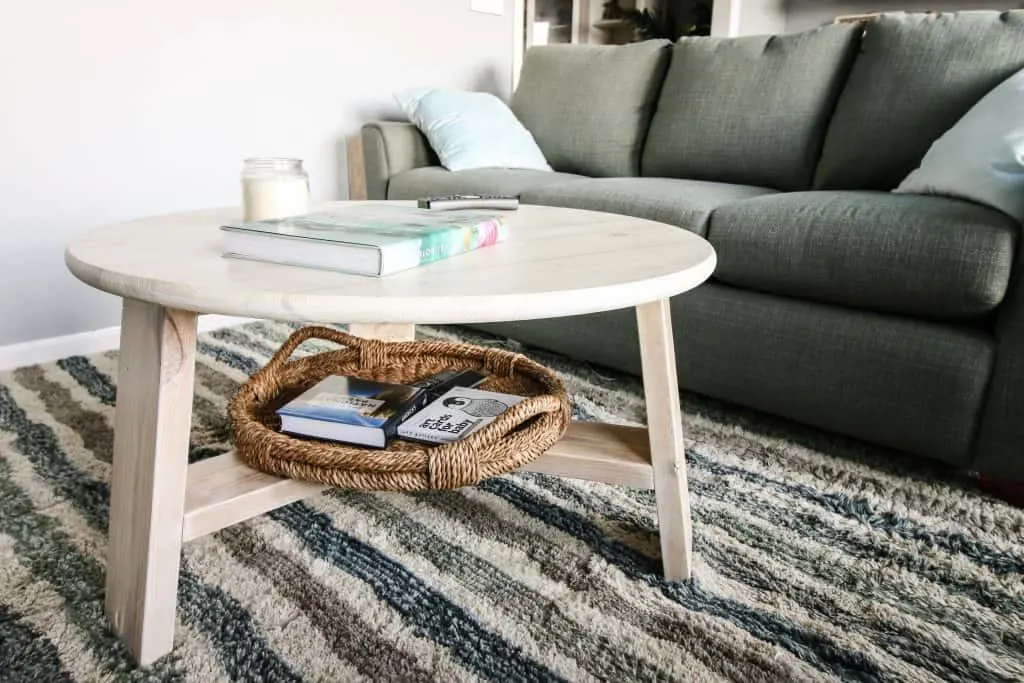 So, Sean built this beautiful modern table. We used a white wash on it and that new tone really set the tone for the whole room.
We also had to adjust the spacing in the seating arrangement, because the new couch wasn't quite as long as before. So we whipped up a waterfall side table using the same white wash to fill in the gap and extend the couch out.
Once we saw the new sofa with the coffee table, we decided that we wanted a movable small ottoman for the space. Sean used the Kreg jig to build this upholstered ottoman, and it's great as an extra seat, a foot rest, or to move out of the way when the baby's on the rug.
Decor
Next I wanted to mix up our TV area. I loved the teal lamps (and actually almost sort of "met" Sean before we really met when he walked past me while I was spray painting them back in 2011!) but I was ready for a new look.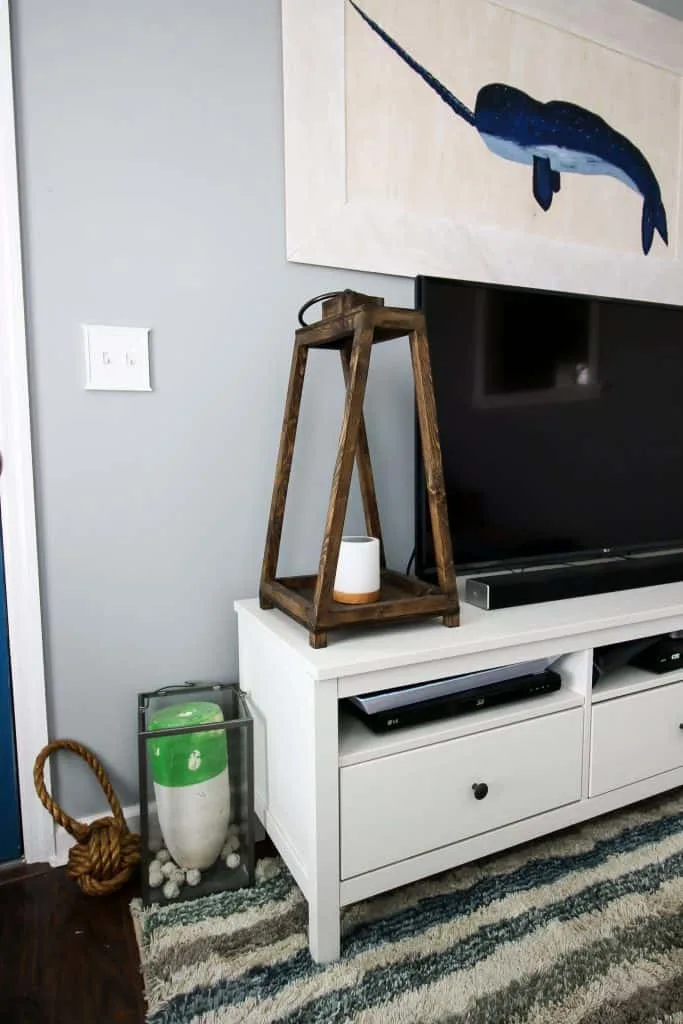 So, I designed and Sean built a pair of wooden lanterns for either side of the TV. Y'all, I am OBSESSED with these and think they turned out so well! I love the light and airy, nautical look.
Next, I decided to add some art over the TV. This was a bit of a controversial choice on Instagram (y'all loved the door gallery wall! And I did too – I just was ready for a change) but I am glad we did it.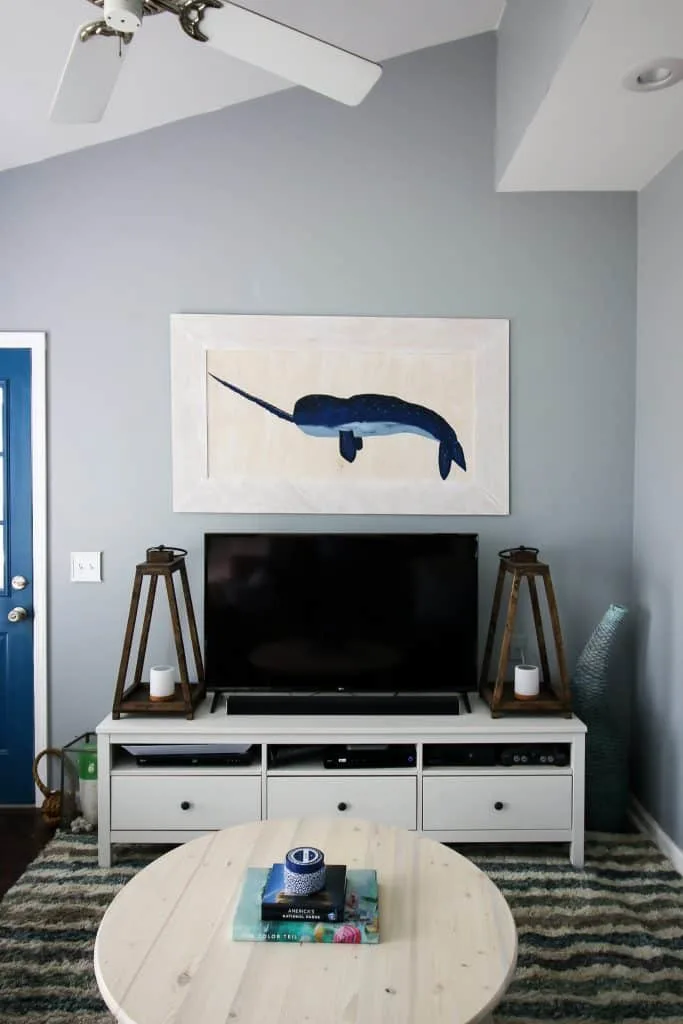 I painted a narwhal on plywood and Sean built a custom plywood frame to add some width to it when the plywood by itself felt too small.
I love this guy and think he adds just the right amount of fun to this space.
Sean also built a simple but crucial cup holder that hangs on the armchair. This idea was born out of a guest needing a spot for her drink, and it really solved the problem well.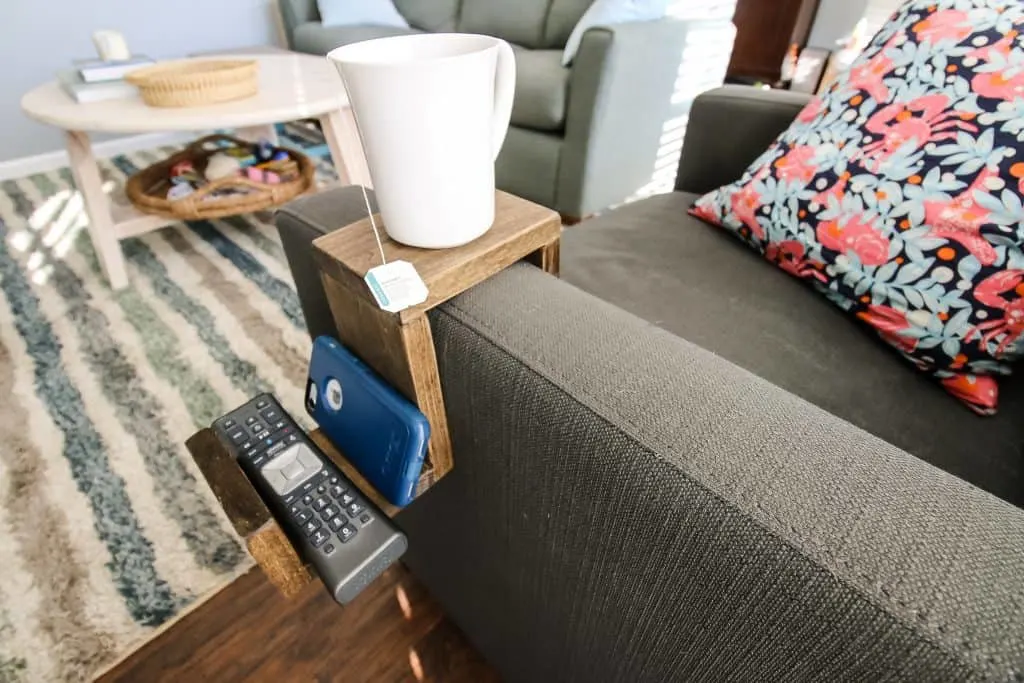 Plants
Don't forget that we did some work in the plant corner of this room, too. We chopped 3 feet off of our 7 foot tall Fiddle Leaf Fig (we will update y'all once we see how it re-grows – it will take a few months).
We also got a 3 foot tall cactus which I am obsessed with!
We didn't make any changes to the bar area – I am really happy with how it looks, already. I love those live edge shelves!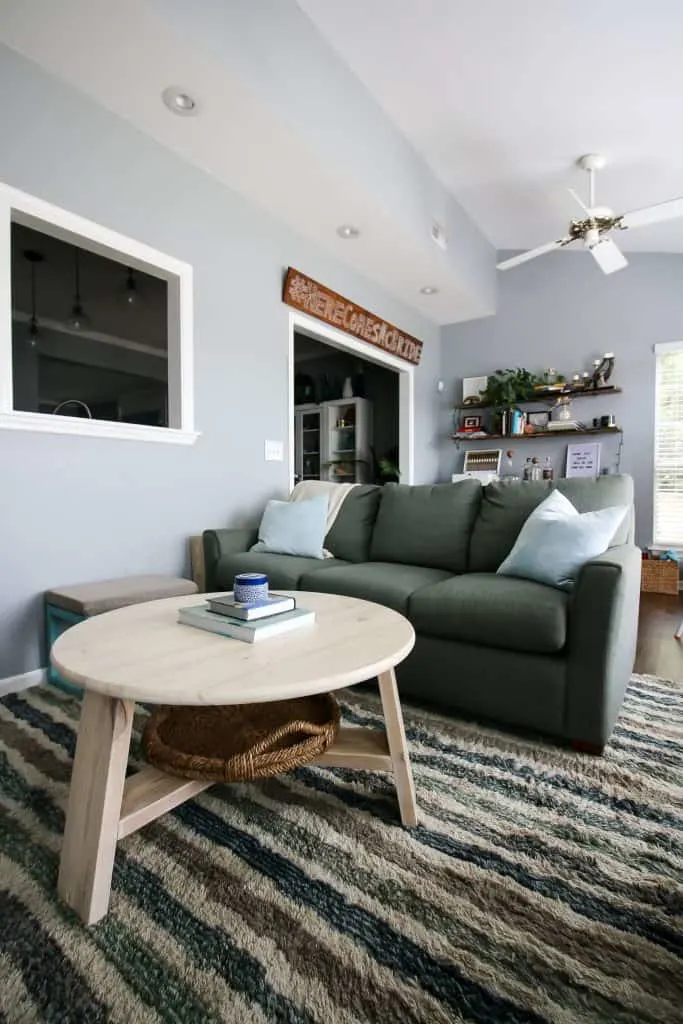 What we didn't do
What didn't we do? We did not replace the two ceiling fans or add beams to this space. As I have mentioned, we don't really see ourselves staying in this house more than another year to 18 months, and after pricing out those projects (both the cost of supplies, labor, and how much of our precious time they would take) we decided they were not worth the investment right now.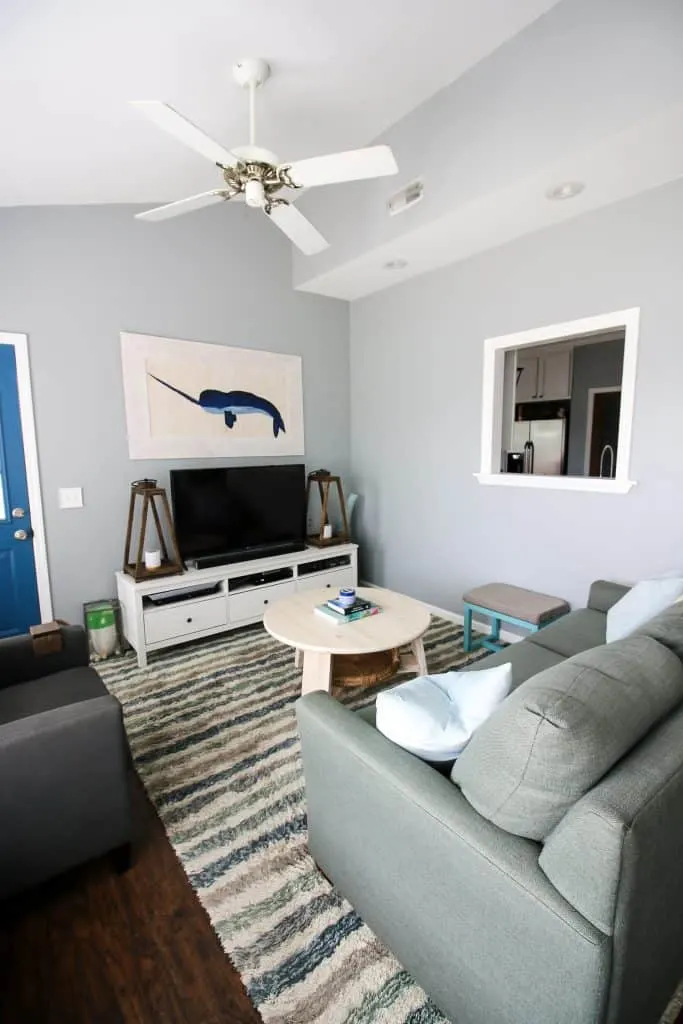 I am so happy with how the sunroom makeover looks and functions now! It's not a huge dramatic makeover, but it works so much better for our family.