I've always heard that only girls do spin class. It's like barre and yoga and jazzercise. It's one of those things I've always just heard and never really looked in to. Let me tell you, spin class is not just for girls, because it kicks my a$$…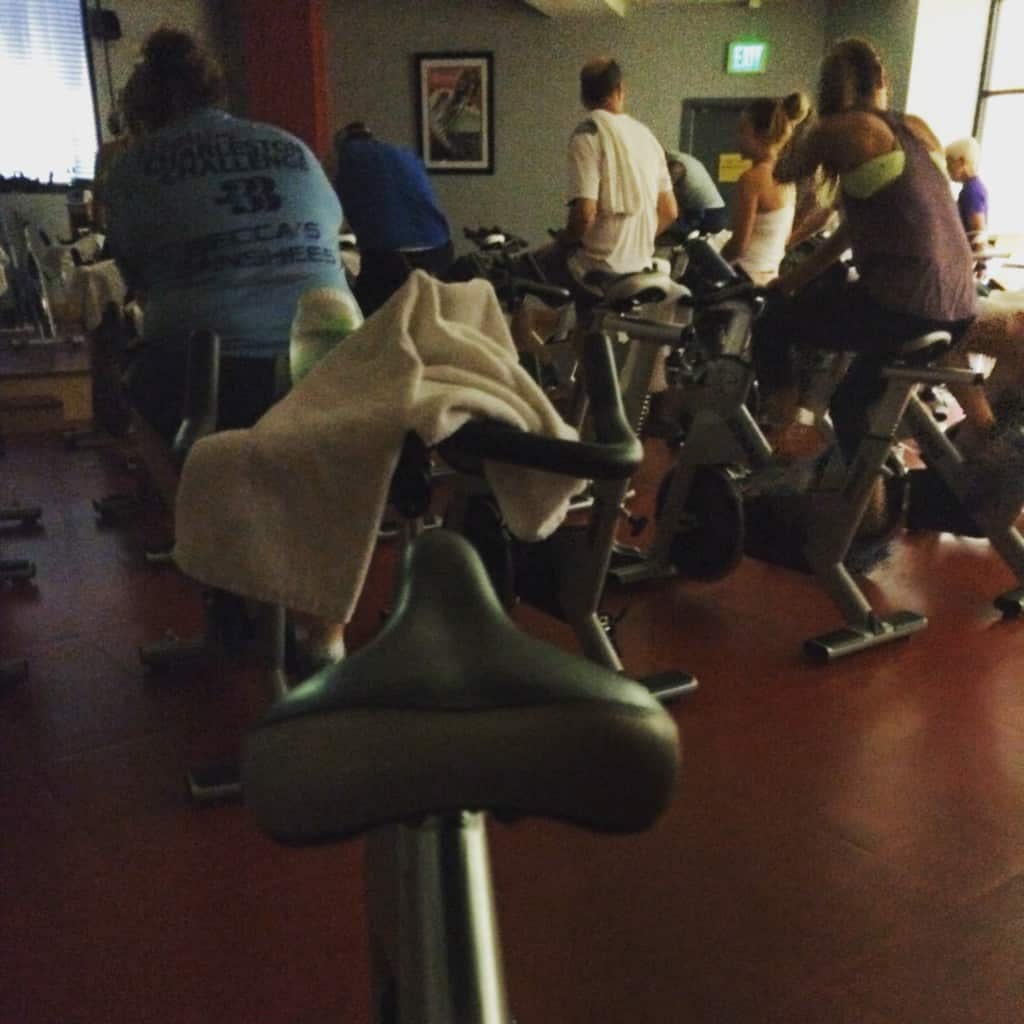 You may or may not know that I like to do sprint distance triathlons in the summer with the Charleston County Parks and Rec Commission. I've done a few and I've been looking to step up my triathlon game to the next level. It's on my portion of our 101 in 1001 list to complete an Olympic distance triathlon, so I've been trying to work recently to prepare for the Kiawah Island Triathlon in September. The problem with training for a triathlon in Charleston is that they are all in the summer when it's over 100 degrees everyday with 4,000% humidity. That's where spin class came in.
Biking has always been my weakest link in triathlons, so I try to work on it the most. But in the summer, it is literally so hot that often times it's impossible to bike. I can't just sit there and bake for an hour or more on the bike in the sun. That's when I looked at spin class at my gym and decided to check it out.
I work out at the MUSC Wellness Center and they offer several spin classes a day for people with different schedules. The only one that really works out well for me is, unfortunately, at 6:00 a.m. I'm not big on waking up real early, but I have been trying to do it more often and having something specific that I have to do is helping. So I've been going on Wednesday mornings at 6:00 a.m. to get my butt kicked.
The classes, while predominantly female, definitely have some other males in there, and I'm happy to say that I look to be in the best shape of them, so I figured I could do it. The sessions are 45 minutes with a 10-15 minute cool down. The instructor does a great job of mixing things up with each class and within each class by switching between sprints, uphill climbs, standing rides and switchbacks. By the end of the time, I'm probably the sweatiest person there because I'm new and am trying to push myself as hard as I can. The instructor told me that we probably go about 15 miles in the class, which is a good distance and really helps me stay on the bike even in the hot summers. I feel like spin class is going to help me tremendously when I try to do the Olympic triathlon in September!
What exercises have you been up to lately?