If you want to brighten up the exterior of your home, try adding solar lights to the posts on your stairs or porch railings. It's a simple DIY project that makes a huge difference!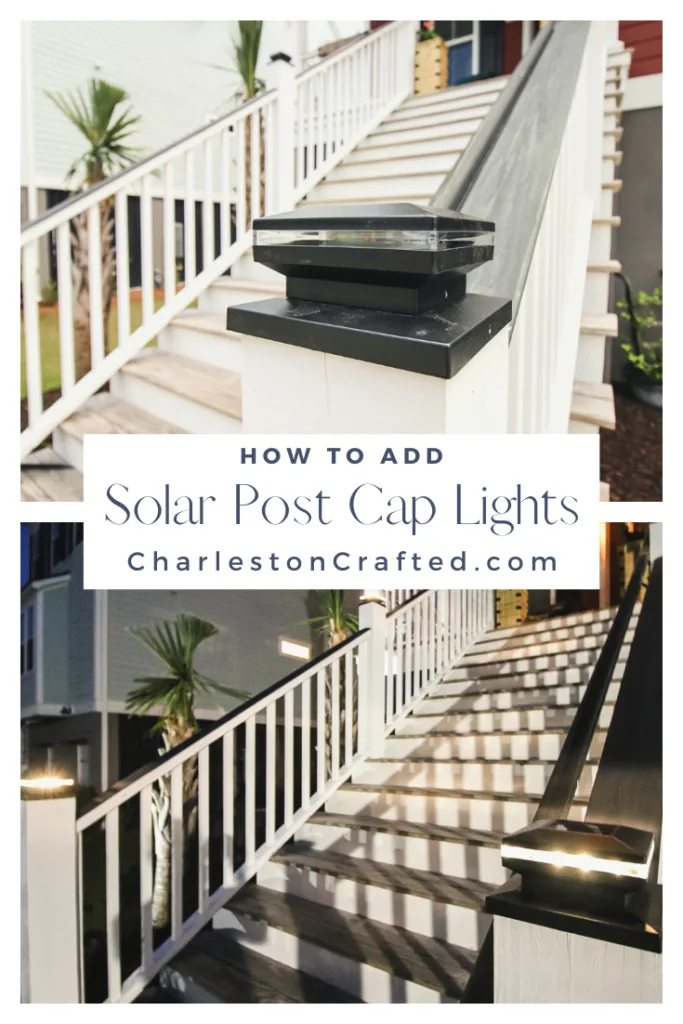 We recently decided to spruce up the front and back stairs to our house and one way we did was to add solar post lights to the top of each post on our stairs.
This is not technically necessary, but we needed to replace the post caps and wanted to do something better than just another piece of wood.
The post caps on our stair posts previously were warped, cracked and peeling from years in the sun and not being properly sealed by the builders. Because they were in bad shape, they were easy to remove, but you can replace any existing stair post cap with solar lights.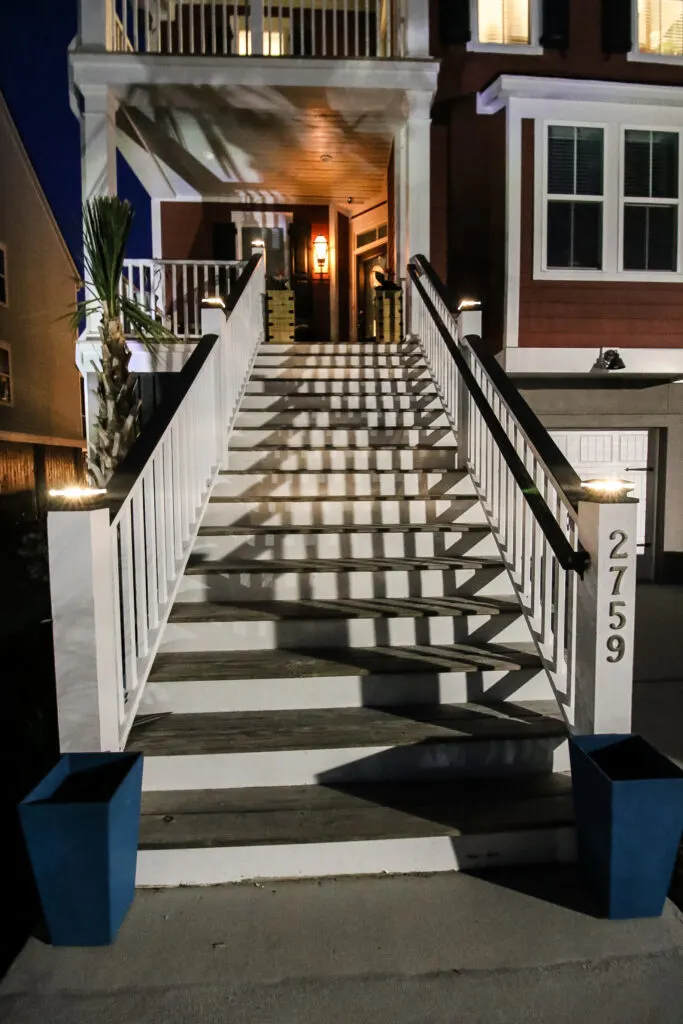 We used these simple solar post caps on our stairs and they work for both 3 1/2″ and 5 1/2″ posts. They were incredibly easy to install and had an immediate impact on the front of our house.
Let's show you how easy it is to remove old stair post caps and replace them with solar powered post cap lights!
How to add solar lights to stairs
Adding lights to the stairs on your home or around your fence is incredibly easy these days thanks to the affordability and accessibility of solar powered lights. Installing solar lights around the outside of your home is and easy way to add ambience and a classy touch to the feel of your home.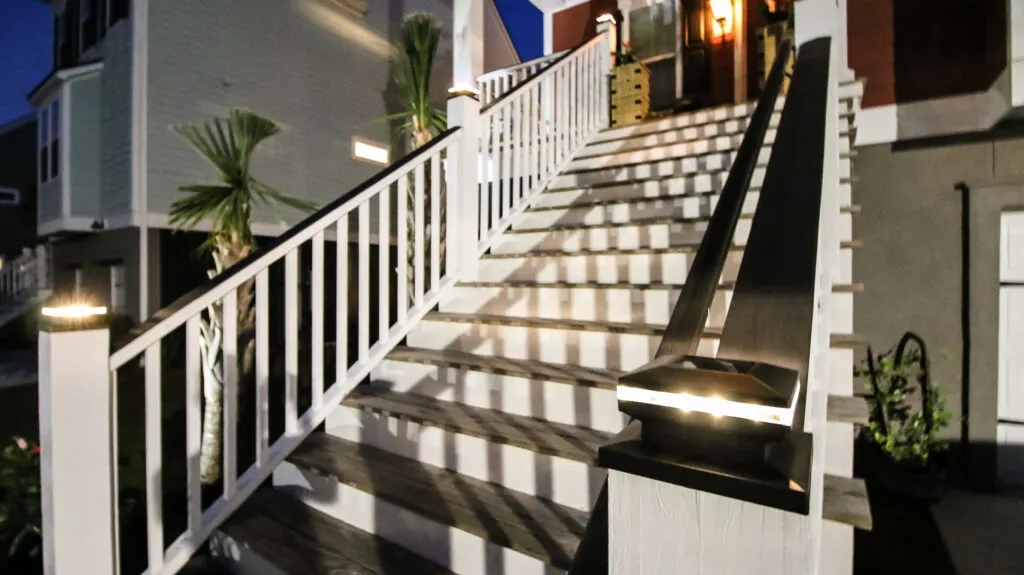 We previously added outdoor lighting in the form of bistro string lights in our backyard even without any trees. We liked the look so much that we wanted to put some lighting in the front as well.
The solar post caps we used are perfect for stairs, decks, or fences, and they were easy to install. We'll show you how to add lights to your stairs using solar post cap lights and change the look of your home forever!
How do you remove stair post caps?
Before you learn how to attach solar lights to a post, you have to remove what is already there.
For us, it was some 1 1/2″ thick, 8″x8″ squares of wood. Ours were warping, cracking and peeling and were only held in place by five nails and a little caulk.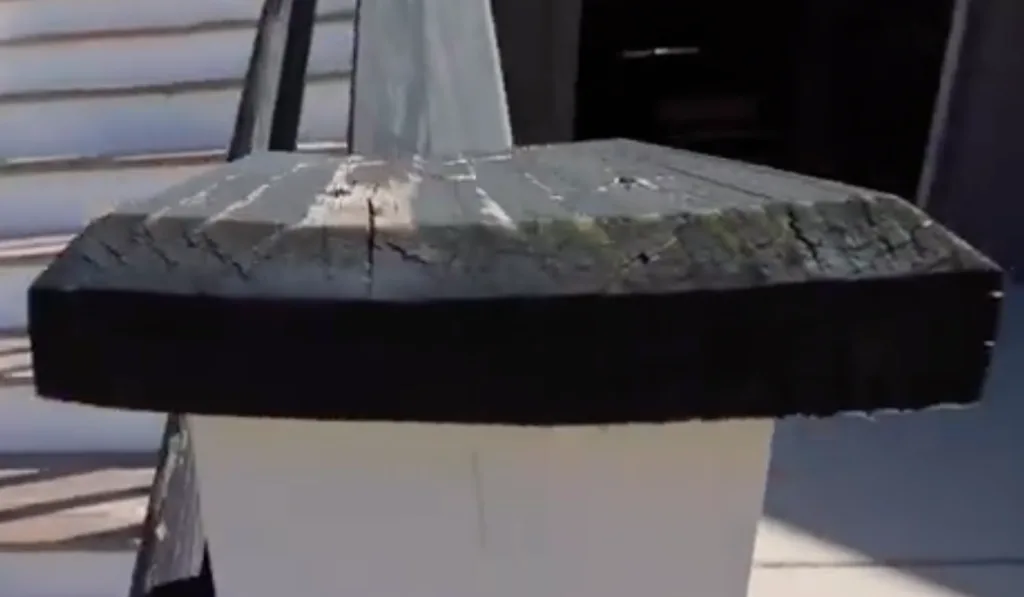 These were way easier to remove than we thought. We actually got a new pry bar that has a massive 4 1/2″ prying surface. This was a monster for removing baseboards when we installed our custom built-in dresser and shelves in our walk-in closet, and was perfect for this job as well.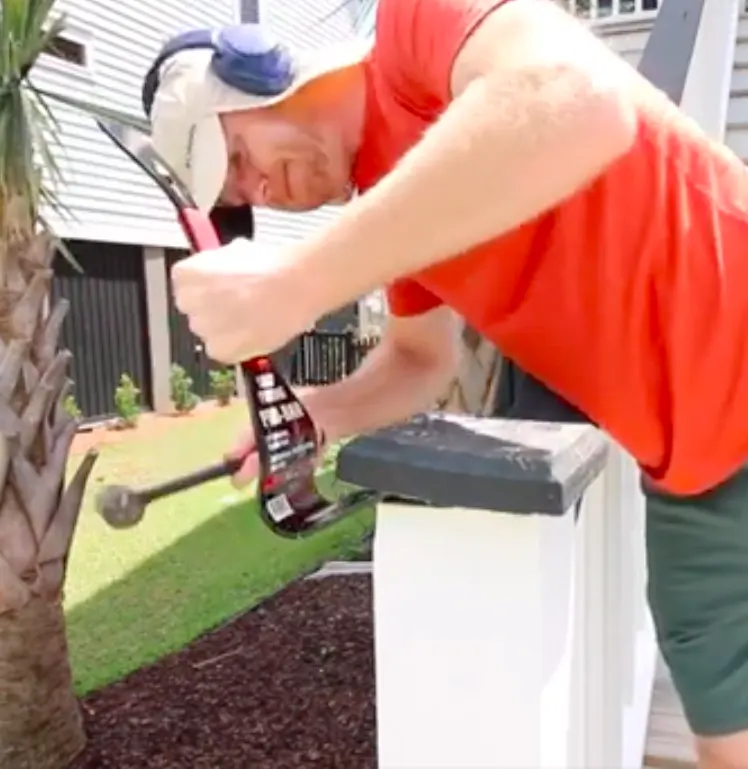 You could use a regular pry bar to remove these as well, just cut the caulk first and then hammer it in. For us, we hammered the pry bar right through the caulk and popped each cap off in no time. Check it out in our video below!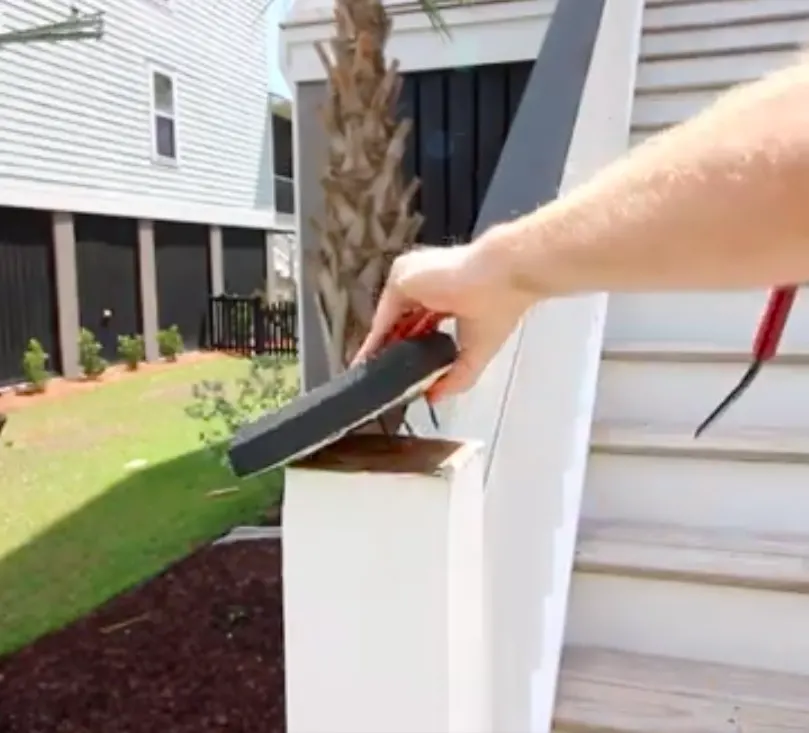 If you have other caps that aren't nailed into the top of your post, you may need to unscrew an existing cap or figure out what you have in place.
How do you install stair post solar lights?
Now it's time for how to add solar post cap lights to your stairs!
With the post clear, these were really easy. We bought these solar post cap lights from Amazon that fit both 4×4 and 6×6 posts. This means they can attach to posts that are 3 1/2″x3 1/2″ or 5 1/2″x 5 1/2″.
If you are looking for attaching solar lights to a 4×4 post, you just attach the top portion of these solar lights. If you have a 6×6 post like we do, you attach the base first, then attach the solar light to the base.
The base was easy to attach straight through holes on the inside with two screws.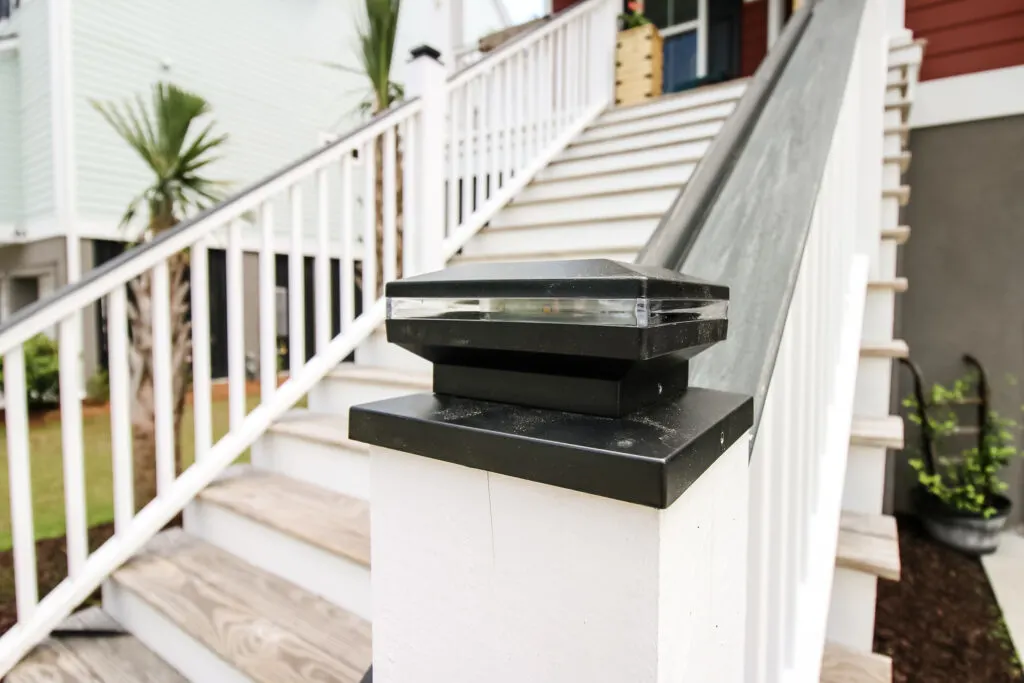 Then, the top solar portion (which has a pull tab to activate and a replaceable battery inside) then screws directly to the base with two small screws.
The screws that come with these lights are very small, so don't lose them, but then you're done with installing the lights!
These solar lights work best if they can get a full 8-12 hours of direct sunlight on their initial charge to fully power up. Then, they just need at least a few hours of light each day to be bright at night!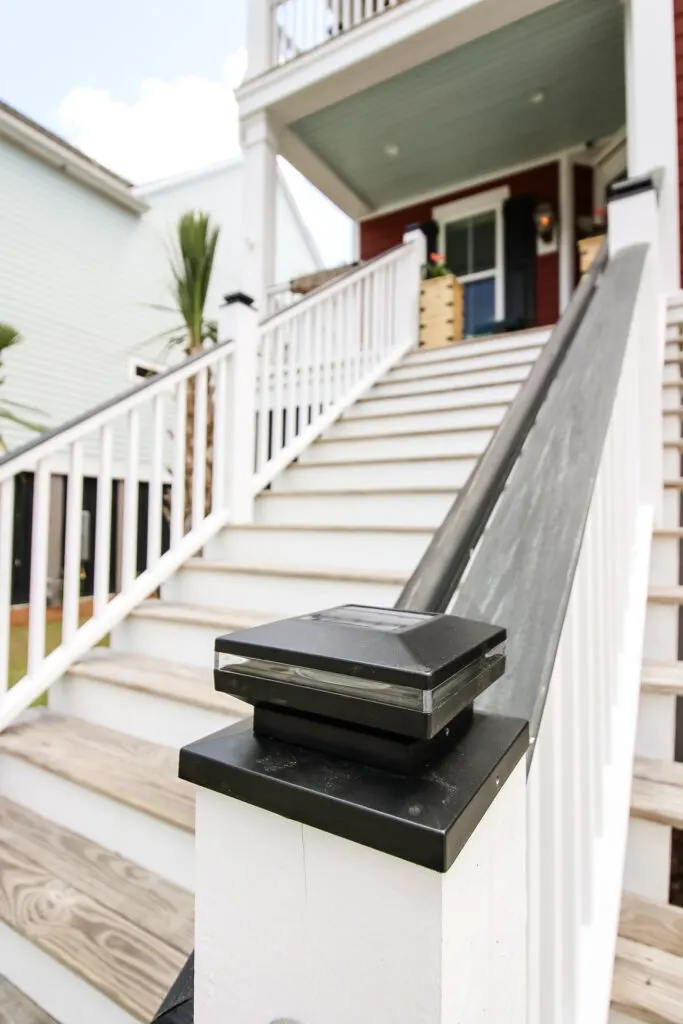 We were a little concerned that our lights wouldn't light up that well because they wouldn't get enough energy during the day. These lights only get direct sunlight early in the morning, then the bottom ones get direct light again late in the afternoon. However, they look great!
They are clearly picking up enough sun power during the day through their mini solar panels on top and are very bright until well after we go to bed at night.
Solar lights are great for ambience on our stairs, but that's not the only place you can use them!
Where can you use solar post lights?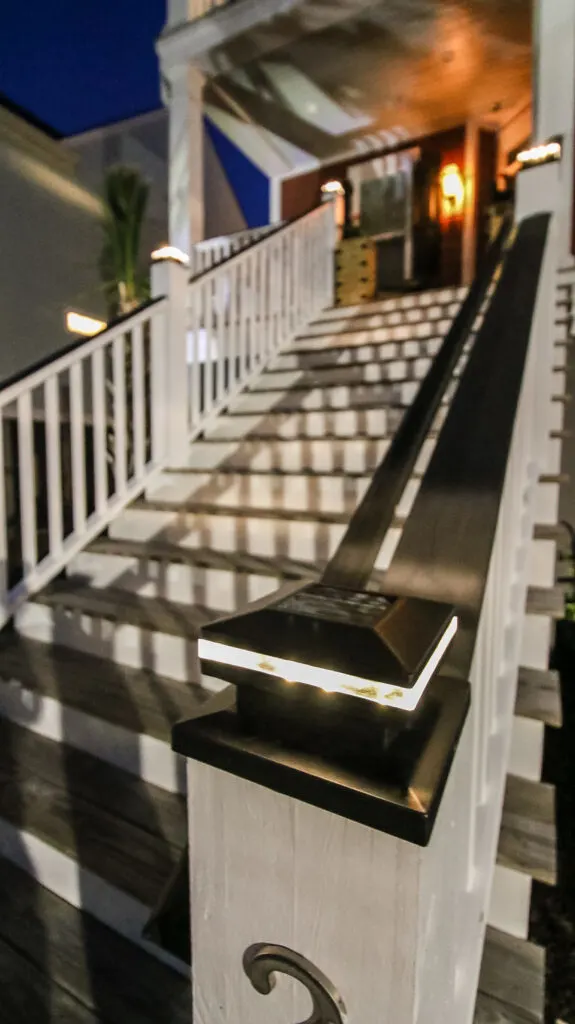 There are lots of places you can add solar post lights around your property to add light ambience to your exterior!
These solar post cap lights work on stairs, fence posts or deck posts. Anywhere there's a 4×4 or 6×6 post, you can add solar post lights. The lights are designed to work on any post and provide that little bit of light to your exterior.
A solar fence or little deck lights are only a few steps away!
How to add lights to outdoor stairs
There are other ways to add lights to outdoor stairs as well.
You can install solar path lights that affix under your stair treads or handrails and provide a nice light to help see where you're stepping.
You can also add solar path lights to light your walkway to your stairs or illuminate the stairs with lights that aim directly at the staircase.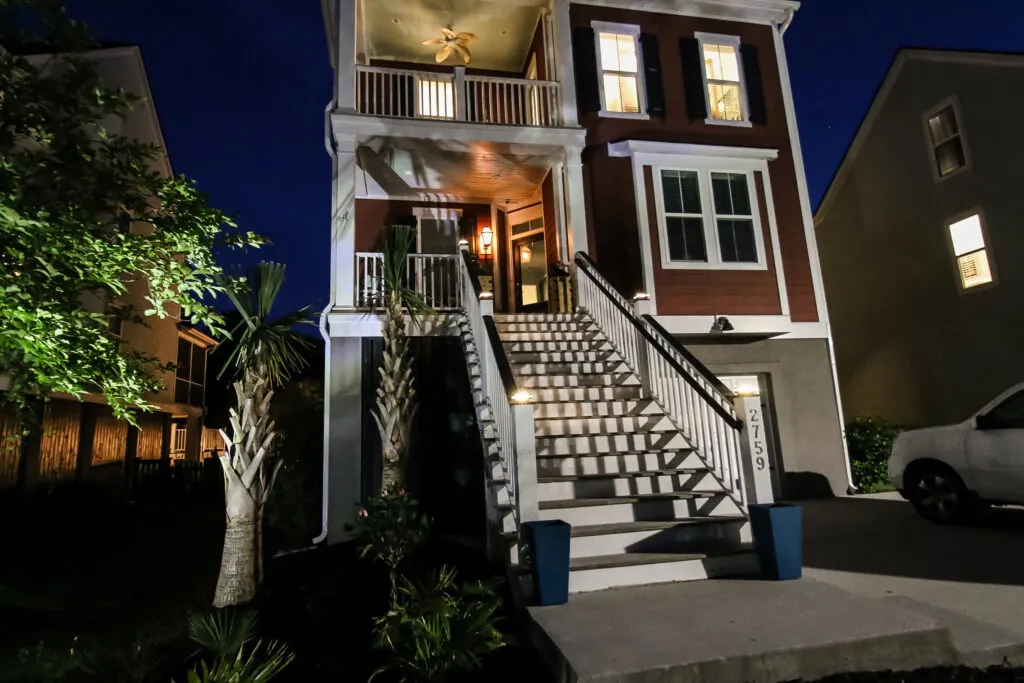 Video tutorial on how to attach solar post lights to stairs, deck or fence
Want to see how easy it is to attach solar post lights to your home? This video tutorial will show you exactly how simple it was to add outdoor fence post lights to your stairs, fence or deck.