Hey hey y'all. I know this is crazy. We literally JUST finished a $100 one month half bathroom makeover last week. But… this week starts the one room challenge again! I love participating in these kinds of challenges because they push me to get things done but also they are an awesome way to connect with new blogs and new readers. So, if you are joining us from the link up, HELLO! We are so glad to have you! Please check out our About Us, Home Tours, and DIY archive page. If you like what you see, add us to your blog reader or sign up for our newsletter!
So, the One Room Challenge means that we are making over a room in six weeks. Last time, we did our front room, which turned out to be a little slice of coastal heaven. Still mostly only the dogs sits in there (lol) but we are excited for it to be a space that we grow into and use with guests a lot.
This season, we decided that we wanted to makeover our master closet.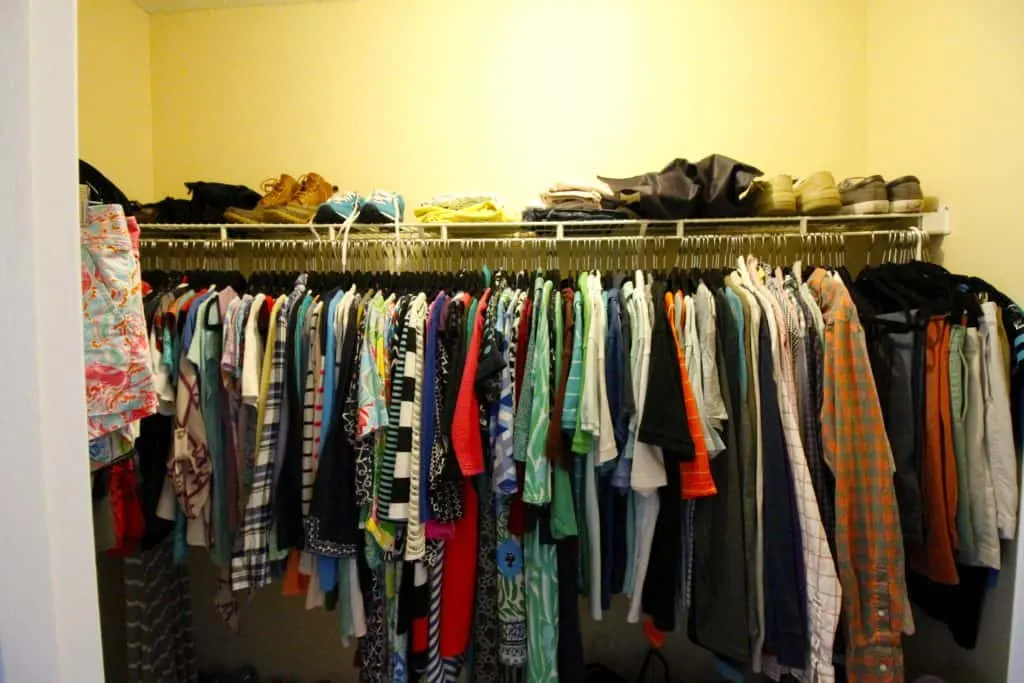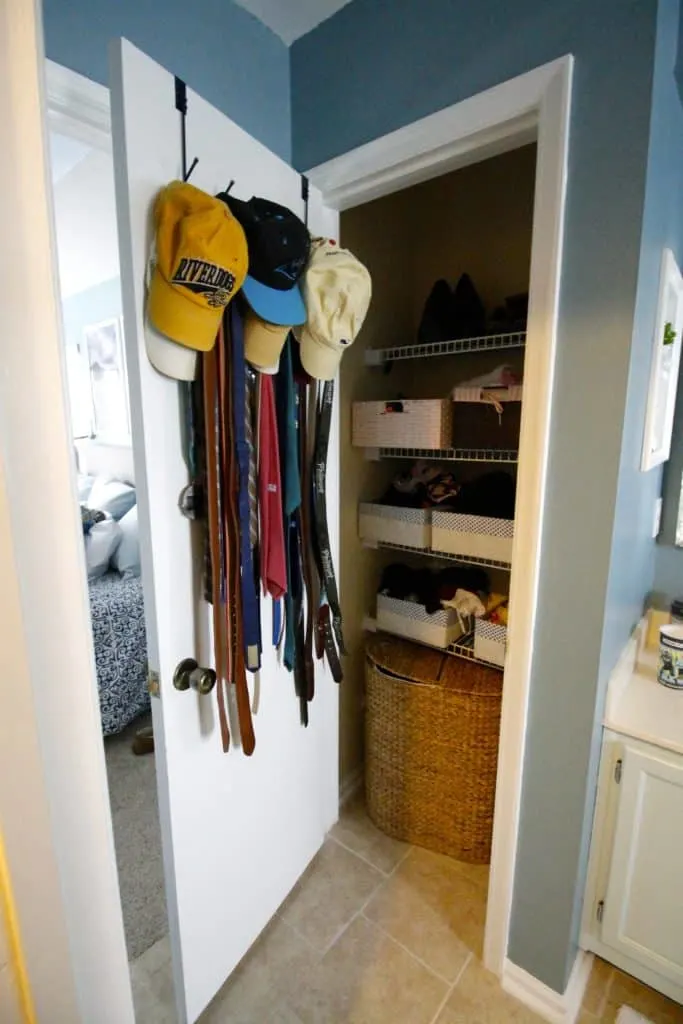 I know, not what you normally see with the ORC. But, it is the #1 space in our home that really needs the makeover, just for purely functionality reasons. Our closet makeover in the condo was actually our first big project there and one of my favorites. But, since we moved into this house in July, we have been using the standard closet. Here are my problems with it:
We have to share a closet – previously, Sean used the condo guestroom. To be fair, I lived there alone before he moved in, but he totally hated the set up. I get that marriage means sharing a closet, but that doesn't mean I'm thrilled about it. Sadly, this isn't going to change.
It's just one rod going down the middle of the wall – it's a major waste of vertical space. I am super excited to really expand.
We have to move the laundry basket – our dog CiCi is a dirty underwear eater. It's a gross and expensive habit. We got a fancy laundry basket with a lid but it still hasn't kept her out. Since our closet doesn't have a door, we are going to have to move it to the linen closet (which does have a door). This will open up space in the main closet but lose 3 shelves in the linen closet. We don't actually keep any linens in there (we have another closet in the laundry room) but that was my planned accessory storage.
I want some shoe storage – to get them off the floor – hopefully in the above mentioned linen closet. And I'd love for it to look like this.
Wooden shelves – I have normally gone for white shelving but after seeing the wooden shelves in our pantry, I want to go in a similar direction up here. We don't have the same dark floors in this space so I will go for a lighter stain but I am excited about it!
So, here is my design plan for the space:
Step one will be demo. We will then patch the walls, paint, and scrape the ceilings. I will probably paint the space Sherwin Williams Interesting Aqua since that's whats in the bathroom and I have leftover paint!
The closets themselves will be 100% custom built from wood from Lowes. I have done the design (coming next week!) and Sean will take the lead on the build.
We actually already have this overhead light. It's currently in our hallway but doesn't work in the space (the arms block changing the air filter in the vent…) I am excited to bring it in here. It is SUPER bright. It also is a touch glam which is not normally my style but will go well with the closet vibe, I think.
I plan to lay a gray faux sheepskin rug in this place. I know, how very TJ Maxx of me, but they are inexpensive and Sean won't let me put one anywhere else 🙂 I think that having a bit of fur underfoot will actually be really nice for getting ready. TBD on what size I end up finding. Probably at TJ Maxx 🙂
We are also going to be making over the linen closet. Like I said, half of it will be dog-proof hamper. The top half will be amazing for SHOES! I am excited for some tilted style shelves in there, but they need to be able to accommodate my shoes as well as Sean's size 12 canoes.

I am so excited to make over this space and make it exactly what we want! Keep following along every week to see our progress.