We all know the old adage- "you can never have enough clamps." As you begin doing more and more DIY projects in your home, you'll accumulate more and more clamps. Different clamps have different purposes, so it's a good idea to have a variety. Once you have a lot of clamps, you need somewhere to store them. I designed this simple one hour clamp rack that holds a lot of clamps and can also be scaled and expanded on. It can be built in an hour and help organize your shop!
One Hour Clamp Rack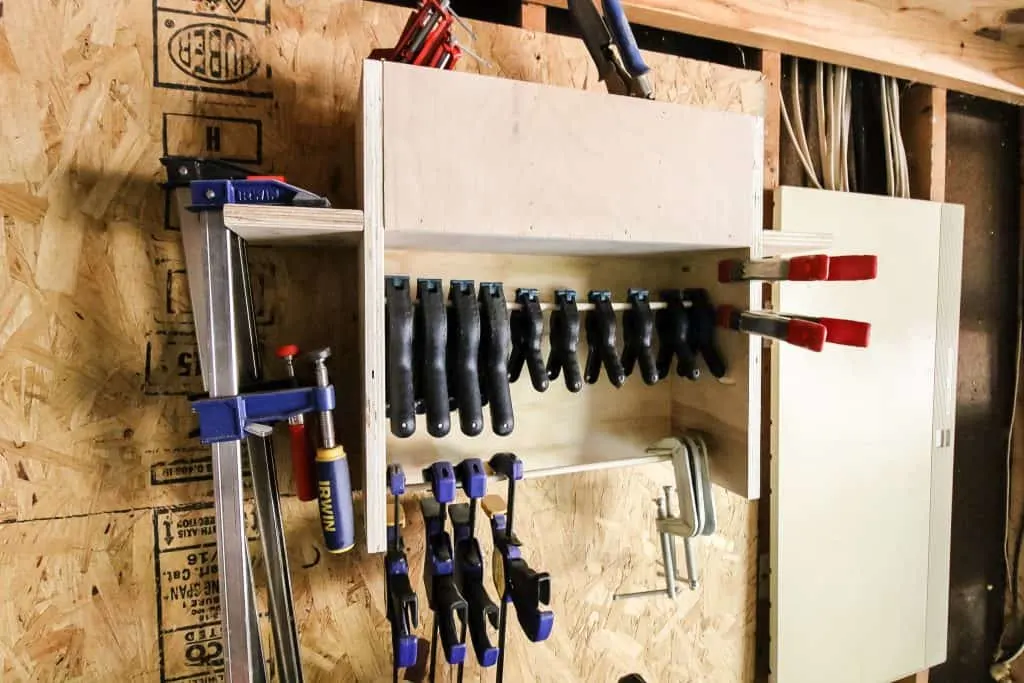 I built the entire clamp rack from less than one 2'x4′ piece of plywood. I used 3/4″ plywood because I had it on hand, but this can (and probably only needs to) be done with 1/2″ plywood.
The basic idea for this one hour clamp rack was to hold squeeze clamps, bar clamps and right angle clamps. They all need to be stored differently, so I incorporated that into the design.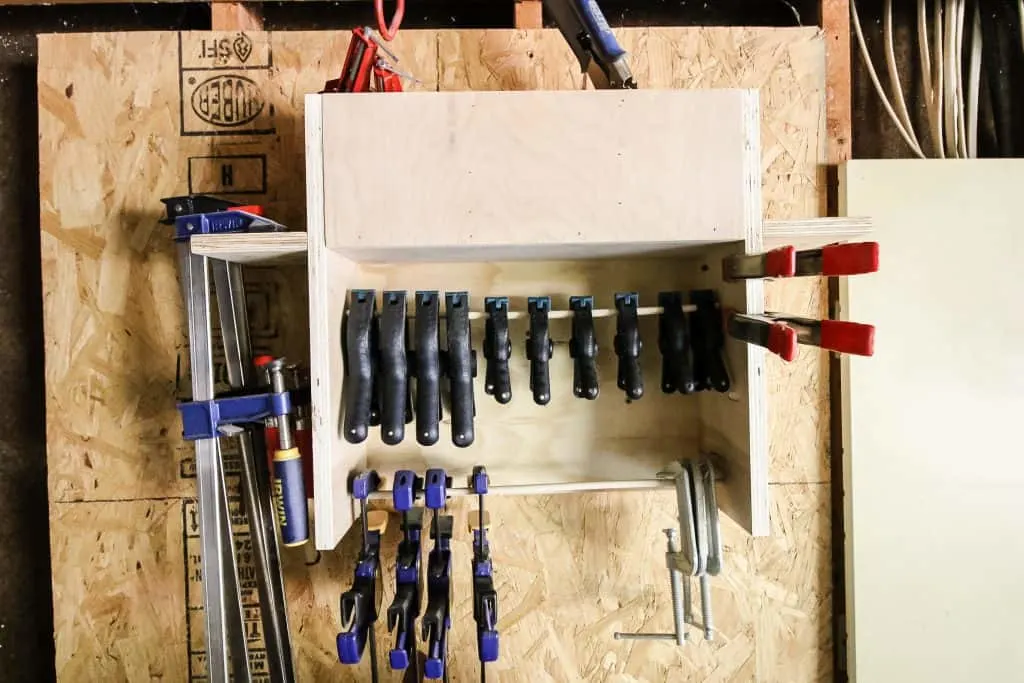 I used rods for squeeze clamps, shelves for bar clamps, and bins for right angle and small clamps.
The easiest thing to do is to make all your cuts and then assemble. I attached the sides to the back, then added the front and bottom of the top box. Then I added the side wings. All these were added with pocket hole screws.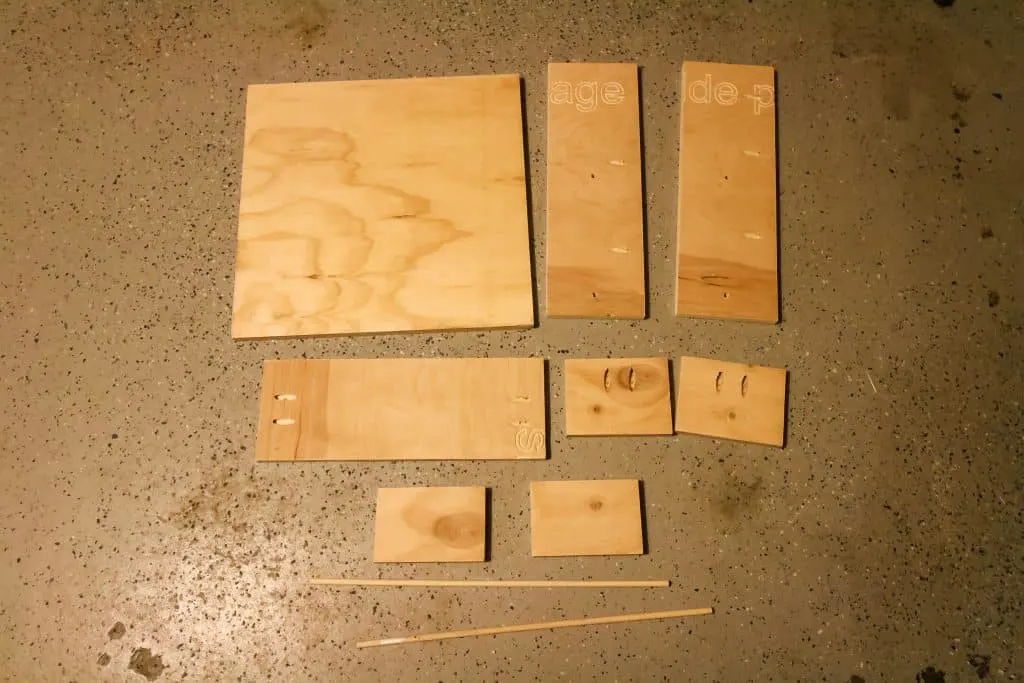 I nailed in two dividers in my top box to create space for right angle clamps and small squeeze clamps.
For the rest of the squeeze clamps, I put two dowels through the sides to hang them on.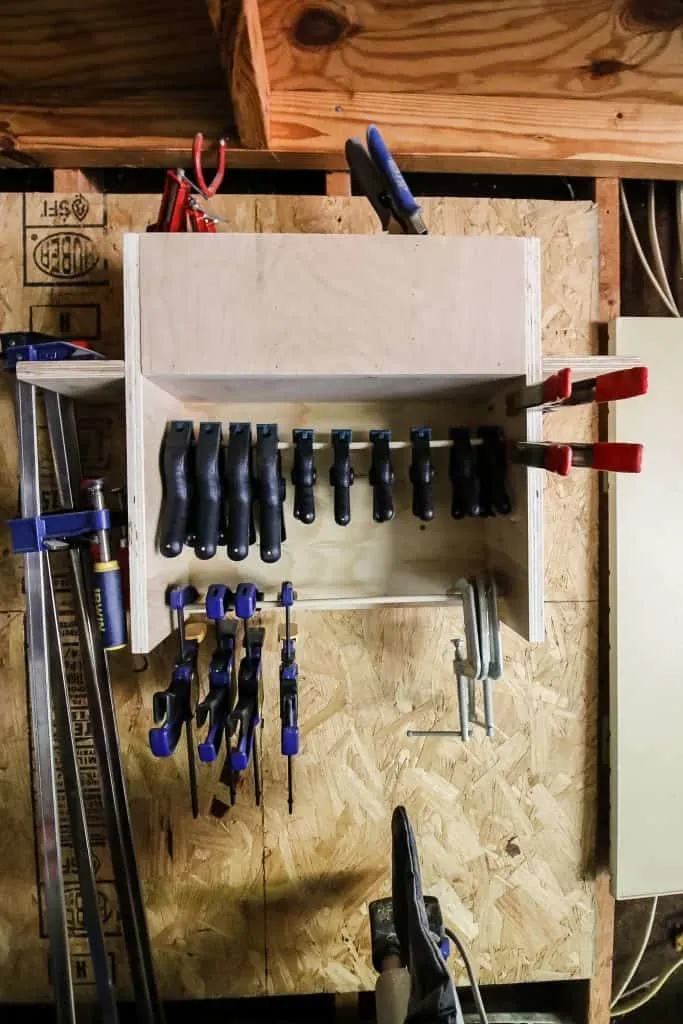 This simple clamp rack can be made in an hour and will immediately bring some spring cleaning joy to your shop. For the full cuts and instructions, print out the how to card below!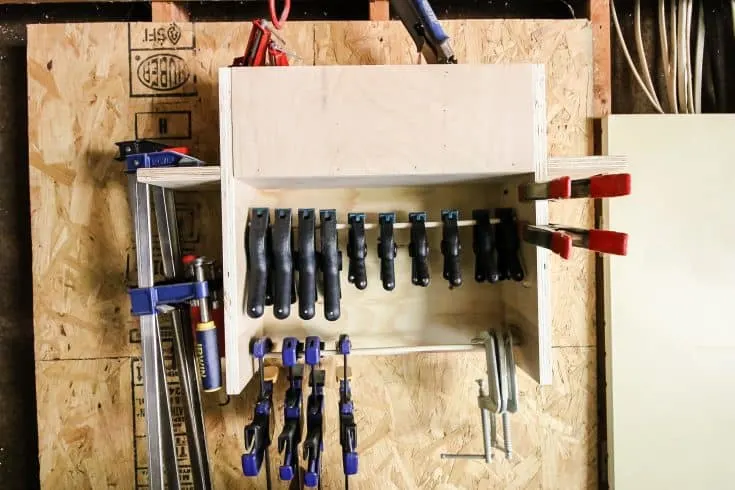 Yield:

1
One Hour Clamp Rack
This one hour clamp rack is super easy to build and will organize your clamp collection. Having a clamp rack is essential to any DIY workshop.
Materials
2'x4' board of 1/2" plywood
1/4" dowel rod
Pocket screws
Tools
Table saw
Orbital sander
Drill
Nail gun (or glue and clamps)
Instructions
Make the following cuts:
Back- 18"x18"
2 Sides- 18"x6"
Box front- 16.5"x6"
Box bottom- 16.5"x4.5"
Box dividers- 4.5"x5.25"
2 Side wings- 4"x6"
2 Dowels- 18"
Attach the sides opposite each other on two sides of the back using pocket screws.
Attach the box front to the inside of the sides at the top.
Attach the box bottom and box dividers to the inside of the box front using a nail gun.
Attach the two side wings onto the outside of the box using pocket screws.
Drill two holes on each side piece. The top hole should be about two inches from the bottom of the box and the lower hole should be about 7" below that one. Drive the dowel through and cut off excess.
Hang on the wall using wood screws into studs.
Recommended Products
As an Amazon Associate and member of other affiliate programs, I earn from qualifying purchases.