We woke up on our full day in Cinque Terre early and went downstairs to Bar Centrale's breakfast bar and had pastries and cappuccino for breakfast and planned our day. We had learned from our AirBnB host (who happened to work for the Italian National Park Service) that 3/4 of the Lover's Trail was closed since the landslides in 2011. She informed us though that there were still plenty of trails between all the towns… they were just much more difficult. We decided to tackle one of those trails, take the train between some others, and hike the one section of the Lover's Trail that was open.
Our town of Riomaggiore was on the end of the five, so we could work our way from end-to-end. We started the day by taking the three minute train ride to Manarola. It was a pretty small town and didn't have much to see, but it was still beautiful. It was one of the two towns that we had read before our trip that didn't have much to do and wasn't a huge destination for tourists to stay. But from here we started a two and a half hour hike through the mountains above Cinque Terre between Manarola and Corniglia.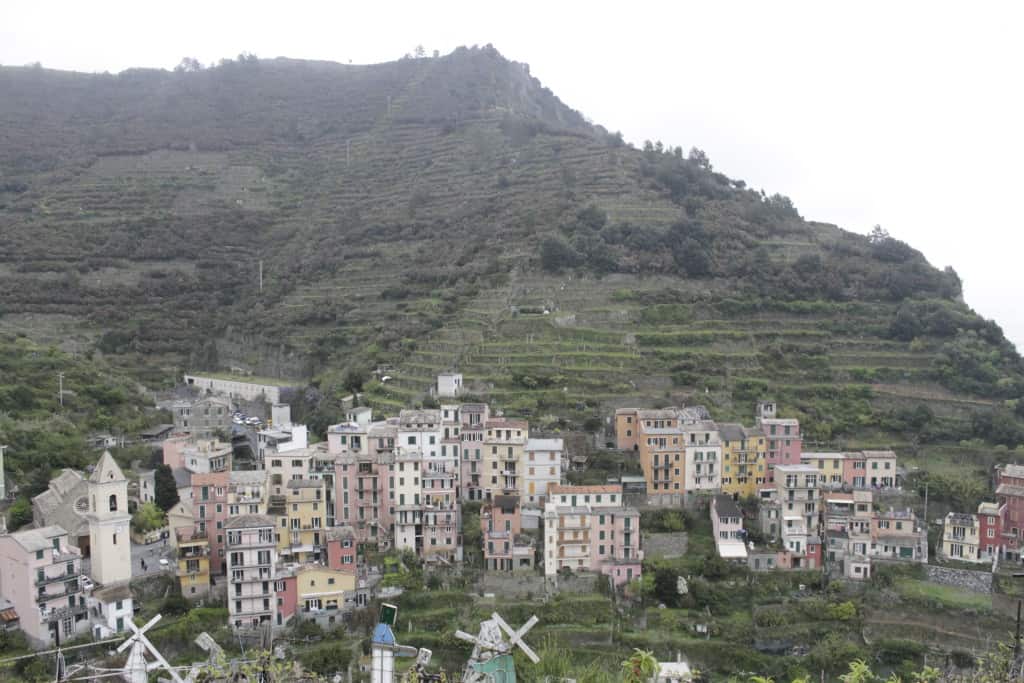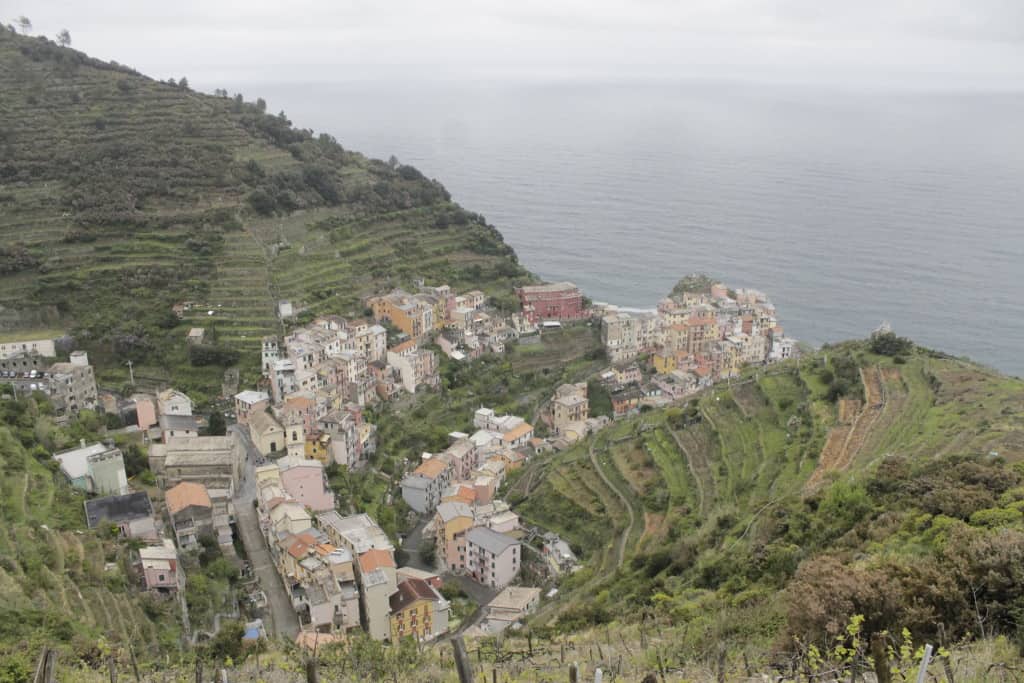 The beginning of the trail was straight up a hill. Like, really straight up.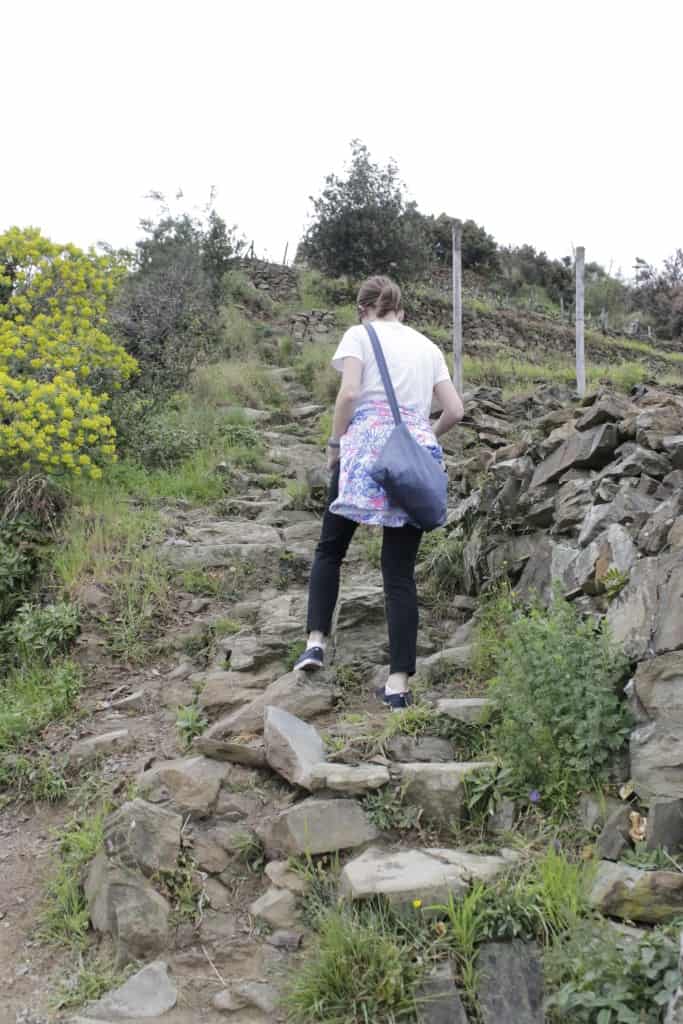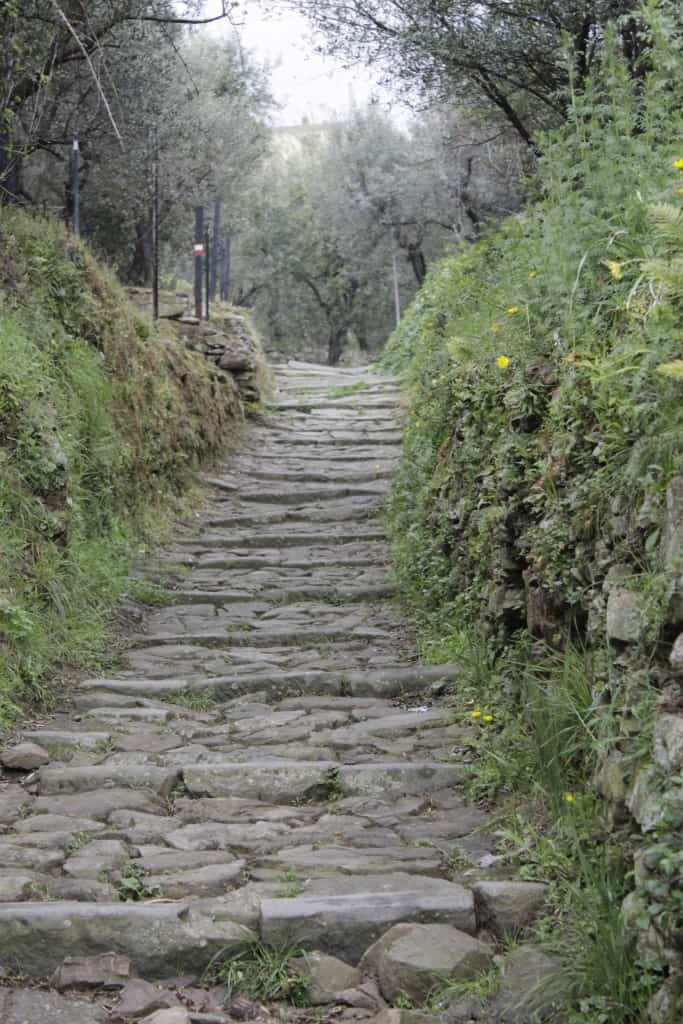 We went through olive farms and had extraordinary views looking back at Manarola and looking over a cove to our destination of Corniglia.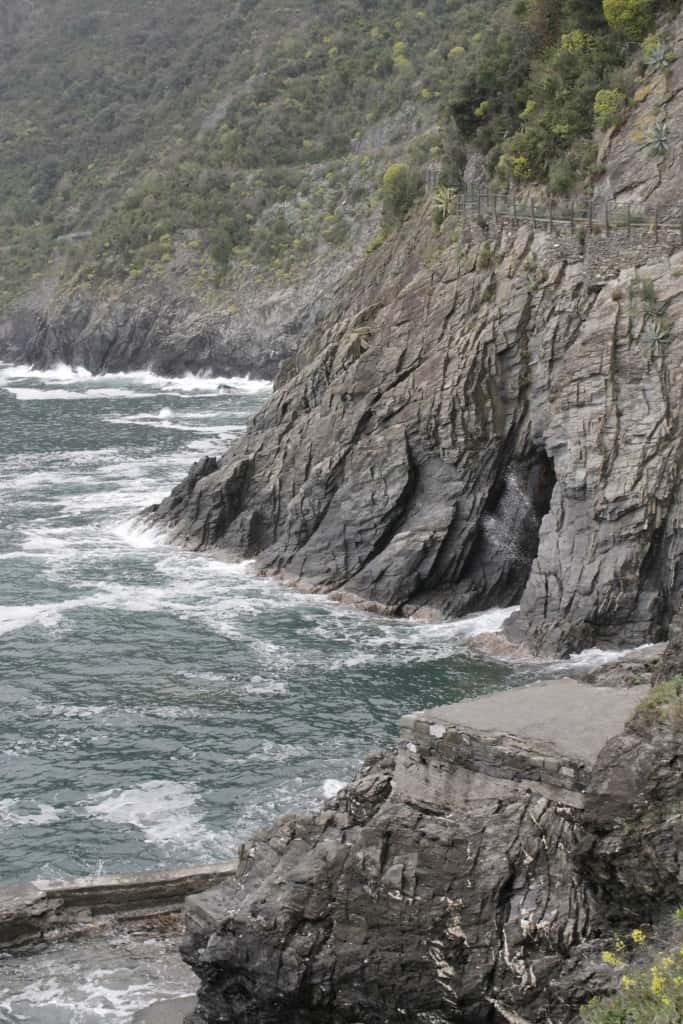 The hike went up for a long time before finally leveling out. We were walking straight into a cloud the entire time and pretty soon we couldn't see the water anymore.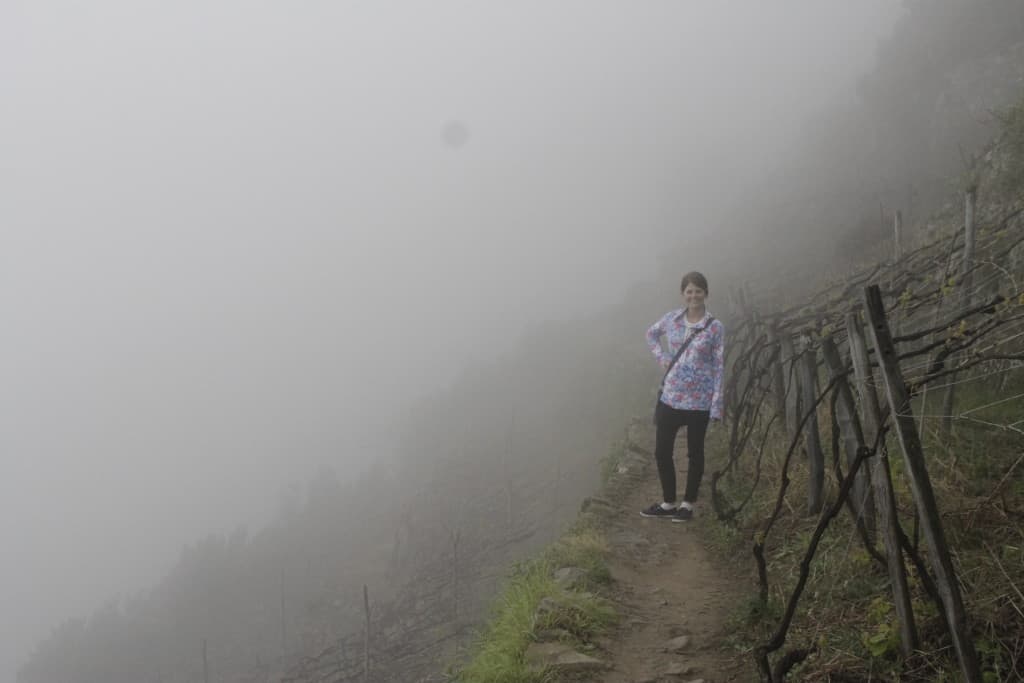 We walked through more farms and fields and thought about how weird it is that people actually live and work in these hills. We have no idea how they even access their homes. Do they have to do these hikes every day??? Anyways, the hike was great over the hills and through the woods. The further we walked into the hills, the more it started to mist and finally started raining pretty good. Luckily, it didn't last too long though because we had curved back around and started hiking back toward the coast and Corniglia. We figured out that in the two days we were here, it seemed like there were always dark clouds in the hills but it was clear on the coast. The last hour of the hike ended up being pretty slippery because it was downhill and wet, so we had to be very careful. We were happy to see the town of Corniglia!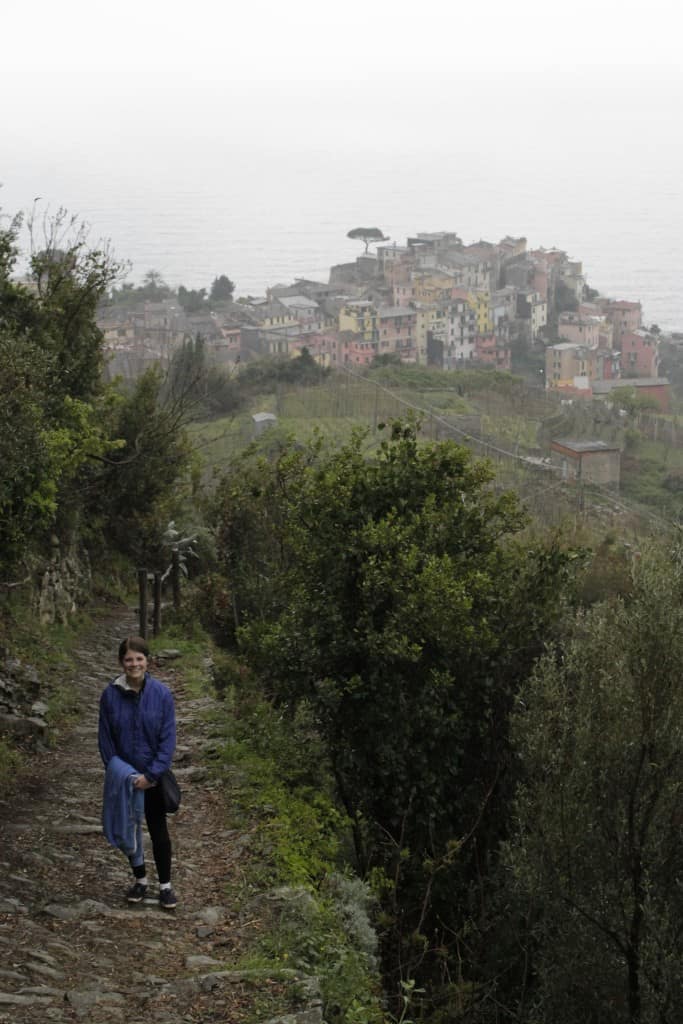 Corniglia is the smallest of the five towns of Cinque Terre and is also the only one that is not on the coast. It is positioned on the top of a cliff, so a little different from the other four.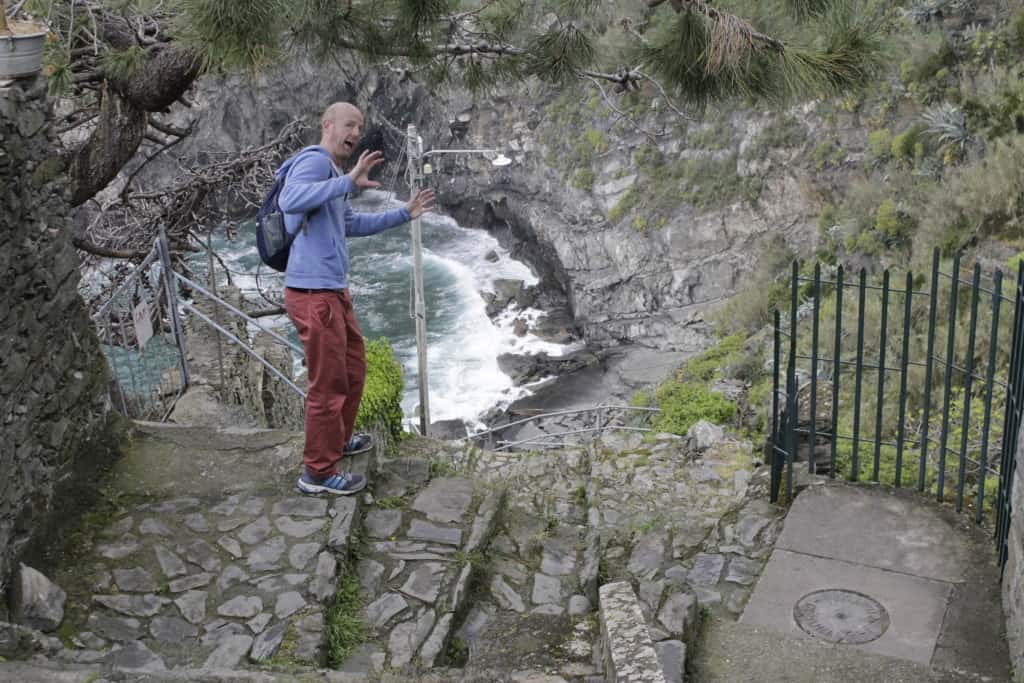 We ate lunch at a place looking at the water called Food and Sea bi Daniello Elisa. When we walked up, we greeted the server with a friendly "bongiorno!" but I think she thought we said "bonjour!" aka- French. Soooo, she brought us a menu in French. It was pretty funny. We both took French in high school and college, so we were able to translate the menu pretty well.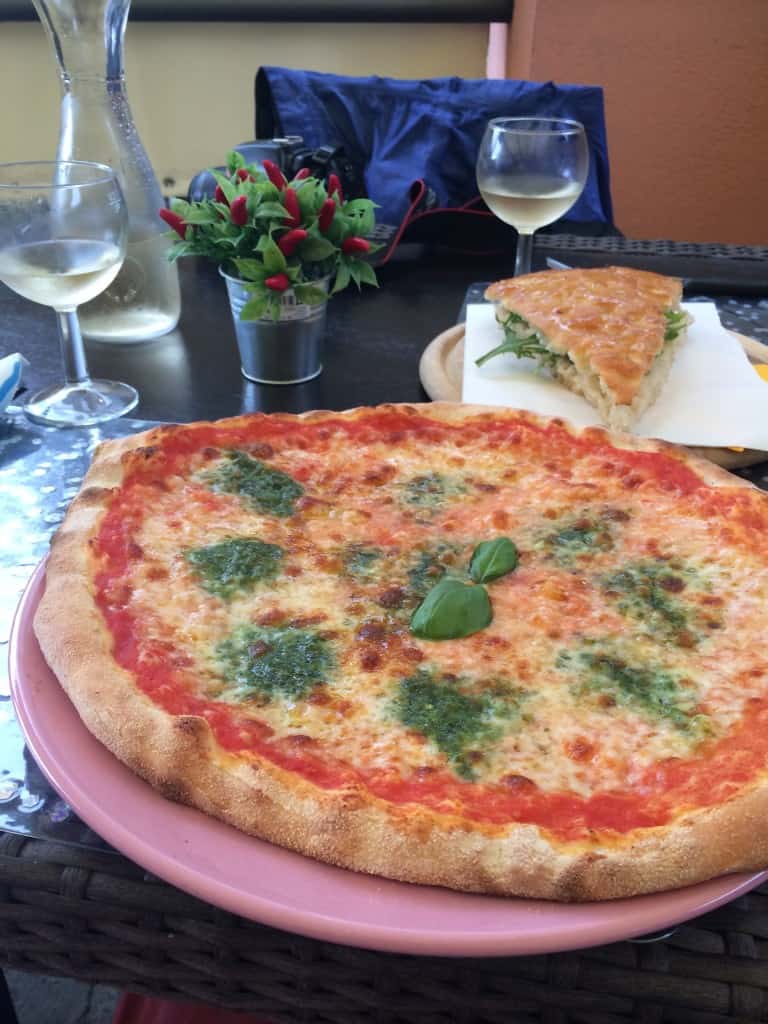 After a delicious lunch of some vino bianco della casa, pesto pizza, and foccacia with rocket and soft cheese, we walked down about 1,000 stairs to the train station and took the ride to Monterrosso, the resort town on the end of the Cinque Terre strip.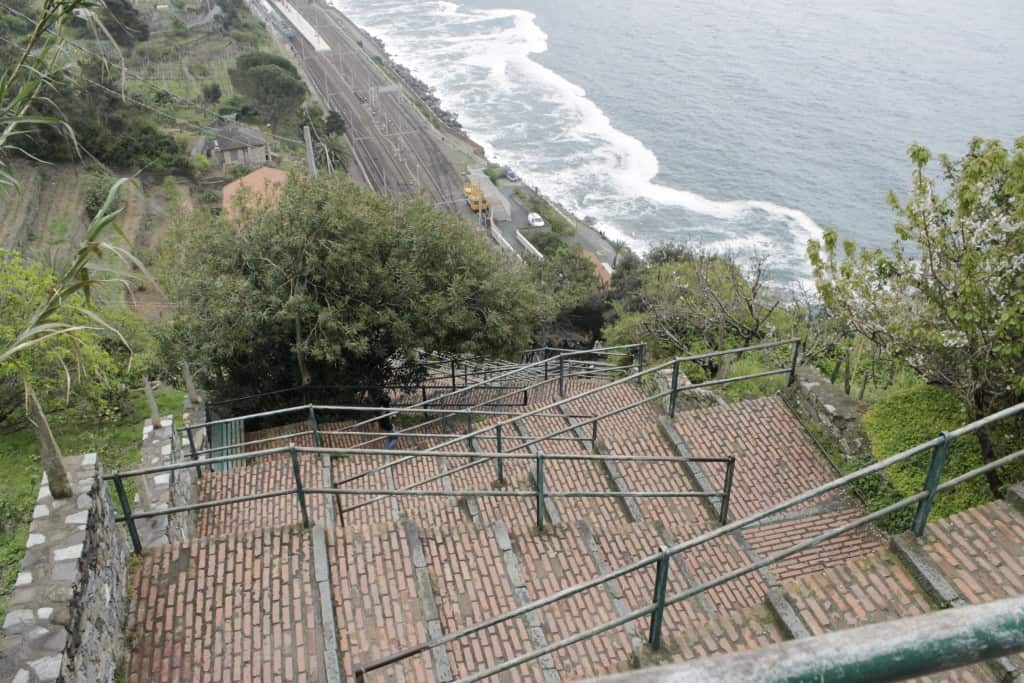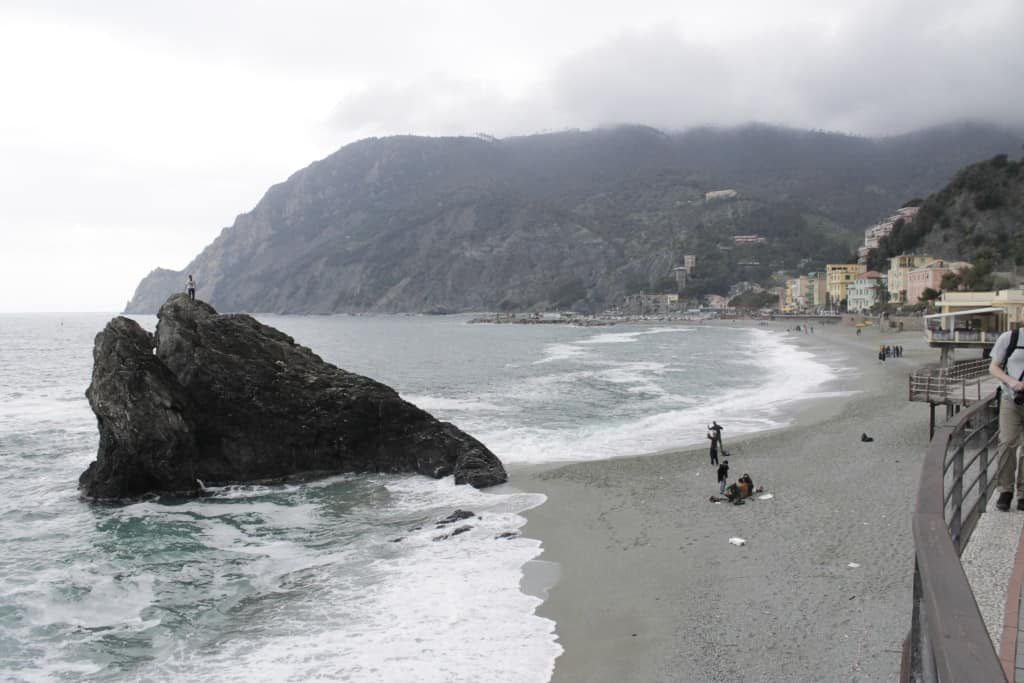 Monterrosso was filled with college students and would have been a great place to party. Seemed like a favorite destination for college kids studying abroad. One place even offered the "Drunk Ass Bucket." Seemed like a cool place if you wanted to be at a resort relaxing and be able to spend a little time in the calmer part of the town as well.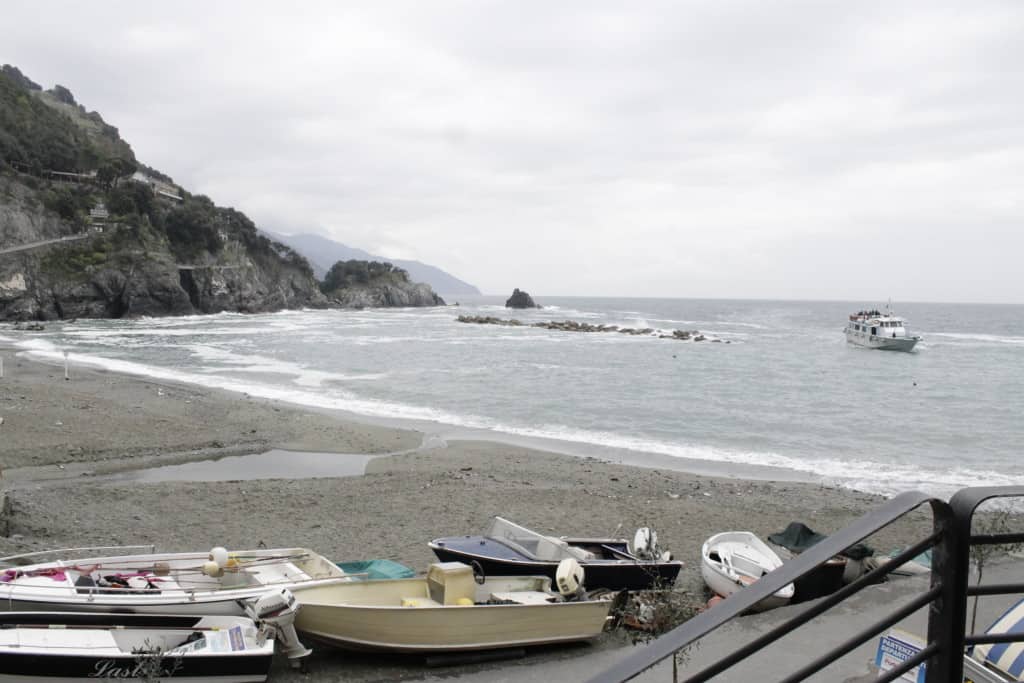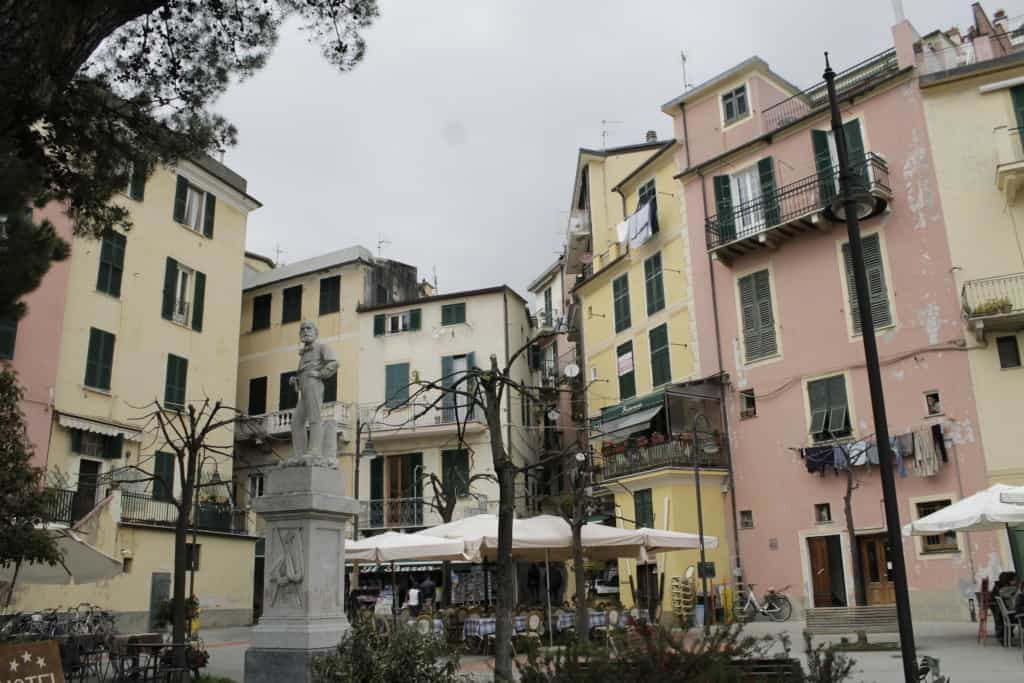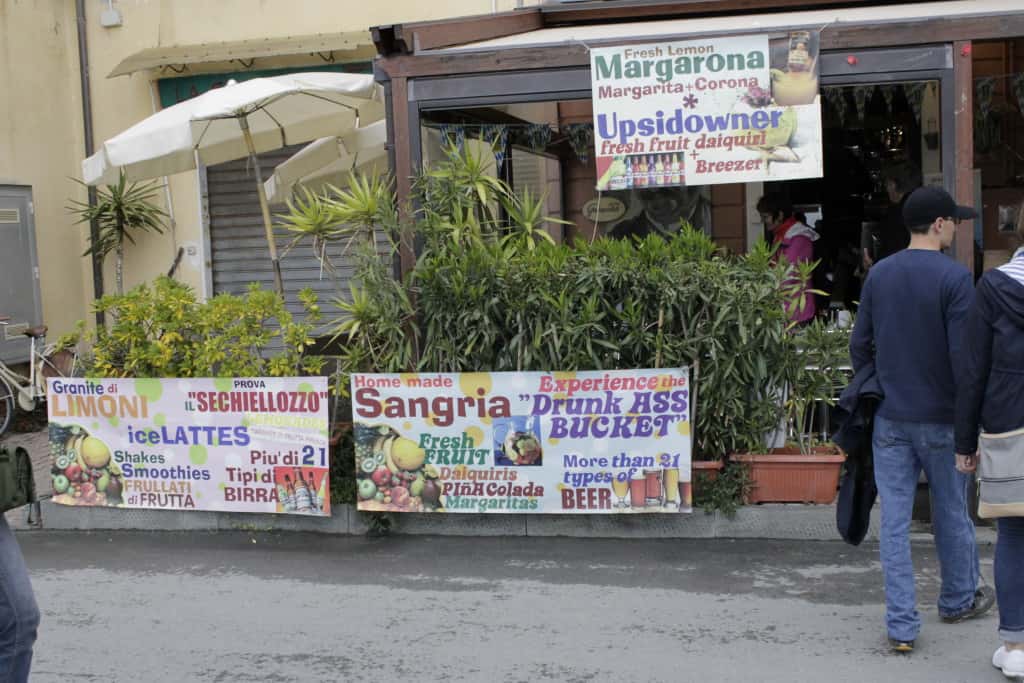 The stretch of the Lover's Trail that was open was the stretch between Monterrosso and the town next to it, Vernazza. We began hiking up the trail and then saw a National Park Service stand on the trail a couple hundred yards in charging 7.50 Euro per person to do the hike. This was one of the activities that we had been looking forward to a lot, but it was annoying that they charged you to hike the trail when 3/4 of it were closed. Oh well, we can only hope that they put that money toward fixing up the trail, but we heard that they've basically done nothing to fix it since the land slides.
The hike started out going uphill again, but we kept looking back at the beautiful views of Monterrosso. The hike was very scenic with all the coastal views. There were also TONS of lemon tree farms on this trail, but all the fresh lemons were out of reach.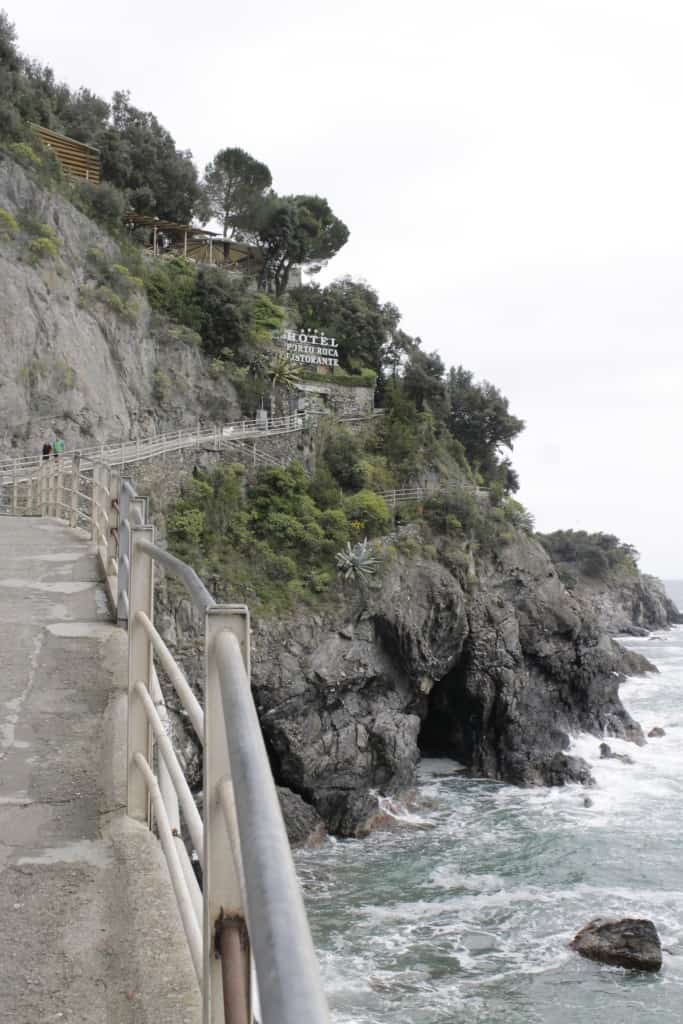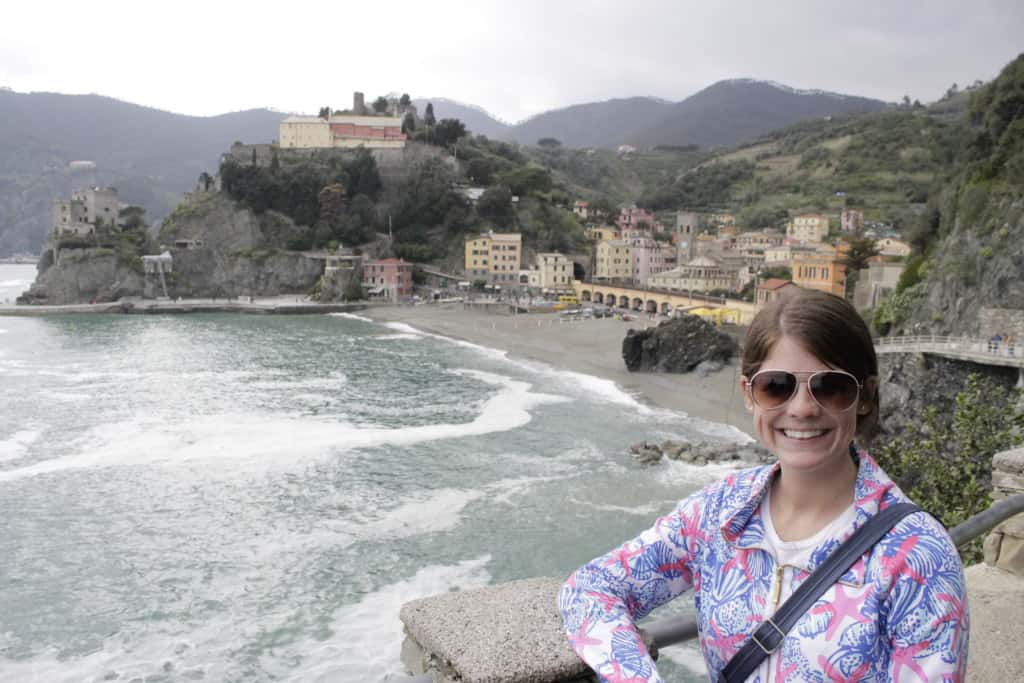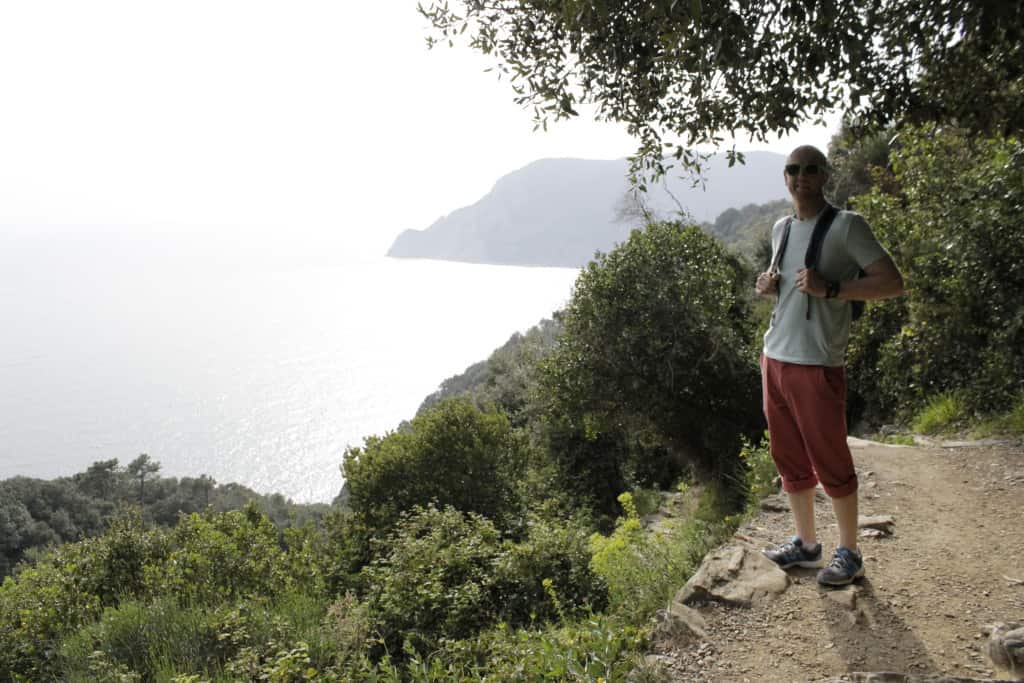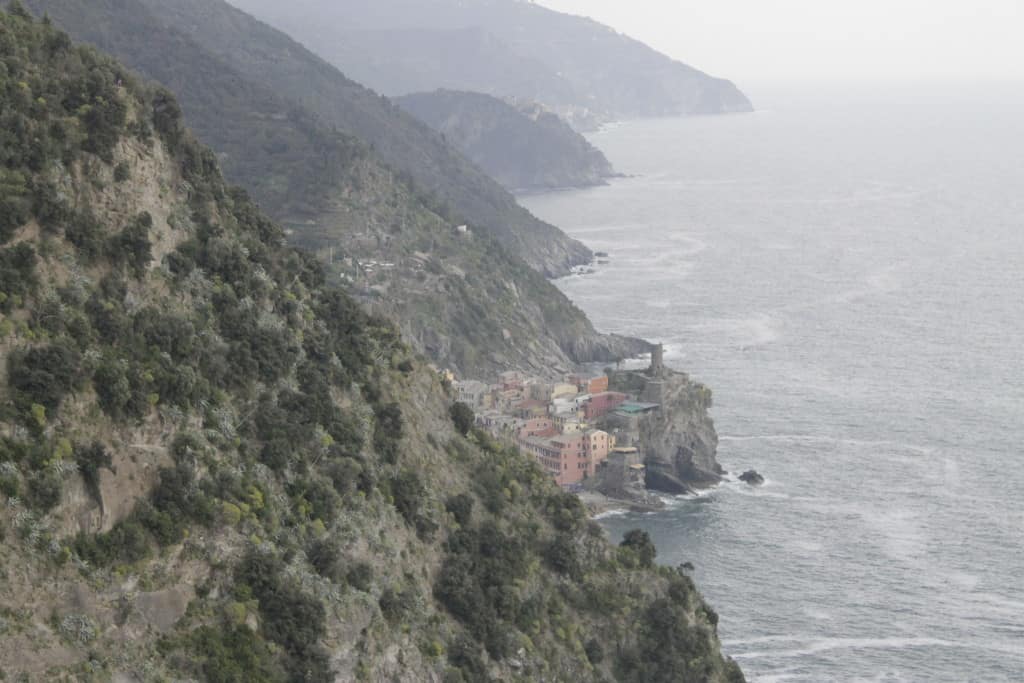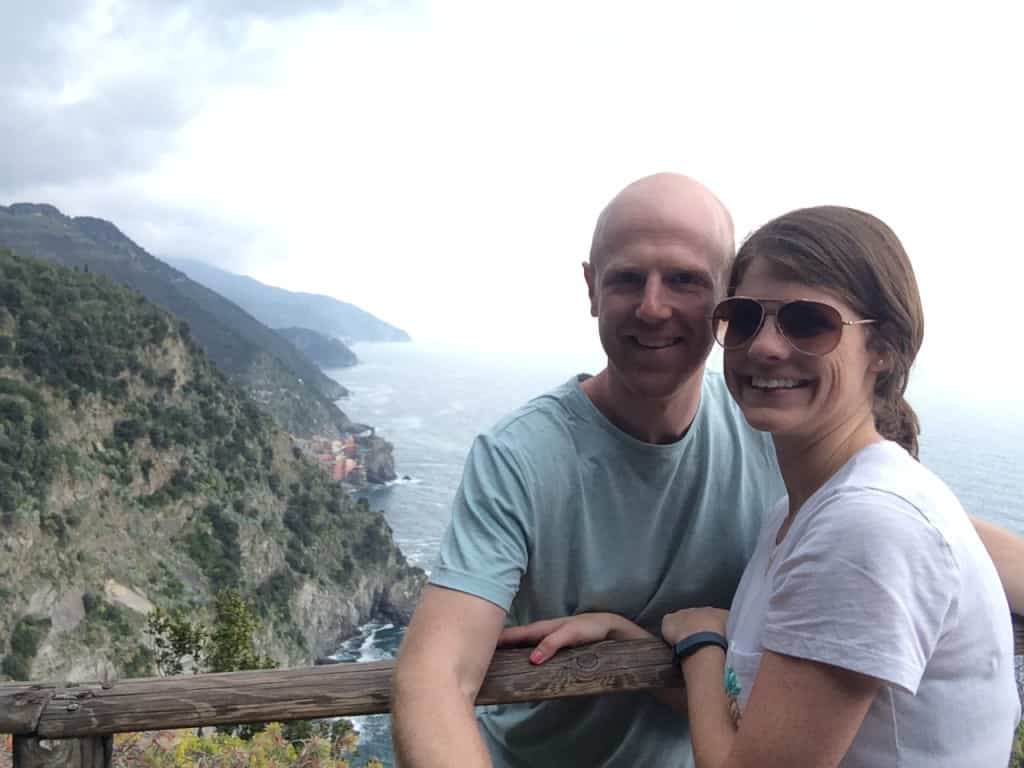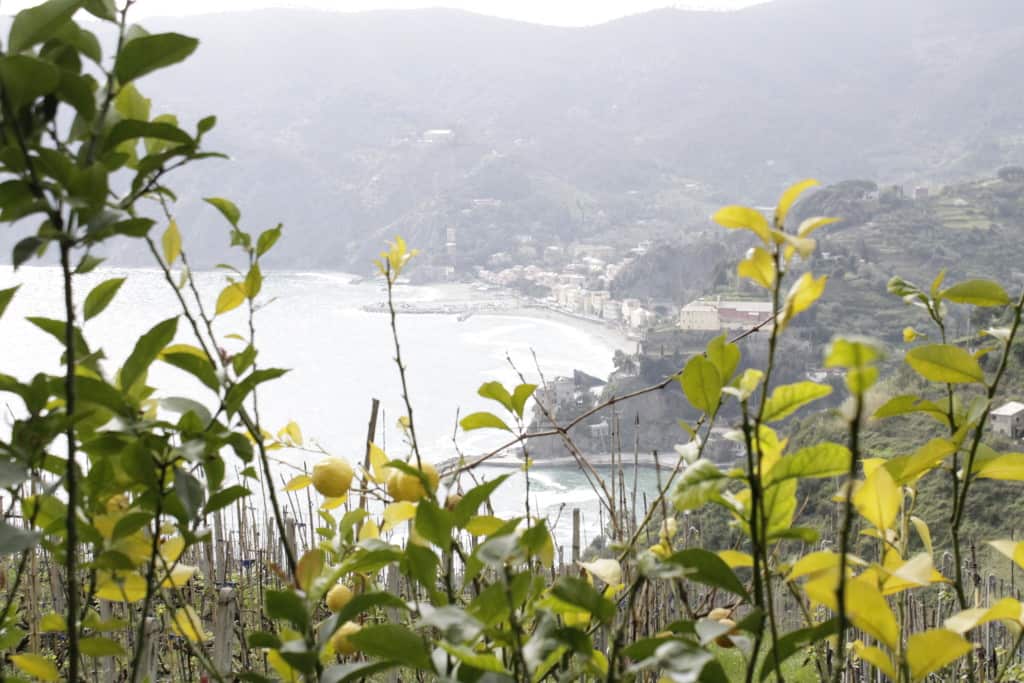 We passed a lot of Americans on this trail, probably vacationing in Monterrosso, but the most interesting part of this trail was near the end. It was, and this is no joke, a homeless and unloved mountain cat village. Say what? Someone had put up fences and cat houses with food buckets and pictures for the unloved mountain cats. It was kind of sad to look into the houses and see kitty cats asleep, but they obviously are loved if someone set up the village.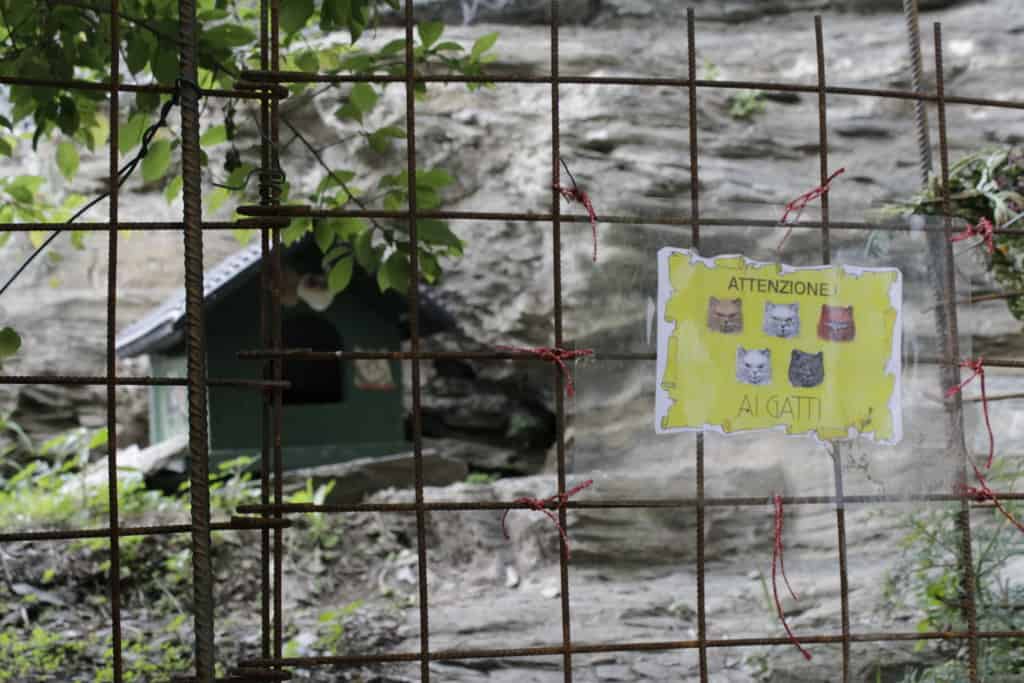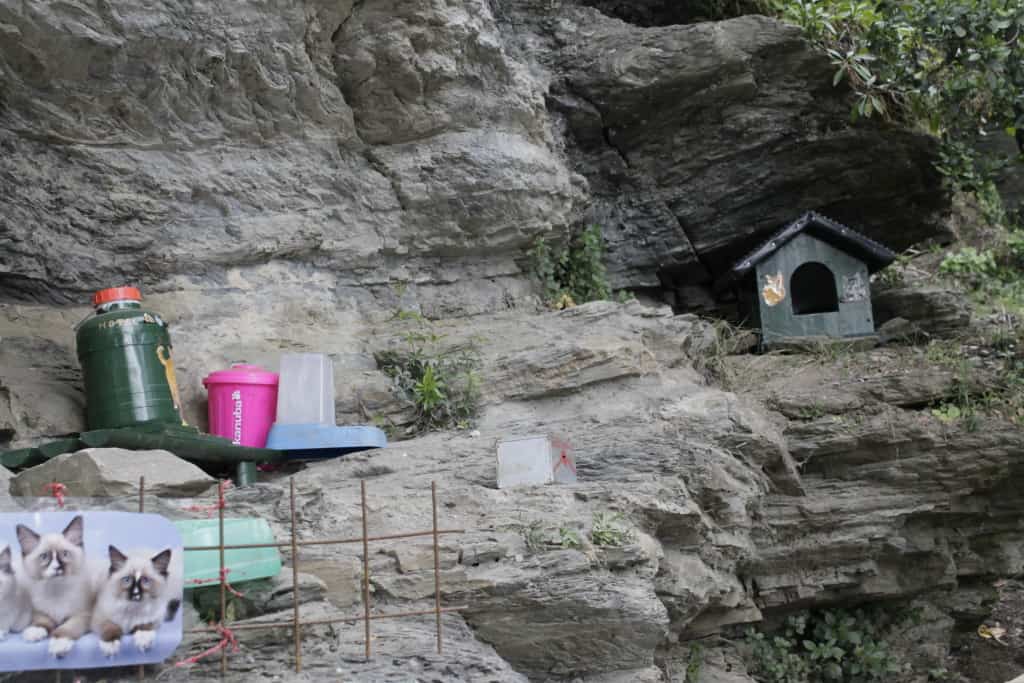 We put 50 Euro cents in the collection box to help them out and headed down the hill to Vernazza.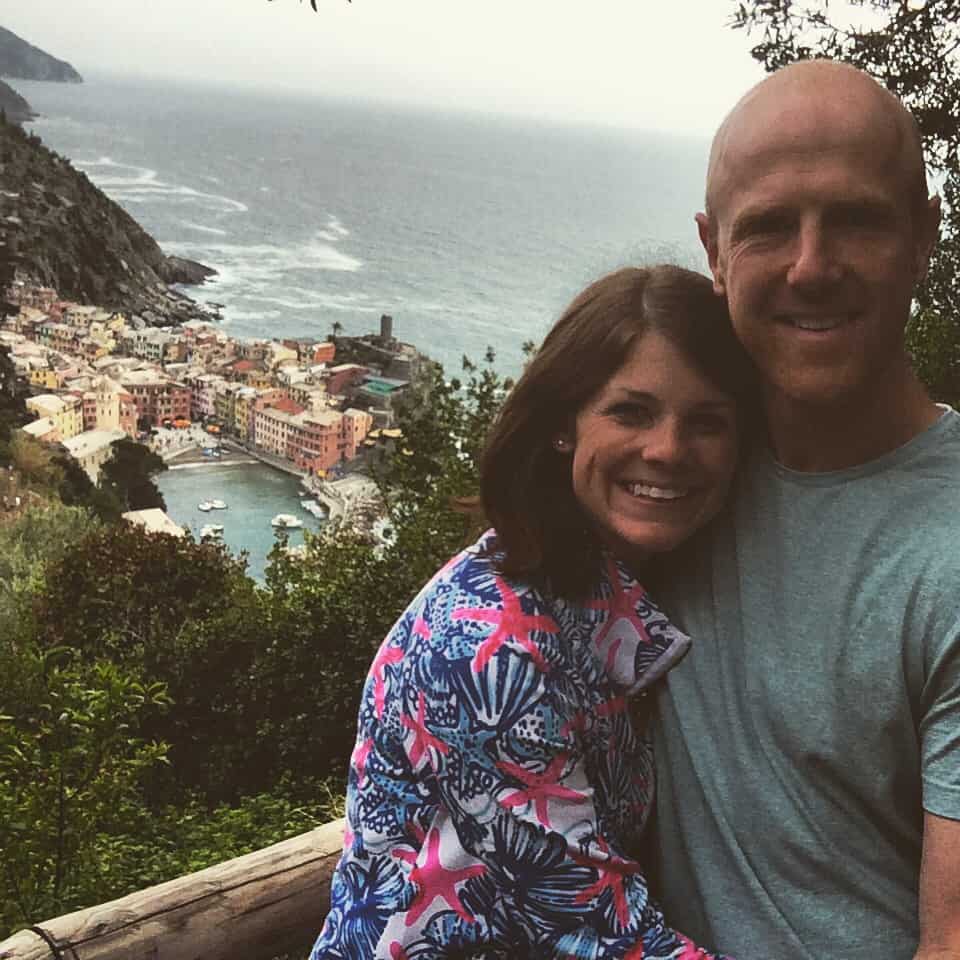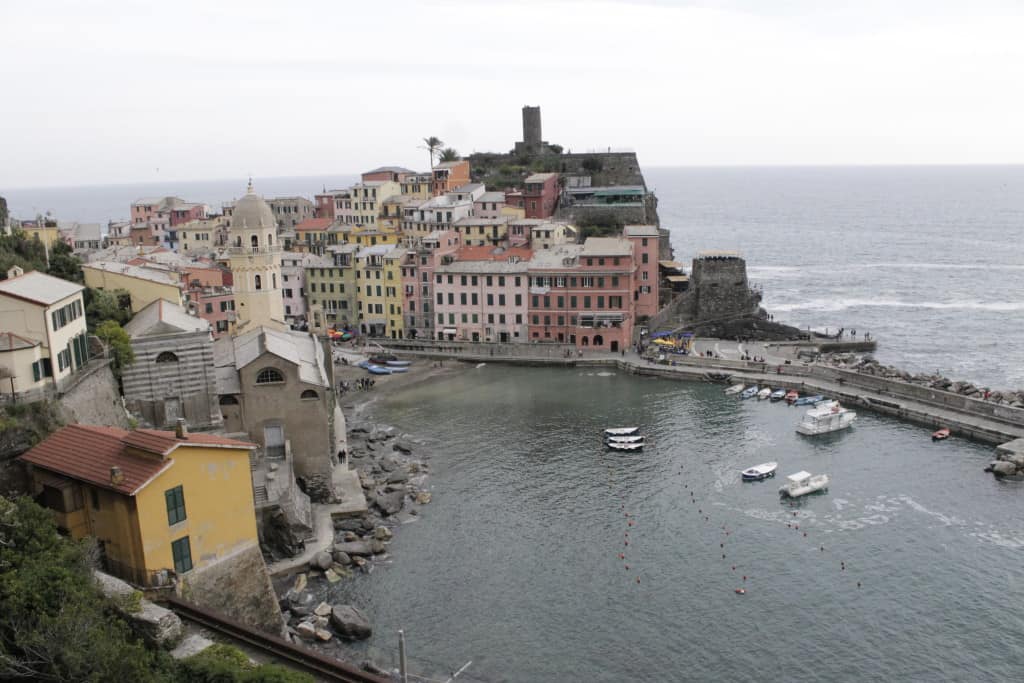 We had originally debated staying in Vernazza when we were booking our stays because it's very beautiful and has lots to do. It's pretty touristy, but has some gorgeous views at the marina. There's also a beach that you access by going through a hole in the rocks. Yep.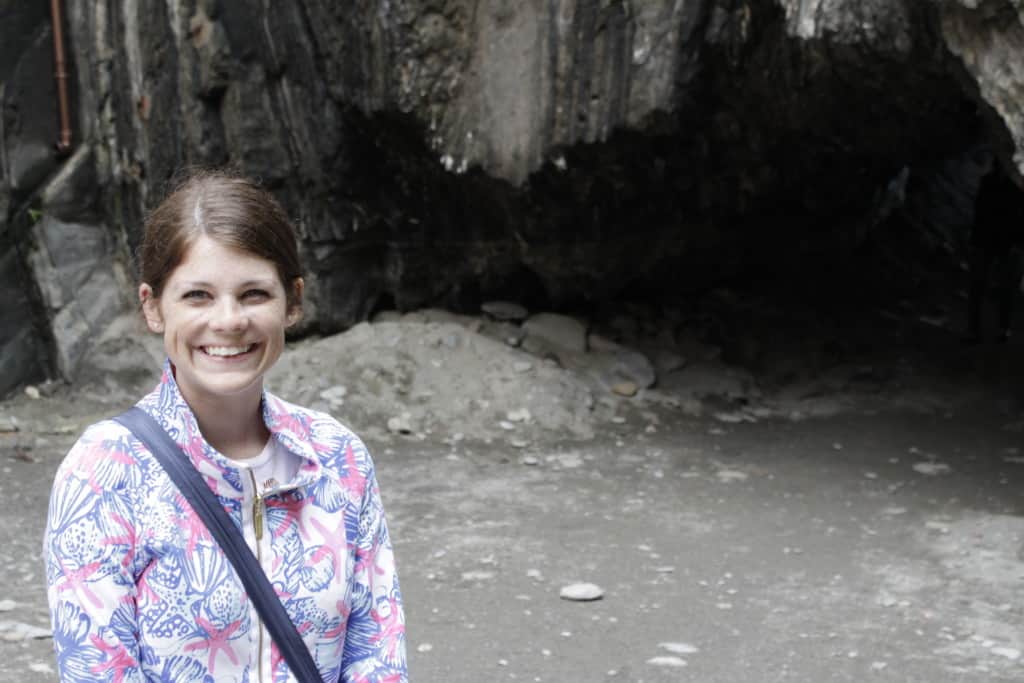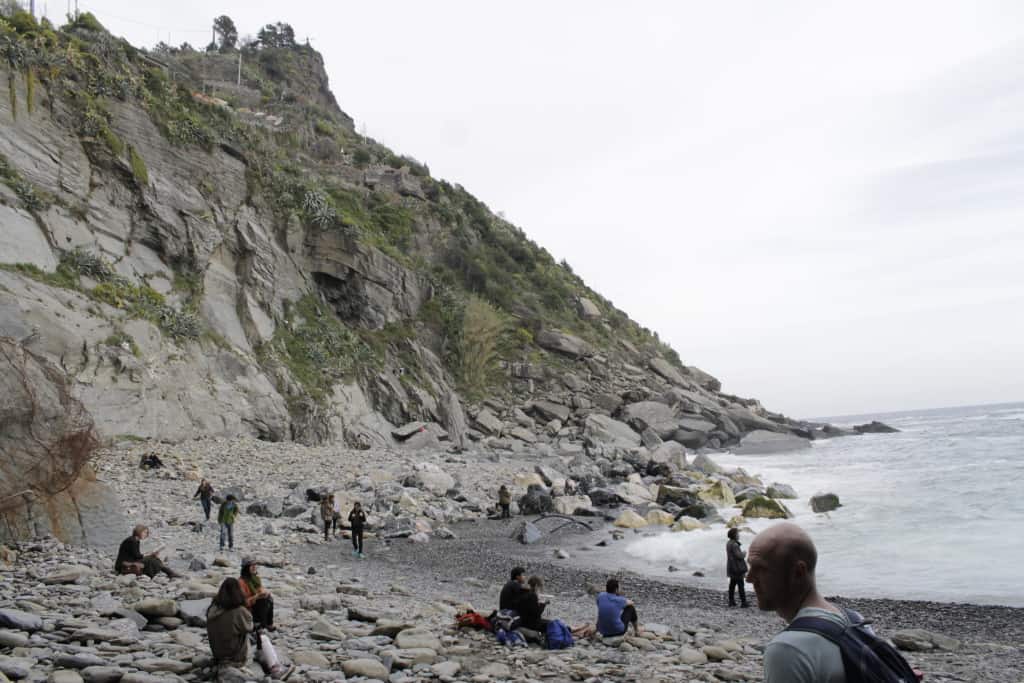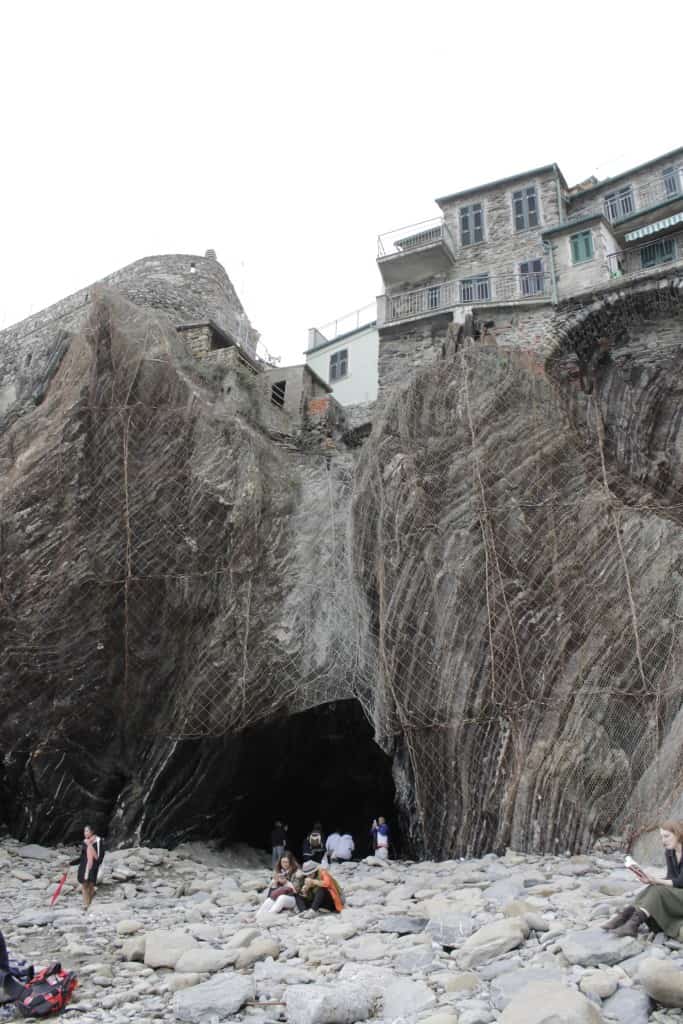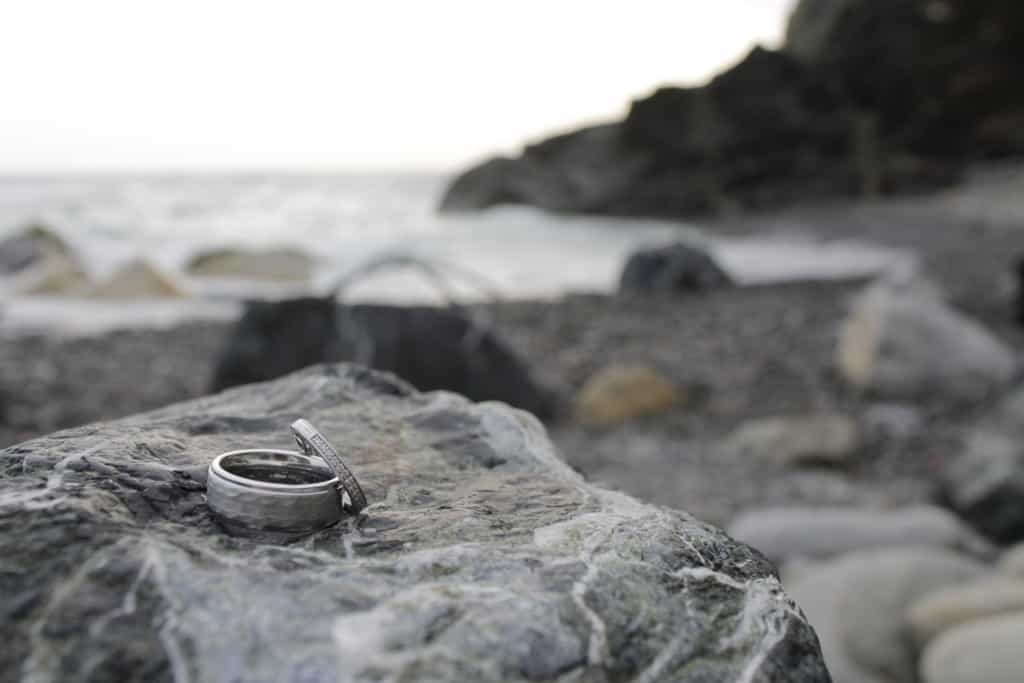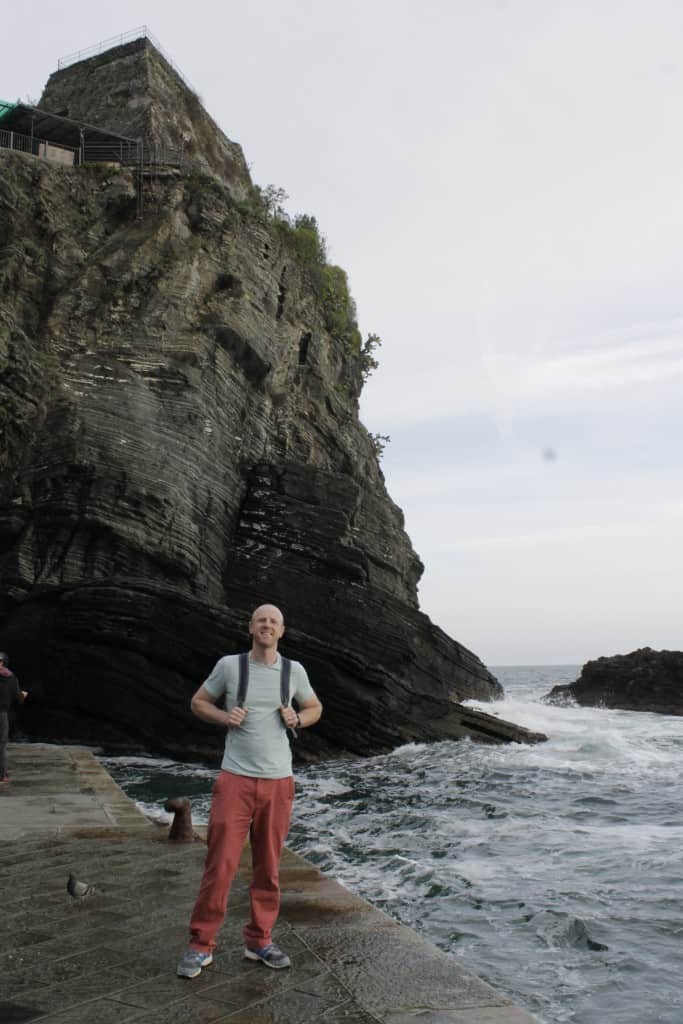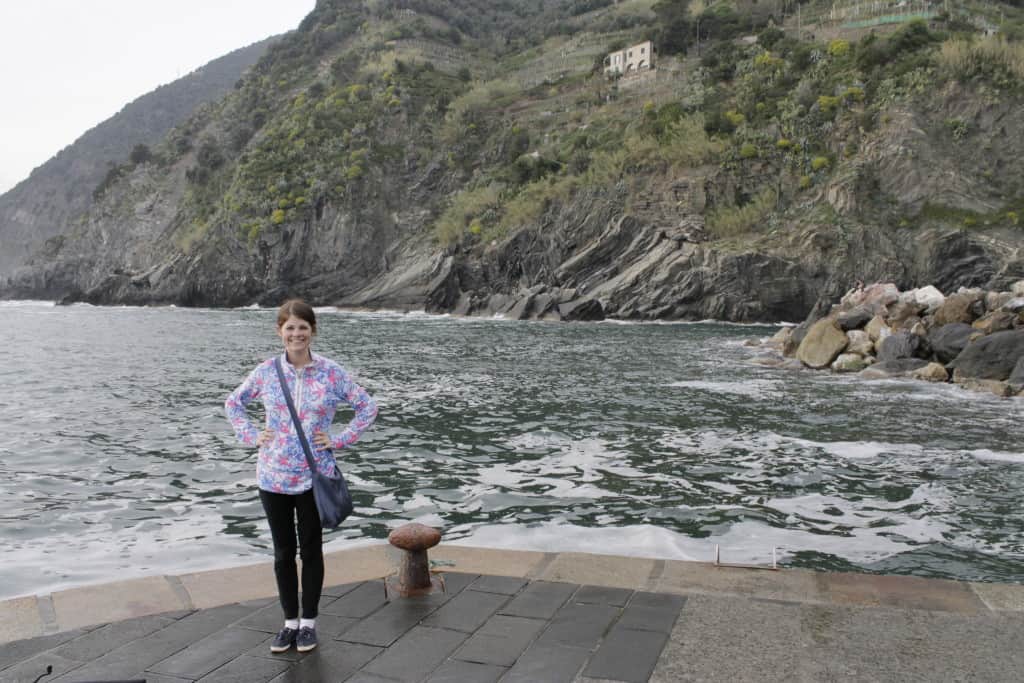 We ate dinner at Baia Seracena on the water. Waves crashed around us and we wanted a sunset pretty comparable to the one we saw over the mountains in Lake Como. We ordered another liter of wine, plus pesto lasagna and a salami/mozzarella/tomato panini.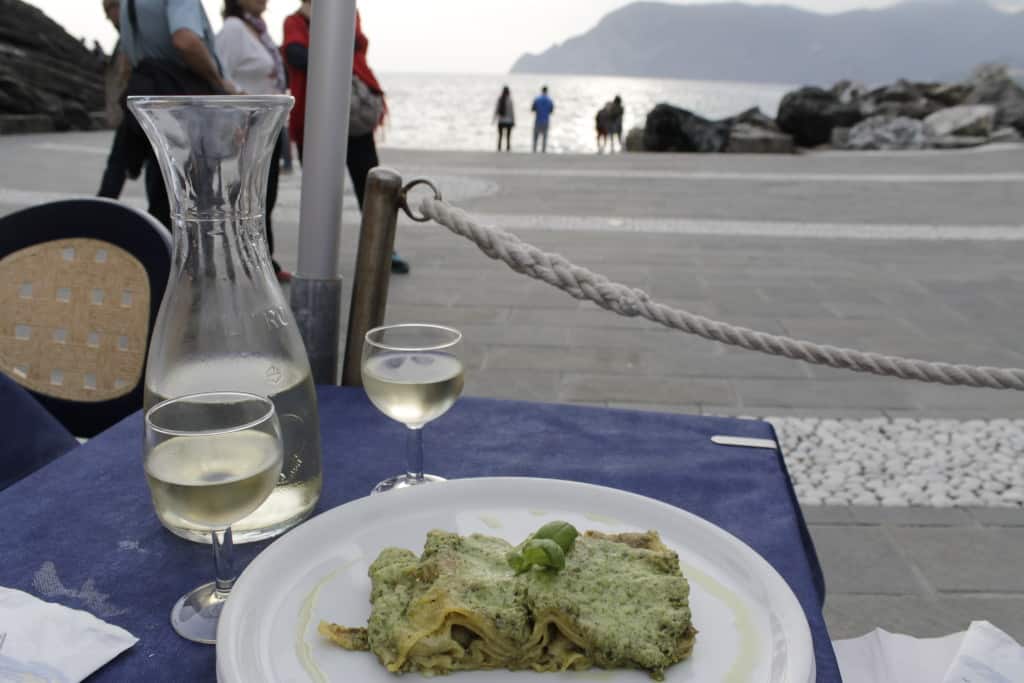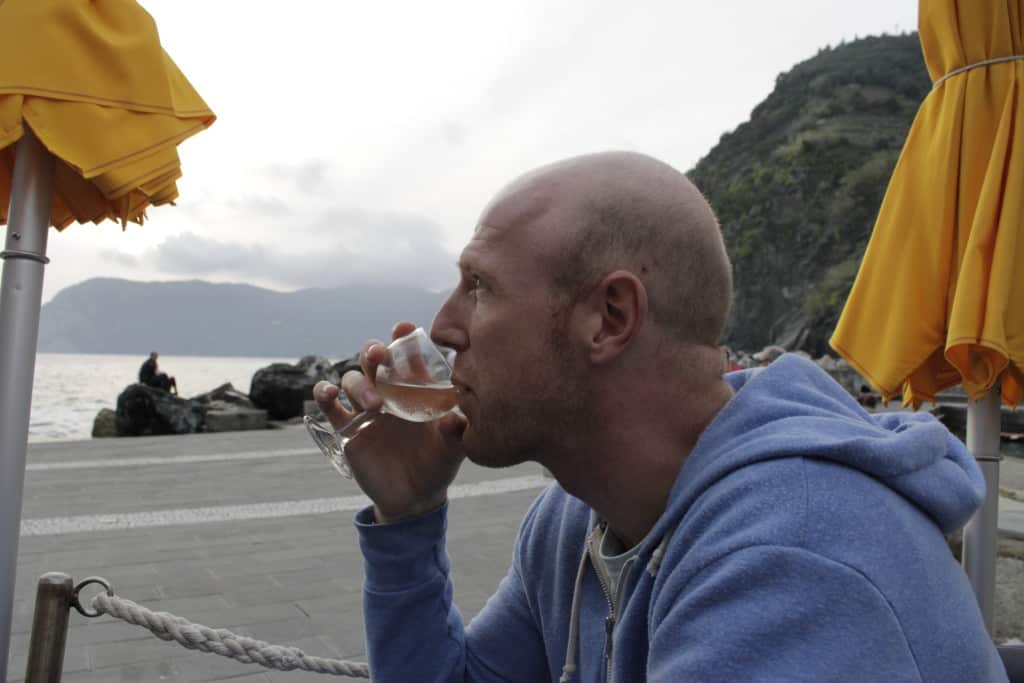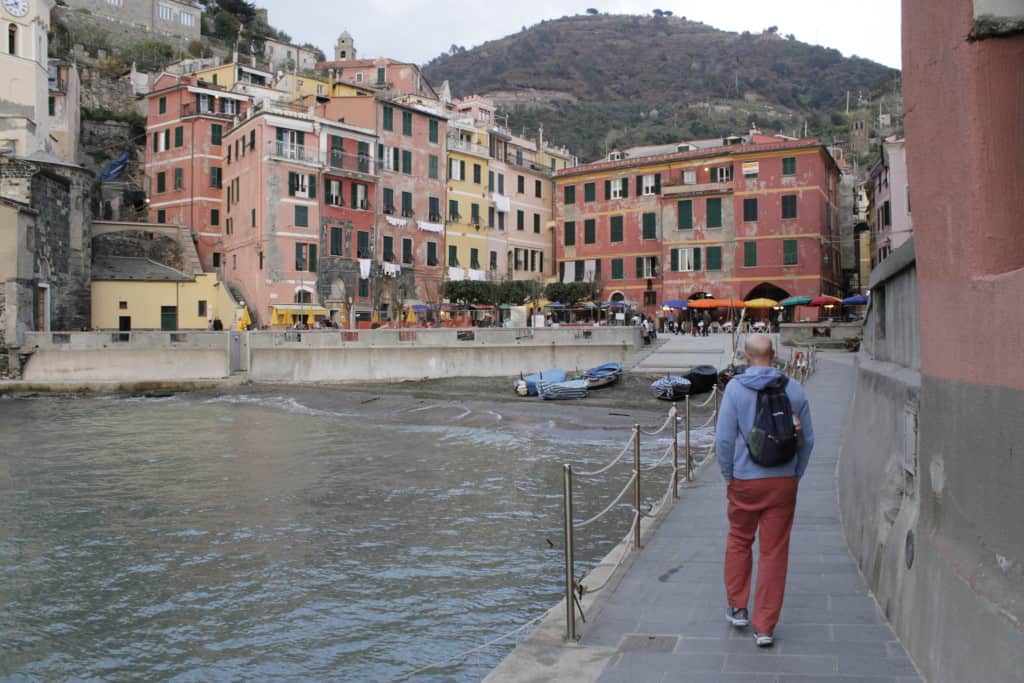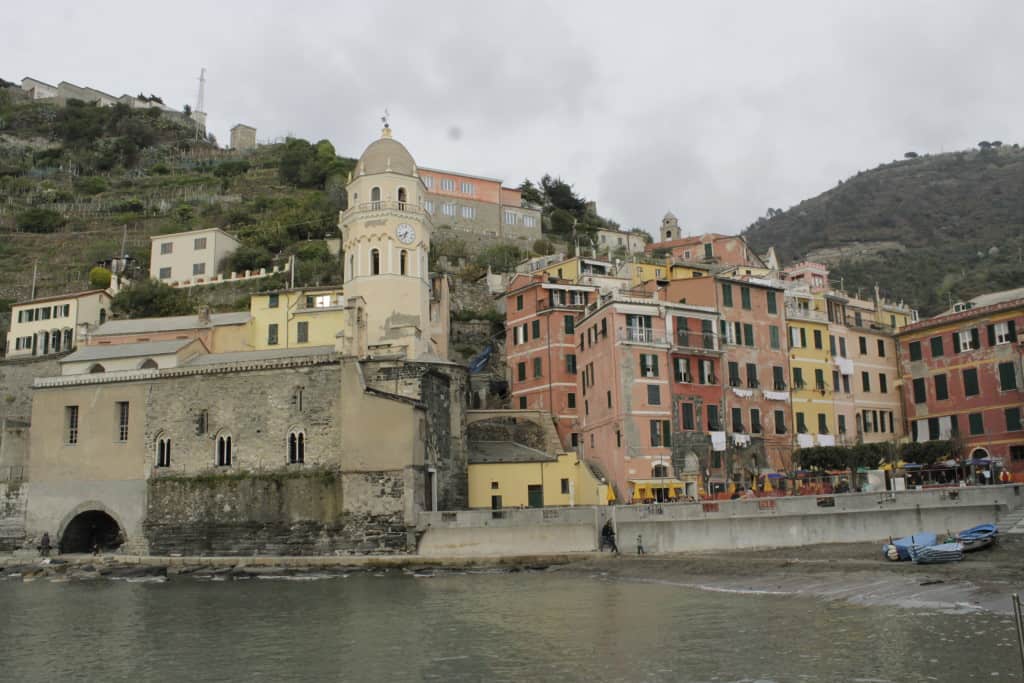 After dinner, we caught the train to go about 10 minutes back to Riomaggiore. After showering and cleaning up, we went down to Bar Centrale to get wifi to book our trains for the next day. It was an extremely long and tiring day of hiking, but we saw every one of the towns in Cinque Terre and wouldn't have had it any other way.