Rome wasn't built in a day… but you can definitely explore it in a day. Neither of us really care much about museums or going into places, especially two weeks into our trip and on our last day. Sad face. We just wanted to walk around Rome and take it easy. We slept in this morning to recover from the last two days. We got up around 9:30 for breakfast and to pay they guy who ran the B&B who had finally shown up. It was sketchy to say the least. He was not prepared and didn't have his act together. Vesta Domus does not get a good review from us.
Anyways, when our fight with the cleaning lady was over, we went down to the Colosseum. We walked around the outside of it, but didn't want to wait in the two hour line to go inside. It's very big and the fact that it was built so long ago makes its arches and height very incredible.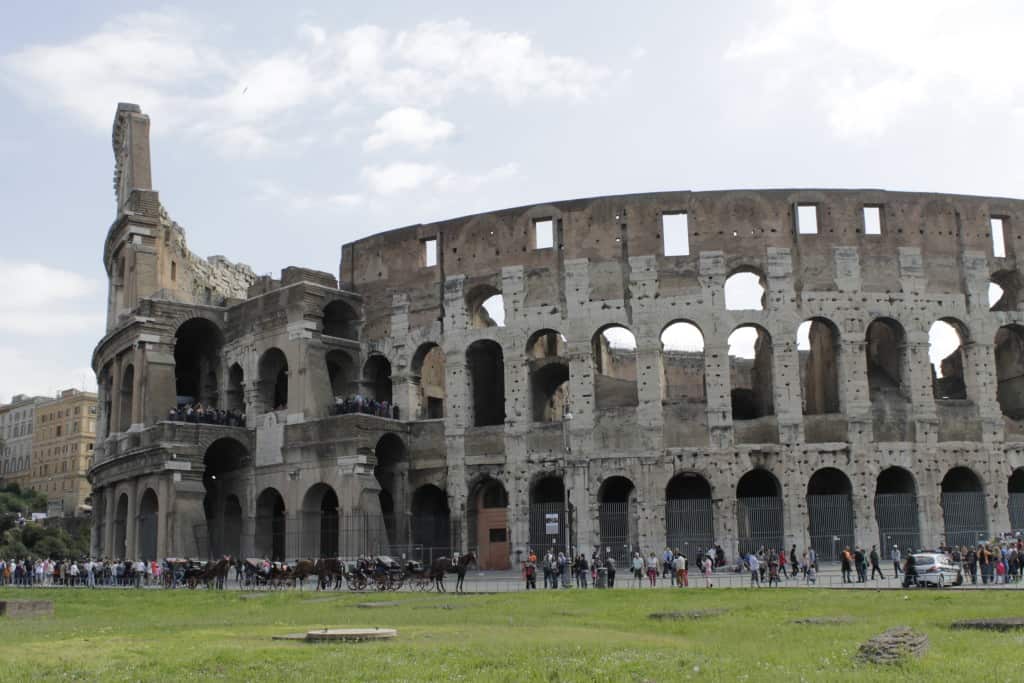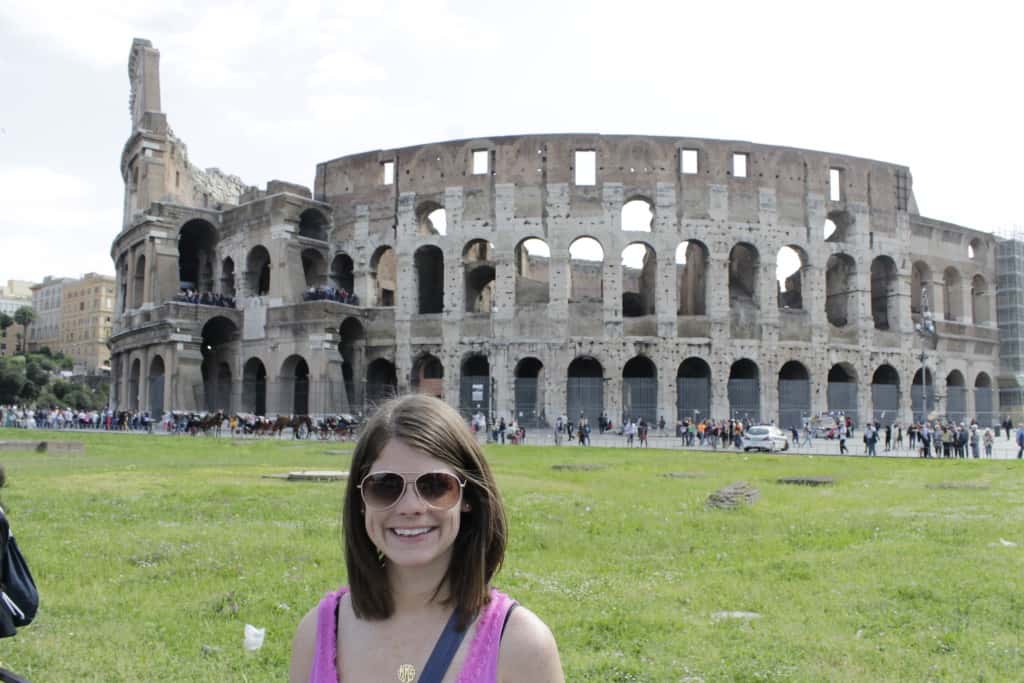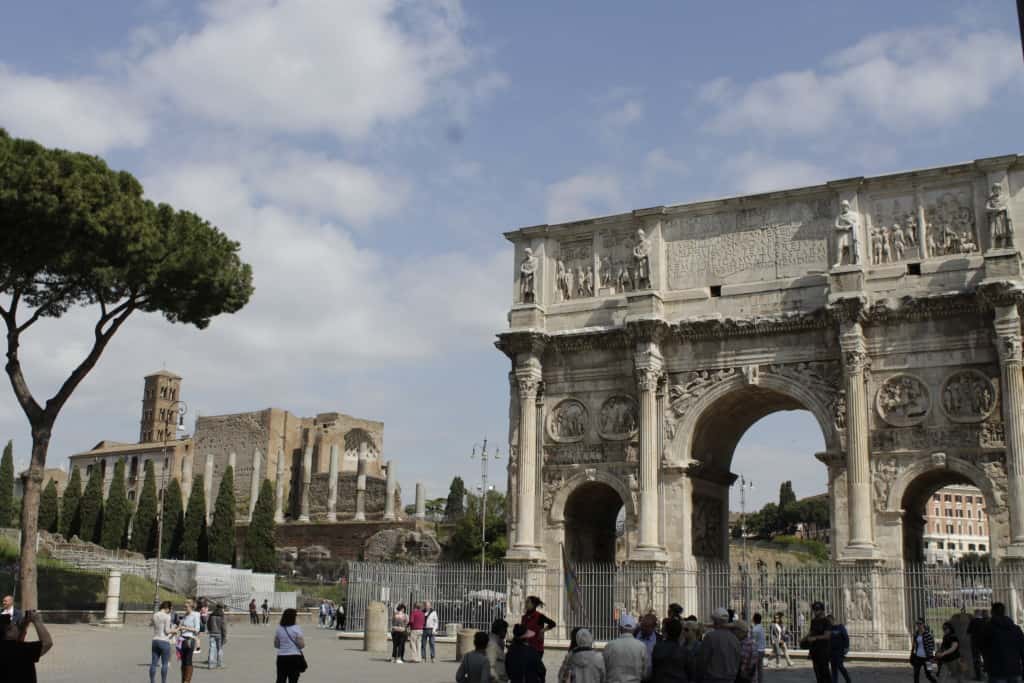 After that, we walked to the Trevi Fountains. Problem was that this too was under renovation. There wasn't any water! It was so disappointing. Basically everything in Rome was under renovation as we would come to find out. It really takes away from the appeal and makes us glad we didn't spend much time in Rome.
We left the dry fountains and walked to the Spanish Steps. The tall set of steps were pretty with flowers all up the middle, but hundreds of people sitting on them. And, spoiler alert, the two bell towers at the top were covered with scaffolding and an advertisement.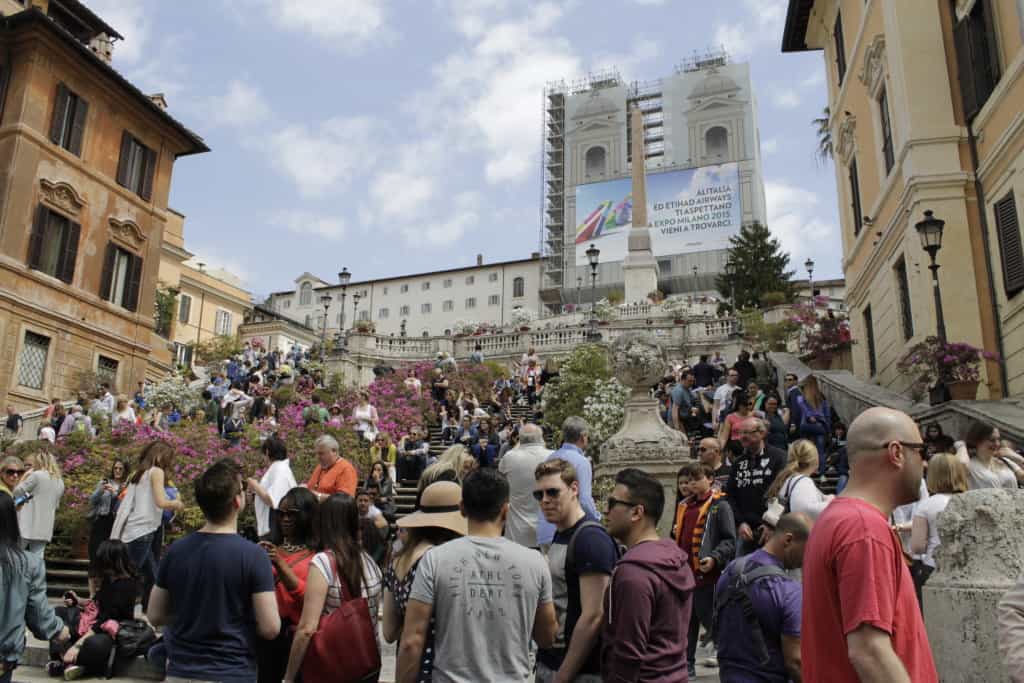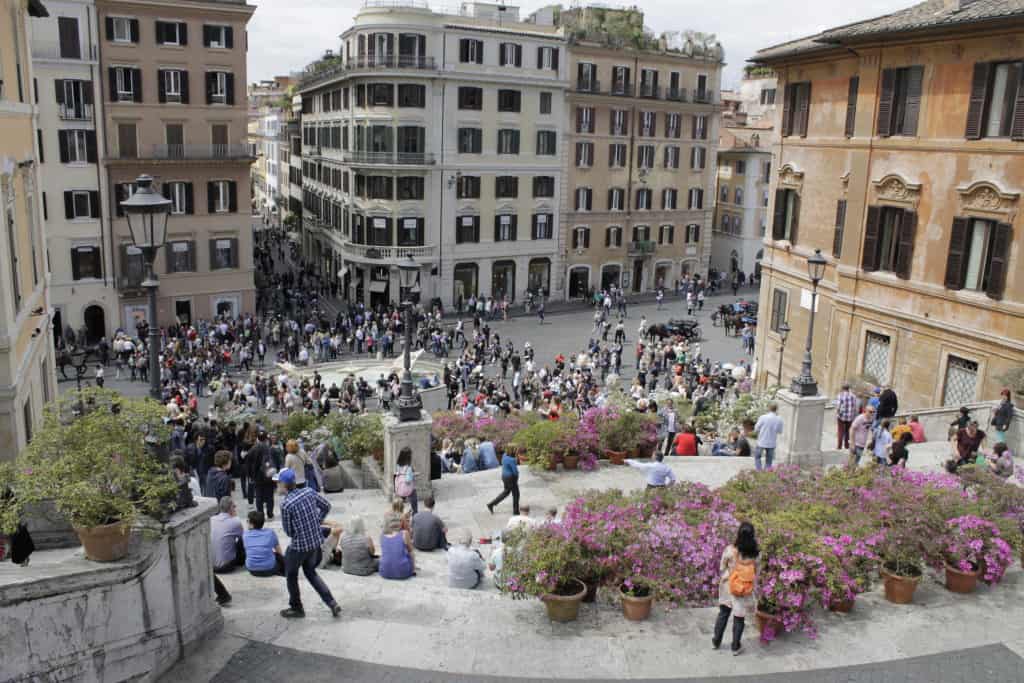 At the base of the stairs was a fountain (that actually worked!) of a boat that was overflowing- it was my favorite part of Rome.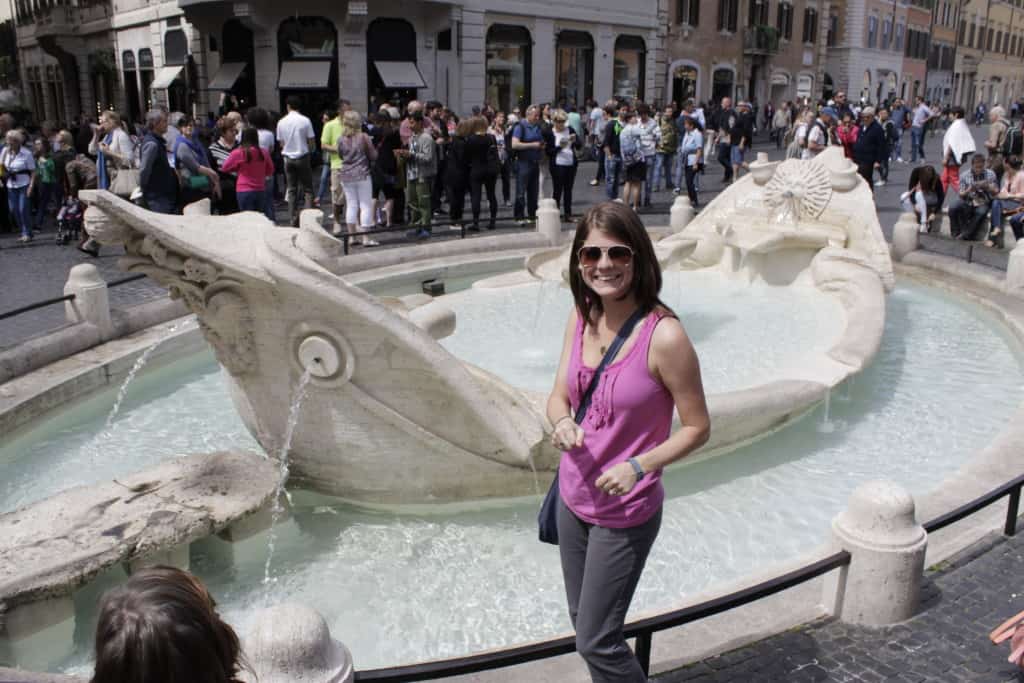 From here, we decided to walk toward the river and get lunch away from the tourists. We got pizza and another arancita di riso. I love those things. We walked along the river and saw a castle and sat in the park behind it for awhile.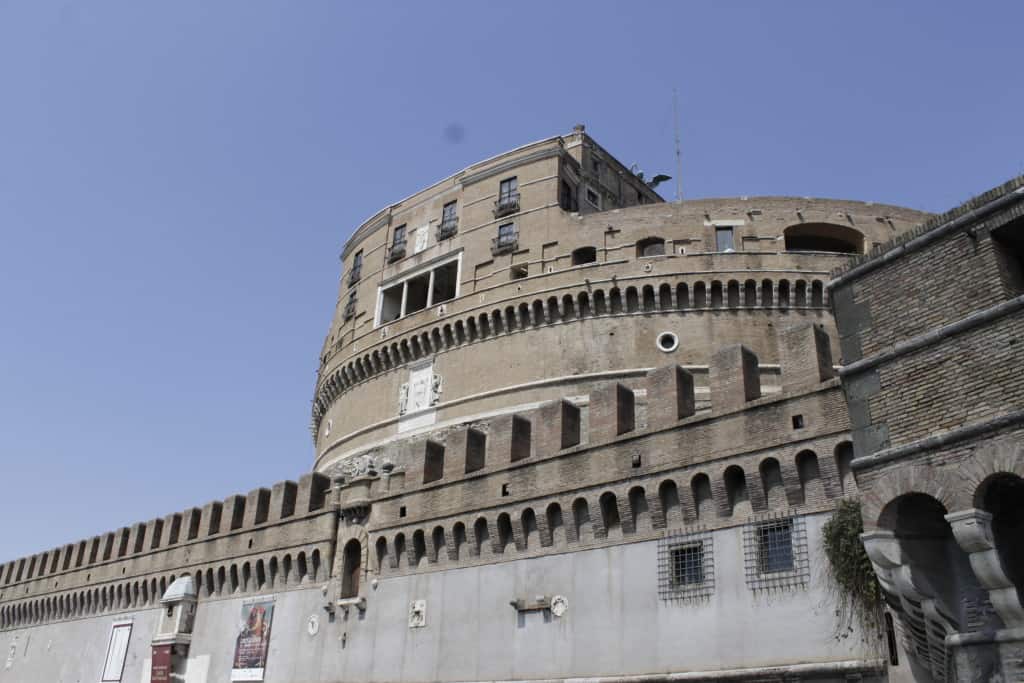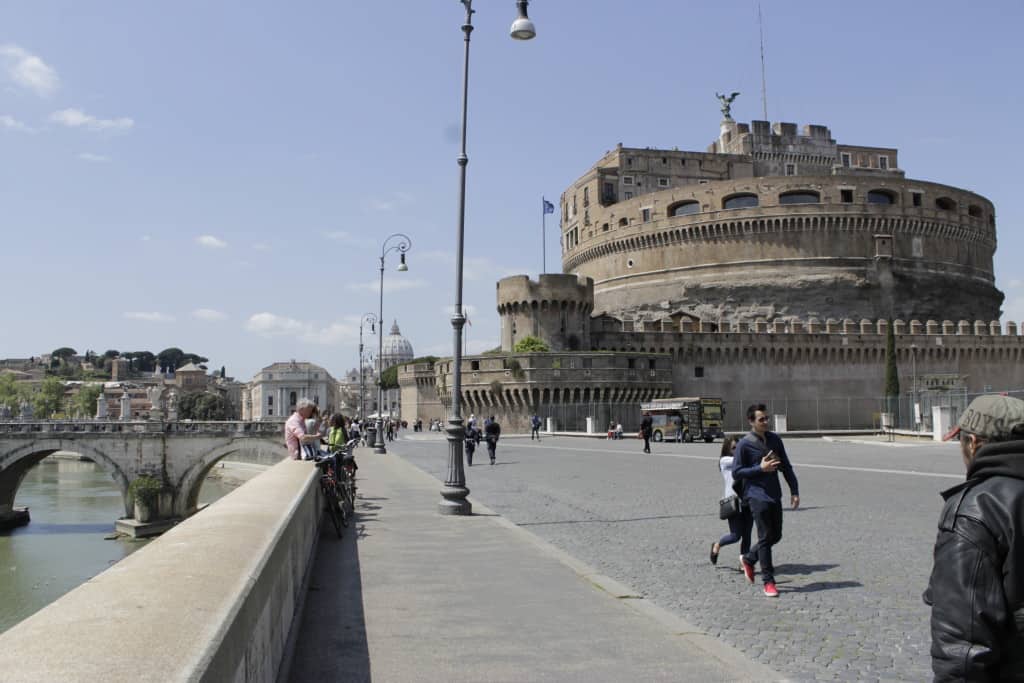 The Vatican turned out to be right down the street. We hadn't planned to go, but we walked down and took pictures. People were waiting hours to go inside, and there were dozens of "tour guides" claiming they could get you past the line. Whatever…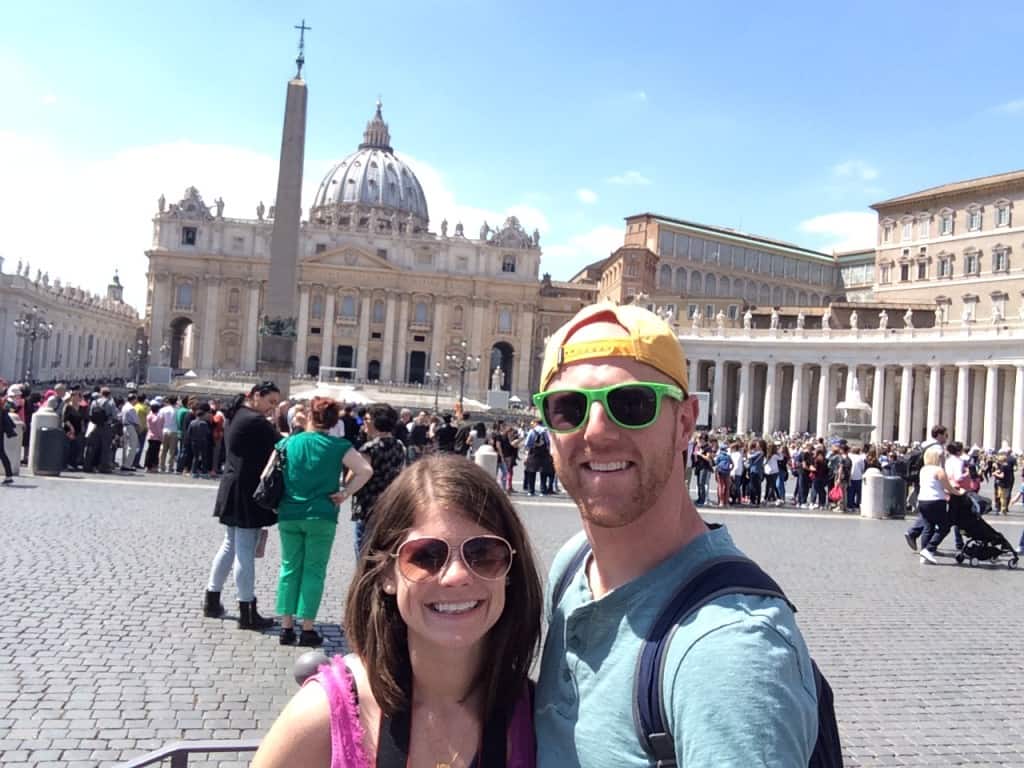 We then walked back toward our B&B by walking down in the basin of the river where there was a path and bike lane. It was very a very nice and peaceful walk finally away from the crowds. It took about an hour to walk back. We got a good view of the Pantheon from on top of a hill (glad we didn't pay to go in earlier).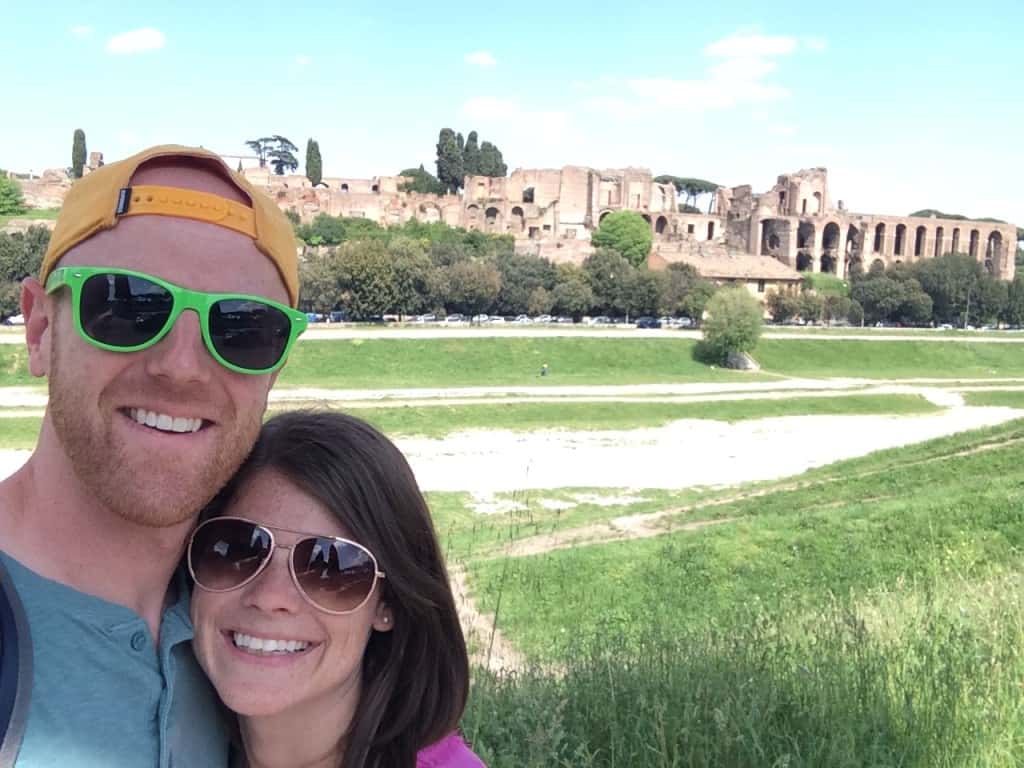 We relaxed at the B&B for a bit and then went to the grocery store to buy tasty souvenirs for ourselves and our loved ones. We bought some pasta, wine, limoncello, and Kinder Buenos.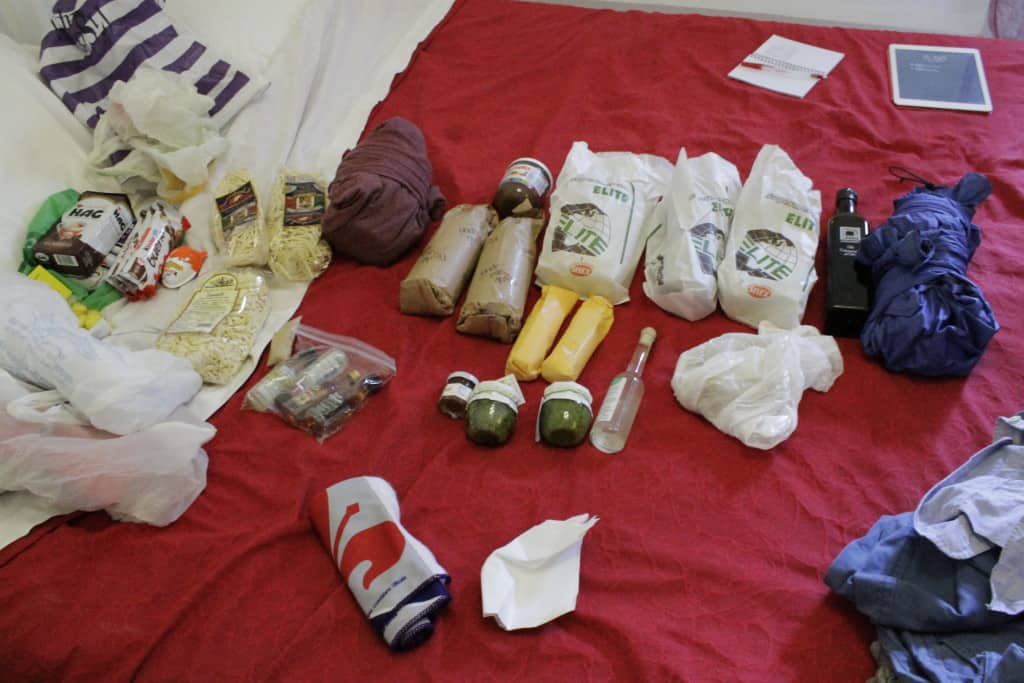 We went home and showered and figured out our final dining spot for the trip- La Carbonara. It was a 10 minute walk through the Monti Neighborhood, which is hip with the younger crowd. We didn't have a reservation, but we were given a table under the pretense that we had to be out in an hour and a half- ummmm, us Americanos won't have a problem with that. We ordered a bottle of prosecco and cheese to start. The cheese came with a fruit jelly that was fantastic pairing with the cheese!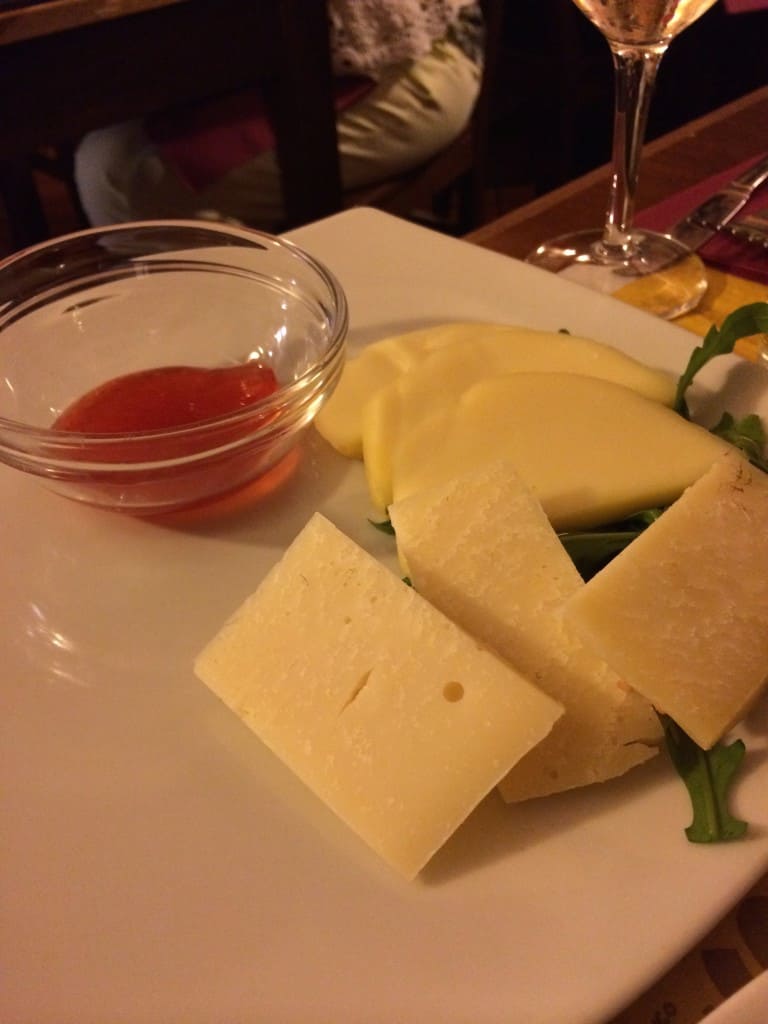 For meals, I got the Cacio e Pepe, which is fresh pasta with only olive oil, pepper and cheese. It didn't need anything else. It was so light and fresh and a tasty combo to take back to the states.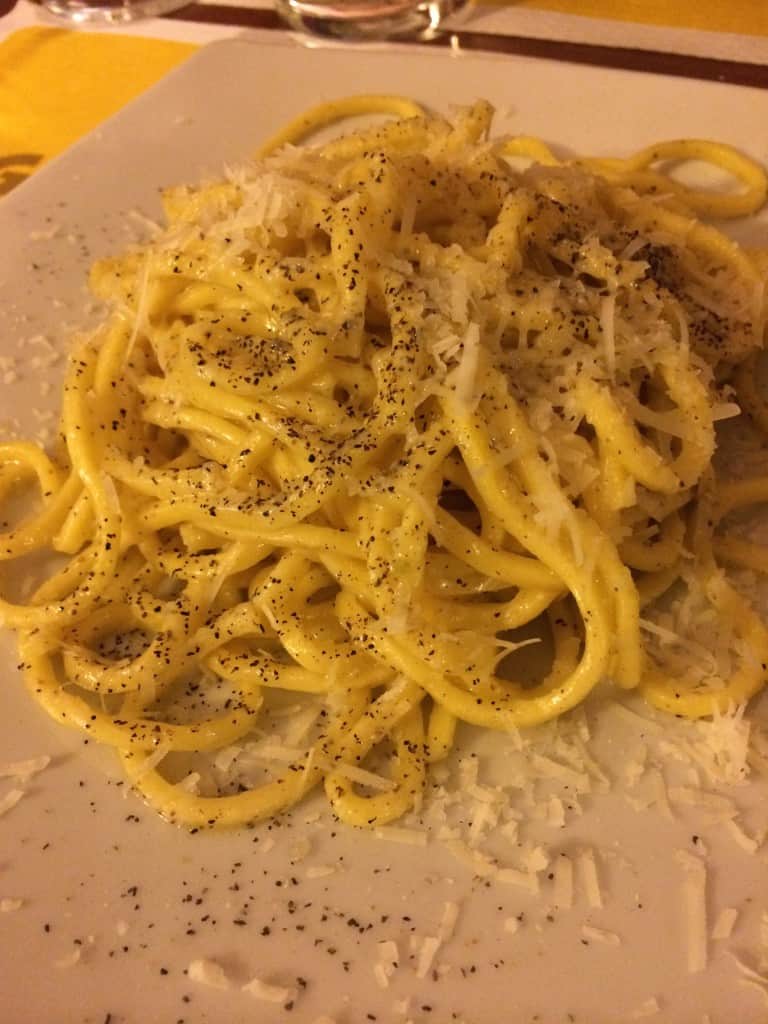 Morgan tried to order gnocchi, but they only serve it on Thursdays. So she asked what the server recommended. He suggested spaghetti with pistachios and cherry tomatoes. We didn't realize that it was a pistachio SAUCE! Oh my goodness, it was fantastic! Such a cool and unique flavor to end our trip. We sat and reflected on the trip for a while and wrote on the the restaurant's wall.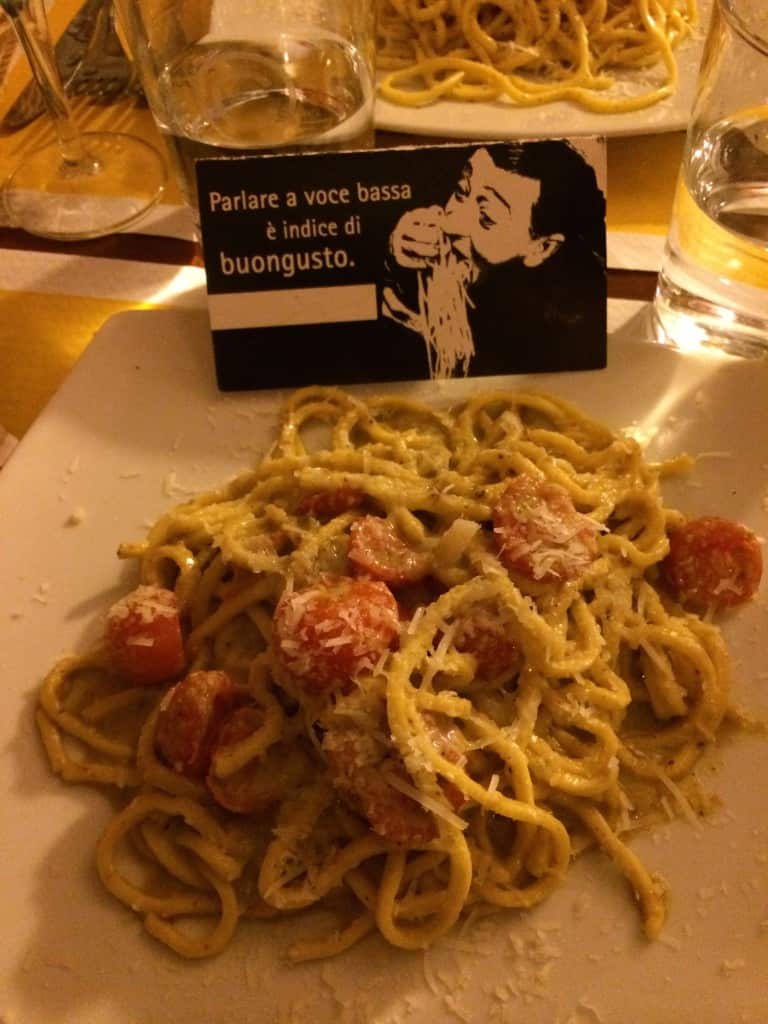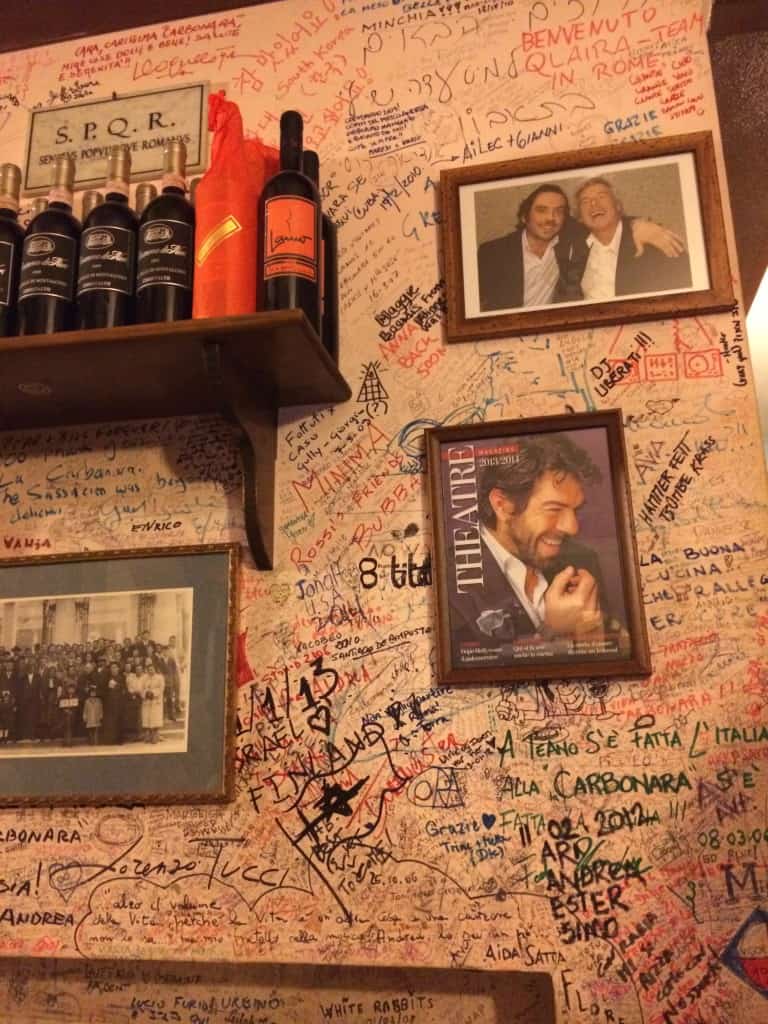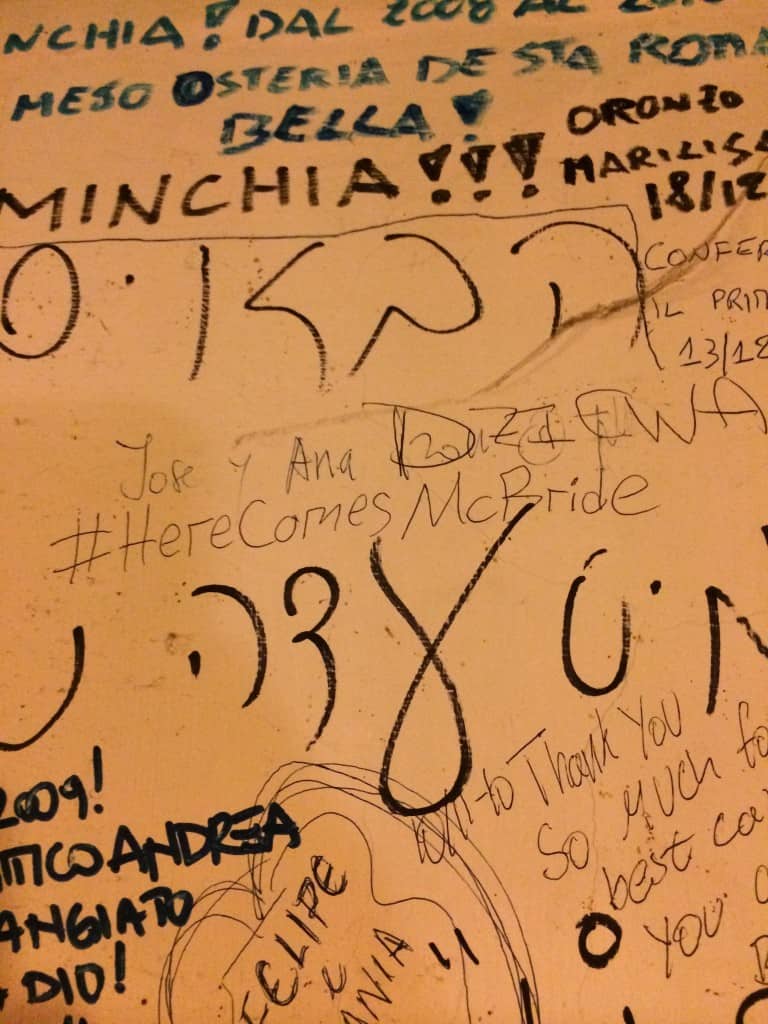 We settled up and walked down the street for our last gelato. We walked the lit streets to the Colosseum and our B&B.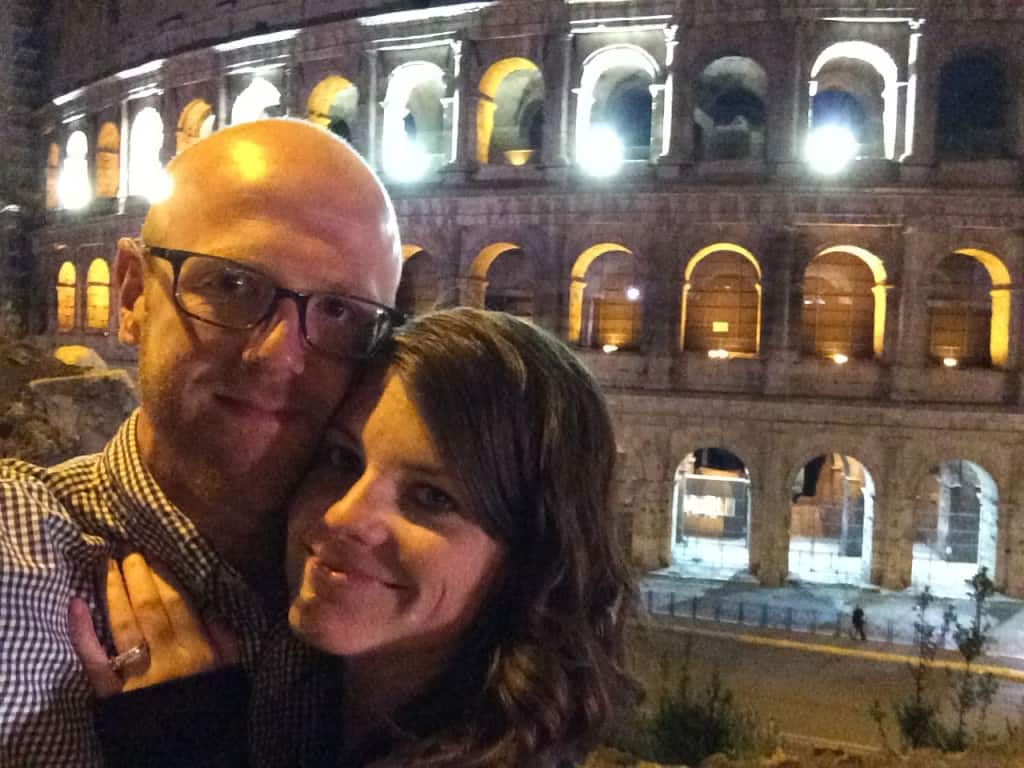 It was the absolute perfect way to spend our last night on our honeymoon…