This morning when we woke up, we overwhelmingly did not want to head to Rome. We really preferred the smaller stops on our trip to the big cities and did not want two full days in Rome. I'm sure that some people will think that is crazy, but it's the truth. Meghan had to leave for work very early in the morning, so we decided to ride with her to the airport and catch the shuttle to the port, where we could catch a ferry to Capri! It was a last-minute decision to head to the island, but we wanted to do it because we really weren't thrilled with the idea of heading to Rome.
The ferry from Naples to Capri is approximately 45 Euros per person each way. It takes roughly an hour to get between them, but they run almost every hour. On this day, it was cold and windy; we started out sitting on the open roof but quickly moved inside. It was less scenic, but crucial to our survival.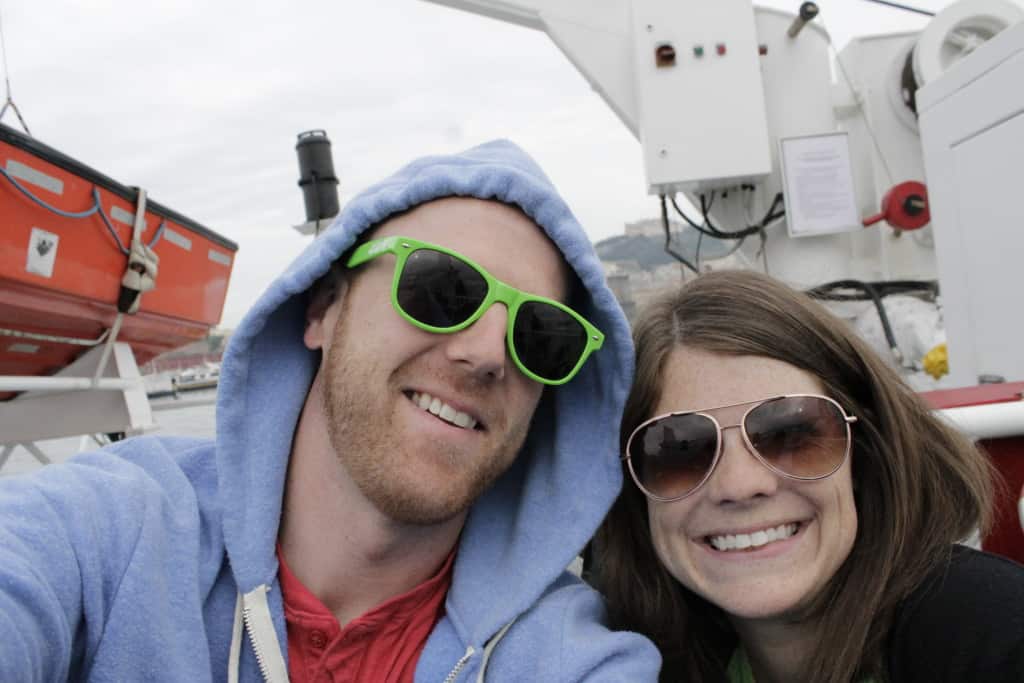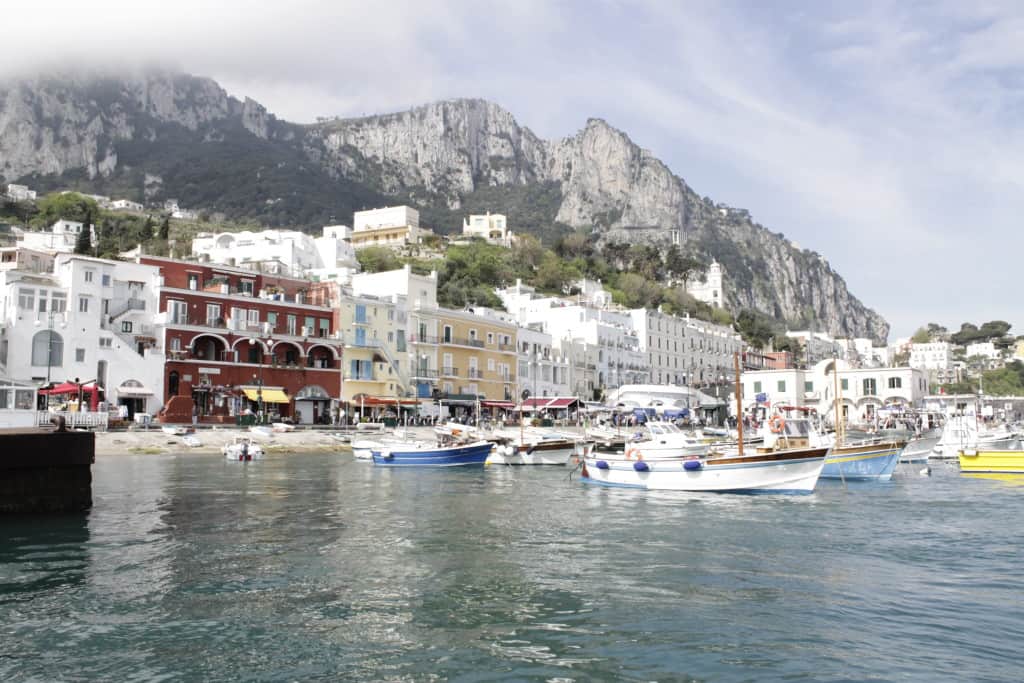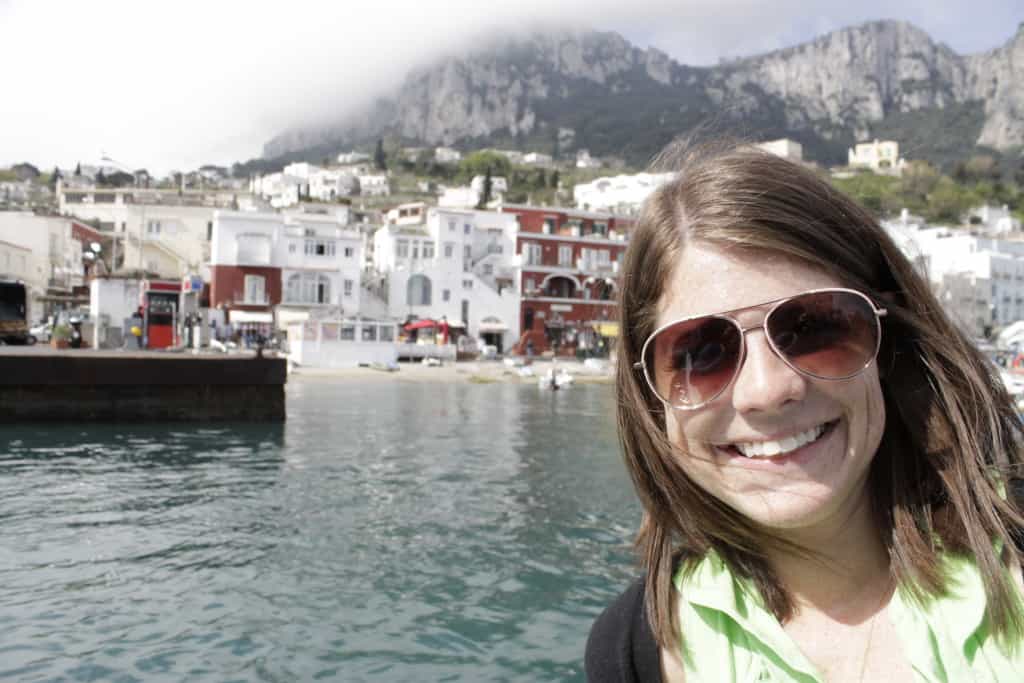 When we arrived, we checked our bags with the porters for two Euros per bag. The porter situation was a little sketchy and hard to figure out, but it turned out fine. The porter stand was to the right from where the ferry drops you off. If you make it to the building where you buy more ferry tickets, you've gone too far. The porters were basically a few dudes standing around a couple carts under an umbrella. We gave them our bags and they just set them on the carts. There was no real way to keep anyone else from claiming them, I guess, but in the end, it was fine and a very cheap way to store our bags.
We got some pastries for "brunch" because it had already been three hours since we ate breakfast at 6 a.m. The first thing we did was buy tickets to go see the Grotto Azure, aka the Blue Grotto. There are two ways to play seeing the biggest attraction on Capri. The first is the way we did it. That was to buy a ticket with a ferry company for a tour of the entire island for roughly 17 Euros each and they will take you to the Blue Grotto before taking you around the island. The second option would be to catch a taxi or bus to the Blue Grotto and walk down the stairs to it. With either option, you also have to pay 13 Euro for a "national park fee" and to get on a rowboat into the Blue Grotto.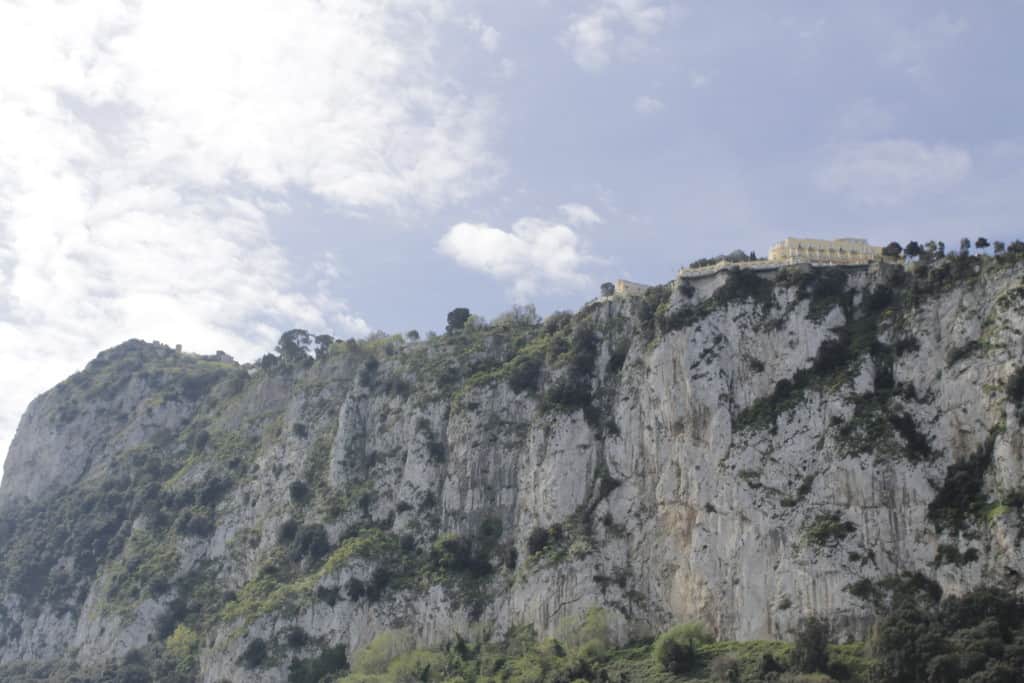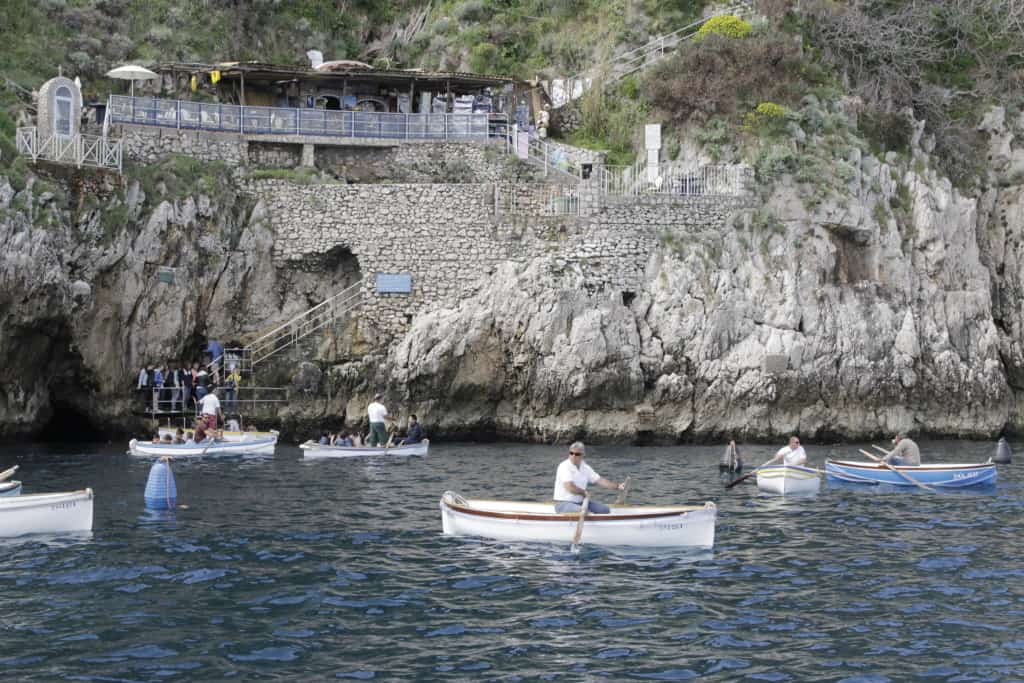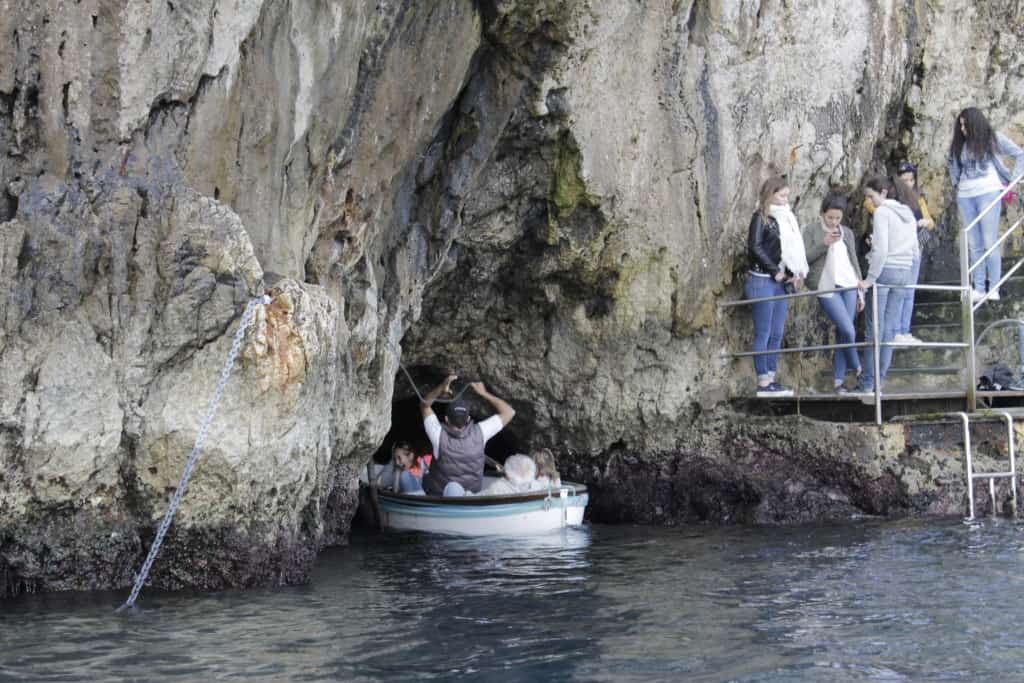 The Blue Grotto is one of many caves under the island of Capri with an EXTREMELY small opening. You have to duck into the rowboat to get in. Literally drop to the bottom of the boat or you will hit your head.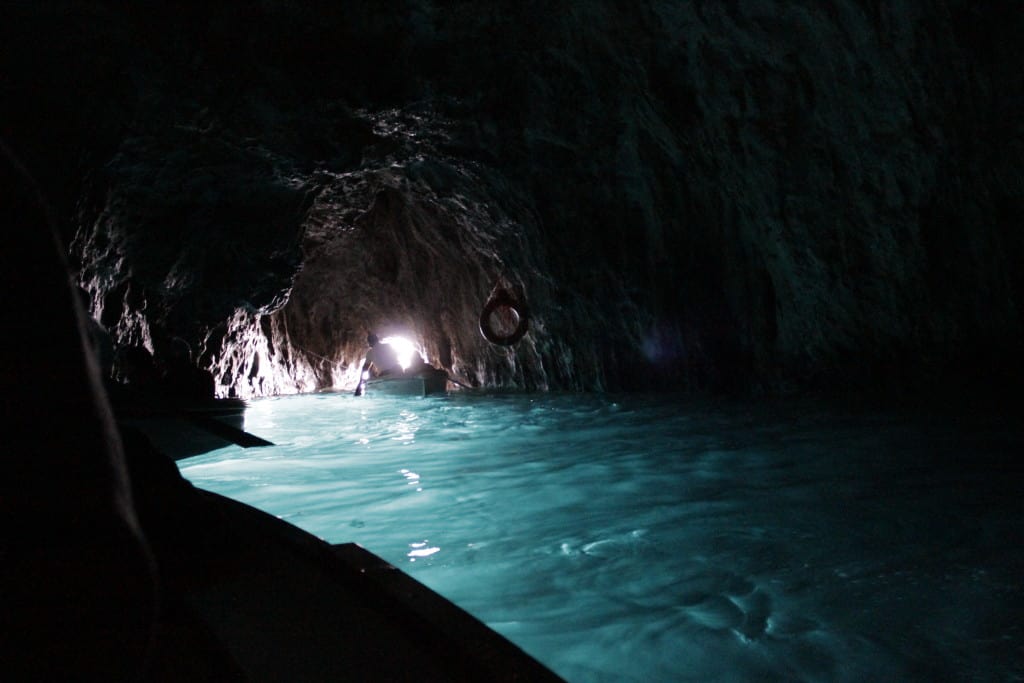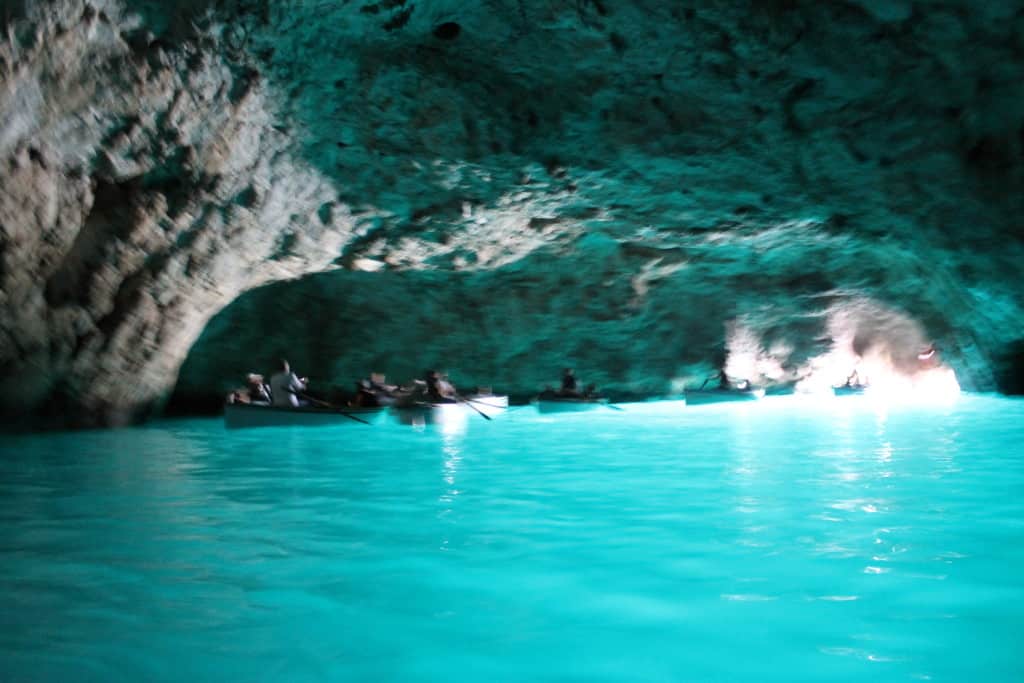 Inside the Blue Grotto, it was very eerie and cool. It was a huge dark cave with beautiful blue water being lit from the sun outside. We went inside at around 10 a.m. so the sun was on the other side of the island, therefore not shining directly at the cave. The blue was beautiful, but around 2 or 3 o'clock, the water would have been even more magnificent, but you also have to watch the tide.
The crystal clear blue waters looked so cool lit up. This was apparently where Caesar Augustus would come swim when he visited the islands on vacation.
After we were done, we got back on the ferry and it took us around the island. The cliffs and caves were unlike anything we had seen yet. Super-high steep cliffs and huge mouths of caves.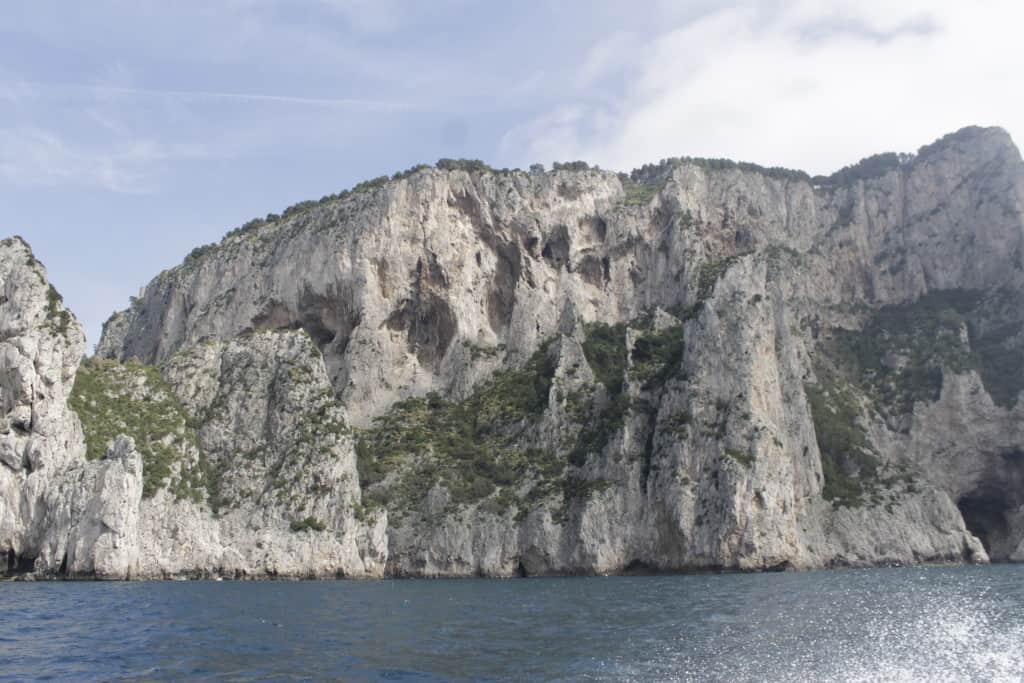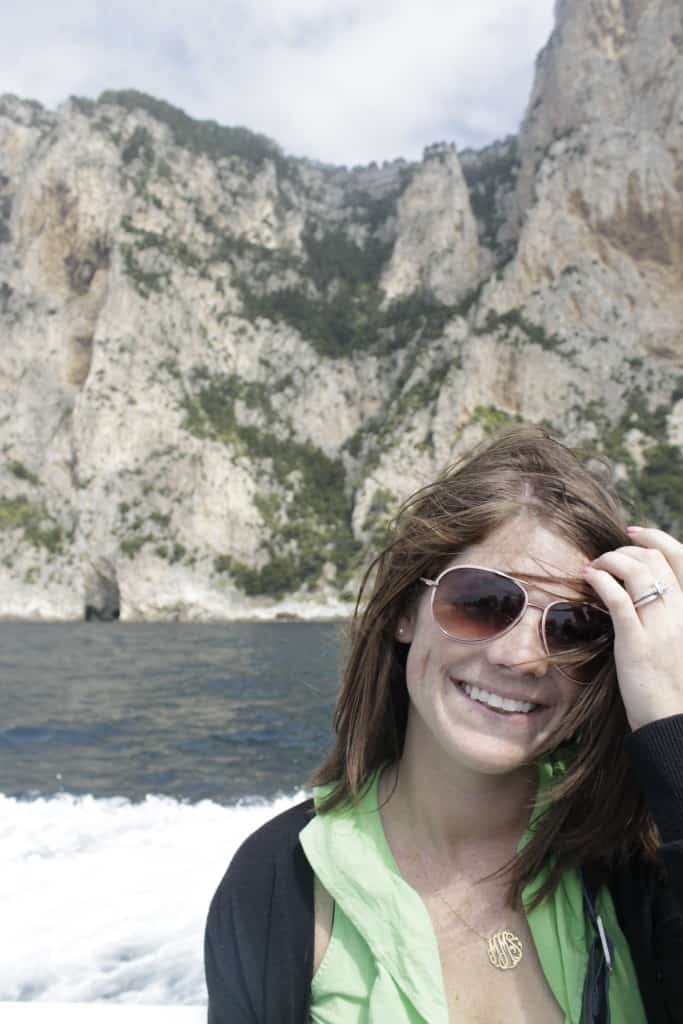 There was the Green Grotto, where we got to touch an over-hanging rock, and the White Grotto with really cool stalactites and stalagmites.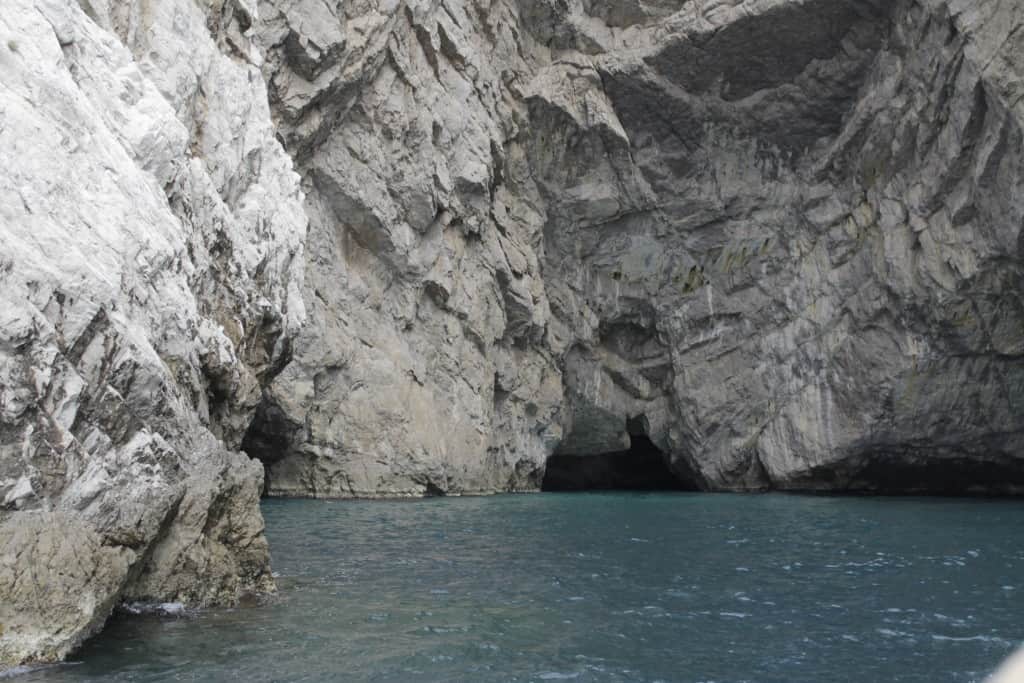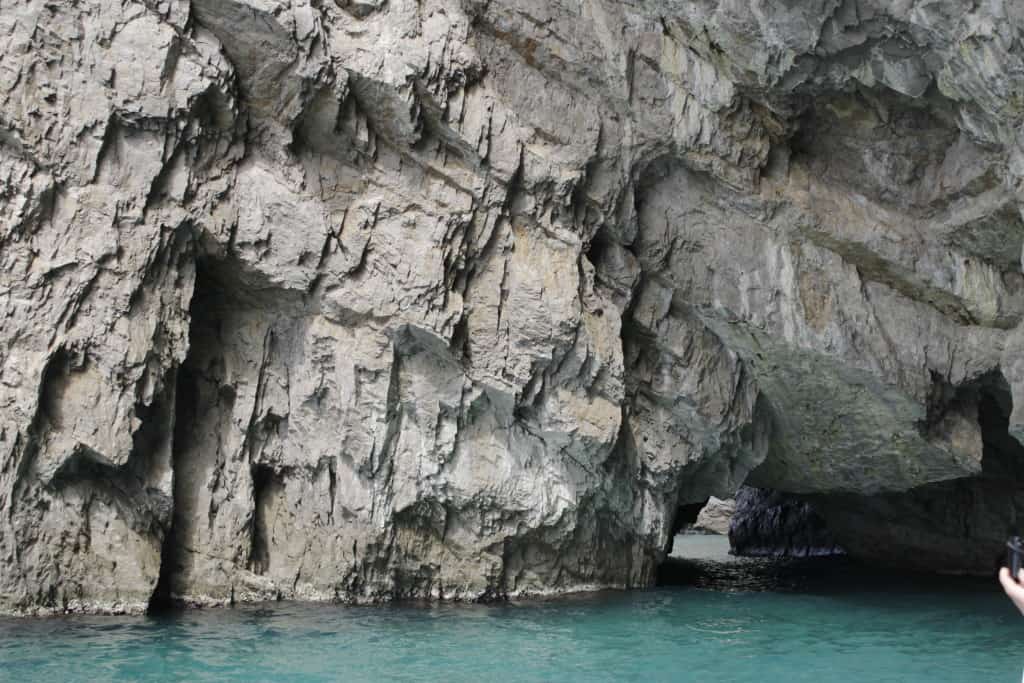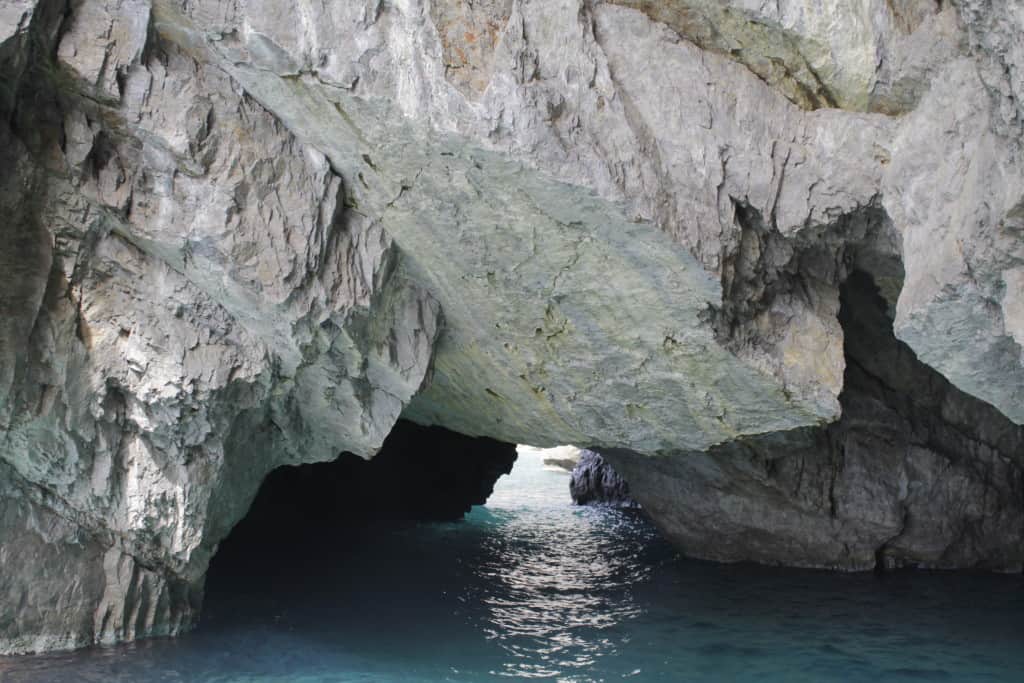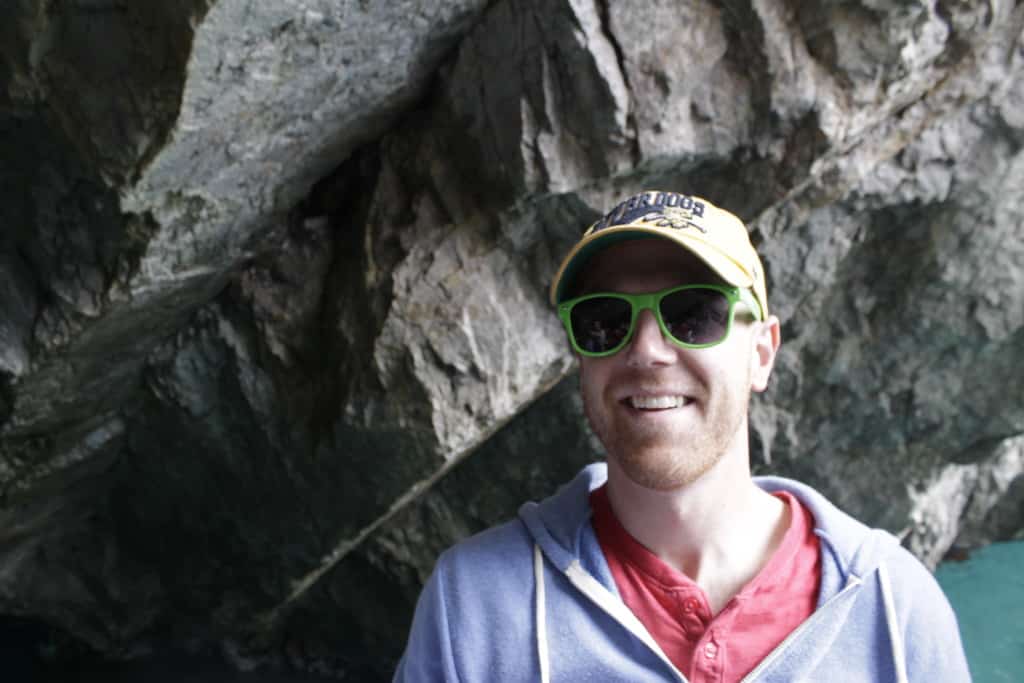 The island also has three vertical rocks of its coast, with a hole through one called the Lover's Arch. The tale is if you kiss someone under it, you will love them forever… so we made out.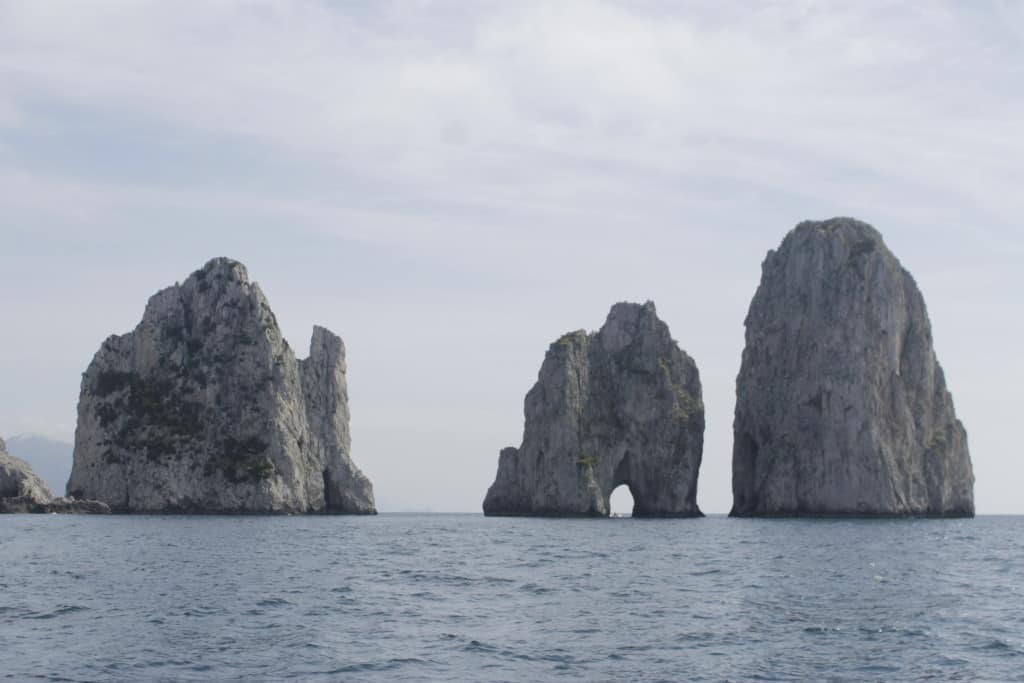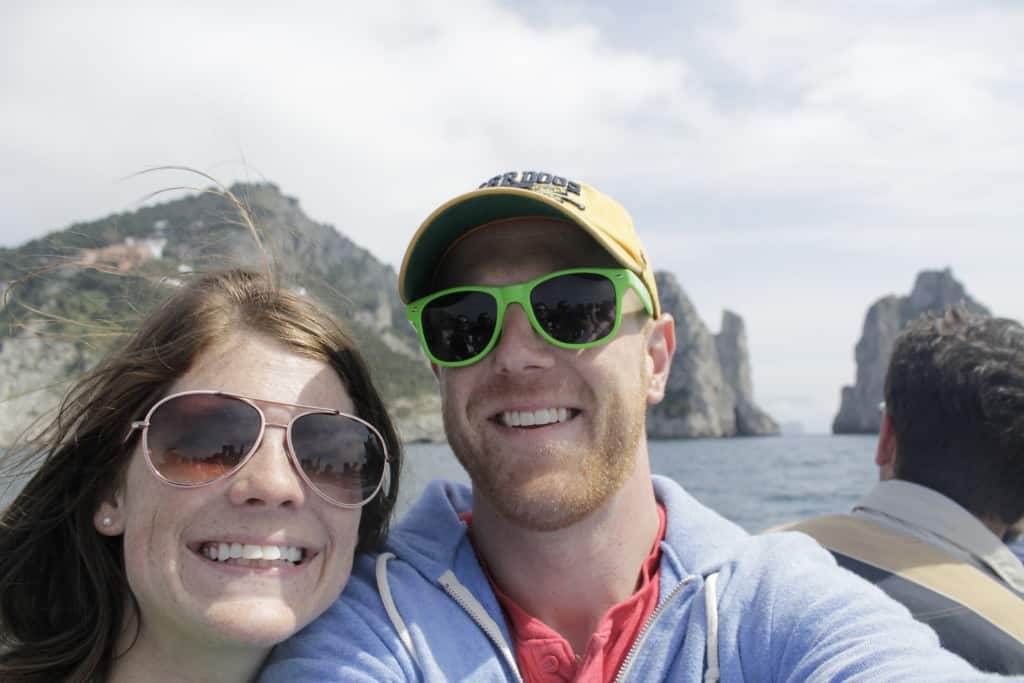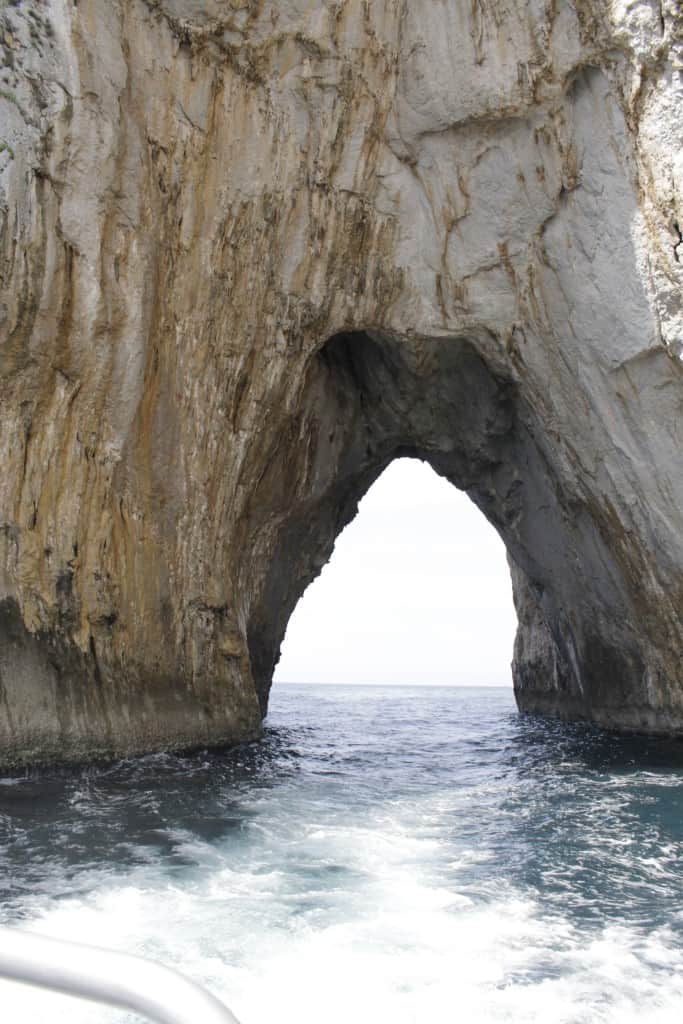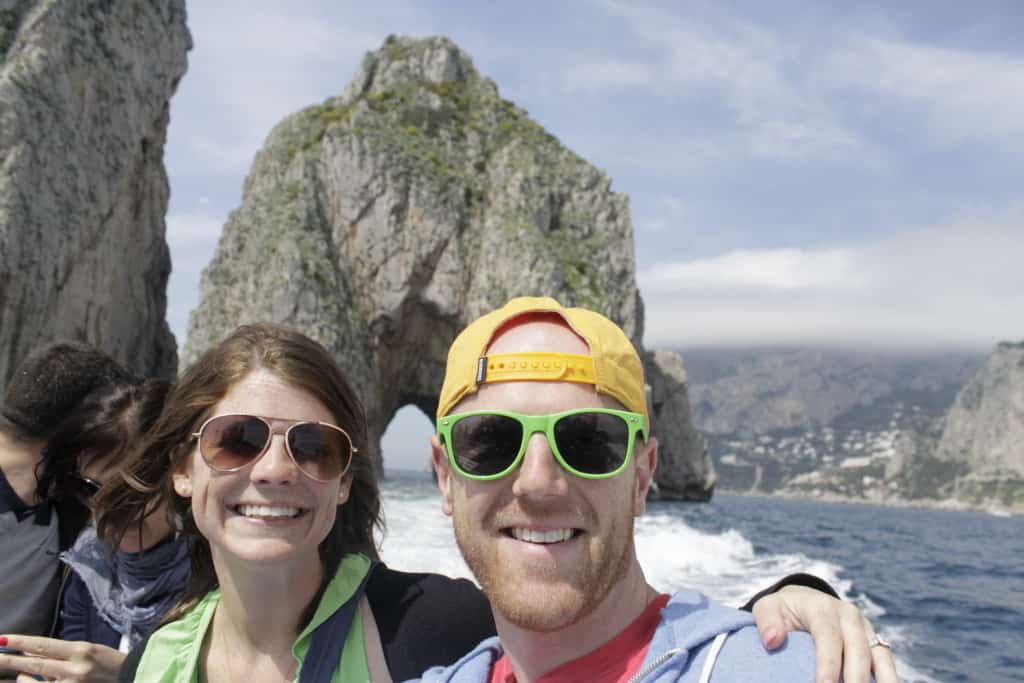 The whole experience was expensive, but it was worth it. Back on land, we walked uphill 20 minutes to the actual town of Capri. It was pretty touristy, but had pretty views too.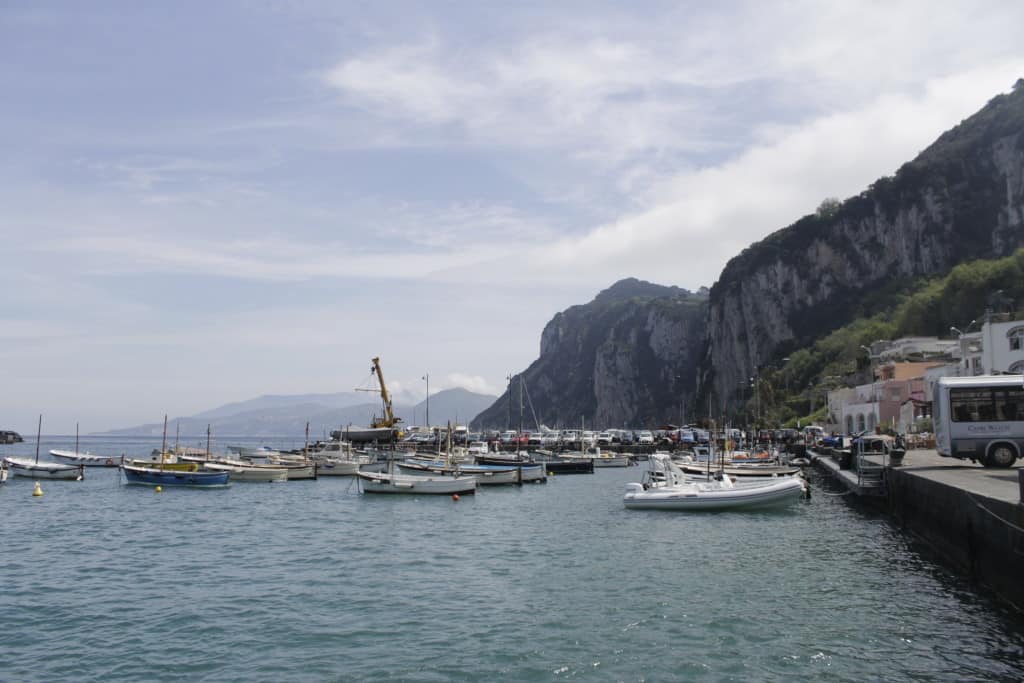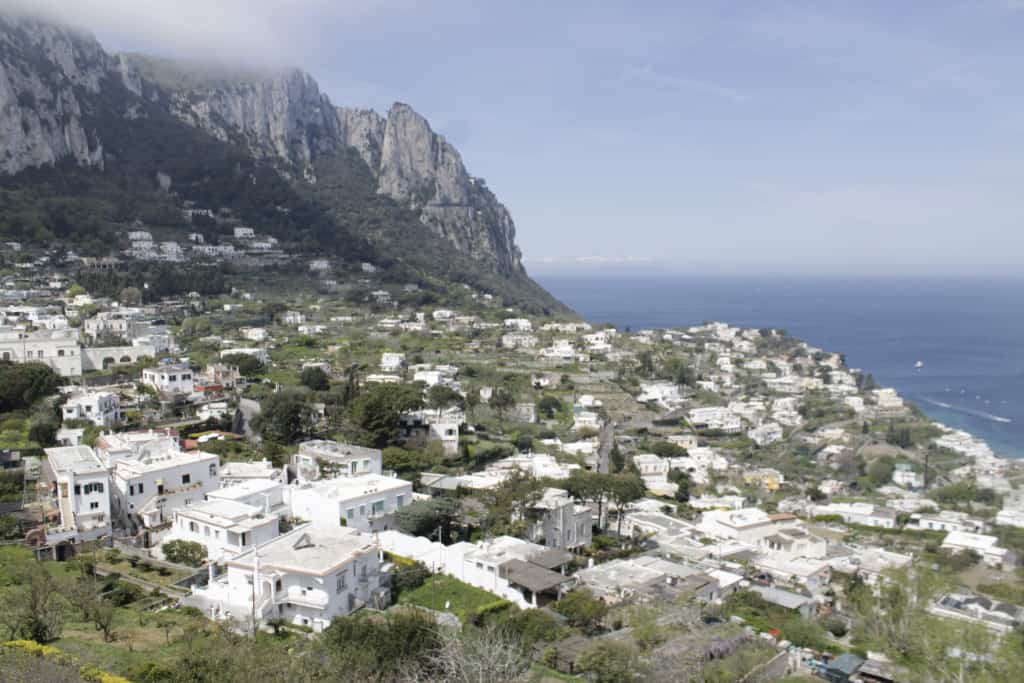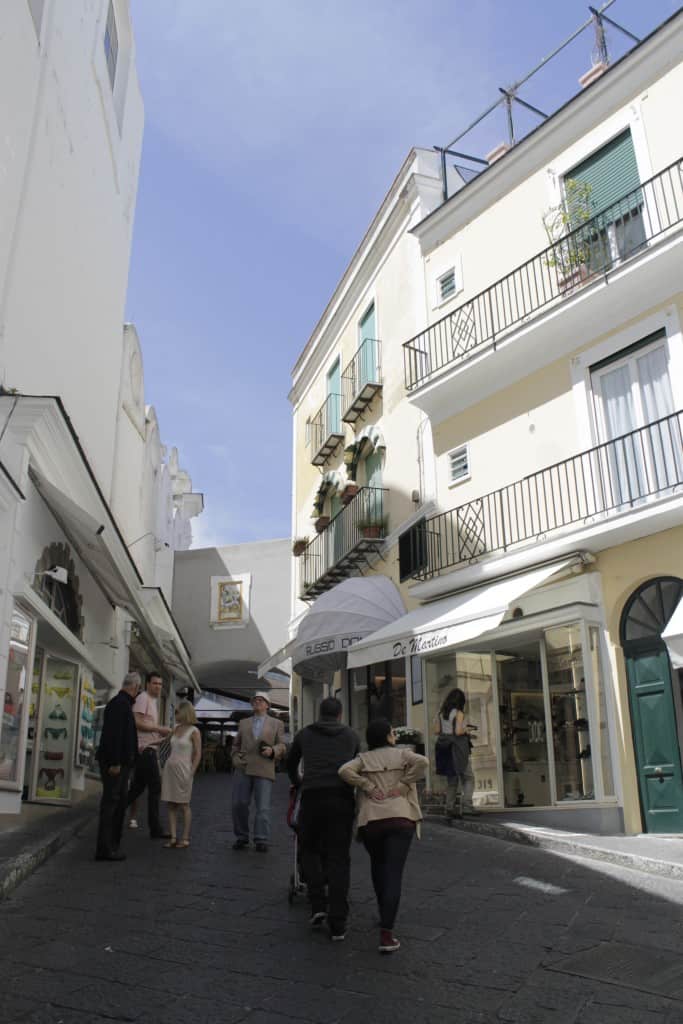 We grabbed a caprese sandwich, a baked salami/egg/cheese roll and an arancino de riso (a fried ball of risotto, peas, cheese and meat). It was one of my favorite foods in Italy!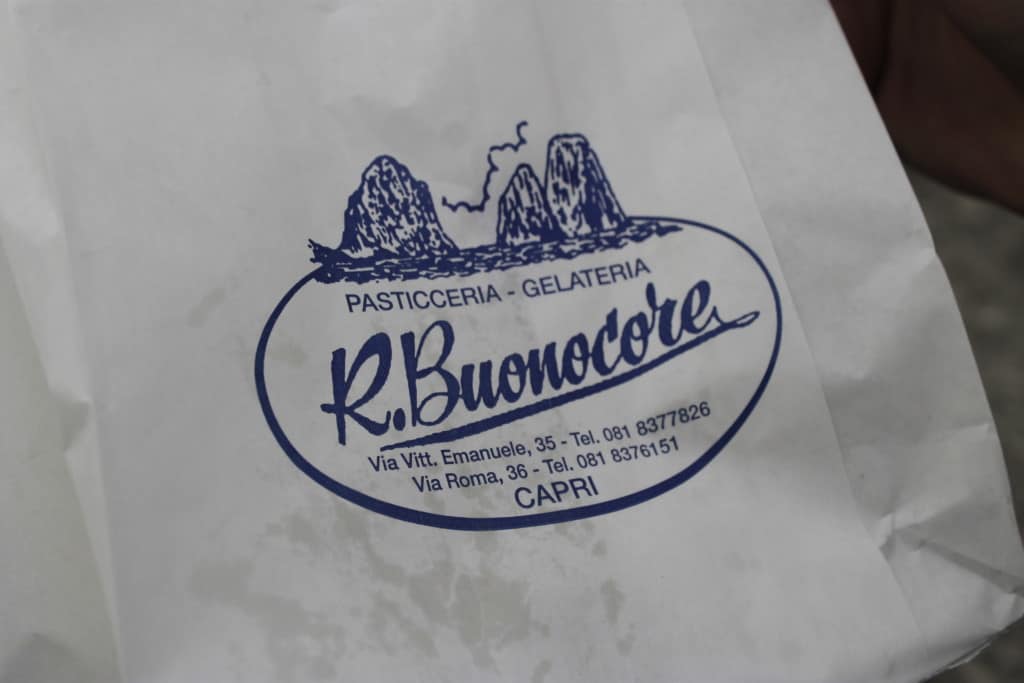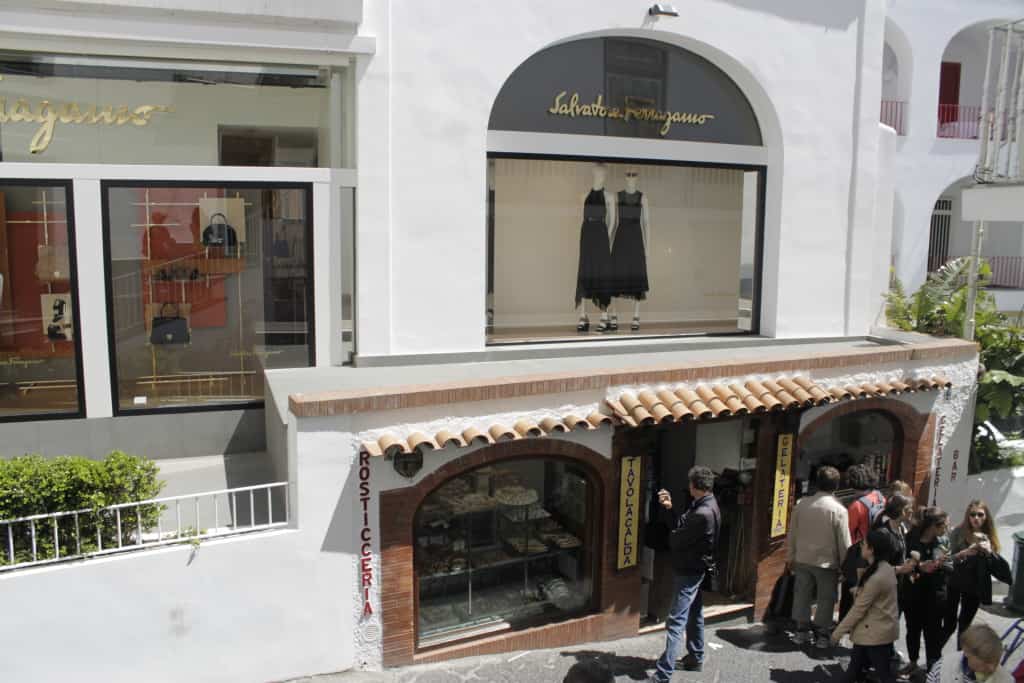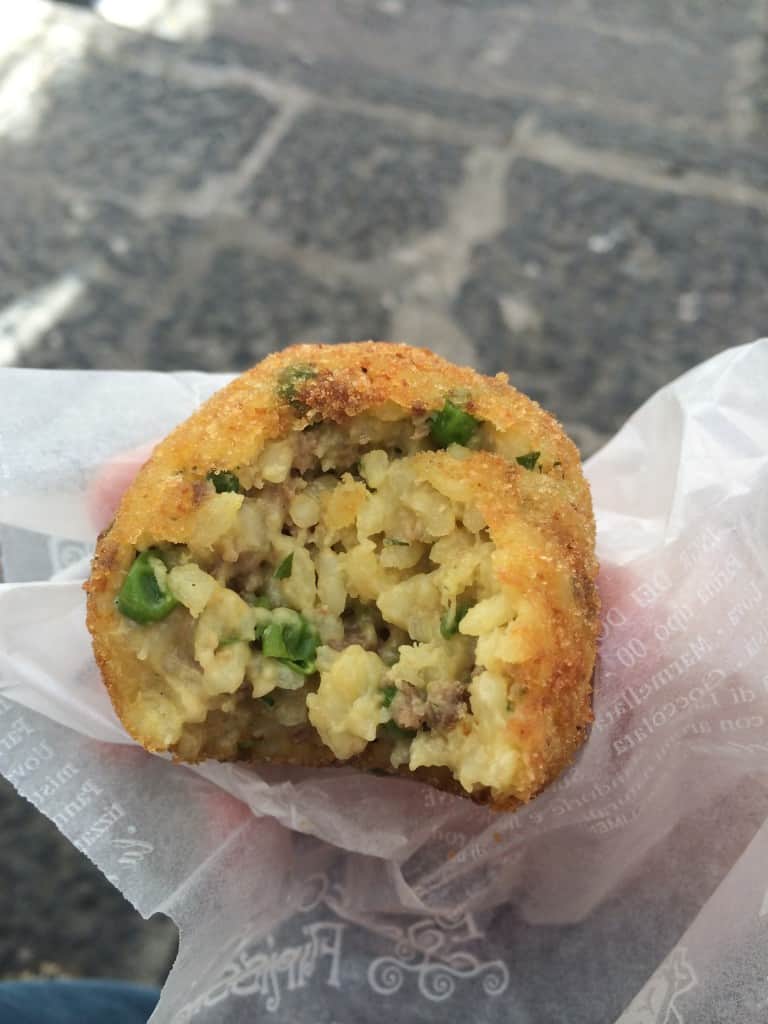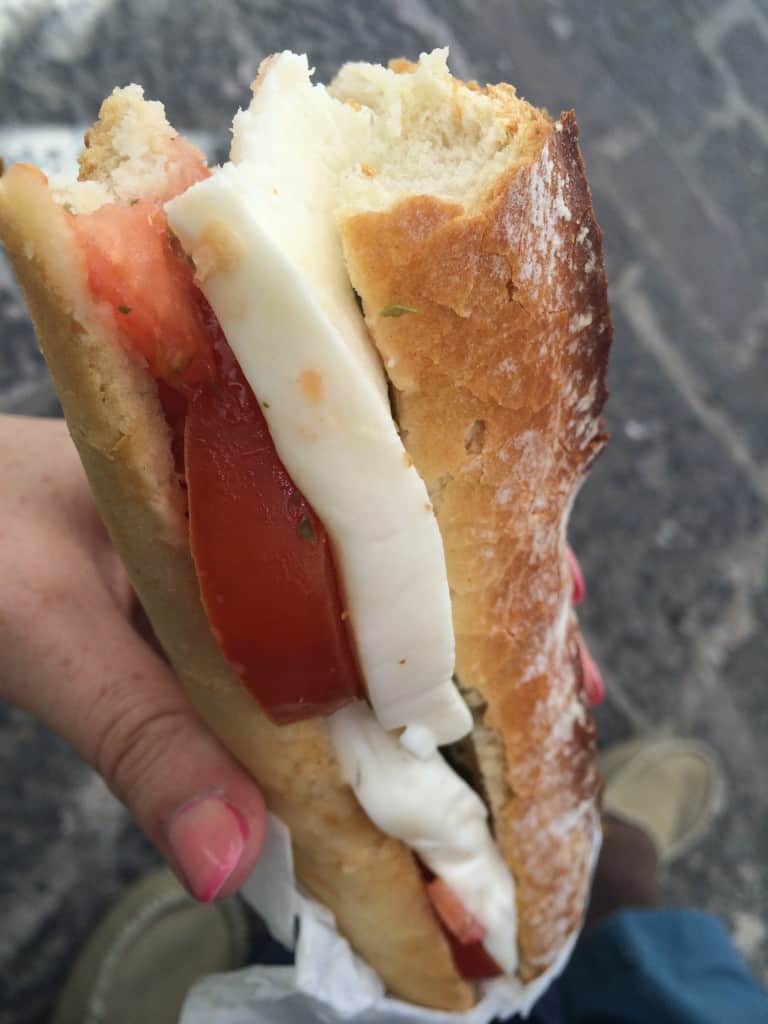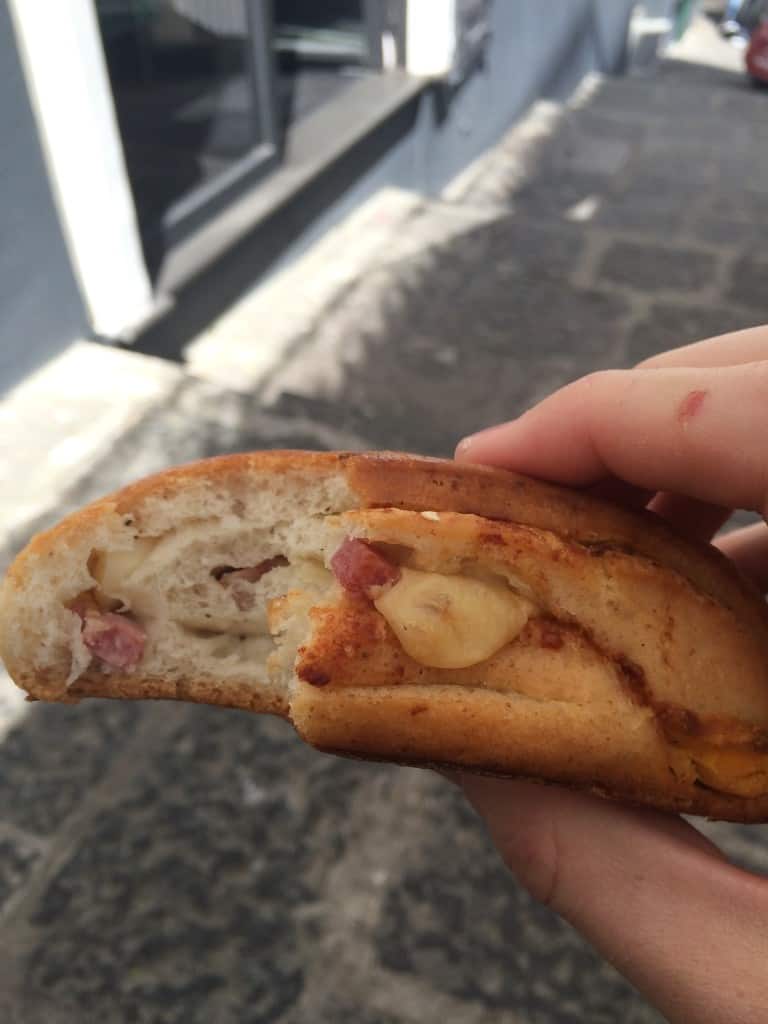 We caught a bus up to the top town on the island, called Anacapri. Basically, it was the same Capri below it, with little shops all around. The big thing in Anacapri is that there is a chairlift that will take you from the town to the very tip pinnacle of the island. The views were outstanding down onto the towns and miles out into the Mediterranean Sea.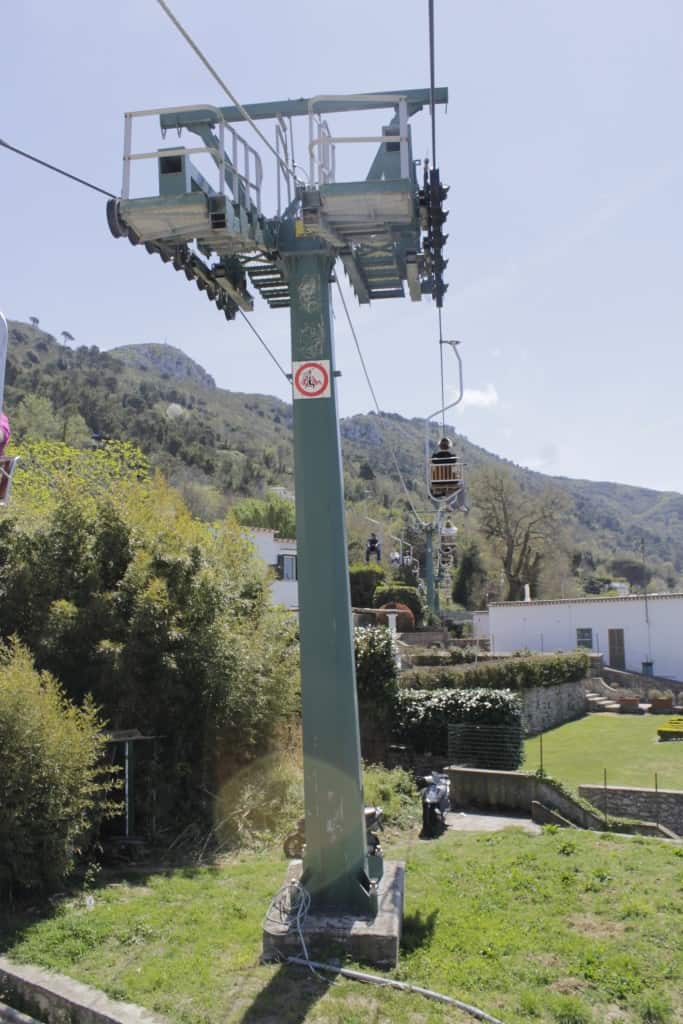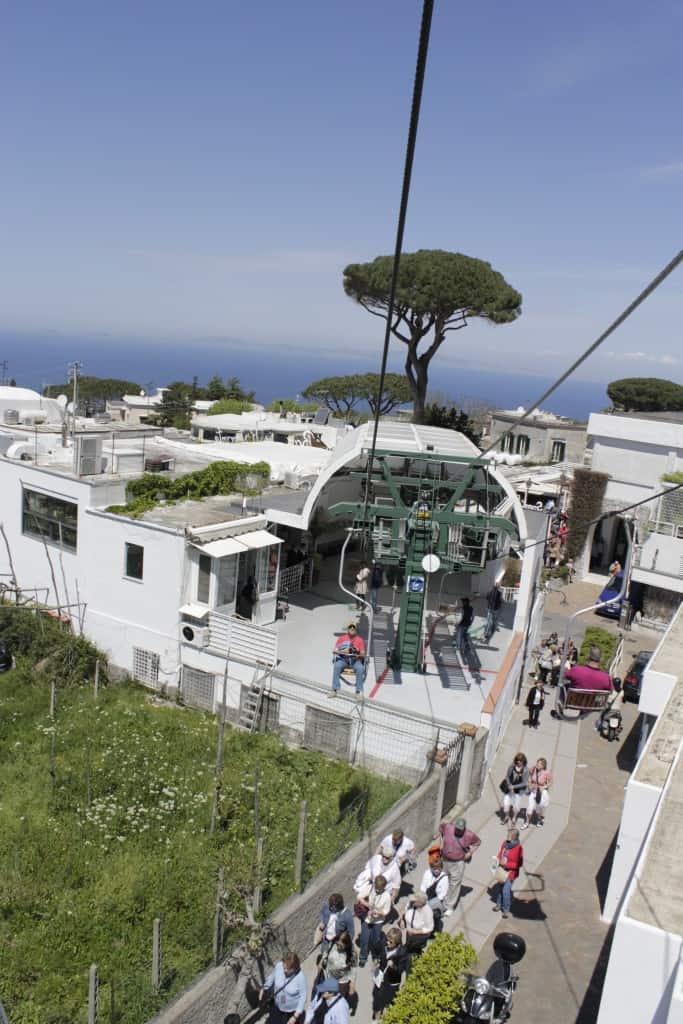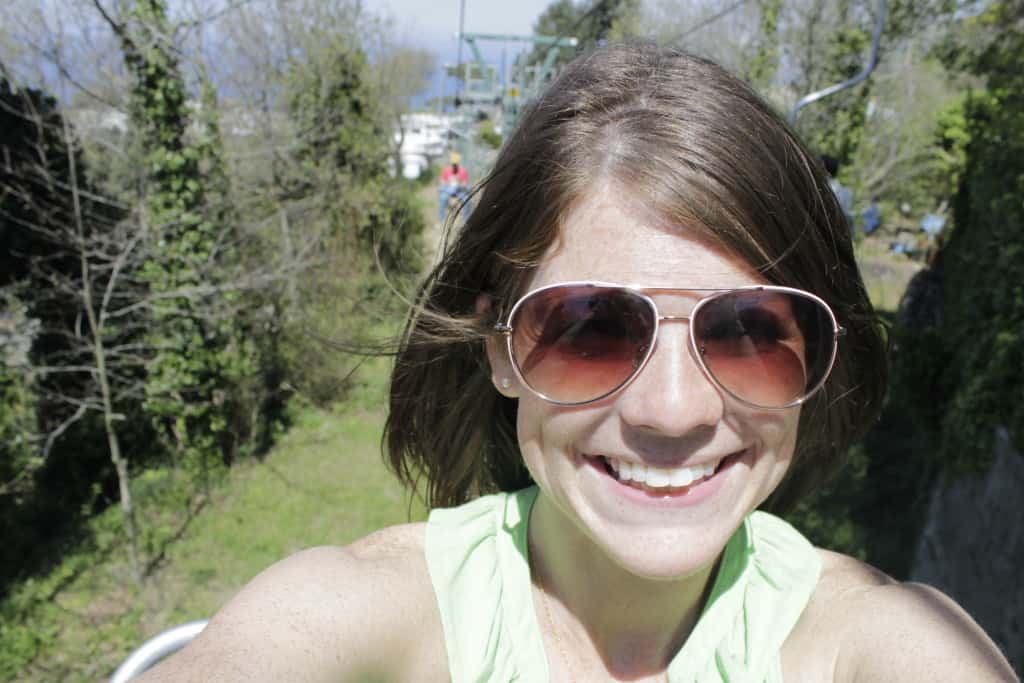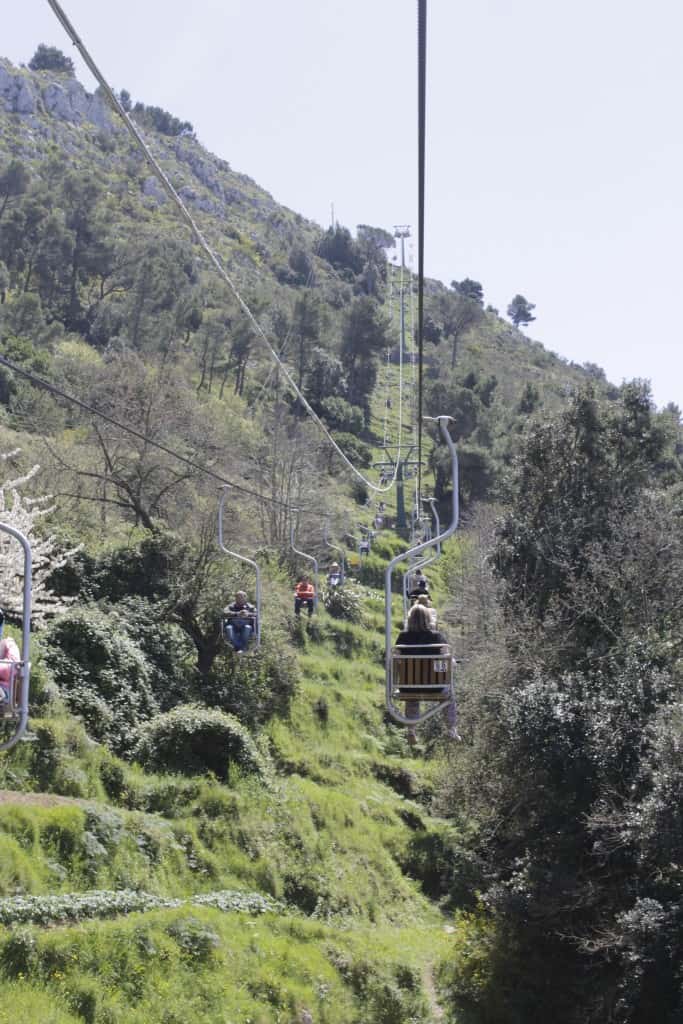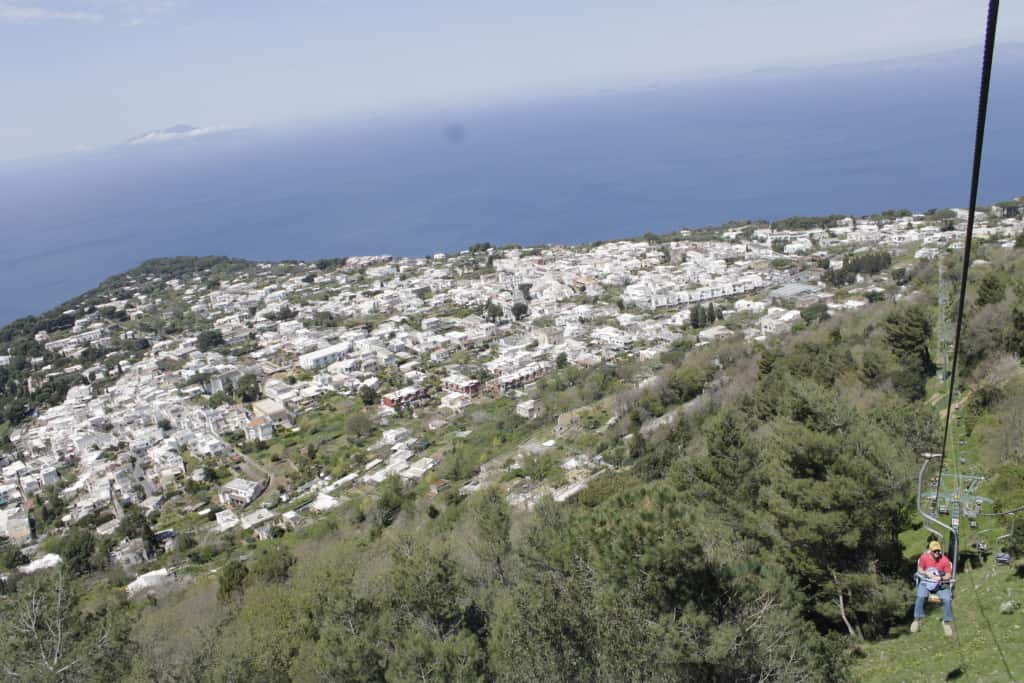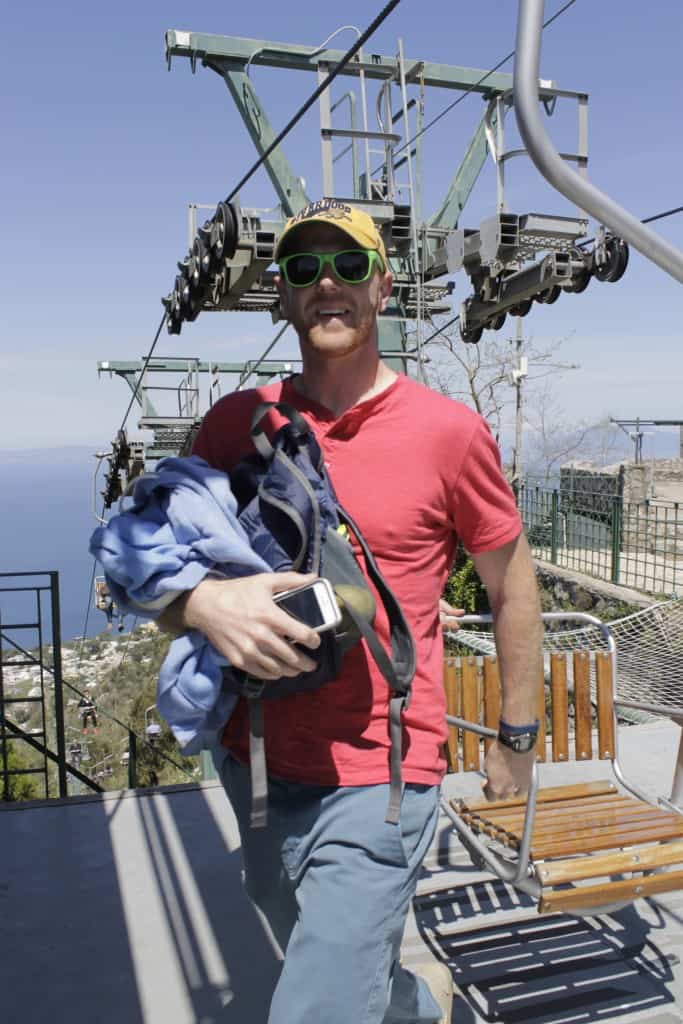 We stayed up top and took some pictures while thinking about our next move. We had planned to hike back down to Anacapri, which we heard would take about 45 minutes. Then we would need to get back down to the marina, so it would take us around two hours with that plan. We needed to be heading back to Naples soon since we still needed to get to Rome, and the day was getting away from us. We took some pictures and decided to catch the chairlift back down.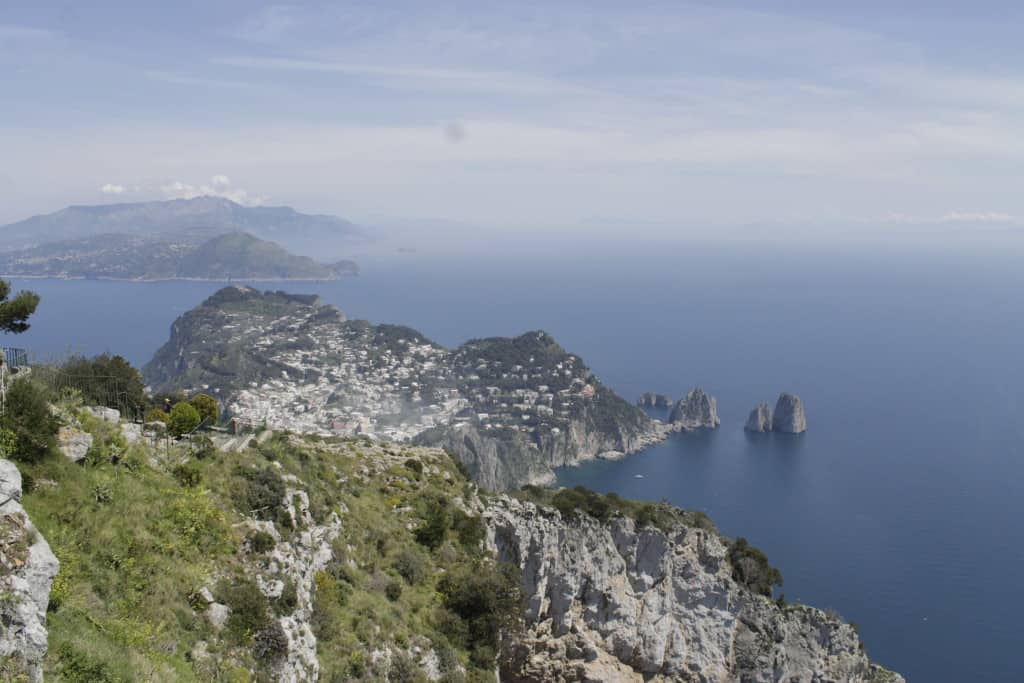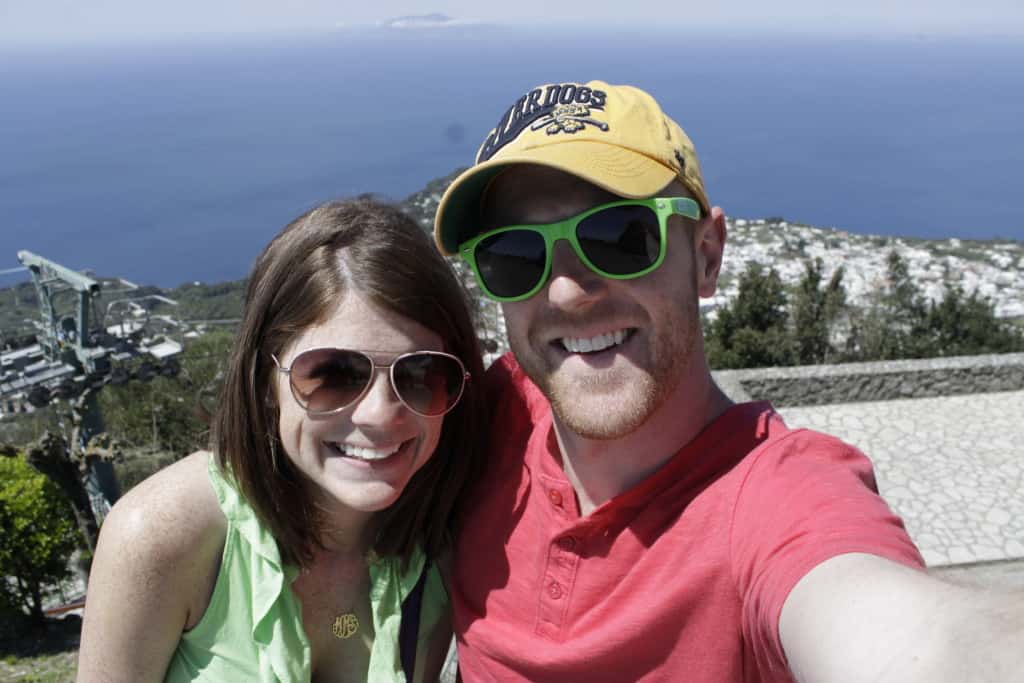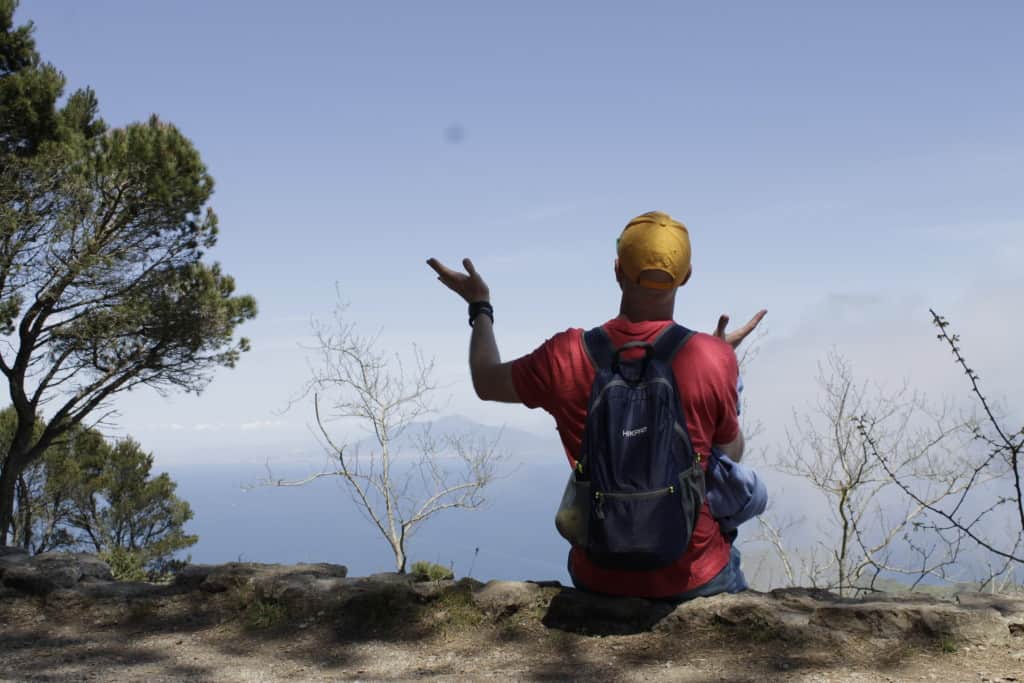 We made it back down to Anacapri and then by bus back to the marina. We bought our ferry tickets to Naples and had a little time, so we did a little shopping and bought some limoncello, candy and earrings made from real coral for Morgan. Then we picked up our bags from the porter and got the ferry back to Naples, where we caught a bus from the port to the train station.
The train from Naples to Rome is only an hour and ten minutes, so it was easy. When we arrived, we had a 20 minute walk to our B&B. We had booked this place through Booking.com instead of AirBnB because we had trouble finding a reasonable place for a good price that way. We stayed at Vesta Domus and it was a lot like the B&B we had in Florence- no office, no desk, just rooms in a hallway with food at the end. It wasn't the best. The man who showed us the place was very sweaty and wasn't the owner. We didn't like that. He also took all my information from my passport and wrote it down, but then left it on a table when he left. I picked it up so that all my personal information wasn't sitting in the open.
After laying down for a little bit, we researched a place for dinner. We headed that way and discovered that our B&B was approximately 200 yards from the Colosseum. It was very ominous at night.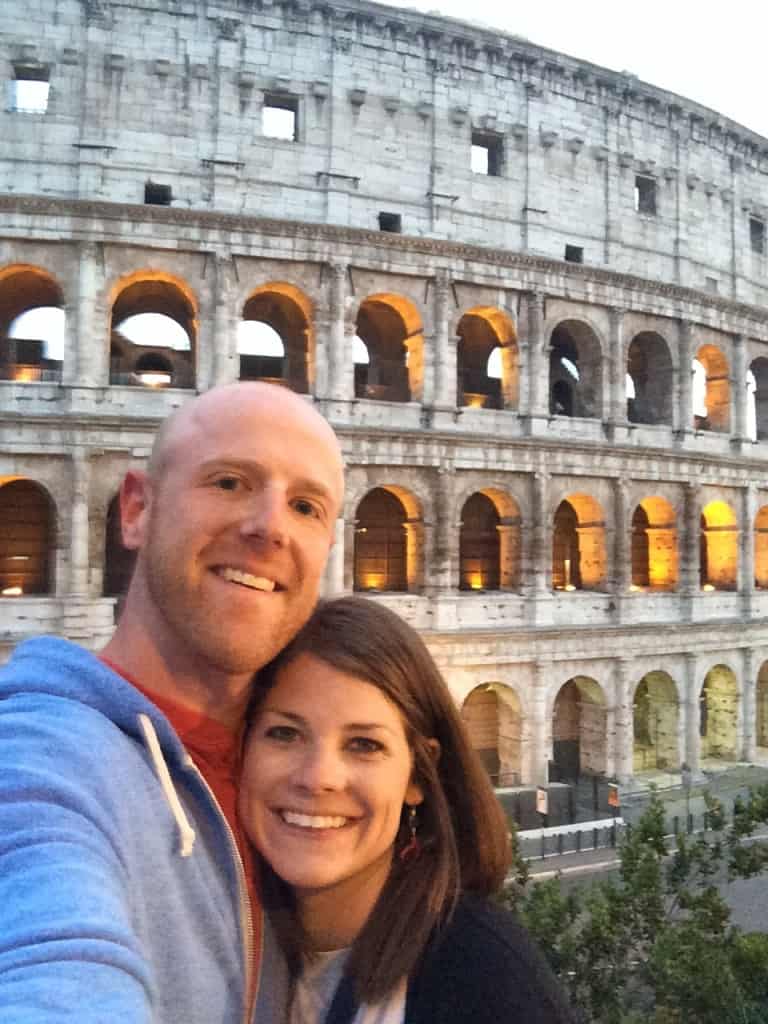 We ate at Trattoria Luzzi, which was highly rated on TripAdvisor. We started wit ha cheese plate and a liter of wine in the outside dining area. The place was very busy, so service was slow, but we weren't in a hurry. After the cheese, we split a plate of risotto in a prawn sauce that was very creamy and good. For dessert, we had tiramisu and lemon ice cream that was served inside a frozen lemon! It was one of the more unique things we saw in terms of food the entire time we were there.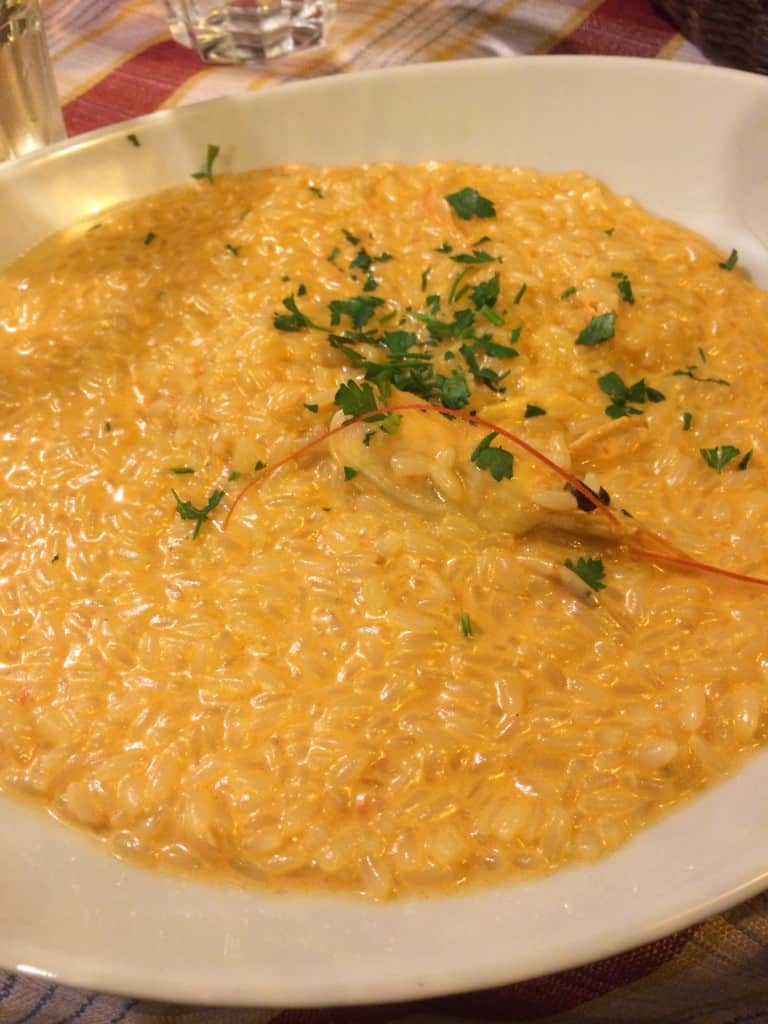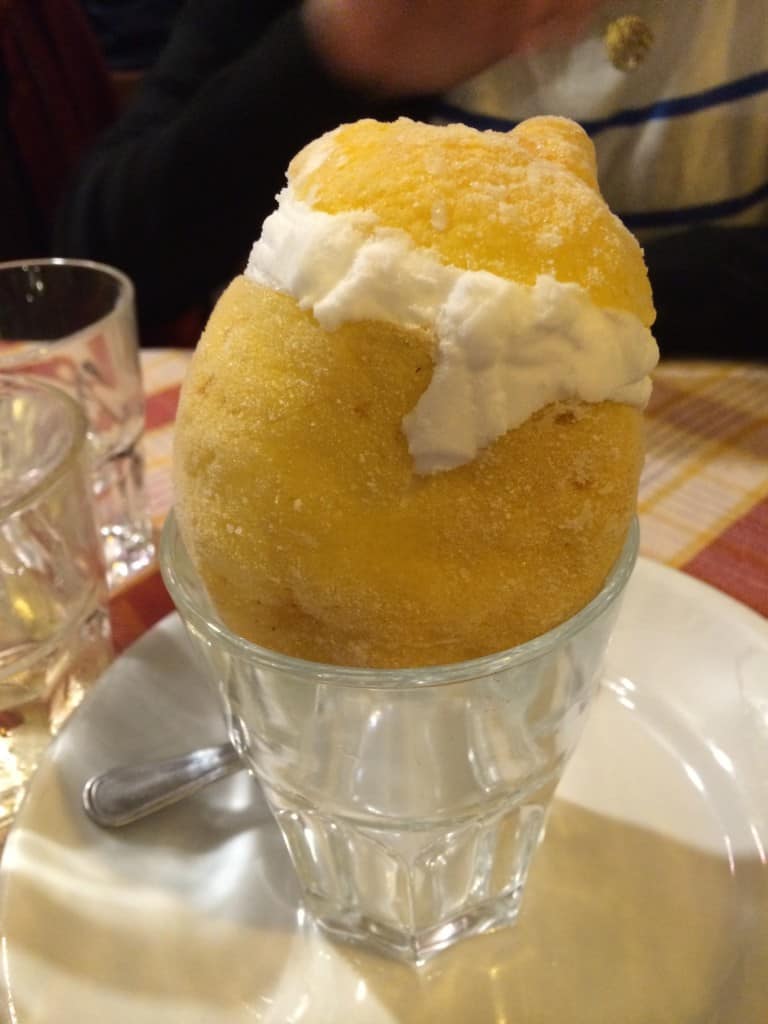 It all totaled 33 Euro, which is outstanding. Food and wine are very cheap in Italy. We hit the sack after one of our longest days of the trip, knowing that tomorrow is our final full day in Italy.