Looking for the latest interior design trends? Here's what's home design trends are trending and what design trends are out for 2024!
Design trends come and design trends go. While I will always be a big believer in timeless home design, there is something to be said for adding in trends.
And, if we're being honest, what is considered "timeless" is often colored by current and past trends.
Whether you are designing a new home, renovating your current home, or just want to make some small tweaks to your space, it's always good to be on top of the latest home decor trends!
You can check out the year's top color trends here!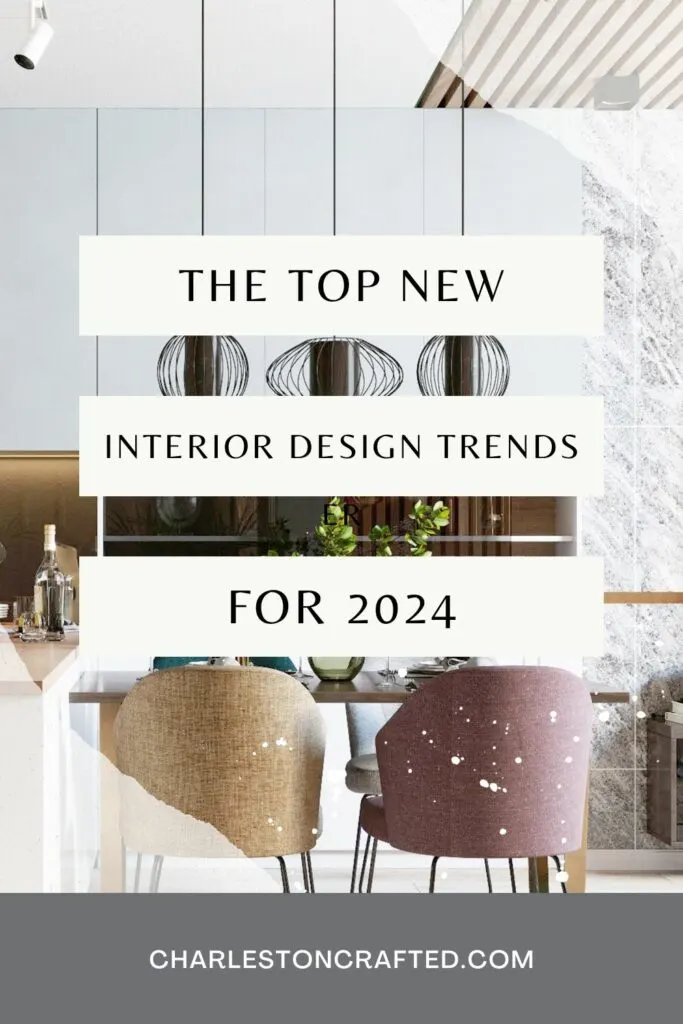 What are the decorating trends for 2024?
Here are some of the interior decor and furniture trends for the year!
Decorating with natural materials
Natural materials have been trending for a while now, and expect that trend to go strong into 2024.
A lot of the natural materials are in the form of very light, raw-looking wood. Additionally, look for furniture featuring bamboo and rattan.
Overall, there is a big push towards decorating and living in a more eco-friendly and sustainable way.
This trend is also reflected with tons of leafy green house plants and lush foliage – indoors and out.
Think light, bright, and earthy when pulling these natural materials!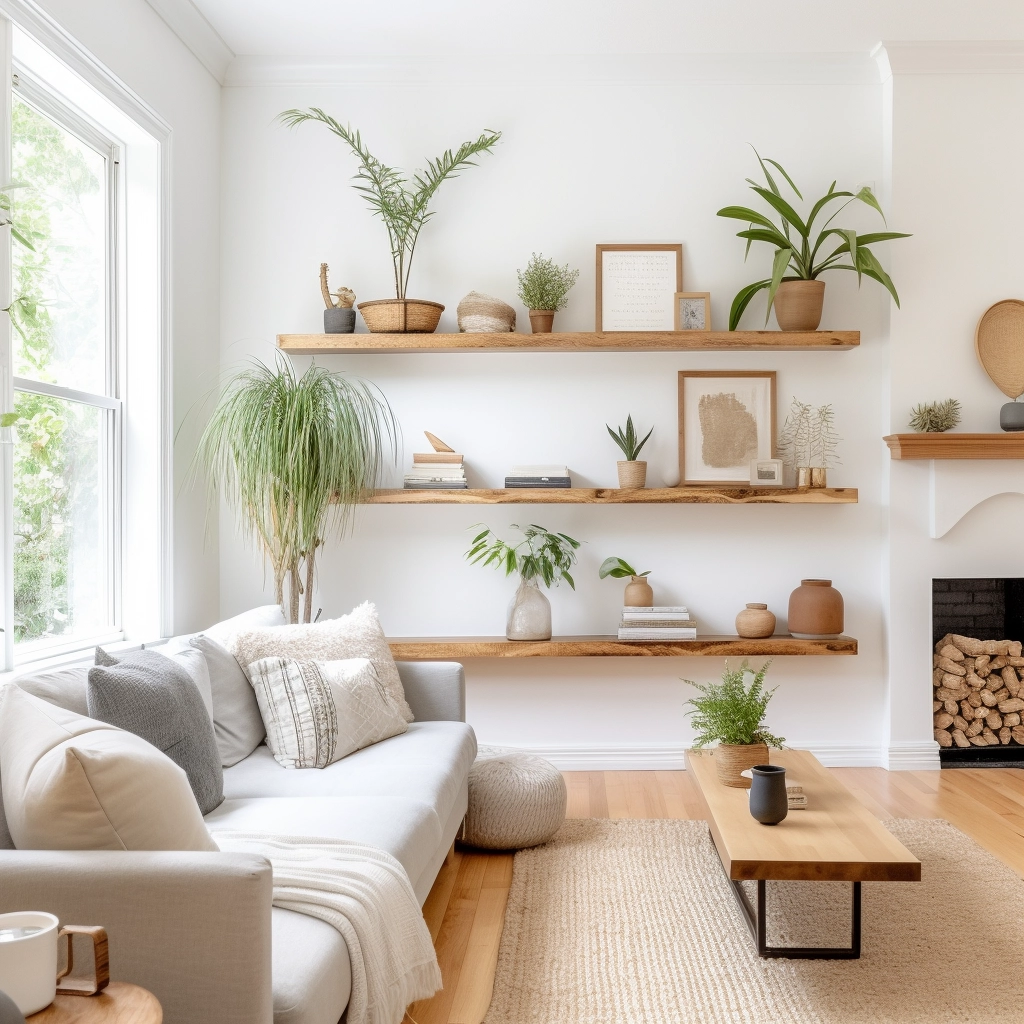 Here are the top trending houseplants for the year!
Retro 70's vibes
70's vibes are here to stay in 2024. Think warm colors – blush pink, mustard yellow, avocado green.
Look for more mid-century style furniture with sleek lines and angled legs.
In general, retro-modern vibes are still super popular and that will be reflected in home decor trends.
The 70s also had a lot of small scale patterns like bold florals, which are trending in a big way with grand millennial and cottage core style.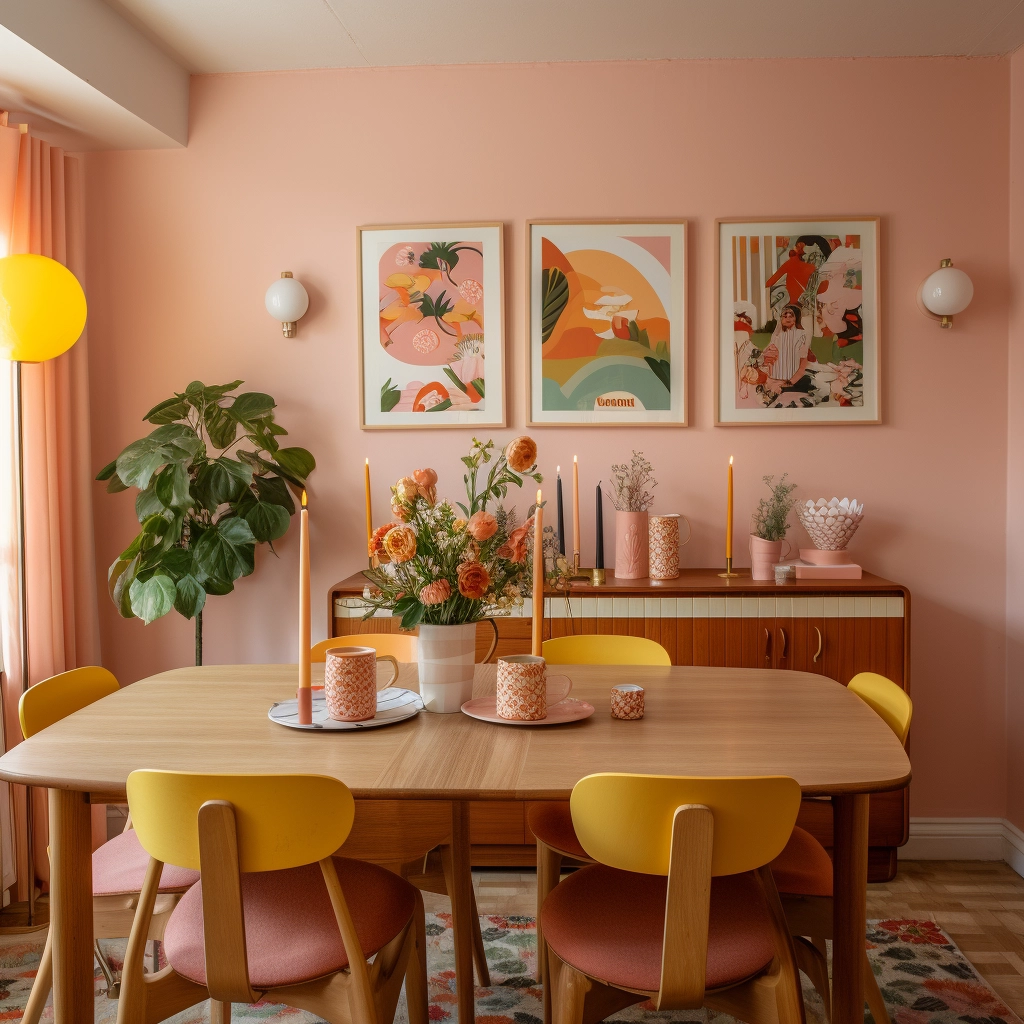 Dark wood tones
I never thought I'd say it, but dark wood tones are back on-trend! That's dark brown floors, furniture, and accessories.
This dark wood pairs well with rich color for an overall more cozy, pigmented, inviting space.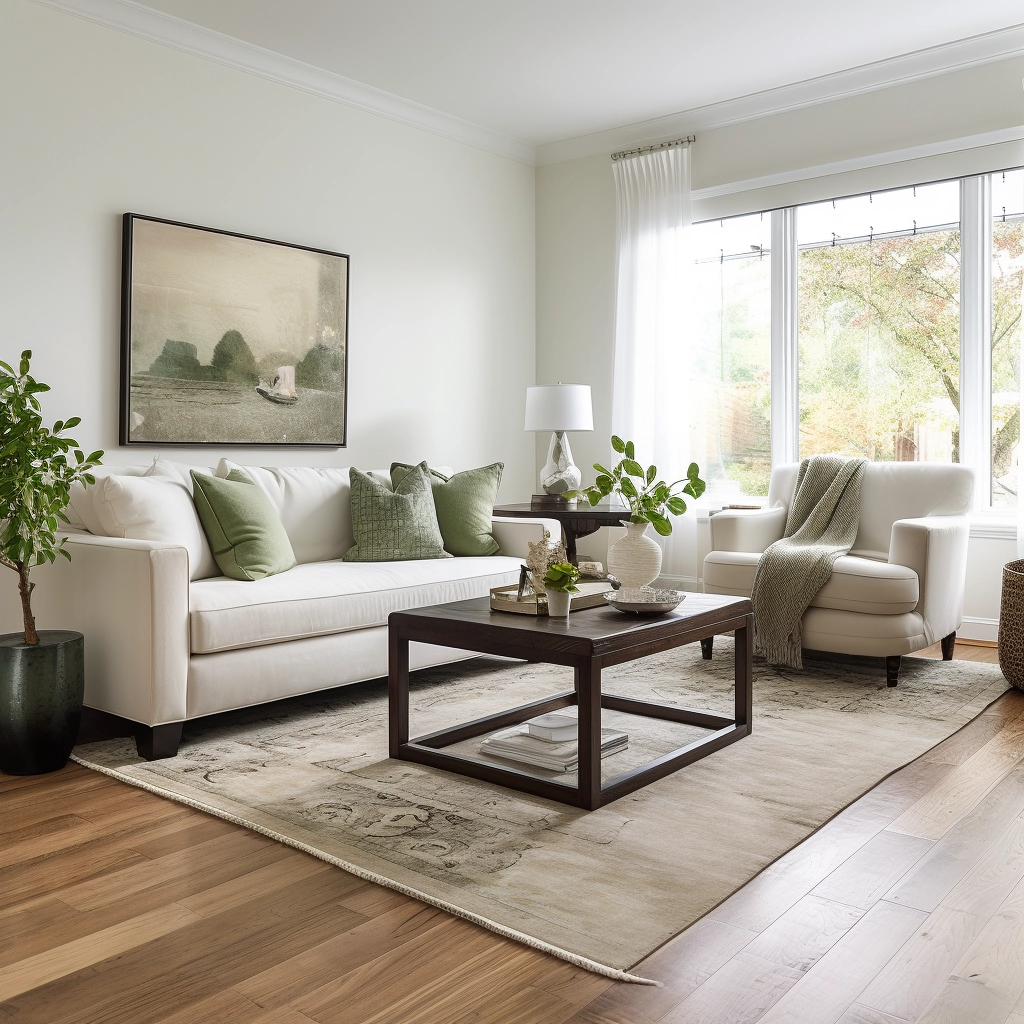 Multifunctional rooms and furniture
As people are working from home, doing home school, and in general staying home a lot more [yes, still!] rooms need to serve multiple purposes to keep everything going in your home.
While open layouts have been all the rage for over a decade, they have led to the main floors of many homes feeling like one big room. If you need it to serve multiple purposes, congratulations – you have a multifunction room!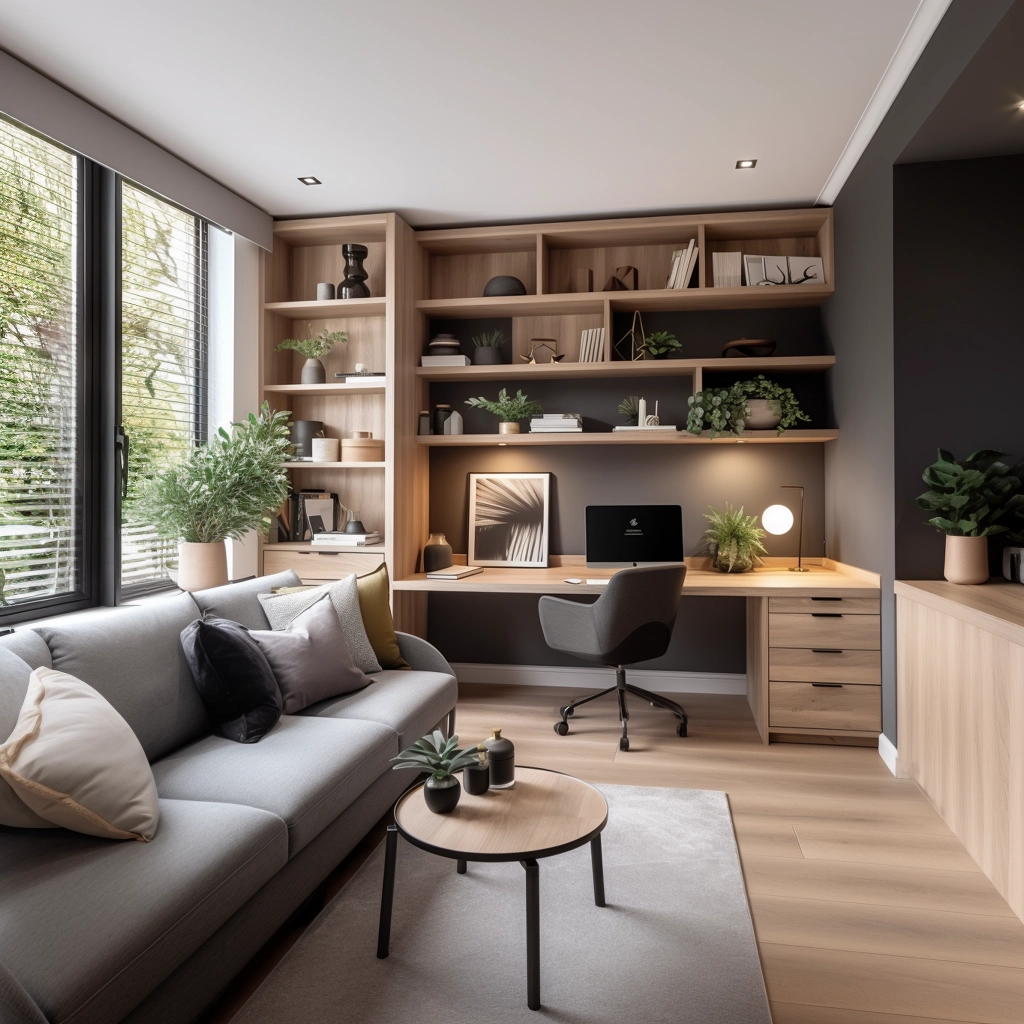 Maybe you need to add a desk to your living room, a home schooling space to your guest bedroom, or a workout area to your main bedroom. Expect to see a lot of multifunctional spaces!
Furniture-wise, you may see a lot of pieces with hidden storage, modular chairs and sofas, and things like coffee tables that raise up to be dining tables. These creative pieces are perfect for small space living!
Minimalism done right
Prepare to see a lot of minimalism in the coming year. But, if done right, it won't feel cold.
That's because sleek furniture and pared back accessories will be paired with warm colors and natural materials.
These elements will make more bare spaces still feel cozy and inviting and not at all sterile or cold.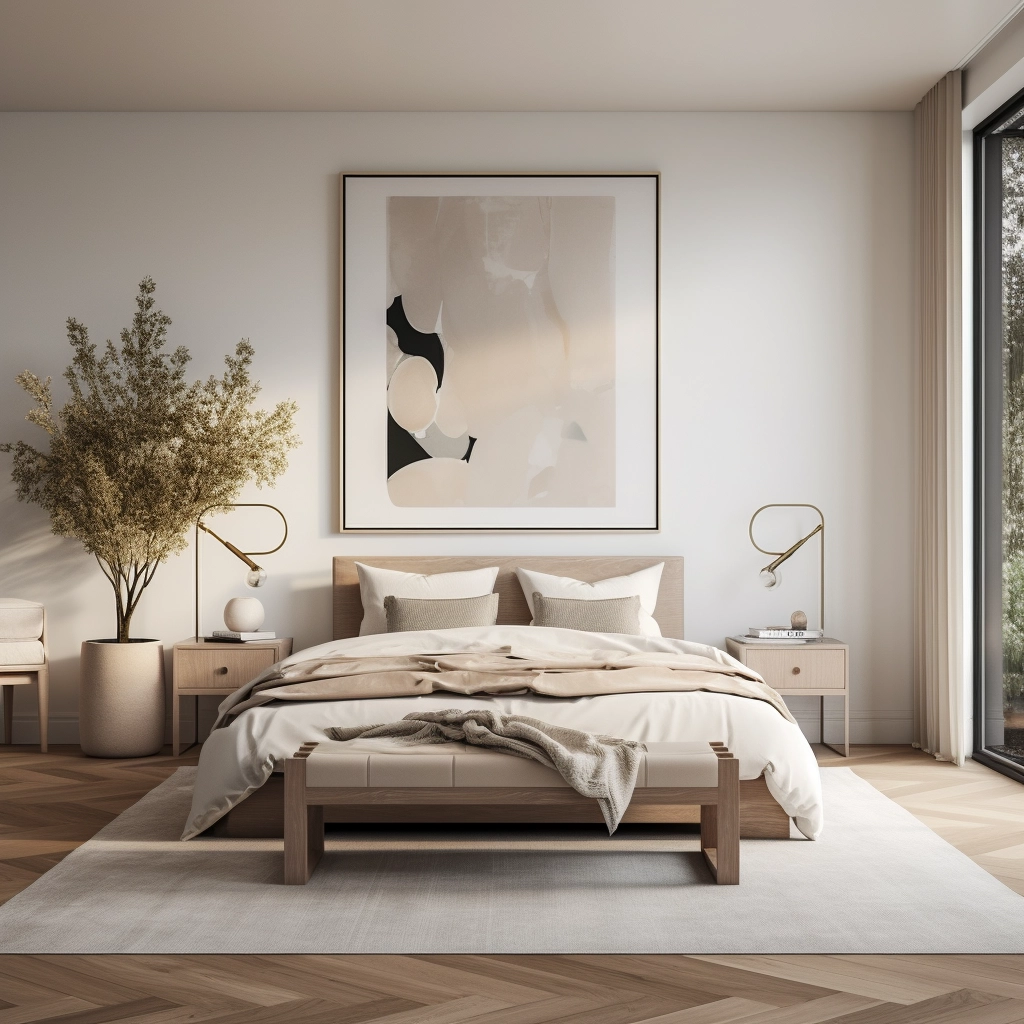 Round edges
Curves, arches, and round edges will continue to be a trend in 2024.
Look for a lot of furniture – like chairs – with rounded arms and backs. Expect furniture with arched tops like cabinets and beds.
Also look out for a lot of rounded detailing such as wall molding, cabinet fronts, and prints and patterns with round patterns.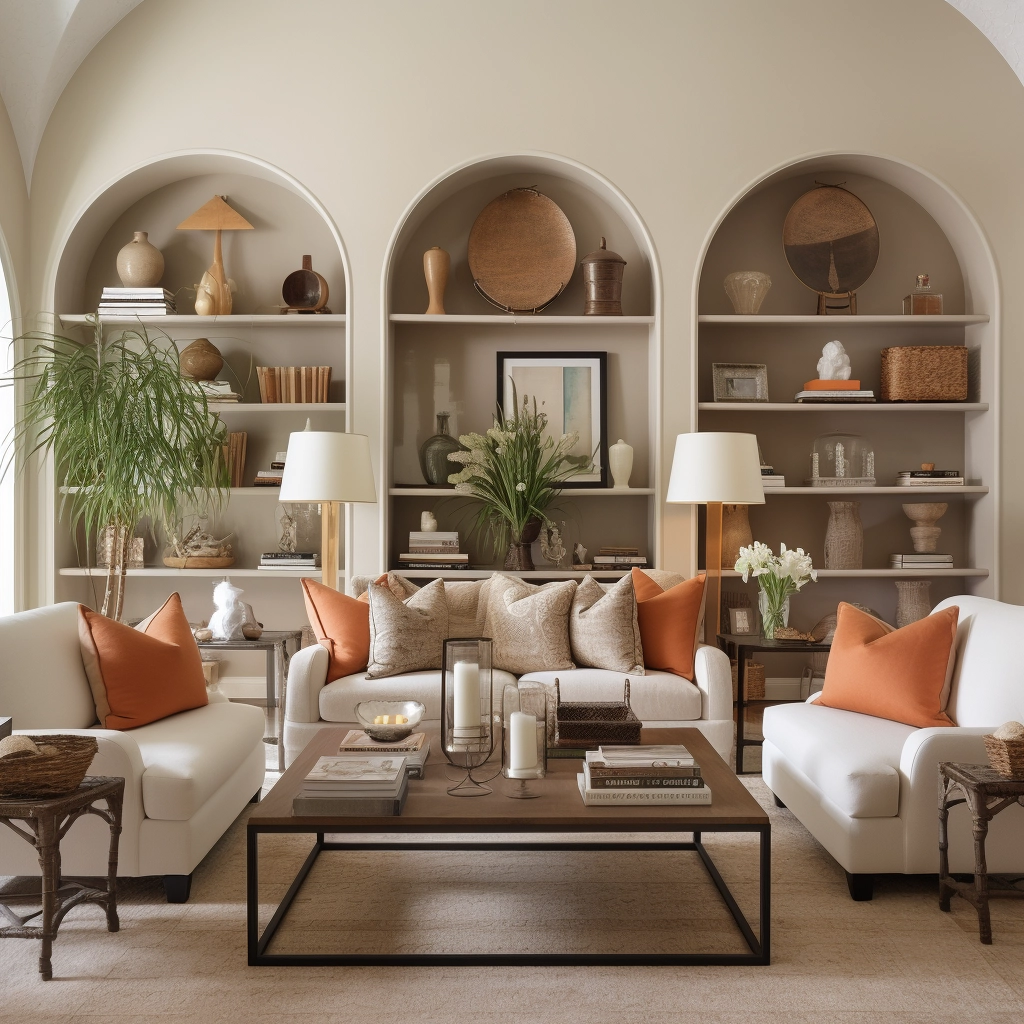 Luxe materials
All these earth tones lend themselves really well to luxe fabrics. Velvet will have a big moment in 2024, as well as corduroy and other thick, lush fabrics.
You can upholster a whole chair or sofa with them, but it's easier to just use these materials for accent pieces like throw pillows and blankets!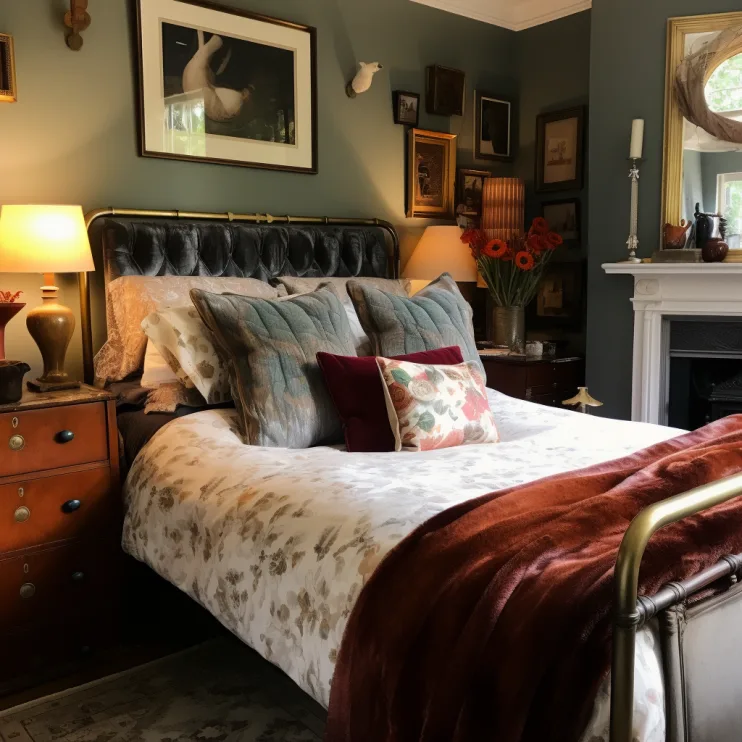 Smart homes
Smart homes are no longer just for the rich. Technology and furniture that's multipurpose as well as AI will be bing in 2024 and into the future.
Expect more brands to have their own apps and also look for opportunities to add smart bulbs and plugs to many items around your home.
Finally, expect all new appliances to be "smart" and programable from your phone going forward! I for one can't wait for appliances I can cut on from afar!
Paint the unexpected
A look that you are going to see a lot of places is white walls with accents painted the bold color. Maybe it's trim work, doors, or stairway railings.
This leads to an unexpected look that is really unique and interesting to the eye!
Gold-toned metals
As far as fixtures go, gold tones are still having a moment. Look for metal with a matte or flat finish. This could be brushed brass, matte bronze, or champagne gold tones.
Use these colors for knobs, pulls, light fixtures, and little decor touches throughout your space.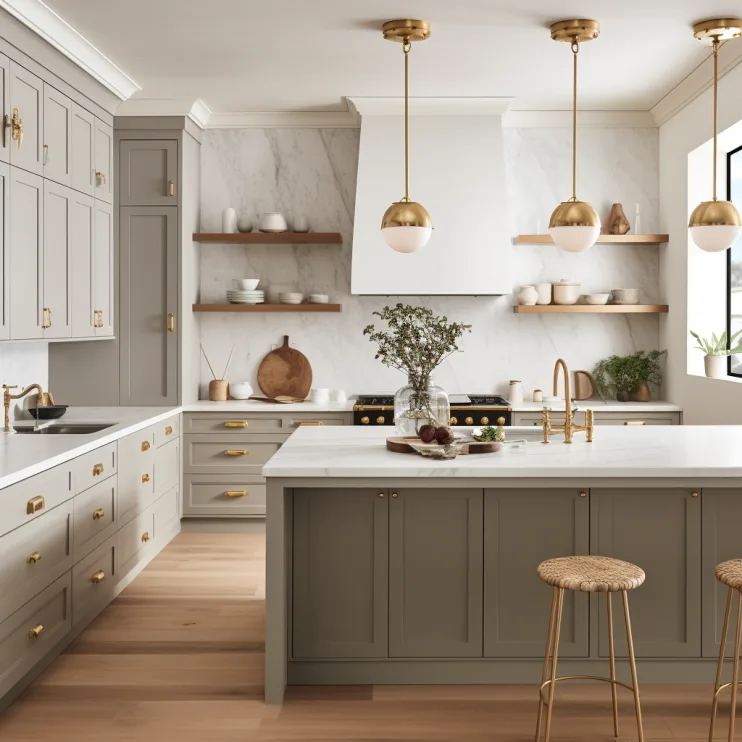 90s neons
Watch out for a lot of bright neons – hot pink, bright turquoise – and electric purple.
These cyberpunk 90's vibes aren't for everyone, but pair them with light up neon signs, graffiti style prints, and cozy seating and you have a Gen Zer's dream room.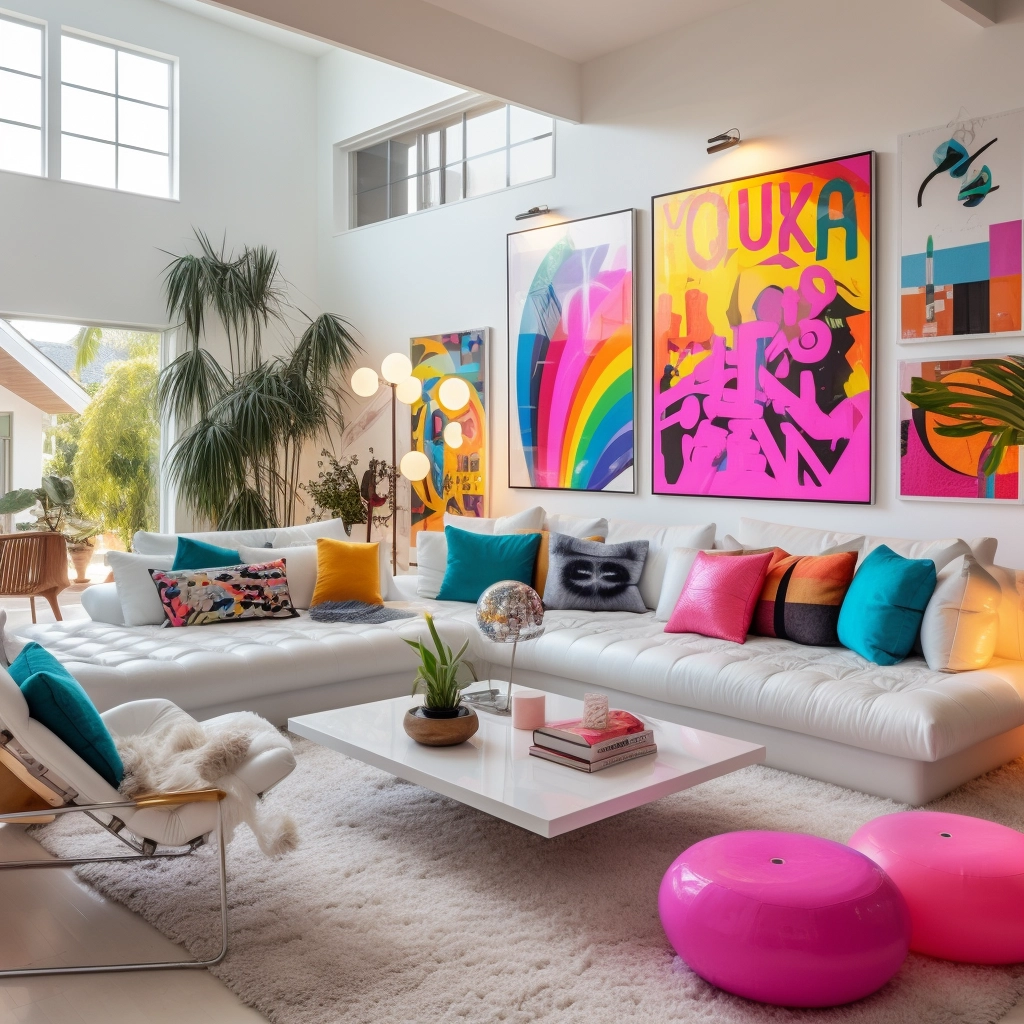 What design trends are out for 2024?
Here are trends that have gone out of style. If they are in your home, it's totally fine. Only if you want to stay cutting edge and trendy does it really matter!
Cool, gray tones
Gray has been on the way out for a while, but it's really looking dated now. Gray colors, especially cool grays, are no longer on trend.
All white kitchens
This is going to be controversial but I think that all white kitchens are out! Sure, white is sterile, but with a big move towards natural material, pair one or two white materials – like cabinets or countertops – with some earth tones – like the backsplash or wall color.
Subway tile
Subway tile is known as a timeless classic, but you aren't going to be seeing as much of it in trendy spaces. Expect tile with a bit more texture or interesting dimensions compared to the traditional shape and size.
Open shelving in the kitchen
Open shelving in the kitchen is getting to be less popular as people lean towards cozier spaces with things like appliance garages. While I love a floating shelf, I hate the idea of dishes getting greasy over the stove, so I am glad to see this trend leave.
Waterfall countertops
While I love the dramatic look of a waterfall countertop, there is a push towards sustainability and this unnecessary countertop slab just isn't there!
Stainless steel appliances
Stainless steel is not on trend, but it will remain mainstream for a long time. It's going to take a lot to shift the general public away from them!
In high end homes, most appliances are wrapped to look like cabinets themselves and blend into the kitchen.
Personally, every time I go to Home Depot I drool over their matte black appliance selection. They also have matte white pieces that are truly stunning!
What is the most popular wall color for 2024?
There are a ton of color trends for the year, but the main thing in common with a lot of them is warmth, interest, and color depth!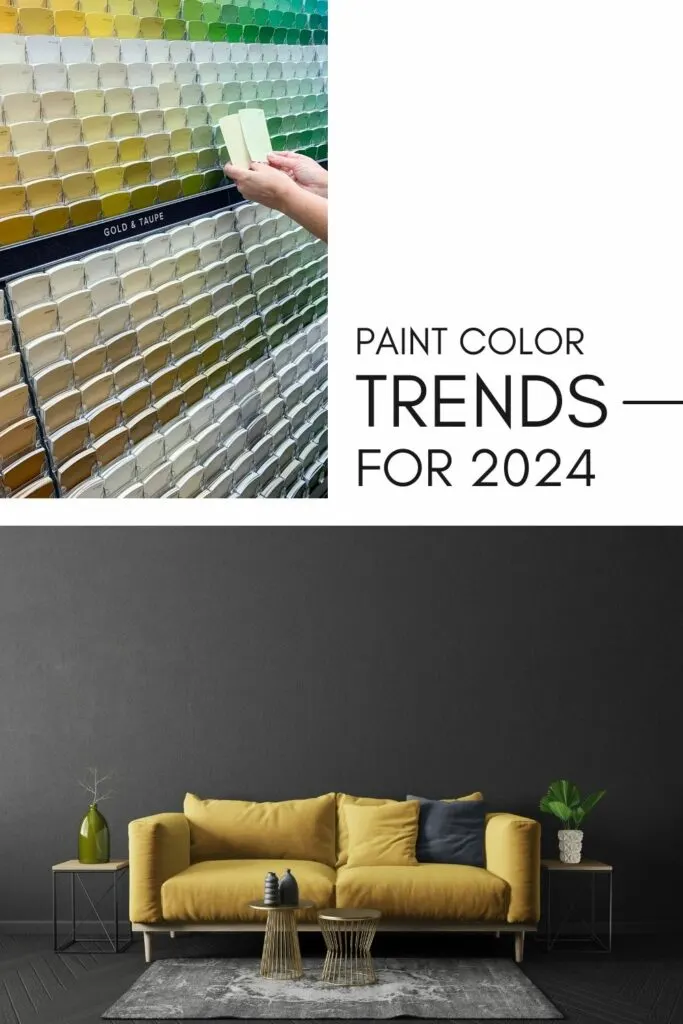 Colored walls
In general, people are moving away from white walls and towards wall colors with a bit more depth and interest.
Natural colors
Tans, beiges, and warm neutrals will be a hit and will play well with the natural elements that are on trend.
Greens
Keeping in line with nature, expect to see lots of shades of green, from a light sage to a deep almost black emerald. Green on green on green!
See my favorite green paint colors here.
Purples
It's a wild choice, but I am seeing a lot of purple come up in design and fashion. I expect to see more purple, especially lavender, in 2024.
Black accents
When adding an accent – maybe an accent wall or painting your fireplace – black is going to be really big. It's dark, it's bold, it's moody, and it's whats up.
Before you go….
One easy and cheap way to keep your home on-trend is with a new coat of paint. You don't have to re-paint everything – a new accent wall or painting a piece of furniture can go a long way!
You can check out the year's top color trends here!
What home design trends are you seeing for the year?!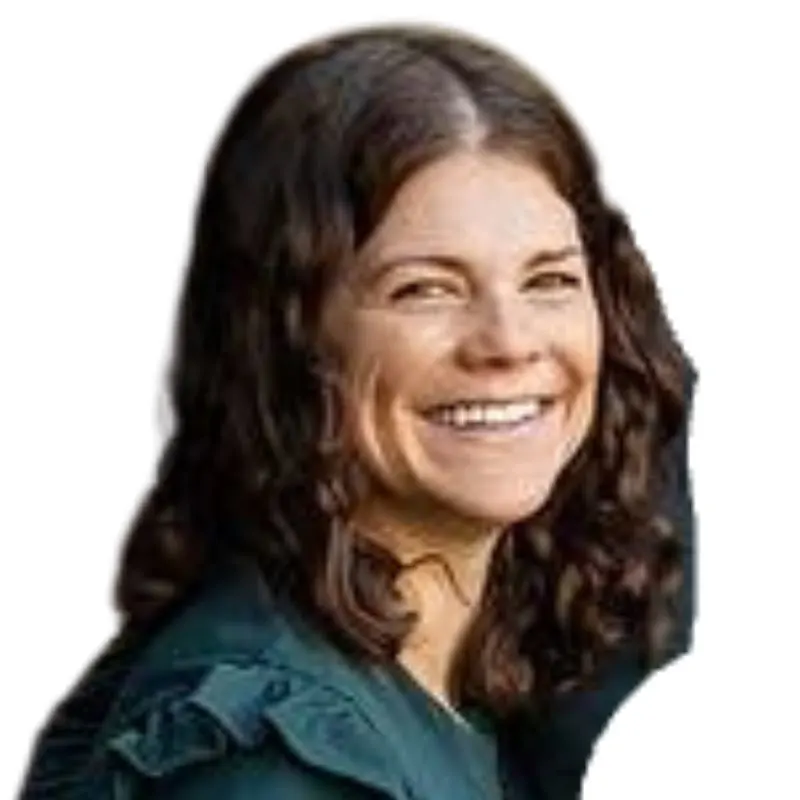 Hello, I'm Morgan, half of the creative force behind CharlestonCrafted.com! With a passion for DIY that dates back to 2012, I've transformed three homes and now I'm dedicated to helping others craft their dream spaces. Let's turn your house into a home together!