Countertops are an important part of any kitchen, bathroom, or laundry room makeover. However, they are often the biggest budget item in the space and can really be expensive. So, today I am rounding up a ton of information on inexpensive countertop options!
When deciding on what type of countertop you will use, be sure to think about how you use the space. You want to be sure that whatever you go with will last. Keep in mind if the counter will be exposed to water, heat, or spills and plan accordingly.
I hope that these ideas will open up your mind to see that you don't need pricey countertops to do a beautiful room makeover.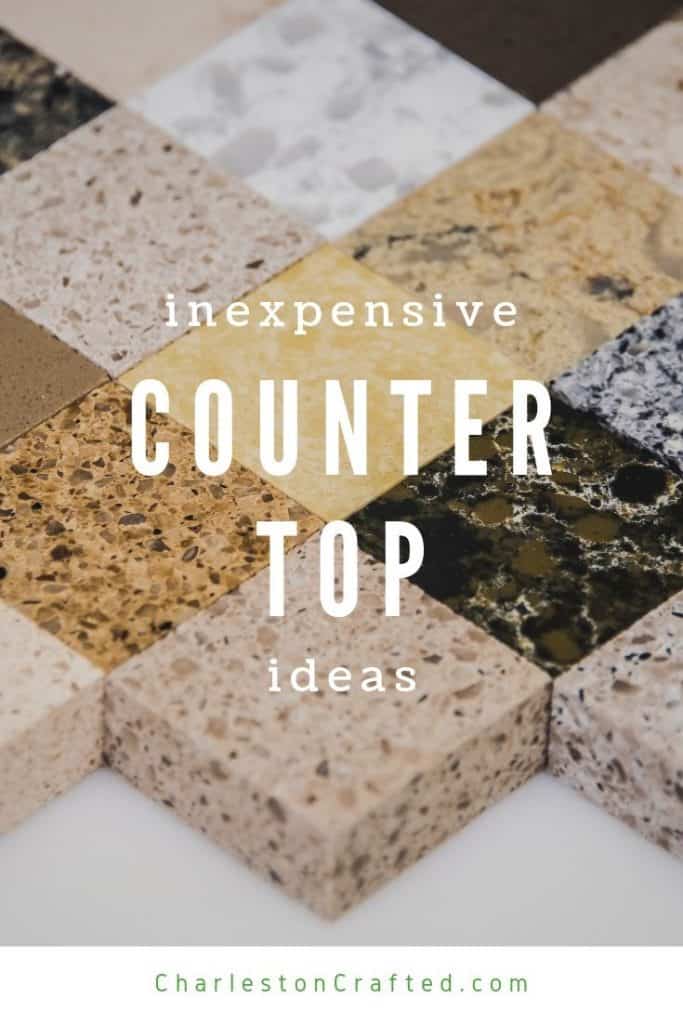 Cheap countertop alternatives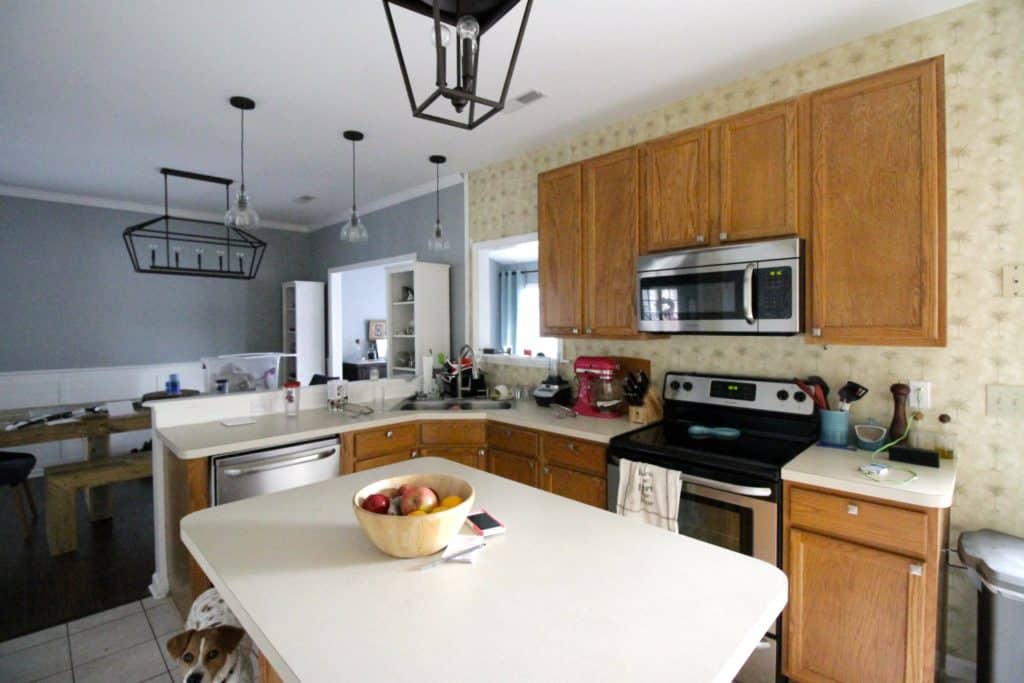 Laminate Countertops
Laminate countertops are probably really ugly in your mind. However, they have some beautiful and budget friendly options now. This is not a DIY, but you can order them at your basic box store.
Laminate countertops are made by combining layers of materials for a finished look.
Are laminate and formica counter tops the same thing?
Formica is a brand and type of laminate countertops.
Solid Surface Countertops
Solid surface countertops are usually plastic molded and all one piece, as opposed to laminate which is layered.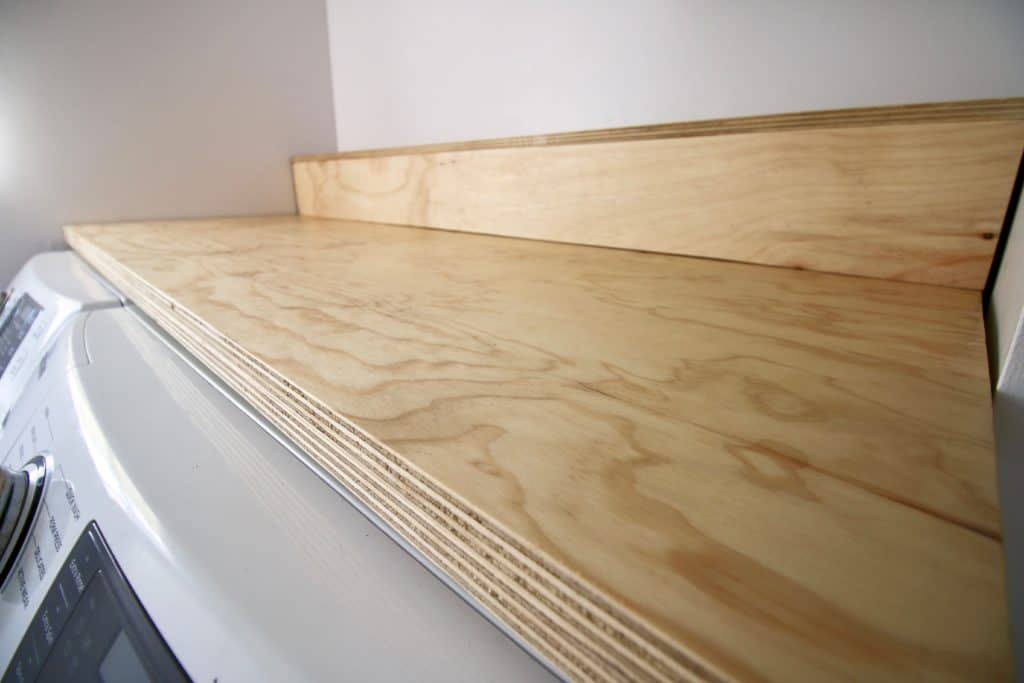 Wood Countertops
There are a few options for wood countertops.
First, you could build plywood countertops. These are super DIY and budget friendly and have a great look.
Second, you could add butcher block countertops. You can get good deals on butcher block at Ikea or online.
Concrete countertops
It is easier than you might think to DIY your own concrete kitchen countertops. You can check out this tutorial for how we made a concrete desk top.
Concrete countertops are very durable, but they can stain. You need to seal them annually.
Recycling used countertops
Another great budget friendly option for getting new countertops is to purchase recycled countertops. Basically, follow Facebook Marketplace or Craigslist and look for someone selling old countertops.
You'd be surprised what people get rid of and how cheaply they price it. You'll have to make the sizes work, but it can be a great way to get something beautiful for a cheap price.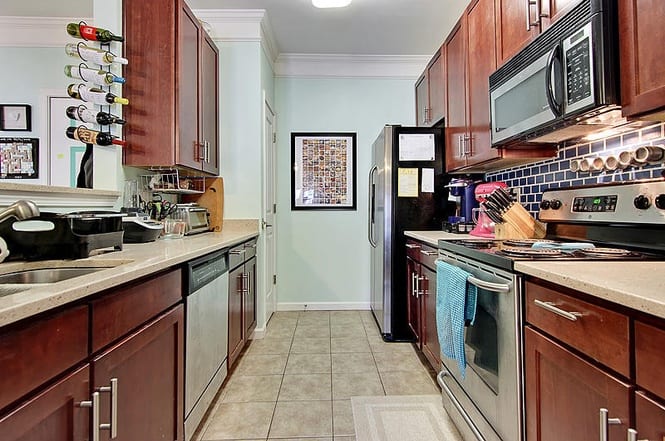 Countertop makeover
You don't necessarily have to replace your countertops to get a totally different look.
Consider painting them, covering them with plywood, covering them with contact paper, or coating them with concrete!
They are all doable DIY projects.
If you want to make an inexpensive countertop, I have rounded up some of the best DIY countertop project from some of my favorite bloggers!
Inexpensive Countertop Ideas
New countertops can make a huge impact in any kitchen, bathroom, or laundry room, but they can also make a huge impact on your budget! Here are some of the very best inexpensive countertop ideas.
It is so easy to make DIY plywood countertops! Here is how we made the plywood counter in our laundry room.
Read the Guide
This is a great tutorial for building a DIY wooden bathroom counter top.
Continue Reading
I love that this review of covering countertops with contact paper checks in after 2 years of use.
Continue Reading
If you are considering painting your countertops, check out this tutorial!
Continue Reading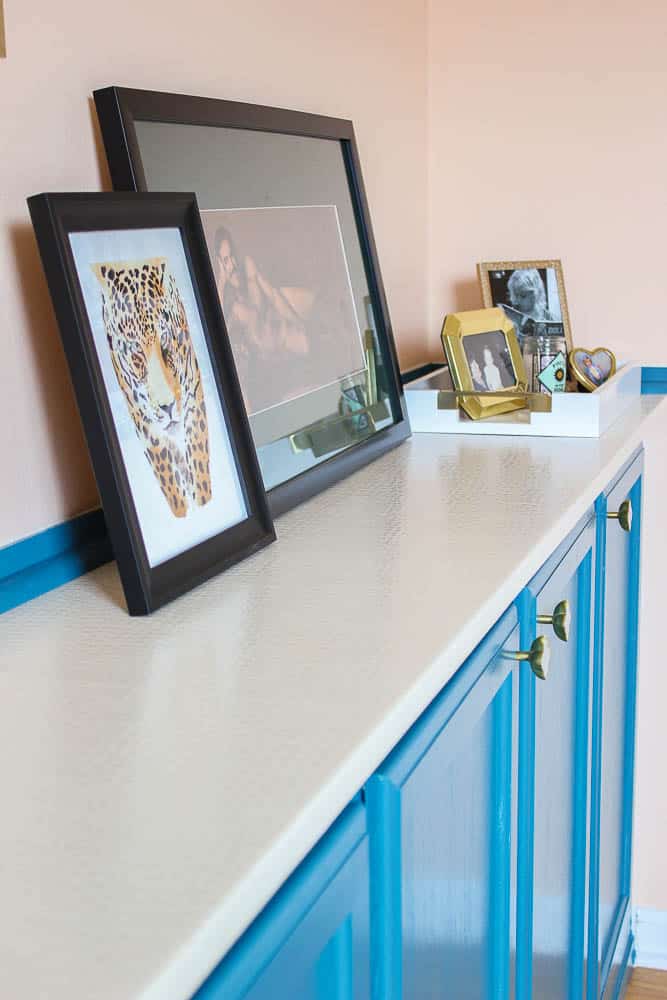 Photo Credit: rainonatinroof.com
DIY Countertops: Upholstered Countertop for Built In Cabinets and Other Ideas
Upholstered countertops won't work for every space but they are beautiful here!
Continue Reading
This project involves turning an old desk into a kitchen island! Now that is some great upcycling.
Continue Reading
If you want the carrara marble look on a budget, you need to check out this project!
Continue Reading
This bathroom counter got a great marble look for a cheap price thanks to contact paper.
Continue Reading
Want concrete counters? Here's a great budget friendly tutorial.
Continue Reading
Did I miss any of your favorite cheap countertop alternatives?
If you are looking for a unique countertop that's not so cheap, be sure to check out our recycled glass and oyster shell kitchen counters!
This post contains affiliate links, meaning that if you click through and make a purchase, we receive a small percentage of the sale. Thanks for your support!