Looking to create an inviting entertainment space in your backyard with string lights, but don't have trees? It's no problem to hang beautiful twinkling string lights in your yard and create a warm, beautiful space! Here's how!
This post was sponsored by National Hardware and uses their Made By Me Hanging Light Hardware Kit. All opinions are our own. Thank you for supporting the brands that make Charleston Crafted possible!
We're slowly but surely starting to make our "new" house more inviting. It's hard to believe we've already been here for a year!
With the weather nice and both of our kids' birthdays coming up, we wanted to take a minute to make our outdoor space a little more inviting for hanging out in the evening.
Earlier this year, we told you about how to hang string lights on a screened porch using cup hooks. It's great on the porch, and we wanted to take that vibe down to the yard.
However, our house has literally zero trees in the back yard (we'll work on that later), but we had another good idea for how to hang string lights and give us an entertaining space.
Here's how we added solar cap lights to our handrails!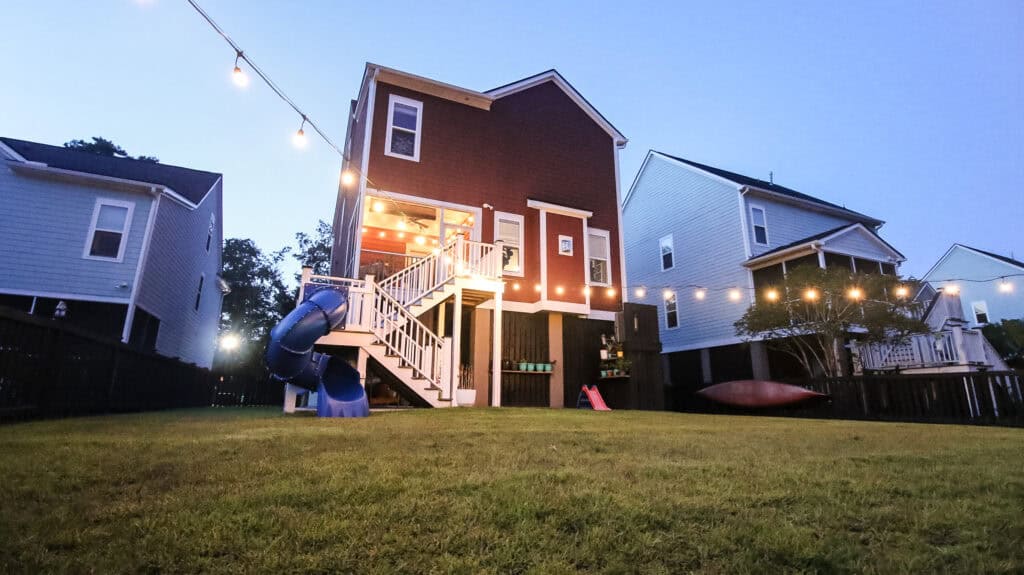 Here's how to hang string lights in your backyard with no trees!
Hanging bistro lights in the backyard
Isn't it fun to go to a brewery or restaurant patio that is lit up entirely by string lights?
The ambience is perfect for sitting and enjoying yourself all night. The lighting isn't too harsh or bright, but you can see everything around you.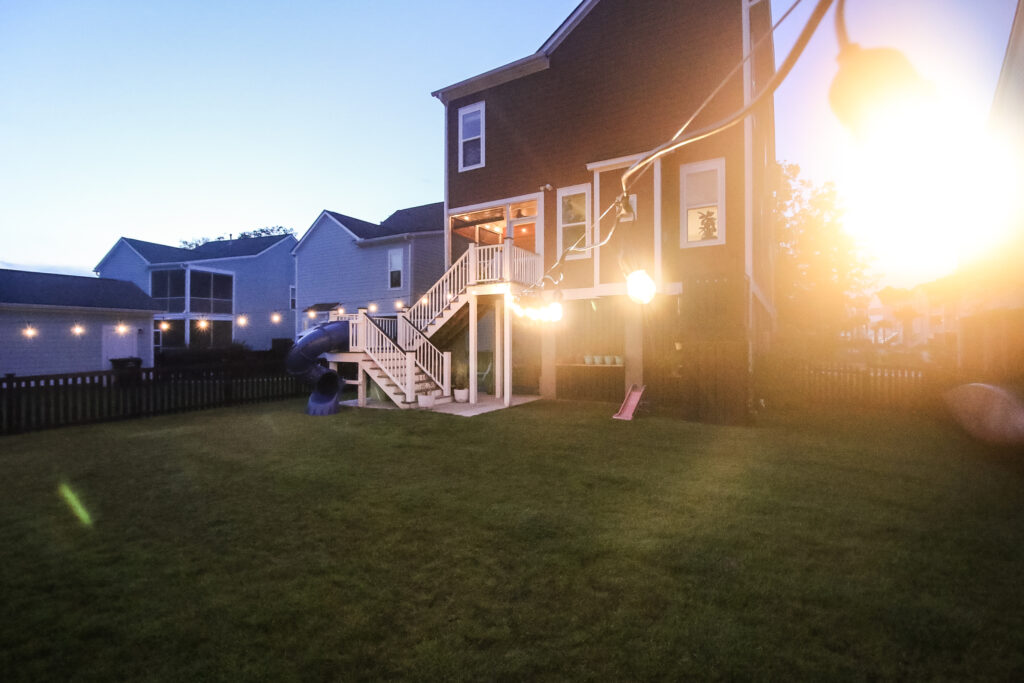 But these places rarely hang their bistro lights from trees.
Hanging string lights without trees is easy to do with a string light hardware kit.
Made By Me DIY home project kits
National Hardware just came out with two DIY kits to make projects in your home more manageable. They're called "Made By Me" and are designed to help homeowners do simple projects with minimal tools and experience and end up with a great result.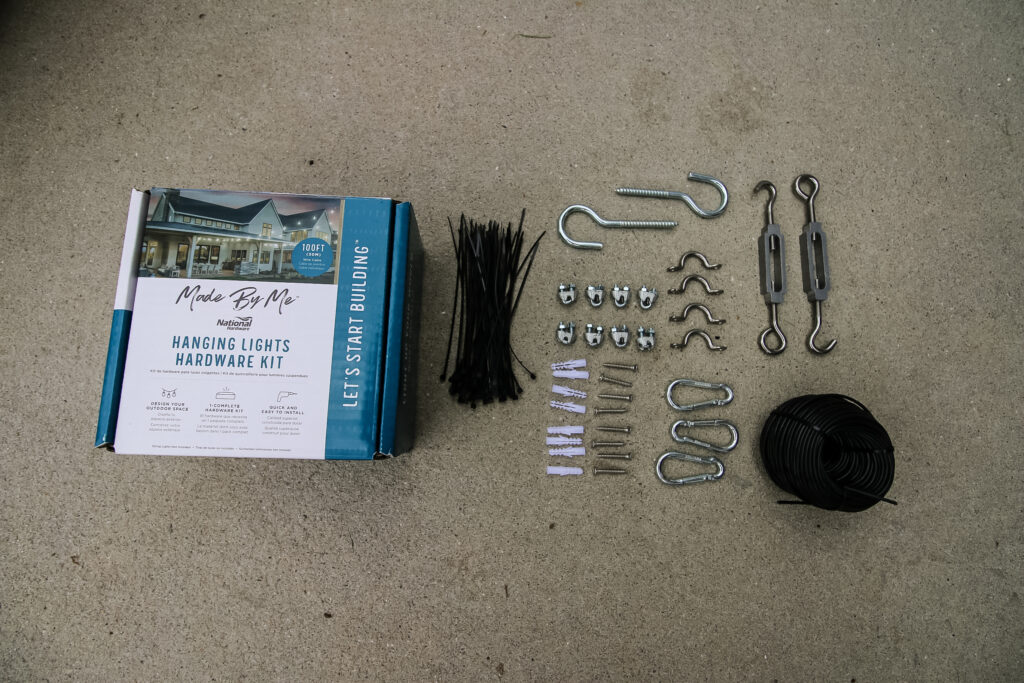 One of those is the Hanging Light Hardware Kit that makes it easy to hang backyard lights with or without trees.
Their Hanging Light Hardware Kit comes with everything you need to hang string lights, minus the lights themselves.
Having everything arrive in one neat little box makes it simple to hang string lights in an afternoon.
What you need to hang string lights without trees
Hanging string lights in your backyard without trees is the exact same as if you had trees, you just need somewhere to anchor the lights.
The obvious choice for the anchor point is a spot on the wall of your home. We have a raised house, so we chose the top of the staircase landing to the backyard.
Then you need at least two other anchor points in your yard to string your outdoor lighting between.
The best way to do this is using a wooden post. You can attach a post to a fence, or concrete one into the ground.
What you need to hang string lights:
How to hang string lights in your backyard
The National Hardware Made By Me Hanging Light Kit comes with simple instructions for hanging your bistro lights, but here's the general idea.
You may need to modify based on you exact yard dimensions and what anchor points you use.
If working on a ladder, remember to always use a spotter.
Step One: Determine/add anchor points
Determine what spots in your yard you can anchor your string lights to.
A classic string light pattern is a "V" shape, with either one or two points on your house and the other two or one point somewhere in the yard.
We chose to do a "V" pattern with one point on our stairs and two in the yard.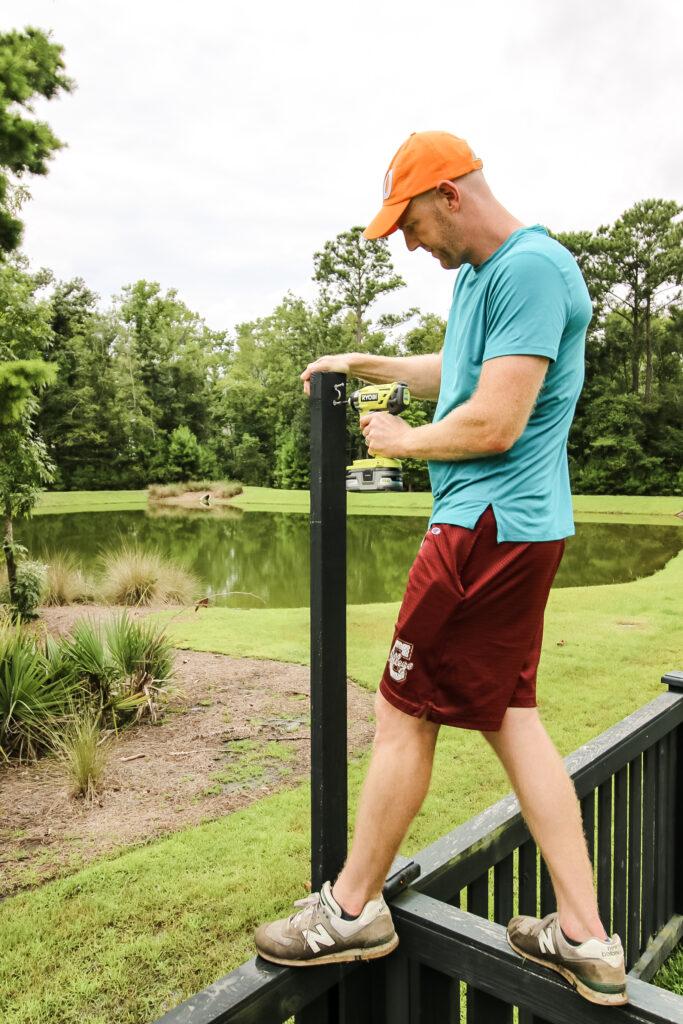 With no trees, we needed to add two posts in the yard to anchor the hanging light kit wire to.
We picked up two 2″x8″ boards and painted them to match our fence, then attached them to the fence using exterior screws.
Step Two: Attach rope loops
Next up was to go around to the three anchor points and attach a rope loop.
This is where you will connect the wire at each point.
The loops have to be secure because they will be holding the entirety of the weight of the lights and the tension of the cable.
Step Three: Connect cable at main anchor point
Use cable clamps and turn buckles to create an end for the wire.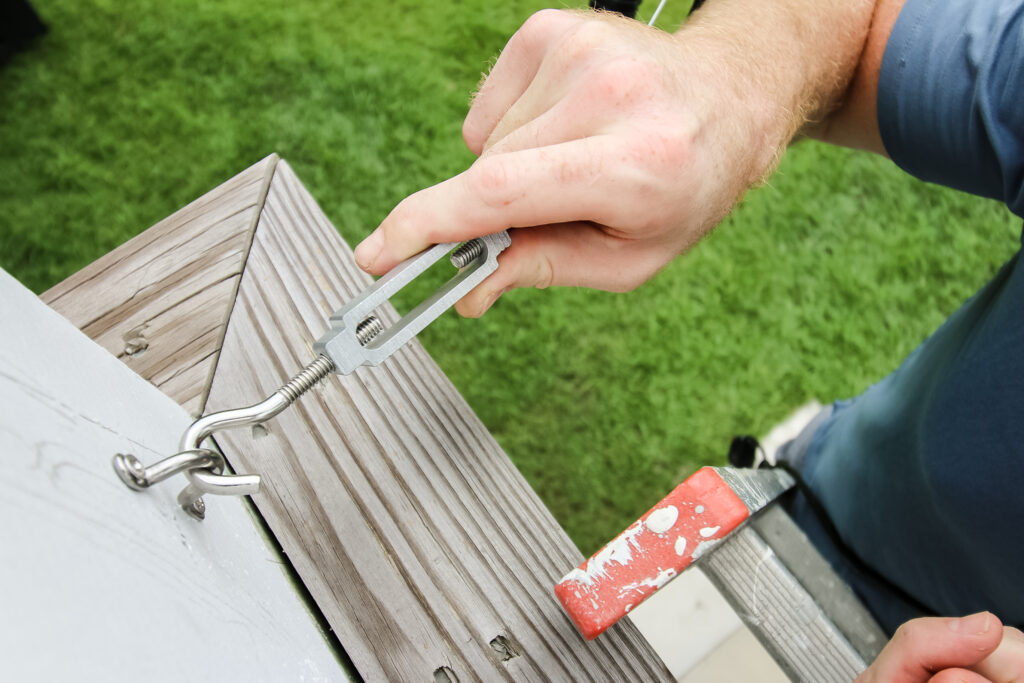 The cable clamps are tightened to clasp the wire together for holding in place. Then a turn buckle is used to clamp onto the rope loop.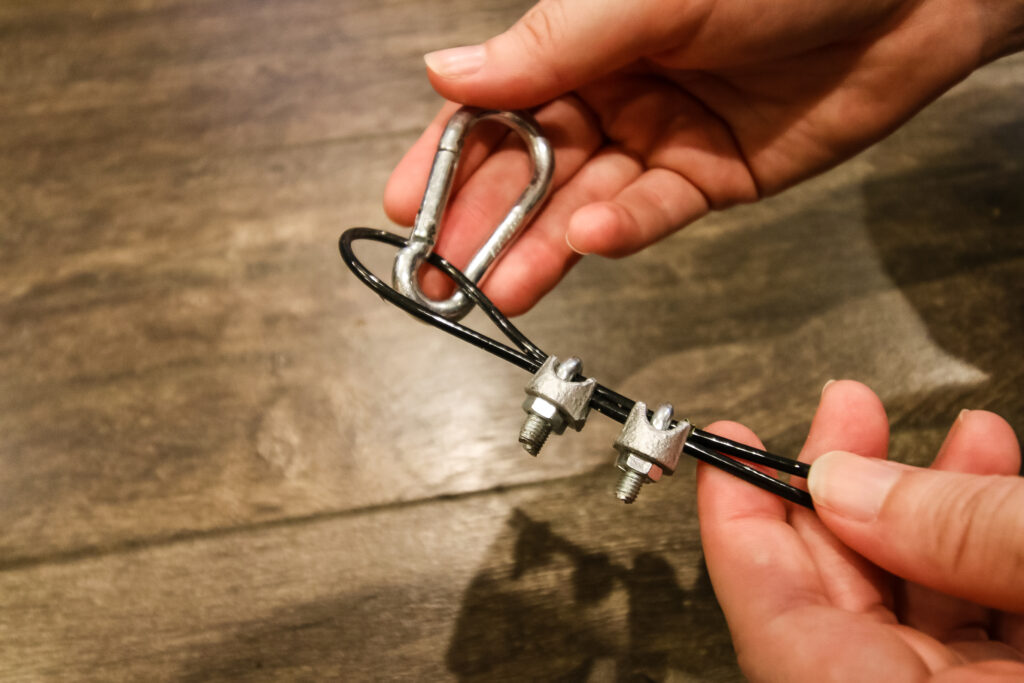 Step Four: Determine cable length
Determine how much cable you need by running the wire from the main anchor point to each of the other two anchor points.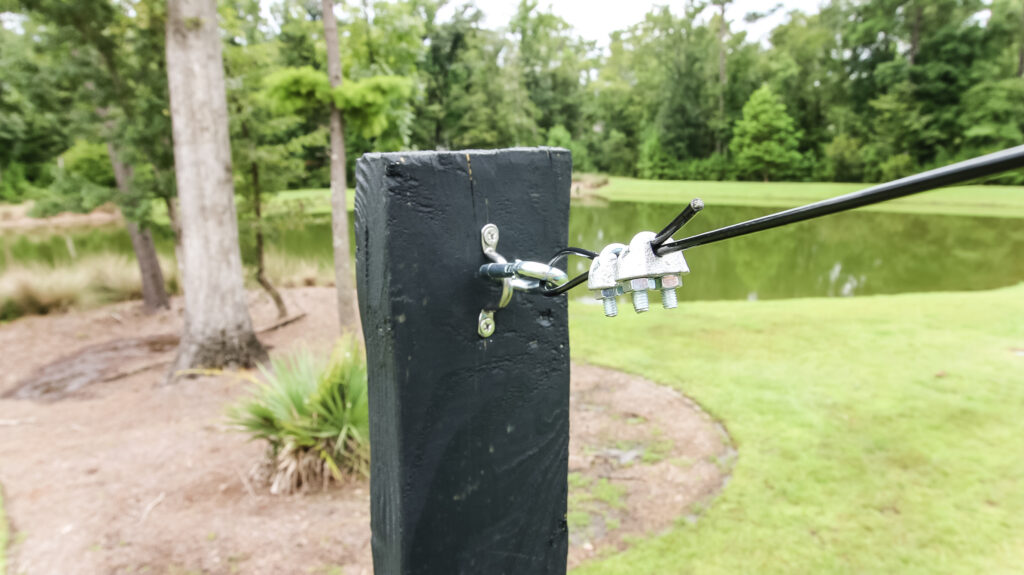 Add a bit of length needed for clamping off the loops on the ends of these as well.
Step Five: Attach string lights to cable
You can choose to hang the wire cable up on the anchor points and attach the string lights in place, but you might not be able to reach.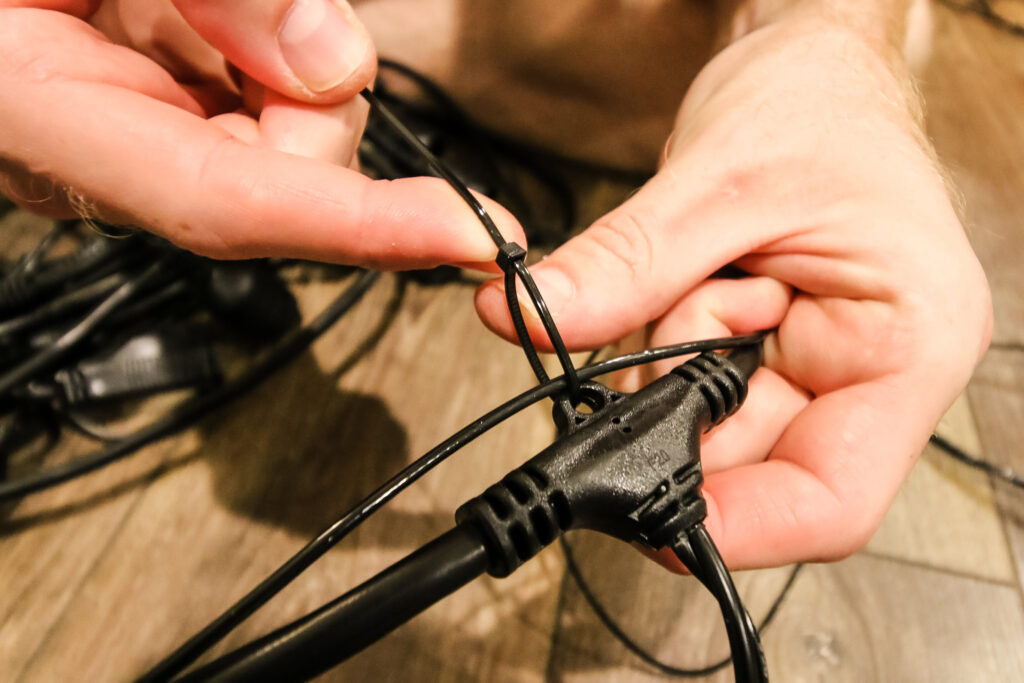 For us, we laid the cable out and attached the string lights onto it using small zip ties (included in the kit). Then, trim the excess zip tie with scissors for a clean look.
Step Six: Hang lights and plug in
With everything in place, we hung the string lights onto the anchor points and tightened them up at the turn buckle.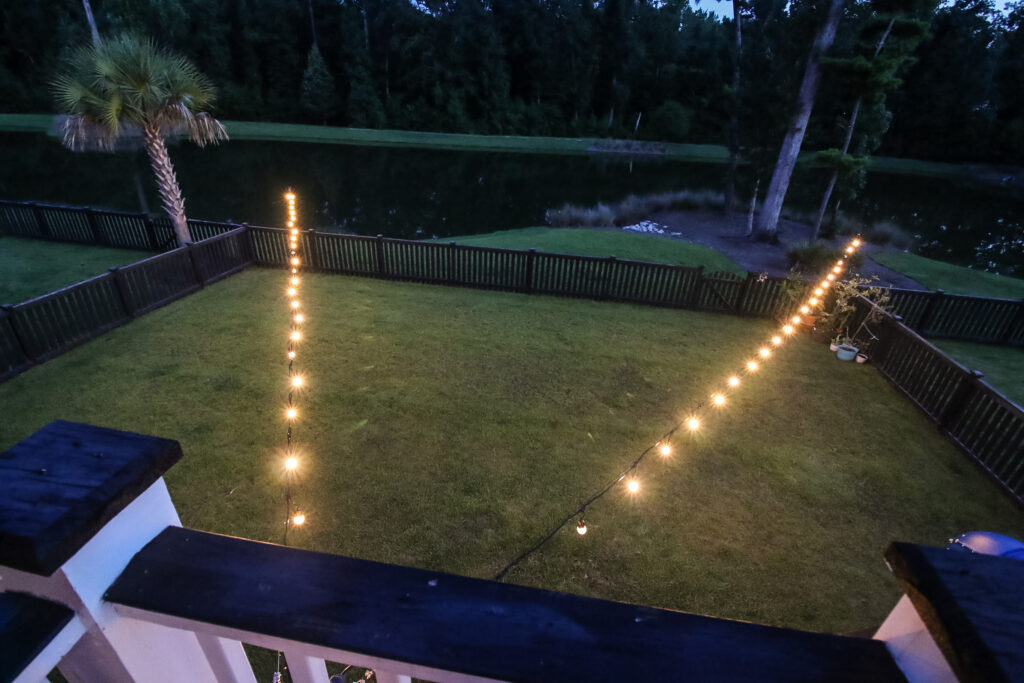 Once ready, we used an outdoor extension cord with multiple outlet plugs to plug in each strand of lights and run it to our outlet.
At the outlet on our screened porch, we had a two outlet smart plug for our string lights there, so now they are all illuminated together!
Click here to learn how to hang string lights on a porch using cup hooks!
Best uses for string lights
String lights with powerful light bulbs, whether white light, warm light, fairy lights, or holiday lights, can provide a great entertainment space for your yard.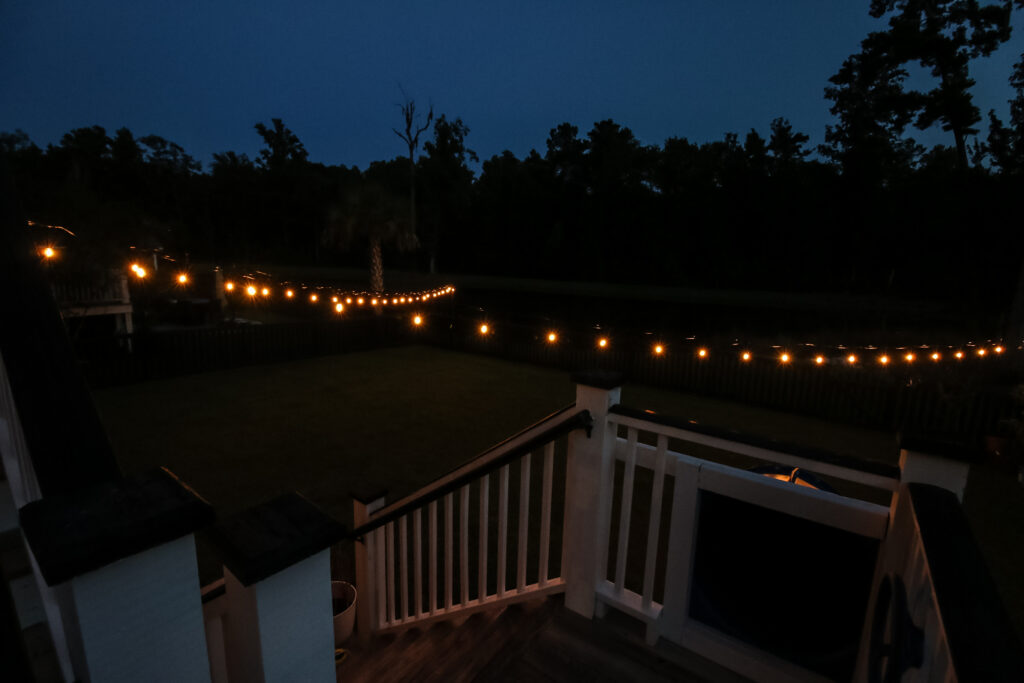 If you like to host a lot of parties, hanging bistro lights will give your guests a great atmosphere.
If you've done some amazing landscaping, having soft string lights will attract attention to these features at night.
String lights can also provide a sense of security, having your yard lit up in the evening, giving your home a higher sense of being lived in. Hook them up to a weather resistant smart plug and they will turn on and off, even if you aren't home.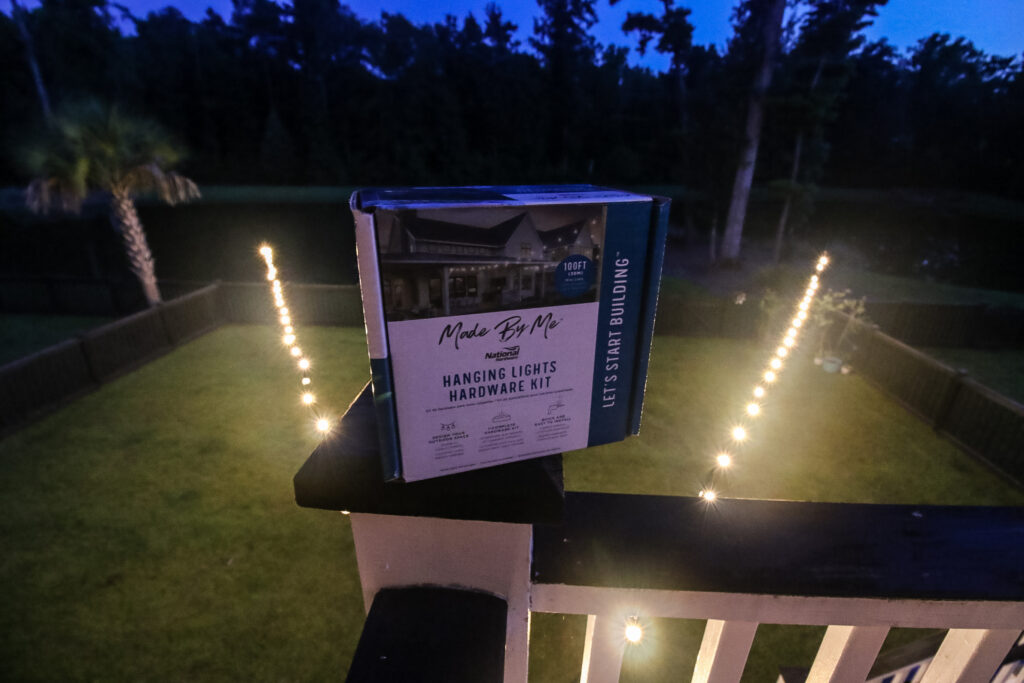 Video Tutorial
If you want to see these lights in action in a video, make sure to check it out here!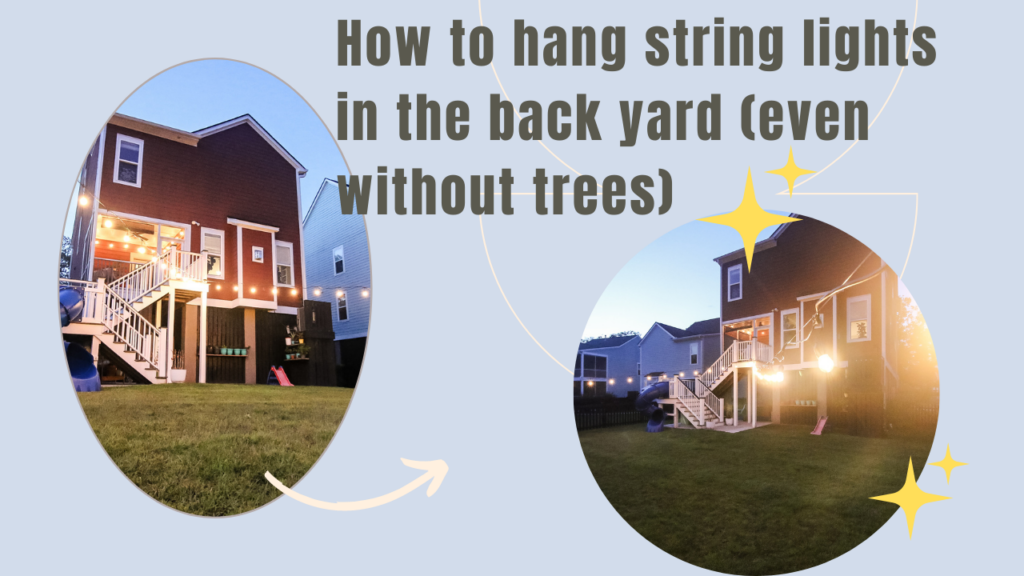 Give your home a bright and beautiful look at night by hanging string lights, even if you don't have trees in your yard!
Facebook | Instagram | Pinterest | Twitter | YouTube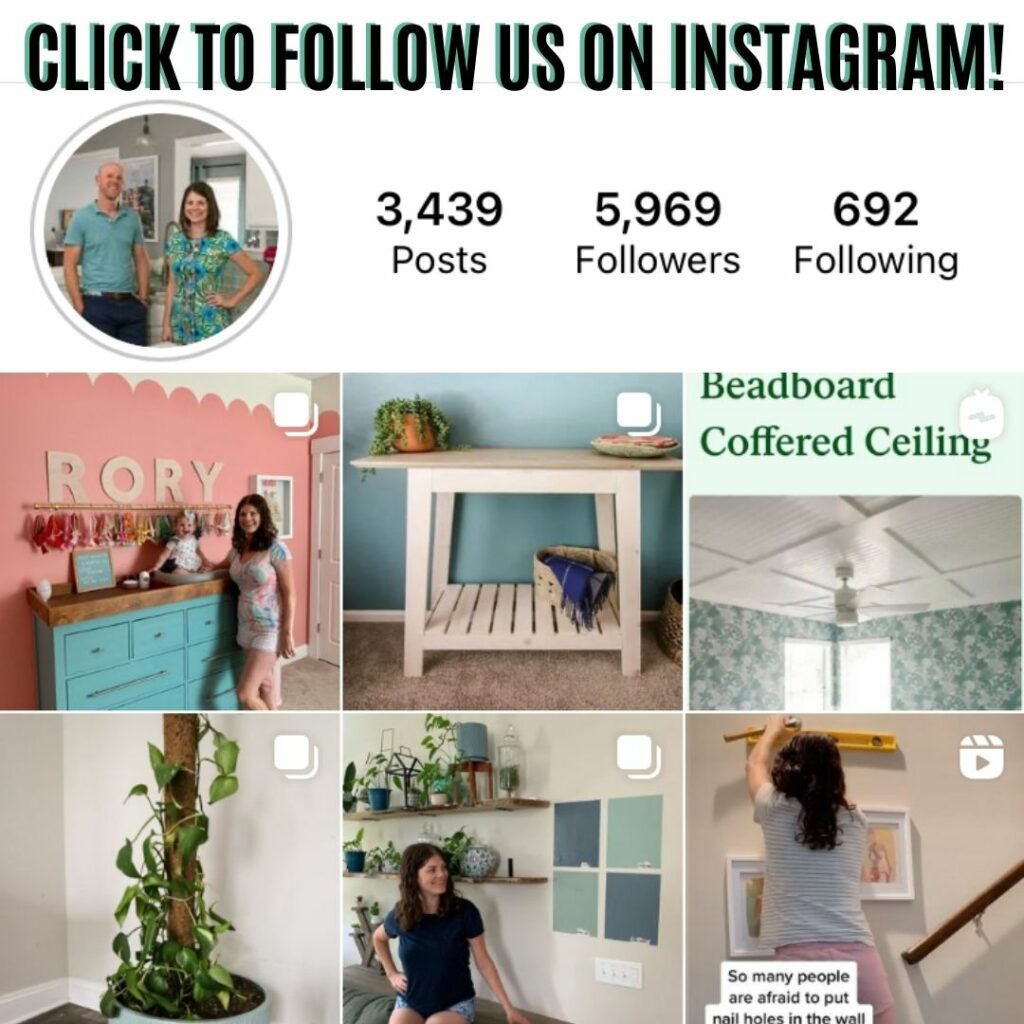 ---
Can we send you our newsletter?
Another great way to keep up with out latest projects is by joining our weekly newsletter! Get alerts of our latest projects and special peeks behind the scenes!
Follow along on Instagram
Join our online community where we share real time behind the scenes looks at our DIY projects and peeks inside our home + family!
---