String lights add a magical twinkling vibe and the practicality of good lighting to any outdoor or patio space. If you want to add string lights to your outdoor space, check out this step by step guide.
This post was sponsored by National Hardware. Thank you for supporting the brands that make Charleston Crafted possible.
When we were house hunting, a screened porch was a must have for us. If a home didn't have one, we would have had one added for sure.
We love eating on a screened in porch and really use it year round (thanks South Carolina for making that possible!). Plus our cat loves it out there since she's not allowed outdoors.
We've now hung string lights on a screened porch twice and I'd like to think that we have it down to a science.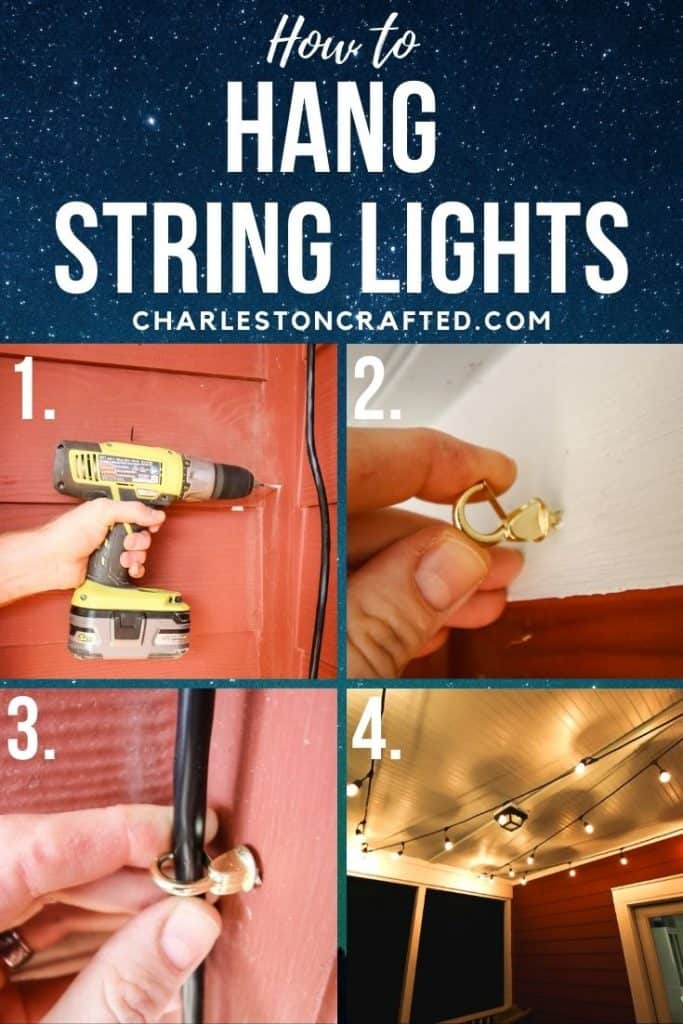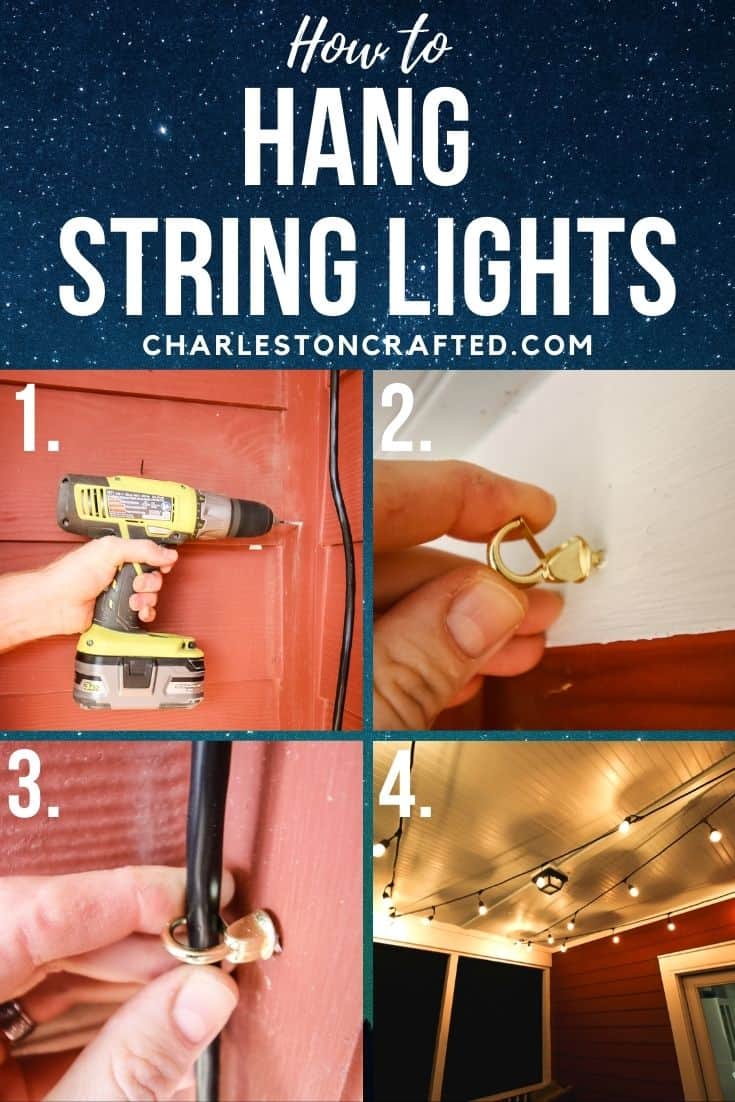 How to hang string lights on covered patio
Here are all of our tips for the best way to hang patio lights!
The best hooks for hanging string lights
We have tried hanging outdoor lights in a variety of ways. In our old home, we used peel and stick command hooks and they inevitably popped off due to moisture and humidity.
By far the best outdoor light hooks to use are safety cup hooks from National Hardware.
While you might not want to put nails into your walls, the small holes that safety cup hooks add are worth it for the durability and longevity of the hooks.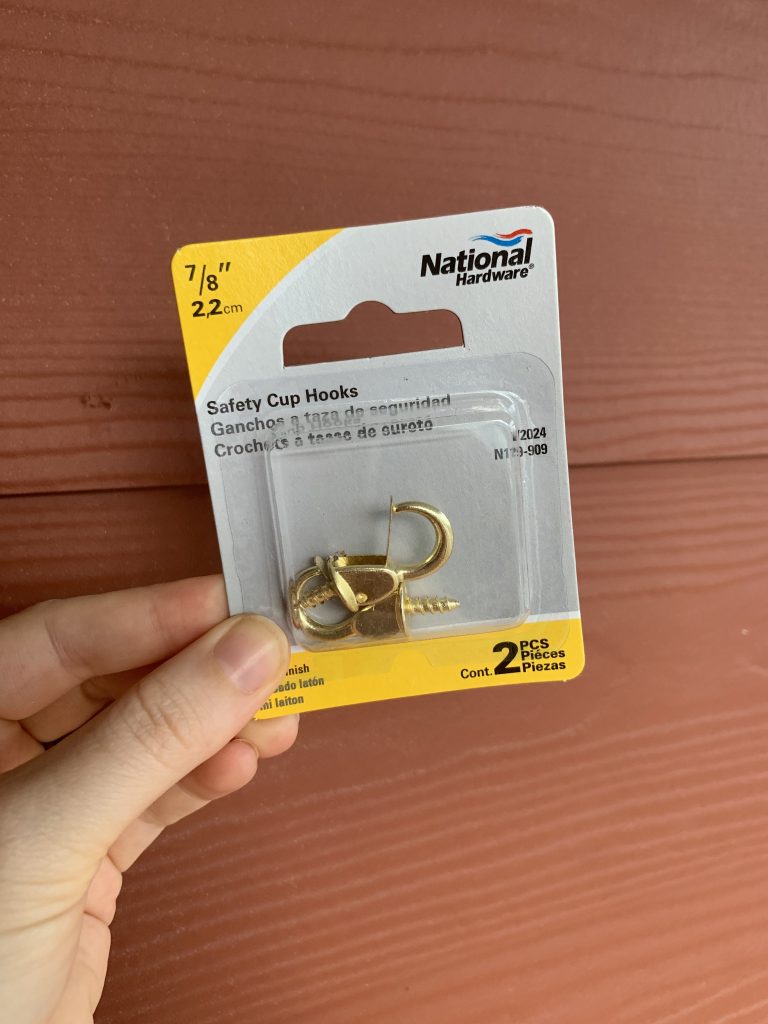 Benefits of cup style light clips
The best thing about National Hardware's safety cup hooks are that they securely hold string lights in place.
Safety cup hooks are easy to install with just a drill and your fingers.
Safety cup hooks differ from regular hooks with a spring-loaded clasp over the hook, meaning the wire is staying securely in place.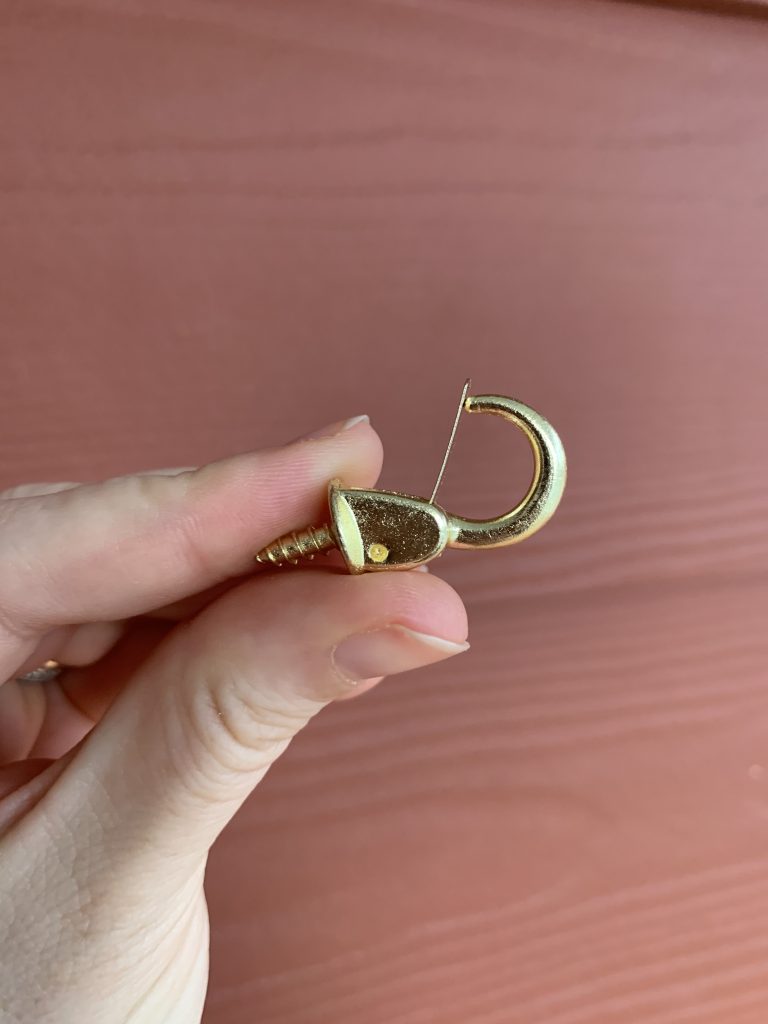 What is the best way to hang outdoor string lights?
The easiest way to hang outdoor string hooks is with cup style hooks.
Supplies needed to hang string lights:
Hanging outdoor string lights basic steps: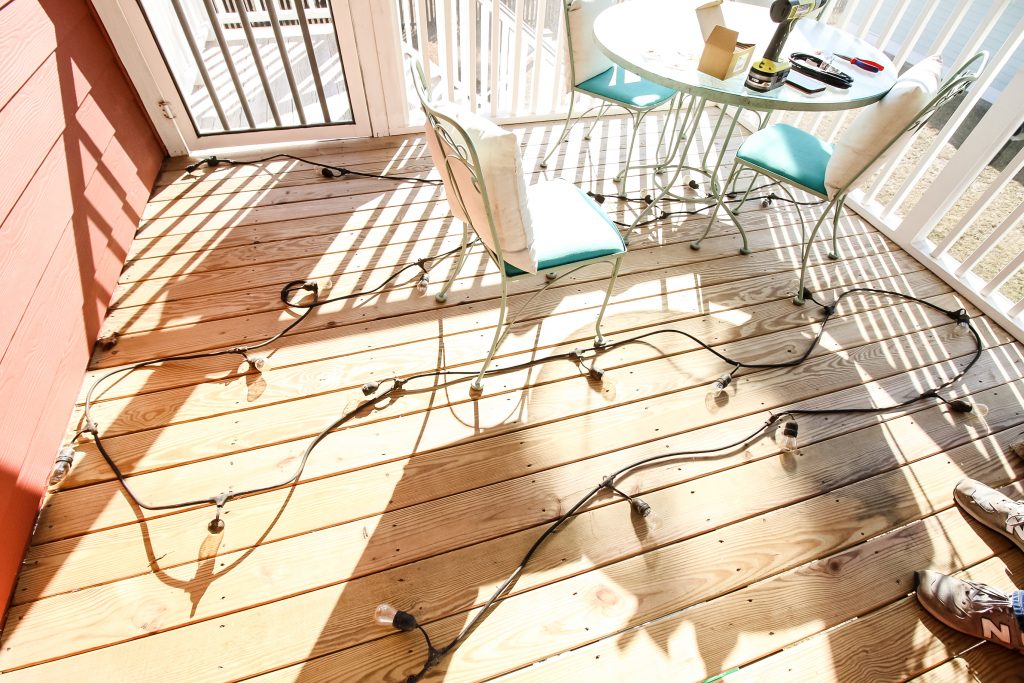 STEP 1: Design your layout
First, lay your lights out in your space to determine the setup. This is an important and often overlooked step.
Just lay them flat on the ground. This will allow you to get a feel for how many zigs or zags that your space – and strand of lights – can accommodate.
String light layout ideas:
V-shape – all connecting to one point on one side and forked out on two other sides (great for a backyard!)
Zig zag – going back and forth from side to side without crossing (perfect for a screened porch!)
Criss cross – crossing in X formations across the living space
Square – forming a square around the border of the space
Tent – all connecting to one center point in the space, spreading out like spokes of a wheel
Be sure that your strand is facing the right way with the plug closest to the outlet. Don't string them up backwards!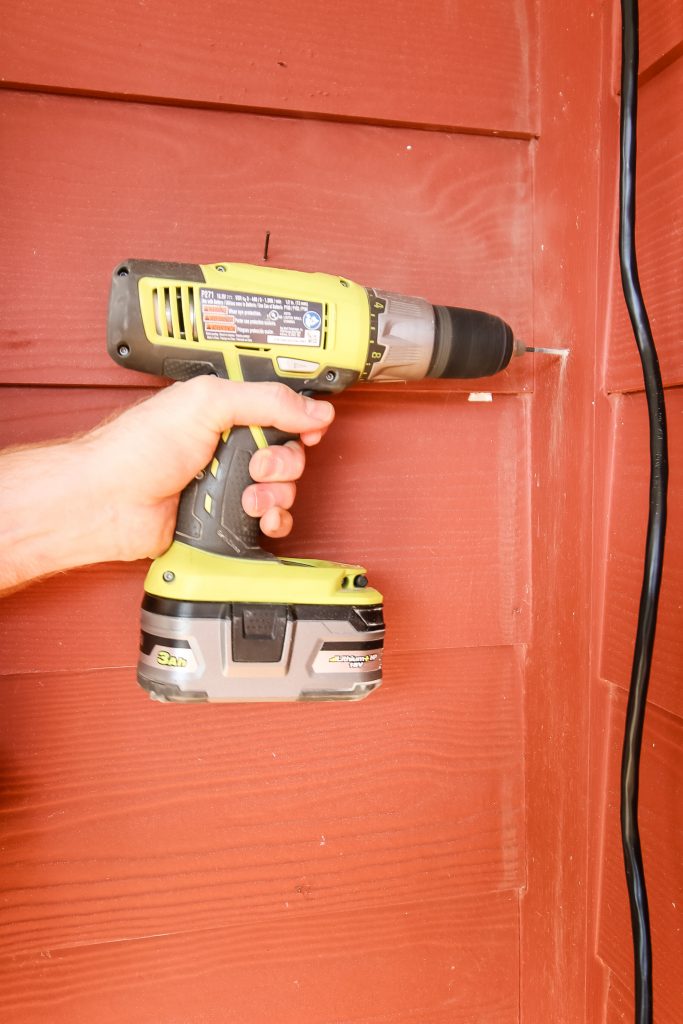 STEP 2: Pre-drill holes
Once you have determined the placement of the lights, it's time to drill the holes.
You can measue or eyeball placement.
Use your drill and a 7/64 drill bit to pre-drill holes. This makes it easier to screw the hooks in by hand.
NOTE: the packaging on these hooks says to drill a 5/64 size hole, but we found that to be too tight to screw all the way in with your hand. Experiment at your own risk. If you twist too much, they can snap.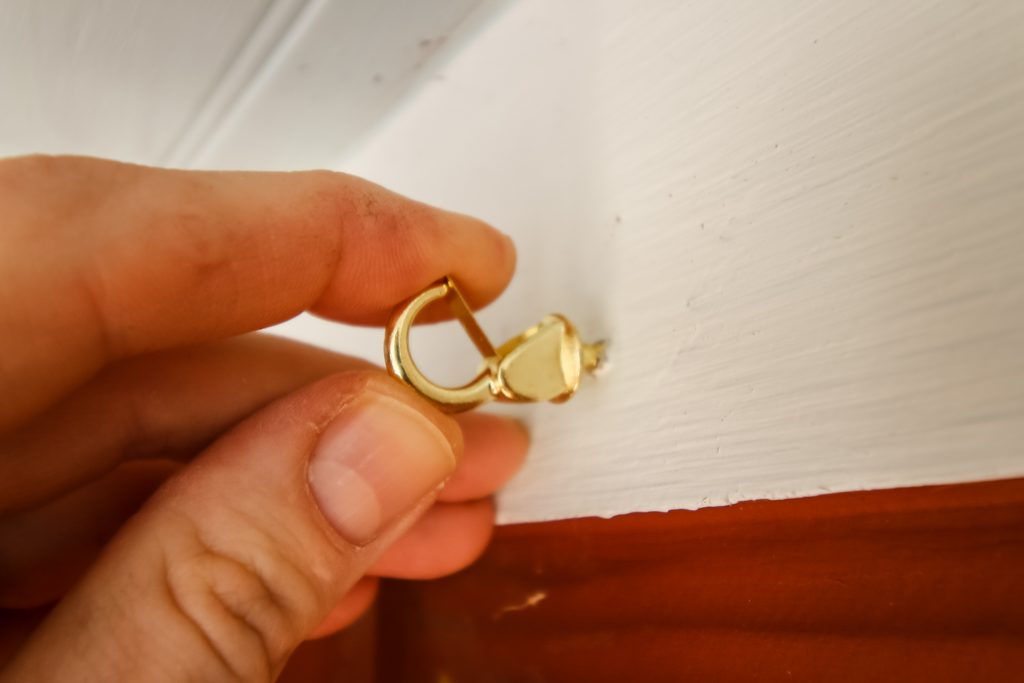 STEP 3: Screw in the hooks
With pre-drilled holes, it's easy to screw the cup hooks in by hand.
Place them against the hole, apply light pressure, and twist into place.
Don't over-tighten the hooks. Just twist until they are flush with your wall surface.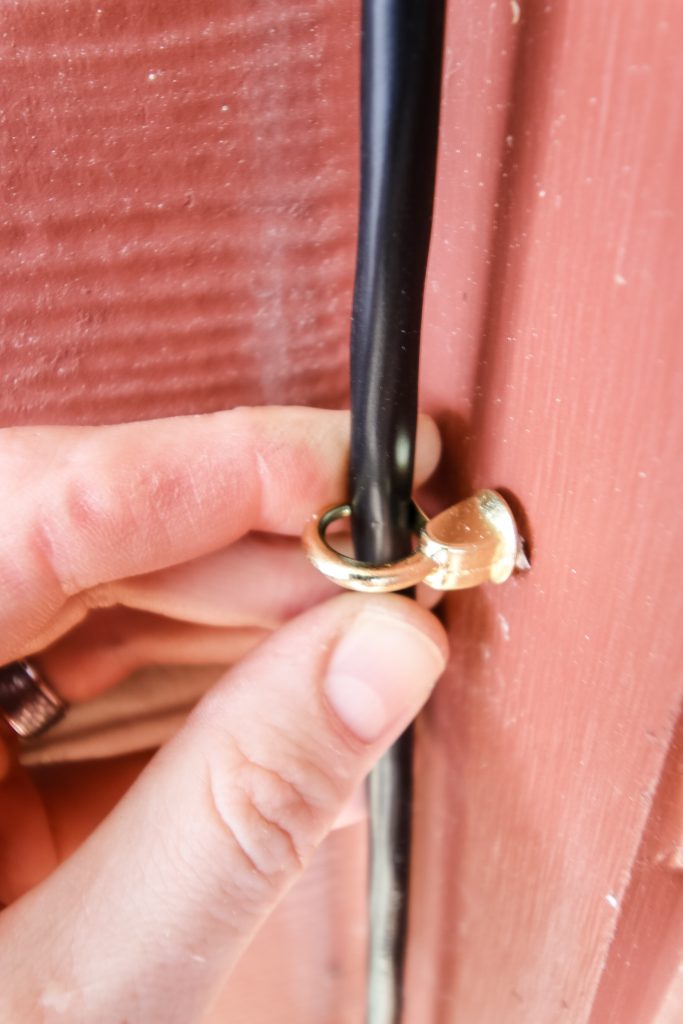 STEP 4: Attach the string lights
Now, string your lights up!
The cup hooks have a clasp that is easily lifted to tuck the cord inside.
Once the cord is in there, it's very secure. That's why we love the cup hooks from National Hardware for this project!
Start with the plug end nearest to the outlet. Then string up in the pattern of your choosing.
STEP 5: Add an extension cord
You will likely want an extension cord to connect your lights to the closest outlet.
Go with the shortest possible cord that will work in your space. We used additional cup hooks to hold the cord in place in the corner of our porch. This keeps the cord out of sight.
You may also want to connect the extension cord to a smart plug so you can set the lights on a timer or operate them with your phone or smart home system.
We can turn our lights on just by asking Alexa to do so!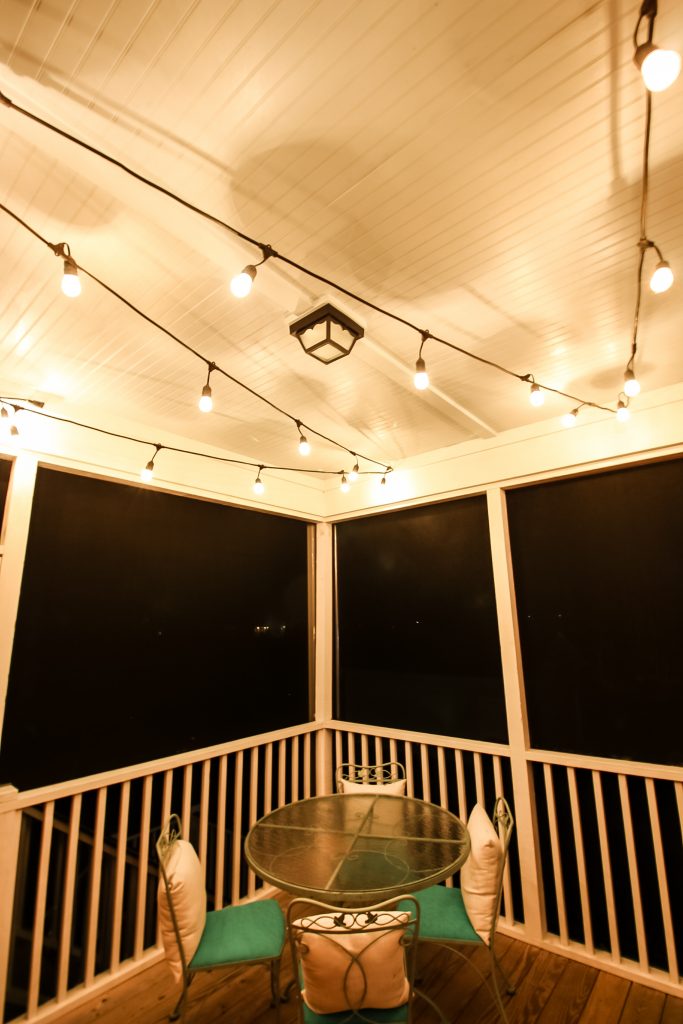 The best string lights for a covered porch
There are a few options for string lights that you can hang on your porch or patio.
Cafe lights
Cafe lights have more of the hanging lights dangling down from the strand like you might see at a restaurant or bar.
I really like how these lights look. They often have larger bulbs and are very bright.
We used cafe lights in our space.
Globe string lights
Globe string lights are traditional Christmas lights, but with an added glass globe around each bulb.
This gives the lights some bulk and makes them appear larger, but the actual bulb is still small and will put off less light.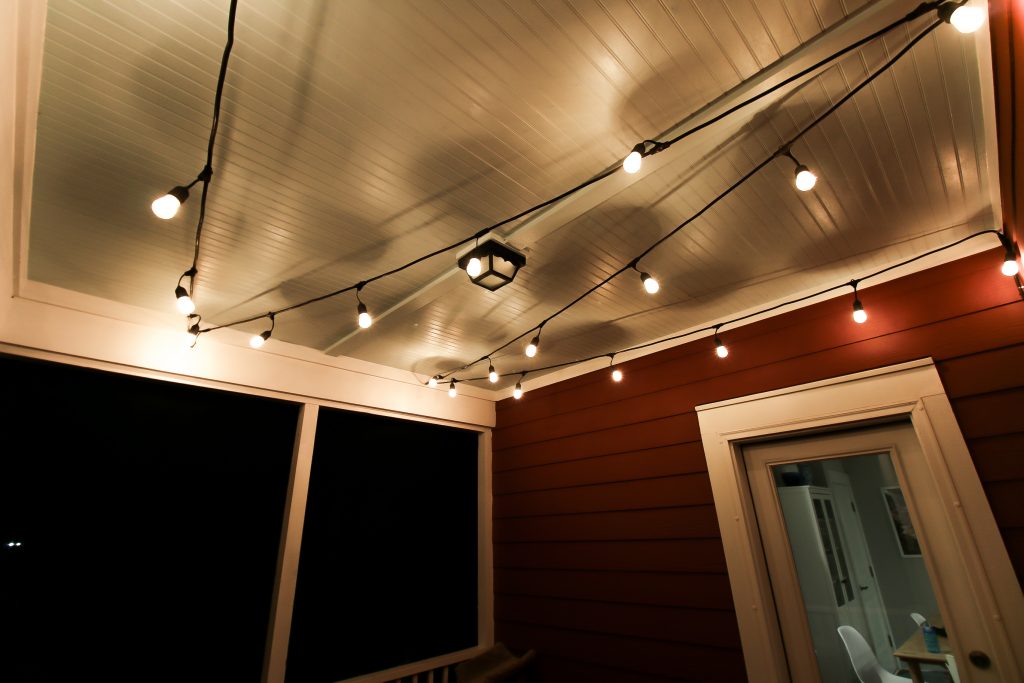 Traditional Christmas lights
Traditional Christmas lights, also known as fairy lights, have smaller, simpler bulbs.
These lights usually have a white or dark green cord.
They put off less light than some of the other bulbs.
However, they are totally fine if you are OK with the amount of patio light that you have without them. They still add a magical twinkle!
A lot of people also opt to hang these inside of their house near the ceiling for a nighttime ambiance.
Other screened porch lighting ideas
String lights not the best fit for your patio? Here are some other screened porch lighting ideas:
Install can lighting
Place fairy lights in a jar or clear container
Add a sconce-style patio wall lighting
Get a gas-powered fire pit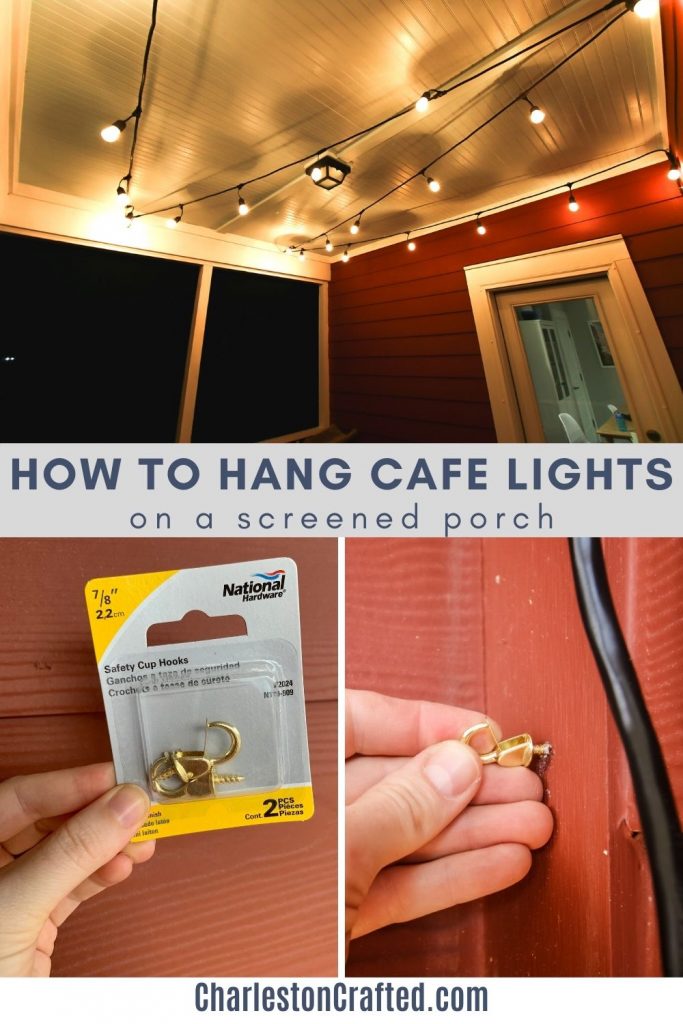 Additional tips:
If your strand of lights does not come with spare bulbs, you might want to order a few extra just in case of breakage. Or, go ahead and have a second strand of lights on hand, just in case.
If you plan to criss-cross your strands of lights, you might want to take out the bulbs prior to hanging them. Cafe lights make it easy to take out the bulbs and this can help to prevent breakage.
Glass bulbs usually look more high-end lit up compared to plastic bulbs.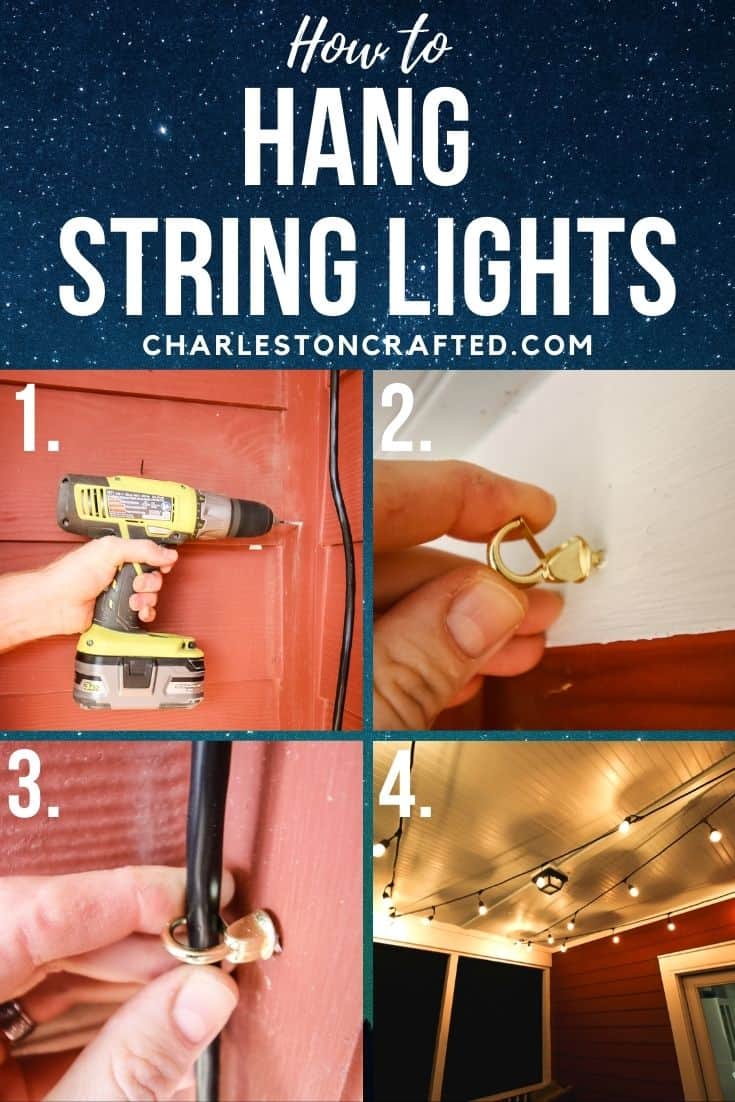 Yield:

1 beautiful porch
How to hang outdoor string lights on a screened porch
It's simple to hang outdoor string lights on a screened porch to add a nice ambiance to your entertaining. We love how twinkle lights look in the evening when you're enjoying a drink or having a conversation. Learn more about how to hang outdoor string lights and put up a beautiful set for yourself!
Materials
Safety cup hooks
String lights
Instructions
Decide on the design for your string lights to be hung.
Lay the string lights out on the ground to figure out the exact pattern and placement for hooks.
Pre-drill holes for cup hooks to go into.
Hand-tighten safety cup hooks into place.
Hang the string lights in the hooks, starting with the plug end near your outlet.
Add an extension cord and smart plug to plug your lights into.
Recommended Products
As an Amazon Associate and member of other affiliate programs, I earn from qualifying purchases.
Any other questions about lighting up your patio space?