Want to paint shiplap in your home? Whether you are installing it new or updating old, here is how to paint shiplap with 3 different methods!
Shiplap is a timeless way to add texture and interest to plain walls. Many older homes have shiplap already in place, and it's popular for homeowners to add shiplap to newer homes, too.
We added a shiplap fireplace wall to our living room and it was a great way to create an accent wall in a space desperately in need of one.
Hanging shiplap isn't too hard, but that's not the end of the project. Then, you have to paint it.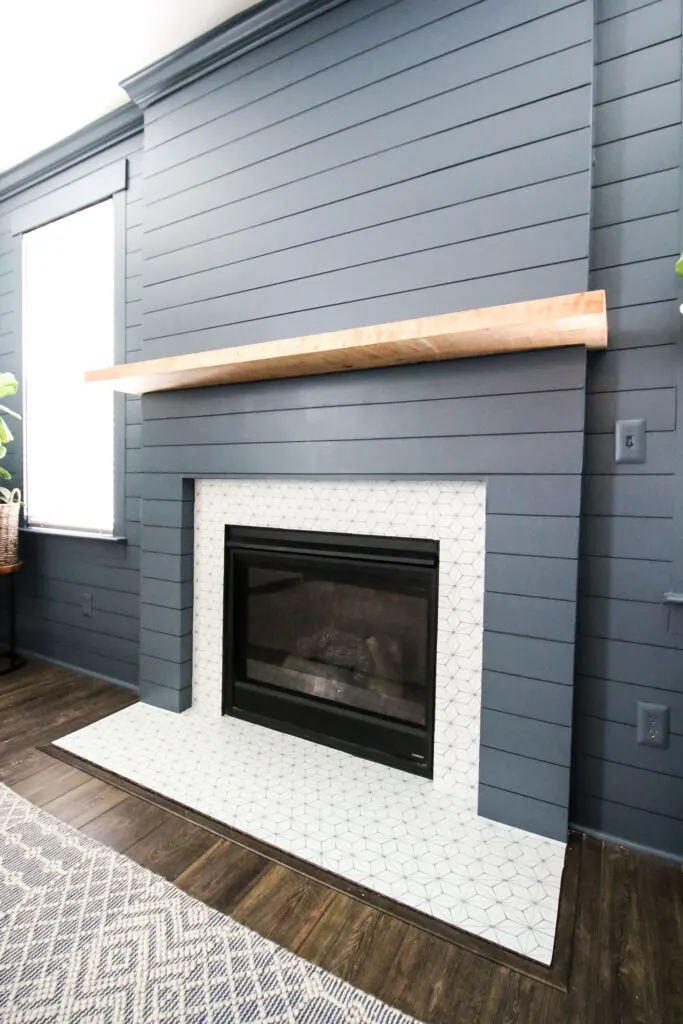 We chose to paint our shiplap wall a rich navy blue color to make it a true accent. However, you can paint shiplap any color and still have the same problems.
Painting shiplap isn't as easy as painting a flat wall because of the grooves or cracks in the shiplap. They are what gives shiplap its distinct look, but they are a PAIN to paint.
It was a great lesson in the best way to paint shiplap and I thought that we would share everything that we learned with you here today!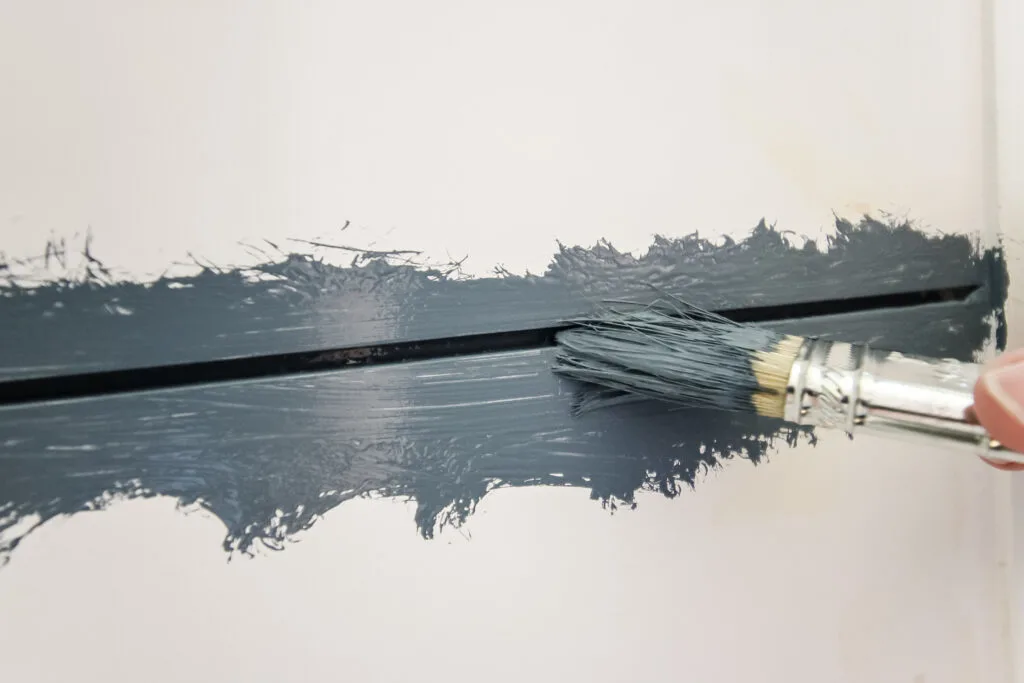 Do I need to paint shiplap?
Yes, you need to paint shiplap! Even if you want it to be white, you need to paint it with white paint.
You will need to cover scuffs or imperfections in the wood as well as nail holes you create when hanging the shiplap!
Be sure to check out our tutorial for how to build a shiplap fireplace wall!
Do I need to paint the wall behind shiplap?
This depends on the shiplap that you use!
If you use a true shiplap with tongue and groove joints, no wall will show through. So, you don't have to worry about painting it.
However, if you make a faux shiplap with boards, it is likely that the wall will show through, so you will want to paint it to match your shiplap first.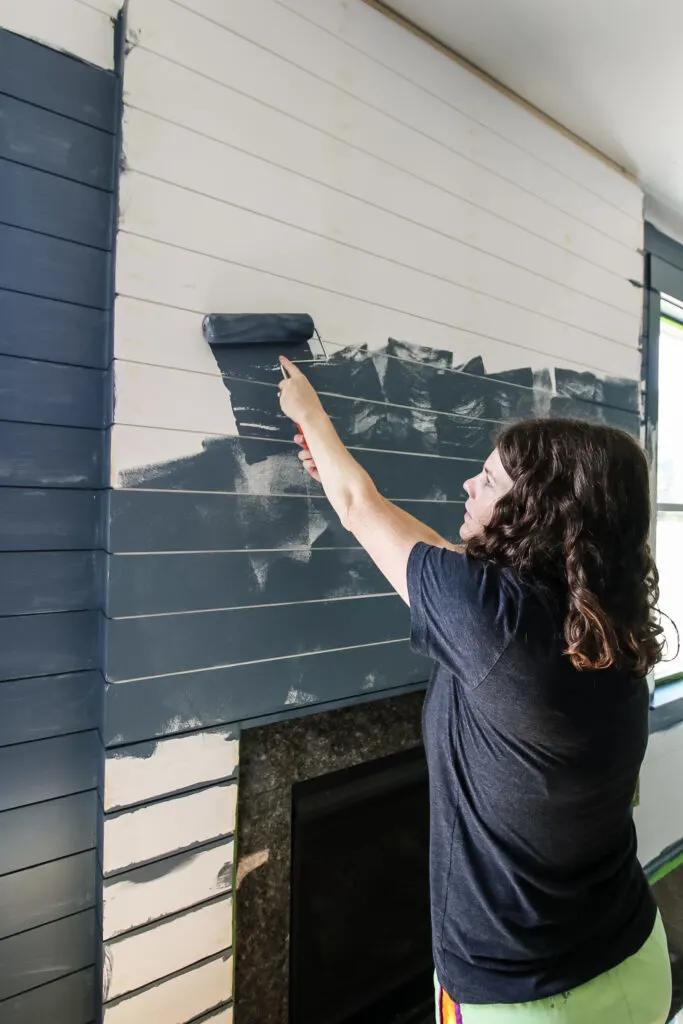 Can you roll paint shiplap?
Yes, you can use a roller to paint shiplap that is already installed. However, you will have to also use a brush to get int the cracks and grooves.
Do I need to prime shiplap before painting?
If you buy white shiplap, it's already primed. If you have raw wood, you will need to use a primer. I suggest using paint and primer in for best coverage.
Does shiplap have to be painted white?
No! But, shiplap is usually painted a neutral color. We went with Behr's NYPD which is a charcoal-navy.
If you choose a dark color, you can paint your outlet covers to match, too!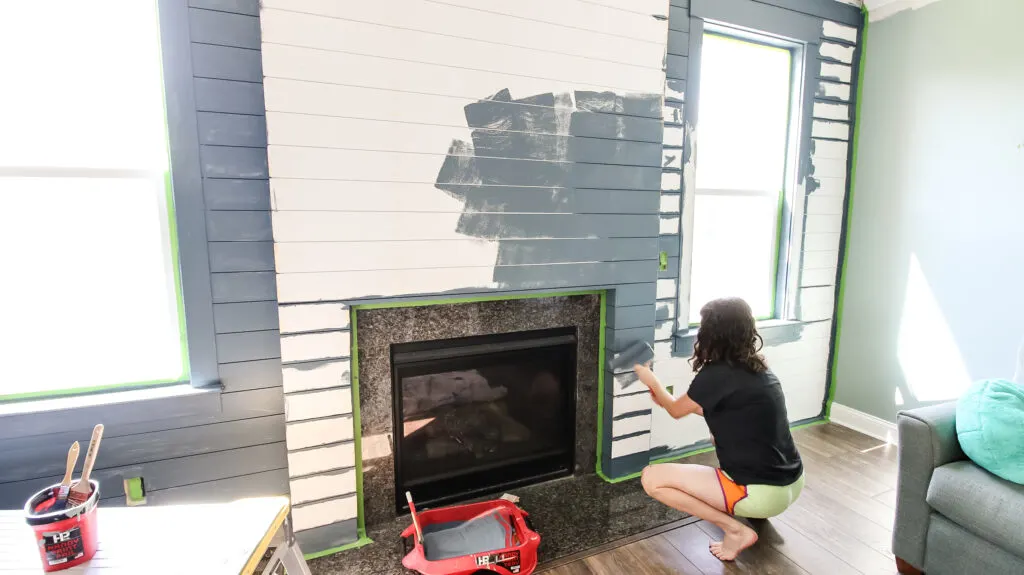 What type of paint do you use on shiplap?
You can use any wall paint on shiplap, though I suggest a paint and primer in one. We use Behr's scuff defense to prevent scuffing from our kids!
What sheen paint should I use for shiplap?
You have a few options. One, you can match your walls- probably flat finish or eggshell. Or, you can match your trim – semi gloss, usually.
I personally prefer a more matte look. In my opinion, the best paint for shiplap is eggshell, which is what we use on all of our walls!
Be sure to check out our complete guide to paint sheens!
How do you paint over shiplap?
If shiplap is already hung up, you can paint over it with a roller + brush or a paint sprayer!
Should I paint shiplap before or after installing?
Either method works. If you paint it before installing, you will still need to do touchups, but will save time painting the grooves.
How do you paint shiplap grooves?
The biggest question when painting installed shiplap is how to paint shiplap cracks. The answer is – there's no secret. You have to get in there with a small brush.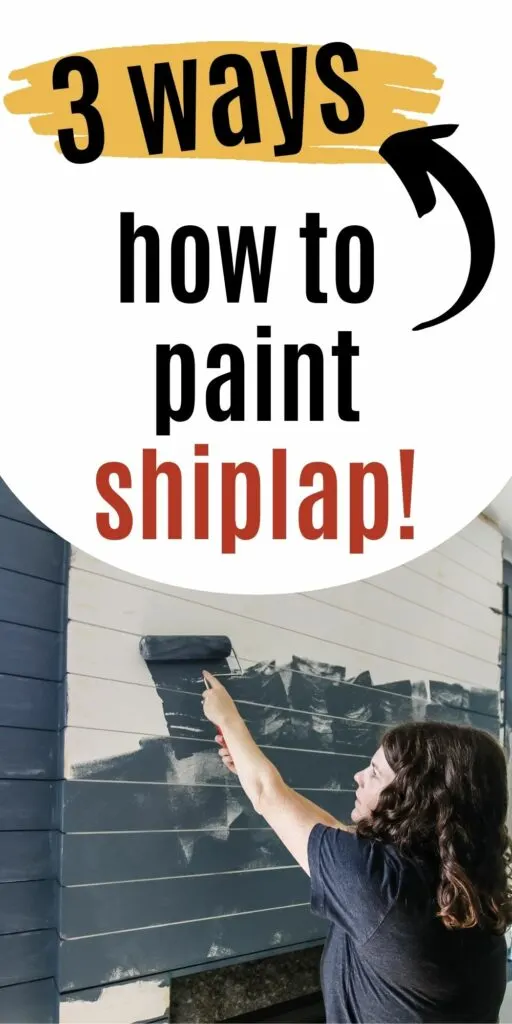 How to paint shiplap: 3 methods
Roll + brush in place
We painted our installed shiplap on the wall.
Supplies needed:
Paint roller + tray
Small brush
Tape
How to paint shiplap with a roller:
Tape off all trim, flooring, or any neighboring walls
Start with a brush and brush in every groove. This is time consuming and eye crossing.
Follow it up by rolling 1-2 coats of paint.
Touch up the brush work in between rolls if needed, but finish with rolling for a smooth finish.
Pre-paint grooves
Supplies needed:
Paint brush or sprayer
Paint brush
Steps:
Before hanging your shiplap, use a paint sprayer or brush to paint the grooves. You can paint the entire boards, especially if you are using a sprayer.
Hang the shiplap, then use wood filler on the nail holes.
Sand and touch up the shiplap paint color in those spots.
Paint sprayer
Supplies needed:
Paint sprayer
Plastic to cover, with tape
Steps:
The hardest part of using a paint sprayer is the prep work! You have to tape off floors, ceiling, other walls – anything around!
Fill your sprayer and paint the wall! It will get in the cracks easily. Here's our guide to using a paint sprayer!
Any more questions about painting shiplap walls?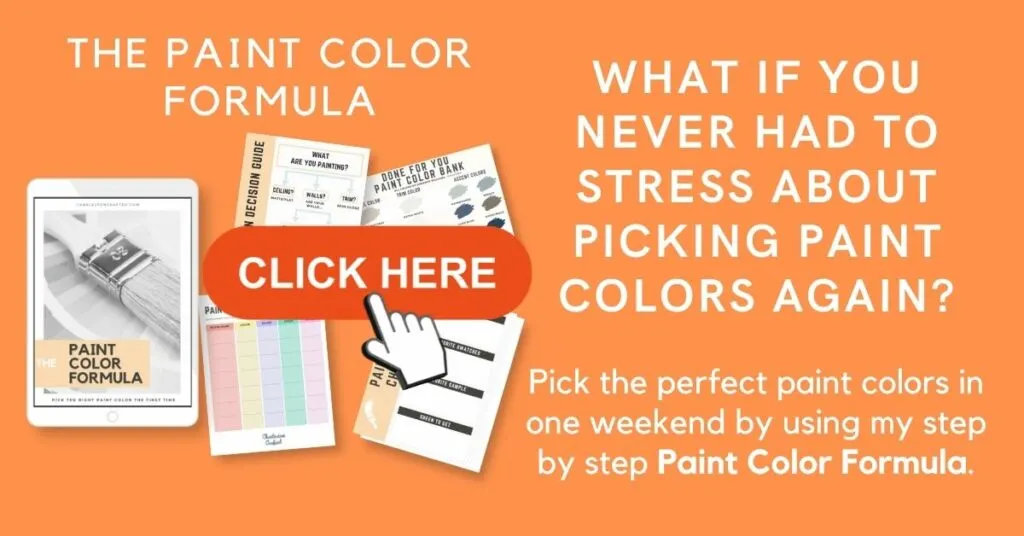 Get paint samples!
Samplize will send you 12″x12″ peel and stick samples of paint colors from many popular brands so you can see exactly how they will look in your home!
Love paint colors? Be sure to check out:
The Paint Color Formula – my complete guide to picking paint colors!
The best blue-gray paint colors
My favorite light gray paint colors for any home
The Best Gray Paint Colors for a Nursery
The Best Classic Navy Paint Colors
21 Paint colors for Master Bedrooms
The 28 Best Light Gray Paint Colors for Any Home
6 Perfect Gray Paint Colors for Cabinets
10 Best Paint Colors for Laundry Rooms
Painting for the first time? Check out my video tutorial on the easiest & cleanest way to open a paint can!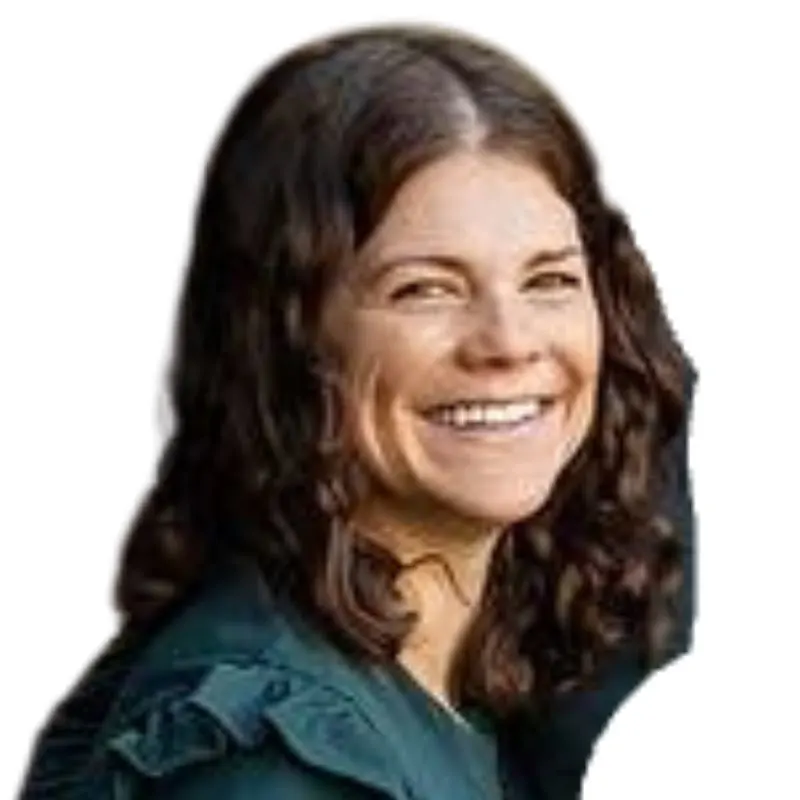 Hello, I'm Morgan, half of the creative force behind CharlestonCrafted.com! With a passion for DIY that dates back to 2012, I've transformed three homes and now I'm dedicated to helping others craft their dream spaces. Let's turn your house into a home together!