Painted doors are really on trend right now, which I love because it is such a simple and inexpensive DIY update! We have painted 2 exterior doors to our home using 2 different methods, and today we are going to talk about the best way to paint a door – is it with a roller or with a sprayer?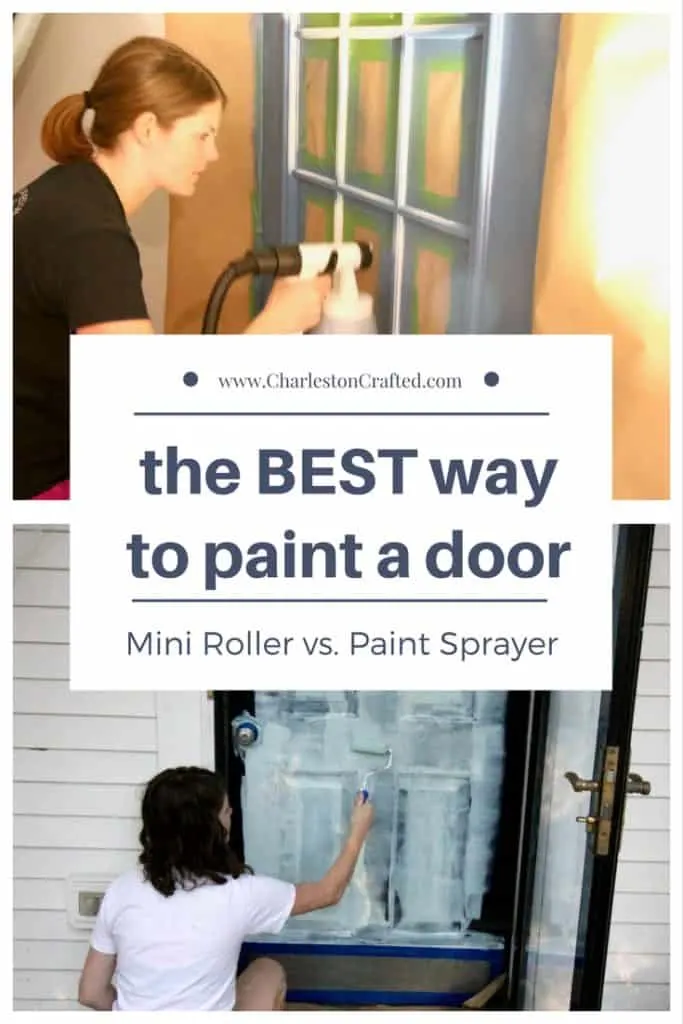 Which is the BEST EASIEST Way to Paint a Door: Roller or Sprayer?
We have done both of these methods. We painted our front door with a high density roller and sprayed our back door with a paint sprayer. Both methods have pros and cons.
Painting a Door with a Roller
Pros:
Cons:
Time – it will take several coats, with dry time in between.
Drips – it's really easy to get a drippy finish with a roller, from using too thick of coats of paint.
Be sure to read our article about the best roller for painting doors!
Painting a Door with a Paint Sprayer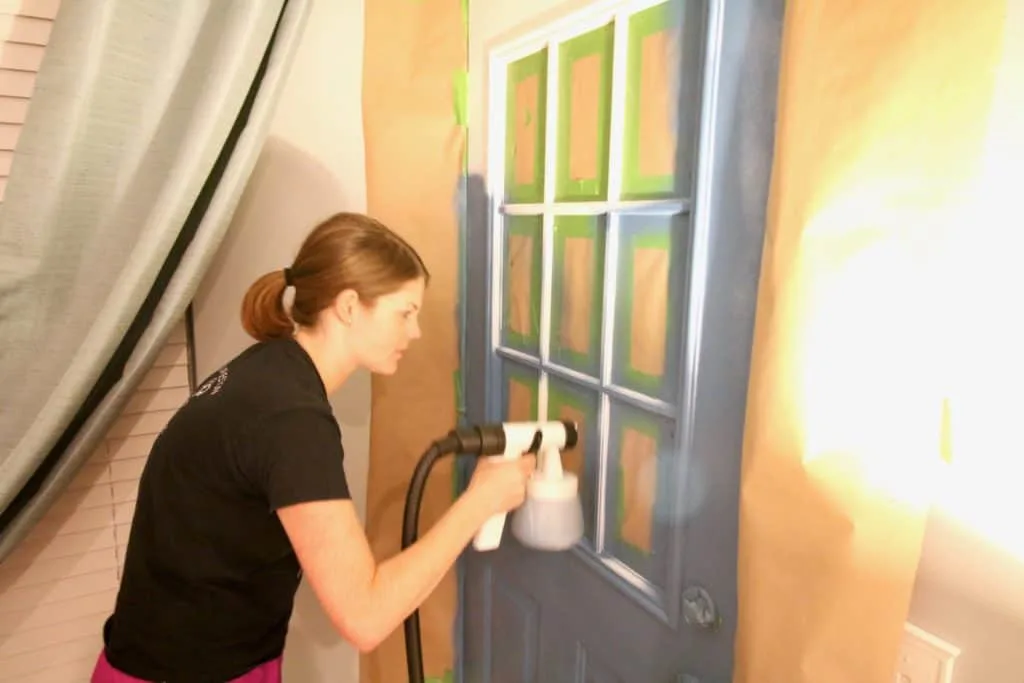 Pros:
Faster – We painted our whole door in one coat in under 15 minutes
You use less paint spraying than rolling (in our experience)
Angles and details – it's easier to spray non-flat areas than it is to roll them.
Cons:
Prep work – you have to do a lot of taping before you spray to make sure that you don't get paint anywhere that you don't want it.
Cost – a paint sprayer is more expensive than rollers, but pays off if you will use it for many projects. We use a Wagner Home Decor Paint Sprayer which will run you around $80
Overall, we preferred the paint sprayer. It was just so much faster and had a much more perfect finish. However, it does involve the investment of buying a paint sprayer, which could be a large or small purchase depending on your overall budget and how many times you plan to use it.
What kind of paint do you use on a door?
You can buy specific exterior paint at your hardware store, which we used for the outside of our door. For the inside, you can use exterior paint or a semi-gloss wall paint.
How to paint a door without brush marks?
Either of these methods to paint a door – using a foam roller or a paint sprayer – will not leave brush marks!
Do you need to remove a door before you paint it?
Nope, we paint our doors while they are still hanging in the frame!
Have you painted a door? What method did you use?!
This post contains affiliate links. That means, if you click through and make a purchase, we receive a small percentage of the sale. Thanks for supporting the brands that make Charleston Crafted possible.