Picture lights are a great way to draw attention to a favorite framed photo or piece of artwork. Here's a complete guide to hanging them!
I love the look of picture frame lights. They are wall sconces that hang like a picture spotlight over a piece of artwork or photo frame on your wall.
This type of artwork lighting is really trending right now – and it's super easy to install, once you have a plan!
What are picture hanging lights?
Picture hanging lights are a type of lighting. They are wall mounted wall sconces that project light at a piece of artwork on the wall.
While traditionally, you might have used track lighting for this, picture frame lights actually serve as an additional piece of decor around the art.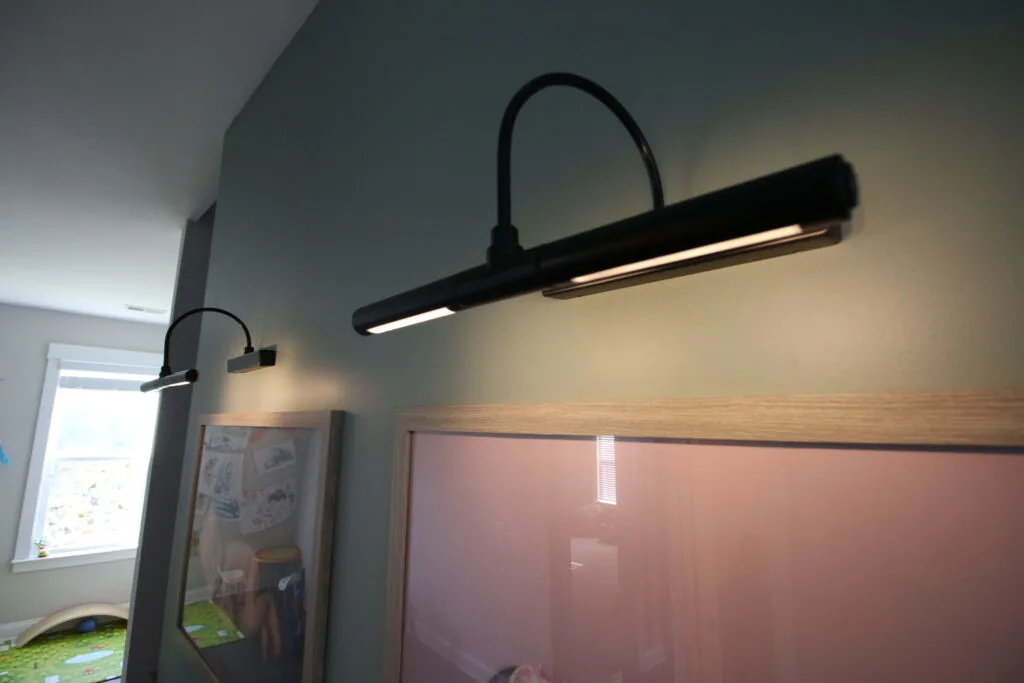 Why should I use picture lights to illuminate my art?
Picture lights add a sense of drama to any artwork. Whether you have one large painting, or a grid style gallery wall of 6 or 8 large black and white photos, picture lights can make art look museum-worthy.
I decided to add lights over the two large photos in our upstairs hallway. This space is too narrow for any furniture (even a slim console table). The art is big enough to stand alone, but it felt a little meh to me.
Adding lighting above the frames was just the perfect final touch to make it feel special and interesting.
We've been cutting these on in the evenings and they are actually a great ambient light source and a bit of a hallway nightlight when we have to go check on the kids!
Can I DIY a picture frame light?
You could definitely get this effect by using a wall light or sconce and hanging it over a piece of art. Here's our guide for turning desk lamps into sconces. It may or may not be cheaper to buy inexpensive LED picture lights, though.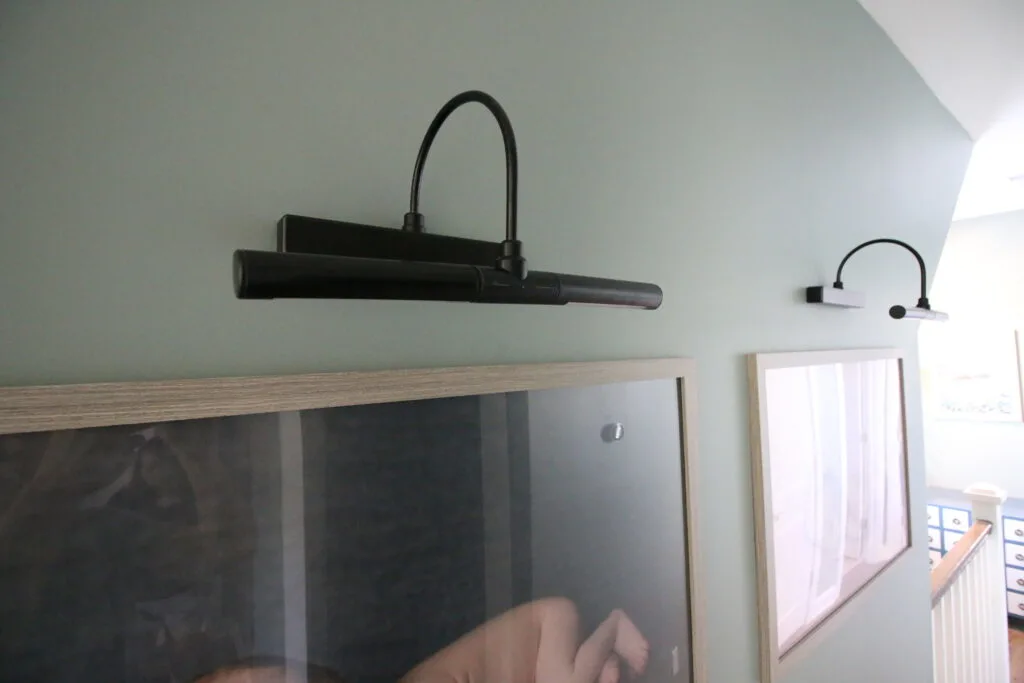 Where do I get picture light sconces?
I got my lights on Amazon. Honestly, these were the cheapest I could find. They are light weight and not super high quality, but they get the job done.
These have LED lights and remote controls or a button on the side to power them.
I initially ordered the gold. The 2 tones of gold (body vs neck of the light) didn't match and the gold was very orange. I traded in for black and was much happier.
How far above a picture do you hang a picture light?
Aim to hang the light 5-7 inches above the top of your art. You want the base of the light (the bit that the light actually comes out of) to be above the top of the frame by at least 1 inch.
These lights have adjustable angles for the light. The ideal angle to reduce glare is 30 degrees. You want to be able to angle the light appropriately and not see a glare or reflection in the glass of your frame.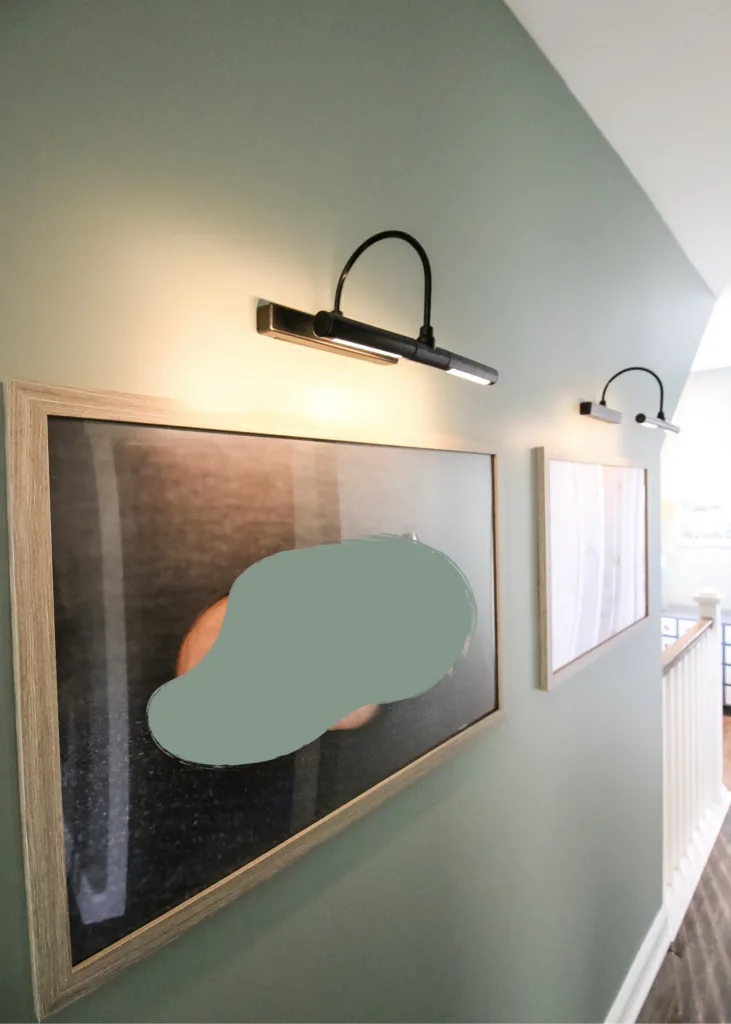 What size picture light wall lamps do I need for my piece of art?
I love the rule of thirds – things in 3s look pleasing to the eye. Aim to have the width of your wall art light to equal about 1/3 the total width of your wall art – including any frame.
What color picture light should I get?
I think that when possible, you should match the color of the light to the color of your picture frame. I didn't do this because my frame is wood, but it looks most like the two pieces go together if you do!
How bright should the light be?
First of all, definitely stick to LED lighting. This will not get hot to the touch or fade your photos or art. My LED lighting came with 3 settings – warm, cool, or mixed.
The rule of thumb is that you want your art to be 3 times as lit up as the rest of your room. This is arbitrary and hard for the average person to measure, but just think that you want it to be like a bright spotlight!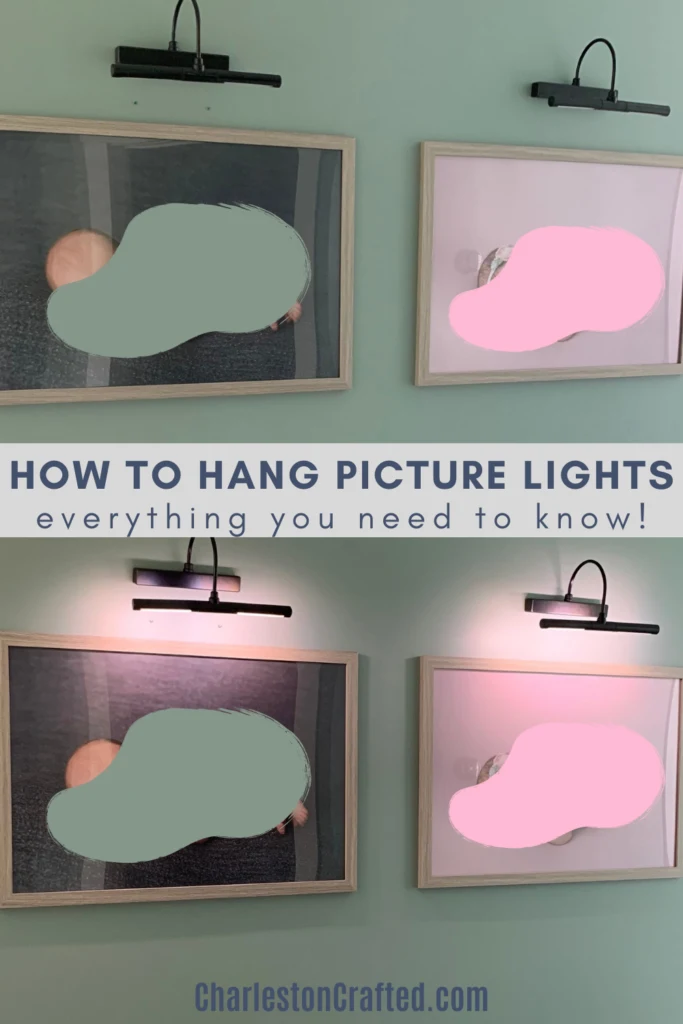 How to hang picture lights
It's actually really simple to hang picture lights.
STEP 1
Once you determine where they will go, remove the backplate from the light. There will be 2 holes in the metal.
STEP 2
Use a measuring tape and level to be sure your plate is in the right spot.
STEP 3
Use a pencil to mark the location of the two holes.
STEP 4
Drill 2 pilot holes the size of your wall anchors, one in each marked spot.
STEP 5
Press the anchors into the drilled holes.
STEP 6
Drill your screws into the anchors, leaving about 1/4 an inch sticking out to catch on the light.
STEP 7
Hang the backplate on the 2 holes through the 2 screws.
STEP 8
Slide the lamp onto the plate and admire your work.
STEP 9
If it hangs at an angle, you need to tighten the screws closer into the wall!
Any more questions about how to install picture lights?