We are planning to makeover our guest bedroom! Here is the complete guest bedroom makeover design plan!
I love doing simple room makeovers to add our personality and style to the space.
Our home was super builder beige when we moved in. That's fine – it's not offensive or anything – but it is boring.
We are slowly working through the home adding color and style.
The next room on our list is our guest bedroom.
Guest bedroom before
The current state of our guest bedroom is just a boring, blank slate.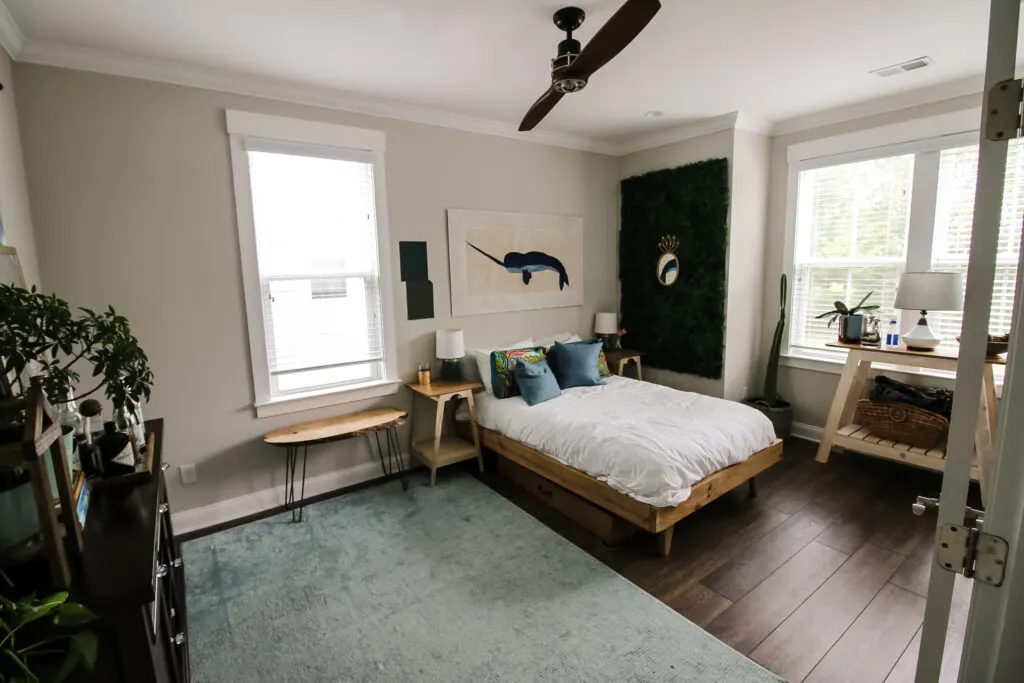 We joke that this is the dumping ground for furniture that we don't know what to do with.
This room was actually designed to be an office in our home's floor plan, but we love using it as a guest room for when our family visits from out of state.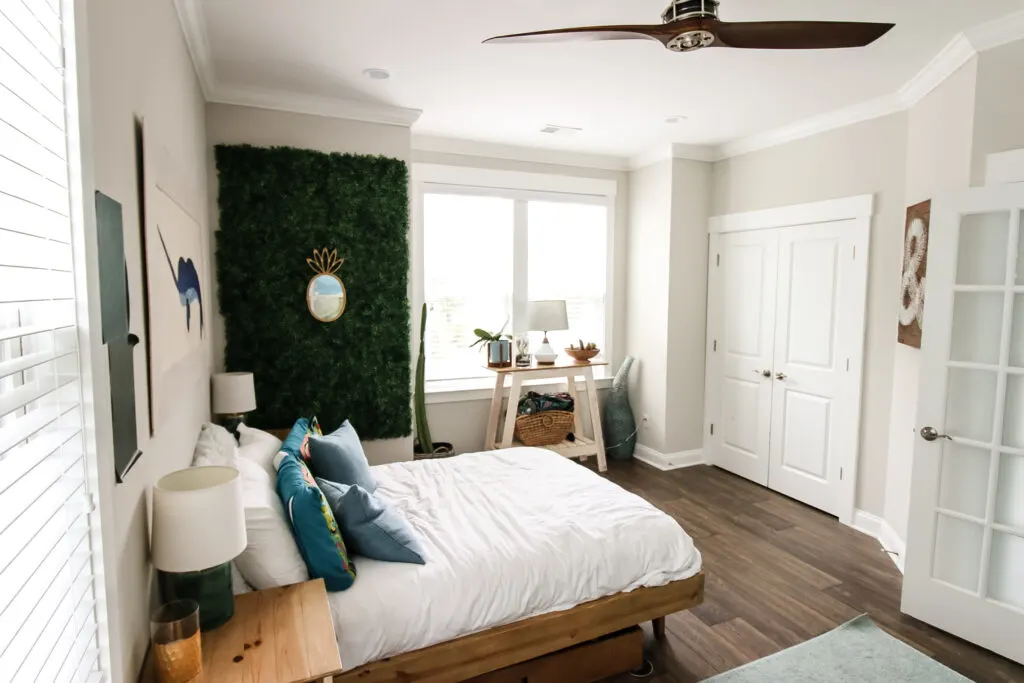 However, since we don't have guests all of the time, we want to make it more functional and useful for our family in those in between times.
Guest bedroom makeover design plan
Our guest bedroom is going from boring to bold with deep green walls and gold accessories.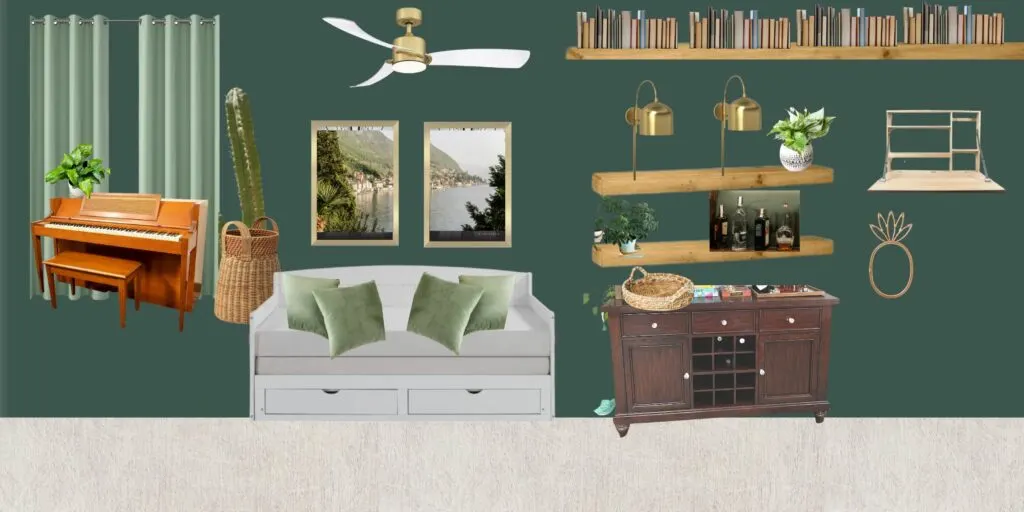 Paint
We will be painting the room "Dark Everglade" by Behr – a beautiful dark green color with just a touch of blue to it.
I love the effect of a dark bedroom, like our bedroom, and this room is large with bright natural light. I think it will make the room feel cozier!
Daybed
We are going to go in the potentially controversial direction of replacing our double bed with a daybed in here. Here's why!
The plan is to bring my childhood piano into this space for the kids. Currently, the bed blocks where the piano would be. It would fit, but not comfortably.
We have selected a daybed that is twin sized but pulls out to be a king (much more comfortable for when 2 people stay). This will allow a clearer path to the piano!
Plus, we chose a daybed with pull out drawers underneath for extra storage!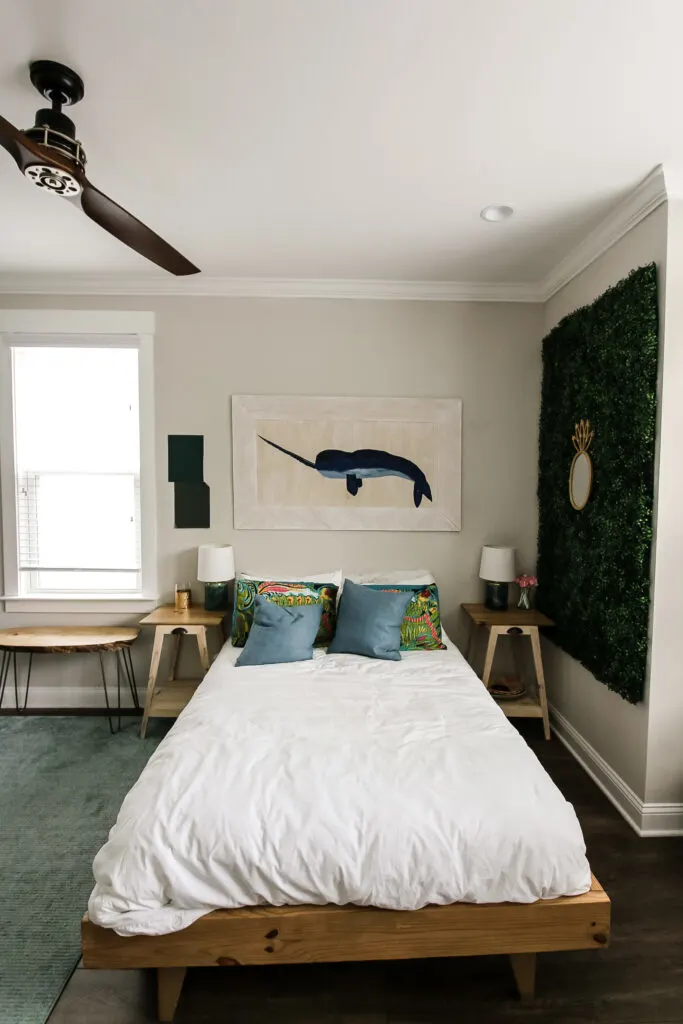 Piano
We are getting my childhood piano from North Carolina! It was actually used by my dad's and his siblings' as children, too.
There are a lot of logistics involved to move a piano across state lines, so this part might be delayed beyond the rest of the room, but I am very excited about it.
Shelves
We are going to be adding 2 sets of shelves.
First, floating shelves over the bar. This will be staggered shelves with a chunky wood look just to display decor.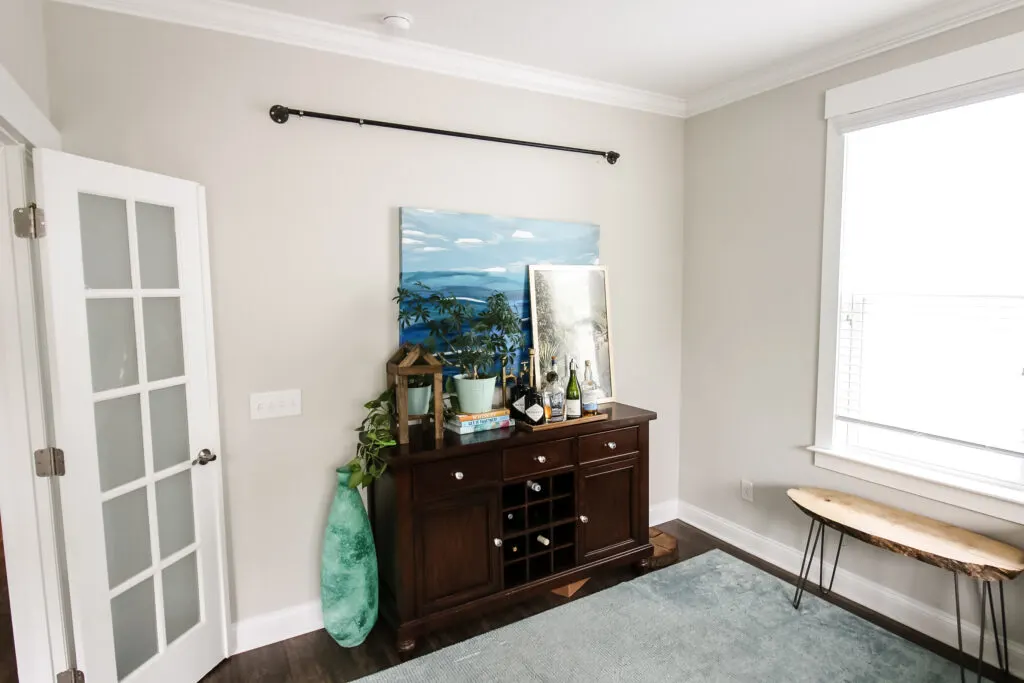 Second, we are going to add a simple wooden shelf over the door to the room. It's french doors, so it's a wide doorway, and this will be a fun place to store and display our collection of paperbacks.
Fan
The current fan in here is not my style and doesn't work right anymore. I am excited to replace it with a more modern version – the Fanimation Sculptaire. We love Fanimation fans and this will make all of the fans in our home being replaced with them!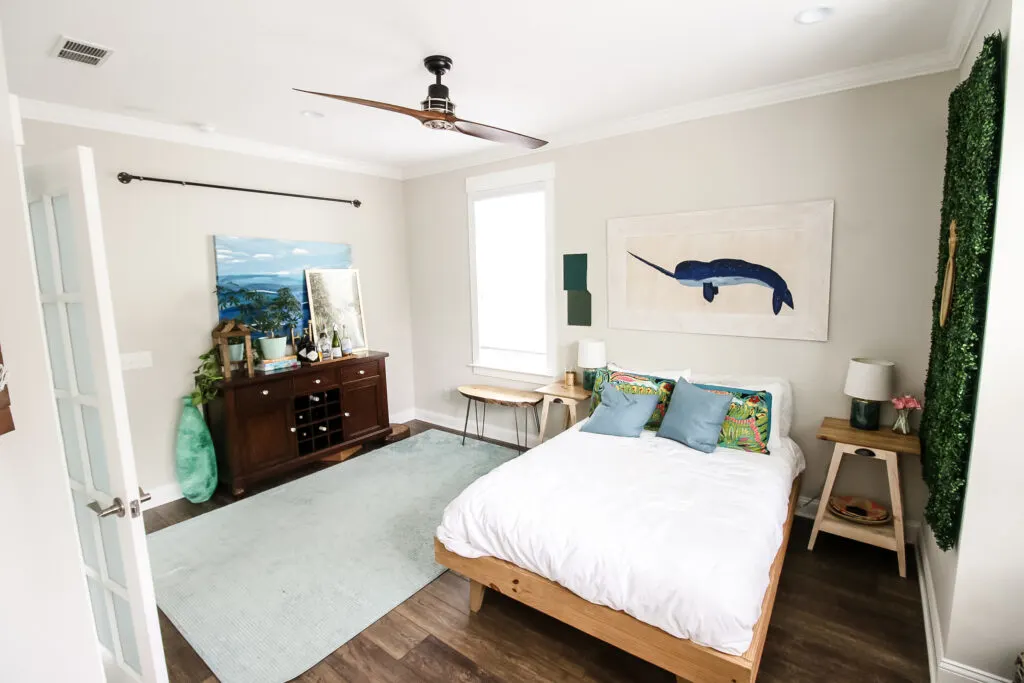 Art
I want a focal point in the room to be art over the bed. I ordered two large gold frames and printed a photo from our honeymoon at Lake Como split in half at 20″x30″. I hope it gives the space a lush tropical feel!
Vanity
Sean is going to build a vanity that folds down from the wall for guests to use to put on makeup or get ready without having to walk down the hall to the bathroom.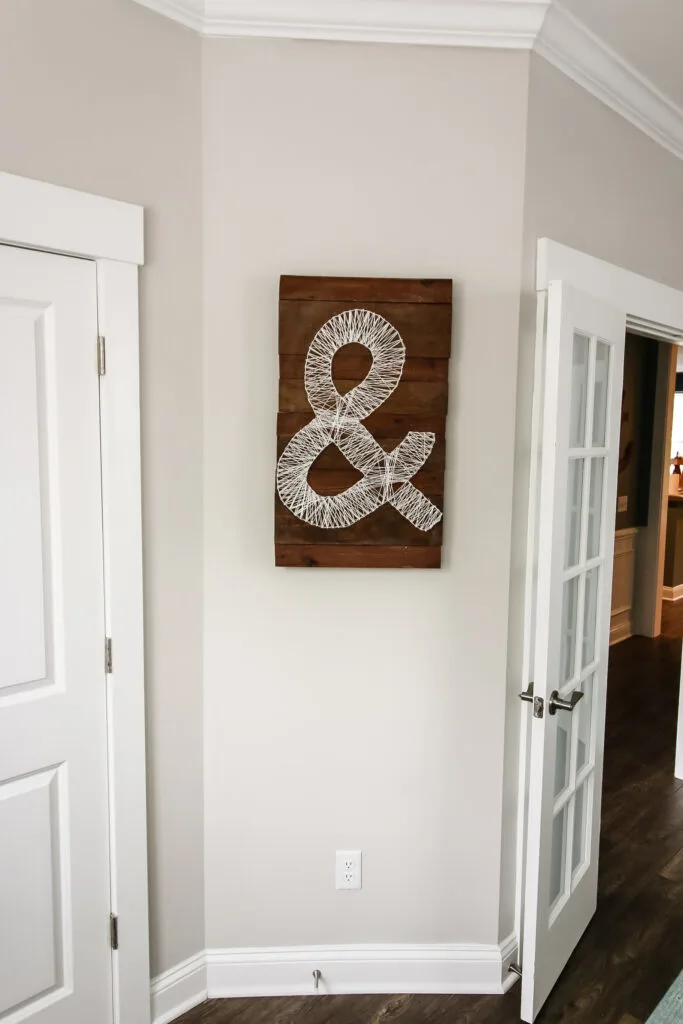 Rug
To be honest, the jury is still out on the rug situation. The rug that was in here was very dirty and stained (I think it was 7 or 8 years old!) and so we threw it out. I would love a large, thick, cream colored rug, but that might not be practical with our wild kids.
Closet
I love our home but one thing that I dislike is that this is the only closet on the first floor! We don't have a coat closet or a place to keep brooms or anything – just this bedroom space.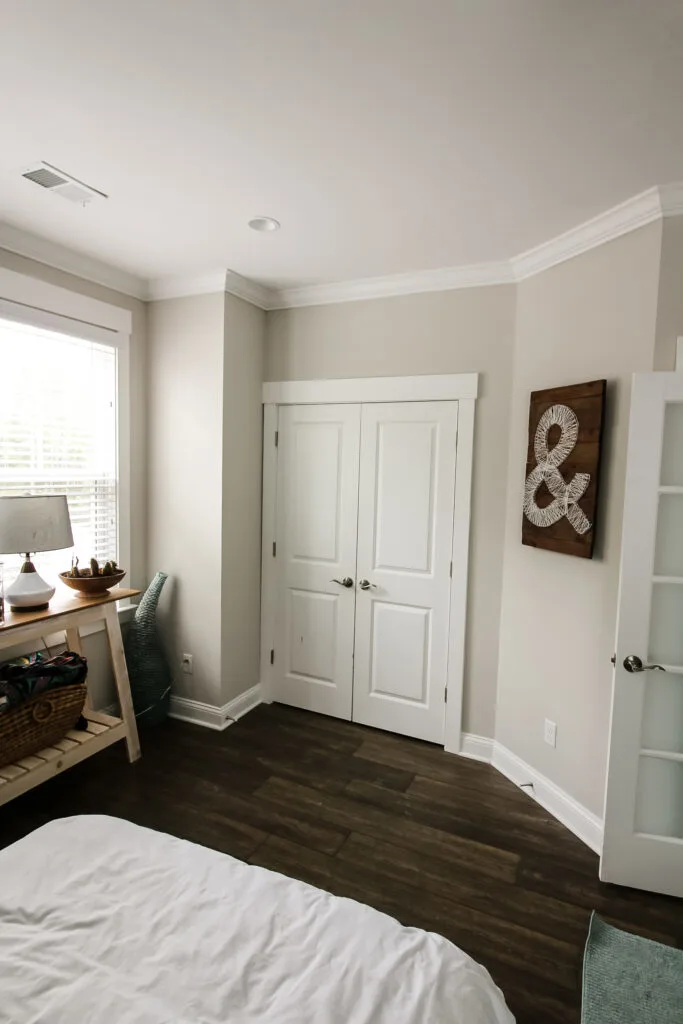 The closet has a weird angled wall and it's all exterior walls so we are limited to what we can do with it. But, we are going to add a wooden shelving system to improve it as best we can.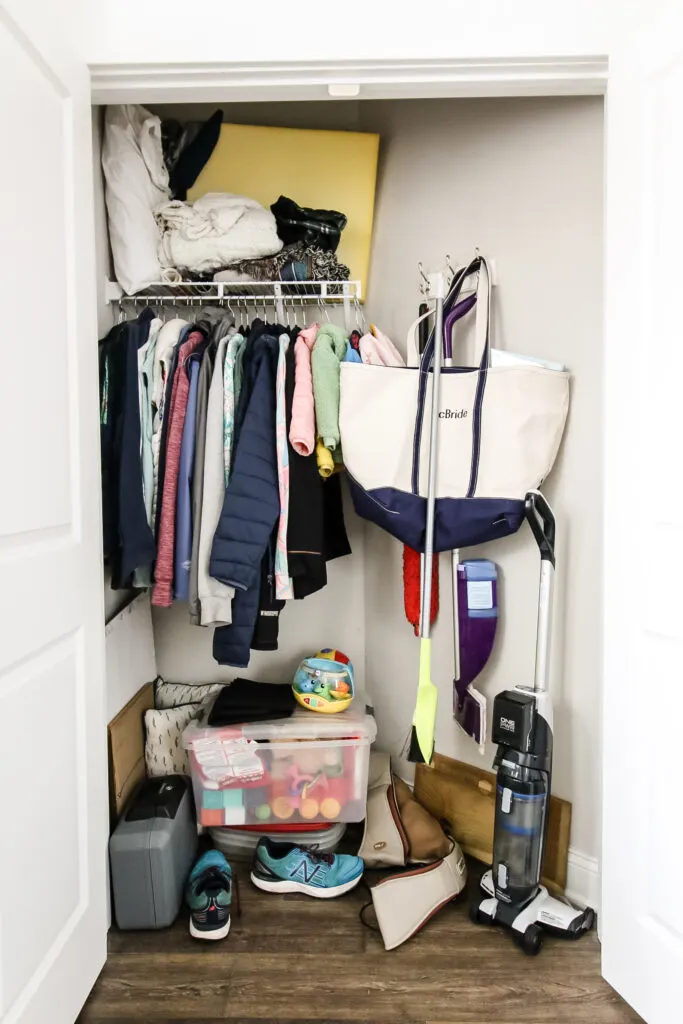 Throwback to the system we put in our entry closet at our old house!
Accessories
Other accessories and lighting for the space are TBD. Expect gold, green, houseplants, natural wood, and woven finishes. It should be fun!
Any questions about our guest bedroom plan?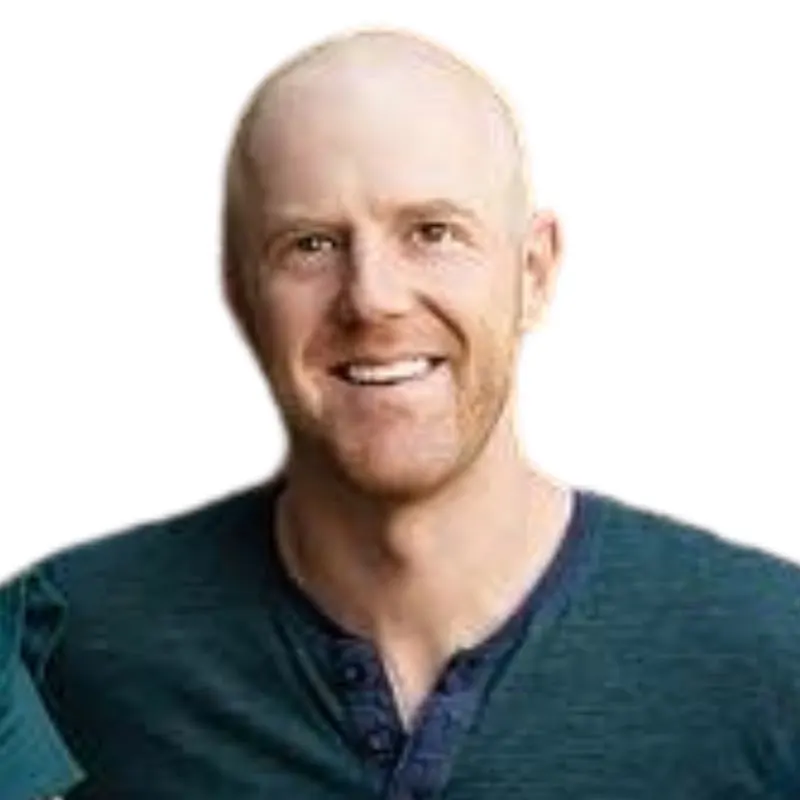 Hey there, I'm Sean, the woodworking enthusiast and builder behind CharlestonCrafted.com! Since 2012, I've been sharing the magic of turning raw materials into beautiful creations. I love teaching others the art and satisfaction of woodworking and DIY. I try to inspire fellow crafters to make something extraordinary out of nothing at all.