Looking for fantastic fireplace makeover ideas? Here are the best before and afters that you can find on the internet!
The fireplace is really the focal point of your living room. That can be a good thing or a bad thing, depending on the state of your fireplace!
Making over our fireplace was one of the first big projects that we did when we bought our home. This project is a great example of the fact that a fireplace makeover doesn't have to be expensive or difficult to make a huge impact!
DIY projects can be overwhelming – but a fireplace makeover doesn't have to be. While a full fireplace remodel might be a lot of work – there are tons of smaller things that you can do to customize yours.
White paint can make a huge difference in any home! Whether you have a red brick fireplace, stone fireplace, or even a wood surround, paint is always an easy and inexpensive option. Painted brick might seem scary – but it almost always looks modern and fabulous!
It also can be easy to add a strip of tile surrounding the fireplace insert. This is a great way to give your fireplace surround a modern look!
Another easy way to update your fireplace is by adding a wood mantel. This could be modern, rustic, or any design style.
I hope that these DIY fireplace makeovers inspire you!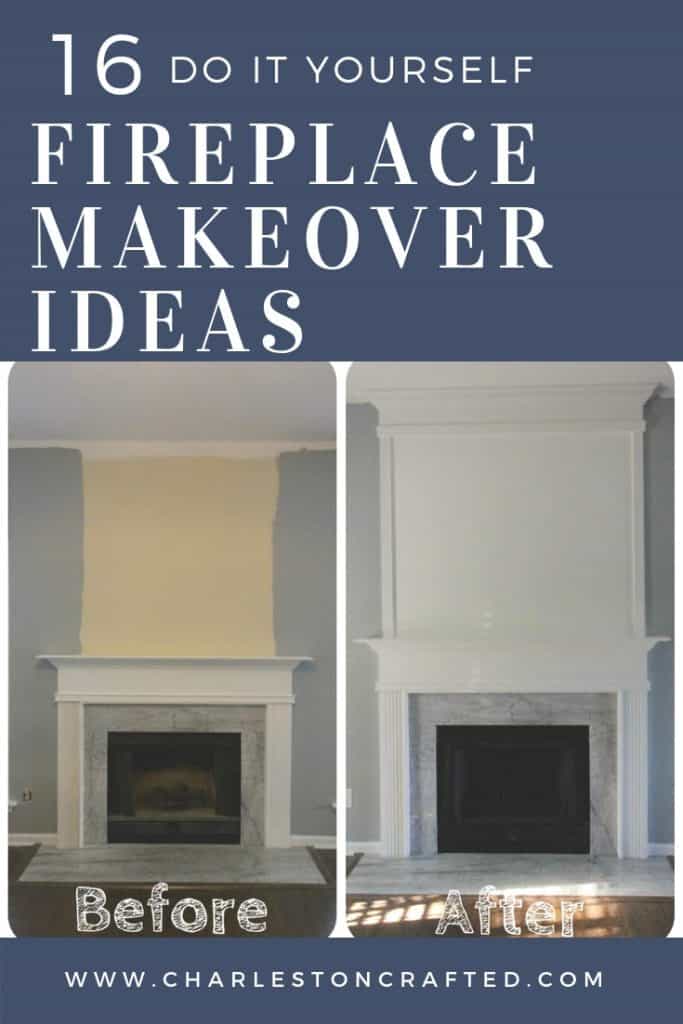 Here are the best fireplace makeovers on the internet! I hope they inspire you.
Amazing Fireplace Makeovers
A fireplace is often the focal point of your home. Let's make that a good thing with one of these amazing DIY fireplace makeovers!
Fireplace makeover FAQs:
How much does it cost to makeover a fireplace?
Pros can charge thousands of dollars to makeover a fireplace – especially if you need stone work done. However, you'd be surprised at how much of a difference you can make for the cost of one can of paint!
Do fireplaces add value to a home?
Surveys say, yes fireplaces add value to your home. But, an outdated fireplace could definitely turn off some buyers! If you are planning to sell, it might be time to refresh your mantel!
How do you repurpose a fireplace?
Can't have a fire? A fireplace is still a beautiful architectural feature. How about using it:
As a book shelf
With candlesticks
With logs – but add string lights instead of fire
Fill it with plants that don't need much light
Add an aquarium
Stack logs there just for looks
Cover the hole with decorative wood
Any more fireplace makeover questions for me?