Want to update your fireplace? Here is a tutorial for how we covered our granite fireplace surround with peel and stick tiles!
As a part of our fireplace makeover, we decided that we wanted to update the granite surround on our fireplace.
I actually got several comments on Instagram about how dare I cover nice granite with cheap peel and stick.
For the record:
This peel and stick is completely removable and won't damage the granite underneath. It's temporary.
Removing the granite and adding new tile would have been a BIG, hard, expensive project. We wanted something cheap and simple.
If you like the granite, good for you. I personally do not like the look of granite and I really didn't like this black granite in this space.
I am a firm believer that you should decorate your home for you. Don't keep something because it's "nice". If you don't like it, change it.
Unless you plan to sell your home in the next 2 years, don't worry about resale when making small cosmetic changes. Craft the home that the people who actually live in it will love and enjoy!
Anyways, rant over, back to the project.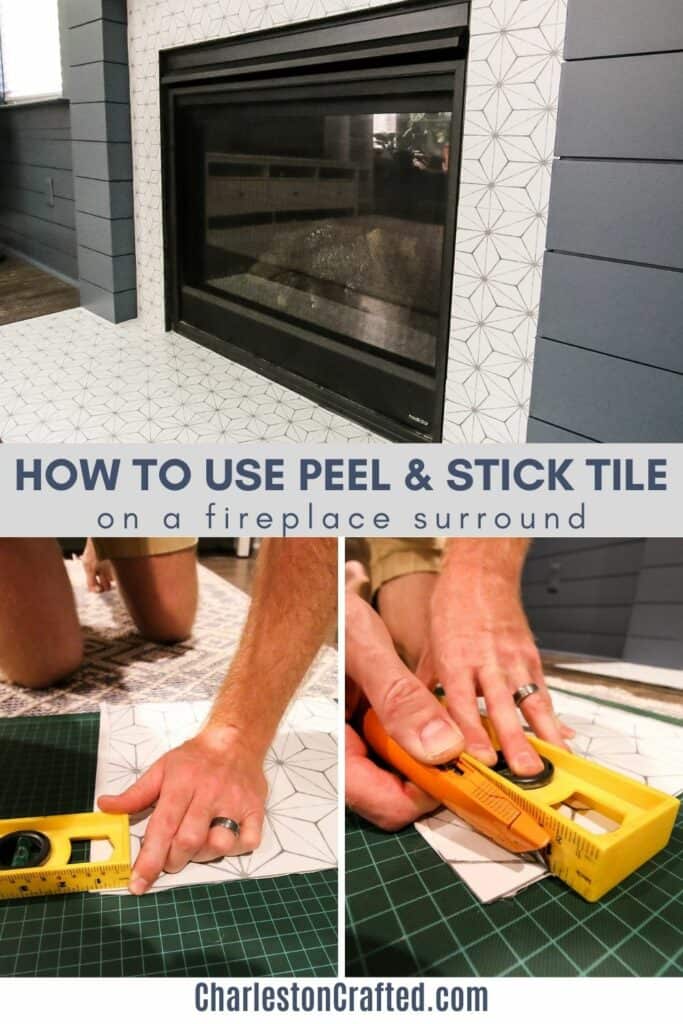 Can you tile over granite fireplace surround?
Yes, traditional or peel and stick tile can be applied directly over an existing granite fireplace surround. Just note that if there are seams or uneven areas in the granite, it may cause some issues in lining up the tile.
Can I use peel and stick tile on a fireplace surround?
This depends on your fireplace type and your tile sticker type.
If you have a wood burning fireplace then you need to follow very specific fire codes and not have anything flammable near the fire box.
The tiles that we used WILL NOT WORK FOR A WOOD BURNING FIRE PLACE.
Our fireplace is gas with a glass front. It's actually considered a "gas appliance" and no flames come out, there is no risk of ash or ember or a fire hazard.
In the newer version of our home's floorplan the builder is actually building them with no surround at all.
The biggest worry is that the heat of the fire could warm the adhesive of the tiles and loosen them so they fall.
This was a very inexpensive project for us (2 boxes of tile added up to right around $20) so it was worth the risk that they might loosen over time. We will re-assess if they do.
You can also purchase heat resistant peel and stick tiles. We will see if we regret not going that way!
Let me repeat – DO NOT DO THIS IF YOU HAVE A WOOD BURNING FIREPLACE OR ANY FIREPLACE WITH EXPOSED FIRE.
This would work great with a "fake" electric fireplace that's just basically a video of fire, too!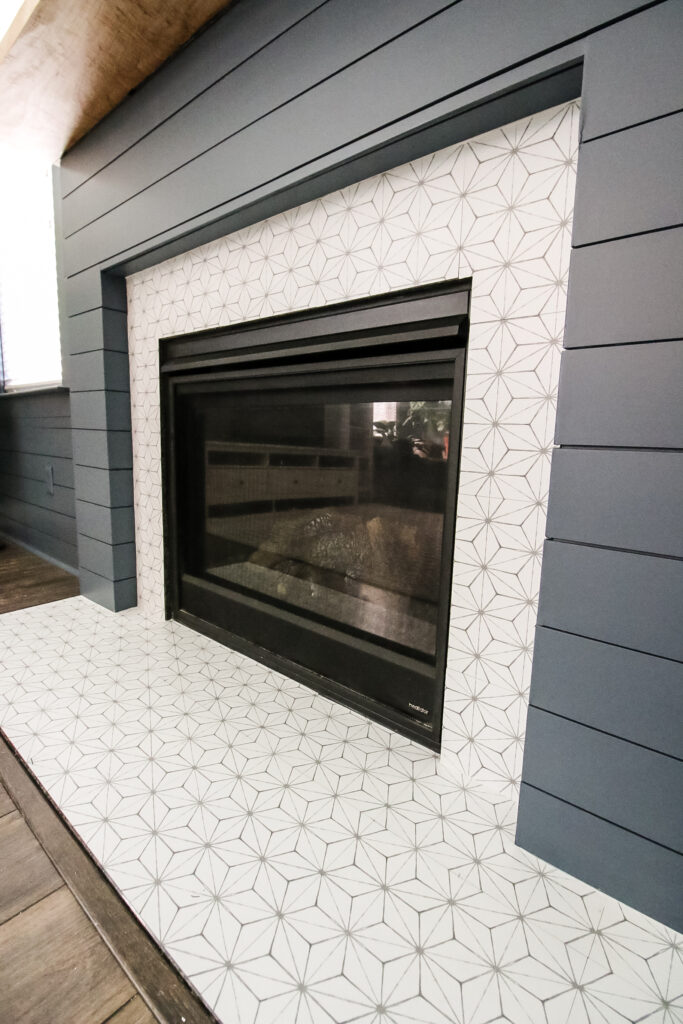 What are the types of peel and stick tiles?
There are 3 main types of peel and stick tiles:
We have used and LOVED peel and stick glass wall tiles in the past (you don't even miss the grout lines it's perfect).
But, for this project, we didn't want the added thickness. Those tiles are at least 1/4 inch thick and would look weird on the floor portion of our fireplace surround.
I looked for contact paper but couldn't find any with a pattern I loved!
We wanted this to be quick cheap and easy so vinyl fit the bill.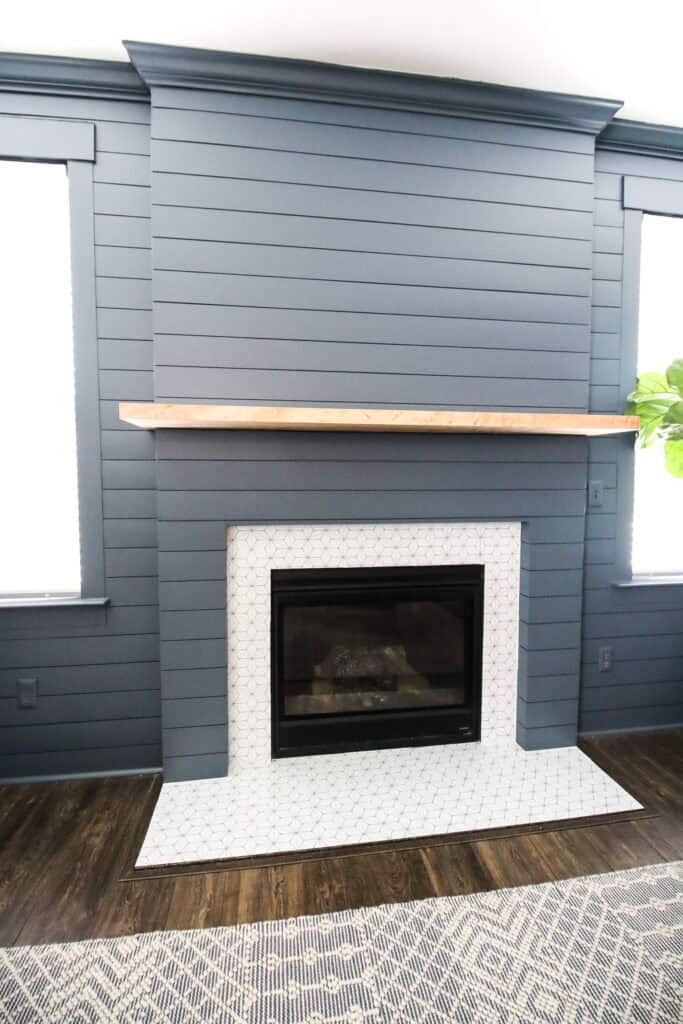 How to use peel and stick tile on a fireplace surround
What you need:
Peel and stick tile – I used these
Measuring tape
Pen
Cutting mat or cutting board
Straight edge like a long ruler
Utility knife
White caulk + caulk applicator
How to do a fireplace makeover with peel and stick tile:
STEP 1: Pick a starting place
Choose a starting place. We wanted our design to be centered, so we chose front and center on the flat portion of the fireplace surround.
STEP 2: Peel and stick
Peel the backing off of your tile and press into place.
Now, you will have some wiggle room here, but not much. The adhesive is very sticky.
Once set, press into place. We actually used a rolling pin to really press ours down well!
Then, grab the next tile, rotate to match the pattern, and repeat.
We did find some variance in the pattern from tile to tile, so definitely TEST them in advance to be sure they line up before peeling the backing.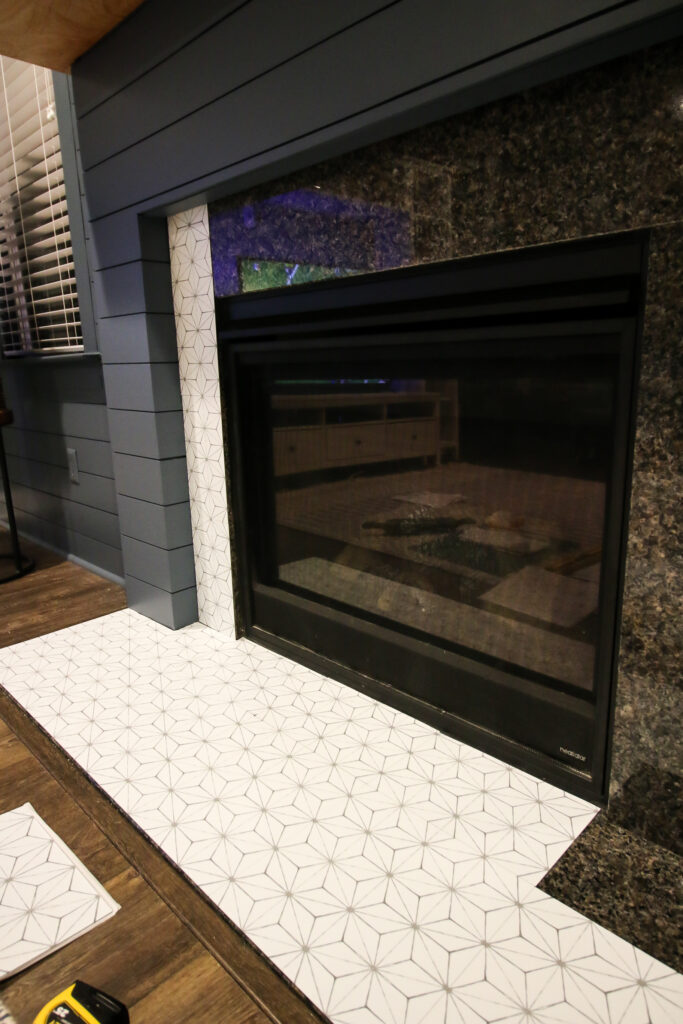 STEP 3: Repeat
Continue this process until your whole surface is covered. You will need to cut some of the pieces which is easy using a utility knife (see detailed instructions below).
STEP 4: Caulk the outside edges
Finally, we opted to add white caulk along the edges just for a clean look. This is optional, but something you would do with real tile, so a nice touch I think!
How to cut FloorPops peel and stick tiles
It's actually very easy to cut these adhesive tiles!
The hardest part is measuring your area, lining up the tile perfectly, and marking where you need to make your cuts.
Then, set the tile on a cutting surface. We have a cutting mat but a cutting board works, too. Pick something that you don't mind getting sliced.
Line a straight edge – like a ruler – along your marked line. Press the utility into the tile and cut along the straight edge.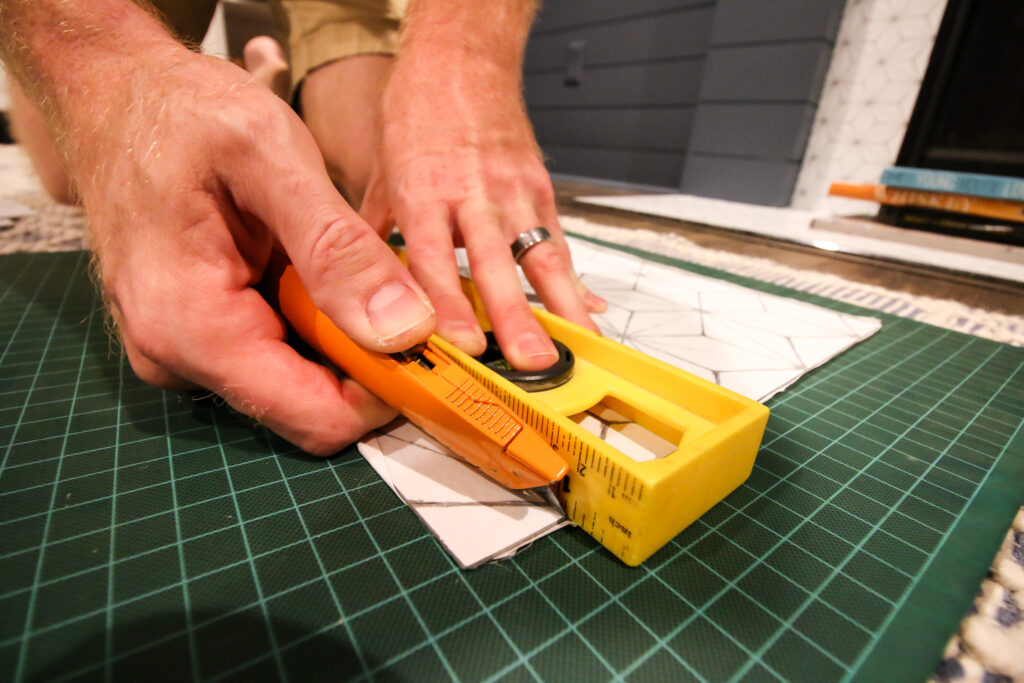 Your knife might jump at first, you have to get a hang of the cutting. It's great if you can do a practice cut.
I found that pointing the blade down at a 45 degree angle into the straight edge worked best.
Then, you can snap the cut portion off from the rest of the tile easily.
Position and stick to the wall.
Any questions about installing peel and stick fireplace tiles?!