One of the biggest traditions of Christmas is the tree topper. Here's how to make a DIY driftwood angel tree topper to enjoy all season!
I always struggle with what to use as a tree topper.
In the past, I have used a bow, a glitter starburst, some red birds and a DIY driftwood starburst.
This year I decided to mix it up once again with a DIY Driftwood Angel Tree Topper. It was super simple to make and is really precious!
Living in Charleston, South Carolina near the beach, we love using driftwood for crafts because it feels very natural and authentic.
We also love the aesthetic of the classic angel Christmas tree topper. So, we decided to make one and share it with you!
DIY Driftwood Angel Tree Topper
An angel Christmas tree topper made from driftwood is a great DIY project for the holidays. You can also use regular sticks instead of driftwood if you aren't near the beach!
Here's what you need and what you need to do to make one!
Check out how we made a wooden dowel Christmas tree!
What you need:
How to make a stick angel tree topper
Follow these steps to make your own angel tree topper from driftwood or sticks!
Step one- add wings
Start by selecting 2 sticks to be your wings. I picked some that were thicker on one end and slightly curved, but you can do whatever you like, of course.
Attach the wings to the cone using your hot glue. I suggest holding them for about 60 seconds to be sure that they dry tightly.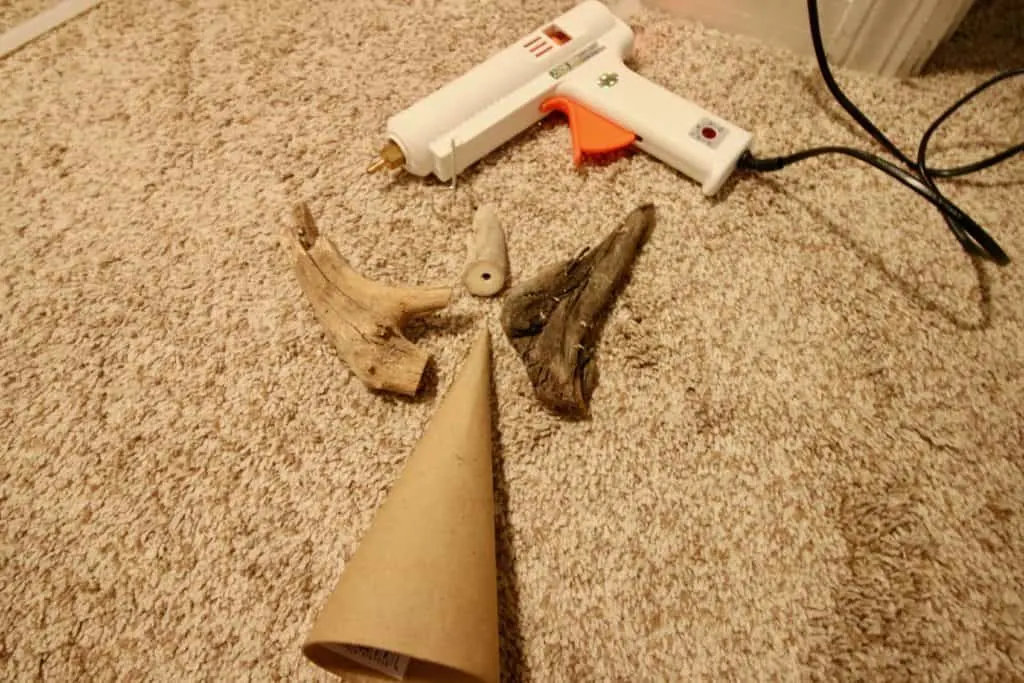 Step two: add sticks for body
Attach other sticks along the shape of the cone to create a dress-like shape.
There is no right or wrong way. I snapped sticks by hand to get them the right length.
Add these sticks in a vertical fashion to stretch the entire length of the cone and work them around the wings you added in step one.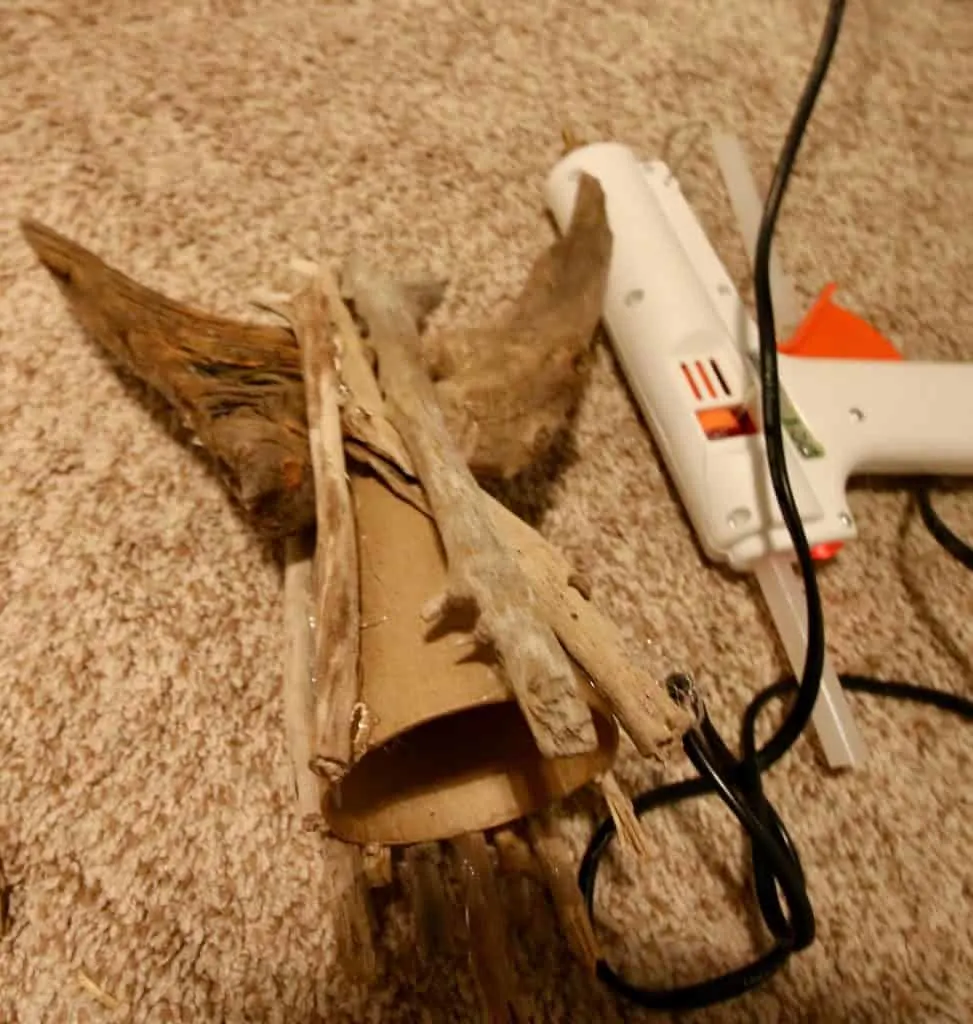 Step three: add a head
Finish off by adding a slightly thicker short piece of wood to the top of the cone to serve as the head. Glue this to the top of the point of the cone.
Bonus points if you can come up with a natural element to attach on top of that as a halo!
Step four: put angel on the tree
Now all you do is set the cone on top of your tree, and voila!
The open bottom of the cone allows it to slide right on top of the tree and sit in place. You may need to trim down the top branch so that the base of the angel can sort of sit on the branches below it.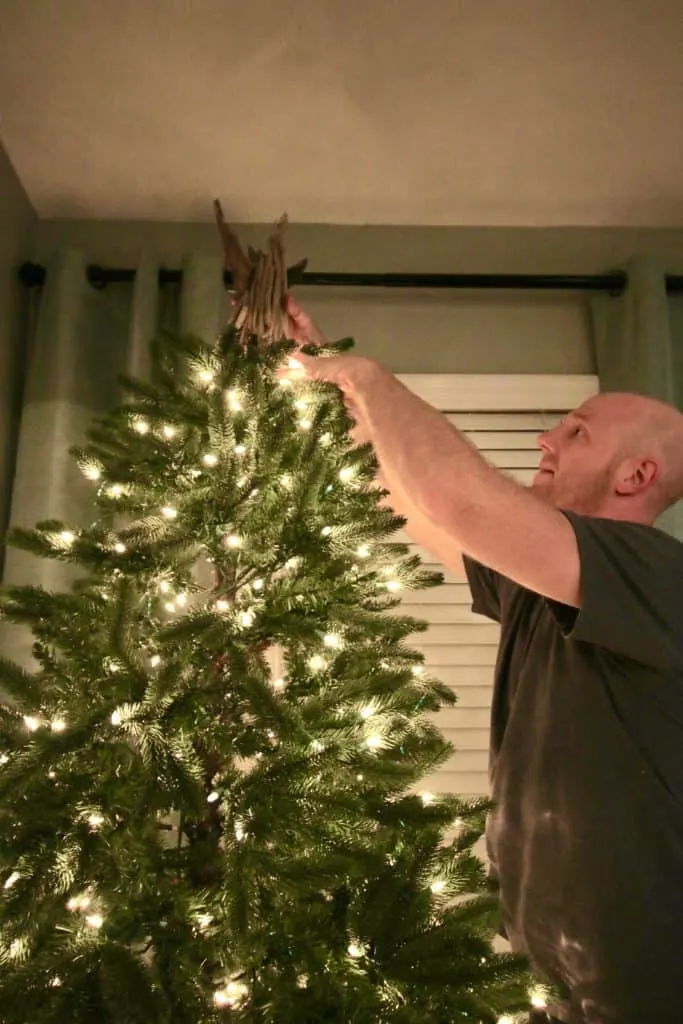 DIY angel Christmas tree topper made from driftwood
A DIY angel Christmas tree topper is a sentimental craft that you can use for years!
The angel tree topper is very traditional, but making your own makes it even more special.
Follow our simple tips to make one for yourself!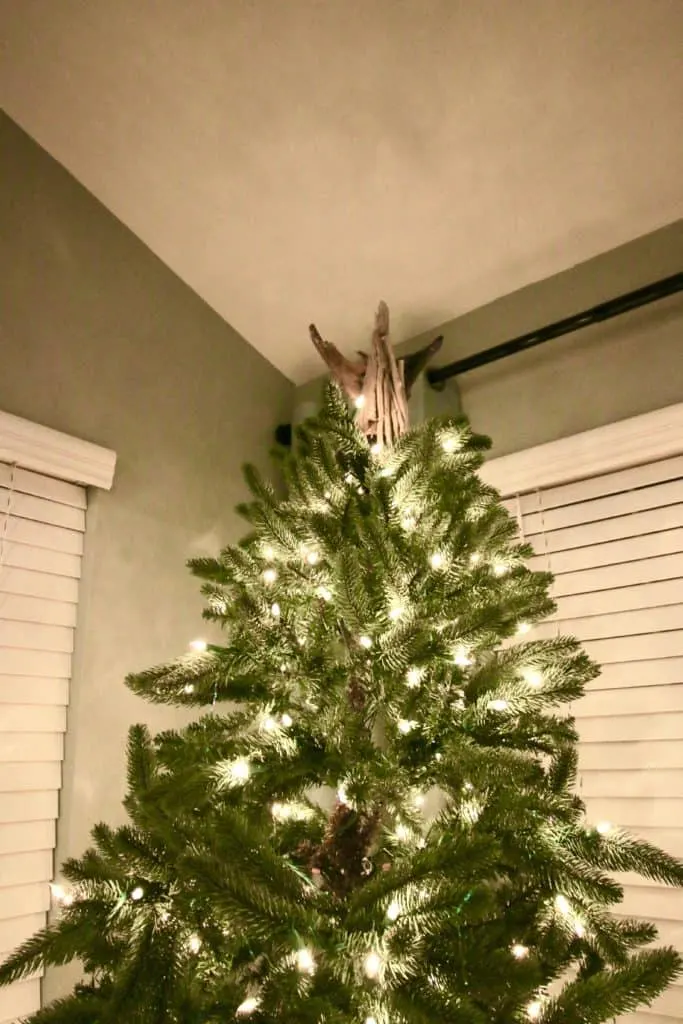 Before you go…
Make sure you check out some of our other holiday crafts that involve a simple cone form!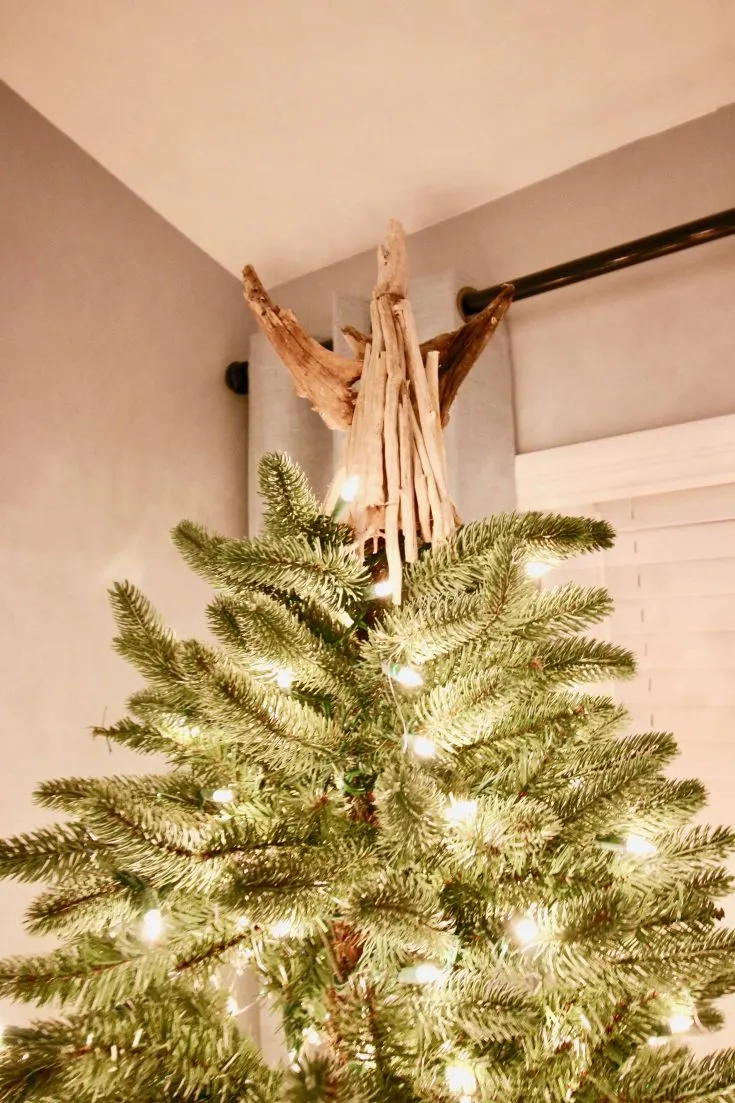 Yield:

1 tree topper
How to make a driftwood angel tree topper
Are you decorating your tree with a coastal or rustic theme? Check out this simple tutorial to make a DIY angel tree topper from driftwood or sticks!
Materials
Assorted sticks or driftwood
Cardboard cone
Hot glue sticks
Instructions
Select 2 sticks to be your wings. You want pieces that are thicker on one end than the other, with a curve being ideal.
Attach the wings to your cone with hot glue. Hold firmly in place until the glue has cooled - at least 60 seconds.
Glue other sticks along the cone to form the skirt and body. Snap sticks if they are too long.
Add a small nubby stick on top as the head.
Place on top of your tree and enjoy.
Recommended Products
As an Amazon Associate and member of other affiliate programs, I earn from qualifying purchases.
How do you top your tree?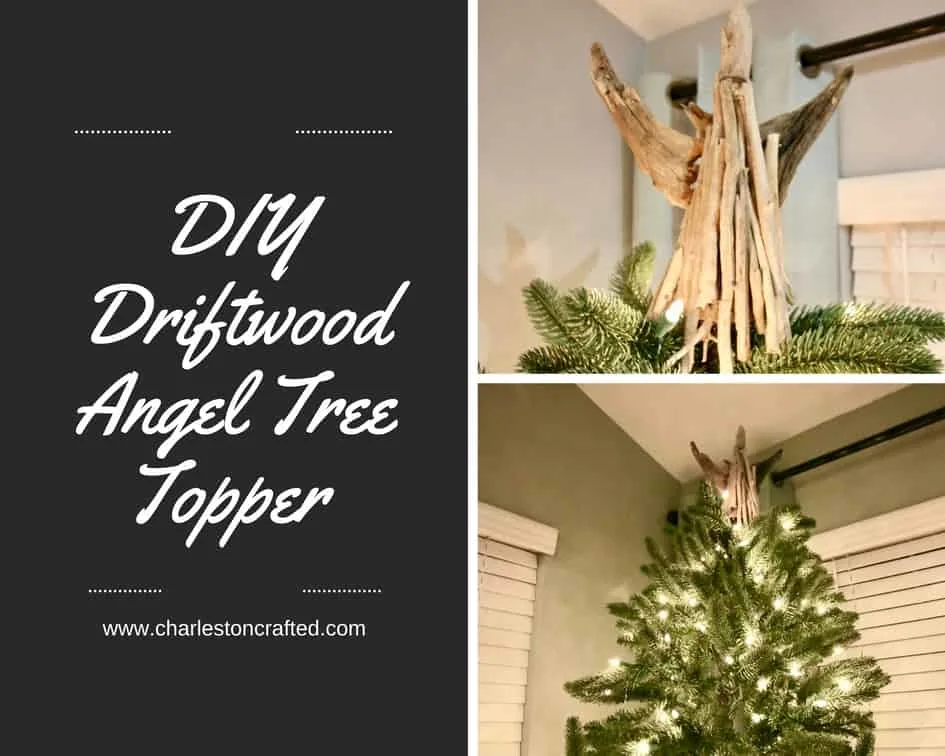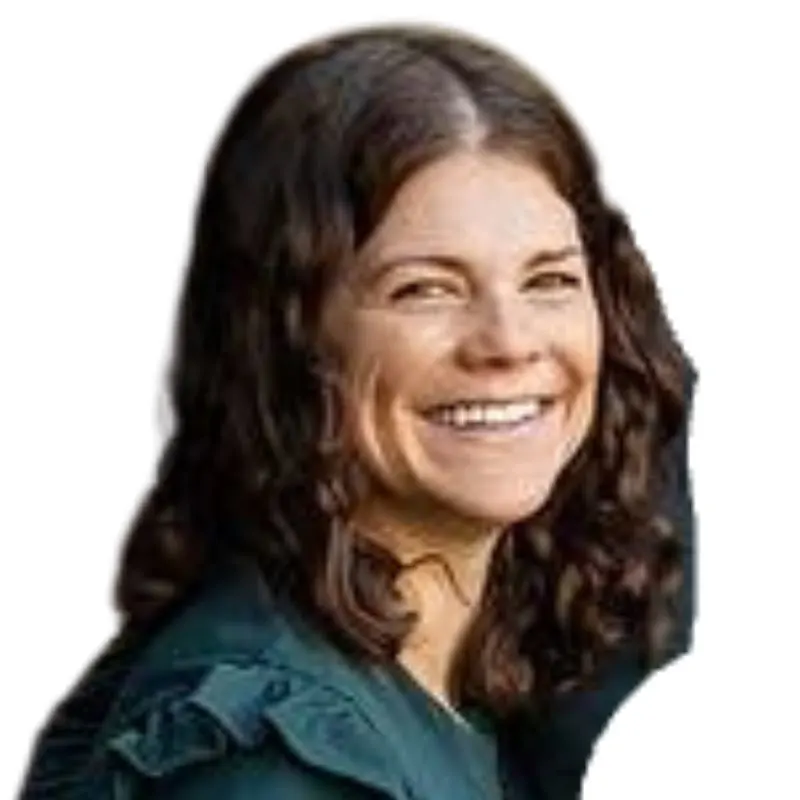 Hello, I'm Morgan, half of the creative force behind CharlestonCrafted.com! With a passion for DIY that dates back to 2012, I've transformed three homes and now I'm dedicated to helping others craft their dream spaces. Let's turn your house into a home together!