This shop has been compensated by Collective Bias, Inc. and its advertiser. All opinions are mine alone. #NutrishforCats #NutrishPets #CollectiveBias
We all know that cats ignore new toys in favor of the packaging that they come in. So, today I am sharing with you a DIY cat play pen made from a cardboard box! This is actually the box that my cat food came in, so it is the perfect two in one project!
Check out tons of ideas for DIY projects for your cat!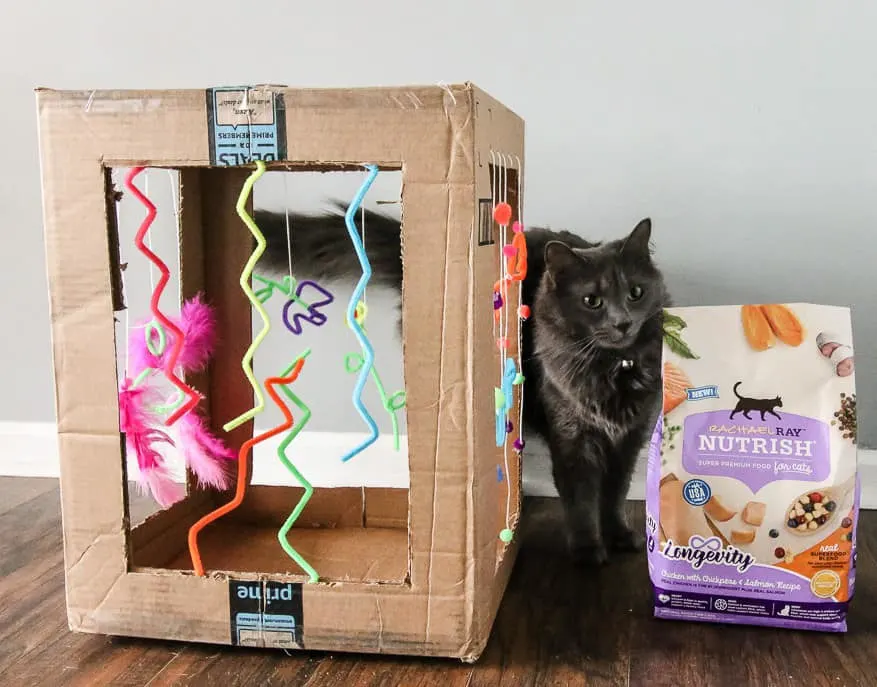 DIY Cardboard Cat Play Box
What you need:
Cardboard box large enough for your cat to fit comfortably inside
Packing tape
Box cutter or scissors
Craft supplies such as string, pipe cleaners, pom poms, and hot glue
What you do:
Use packing tape to completely seal up your box into a perfect cube.
Use a straight edge like a ruler and your box cutter or scissors to cut out the inside of each face of the box. I used a 2″ wide ruler to leave an even, 2″ frame around each face. Repeat on the 4 outer sides of the box.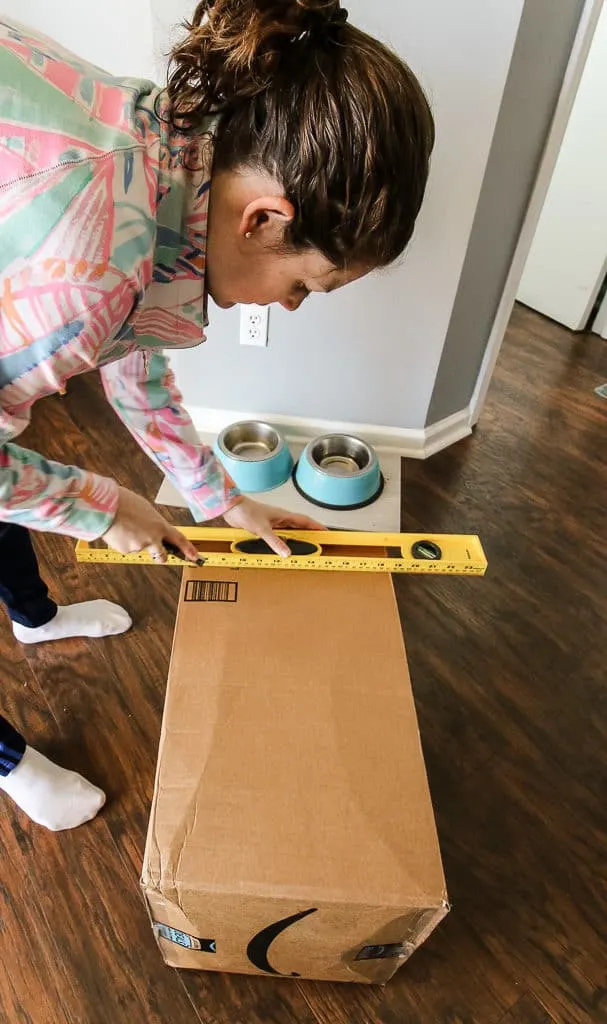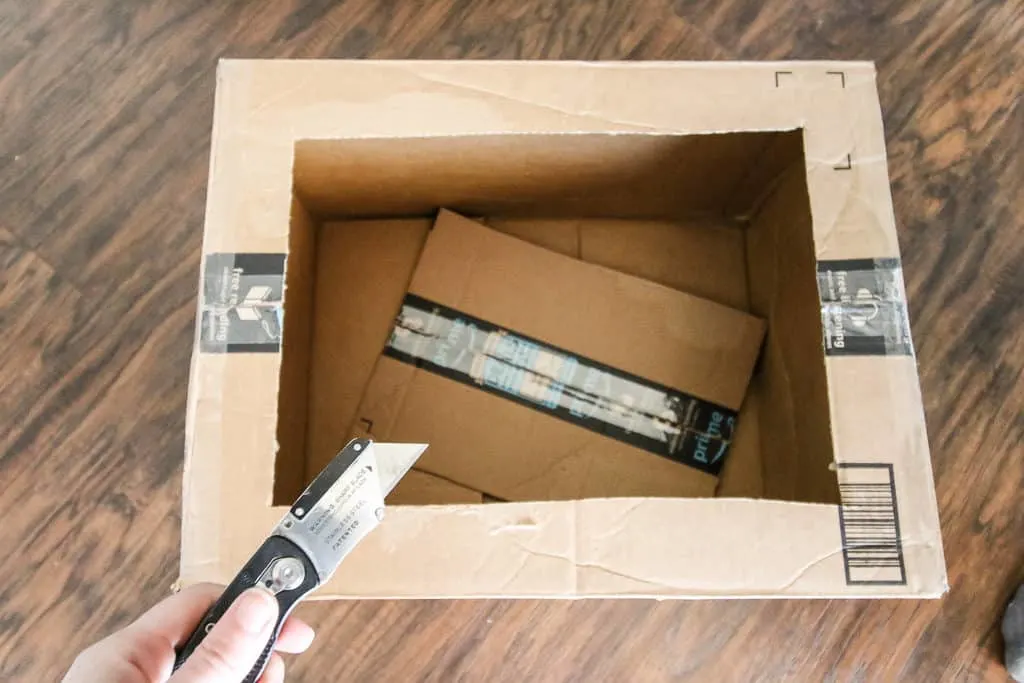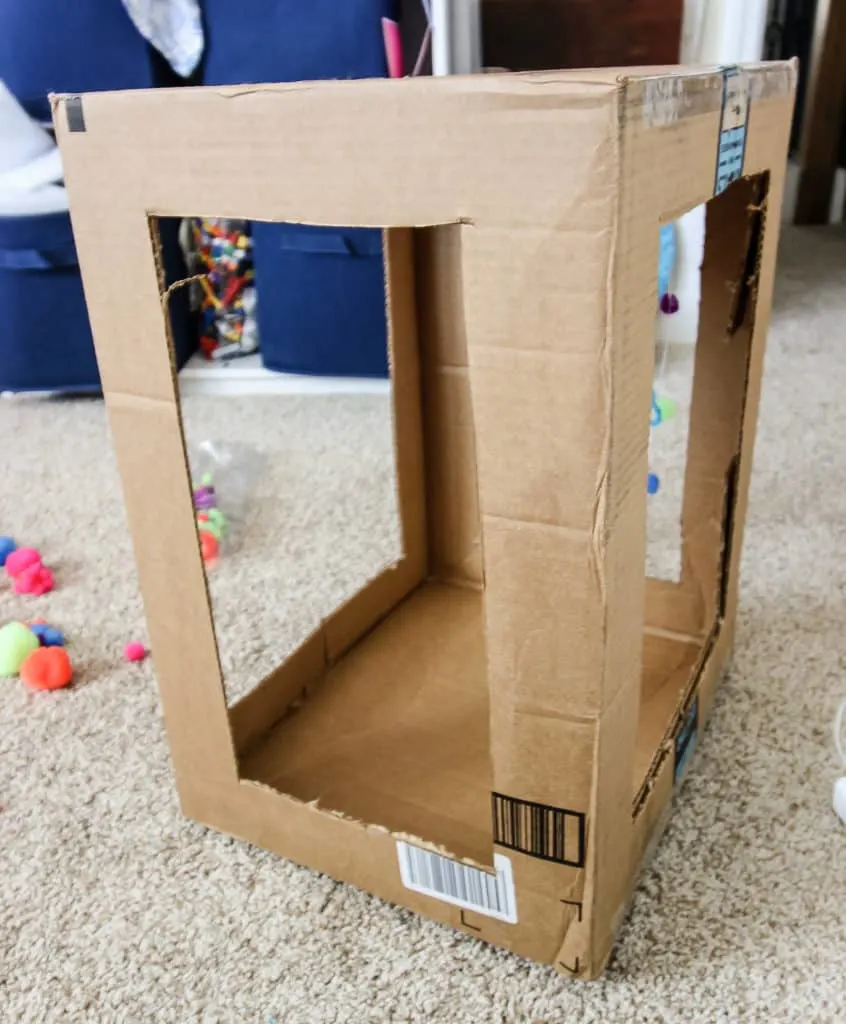 Now is the time to have fun with it! Use your craft supplies to add dangly excitement to your box. I made little pipe cleaner fish and birds and attached strings with hot glue. Go crazy!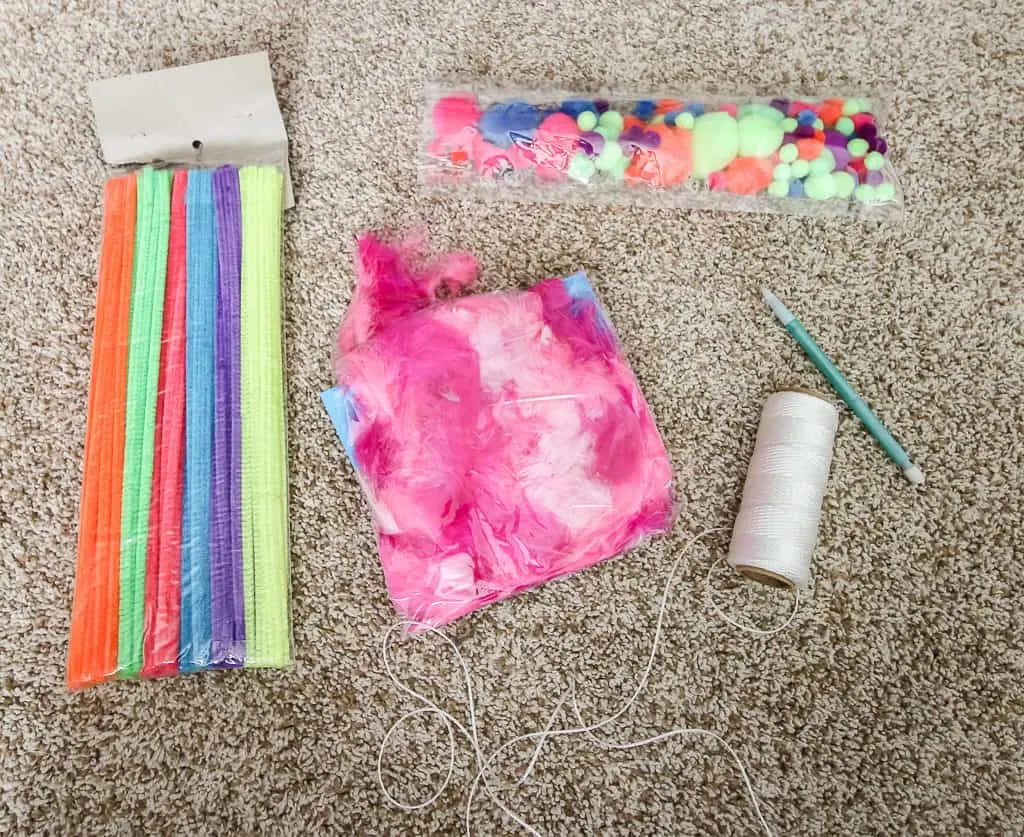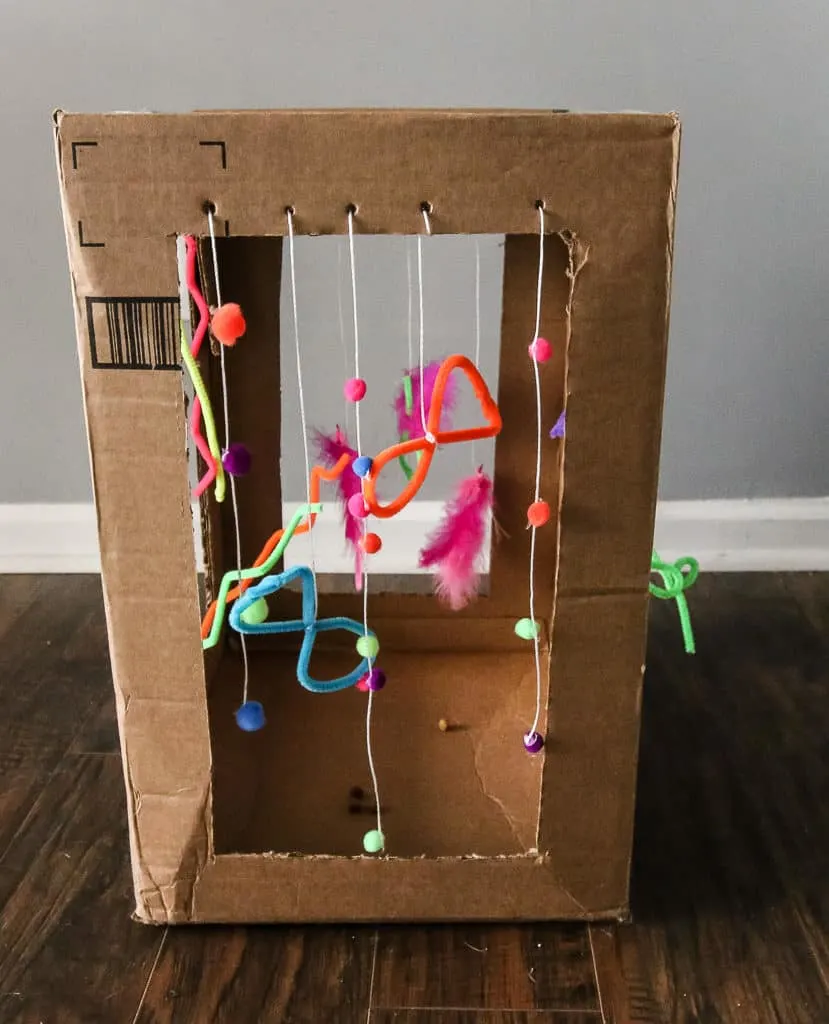 Let your cat play and work up an appetite.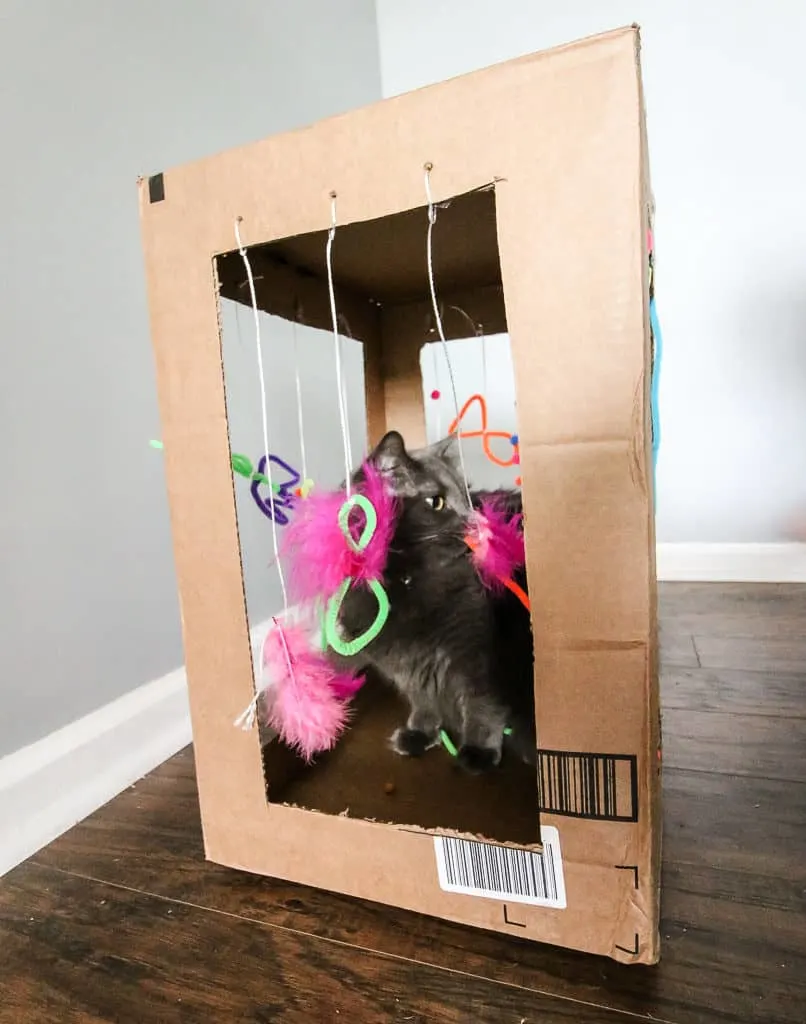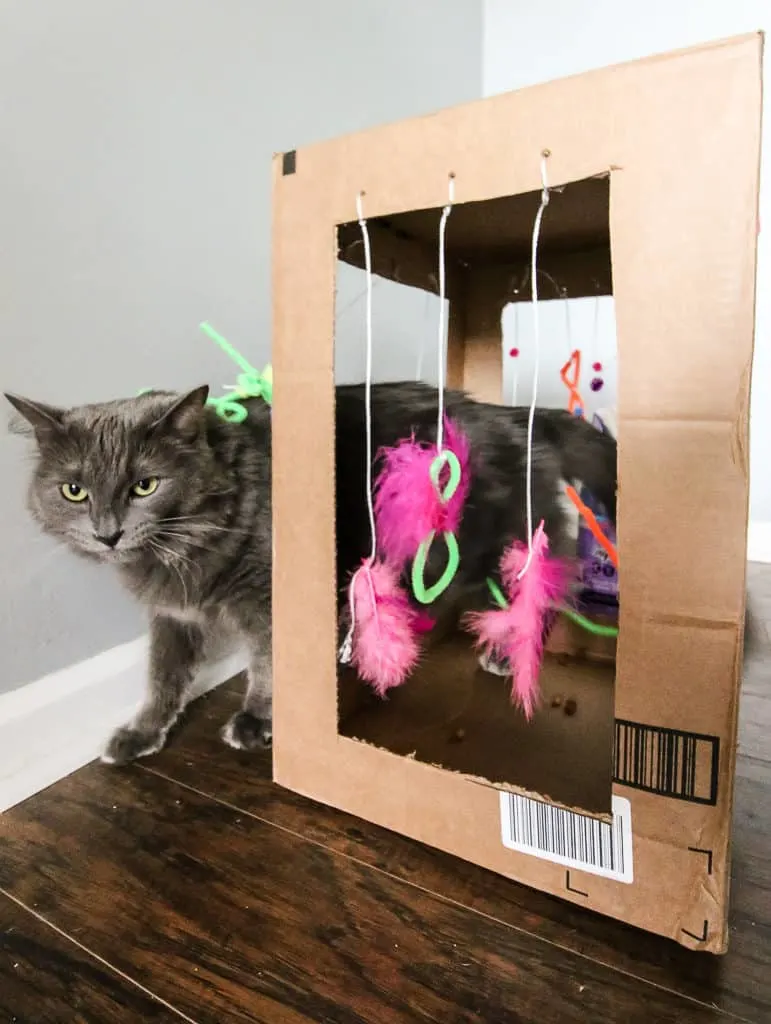 One she gets good and hungry, treat your kitty to Rachael Ray™ Nutrish® Longevity Chicken with Chickpeas and Salmon Recipe. Real U.S. farm-raised chicken is always the #1 ingredient, plus real salmon. It contains a real superfood blend for lifelong nutrition with a focus on your cat's heart, mind and body. Yummy recipes made with wild caught salmon, white meat chicken, or yellowfin tuna – accented with tender veggies and served in delicious culinary sauces. They are culinary classics… purrfected!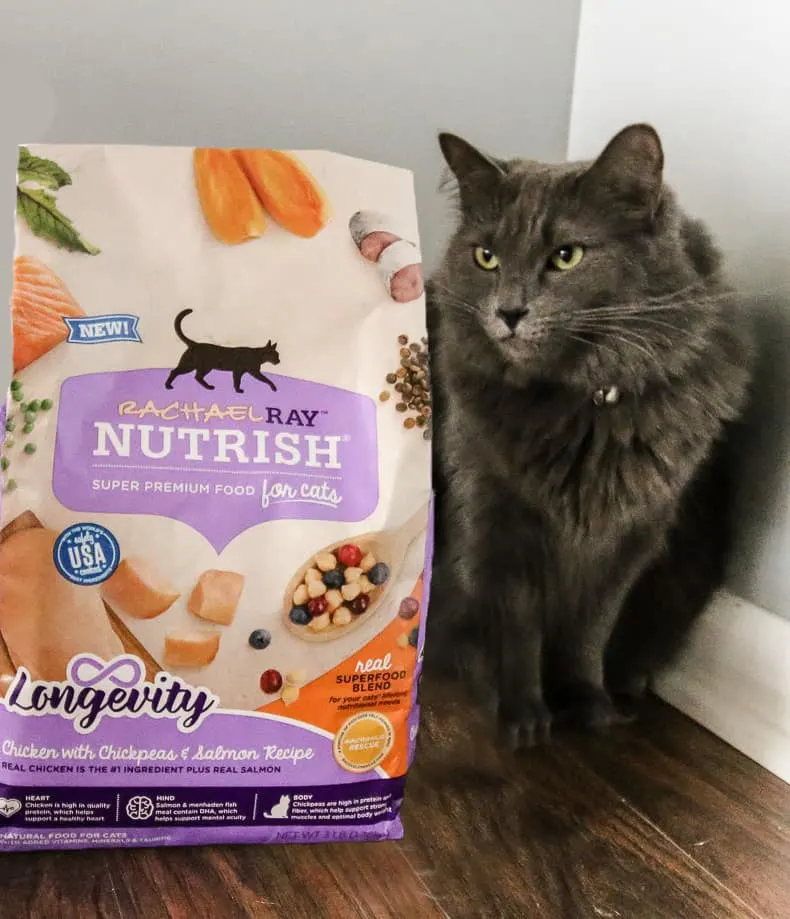 Even better? A portion of proceeds from each sale of Nutrish is donated to The Rachael Ray Foundation, which helps animals in need. Through December 2017, more than $23.5 million dollars have been donated to animal charities and other organizations that do good for animals. The funds are used for food, medical supplies, treatments, and more. Many more animals around the country need help, and through The Rachael Ray Foundation, together we can make a real difference in the lives of many four-legged friends. We have two rescue pets, so this really makes our hearts purr!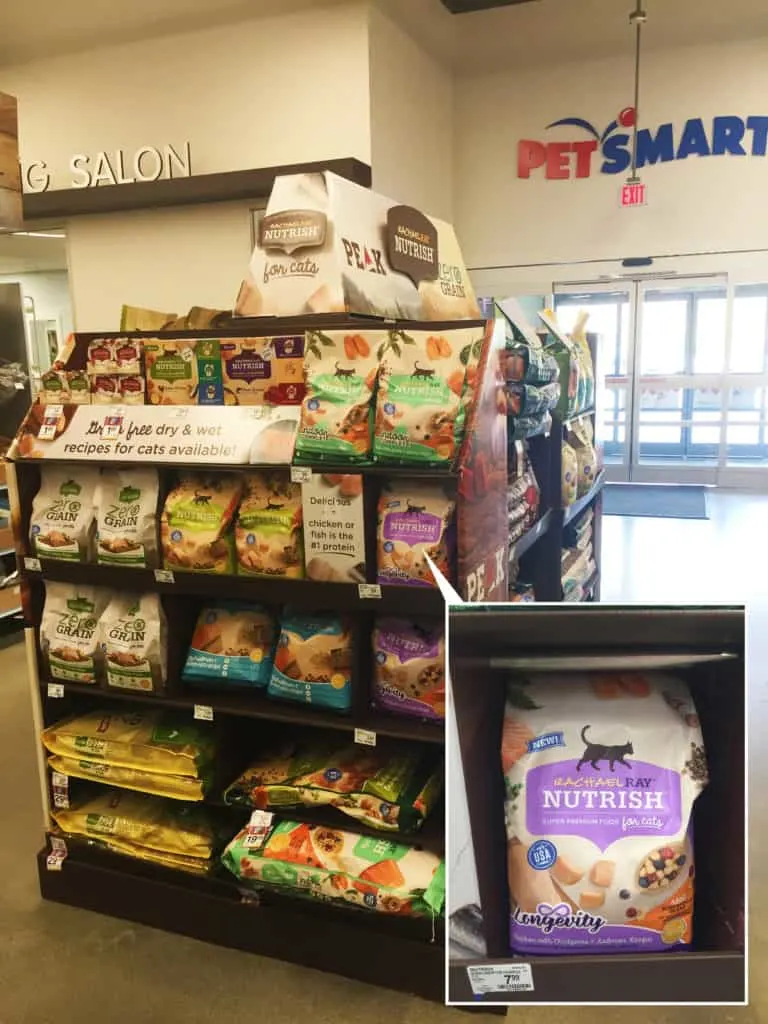 You can use this link to find Nutrish near you and use this coupon for some great coupons and deals!
Click here to check out our project on how to build a DIY self-filling cat food dispenser!