This post was sponsored by the Home Depot. All opinions are our own. Thank you for supporting the brands that make Charleston Crafted possible.
We just moved into our new home and we committed to keeping our home cleaner from the start than we ever did before. We had our home professionally cleaned before moving in and wanted to make sure it stayed that way.
The room in our house that gets the most use, and the most dirty, is our kitchen. We have a beautiful new kitchen with gas stovetop and are working hard to keep it as clean as the day we moved in.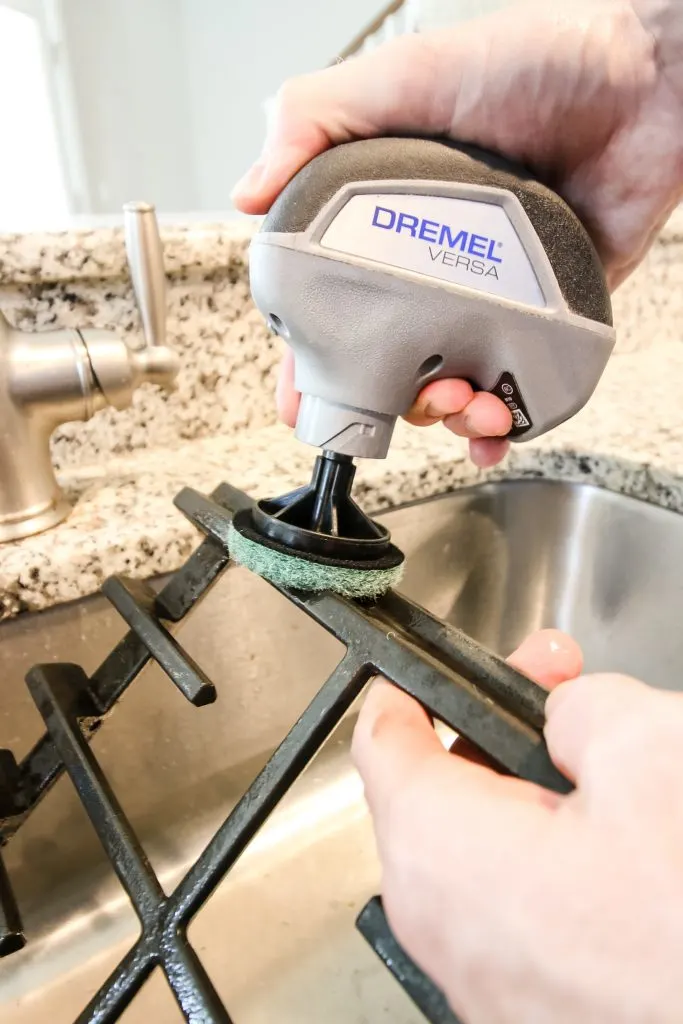 The best way we've found to do that is by using our Dremel Versa and the different attachments it comes with to power clean each part of our kitchen.
This tool makes it simple and easy to keep our kitchen professionally cleaned on a daily basis.
How? It is a power tool designed specifically for cleaning. I will compare it to cleaning your teeth with an electric toothbrush – it just does a better job and also takes less muscle and effort on your part!
We used the Dremel Versa to clean our grill when we shared with you how to build a DIY grill cart and we're back at it to clean our kitchen.
Our top cleaning tutorials
Dremel Versa
The Dremel Versa is a powerful, high speed cleaning tool that we use to tackle a variety of cleaning jobs in our kitchen.
The beauty of the Dremel Versa is its adaptability to different cleaning needs, thanks to its variety of cleaning attachments.
Is the Dremel Versa waterproof?
The Dremel Versa is water resistant! It was designed to be used to clean with water and can definitely take splashes. I would not advise submerging it in water.
How long does the Dremel Versa battery last?
The Versa includes a rechargeable lithium ion battery that should hold a charge for 18 months. It comes with a standard micro-USB cord that you can use to re-charge at home when needed.
Dremel Versa Attachments
Each Versa attachment screws into the base and then spins at a high-velocity to clean small dirty areas. Here's a few of our favorite Dremel Versa attachments and the best uses for each!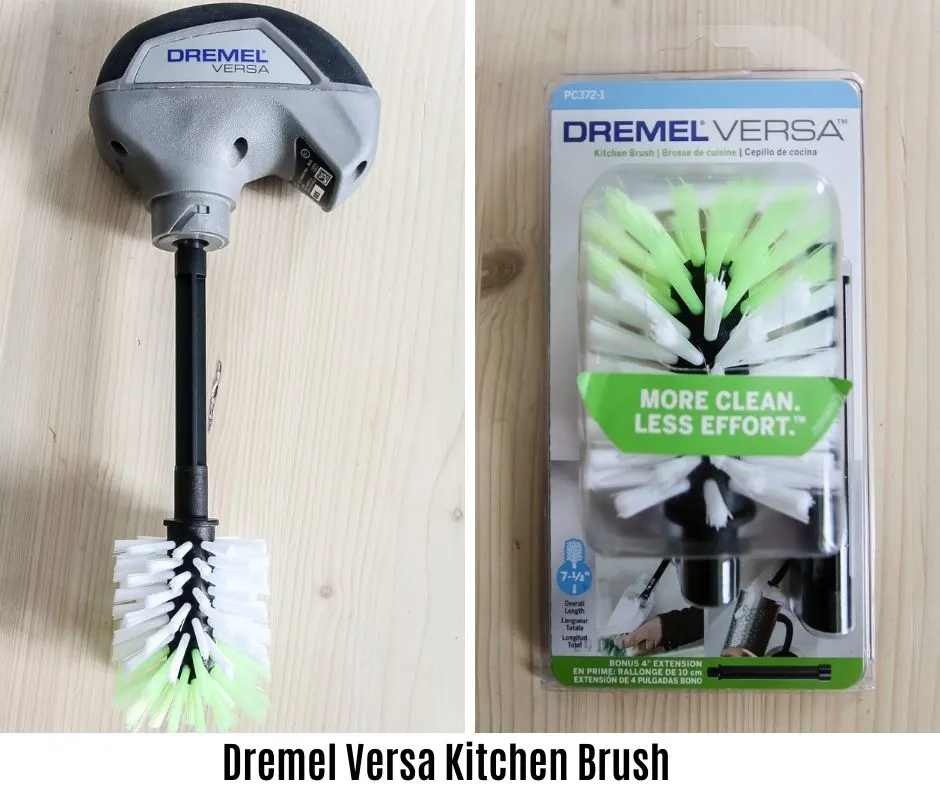 Dremel Versa Kitchen Brush
The Kitchen Brush is perfect for cleaning:
Glasses
Bottles
Mugs
Pots & pans
Dishes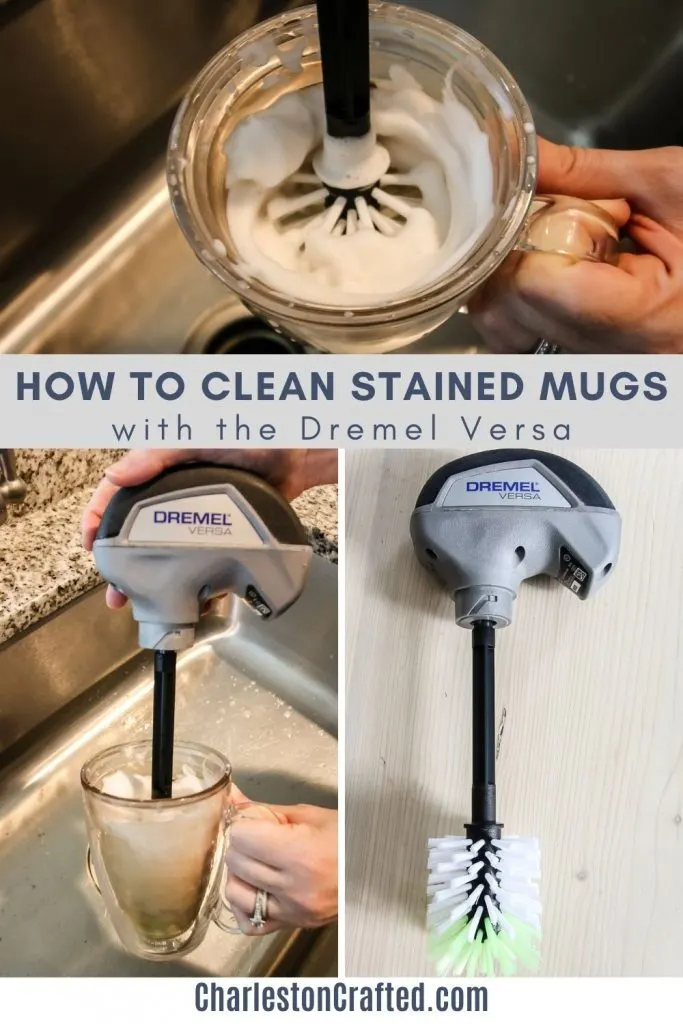 We used the Kitchen Brush to clean my tea mug. Warning: this is so embarrassing! This clear plastic mug used to live in my cubicle at work, and I never washed it. I rinsed it out but that was it.
Now it lives at home, but despite running it through the dishwasher and scrubbing it with a sponge, neither of us can ever get it clean. We thought this would be a great test to show you the capabilities of the Kitchen Brush.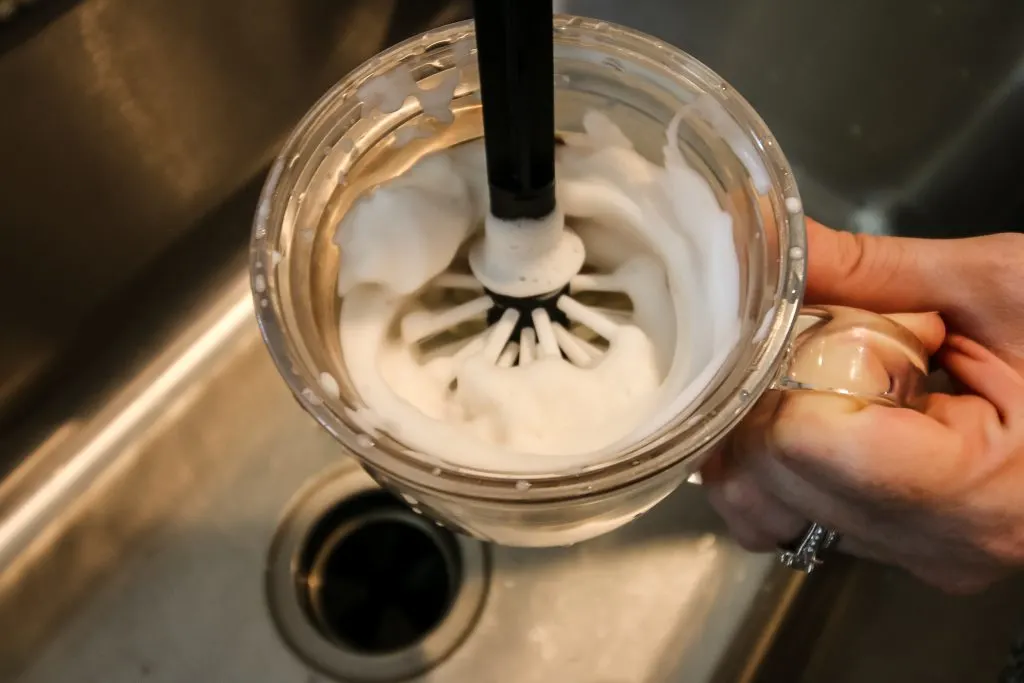 To clean a stained mug:
Wet the inside of the mug
Squirt dish soap into the mug
Put the Kitchen Brush attachment on the Dremel Versa.
Stick the brush inside the mug and press the button to power on. Apply pressure to the stained areas to remove all stains.
*Note – do not run the brush in a mug full of water. You will send water everywhere! Ask me how I know 🙂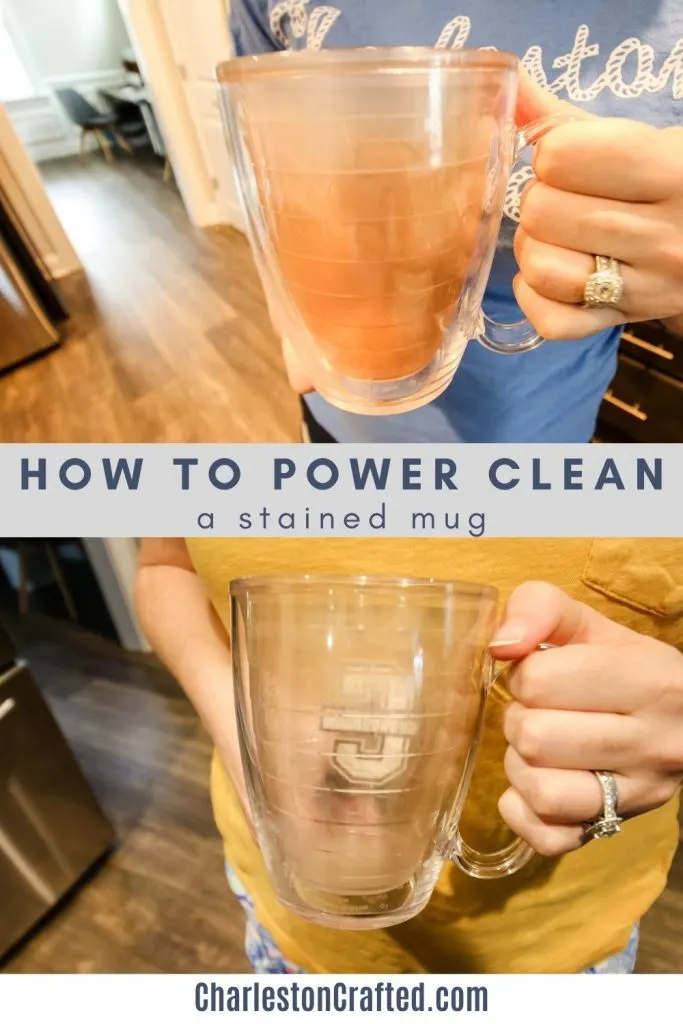 The difference is shocking! I am so glad that I discovered the Dremel Versa Kitchen Brush so I am no longer using such a nasty dirty mug!
Kitchen Scour Pad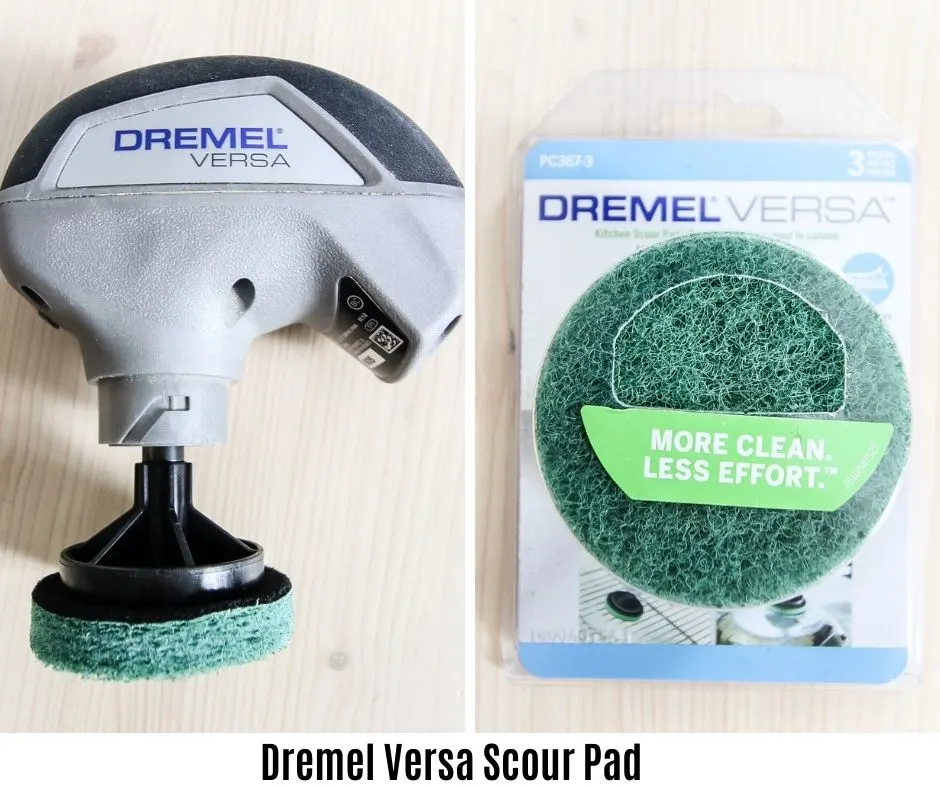 The Kitchen Scour Pad is perfect for cleaning:
Cookware
Stove burners
Oven racks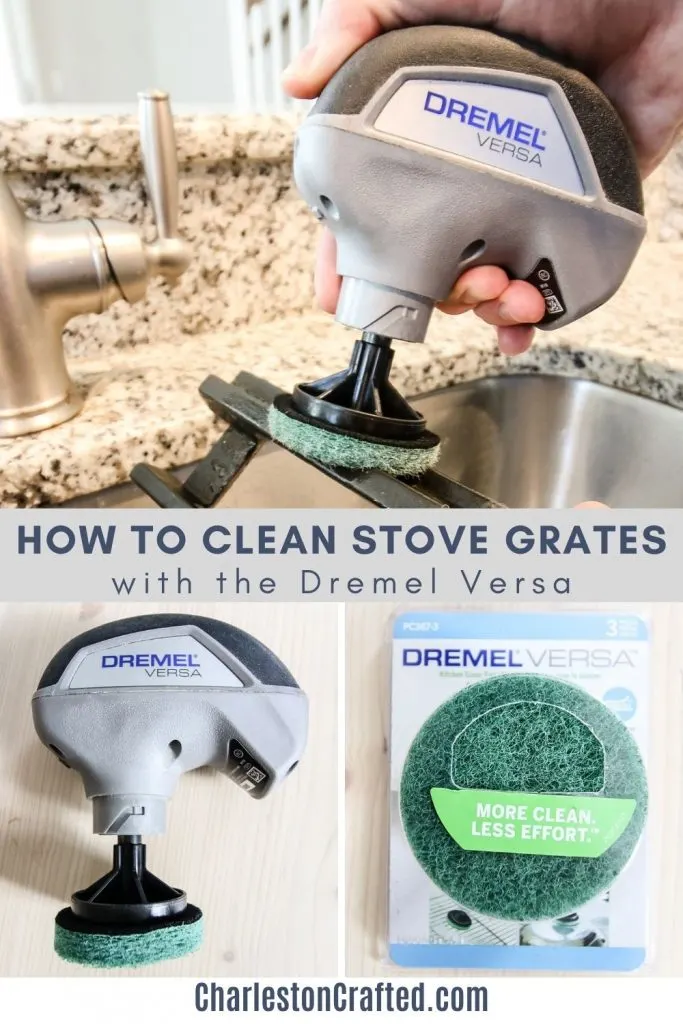 We used the scour pads to clean the grates of our stovetop. While we do our best to wipe these down after cooking, sometimes we forget or miss spots and the gunk gets caked on. Oil has a way of splattering and hiding.
This scour pad had great power! It did a fantastic job of removing baked-on food bits and shining up our grates and the stovetop itself.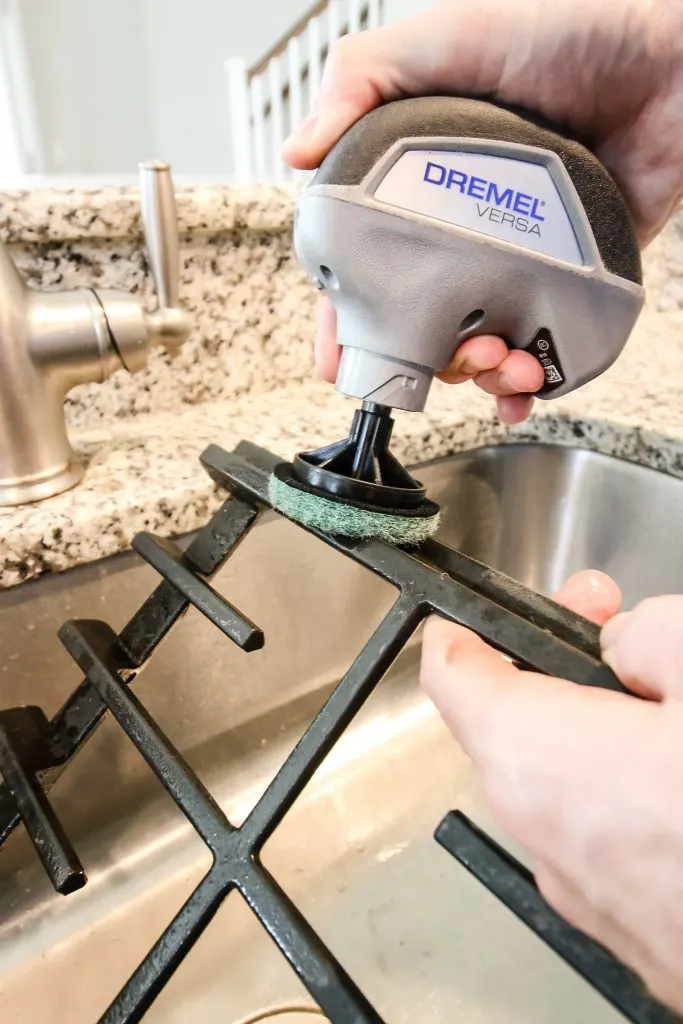 The toughness of the scour pad is perfect for working on metal surfaces, but shouldn't be used on certain types of pots and pans because it can wear off the coating.
To clean your stove grates with a Dremel Versa:
Remove the stove grates from the stove and place in the sink.
Attach the scour pads to the Versa.
Wet the stove grates.
Squirt dish soap onto the scour pads.
Power on the Versa and scrub the grates, paying special attention to any areas with baked on food.
Rinse the grate with clean water and set aside to dry.
Detail Brushes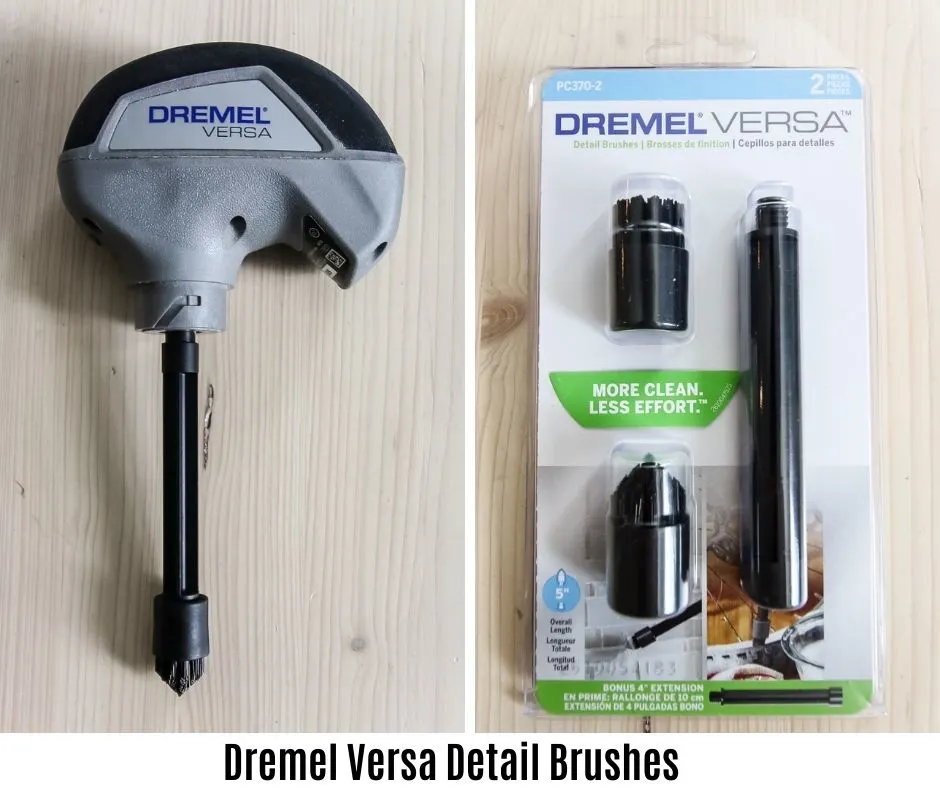 The Dremel Versa Detail Brush is perfect for cleaning:
Grout
Crevices on tiled walls or floors
Nooks and crannies on hard surfaces, plastic, or fabric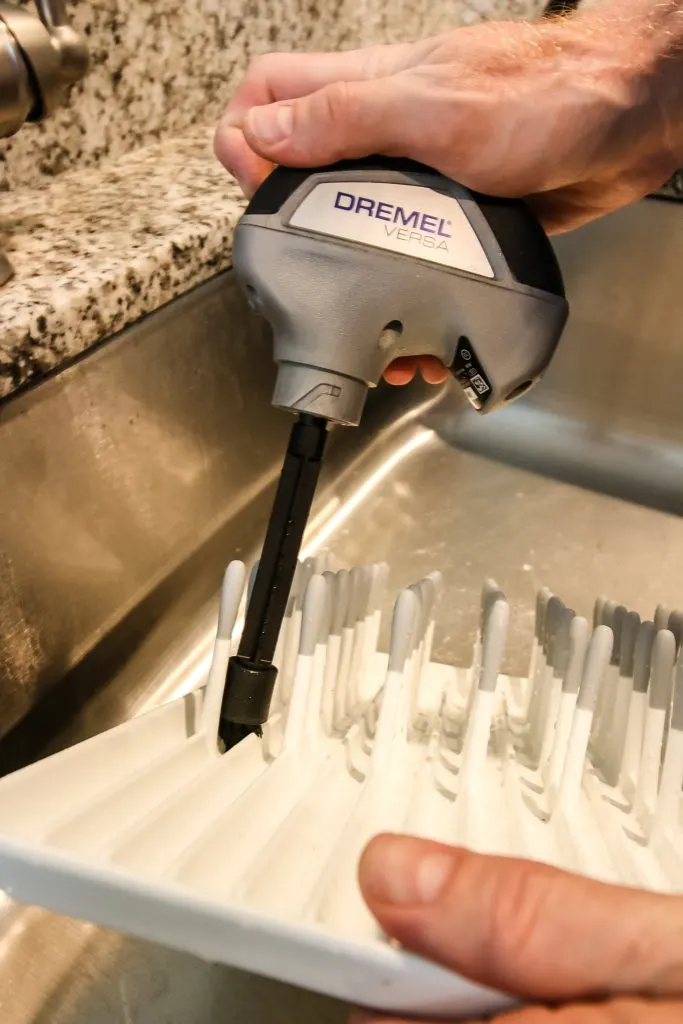 We used the detail brushes to clean out the grooves in our dish drying rack. Despite rinsing these and scrubbing with a sponge, we can never really get the grooves clean. They are always building up with water stains, mold and other gross stuff that you don't want near your clean dishes.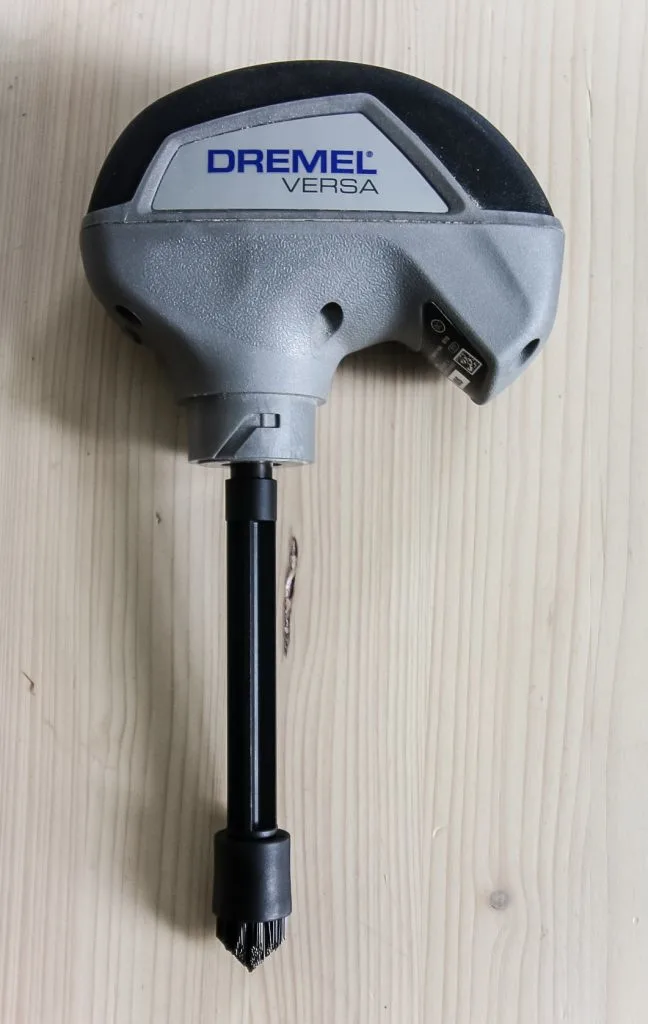 The Detail Brush has a great fine point brush perfect for getting into small areas. It worked into all the drainage grooves of our drying rack and cleaned them out.
Where to get the Dremel Versa
We got our Dremel Versa & all of the attachments at our local Home Depot store. You can also order it online for Store Pickup or Site to Home shipping!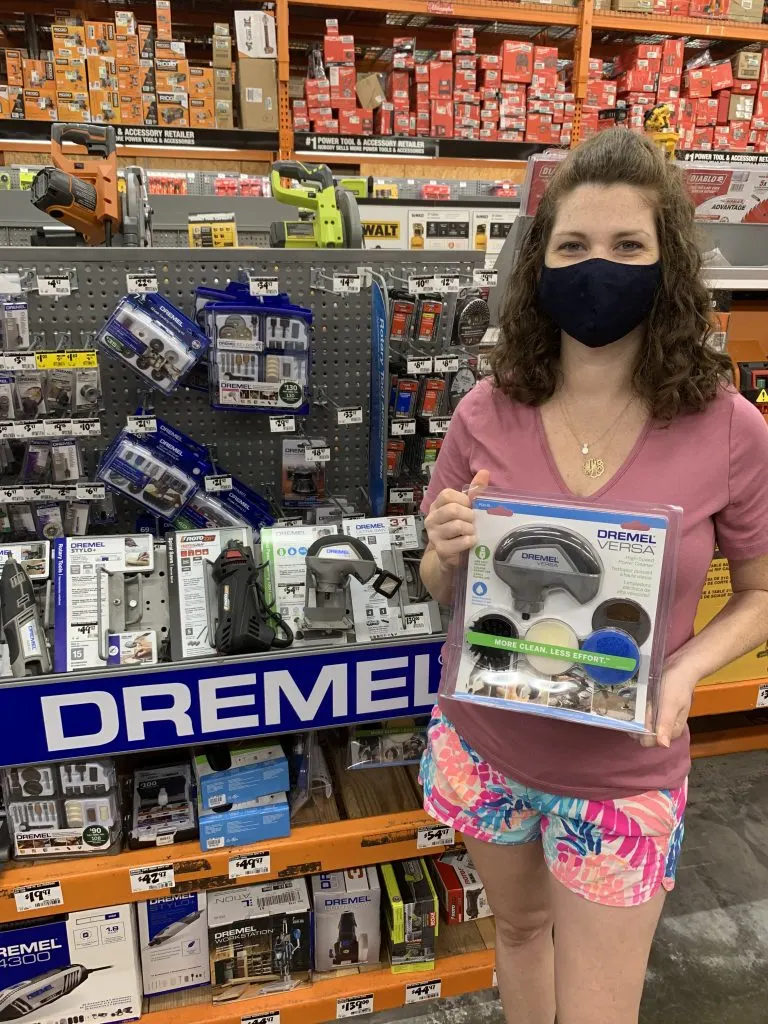 Our Conclusion
We really enjoy using the Dremel Versa to power clean our kitchen. The variety of accessories really helps us to make sure that every nook and cranny is clean.
The Versa-tility of the Dremel Versa is extremely beneficial and each of the attachments truly work to meet their needs.
Quit using so much elbow grease and let the power of the Dremel Versa do the work for you!