Sofa shopping? Costco has a surprisingly cute, quality, and affordable selection. Here are the best Costco couches that you could bring home this weekend!
It's that time of year when Costco put their furniture on display again! I am constantly impressed by the quality, price, and style of the furniture that they put on display at my local Costco.
I mean, who can resist diving into one of their beautiful display sofas.
I am the weirdo who keeps a tape measure in my purse, so half the time I find myself measuring and wondering if we could squeeze one into a corner somewhere.
Today I wanted to round up my favorite Costco couches!
There are lots of stores that sell couches, but Costco has some of the best deals on sofas, in my opinion.
I love how Costco stands by their products and quality with easy returns. Online shopping for furniture can be nerve wracking, so shopping with a store you trust is key.
Be sure to check out my other posts on my favorite Costco furniture:
A lot of the sofas at Costco are sectionals, but they also have sofa sets for sale! I found all of these furniture deals online at Costco.com.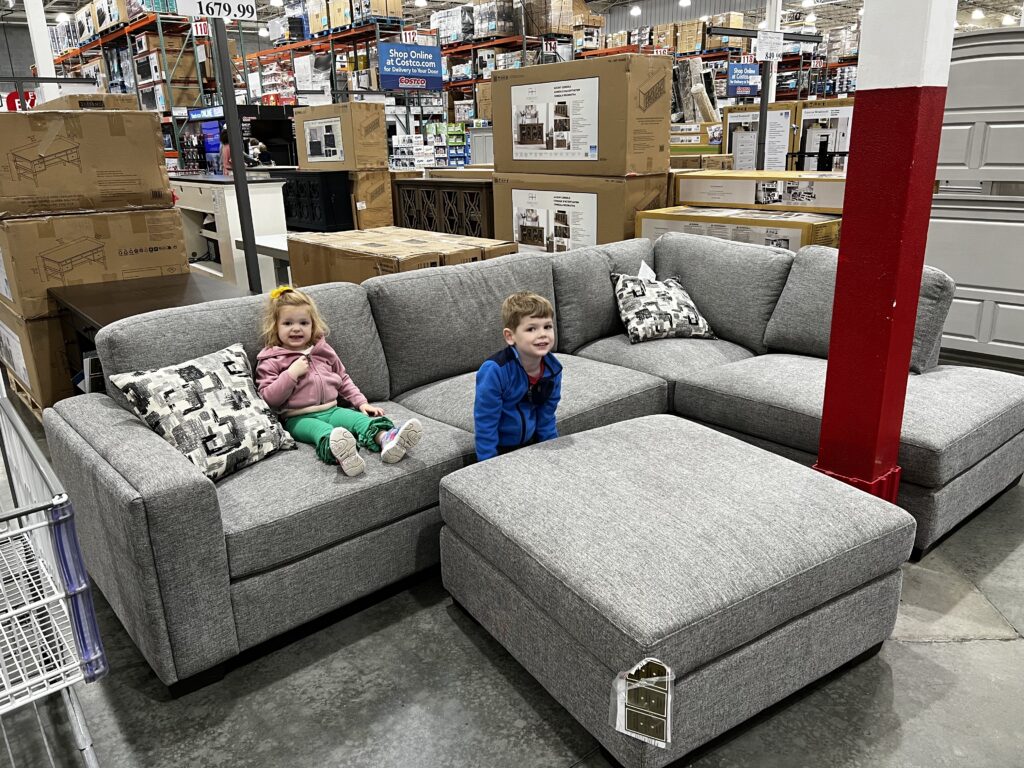 What time of year does Costco have couches?
Costco gets couches (and all furniture) twice a year: January and July. After they move out the Christmas stuff, in comes the furniture. Ditto 4th of July/summer. Expect them to stay 1-2 months or until sold out.
Costco has a lot of great couches in store during those events, but you can shop their furniture year round online!
Will Costco restock a couch?
Costco restocks furniture during their furniture events, but once it is gone, it's gone. They usually bring back different models each year. If you really want it, move quickly.
Is Costco furniture good quality?
Part of the appeal of Costco furniture is definitely that it is high quality. Plus, Costco really stands behind their products – people have been known to return damaged or broken Costco buys years later and still get a refund.
The Best Costco Couches
Leather Sofas & Sectionals from Costco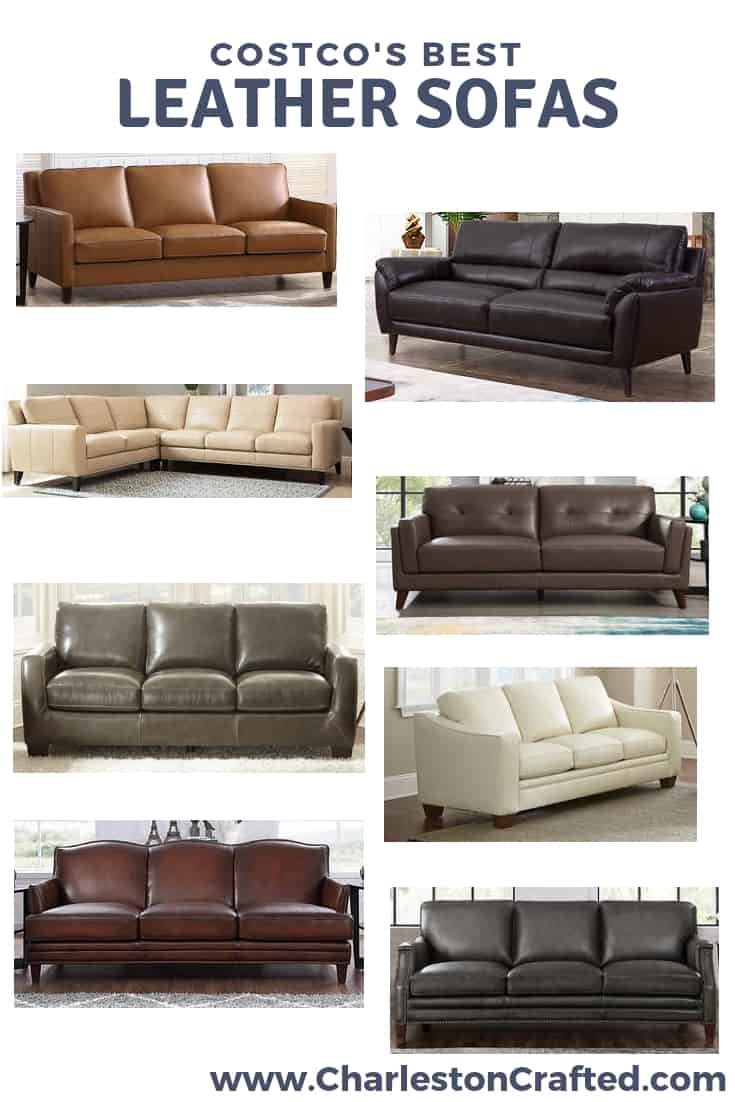 Click here to pin this to your pinterest board!
This might be my favorite Costco couch ever. I am obsessed with the clean lines. That modern shape pairs really well with the more traditional leather fabric and color. It is a really well balanced piece that could work with a variety of styles!
This is a 2 piece set with a sofa and a chair. They have tufted backs, which gives them a more formal look. They come in a teal navy blue color, which is unique for leather couches!
This blue leather sofa has clean, modern lines and gentle tufting to help it stay looking firm and fresh.
This is definitely one of the least expensive leather couches at Costco. It's simple, but I like the modern legs. IF you use chrome metal in your decor, it could be a great fit.
This sofa has tufted sides and almost no feet, giving it a more formal, traditional look. The light gray could work well in more airy or feminine spaces, too!
What I like about this leather couch is that it has the tufted look without actual tufts. Sometimes tight tufts can hurt your back. This one looks comfy!
This sofa is low to the ground with low back. It looks super boho and stylish. I'm not sure how comfy it would be for watching TV with that low back, though!
Click here to pin this to your pinterest board!
Fabric Sofas & Sectionals from Costco
This is a very simple and straight forward sofa in a pretty blue color. If the blue works for you, the style can work with almost any style of home decor!
If you are looking for a more formal sofa – but not leather – consider this option! It's an all fabric chesterfield, making it perfect for libraries or other formal rooms, if you have pets or don't like leather.
Which is your favorite?
Be sure to click over and check out my favorite cheap couches!