I have long professed my love for Costco furniture. I love the quality that you can get for your money. The killer customer service is great, too. Today I was inspired by the spring weather to share my favorite Costco patio furniture with you!
Outdoor furniture can be hard. You want a durable material but you also want it to be beautiful. And, you don't want to break the bank. I think that Costco has patio furniture that is the perfect balance of these things.
When shopping for outdoor furniture, be sure to measure twice! I have learned the hard way that a patio might look HUGE, but once you get furniture out there, it suddenly feels cramped.
If you are wondering how to keep your patio furniture clean, always cover it and protect your furniture when not in use! We use these covers which come in sizes for all sorts of patio furniture including tables, chairs, and sofas. It takes just a few seconds to pull the covers on and off (we don't clip them unless a storm is coming, which saves 30 seconds a leg). This keeps cushions from getting dirty or moldy from rain!
Want more Costco furniture? Check out my other Costco furniture round ups: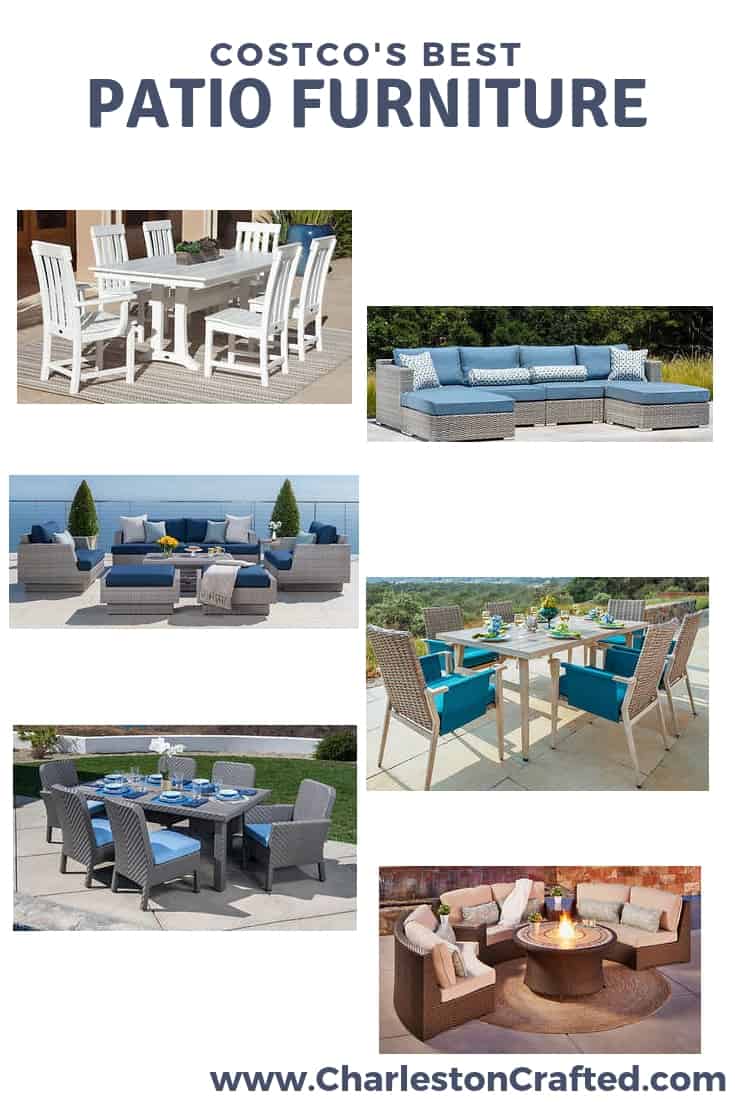 The Best Costco Patio Furniture
Prescott 7-piece Dining Set – this dining set has a traditional look that will always be in style. This could be on your porch for years to come! I love the straight chair backs and the simple lines.
Hollywood 7-piece Dining Set – I love the teal fabric on these chairs for a bold pop of color. They look a bit like director's chairs, hence the Hollywood name I guess. This is a great table set if you like a more modern look.
Bahama 7-piece Dining Set – if you prefer furniture with a heavier look, this is the dining set for you. The fullness of the chairs makes this a much more substantial outdoor dining selection. I of course love the blue cushions, too!
Niko 6-piece Modular Seating Set – If you are looking for an outdoor sectional, you will love this comfy piece. It has 2 chaises, so no one has to fight over the best seat in the house – or, the yard!
Comfort 7-piece Seating Set – this is the perfect patio furniture for setting up conversation areas outside. The fact that it includes sofas, chairs, and stools leads to so many options and opportunities to adjust the setup for different scenarios.
Sidney 6-piece Fire Chat Seating Set – I am really intrigued by the round shape of this outdoor sofa. An unusual shape like this would be great if you had an odd shaped yard or wanted a half moon of furniture off of a rectangular patio. It also includes a fire pit – it doesn't get any cozier than that!
If you're a big Costco shopper, you might also love to read about our typical monthly Costco haul!