So, you just moved into a new house. How exciting! If you are anything like me, you want to immediately start decorating and making the space feel more like you. Well, before you jump in too far, I want to tell you to take a breath. In my experience, the biggest mistake that a new homeowner can make is jumping into big purchases too fast.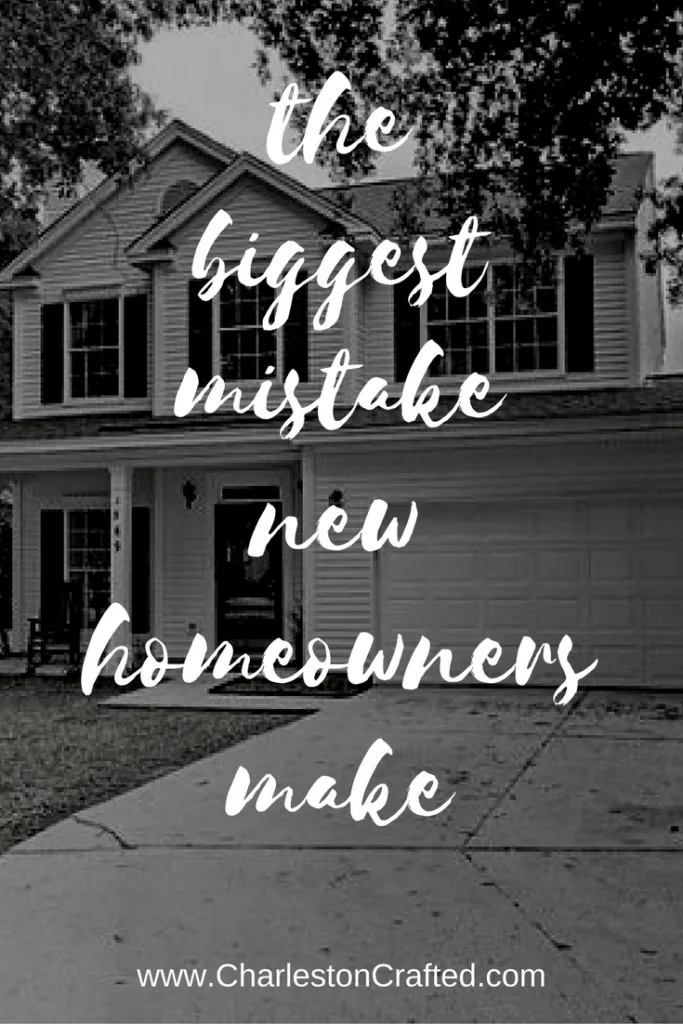 It's hard because you are excited and your adrenaline is rushing and you want to get your new house fixed up and filled up!
You might have moved from an apartment where you had only one bedroom, a living room, and an eat in kitchen, and now you have three bedrooms and a dining room and a sitting room to furnish!
Well, guess what? It's okay to have empty rooms. For the first four months after moving into our house, the first two rooms that you saw when you walked in the door were completely empty. Not a single piece of furniture! Did I feel like I needed to apologize every time someone came over? Yeah, kind of. Did I host a baby shower with a folding table and chairs borrowed from a coworker? You betcha. Am I so glad I did it? 100 %.
So, why should you wait to make any big purchases or decisions in your new home?
Simply put, it takes a little while to figure out what you really want. You might think that you know what you want, but it really takes living there for a while to know what will work for you.
For example, I always imagined (and pinned!) that we would have a traditional dining room table with six large, upholstered or wooden, chairs around it. That is what we both grew up with and what I considered classic and truly "normal." It was my automatic assumption of what would happen regardless of where we lived and I already had some chairs picked out.
Well, once we got into our home, I quickly realized that our dining room was actually a bit of a walk-through hallway and that six big chairs would block the walking space as well as the view from the front door to the lake out the back. It was after dragging furniture around late at night and measuring and making marks on the floor that I finally had my "come to Jesus" moment and decided that what I thought was a definite just wouldn't work.We ended up going with low profile benches that tuck all the way under the table and make the extra long and narrow table easy to pass by.
But what if I had rushed into my decision? What if on closing day (or before!) I had clicked order on six huge chairs? Once they were paid for, Sean certainly wouldn't have built me benches or let me buy something more appropriate. I would have had to annoyingly squeeze by these big chairs every time I passed by them on the way to the sun room and I would have really resented them a lot!
I don't tell this story to pat myself on the back but more to prove my point. Don't rush into any major decisions. It's OK to eat on your outdoor patio table for a while (we did it for six months!) Your friends will understand when it takes a while to pick out a couch. Cut yourself a break and it will be much better in the long term.
When you invest in expensive purchases like a couch or dining room table, you are going to want to live with those purchases for many years. Rushing into a decision could lead to regret and resentment for years to come!
What do you think? Do you agree that you should wait to make big purchases?