Here are some of the very best paint colors to paint your master bedroom. These colors will make your space a calm and serene sanctuary!
Your master bedroom is your retreat at the end of the day. Whether you are tired from a day at work, with children, with family, or just out and about – you're usually tired at the end of the day!
A calm and welcoming master bedroom oasis is key to getting a good night's sleep and waking up invigorated.
I have been asked frequently "what is the first room I should decorate or make over in my home?" I ALWAYS say the master bedroom. I am a firm believer that having somewhere beautiful to escape at night is key!
So, I have gathered up some of the most beautiful master bedrooms in all of the internet to share with you today and inspire you to paint your own master bedroom!
We will share a little bit behind what goes into picking the perfect primary bedroom paint color, and some of our favorites – in real life bedrooms!
The Best Paint Colors For a Master Bedroom
The best paint color for your master bedroom is going to be whatever makes you the happiest. It doesn't matter what is trendy or popular, if it makes you feel calm and relaxed, then it is perfect for your space.
Keeping that in mind, I am going to share some widely accepted rules around paint colors. Take them or leave them, but they are something to consider!
Click here to get peel and stick samples of my favorite bedroom paint colors!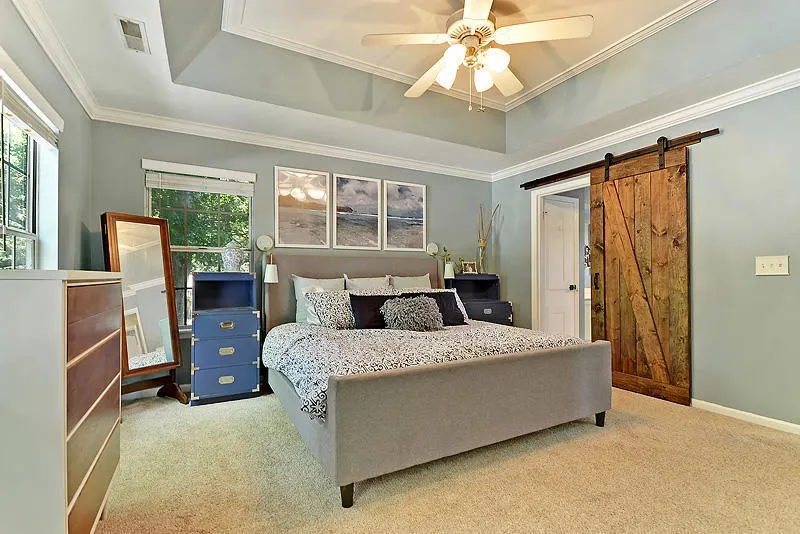 The Best Colors to Paint Your Master Bedroom For Sleep
The most relaxing color for a bedroom is a blue gray color. You can check out all of the best blue gray paint colors!
According to the psychology of color, cool colors – think blues and grays – are the most calming and therefore will lend themselves towards encouraging sleep.
Reds, yellows, and oranges, however, tend to increase your heart rate and therefore might make you feel more awake. They are in general the worst colors for sleep.
So, if you want to feel calm and sleepy, go with a cool, mellow color for your bedroom walls.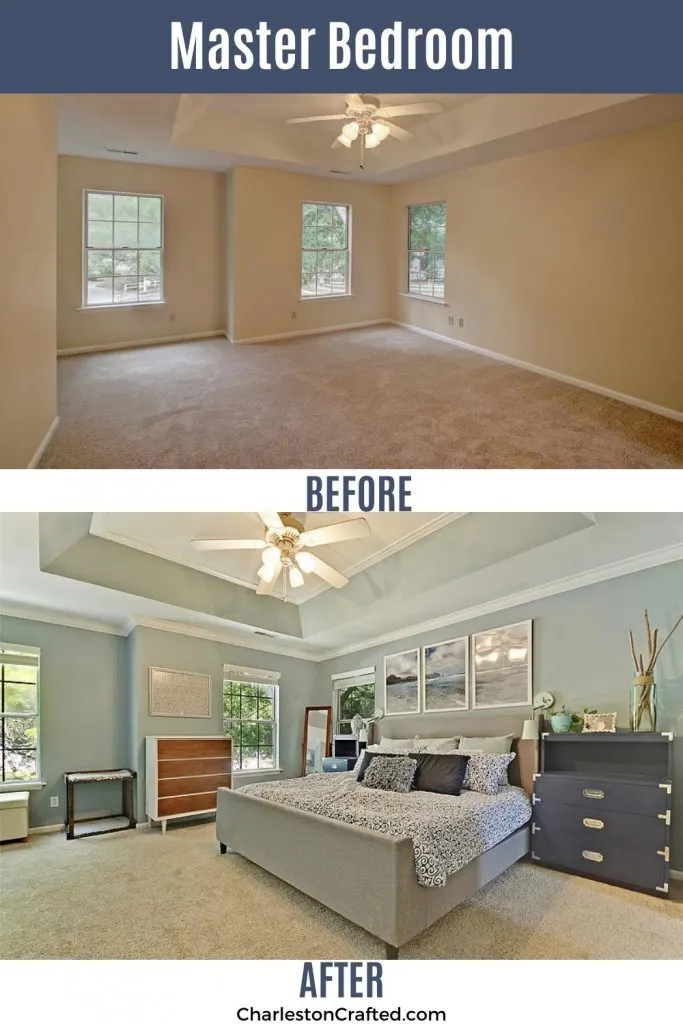 Colors to Make a Room Look Bigger and Brighter
If you have a smaller master bedroom and want it to feel bigger and brighter, you will want to avoid dark, moody colors. Go for a very light white, beige, gray, or blue wall color for best results!
Generally, high ceilings make a room feel bigger, so fake that feeling by painting your ceiling a bright white.
In general, focus on light colored decor and furniture and eliminate as much clutter as possible to make a space feel more open and airy.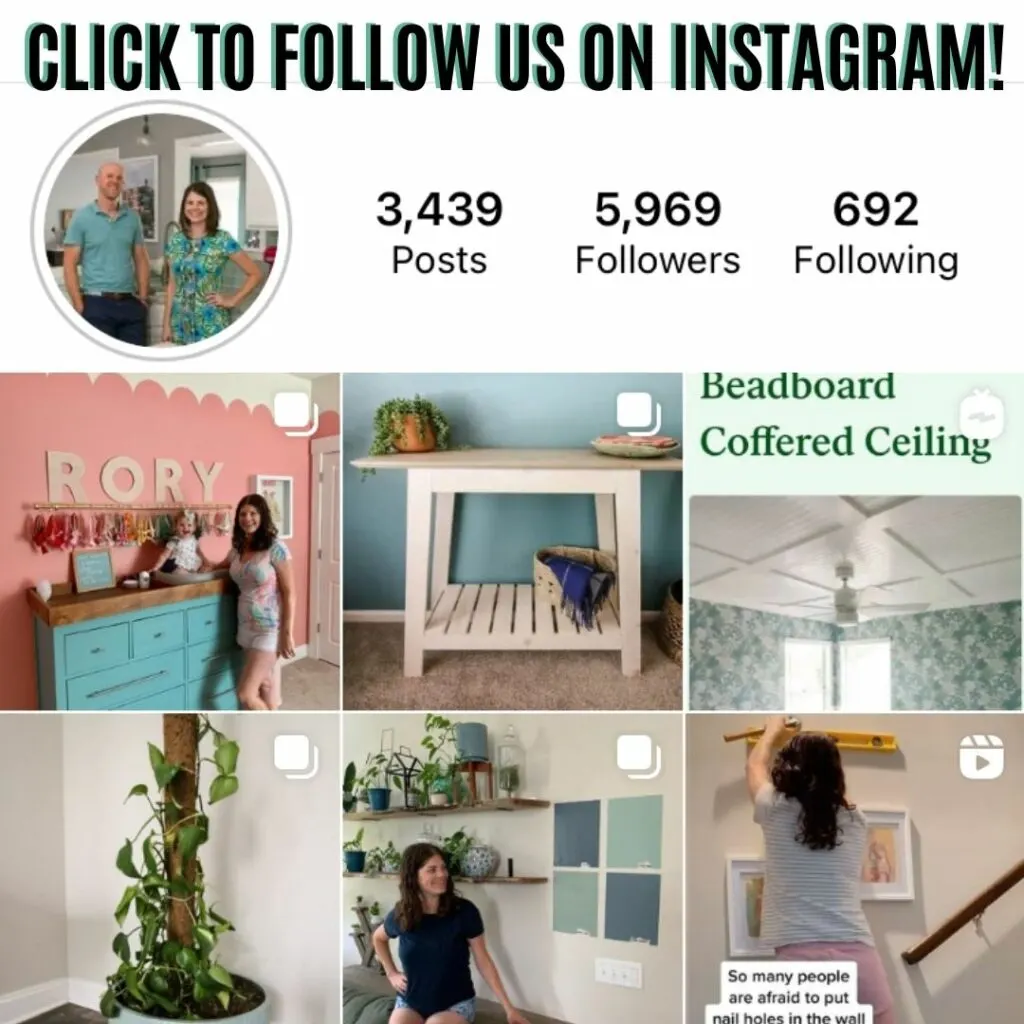 What is the most romantic color for a bedroom?
If your main goal in decorating your master bedroom is to make it feel romantic, you might want to go in the opposite direction! Red paint colors will get your heart racing, which isn't great for sleep but is great for romance!
Paint your bedroom red or raspberry pink for a spicy time!
What paint sheen should I use in my primary bedroom?
I always suggest an eggshell or flat paint finish on walls. Thanks to the advanced technologies of modern paint, even flat paints (that are of good quality) are relatively scrubbable, and having a flatter sheen with help your walls look smoother and more expensive!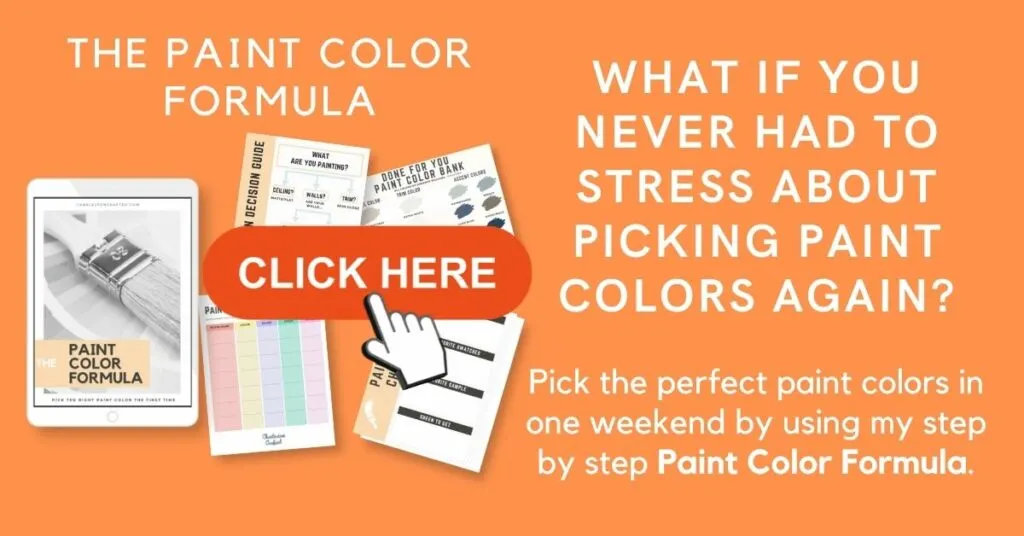 How to pick the perfect paint color for your bedroom
It's great to look at inspiration online and in magazines, but it is imperative that you swatch paint colors in your actual room before committing to the color. That is the only way to see how the color looks in your actual space.
Lighting makes a huge difference in how shades appear on the walls. We recommend Samplize peel & stick paint samples for mess-free, highly accurate paint sampling.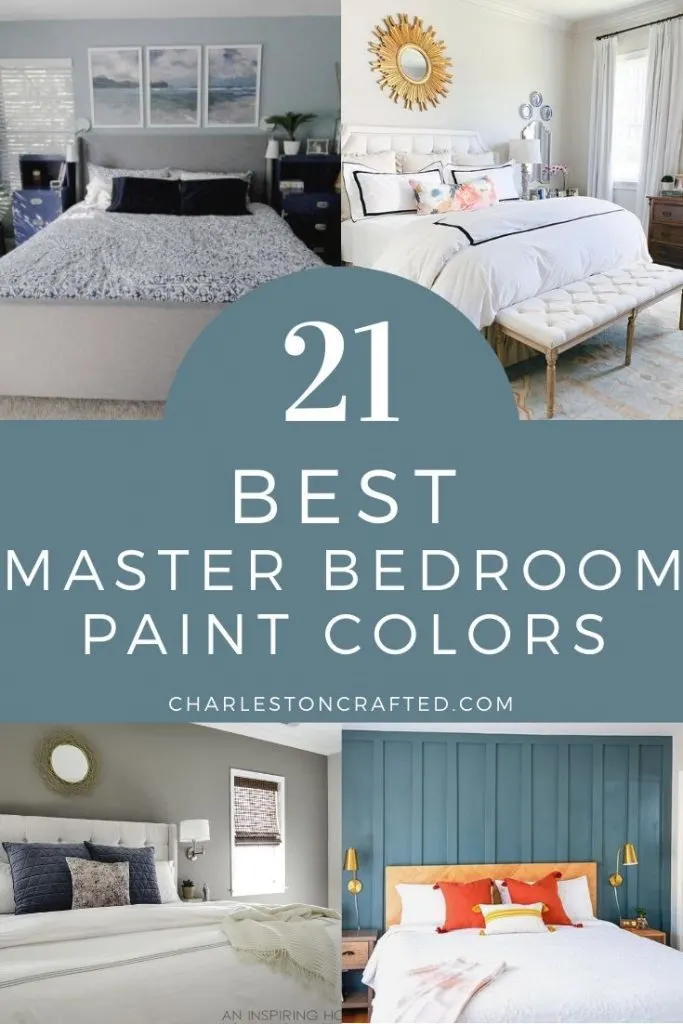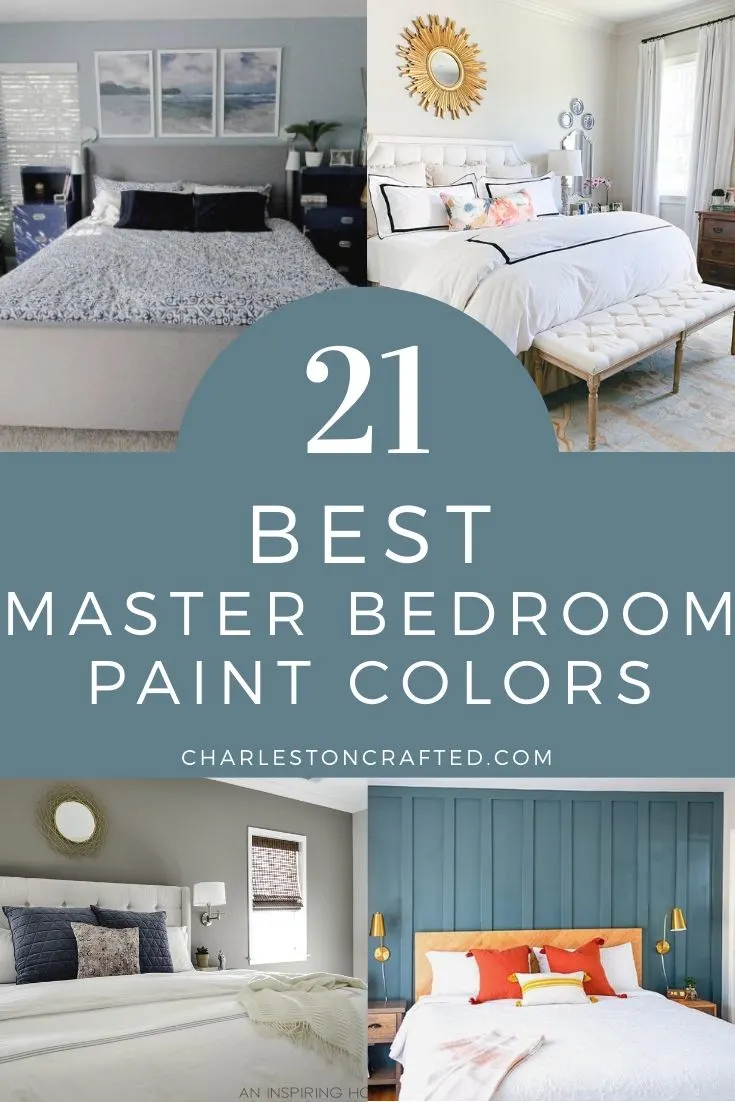 Here are some of the specific paint colors that I love for a master bedroom!
Click here to get peel and stick samples of my favorite bedroom paint colors!
The best paint colors for a master bedroom
Looking for the perfect paint color for your master bedroom? See some of my favorites in action here!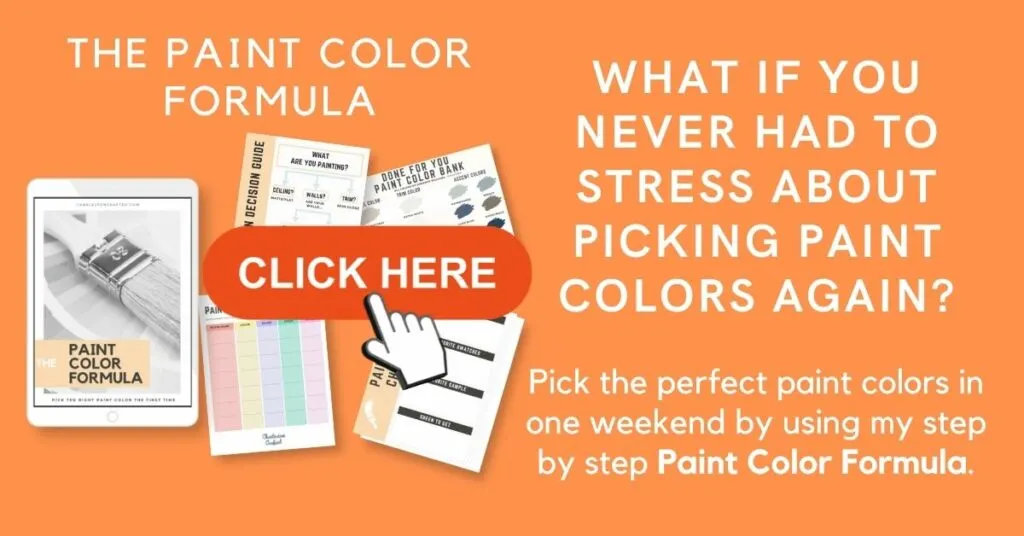 Get paint samples!
Samplize will send you 12″x12″ peel and stick samples of paint colors from many popular brands so you can see exactly how they will look in your home!
Love paint colors? Be sure to check out:
The Paint Color Formula – my complete guide to picking paint colors!
The best blue-gray paint colors
My favorite light gray paint colors for any home
The Best Gray Paint Colors for a Nursery
The Best Classic Navy Paint Colors
21 Paint colors for Master Bedrooms
The 28 Best Light Gray Paint Colors for Any Home
6 Perfect Gray Paint Colors for Cabinets
10 Best Paint Colors for Laundry Rooms
Painting for the first time? Check out my video tutorial on the easiest & cleanest way to open a paint can!
What is your favorite color in a master bedroom?