Gray is a wonderful neutral paint color option. If you want to add some color to a cabinet while staying light, bright, and neutral, gray is a great option. Here are my favorite gray paint colors for cabinets!
Whether you are designing a kitchen or a bathroom, cabinet color is one thing that can date a space quickly. Luckily, it is also something that is easy and inexpensive to change.
If you are looking for a neutral color with a bit of color to it – gray makes a great cabient color!
But, there are so many shades of gray! How do you pick one?
How to pick the best gray paint color for your cabinets
There are few things to consider when selecting a paint color for your cabinets.
First is to pick a color family. Congrats – if you are here, it seems like you picked gray 🙂
Then, think about colors within that family. Do you want something lighter or darker? Brighter or more muted? What undertones do you want?
Next, you want to get paint samples. I suggest buying at least three paint samples if you want to paint walls. Paint them on your walls in at LEAST three different spots each.
You want to make sure you have test spots near anything that is not changing, such as trim, carpet or flooring, or cabinets.
Now, let that dry (do 2 coats if it needs it) and then look at it over the course of at least 2 days. Look at it in morning, day, and evening light. Look at it with the lights on and the lights off.
All of these things effect how a paint color looks in your nursery!
The temperature of a paint color
Paint colors are either warm toned or cool toned.
Warm toned grays are often called "Greige" (gray-beige) and have a bit more brown in them.
Cool toned grays are more icey and usually have blue undertones.
Which temperature of gray is right for you?
Look at the elements of your room already – usually flooring, trim color, or furniture you know you want to use. Usually they will feel either warm or cold. Try to stay within that same family for the most cohesive look and feel.
I am excited to break down some of the most popular gray cabinet paint colors with you.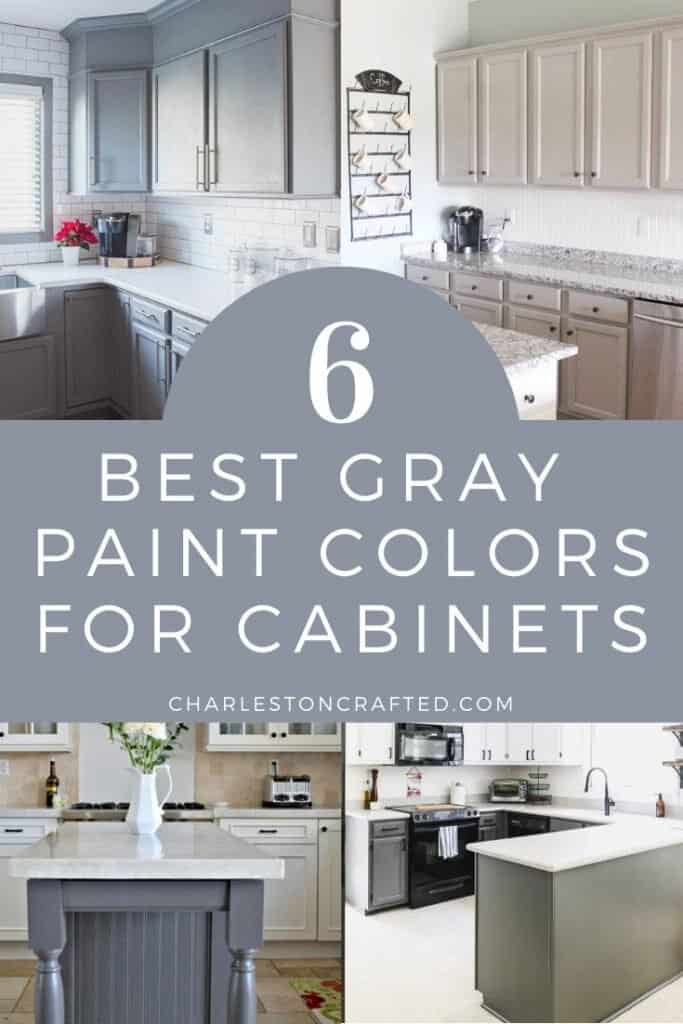 The Best Gray Paint Colors for Cabinets
There are tons of options for gray cabinet colors. Here are some – in action – with examples of what they look like in real life.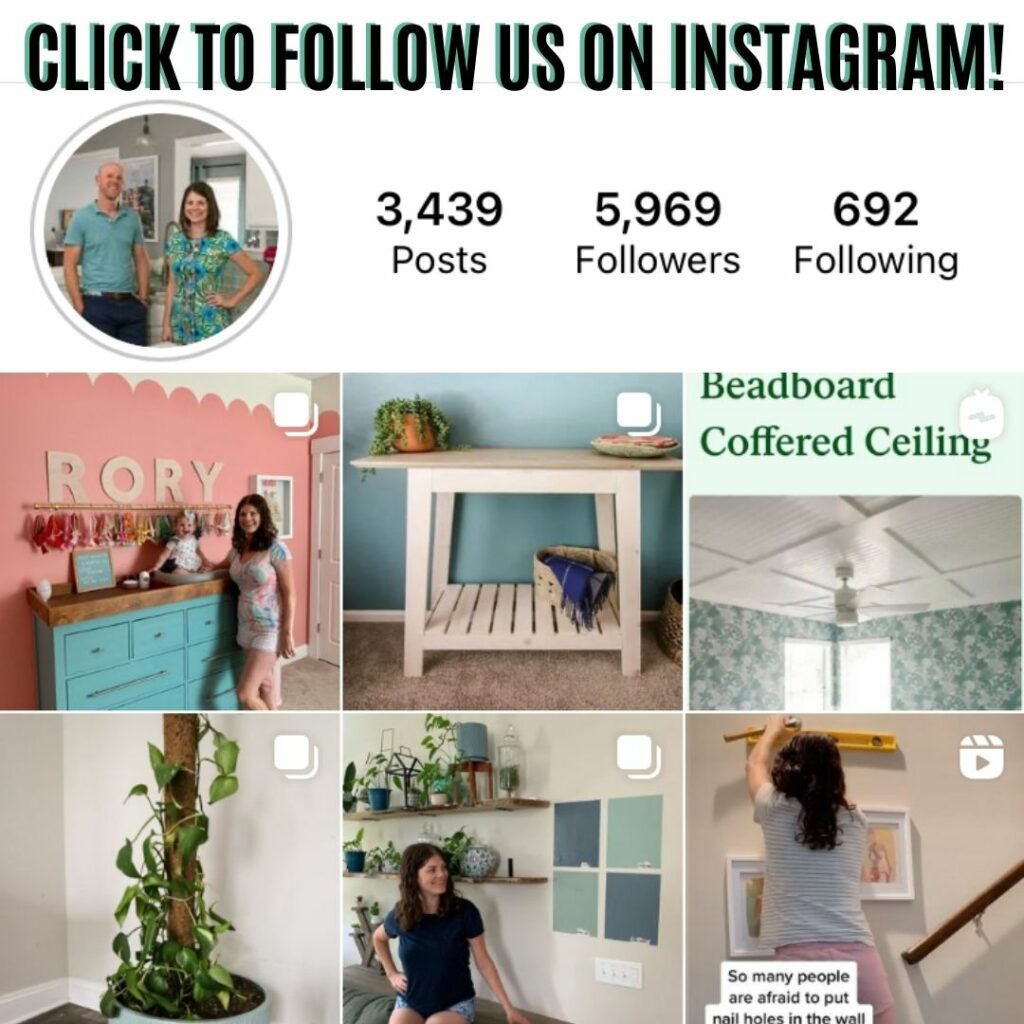 Sherwin Williams Repose Gray
Repose Gray is a very light, slightly warm toned gray paint color. You can see how truly light and bright it is in the kitchen image below.
Some people say that it can read ever so slightly purple, especially in morning light. While it does have those slight undertones, it is very very close to a true gray.
Click here to order a 12″x12″ peel and stick sample of Sherwin Williams Repose Gray.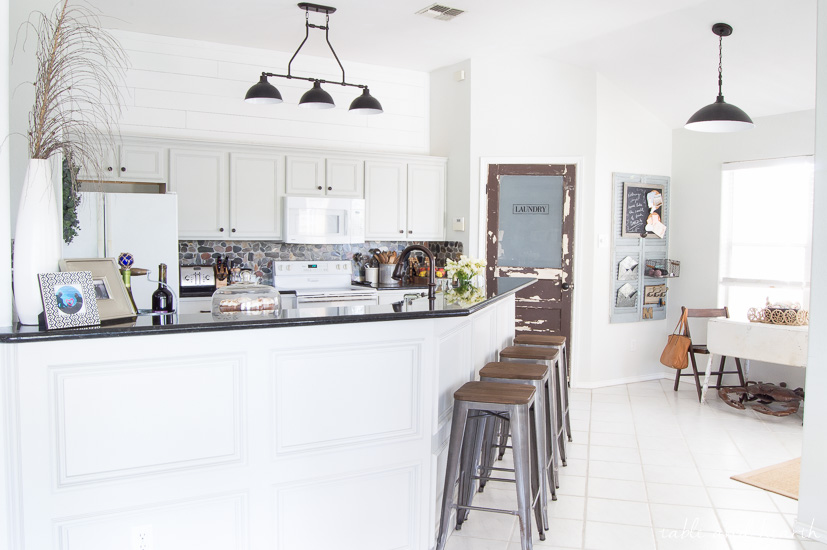 Benjamin Moore Winter Gates
Winter Gates is a very warm toned light greige color. It can read as really light and bright, as seen in the kitchen below. This color looks really timeless and neutral when paired with anything crisp white!
Click here to order a 12″x12″ peel and stick sample of Benjamin Moore Winter Gates.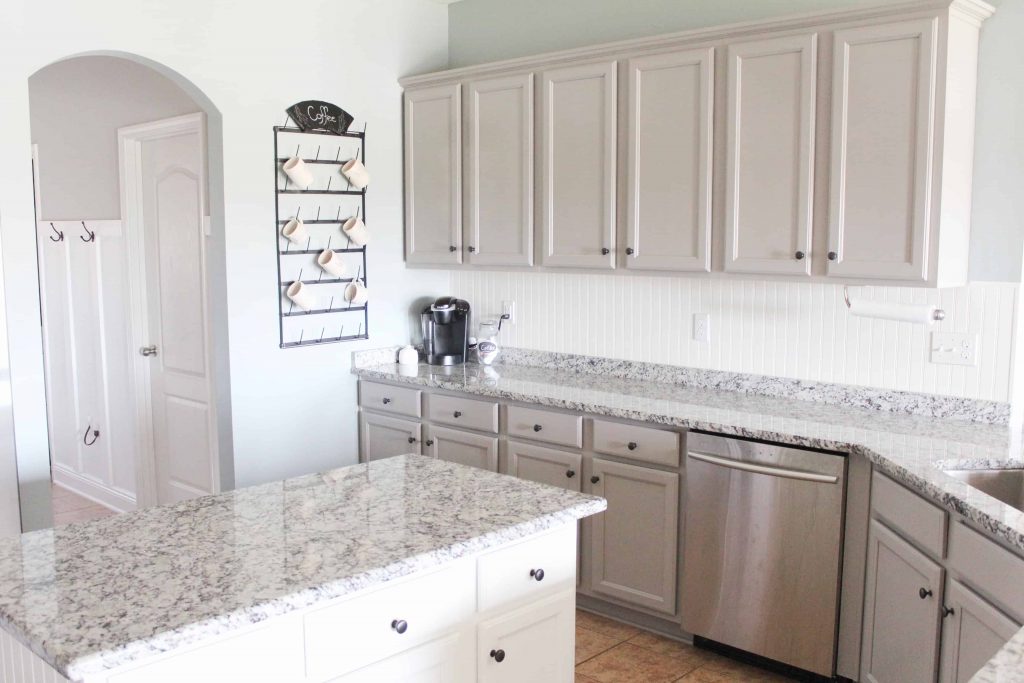 Winter Gates kitchen by Repurpose and Upcycle
Benjamin Moore Chelsea Gray
Chelsea Gray is a good medium-dark gray color. It contrasts really nicely with white walls or trim. This color has warm undertones that read slightly greige.
This is a great option for a mid-toned neutral gray color!
Click here to order a 12″x12″ peel and stick sample of Benjamin Moore Chelsea Gray.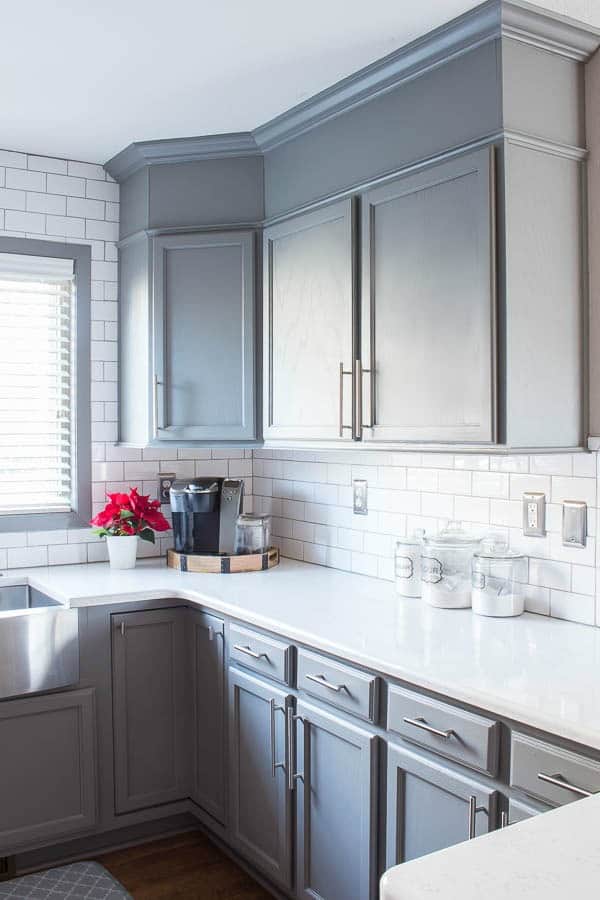 Chelsea Gray cabinets by Inspiration for Moms.
Benjamin Moore Iron Mountain
If you are looking for more of a dramatic charcoal gray, Iron Mountain might be for you. This warm toned dark gray color is perfect for a kitchen island or lower cabinets paired with a lighter upper.
It is very deep and highly pigmented and looks great in traditional or modern homes.
Click here to order a 12″x12″ peel and stick sample of Benjamin Moore Iron Mountain.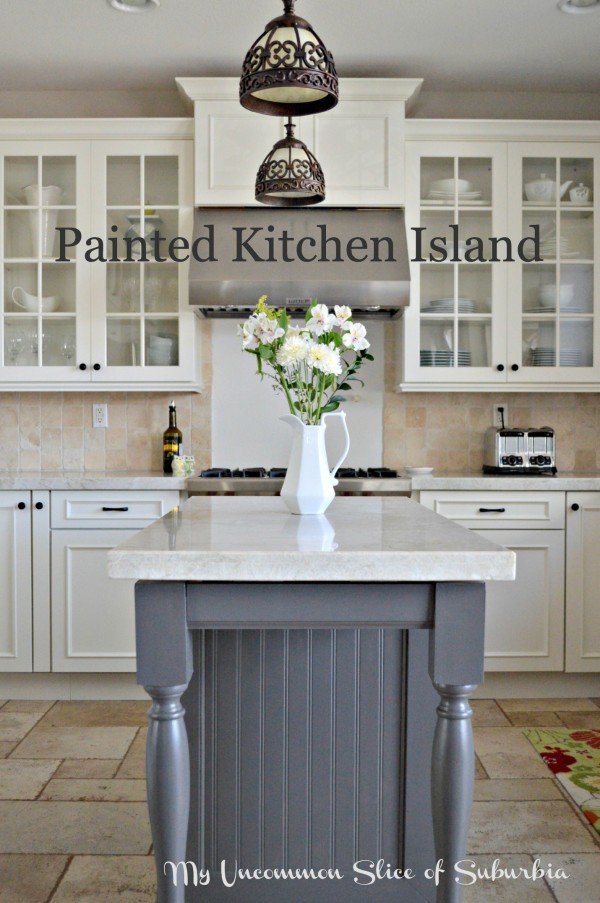 Iron Mountain Kitchen Island by My Uncommon Slice of Suburbia
Behr Amazon Stone
Another great charcoal option is Amazon Stone. This is a very warm toned dark gray color with almost purple undertones.
It's not a choice for the faint of heart – but it definitely will give you an impact and still stays fairly neutral despite it's deep hue.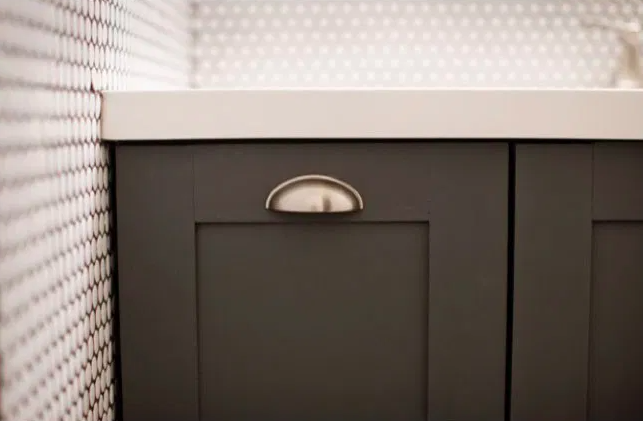 Amazon Stone bathroom cabinet by Home Becoming Home.
Sherwin Williams Peppercorn
Peppercorn is another gorgeous deep gray color with slightly purple undertones. It is a bit brown as well and in general is a nice warm charcoal paint color.
Click here to order a 12″x12″ peel and stick sample of Sherwin Williams Peppercorn.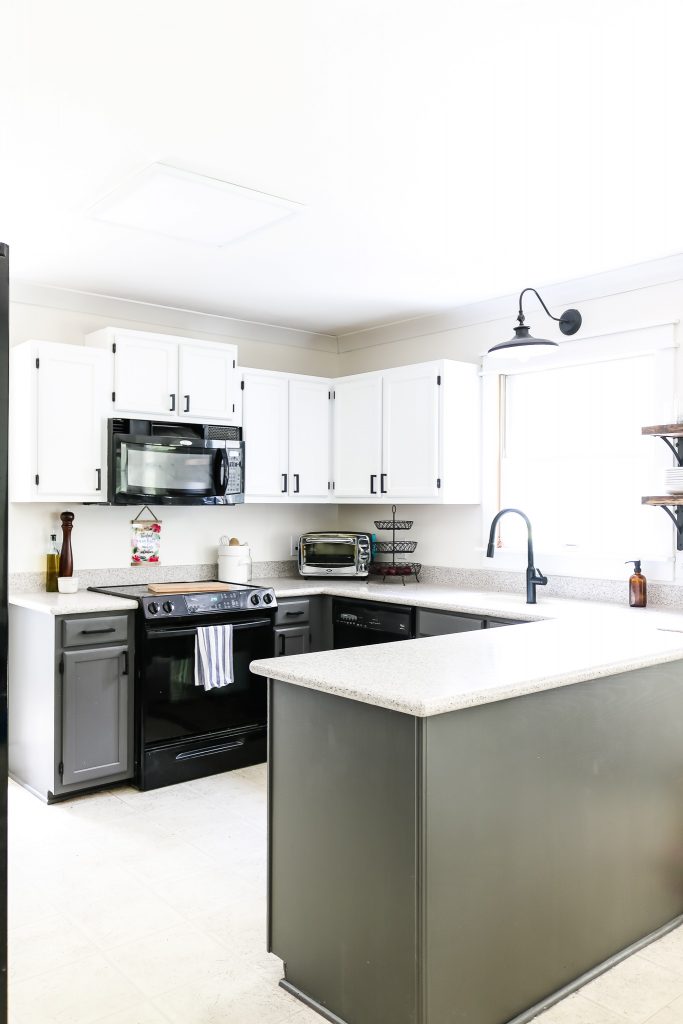 Peppercorn kitchen cabinets by Living Letter Home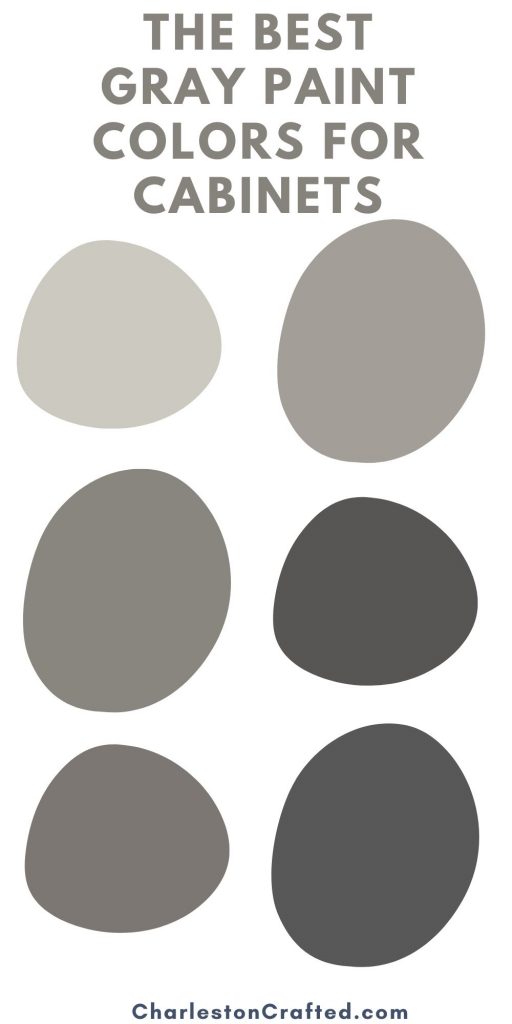 Need help painting your cabinets?
Here are instructions on how to paint cabinets
This is the best paint roller for painting cabinets!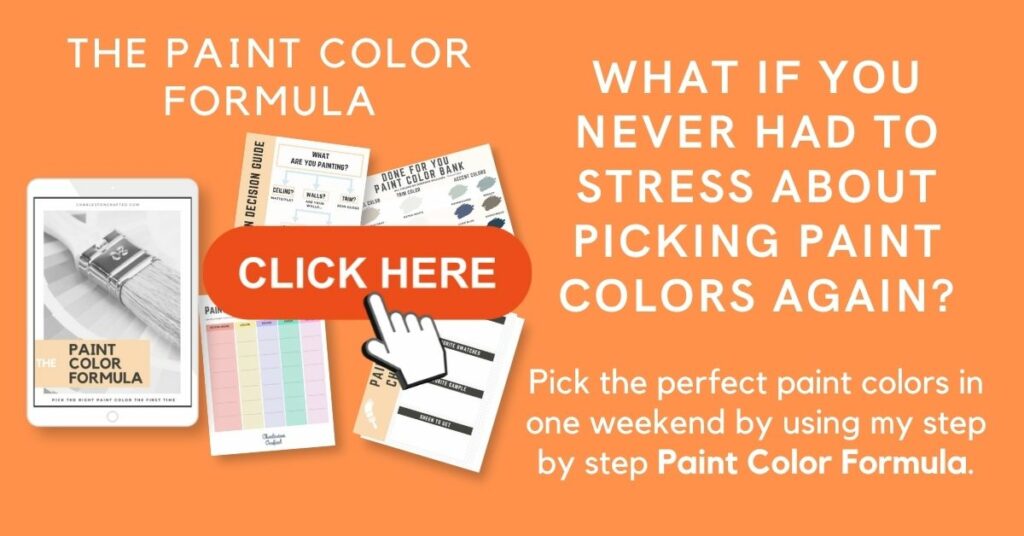 Get paint samples!
Samplize will send you 12″x12″ peel and stick samples of paint colors from many popular brands so you can see exactly how they will look in your home!
Love paint colors? Be sure to check out:
The Paint Color Formula – my complete guide to picking paint colors!
The best blue-gray paint colors
My favorite light gray paint colors for any home
The Best Gray Paint Colors for a Nursery
The Best Classic Navy Paint Colors
21 Paint colors for Master Bedrooms
The 28 Best Light Gray Paint Colors for Any Home
6 Perfect Gray Paint Colors for Cabinets
10 Best Paint Colors for Laundry Rooms
Painting for the first time? Check out my video tutorial on the easiest & cleanest way to open a paint can!
Facebook | Instagram | Pinterest | Twitter | YouTube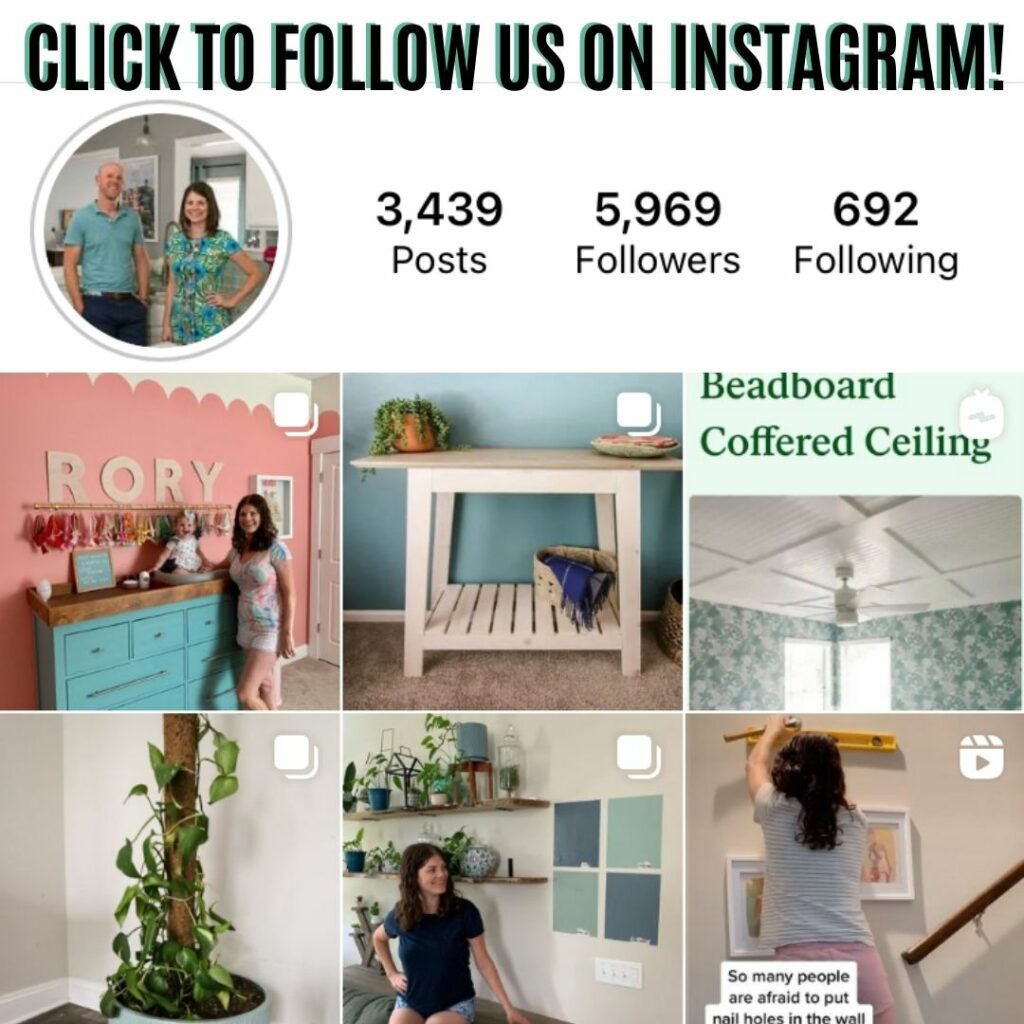 ---
Can we send you our newsletter?
Another great way to keep up with out latest projects is by joining our weekly newsletter! Get alerts of our latest projects and special peeks behind the scenes!
Follow along on Instagram
Join our online community where we share real time behind the scenes looks at our DIY projects and peeks inside our home + family!
---