Looking for the perfect color gold spray paint for your next project? I tested 7 popular cans so you can see the best gold spray paint for you!
I love using spray paint on my DIY projects. It could be to paint something completely – like a lamp – or just to touch up small details like hardware or the feet on a table.
Gold is one of my favorite colors to work with. I love gold hardware and I really love little pops of gold in unexpected places.
So, I was really excited to dig into my spray paint stash to show you my very favorite gold spray paint colors.
Gold paint varies a TON. Some are yellow, while others are almost silver in color.
I tested a few different colors when I did this experiment and the gold paints just completely blew me away with the variety of their colors.
I narrowed this test down to 7 cans of gold spray paint, each at an easy accessible hardware store, and each with it's own distinct look!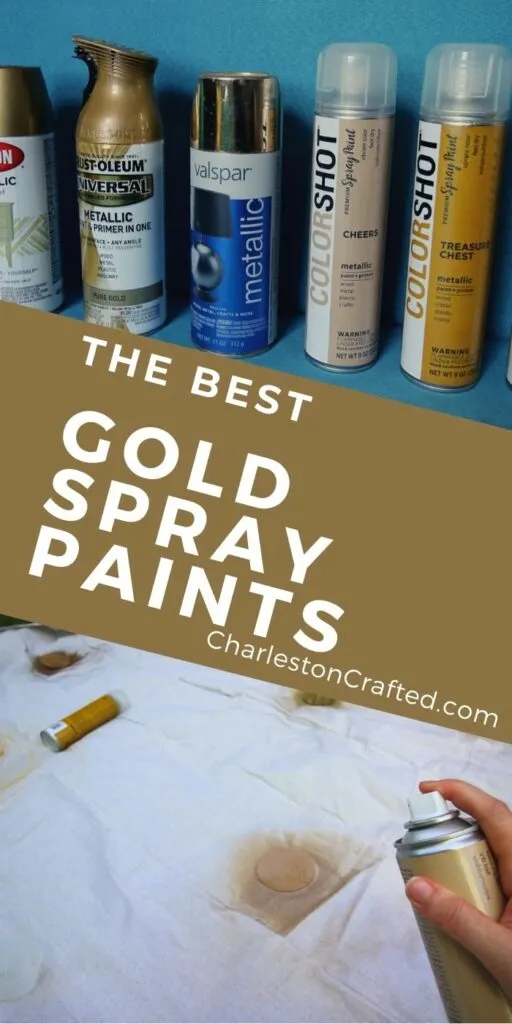 The Best Gold Spray Paint
We put a ton of spray paints to the test to find the best gold paint for your next project!
I picked up these spray paints at either Lowes or Home Depot. I painted my samples on these wooden circles.
To make this test as fair as possible, I painted all of the paints at the same time in the same conditions.
Each color got 2 light coats. I let them dry completely before taking photos.
The photos are all taken at the same time, in indirect natural light and were not edited for color.
Pay attention to sheen
Spray paints come in a variety of sheens, ranging from matte to glossy, that determines how shiny or matte of a finish they have.
All of these spray paints come in different sheens, so be careful when you buy one that you get the sheen that you want.
None are right or wrong, but glossier paints will show more dings, dents, or scratches compared to paints with a matte gold spray paint finish.
Since we tested these on raw wood, the gloss isn't as apparent but on a smooth finish it can be very glossy – which might be good or bad, depending on what look you are going for!
Quality matters
Every one of the paints that I tested was high quality. This means it is unlikely to scratch or dent easily and that I did not have to use an additional primer.
I always suggest sticking to well-known brands for paint and going for the paint + primer in one variety when it's an option. Seriously, the extra dollar or two is worth the headache of using bad paint!
Now, if you were painting over a dark surface, primer might come in handy. But in most instances, these were all fine.
You can read all of our best tips for spray painting here!
What is gold vs metallic gold spray paint?
Gold spray paint could be more of a solid color (sometimes called brushed gold spray paint) while metallic spray paint tends to have tiny pieces of sparkle, almost like glitter in it.
Metallic paints are great when you are painting metal, glass, or anything you want to have a bit of a shine and sparkle to it. It tends to look more like real metal when compared to a flatter gold paint.
I tend to prefer metallic gold spray paints in most applications!
How can I make something look like real gold?
If you want something to look like actual gold, I suggest a warm gold color with a bit of a metallic sparkle to it. The most realistic gold paint that I tested was Colorshot Treasure Chest!
How do you make gold spray paint shiny?
For a shiny finish, choose a gold spray paint in a glossy finish that has sparkle to it. Look for the keyword of METALLIC on the label to indicate that it will likely sparkle.
The best metallic gold spray paint I used was Colorshot Treasure Chest!
I do NOT suggest putting a clear coat on top of gold spray paint if you want it to have a shiny finish. Clear coat top coats tend to darken and dull the finish!
Safety Reminder
Always use spray paint in a well-ventilated area, wearing appropriate protective gear, and dispose of empty cans responsibly!
Here are the paints that we sampled for the gold spray paint comparison: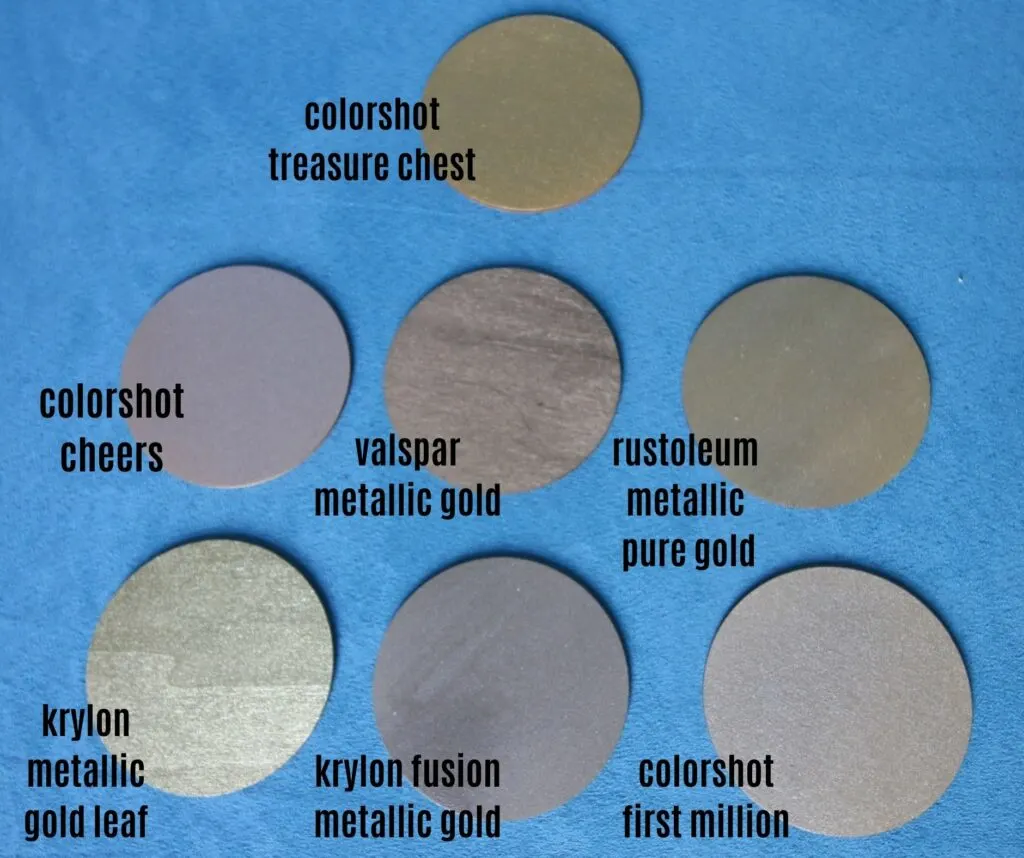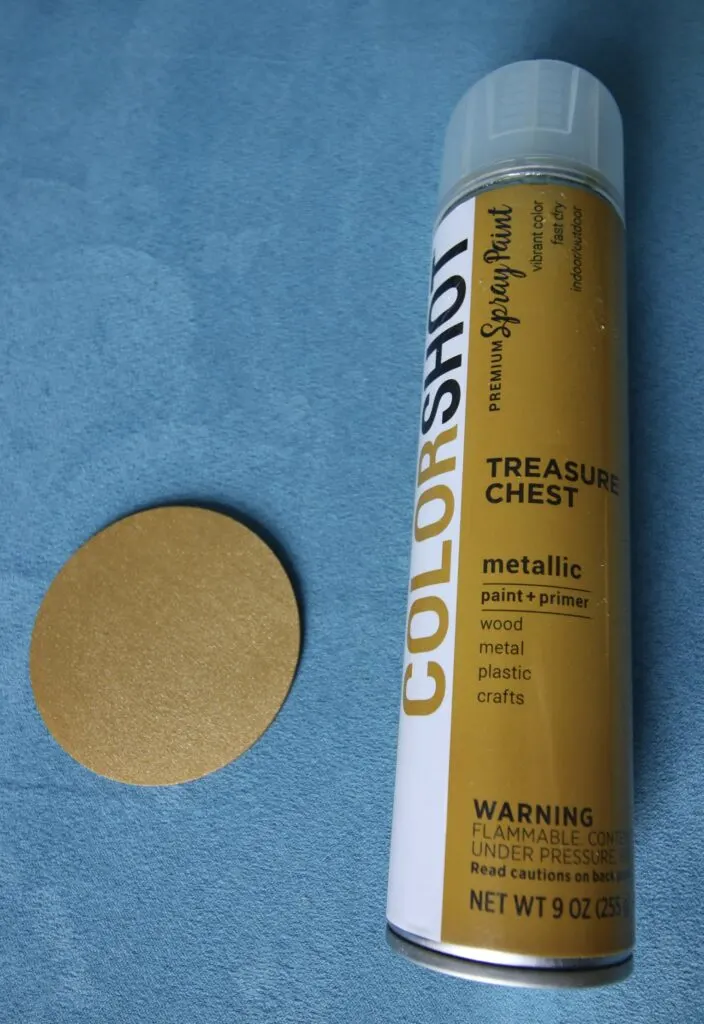 I assume by the name that this paint color was meant to emulate gold medallion coins. And that it does!
This warm gold color has an almost orange to it. It's definitely the fakest looking gold but in a way that it would be great for a halloween costume or somewhere where you wanted something to be extremely clearly GOLD.
This color also has almost micro glitter to it, it definitely gleams and shines within the pigment.
I love the coverage of this paint and the slim can is really easy to hold.
ColorShot paint is sold at Home Depot and Walmart.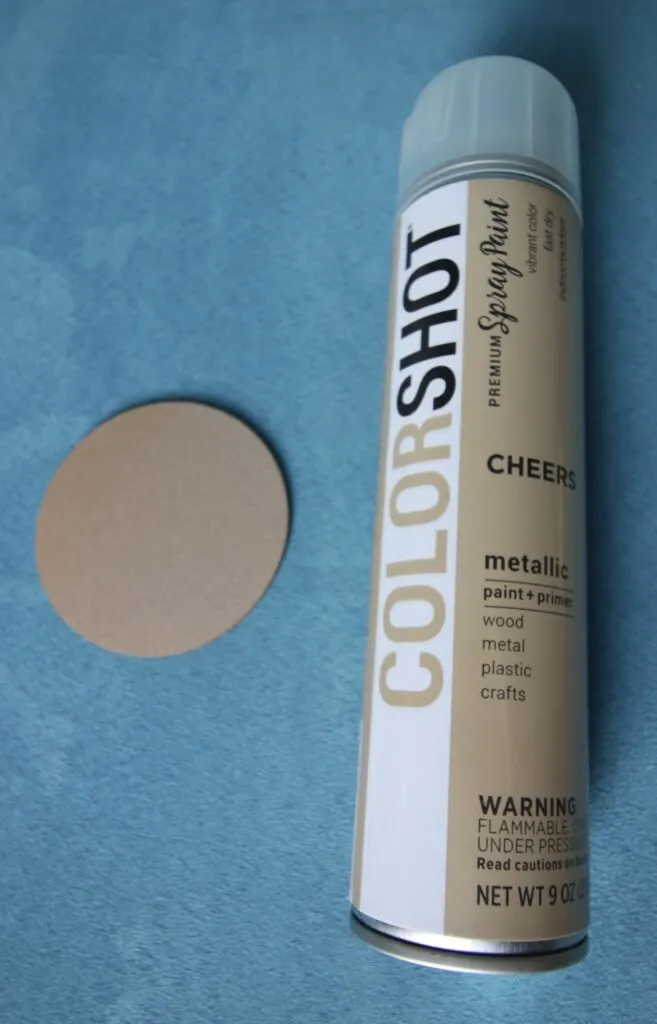 Cheers by ColorShot is a completely different shade of gold! It is very light with an almost silver quality to it. It really can read as a rose gold color if paired with the right accents.
This color has a ton of microglitter in it making it really sparkle and gleam.
I love the coverage that ColorShot paints give (they are a super high quality in my opinion) and I think that the slim can is really easy to handle.
This is a really great option if you are looking for a light, rose gold spray paint option.
ColorShot paint is sold at Home Depot and Walmart.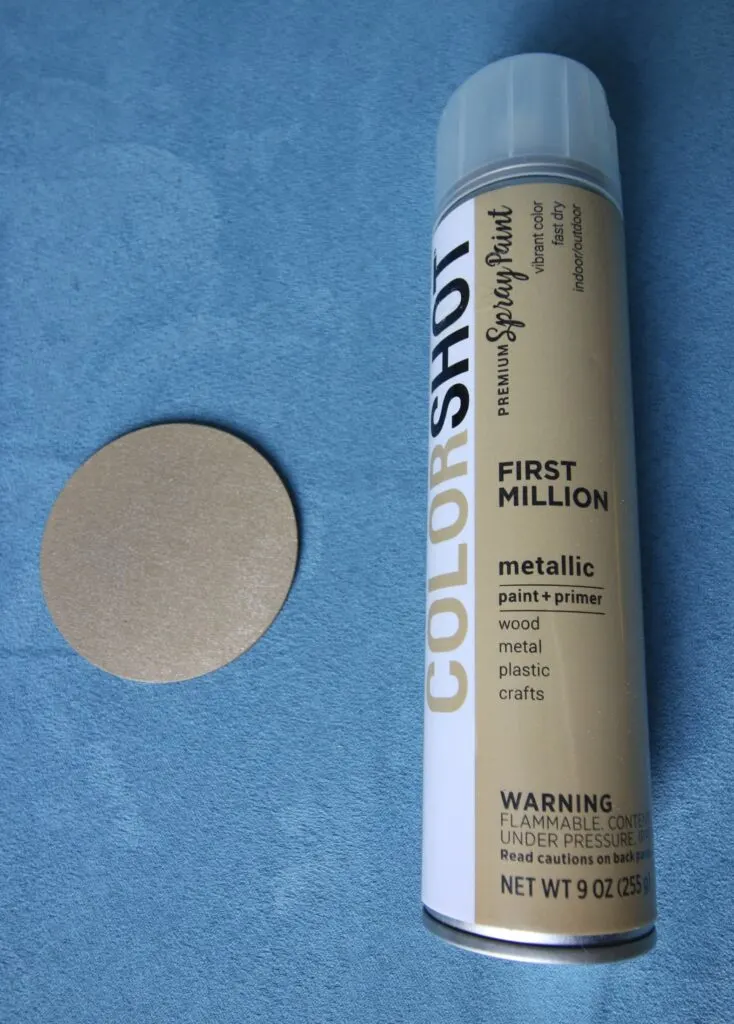 The final ColorShot gold option that I tested is First Million.
This gold color definitely has yellow undertones, but it is a lighter gold color.
It has a lot of silver glitter to it, making it really gleam and giving it that metallic finish.
This is a high quality paint with a great durable finish.
ColorShot paint is sold at Home Depot and Walmart.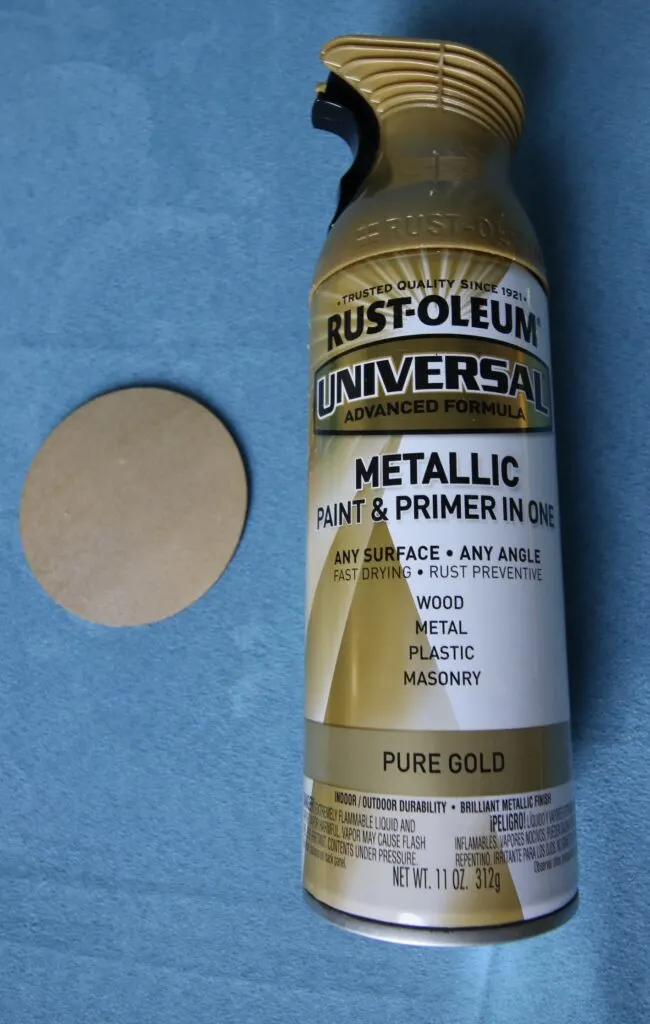 This is another good medium gold color. It is however not a super vibrant gold and more of a muted color.
It has a lot of silver in it – not glitter, but shiny silver pigments. That works to really give it a metallic finish.
This color did have lighter coverage, so plan to do extra coats or shake the can extra long to be sure to get all of the pigment mixed well.
Rustoleum is sold at Home Depot stores.
Valspar Metallic Gold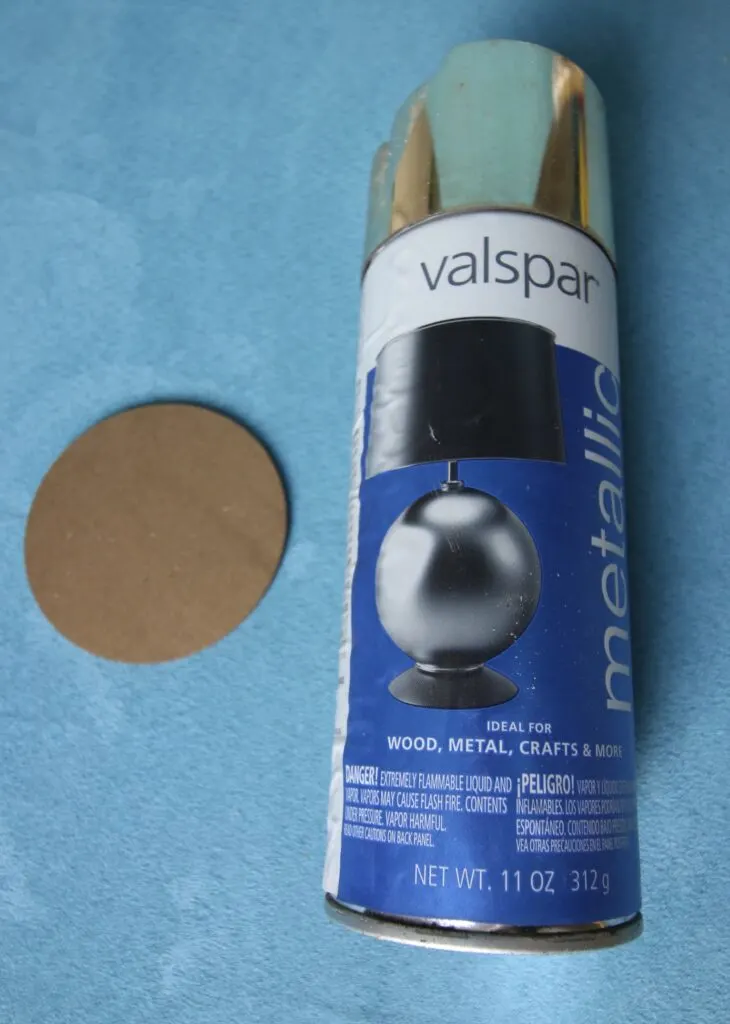 This is a very dark, almost dull gold color. It has a bit of a brass hue to it.
In the right light, since I painted this on wood, it almost looks like a golden oak wood stain color.
This is a good option if you want a deep, non-vibrant brassy finish or a dark gold spray paint.
I got great coverage from this paint with no problems.
Valspar paint is sold at Lowes.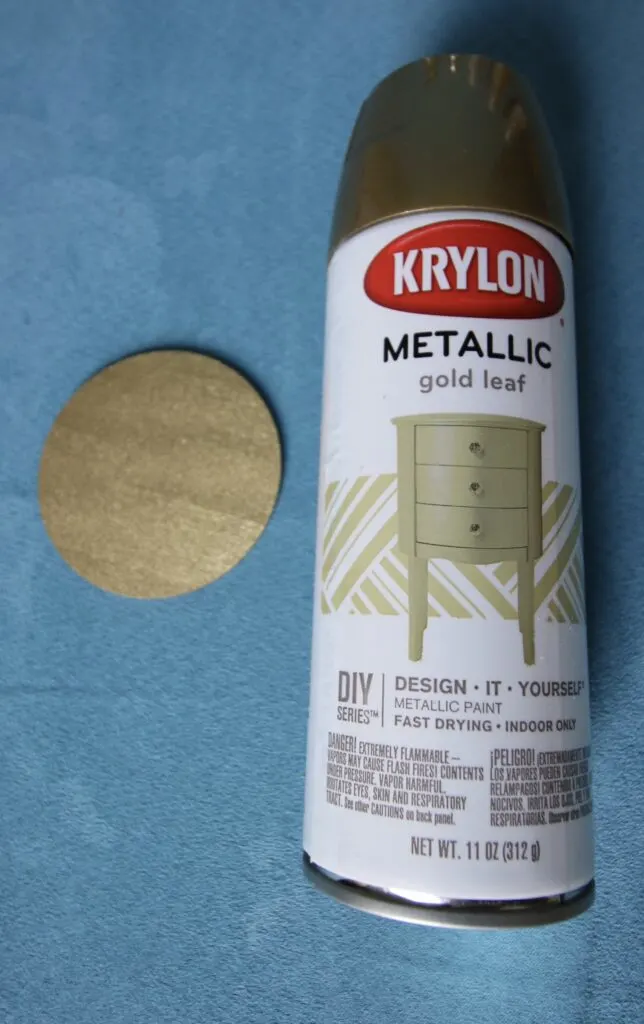 You want bling bling? This is it! This is a very shiny, VERY metallic gold paint color. It is about as stereotypically gold as it gets.
This color has a lot of yellow undertones to it.
It does not have glitter in it but more of a mirror-like shine.
I got OK coverage, but be prepared to throw a third light coat on for perfection.
Krylon paint is sold at Lowes.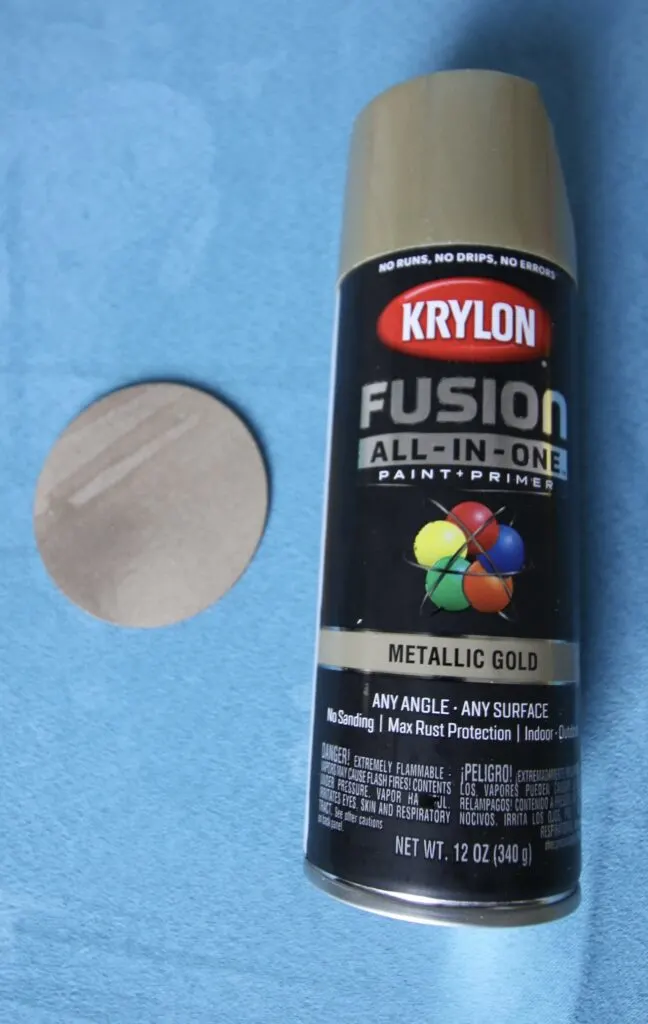 This is a very dull, muted, almost tan-gold color. It has a lot of beige to it and is not yellow or orange at all.
This color definitely has silver specks in it but no glitter. It doesn't gleam or shine at all.
I find that this color get splotchy easily, so be sure to use thin, even coats for level coverage.
Krylon paint is sold at Lowes.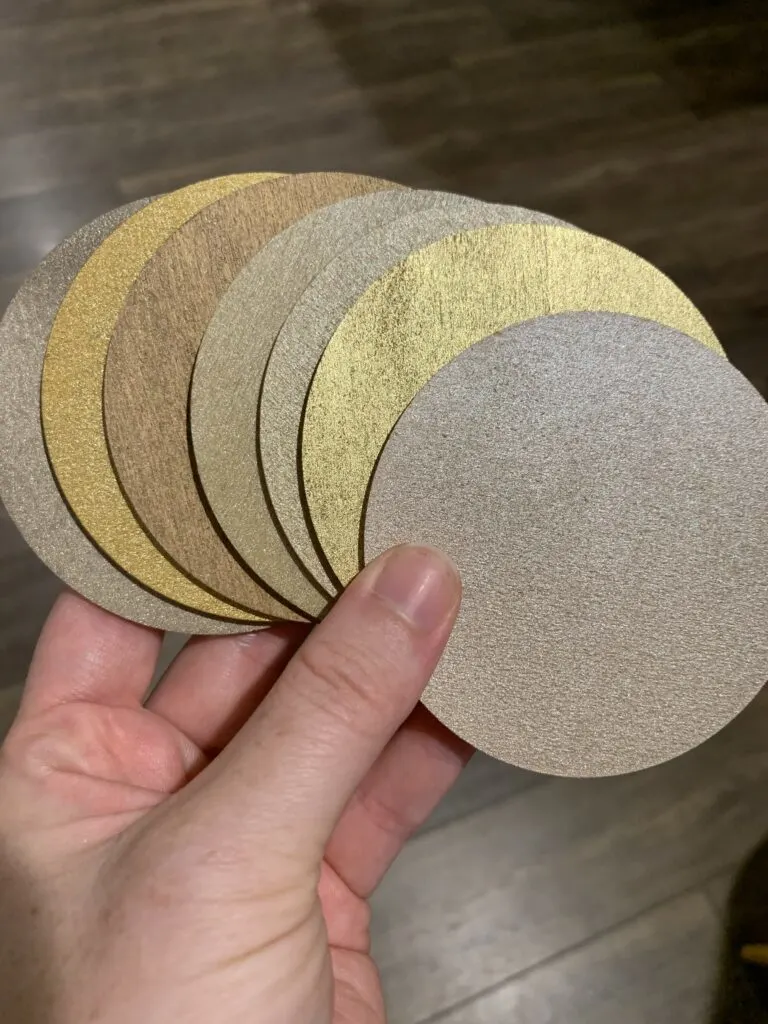 What is the best gold spray paint?
The best gold spray paint varies depending on exactly what look you are going for!
For a shiny, vibrant gold, I choose Krylon Metallic Gold Leaf.
For a rose gold finish, I love ColorShot Cheers.
For a more neutral, use-anywhere gold, I'd go with ColorShot First Million.
For the best gold spray paint for wood, pick something metallic to keep it from looking too flat! I like Krylon Metallic Gold Leaf.
For a brushed gold spray paint, I suggest Rustoleum Metallic Pure Gold!
For the best gold spray paint for metal I love Krylon Metallic Gold Leaf.
Video demonstration
See me painting with these paint and hear my tips in this video!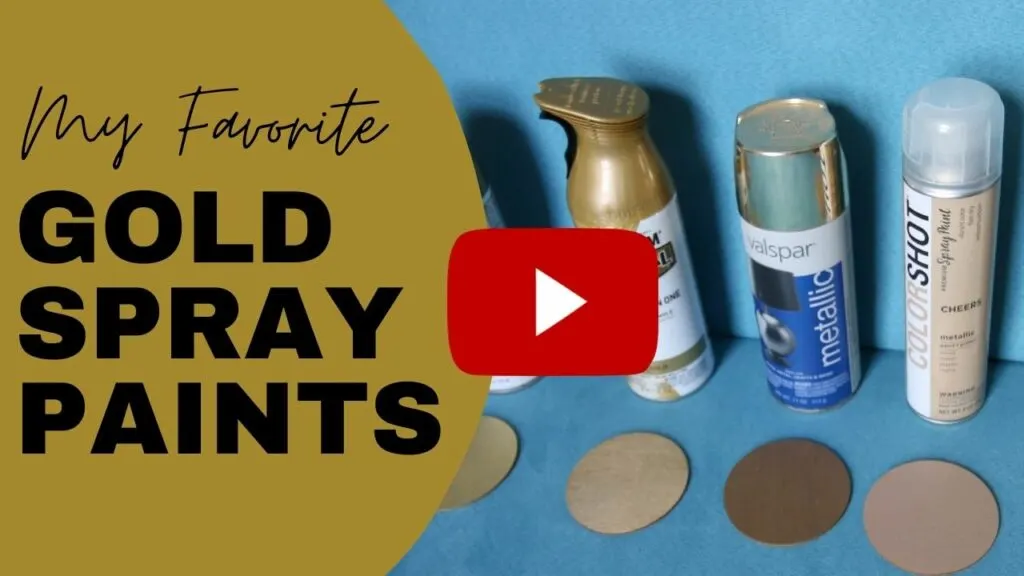 Check out all of my favorite spray paints!
What is your favorite spray paint?!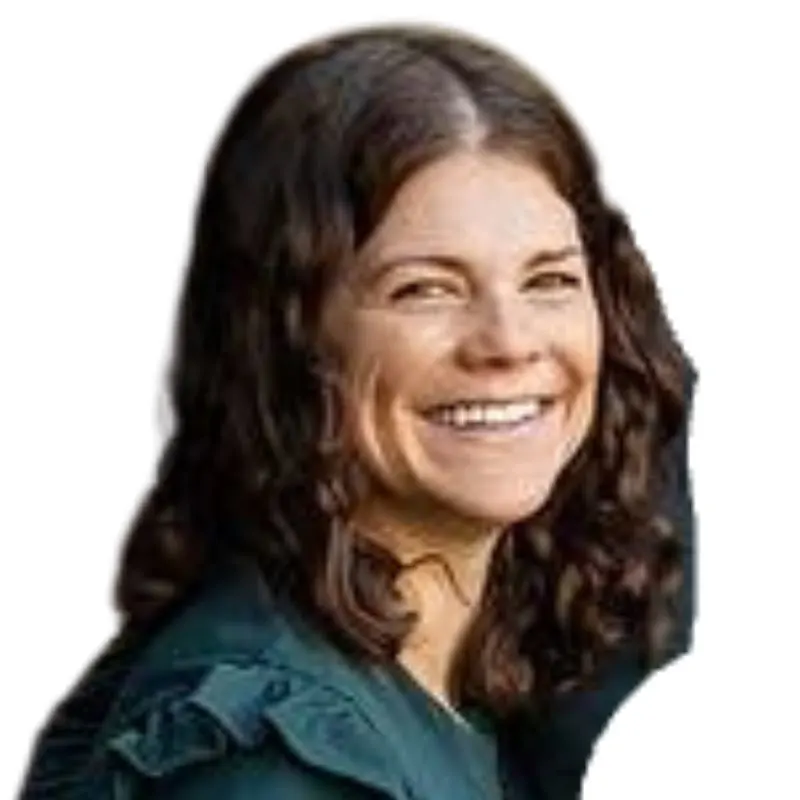 Hello, I'm Morgan, half of the creative force behind CharlestonCrafted.com! With a passion for DIY that dates back to 2012, I've transformed three homes and now I'm dedicated to helping others craft their dream spaces. Let's turn your house into a home together!