Looking for the perfect silver colored spray paint? We tested the most popular options at the hardware store to see which might be perfect for your next project!
I love using spray paint! Whether you are painting an entire project – like upcycling something from the thrift store – or making a small update – like painting hardware – spraypaint is a great way to have a big impact on a budget!
Be sure to check out my tips for spray painting!
Silver is a popular option for spray paint, especially for painting hardware. However, there is actually a lot of variation between silver spray paints.
So, I gathered 4 of the most popular silver spray paint options to compare them for you today!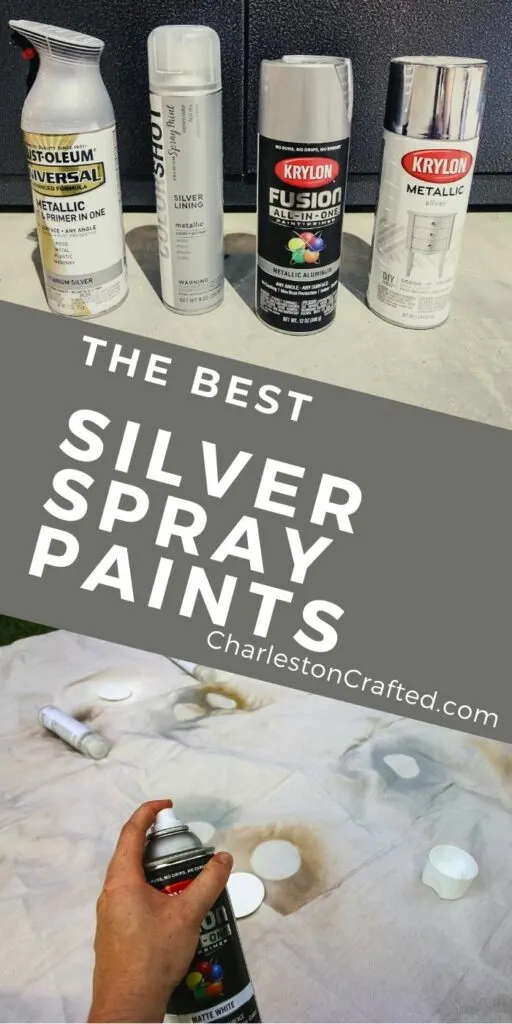 The Best Silver Spray Paint
I picked up these spray paints at either Lowes or Home Depot. I painted my samples on these wooden circles.
To make this test as fair as possible, I painted all of the paints at the same time in the same conditions.
Each color got 2 light coats. I let them dry completely before taking photos.
The photos are all taken at the same time, in indirect natural light and were not edited for color.
Pay attention to sheen
When buying spray paint, pay attention to sheen! This is how glossy/matte your paint will be. This could include:
Glossy
Semi gloss
Satin (the most medium)
Matte
Chalky finish
The sheen you choose depends on the look you are going for, but remember that glossier paints are going to show dings, dents, or bumps in the finish a lot more than matte paints do.
Each of these paints comes in multiple sheens, so just be concious of that as you grab a can off the shelf!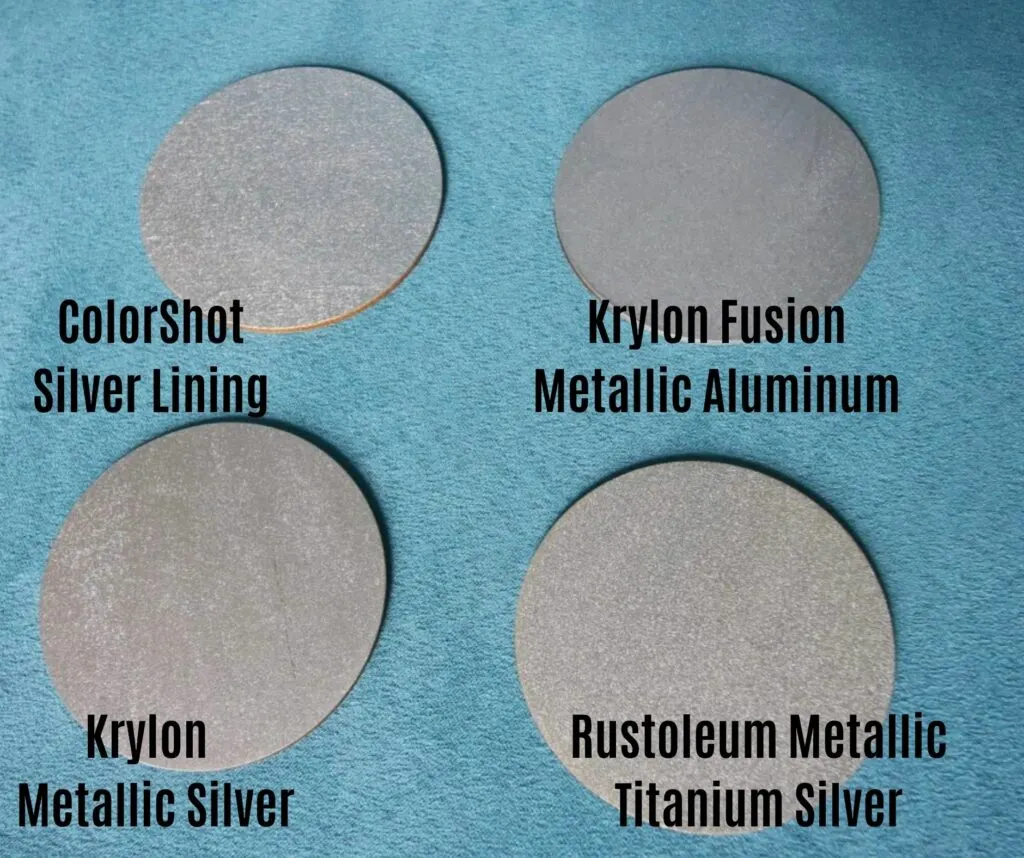 Here are the paints that we sampled: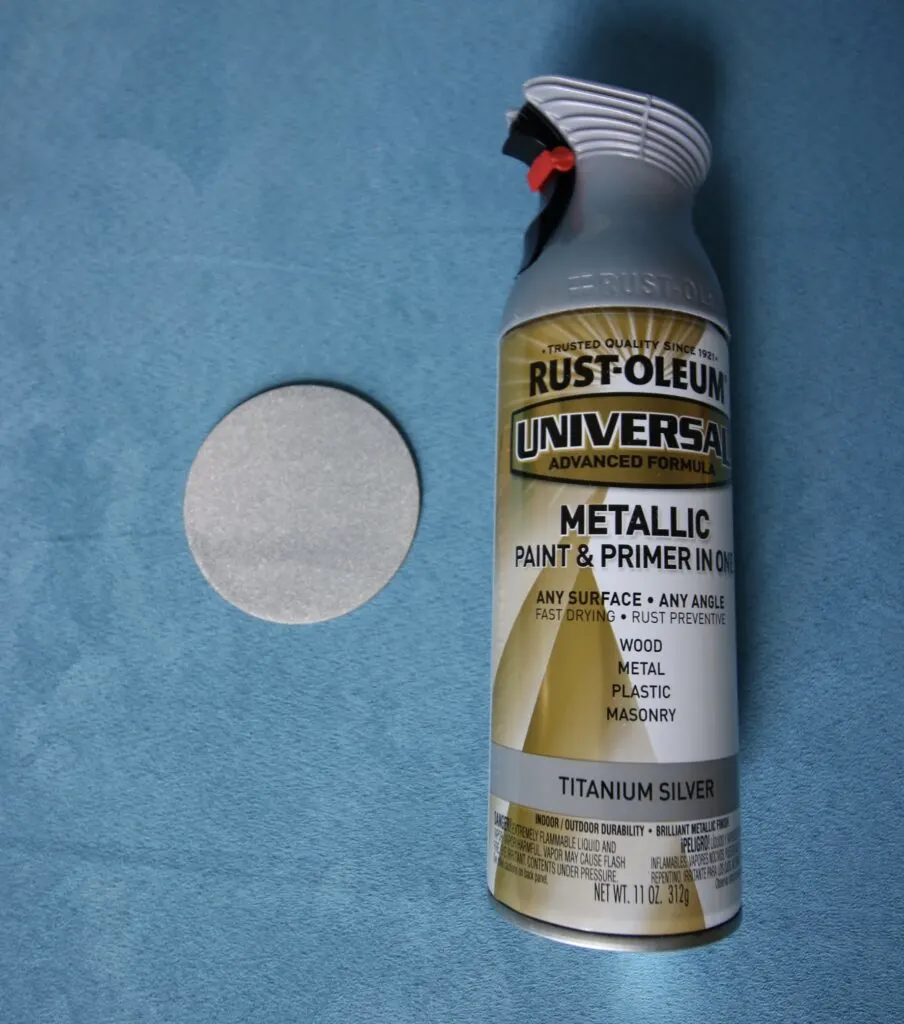 This is the Rustoleum brand metallic silver option.
I found it to be one of the lighter coverage cans – definitely shake it REALLY well to be sure you are getting the color pigments that settle to the bottom of the can.
Of the four silver colors that I tested, this was by far the most dull and the least vibrant or metallic. It has a little bit of shimmer to it but definitely in a dull way.
It is a medium toned silver, meaning its not the lightest or the darkest of the options.
This could be a good option if you are looking for a more matter but still metallic silver paint option.
Rustoleum spray paint is most often sold at Home Depot stores.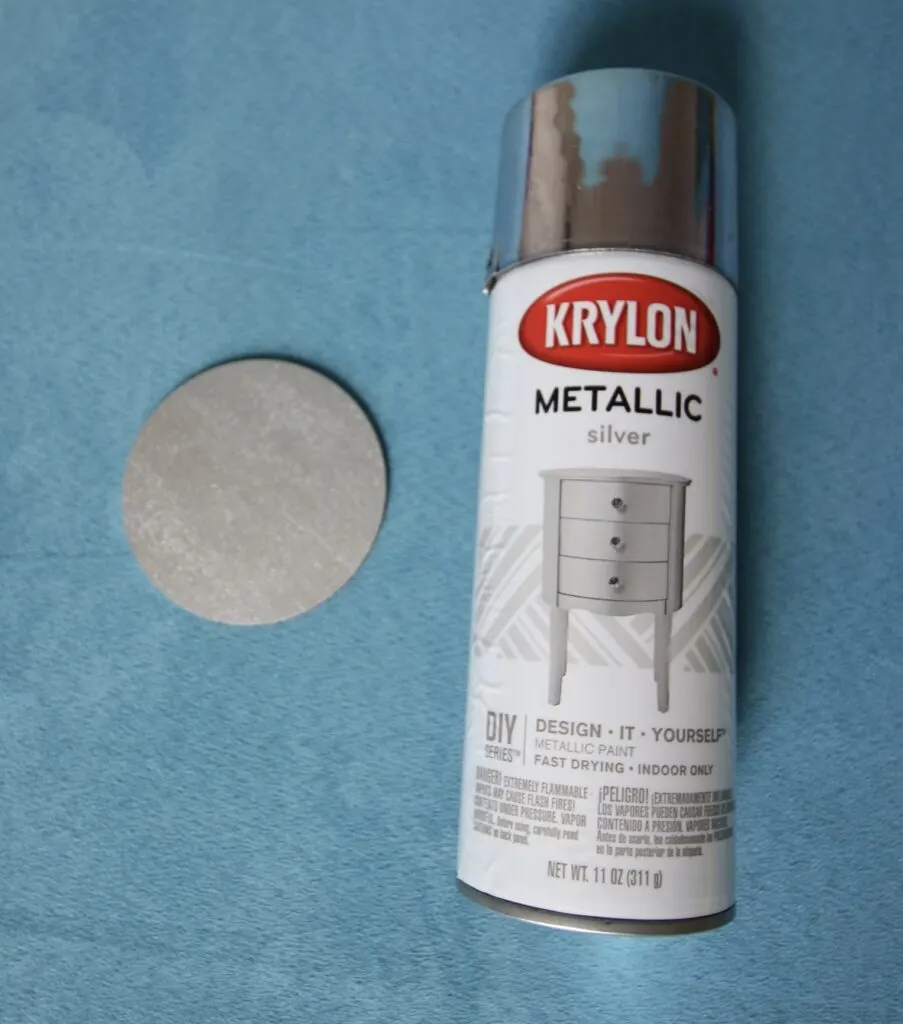 Metallic Silver spray paint is a true metallic paint color! It has almost a mirrored finish it is so shiny. I tested it on wood and it does not have a glossy finish, just a sine from the metallic color.
This would be my pick if you are trying to add a bit of bright silver bling to a project, it has the perfect shiny finish!
Of the four silver paint colors that I tested, this is by far the lightest in terms of shade.
However, it gave extremely good full coverage.
Krylon paint is sold at Lowes home improvement.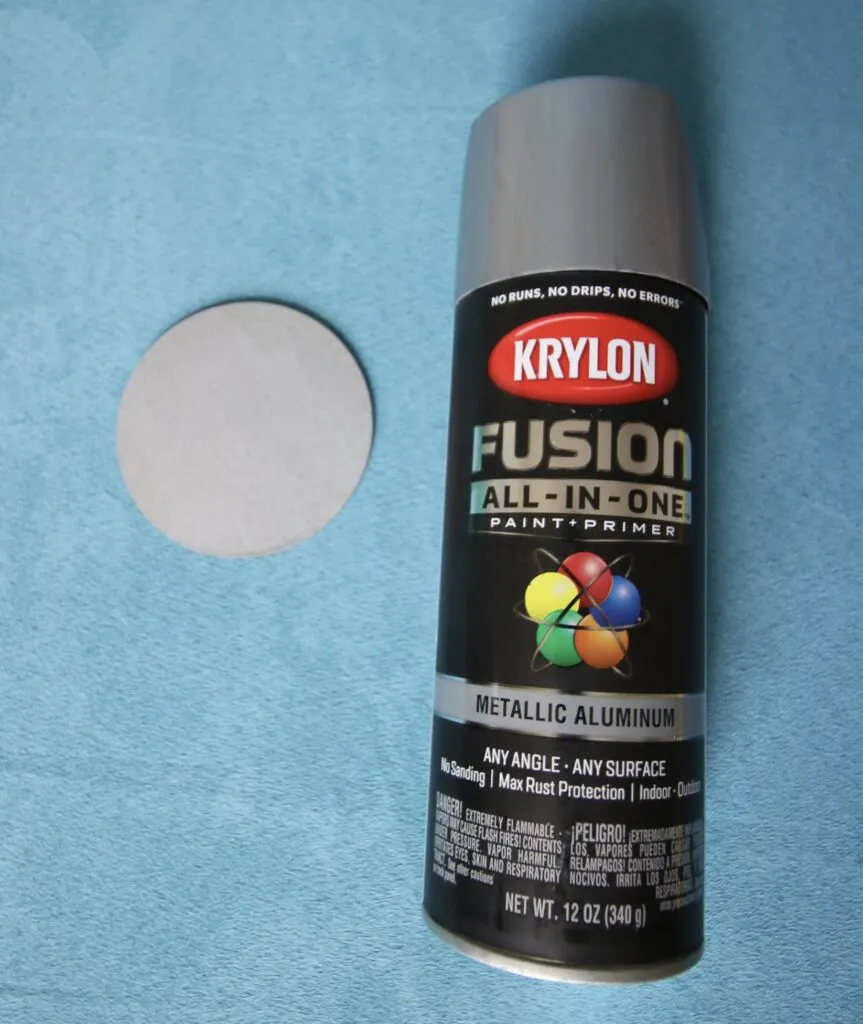 Krylon Fusion Metallic Alluminum is more of a dull silver color. It is not shiny and it has almost zero sparkle or shine to it.
Of the four silver spray paint colors that I tested, this is definitely the darkest in terms of color. If you want a darker, more matte silver option, this could be a good fit for your project.
Krylon paint is sold at Lowes home improvement.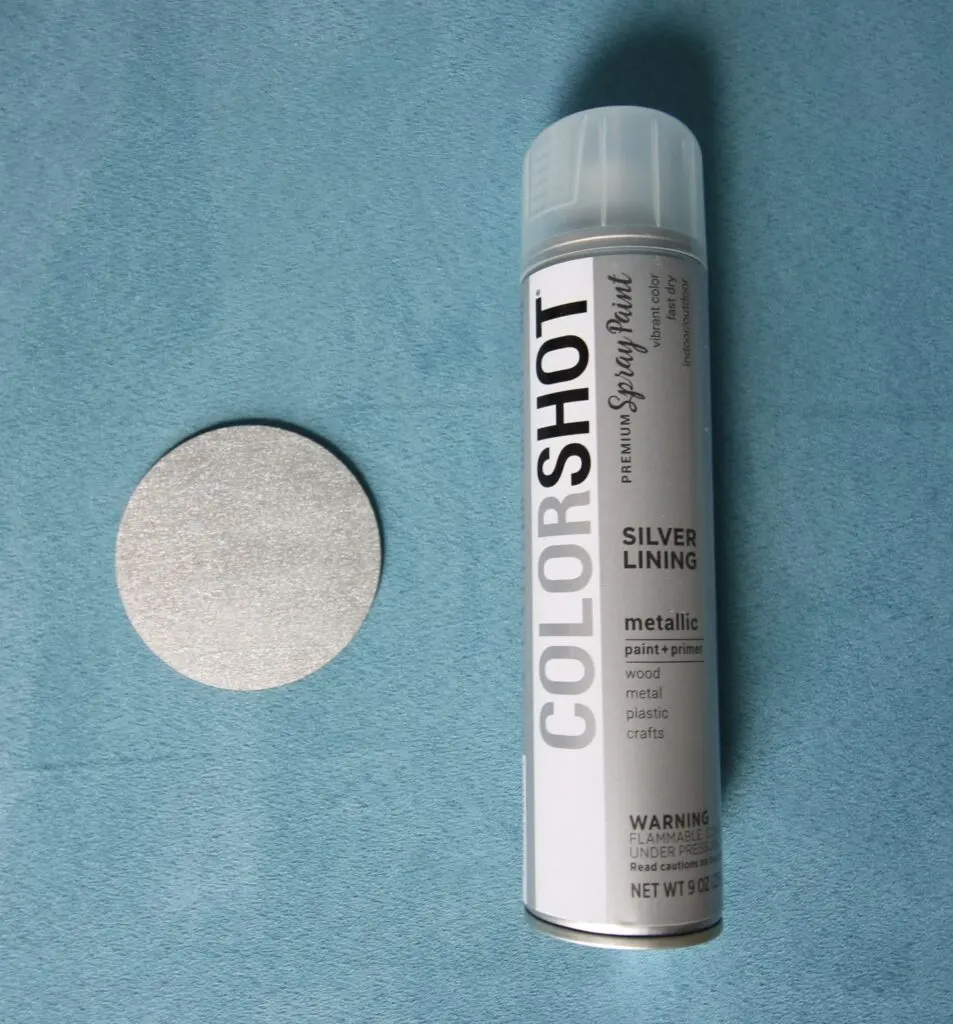 Silver Lining by Colorshot is the silver that I tested that has the most sparkle it it. It does not contain glitter but the silver color definitely glitters in the light.
This is also a very light silver color option.
This color gave really good full coverage and sprayed really well. I like the slim ColorShot cans and think they are easy to handle.
ColorShot paint is sold at Home Depot and Walmart.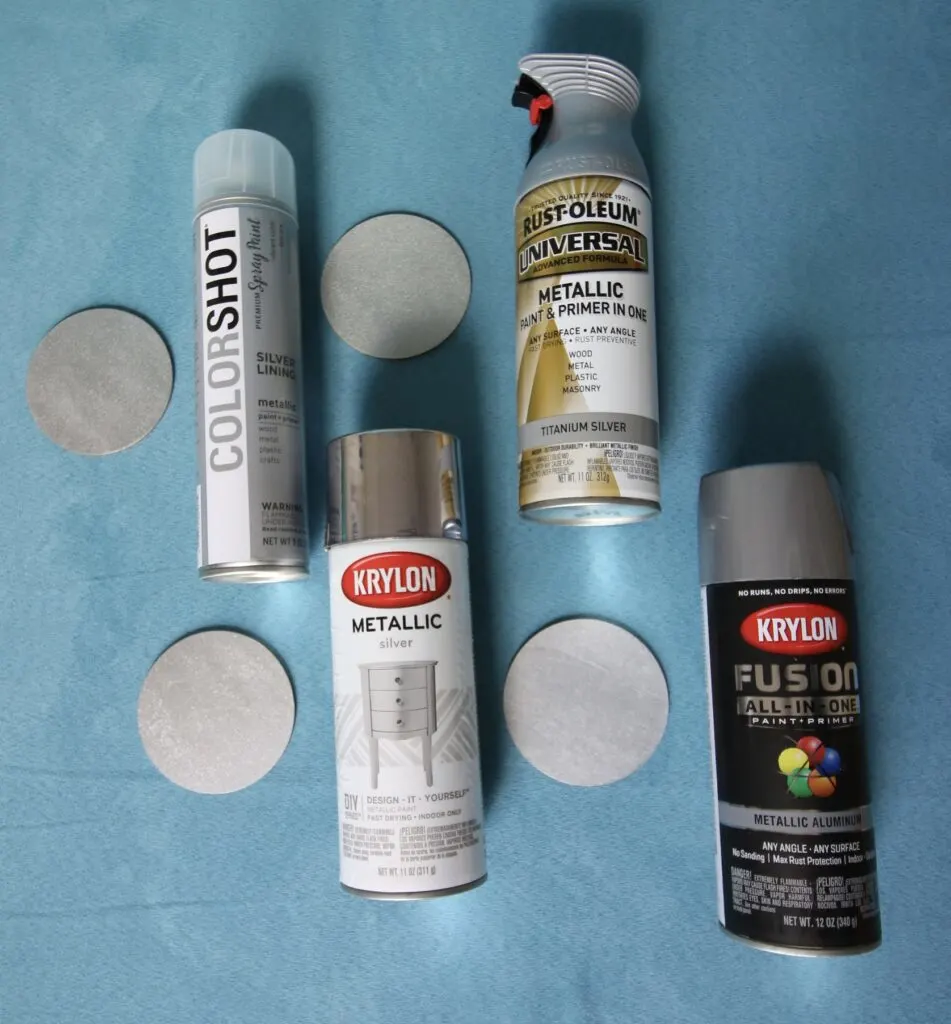 What is the best silver spray paint?
If you want a shiny metallic silver color, I would go with Krylon Metallic Silver.
If you prefer a glittering light silver color, go with ColorShot Silver Lining.
If you want a darker, matte silver, choose Krylon Fusion Metallic Aluminum.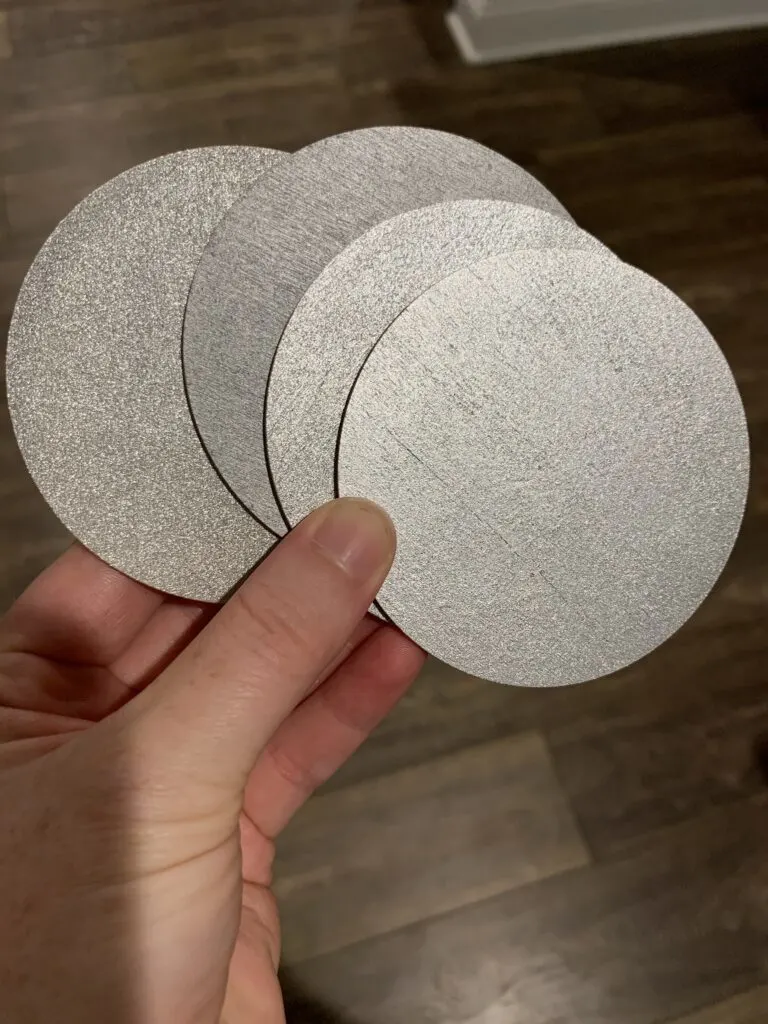 Video demonstration
See these 4 silver spray paints in action!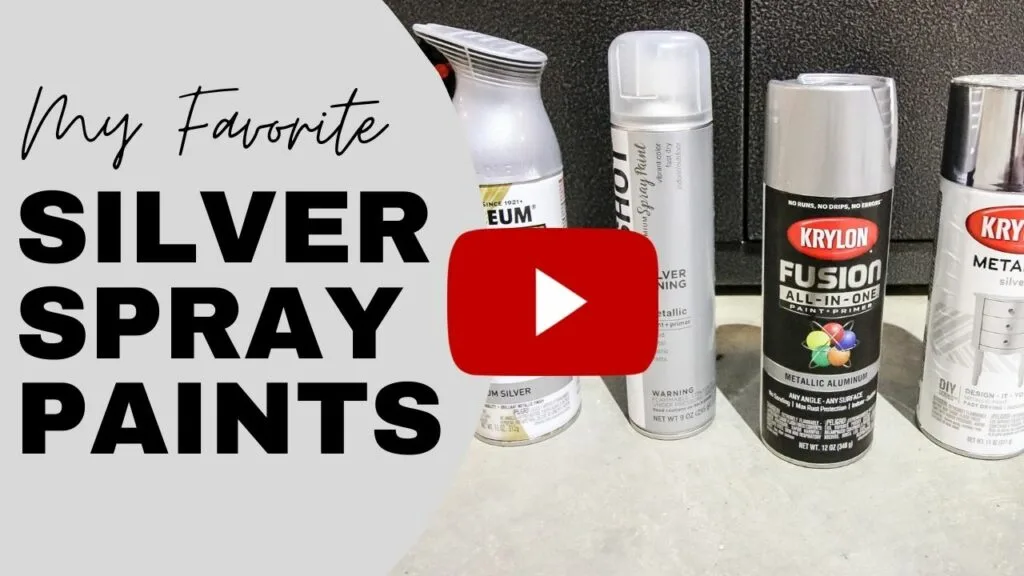 Check out all of my favorite spray paints!
What is your favorite spray paint?!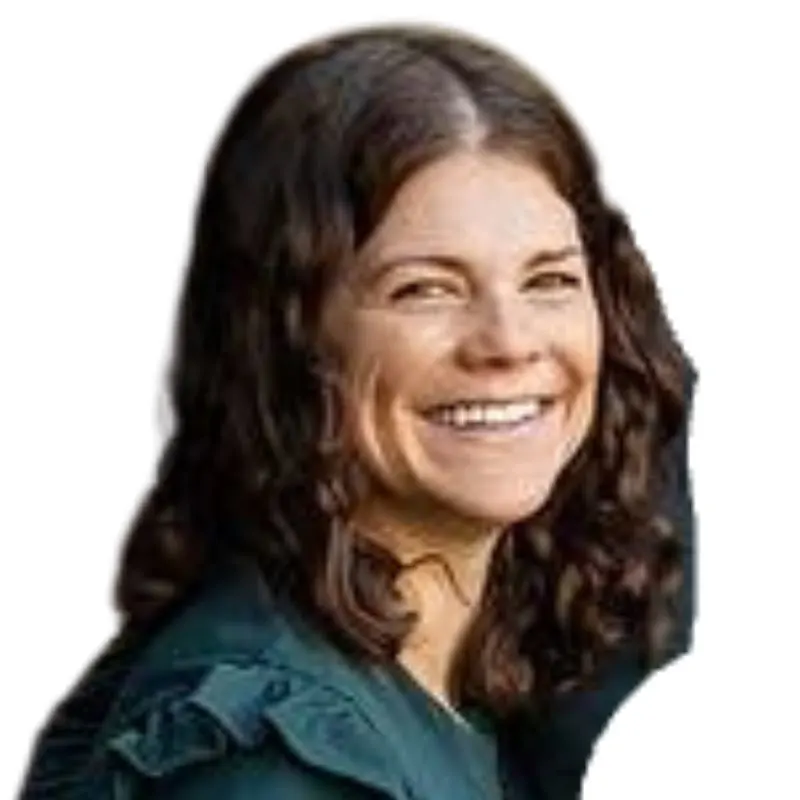 Hello, I'm Morgan, half of the creative force behind CharlestonCrafted.com! With a passion for DIY that dates back to 2012, I've transformed three homes and now I'm dedicated to helping others craft their dream spaces. Let's turn your house into a home together!