Hello – if you are a first time visitor hopping over from Living with Thanksgiving or any of the other blogs, welcome! Please pop over & check out our About Us, Home Tours, and DIY archive page. If you like what you see, add us to your blog reader or sign up for our newsletter!
It is finally spring around here (for real this time?) and I am so excited to reflect that in our decor. We shared a spring mantel with you last week and I am so excited to share a spring tablescape with you today. We are pairing up with 25 other bloggers for a huge Spring Tablescape Blog Hop & I hope that you will use the links below to click through and check them all out!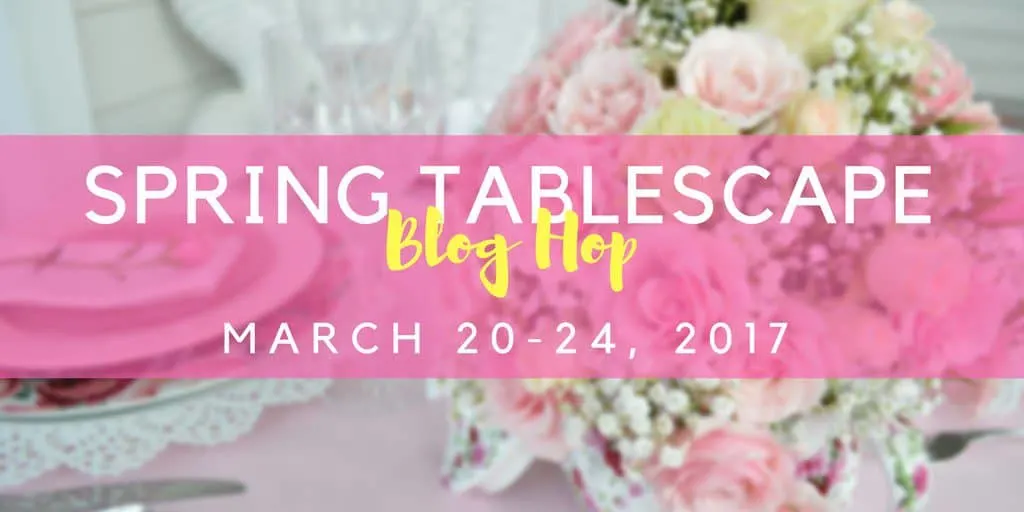 Monday

Everyday Living | Home is Where The Boat Is | Hunt and Host
Up To Date Interiors | Salvage Sister & Mister
Tuesday
Life and Linda | My Kentucky Living | Etched in Colloquy
Living With Thanksgiving | Charleston Crafted | The Bajan Texan
Wednesday
Sweet Sensations | Belle Bleu Interiors | Our Crafty Mom
Fjolla's Table | | A Casa di Bianca | Bluesky Kitchen
Thursday
Panoply | PMQ for Two | The Robin's Nest
Dining Delight | Celebrate & Decorate
Friday
Simple Nature Decor | Rosemary & Thyme | Supper Table Talk
From My Carolina Home | The Painted Apron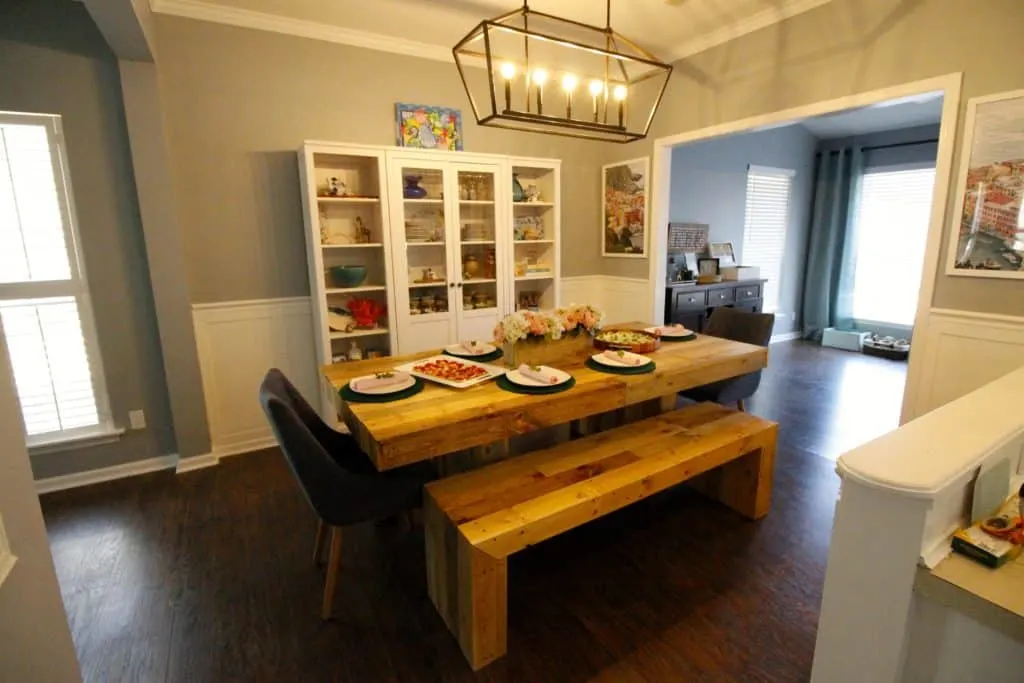 For this tablescape I decided to update our dining room for the spring season. If you love the table, you might remember that Sean built it! It is made of faux reclaimed wood. The tutorial for the table is here and the tutorial for the waterfall style benches can be found here.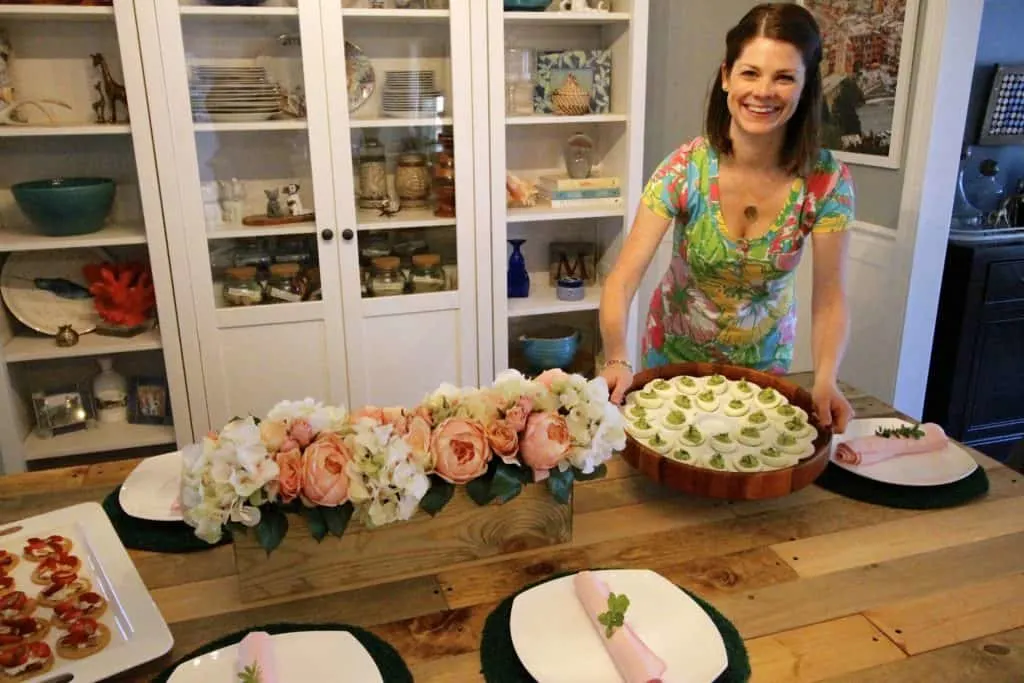 I set this table up for a beautiful springtime lunch. I love having friends over to enjoy our back yard (now that we have a canoe we are excited to really put the pond to use!)
DIY Trough Centerpiece
To make this really feel like spring, I wanted a floral centerpiece. So, it was just perfect when Silk Plants Direct reached out to me to see if I would review their products. I'm not going to lie – I am not normally into silk flowers. However, I really wanted peonies for this tablescape and knew that they wouldn't be in season yet! I ordered a pack of these bouquets, which include hydrangeas, peonies, and spray roses. They are really stunning, shipped extremely quickly, and of a much higher quality than what you find in craft stores. Call me impressed!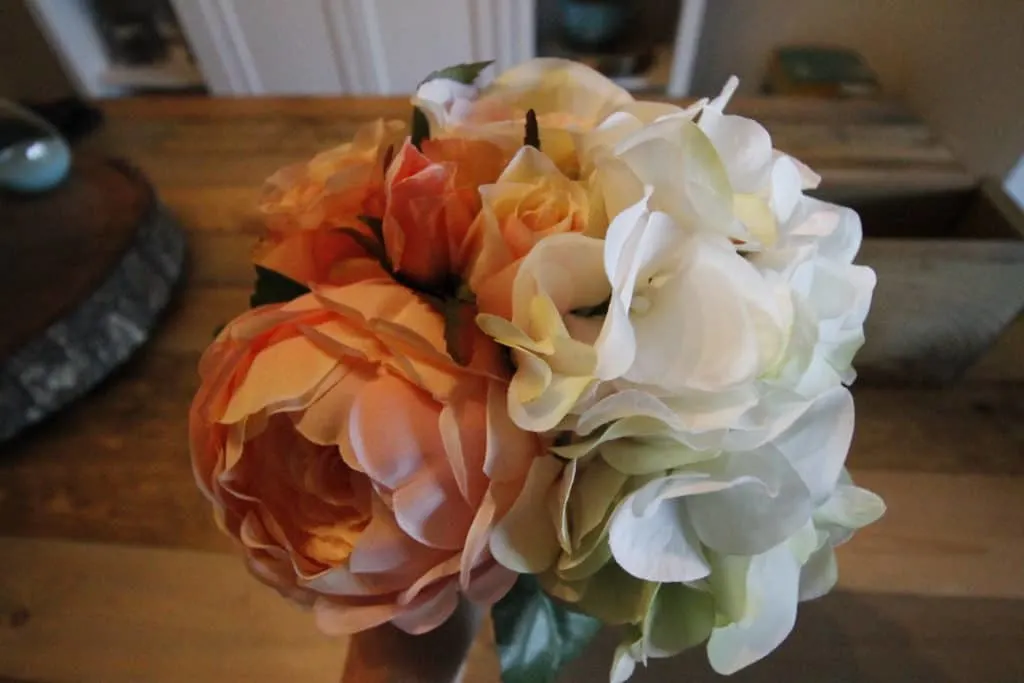 I wanted a long trough-like container to draw attention to the length of the table. Sean constructed me a simple box out of one piece of 1″x 6″ wood. He used his miter saw and kreg jig to get a seamless look. I stained it Minwax Weathered Oak, which takes quite a few coats but ends up a beautiful gray color. It's one of the colors from our table so I think that it ties together nicely.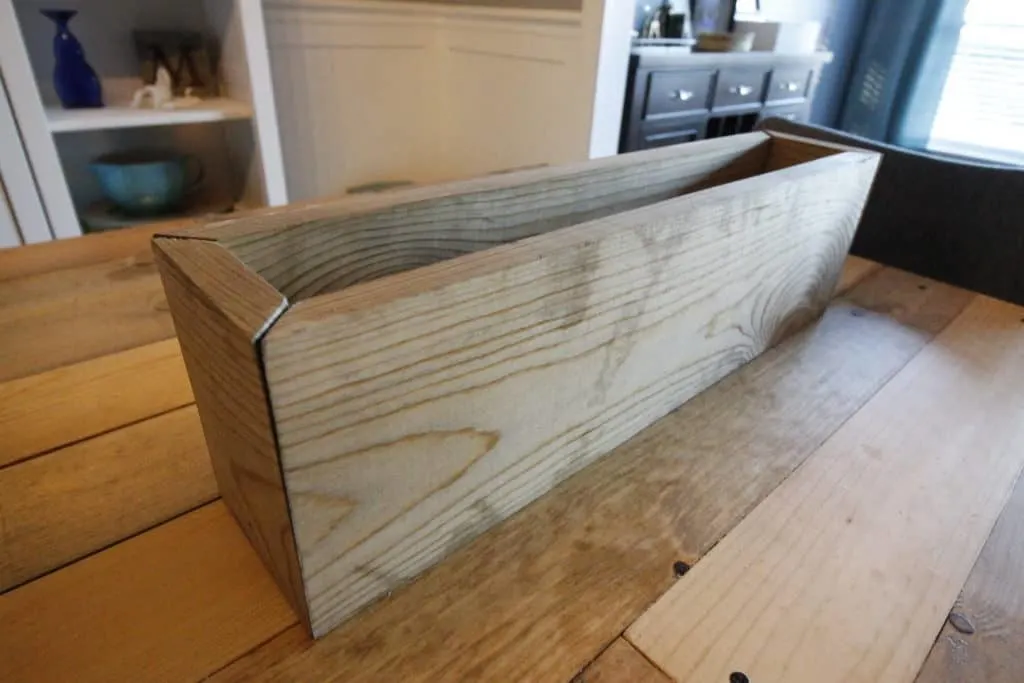 I then stuck the bouquets directly into the trough. Sean built it to be 20″ long and 4″ wide, which we determined would be perfect for this set of six bouquets (I trimmed about 2 inches off each stem to get the correct height). I wanted it to look like an overflowing window box and I really love the end effect.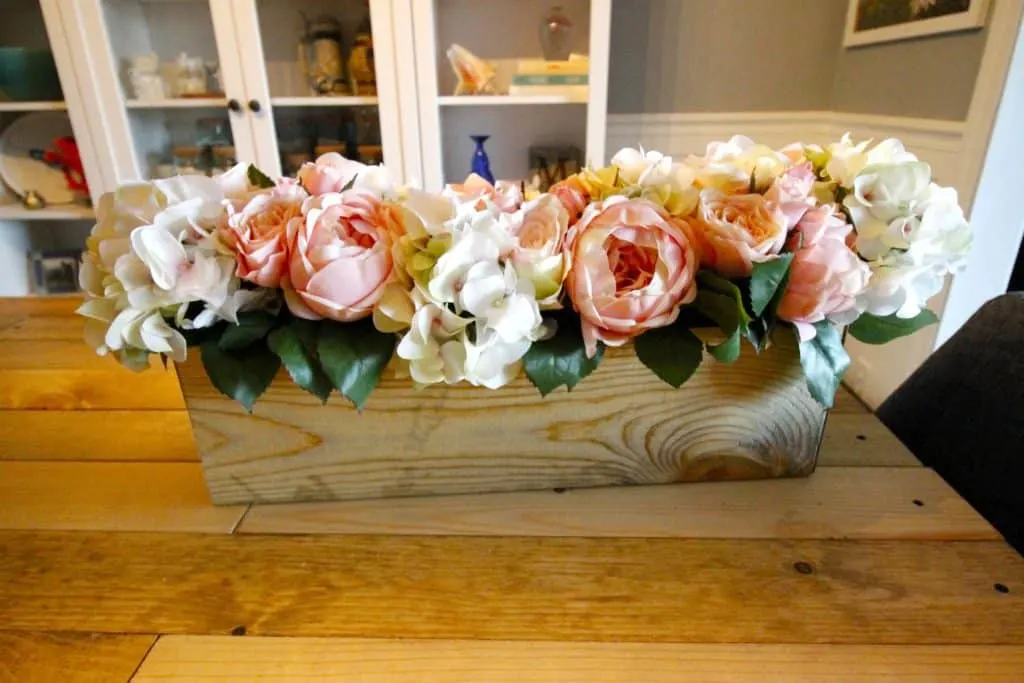 DIY Faux Grass Chargers
As for the place settings, I wanted to keep it simple but a little bit special. I paired our everyday white dishes with handmade faux grass chargers. They were very simple to make – I have bought a roll of astroturf for some football themed projects (like these koozies) so I already had plenty on hand, but you can also order it on Amazon. I simply used a piece of chalk to trace an existing charger onto the back and cut it out with scissors.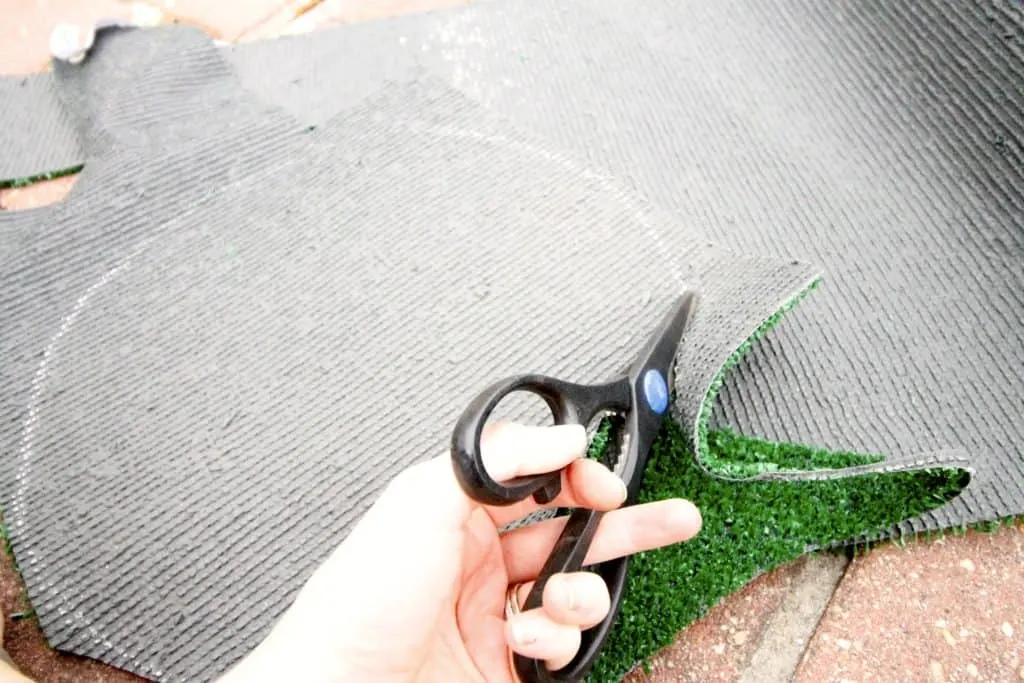 I paired the set up with these light pink cloth napkins (now going into our regular rotation!) and tied with a small piece of rope and a spring of greenery from our yard (actually a boxwood bush!)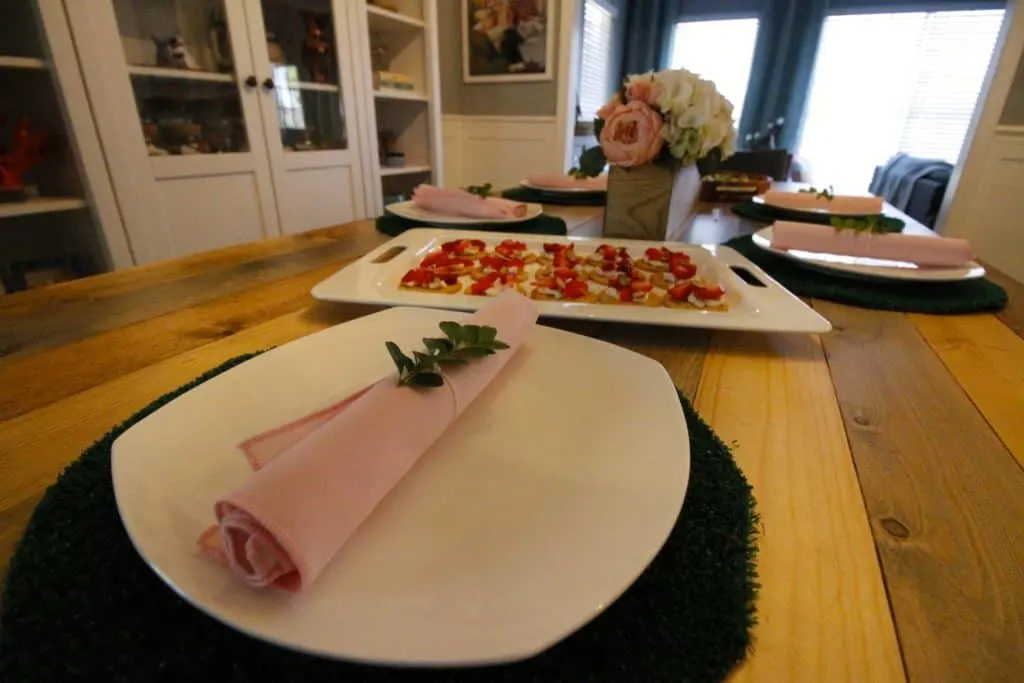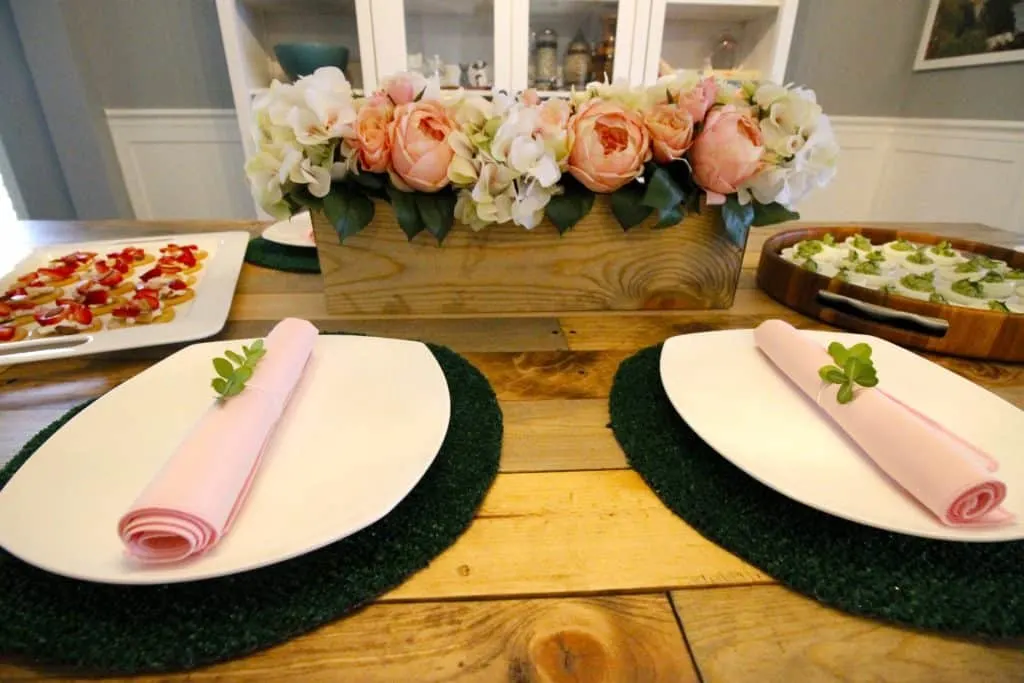 I also wanted to provide a few appetizer bites to enjoy. I'd follow up this set up with a green salad and grilled chicken and veggies. We've been on a brussels sprouts + sweet potato kick lately, both of which grill really nicely in foil packets. Just a little dive into grilling before the really seafood and hamburger fest that is summertime.
Guacamole Deviled Eggs
Sean loves deviled eggs, but I prefer this green version. Blame my avocado addiction! To make them, simply hard boil and peel a dozen eggs. While they cool, prepare your favorite guacamole recipe (or use store bought! I won't tell!). Add the guacamole to a plastic bag and cut the tip to pipe in neat balls of goodness. Top with chives if you like!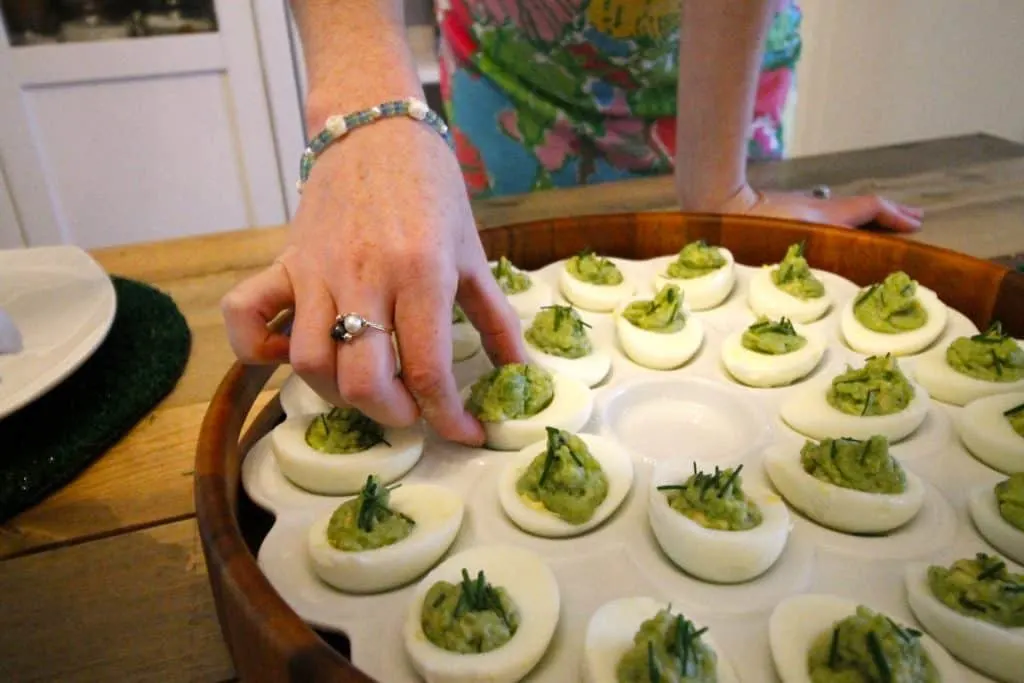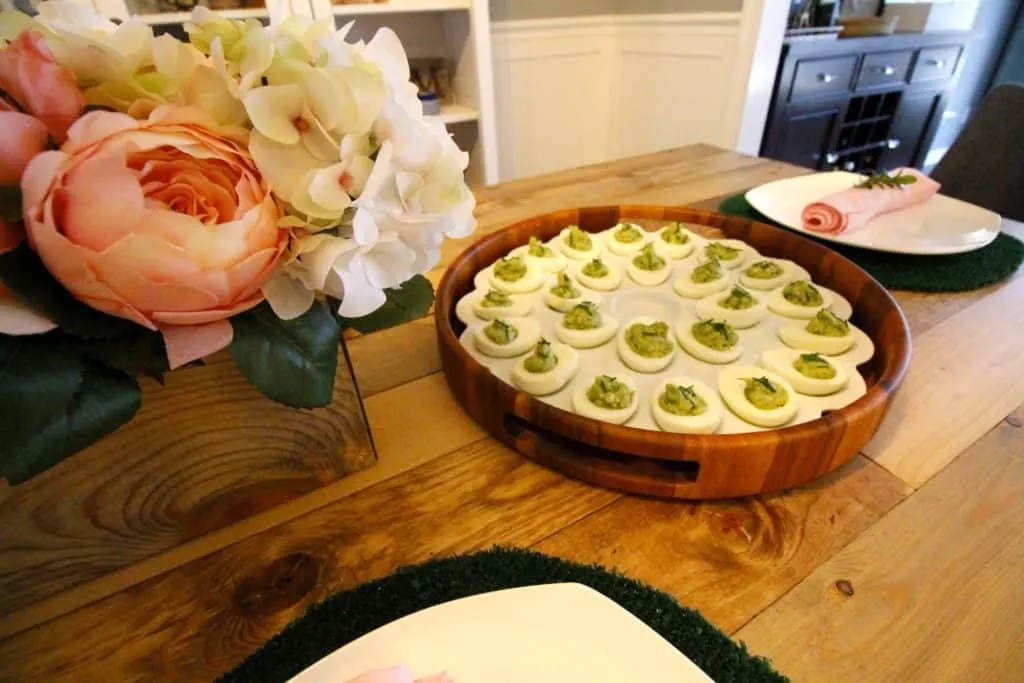 Goat Cheese Berry Bites
I also wanted a pink appetizer to match my theme, so I went with an old standby – goat cheese crackers. Top each cracker with a smear of goat cheese and a couple of berries of your choice. Strawberries are in season so that is what I used. A couple of toasted sliced almonds complete the flavor and texture profile.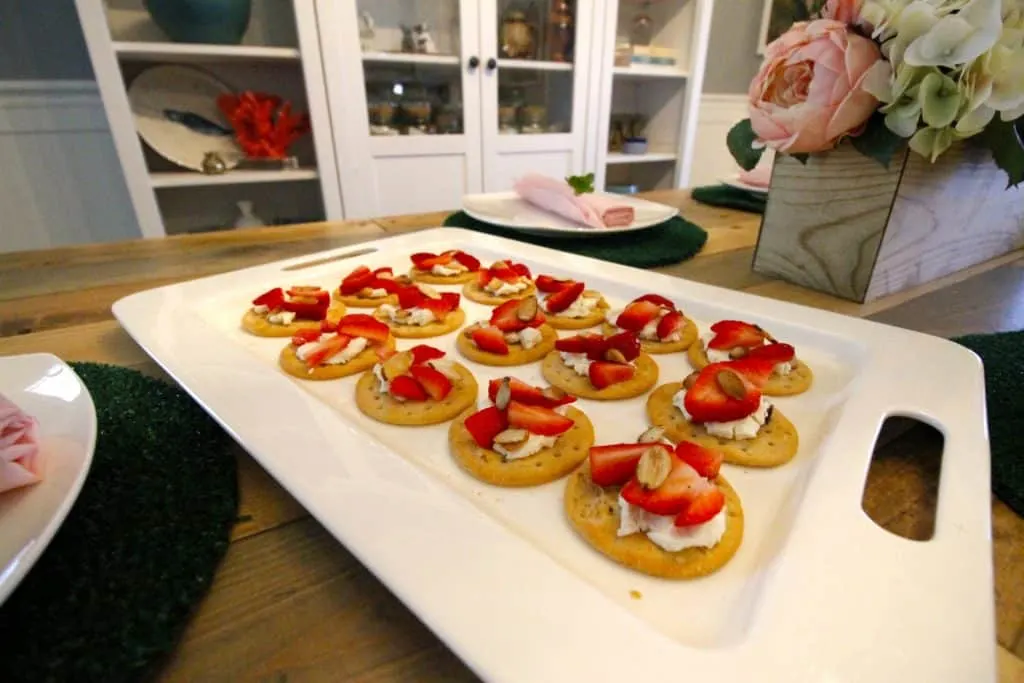 I really enjoyed setting up this tablescape and hope that you enjoyed it, too! Now I am itching to have a party. Please click over to the other participants in this link party and let yourself really get into that springtime feeling!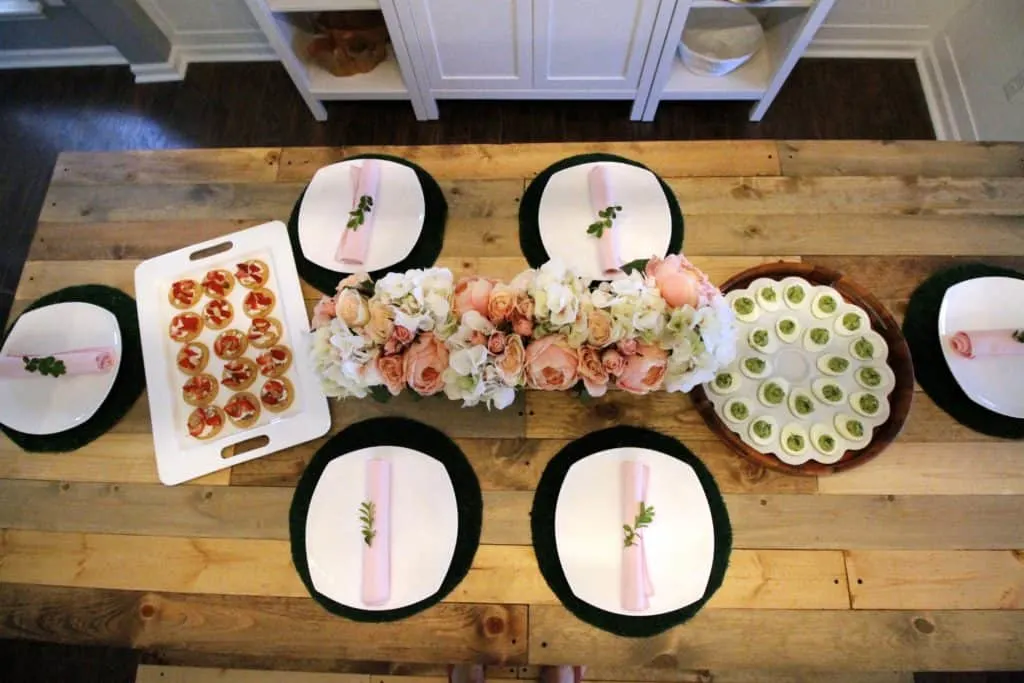 I was provided with the above flowers in exchange for an honest review. All opinions are true and my own. This post also contains affiliate links, meaning that if you click thru and make a purchase, I receive a very small percentage of the sale. Thanks for supporting the brands that make Charleston Crafted possible!