"And in first place, earning a $50 gift card, O'Malley's Dropouts."
No way. Did Bill Davis really just say that? No way we just won trivia for the first time. It's real. Holy crap. We won.
We've been going to trivia on Tuesday nights together for several years now. Morgan had been going for several years before that in college with her friends. For a long time, we were never even relevant. We seemed to get last place every week. We were doing trivia at O'Malley's bar in downtown and then it shut down. The best we had ever done there was third place. O'Malley's opened back up, but had terrible food, so we dropped out and started going to trivia with the same host, Bill Davis, at Sesame in North Charleston, hence our name of O'Malley's Dropouts. We got second place in our first week there and thought we were going to have an easier time, but then nothing materialized. Bill then got a new gig at the Mellow Mushroom in West Ashley, so we started going there.

We've been getting better and better too. Over the last several months, we've gotten second place multiple times, which has a prize of a $25 gift card. But this night was different. Morgan, along with our most reliable teammate, Anne (as well as her perfectly adorable child, Jimmy), went to trivia alone when I had a work event. I showed up midway through the second of six rounds. They had gotten several correct and were in pretty good shape. We were in decent position going into the second half and then had a decent second half. It was nothing spectacular, but it was serviceable.
Going into the final question, we had 45 points, and there were four teams in front of us, with the highest point total being 55. The way the final bonus question goes is that Bill gives you a topic four parts, and you have to rank them in the order he asks for. You also wager between 0-15 points. Get it right, get the points. Get it wrong, he subtracts them from your total.
The final question on this glorious night was to rank the following four Brad Pitt movies from most to least money grossed: Meet Joe Black, The Mexican, Moneyball, and Mr. and Mrs. Smith. We very quickly decided Meet Joe Black was fourth and The Mexican was third. The debate was between Moneyball and Mr. and Mrs. Smith. Moneyball was more recent and did very very well. We remember Mr. and Mrs. Smith doing well, but agreed we had seen it more on TV than we remember in the theaters. But, Morgan and Anne's first thought was that Mr. and Mrs. Smith was the highest grossing. They were positive, so I agreed. We put it down and wagered 15 points, deciding that we needed to come back.
After all the answers were given and tallied, Bill told us the correct answer. We were in awe that we had gotten it right. It's usually easy to get two of the answers easily. It's usually a matter of debating between two. So, while we were excited, I mostly assumed that if we had gotten it, a lot of other people had gotten it as well. Bill started reading the scores, starting with last place. When he got to third and didn't say our name, we started getting excited. We knew we should have 60 points after the bonus round, so we just needed second place to have less than that. When he said, "Coming in second, with a score of 58 points," we lost our minds. We had won!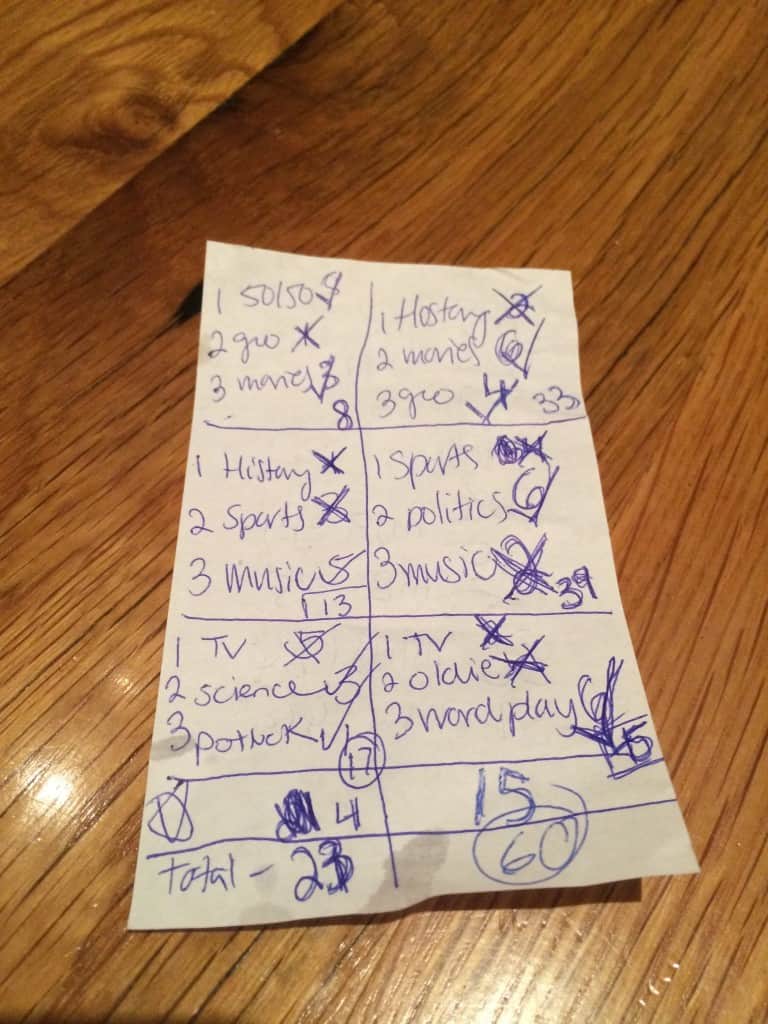 We won trivia for the first time ever. It was an incredible feeling. I know it's lame, but it has been a long time coming. We've played hard every week for years and have never won. There were several times where we thought the whole night we were going to win because we were playing so well, and then came up short. We compete against some really good teams and it started to seem like it was never going to happen. But the feeling was amazing and we were finally able to cross off number 93 from our 101 in 1001 list!
What was the last thing you won?