It's been a little while since we did a 101 in 1001 off our list, but this was an interesting one. Morgan is obsessed with chick-lit books. You know, the books that star a female character that is easy-going, often getting herself into silly little situations and having to work herself out of them. Morgan loves them and reads them in less than a week. This isn't my type of literature, but I wanted to see why she is so obsessed with them. So, I told her to pick the ultimate chick-lit book for me to read. She chose "Confessions of a Shopaholic," by Sophie Kinsella.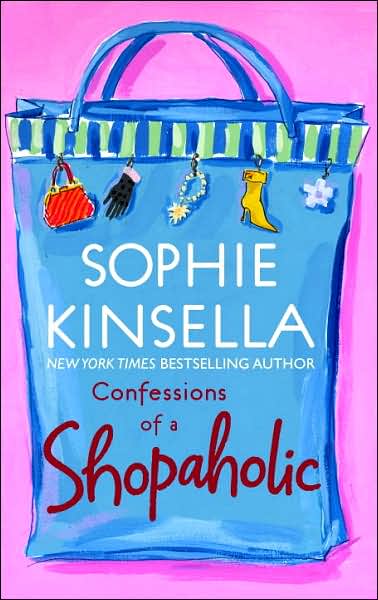 I had a feeling this would be her choice because she owns the entire series and re-reads them all the time. I'm not in to shopping or fashion or anything like that, so I was not 100% happy with having to read this, but that was the point. In the end, I'll admit, it wasn't bad.
The book stars a fun girl in her twenties named Becky Bloomwood. She has a shopping addiction and can't stop spending money, even when the banks and credit cards are constantly sending her letters that she is late on her payments. For a while, she finds funny little excuses and ways not to pay, but that ends up catching up to her. The ironic thing is that she works for a magazine called Successful Saving and always attends financial functions, which is where she meets the hunky nemesis of the book, Luke Brandon. Let's just say, they meet up a few times along the way. Throughout the book, Becky gets deeper and deeper into trouble, but she might just have some strokes of good luck along the way.
Like I said, this book wasn't terrible. I can't identify with the character because I'm not a spender. But, a lot of the things that happen are funny and made me chuckle. She gets herself into impossibly dumb situations and has to talk her way out of it. I liked how her character continuously made up more and more elaborate lies that got her in more and more trouble (Ermitrude's Foundation for Violinists in Mozambique, anyone?). Also, the book was a very fast read. I always mock Morgan for not really reading her books, but turns out that I read this book in a week as well. It was light-hearted and fun, and flowed nicely.
I'll say that I'm not interested in reading the rest of the series, but I am curious about what how a few things play out and Morgan refuses to tell me, so I'll probably never know. Let's just say, this is a good beach read and I've crossed another thing off the 101 in 1001 list.
Are you a "Shopaholic" fan?