Okay okay, so 2016 isn't technically over yet. I had this post in drafts but I got so excited about the GoodReads annual reports (see mine and Sean's here) that I wanted to go ahead and talk about our favorite books from 2016. This was a huge year for reading for us – we both got really into the library and therefore were able to run through many new books – I have read 105 (so far!) and Sean 46. I got really into audio books (also free from the library via Overdrive) and listen to them in the car everywhere I go especially on my 30 minute commute and when we go on car trips.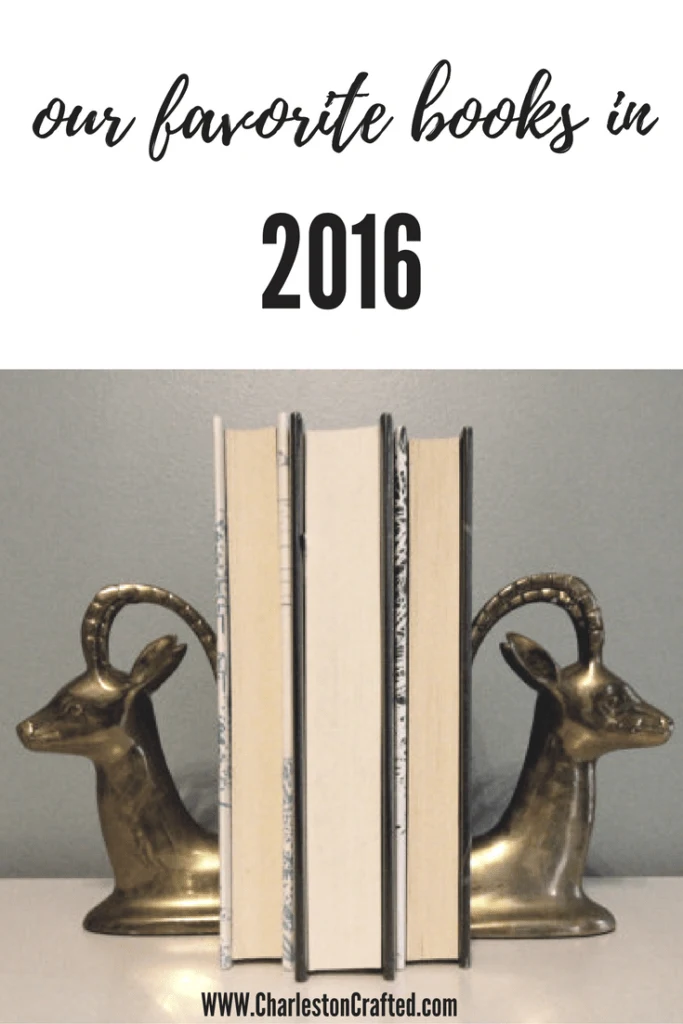 Here are some of our favorites of the year:
Morgan:
The Silent Sister – Riley spends her entire life thinking her sister was a murderer and is dead herself, only to, as an adult, be faced with an alternative possibility. This book will definitely have you debating who is the bad guy!
The Hypnotist's Love Story – Liane Moriarty can do no wrong and this is my favorite of her novels. A professional hypnotherapist gets involved in a love triangle, and a really beautiful story comes out of it.
Forever, Interrupted – Elsie finds herself in a while wind romance ending in a speedy elopement, and then her new husband is suddenly and tragically killed. She finds herself grieving a man she barely knew yet loved deeply alongside the mother in law she never met. A serious tear jerker and hard to put down!
The Singles Game – Lauren Weisberger's latest, a fantastic tale of a professional tennis player fighting to win on the court and off it. A great look into what makes pro-athletes tick and begs the question of how far you would go to achieve your dreams.
Along the Infinite Sea – a tale of a vintage car and the people it brings together, both today and in the past. I love reading about World War Two and this was a very interesting perspective on the civilian side of it.
Sean:
The Wayward Pines series – we got into this story when they started a mini-series on it in the summer of 2015. I slammed through all three of these books in the second week of the year. It was a good start. This series is such a thriller and makes you think about what could actually happen to the world one day. I can't wait for season three of the show to come out where I think they are going to take a twist from the end of the last book!
The Goldfinch – this book is very long, but it kept my attention the entire time. It's a great tale that twists around the life of one boy and how he keeps a secret his whole life from something that happens in his childhood and ends up getting exposed later in his life. The downward spiral he goes on is incredible.
A Man Called Ove – this is a book that will just tug at your heartstrings the entire time. Ove wants to kill himself and is such a crotchety old man, but he knows that his wife would rather him keep helping people and that desire to please her burns in him always.
Underground Airlines – another great book that makes you think about how things that have happened in the time of our country could have had totally different effects on us if they had just gone the other way. This look at what slavery would look like in the modern world is amazing.
I Let You Go – there are tons of books that say, "this is the next Gone Girl" and I scoff, because Gone Girl was amazing. Not saying that this was as good as Gone Girl by any means, but I thought that the twist in the middle of this book was one I hadn't seen in a while.
How many books did you read this year? What were your favorites? What should we read next?!
This post contains affiliate links. That means if you click through and make a purchase we receive a very small percentage of the sale. Thanks for supporting the brands that make Charleston Crafted possible.