Sean & I are both huge readers. He is on pace for 1 book a week this year and I do 2 books a week (#humblebrag but really it's one book and one audio book listened to on my commute). We love using GoodReads to track all of our reading but I really love looking at it at the end of the year. You can sort your books in the last year by ranking which makes it so easy to find your favorites!
To be fair I am writing this on December 18th, so we will probably fit in a few more books this year, but I am just assuming that we won't read any more favorites. If you have time off of work in the coming weeks, consider picking up one of these books from your local library, used bookstore, or Amazon!
Want more book ideas? Follow us on GoodReads! Morgan — Sean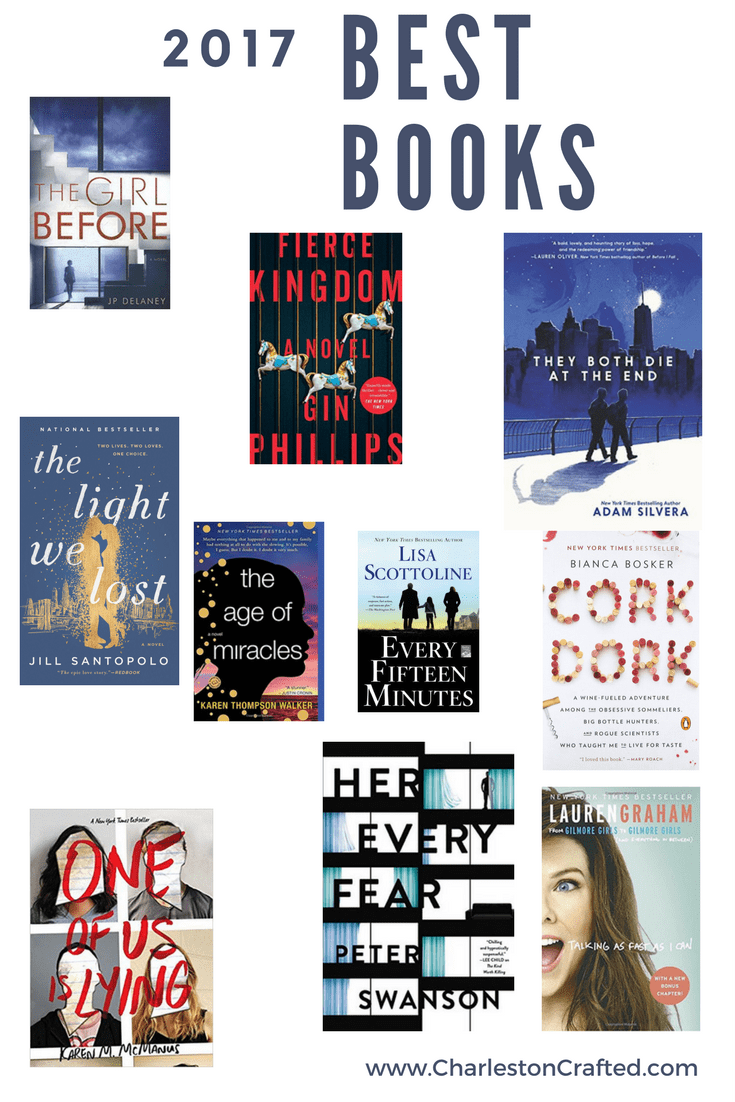 Morgan:
The Girl Before – J.P. Delaney [GoodReads , Amazon]
A psychological thriller about a woman who moves into a home that seems to be too good to be true – and becomes obsessed with the story of the girl that lived there before her.
Talking as Fast as I Can: From Gilmore Girls to Gilmore Girls, and Everything in Between – Lauren Graham [GoodReads, Amazon]
Lauren Graham is a charmer and her life story is very sweet to hear. This is a must read for all Gilmore Girls groupies, though I really do suggest that you listen to the audio book if at all possible! Hearing Lauren's story in her own voice is a wonderful experience.
One of Us is Lying – Karen M. McManus [GoodReads, Amazon]
I love nothing more than an unreliable narrator and this novel has you distrusting each of the ensemble cast the whole way through. Five kids go to detention and one ends up dead. Who did it? This was a fun page turner and was intricate but still believable.
Every Fifteen Minutes – Lisa Scottoline [GoodReads, Amazon]
I went on a bit of a Lisa Scottoline audiobook kick this year (all mystery thriller types, all very good) but this was my favorite. It explores the idea of a psychopath and leaves you guessing the whole way through. We listened to this as an audiobook on vacation and it made the road trip fly by!
Cork Dork: A Wine-Fueled Adventure Among the Obsessive Sommeliers, Big Bottle Hunters, and Rogue Scientists Who Taught Me to Live for Taste – Bianca Bosker [GoodReads, Amazon]
This is a non-fiction book, which is off my norm, but oh my gosh it sucked me in. Bianca is a writer who spends a year training to be a sommelier. If you are mildly interested in but uneducated about wine, you will love the deep dive into all of the behind the scenes details that this book provides.
Sean:
Fierce Kingdom – Gin Phillips [GoodReads, Amazon]
There's an active shooter in a zoo, a concept I never would have thought of and it's such an amazing fiction setting for this thing. The story of a mom and her son attempting to survive is incredible.
They Both Die at the End – Adam Silvera [GoodReads, Amazon]
The title straight up tells you what happens, but why? Because there's a new service called DeathCast that calls you between midnight and 3 a.m. if you are going to die that day. You then have to decide how to live your last day.
The Age of Miracles – Karen Thompson Walker [GoodReads, Amazon]
The Earth's rotation slows down and people have to figure out how to cope. There are so many little things throughout this book that are affected by something like this that you wouldn't have thought of and it kept me thinking the whole book.
Her Every Fear – Peter Swanson [GoodReads, Amazon]
A London girl and her Boston cousin switch apartments for a while, but the girl might have gotten herself wrapped up in something she wasn't expecting.
The Light We Lost – Jill Santopolo [GoodReads, Amazon]
9/11 happened and two people met that day, but the effect of the disaster left different long term feelings in each person, feelings that caused them to drift in and out of each other's lives for the rest of their lives.
PS – remember when Sean had to read the Chick Lit book of my choice?!
This post contains affiliate links, which means if you click through and make a purchase, we receive a very small percentage of the sale. Thanks for your support!