Summertime and the reading is easy. Between lazing on the beach, travel time on vacations, and just wanting to lounge in the AC on a stiflingly hot day, summer is when we get a TON of our reading for the year done. We both have been crushing through books this summer and wanted to share some of them with you if you're crushing them like us!
Be sure to follow Morgan & Sean on GoodReads to read along with us! If you already use GoodReads, consider checking out this feature which lets you compare if you and I (or any 2 people!) have read the same books and how your ratings compare! I find it so interesting!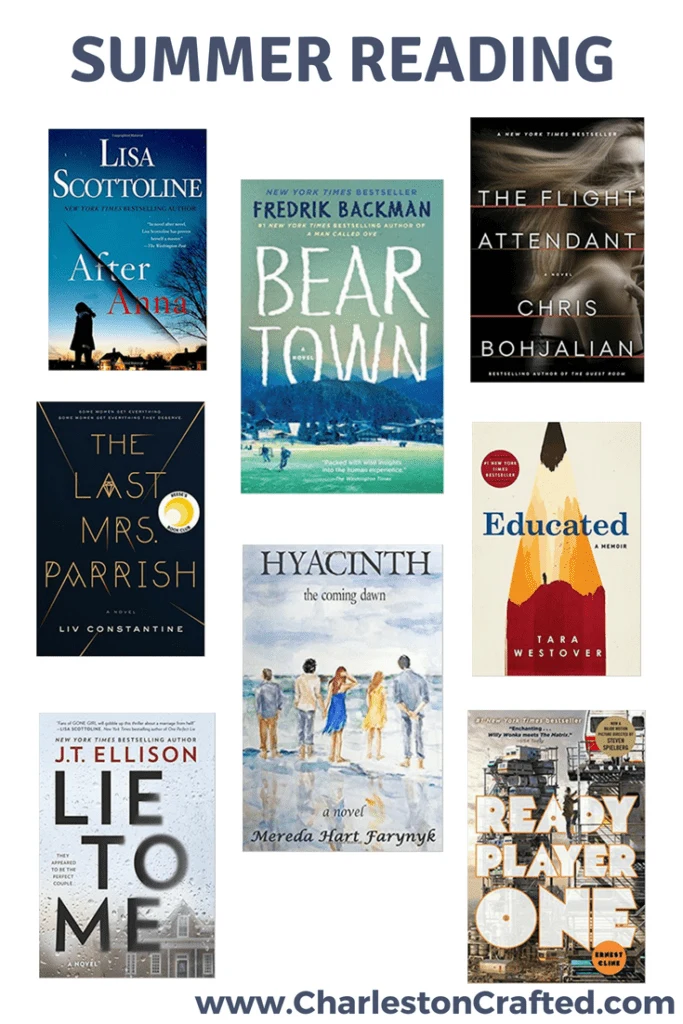 Morgan
After Anna by Lisa Scottoline – a woman reunites with her long-lost 18 year old daughter and her family begins to unravel, when it should be coming together and growing. Is the daughter really evil and trying to ruin her life? I love Lisa Scottoline books and really enjoyed the fast pace and characters of this one!
The Last Mrs. Parrish by Liv Constantine – Amber is fed up with her life and wants to move her way up the social scene. She sets her eyes on the life of one very wealthy Mrs. Parrish and decides to take her down and take over her apparently luxurious lifestyle. This book makes you wonder if things are really what they seem from the outside and keeps you guessing all the way through!
Lie to Me by J.T. Ellison – the Montclairs seem to have the perfect life, until Sutton disappears one day. The search for her throws her husband into the main suspect field and tears their lives apart. I loved the ending of this book and was really pulled into it all the way through!
The Flight Attendant by Chris Bohjalian – Cassandra is a flight attendant who wakes up one morning very hungover. Not so unusual, except that she is in bed with a dead body. She has no idea what happened but just that she has to get to the airport and catch her next flight. She soon finds herself entangled in a crime much bigger than herself but can't at all remember her role – which of course makes her a huge suspect! This was a really fun and fast paced read with some cool insight into (a fantasy version I'm sure) international flight attendant life.
Sean
Ready Player One by Ernest Cline – it's the future and everyone is connected through a virtual reality network that is extremely expansive. The creator of the network dies and leaves his fortune to the first person who can solve his many riddles and games. It's a race to the finish filled with a plethora of 1980s nostaligia.
Educated by Tara Westover – the true story of a girl who didn't receive a public education until she was accepted to college. Her father was afraid of the government and didn't even register her or her siblings as being born. They lived off the grid and had many problems. Fascinating look at how something like this could happen right in front of us.
Beartown by Fredrick Bachman – a hockey team has a chance to go farther than the town has ever seen and it's all because of the unbelievable play of their best player. The team has cohesion and great style and can take anyone on. But what happens if a massive scandal ruins that cohesion? One of the best books I've read in a while.
Hyacinth: The Coming Dawn by Mereda Farynyk – great conclusion to a trilogy that I've written about in our reviews before. A dystopian world where all citizens are kept very much in the dark about the world around them, but a precious few know the truth, and it's up to them to bring the truth to the people and reach the rest of the outside world before everyone is killed from the inside.
Check out all of our reading lists here! What have you been reading lately?