Since starting to plan our wedding, we have been pumped up about all of the food. We know that we want our wedding to give our guests the Charleston experience, and such a huge part of Charleston is the food culture – the pressure is really on us on this one!
Our venue requires that you use their catering company, so we didn't have a tasting before booking them. It was a little risky to commit without knowing how the food was, but we just crossed our fingers that it would be great.
So, last week (about 4 months out from the wedding) we had our tasting with the catering company. The tasting was actually held at the company's main venue (our venue's "sister") the Creek Club at I'On. I'On is a beautiful neighborhood in Mt. Pleasant and the Creek Club is within that neighborhood. The venue is more isolated than ours and is a clubhouse with a huge wrap around porch and a dock on the creek.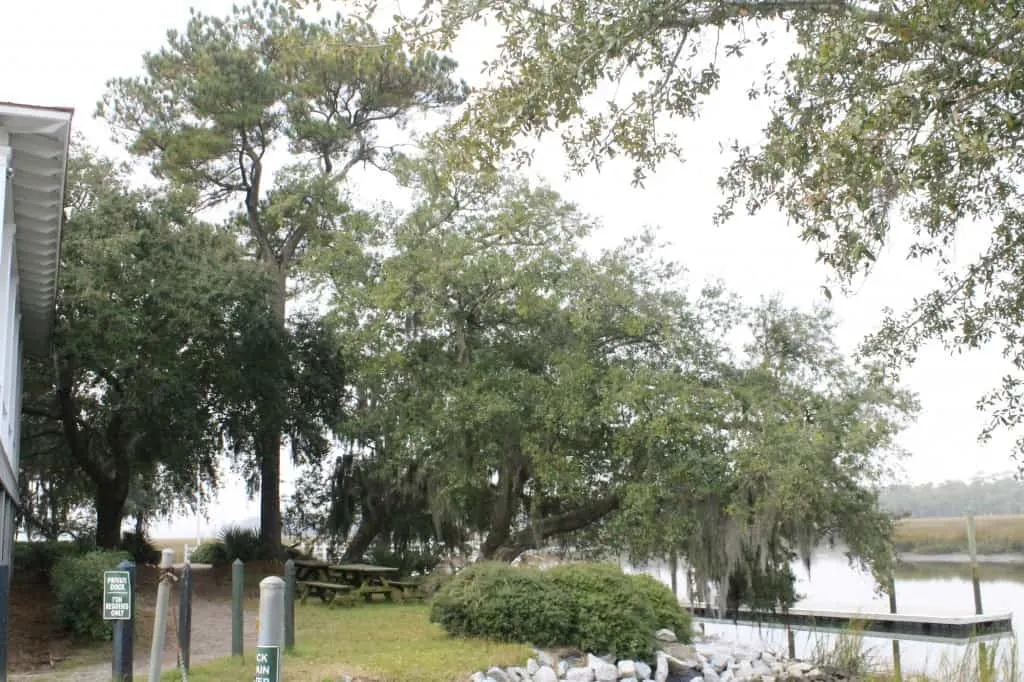 They set up a cute little farm table for us to do the tasting at. Fun fact: these are the chiavari chairs that are included in our venue rental.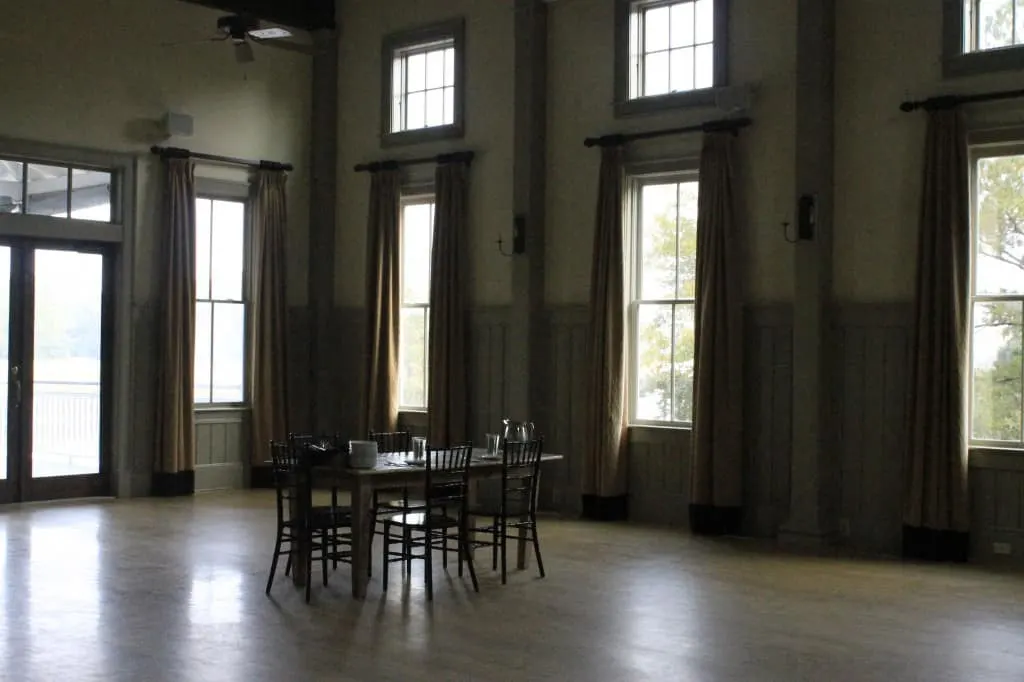 In preparation for our tasting, we pre-selected 10 appetizers and 3 entrees to taste. It was so hard to choose – so many looked good! In the end, we decided to focus on foods that have a Charleston feeling to them.
Here is the first plate of appetizers that we tasted: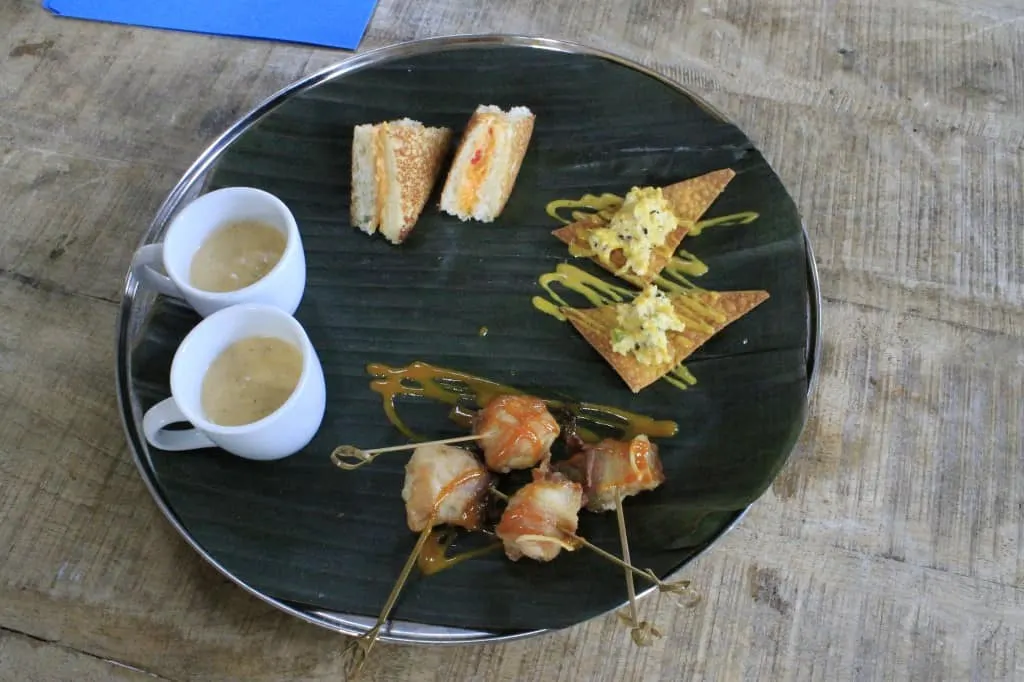 Clockwise from the top:
Grilled pimento cheese sandwiches – Grilled cheese is a really safe option. The fact that these were made with pimento cheese gives them a bit of Charleston flair, but they are still very plain and safe. It was a good bread-to-cheese ratio and they were each about 3 bites – the biggest I'd want a passed appetizer (served with a napkin) to be.
Sweet and tangy shrimp – These were not what I expected. They were actually a shrimp salad on a wonton. The flavoring was really good – but it was a bit Asian-y and not southern. Plus, the wonton was crumbly and might be hard to eat without a plate. But, they were definitely good.
Island BBQ skewers – Each of these skewers contains a bacon wrapped shrimp or scallop with a pineapple BBQ sauce. Excuse me while I eat a whole tray of these, they were so good. We slightly preferred the shrimp – they were a better size (slightly smaller, less chewing) and a little tougher, which was nice with the bacon. The sauce was sweet and sour and just enough to make you feel like you're at a tropical location. These would definitely be a hit with the guests – and that's coming from someone who isn't super crazy about bacon.
She-crab soup shooters – She-crab soup is another Charleston staple, and I really wanted to like these. However, it was kind of hard to pour them from the little mug into your mouth- it took an awkward 3 gulps and I couldn't get it all out. As much as I love she-crab, I'm not sure if my guests would love these.
Here is the second plate of appetizers: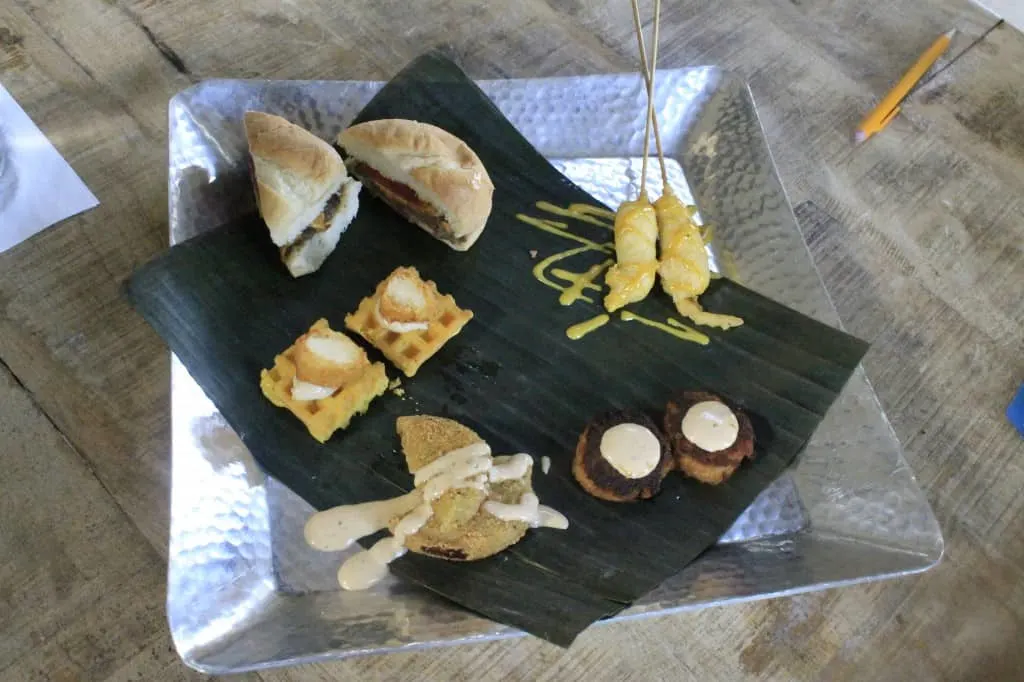 Clockwise from the top:
Kobe sliders – Ok, so these aren't Charleston-themed at all. But I love little burgers and have a secret plan for these – assuming that the budget allows for them! These were the perfect 3 bite snack, and had melted cheddar and a tomato jam that was even better than ketchup. Probably the best sliders that we have ever had. Very delicious.
Cajun chicken corn dogs – Sean was super curious about these corn dogs and really wanted to try them. The chicken was beer battered, hand dipped, and fried. They weren't really spicy – the sauce had some kick, but I thought they were bland. It was the name that really attracted us to these.
Mini crab cakes – Crab cakes are an east coast staple and these were great. Lots of meat, not a lot of filler, and a great creamy aioli on top. And they could be one bite – a plus in my book.
Fried green tomatoes – I love fried green tomatoes and wanted to love these. Even though they were cut in half, they're definitely 2 biters, and my tomato slipped out of the breading with the first bite. I had an instant vision of a big cocktail hour mess and decided that they might not work at all.
Chicken and waffles – If you've never tried chicken and waffles, you need to try these. They're so tiny and cute, but majorly delicious. The little chicken nugget is resting on a tiny flavorful waffle, sandwiching a maple syrup cream sauce. They are heaven. If I don't eat anything else on my wedding day, I will eat some of these.
We will serve the appetizers via a waiter pass on the deck after the ceremony. They recommend that we have enough for 3 appetizers per person (for a one hour cocktail hour). So, we will have to decide if we want 3 appetizers at 100 each (or however many guests we end up with) or a few extra appetizers, and just a lower quantity of each. I'd love to hear if you have experience or advice on this!
Next, we tasted the entrees. It is traditional in our region to serve dinner via stations throughout the reception. I know that this differs based on where you live, but this is really the norm for our circle and we love it – it allows people to focus on mingling and to try lots of different food options. There's nothing worse than having to pick chicken or fish two months in advance, only to be disappointed in what your dish actually looks like compared to your neighbor's. Stations let you see what looks good, pick and choose, and try multiple things. They advised us to have enough food for each guest to have 2 out of 3 stations.
So, we are planning to have 3 stations. We sampled each of the proteins, but think we are going to do a little mixing – up with the sides.
First, we tried the chicken: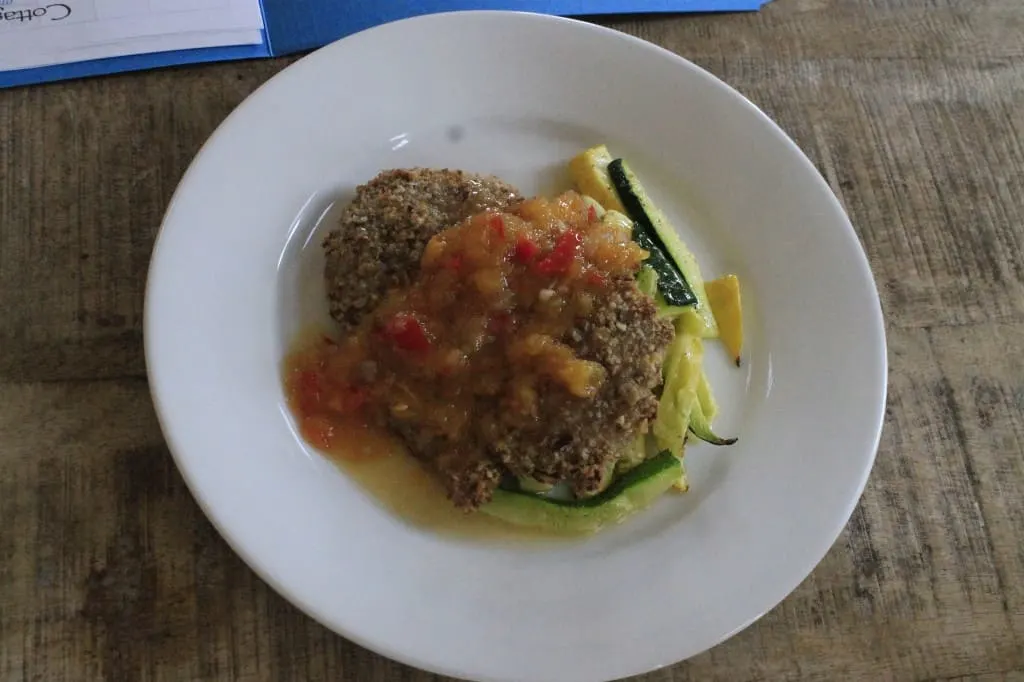 This is a pecan-encrusted chicken with a peach chutney sauce and julienned grilled vegetables (squash and zucchini). This chicken was phenominal. I'm so glad that we picked it over a fried chicken. The pecan crust was crunchy and delicious. The sauce is good but very peachy, but they specifically told us that the chef manning the station will ask guests if they'd like sauce on top, on the side, or not at all.
The julienned vegetables are also a lighter option. They were pretty basic, but will be good for guests looking to eat a little green with their fattiness.
We originally wanted to have a "Garden Trio" station – garden salad, Caesar salad, and pasta salad. But, after looking at how much space the stations take up, we have decided to add a salad as a side option to the chicken. So, people will be able to get chicken, grilled veggies, and/or (lettuce) salad at this station.
Then, we tried the BBQ pork: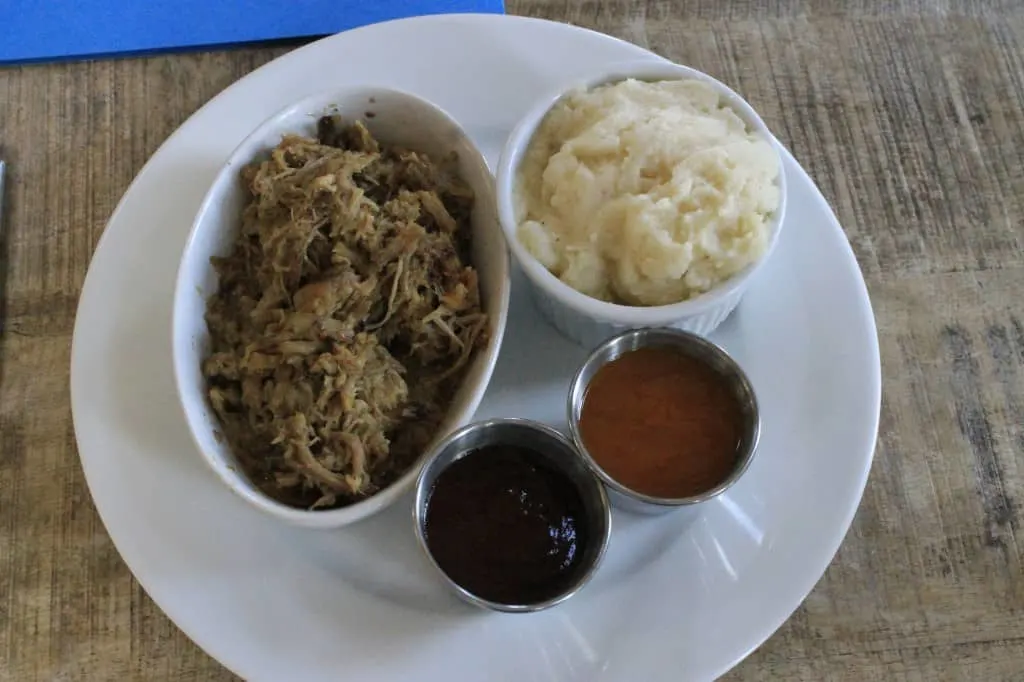 Barbeque is such a staple in my family's culture, I felt like we had to have it as our "meat" option. It fits the Carolina-feel much better than a steak would, in my opinion. This was pretty basic pork barbeque, but it had two sauce choices – a basic barbeque sauce (like what you'd dip chicken nuggets into, something like you buy on the dressing aisle at the grocery), and a second sauce that is the traditional South Carolina mustard-based BBQ sauce. Now, I love mustard-based BBQ, but it makes me slightly nervous. My family is very traditional eastern North Carolina, and the BBQ standard there is a vinegar-based sauce. I don't quite know what they will think of this new sauce. But, our wedding is all about traditional Charleston foods, and that means mustard-based. So we are sticking with these two (also, vinegar-based isn't a choice around these parts 😉 ). Hopefully they will be open to it! And I know people will ask – no, it's not a huge difference (to me) in taste. It's just what people are used to – and BBQ is a touchy subject in the Carolinas!
We sampled the BBQ with mashed potatoes, but you'll find out below that we decided to sub it for mac n cheese. It will also be served with cole slaw and corn bread. Yum!
Finally, we sampled the shrimp and grits fish option: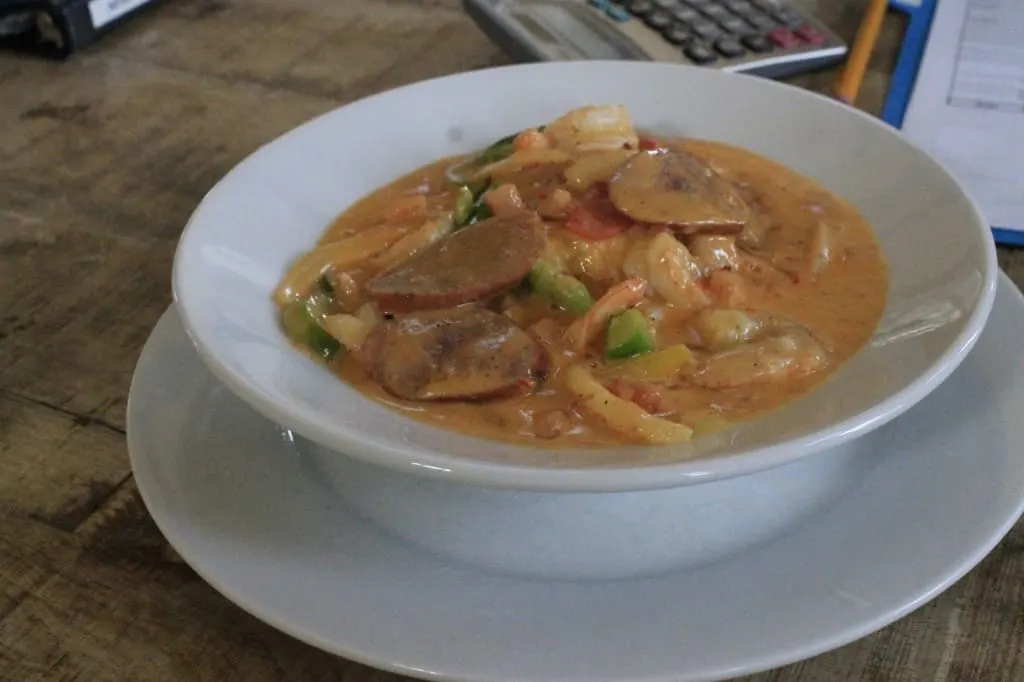 Shrimp and grits is as quintessentially Charleston as you can get. This is the top item on any restaurant menu in town, and for a good reason. These aren't the instant Quaker grits your mom made you swallow down for breakfast. Stone Ground Charleston grits really have the texture of mashed potatoes – and these are cheddar flavored. Delicious.
Guests will have the choice of grits by themselves (boring, but someone who's a bit scared of them might want just a bite on their plate) or to top off their bowl with this delicious shrimp and sausage gravy. It had tri-colored peppers and the perfect level of spice to the creamy gravy. I cannot wait for people to try these – they will convert them to grits lovers for sure!
An additional station that we tried was the mac n cheese station: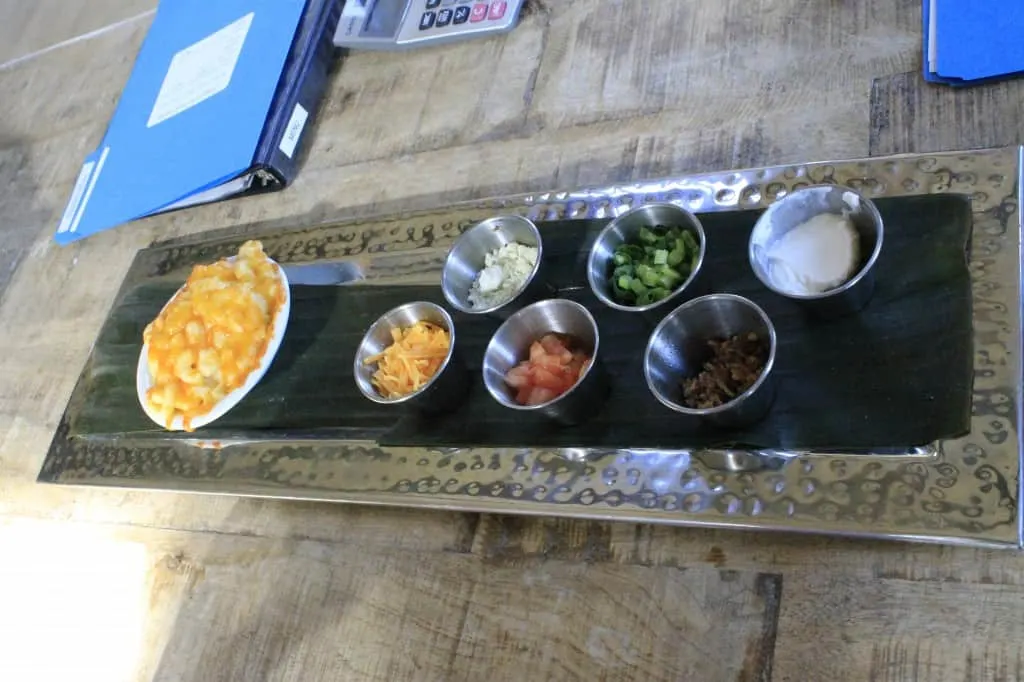 They can set up a self-serve station with martini glasses of mac n cheese and several toppings. The mac n cheese was very creamy with a nice crust of baked cheese on top. Unfortunately, we aren't going to have the space in our reception area to have a separate Mac n Cheese station. We thought it would work but it just doesn't look like it is going to. So, we have decided to add the mac n cheese as a side to the BBQ! Mac n cheese was Sean's #1 must-have for the wedding and this was an exceptionally good recipe. We won't get all the toppings (or the martini glasses) by serving it as a side, but we will still get the deliciousness.
We are so excited for our wedding food! I think that it will really be a highlight for our guests and I hope that they all have fun getting a taste of the Lowcountry!