Have the blinds broken out of your shutters? Here's our simple step by step guide on How to Repair Broken Plantation Shutters.
Unfortunately for me, I now know how to repair broken plantation shutters. Fortunately for you, I can now teach you all about plantation shutter repair.
Broken plantation shutters can come in a lot of shapes and forms, but this fix will work if the slats have come off of the side frames.
This is an annoying problem to face, but definitely one that can be fixed in a few minutes with the right supplies and the right information. Read on to figure out exactly what you need to do!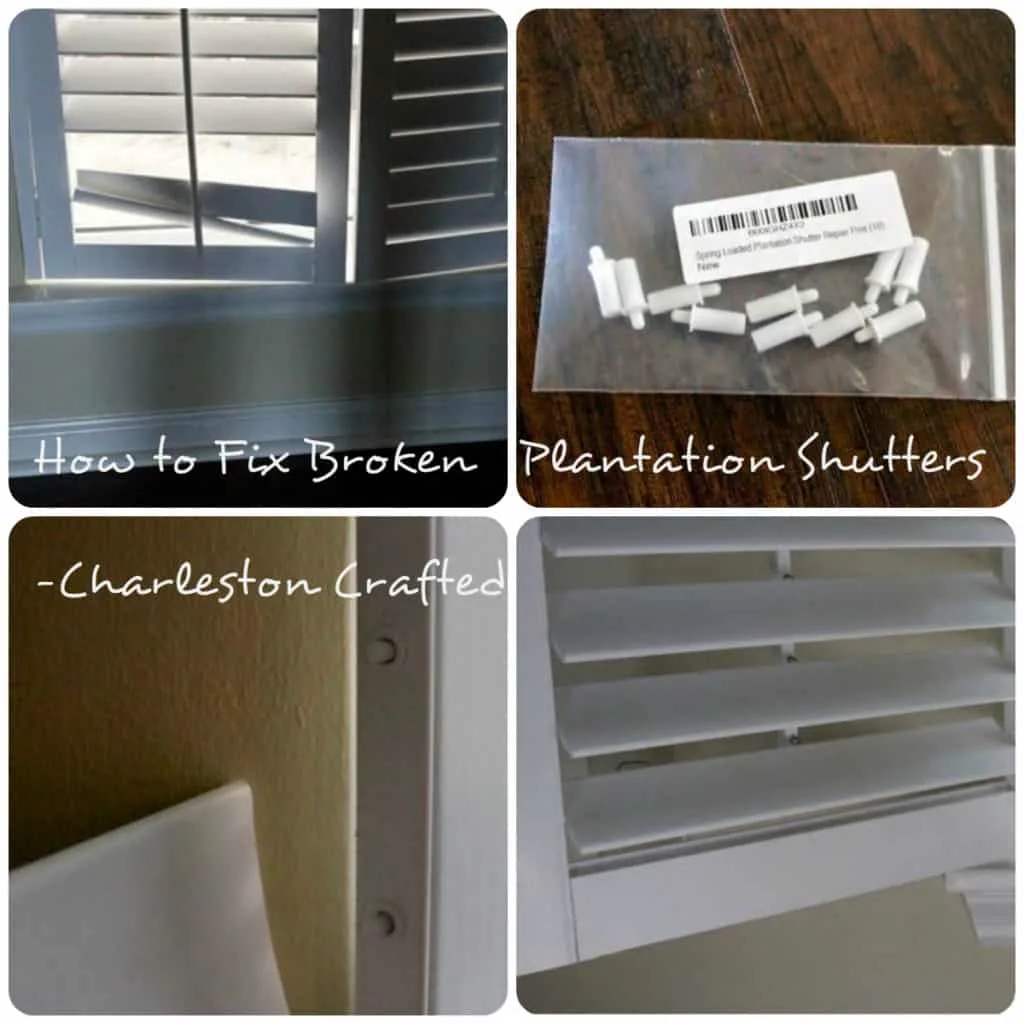 How to fix plantation shutters
If you remember, the first project we did in our new house was to install wood plantation shutters in our front living room.
We needed privacy from people on the street and we were going out of town the first weekend after we moved in. We didn't want people peering in and knowing we were gone.
With a few mishaps and redos, we got them in place and they look great.
Well, our dog CiCi has a lot of anxiety when we are gone. Like we are never ever ever coming back ever.
Before the shutters were up, we noticed that CiCi had been hanging out at the front window so that she could watch for our return.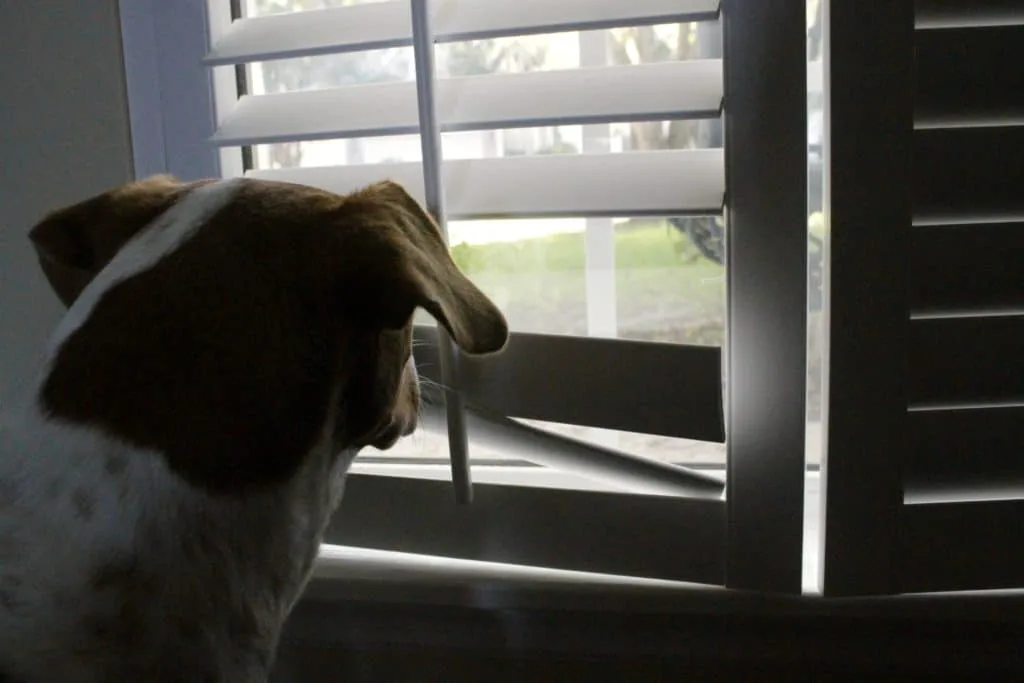 After the shutters went up, she didn't take kindly to the fact that we had covered her window to the world, so she proceeded to knock out four of the slats at the bottom of the shutter panel.
Not great.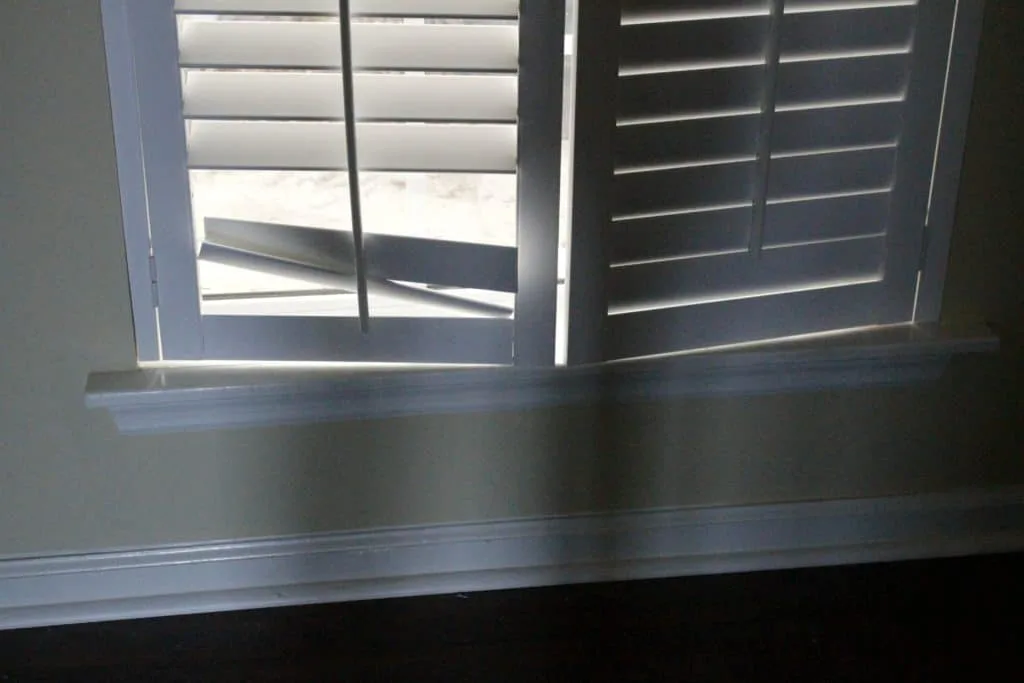 Luckily, the slats themselves didn't break, but she pulled them out of their frame.
We tried to put them back together, but the pegs that had been holding them in place were too long and we couldn't figure it out.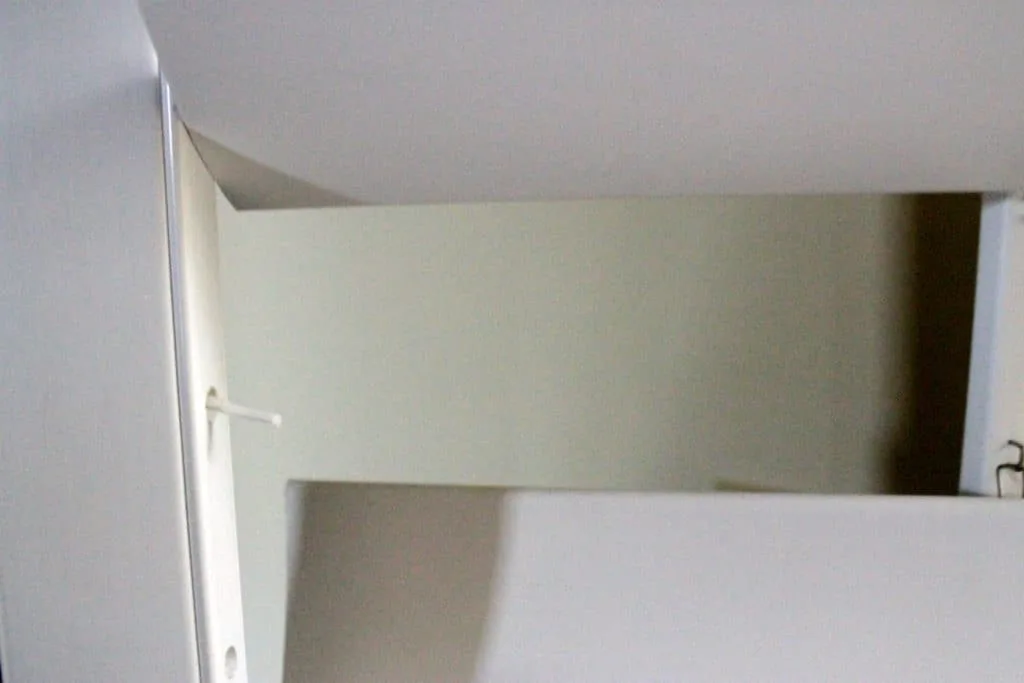 So, we ordered these spring-loaded plantation shutter pins to use to repair them instead.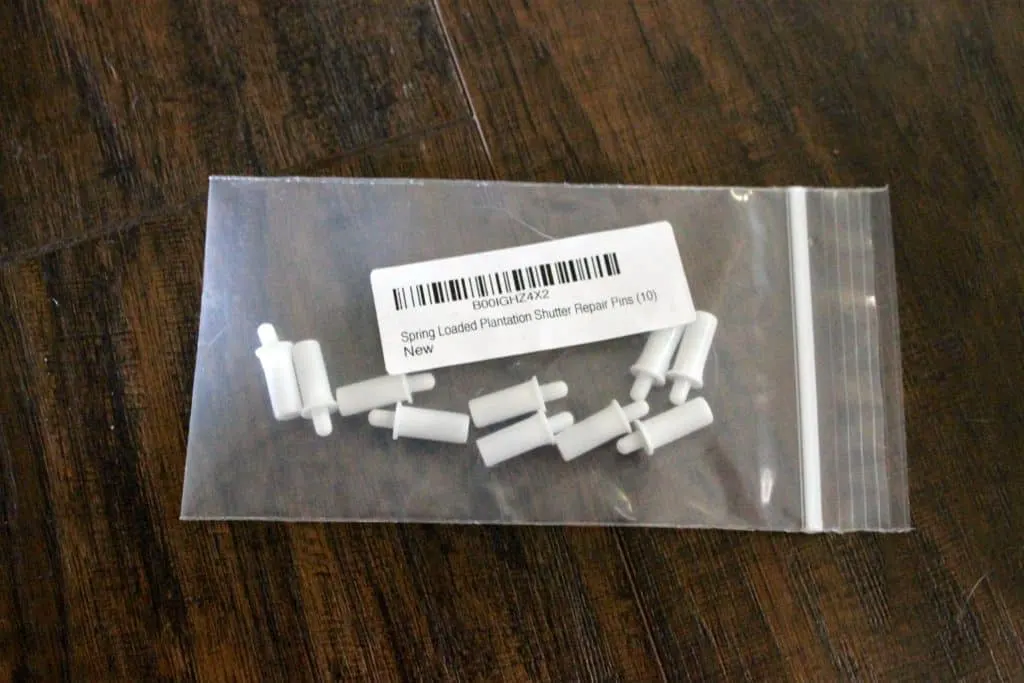 These spring loaded plantation shutter repair pins are great! You can insert them into the plantation shutter frame, push in the pin, and slide the slat into place.
The spring-loaded pins were a little wider than the ones that were in there before. So, I used a drill first to open up the hole a bit.
This is my drill bit set and will make sure you have the right one you need!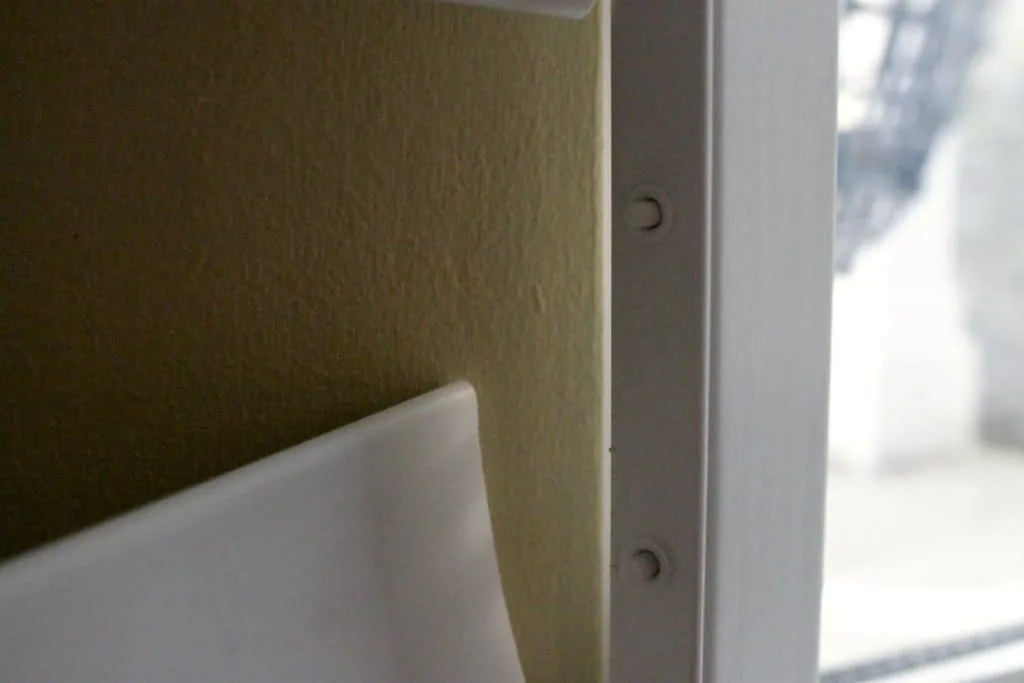 Then, you stick in the tension screw. The wood shutters go back in place and they are working as good as new! Plus a few claw marks.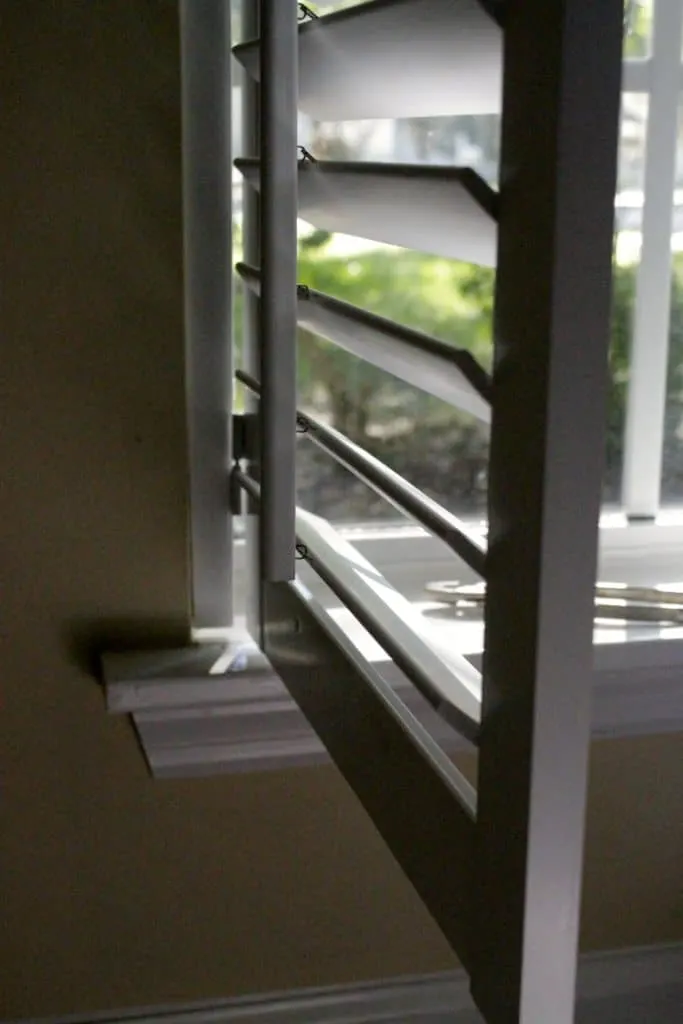 How do you fix a broken plantation shutter?
Broken plantation shutters are a big pain, but you can fix them without having to replace the entire shutter.
Here is exactly how to repair broken plantation shutters:
Pop them into the shutter frame
Drill bigger holes into slat if necessary
Put one side of the slat into a pin
Flatten out the other pin using a knife or card
Slide the slat down into place until the pin pops into the hole of the slat
It was so frustrating trying to use the original pins with no luck. These spring-loaded pins saved me some sanity.
CiCi hasn't tried to burrow out through the shutters again since, but I'll know what to do if she does!
If you have broken plantation shutters, I hope that this helps you to fix them!
PS – got more pet problems? Here's how we get pet urine out of furniture and here is how we clean up pet hair!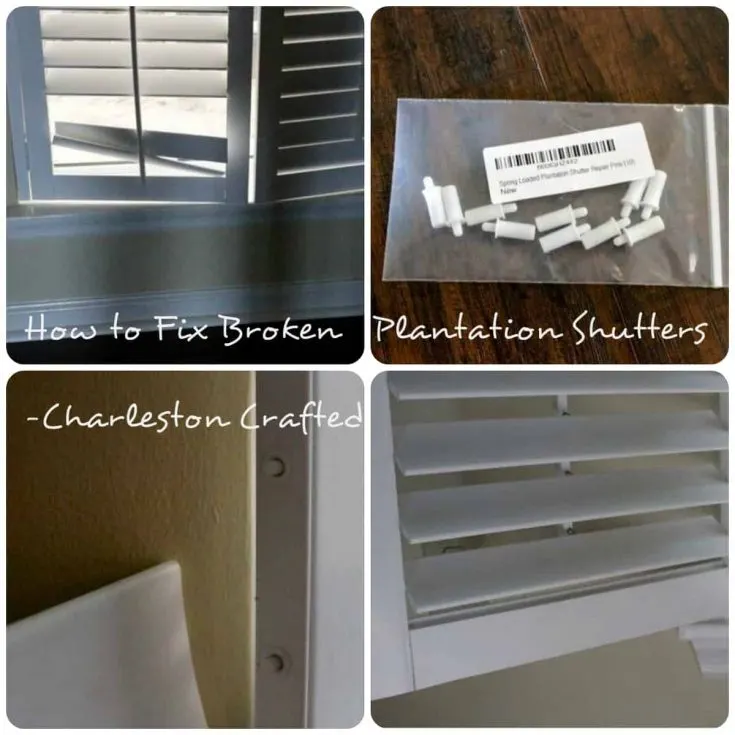 Yield:

1 set of shutters
How to repair broken plantation shutters
Plantation shutters are pretty expensive, so you want to repair them and not replace them. Here is how to fix broken shutters!
Instructions
Remove damaged shutter slats.
Remove the pins from the frame.
Pop the new pins into the shutter frame.
Drill bigger holes into slat if necessary.
Put one side of the slat into a pin.
Flatten out the other pin using a knife or card.
Slide the slat down into place.
Recommended Products
As an Amazon Associate and member of other affiliate programs, I earn from qualifying purchases.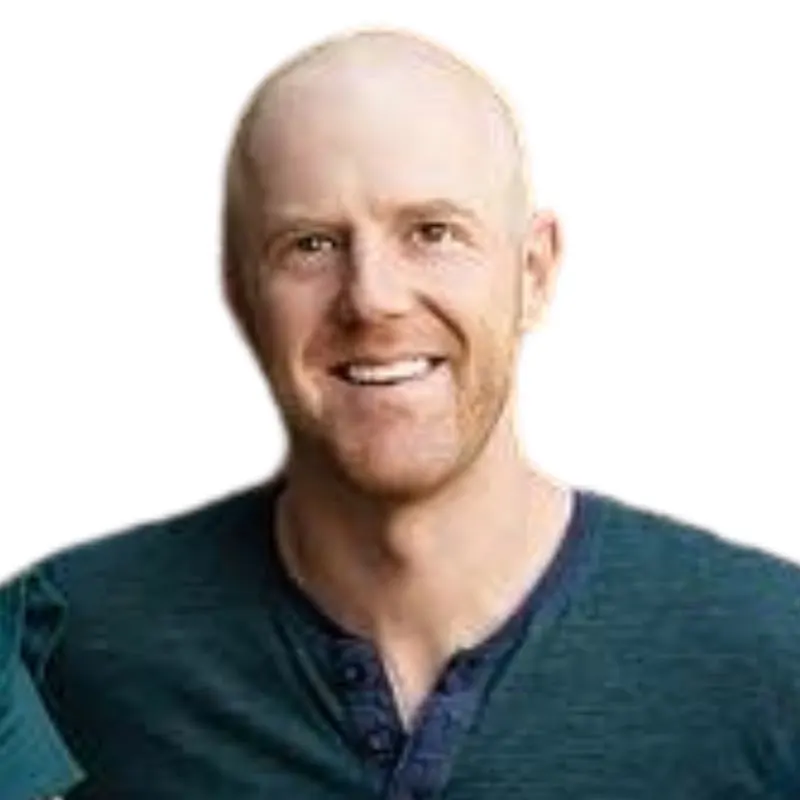 Hey there, I'm Sean, the woodworking enthusiast and builder behind CharlestonCrafted.com! Since 2012, I've been sharing the magic of turning raw materials into beautiful creations. I love teaching others the art and satisfaction of woodworking and DIY. I try to inspire fellow crafters to make something extraordinary out of nothing at all.