If you are shopping for bedding, sheets, or towels on Amazon, you are likely to see Pinzon – Amazon's brand of linens.
Pinzon company is a private label that was launched by Amazon in 2009. The brand is named after Vicente Yáñez Pinzón, the Spanish explorer who discovered the Amazon River.
I am a big fan of Amazon brands. I wear a TON of GoodThreads and Amazon Essentials clothing via Amazon wardrobe. I wrote a huge blog post on the best Stone & Beam furniture & Rivet rugs – both Amazon brands.
So, I was very excited to check out Pinzon and round up their best linens for you here today!
The Best Pinzon by Amazon Bedding, Sheets + Towels
I have compiled these listings based on customer reviews and star ratings as of the date I am writing this article. I hope that this helps you to decide what sheets and linens to buy!
Towel Sets
Organic Cotton Towels
The Pinzon 6 Piece Blended Egyptian Cotton Bath Towel Set is one of the most rated towel sets on Amazon – and it makes sense, since it is what Amazon Recommends for the search "towel set".
These organic cotton towels come in a set of 4 towels or a set of 6, which includes two towels, two hand towels, and two wash cloths. Bath towels measure 30 x 56 inches, hand towels measure 18 x 30 inches, washcloths measure 13 x 13 inches.
They are described as medium weight, high absorbency, and medium softness.
These towels come in 8 colors, most of them neutrals.
According to the Pinzon reviews, the big negative of these towels is that they let off a lot of lint in the dryer – especially on the first few washes.
These are also not thick towels – they are very absorbent, but not plush in feel.
Pros of these towels are the very low price for the quality and the fact that the bath towel is slightly larger than the standard bath towel.
Egyptian Cotton Towels
The next type of Pinzon towels are Pinzon Egyptian Cotton bath towels. These towels are slightly more expensive than the organic cotton towels.
They are made from 100% cotton and also come in a 4 towel or 6 piece set. Bath towels measure 30 x 56 inches, hand towels measure 18 x 30 inches, washcloths measure 13 x 13 inches.
It is worth noting that these towels are made from an Egyptian cotton blend. They are lighter weight than the organic cotton towels.
Amazon reviews have similar complaints about linting and lack of plushness.
Pinzon Heavyweight Luxury Cotton Large Towel
Amazon also sells Pinzon Heavyweight Luxury Cotton Large Towels. These towels are sold individually and cost as much for 1 as for 4 of the more standard towels.
These towels are 100% cotton, measures 70 x 40 inches and weighs 35 ounces.
The luxury towels come in 5 colors. They are 2 ply, and billed as ultra plush and luxurious.
The reviews on these towels are raving. Shoppers tell you to buy a bunch, and that they are comparable to Restoration Hardware towels.
The biggest negative in the reviews is the fact that they are so literally heavy. If you are bothered by heavy things, this might not be the towel for you.
Pinzon Pima Cotton Towel Sets
I want to mention the pima cotton towels so you don't think I missed them – they are poorly rated on Amazon and after reviewing the customer reviews, I do not recommend them!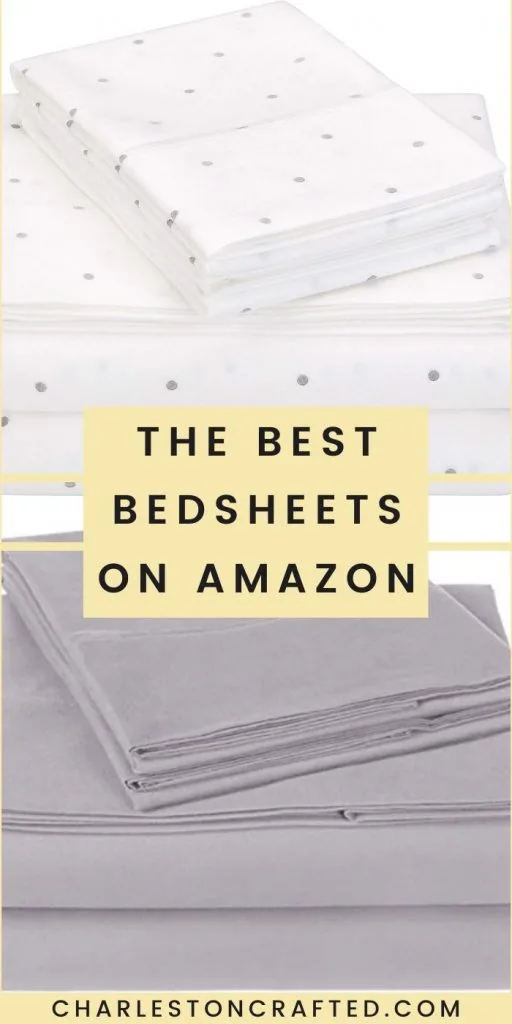 Sheet Sets
Organic Cotton Bed Sheets
The Pinzon 300 Thread Count Organic Cotton Bed Sheet Set is made from 100% cotton grown from GMO-free seeds. They come in 6 colors and 6 standard sizes.
This sheet set features a percale finish for softness and 300 thread count sheets.
Reviewers say that the sheets feel crisp and cool. They are a durable fabric that holds up well to washing, even in hot water. Customers also say they are generously sized and the fitted sheet has great stretch.
The only complaints on the reviews are that some of the colors of sheets can bleed or lose color in the washer – though it appears that Amazon replaced those sets without a problem. There are also some complaints that they wrinkle in the wash.
Flannel Bed Sheets
If you prefer flannel for your bedding, Pinzon has an option for that, too. The Pinzon Flannel Bed Sheet Sets come in several colors and patterns, too!
These sheets are 100% cotton and feature a double-napped finish on both sides for an ultra velvety feel to the 190 gram flannel weight.
They actually offer several flannel sheet options:
Purchasers review these sheets has having that thick, soft, old-fashioned flannel feel. They are described as sturdy, soft, and warm all year round.
There are a few complaints of the heavyweight velvet flannel sheets pilling. However, the reviews are overwhelmingly positive.
Throw Blankets
Velvet Plush Blanket
If you are looking for a soft blanket, the Pinzon Velvet Plush Blanket is a gorgeous option.
This blanket is made from 100% polyester. It comes in a few sizes and many colors. It is micro-plush but still machine washable. This material is very durable and likely to last a long time.
Many customer reviews claim to have returned and bought more of these blankets! They are described as not too thick – perfect for cool evenings. The texture is described as rich and silky.
However, the biggest negative is once again the shedding. These blankets appear to give off a lot of lint and leave fibers behind!
Faux Fur Throw Blanket
The Pinzon Faux Fur Throw Blanket is another great throw blanket option from Amazon. This blanket is also 100% polyester, but has more of a furry rather than velvet texture.
This blanket has 1/2 inch thick fur on one side and a velvety material on the back. It comes in several colors and appears to be warm and cozy.
Reviewers describe this blanket as soft and silky – not super warm. Customers say this makes an excellent gift and that the ivory color is softer than the brown version.
Bathrobes
The Pinzon Terry Bathrobe is a very highly rated robe and a great bang for your buck.
It is a plush terry-cotton robe made from 100% cotton. It is about 3/4 in length and includes a shawl collar, two pockets, and a removable belt.
It is unisex and comes in a wide variety of sizes and colors – there is something for everyone!
Customer reviews describe these robes as warm, soft, and cozy. The biggest complaint in negative reviews is that the material is prone to snags, which can lead to unravelling of stitches.
I hope that this article answers any questions that you might have about Pinzon products from Amazon!