I recently discovered the Amazon service Prime Wardrobe and gave it a try. I had a really great experience and wanted to share an Amazon Prime Wardrobe review with you here today! Amazon Prime Wardrobe is a service on Amazon that mails you clothes to try on that you pick out. They do not charge your card at the time.
Amazon Prime Wardrobe Review
You have 7 days from the day that USPS marks the box as delivered to try on the clothes items at home and send back what you do not want to keep. They only charge you for what you keep after the 7-day try on period.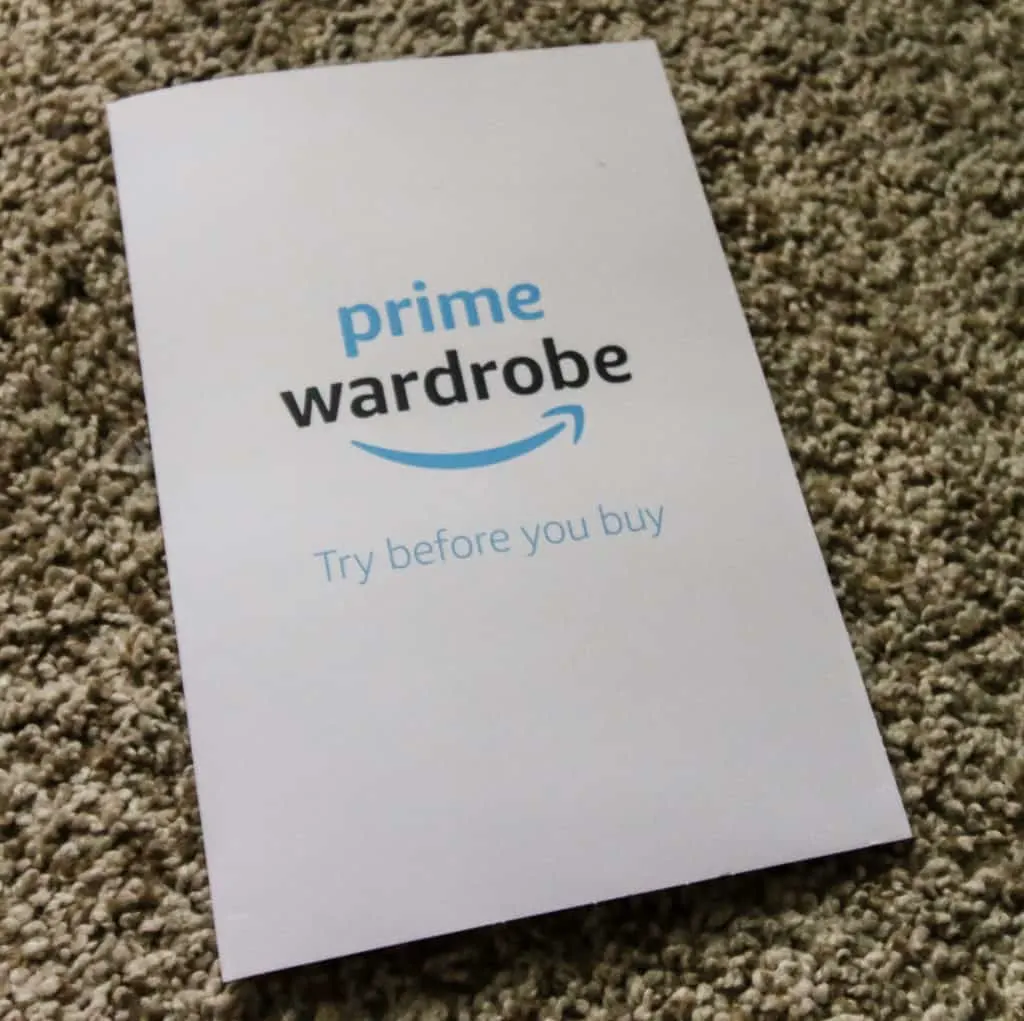 How does Amazon Prime Wardrobe work?
You log onto the Amazon site and go to the wardrobe section.
Use filters or search to find what you are looking for. You have to add at least 3 Wardrobe-qualified items to your cart to qualify. Be sure to look for the blue text "prime wardrobe" under the price. Check your size and color preference to be sure that it still qualifies.
When you have at least 3 items in your cart, you can place your order.
In a normal Amazon order, this is when your card would be charged for everything. Instead, you are not charged at all.
You get 7 days after the box arrives at your house to decide if you want to keep the items or not.
The box comes with a re-seal strip and a return label. You don't even need a piece of tape or a printer to return the things that you don't want.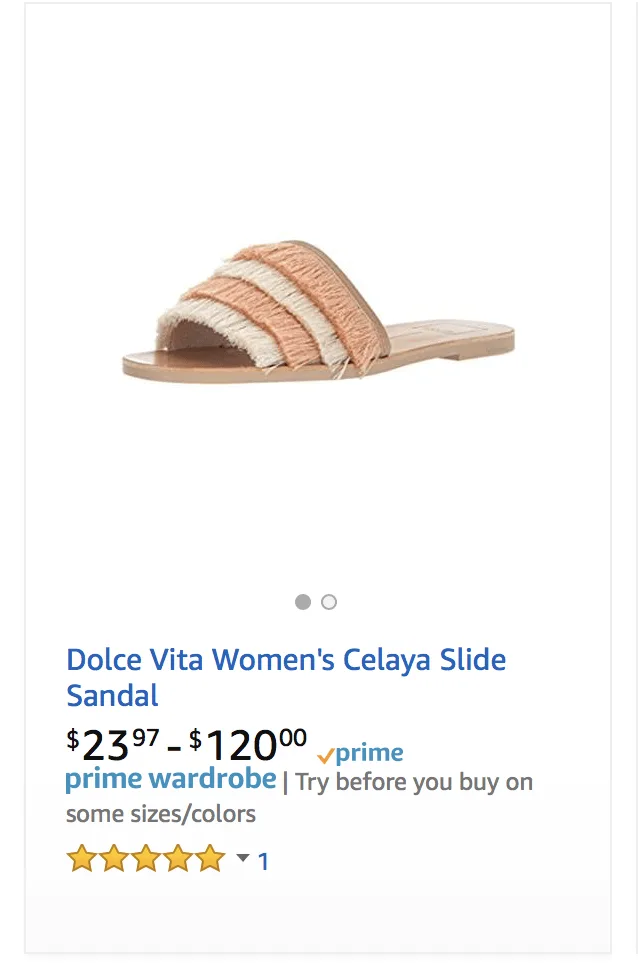 My Amazon Prime Wardrobe Case Study
I thought that a case study might help make this service make more sense. I needed a new strapless bra. We don't really have any decent department stores here in Charleston (seriously!) especially not within 30 minutes of my house. My best bet is a Nordstrom Rack that is 30-40 minutes away.
Since I wasn't sure what size or style I wanted exactly, I was able to pick out 5 different strapless bras on Amazon Prime Wardrobe and order them all at once. In case you are a guy (Sean is always shocked!) bras are expensive. These were between $30-75 each. So, if I bought them all at once from Amazon hoping to return them, that would have been almost $200 floating on my credit card.
This service charged me nothing. I got all 5, tried them on, picked my favorites (oops I kept 2!) and sent the rest back. Amazon only charges for what I keep. I didn't have to go to a store, and it was really fast and easy.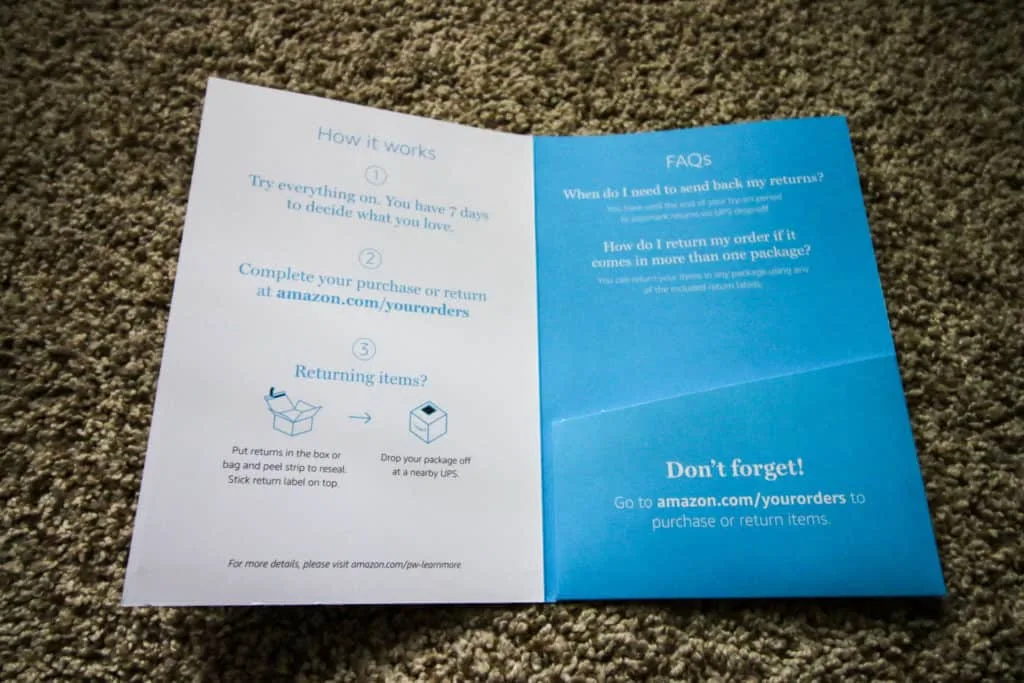 What went well with Amazon Prime Wardrobe?
If you don't know exactly what you want, you can get a few to try out without even having to float the cost on your credit card for a week.
Amazon Prime packages the clothes very well. The box included a peel and stick strip and the return label so I didn't need anything special to mail it back.
I didn't have to brave the mall, which is a major win for this millennial.
I ended up finding something that I like and in the future could always re-order this specific item the traditional Amazon way.

Any negatives?
Amazon's Wardrobe section is limited. Not all clothing is available this way and within certain items, some colors and sizes are not available. This limited me in my search. I believe it will expand in the future.
It took from placing my order Saturday until Friday to receive me box (5 business days). I am used to 2 day shipping so this seemed like forever.
You have to be a Prime member to use this service. I have been since 2012, so no issue for me, but this could be an issue if you are not a member.
This is not a discount shopping service. Everything is full price, so you aren't saving any money shopping this way.
You have to ship the box back UPS, which is slightly inconvenient to me as it was too big to fit in a UPS drop box so I had to take it to a store.
Have you tried Amazon Prime Wardrobe?
This post was not sponsored by Amazon. They did not pay me or give me anything to write this post and they didn't ask me to write it at all! I tried the new service and wanted to share a review. This posts contains affiliate links which means that if you click through and make a purchase, we will receive a small percentage of the sale. Thanks for your support!