Y'all know that I am an Amazon fiend. So, you'll know that I was thrilled to find out that Amazon now has their own furniture and decor line. I have always been impressed by Amazon Basic products, so I am very excited to check out this line. Here are my favorites from Stone & Beam – Amazon's modern farmhouse furniture & decor line.
I have not seen any of these pieces in person, but based on reviews on Amazon, they seem to be very popular and of a good quality! The pricing is not super cheap but it's not unreasonable, either.
Also be sure to check out my round ups of Stone and Beam sofas, Stone and Beam table lamps and Stone and Beam floor lamps!
The Best of Stone & Beam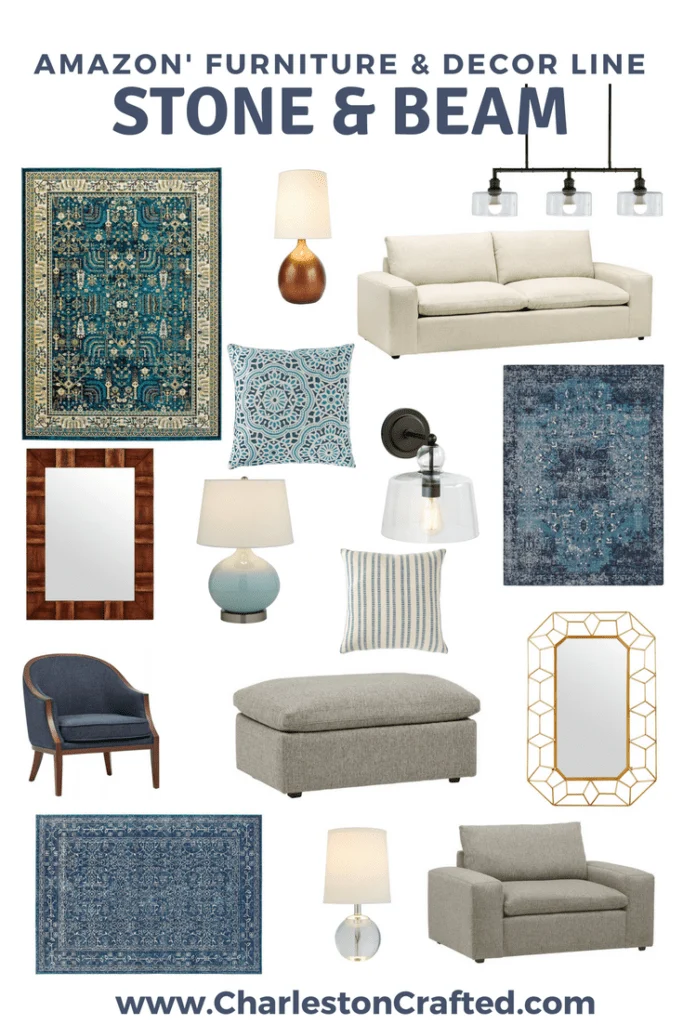 Clockwise from top left
Rug // Pillow // Lamp // Sofa // Chandelier
Rug // Sconce // Mirror // Pillow // Ottoman
Chair // Lamp // Rug // Chair // Mirror // Lamp
I really love all of the shades of blue + gray in this collection. They are trendy while still being classic and inviting.
All three of these rugs are my signature shades of blue but also have intricate details that make them look much more expensive than they are!
The wall hanging mirrors are very unique. That gold geometric framed mirror looks so high end!
There is so much good lighting in the Stone and Beam collection. I love the table lamps – so many gourds with crisp lamp shades! Also, check out some of the hardwired light fixtures. They are fabulous!
I would be really intrigued to check out the Stone and Beam furniture in person. I love the look of this cozy grey chair and ottoman!
Stone and Beam also features a lot of accessories like pillows that are an inexpensive way to freshen up your space.
Have you ordered any of the new Amazon decor?