Want to paint a dramatic accent wall in your home? Here are the best paint colors for a dramatic accent wall!
I fully believe that paint is the easiest and cheapest way to transform a room in your home.
And, painting just one accent wall is even easier and cheaper than painting the whole room!
In this blog post, we will dive into the exciting world of dramatic accent walls and explore the best accent paint colors for any room.
Whether you're looking to add depth, create a focal point, or simply make a bold statement, these paint colors are sure to elevate your home decor to new heights.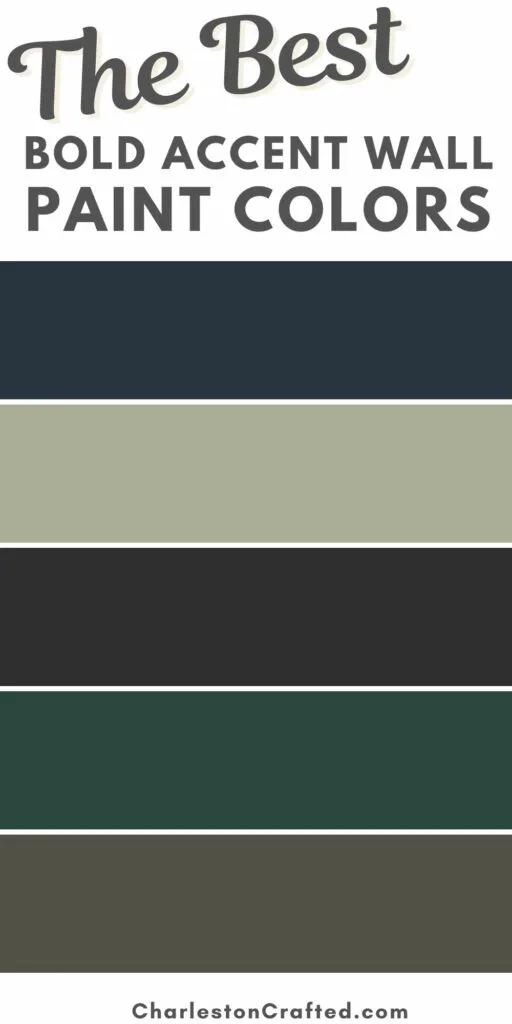 Understanding the Purpose of an Accent Wall
Before we dive into the colors, it's essential to grasp the concept and purpose of an accent wall.
An accent wall is a single wall in a room that stands out from the rest, drawing attention and creating visual interest.
It serves as a backdrop for furniture, artwork, or decorative elements, instantly transforming the atmosphere of a space.
Accent walls are usually done on the wall that you face when you enter the room – on the wall oposite of the primary entrance.
In addition to paint, accent walls can be designed with:
But, for the purpose of this article, we are going to focus on painted accent walls.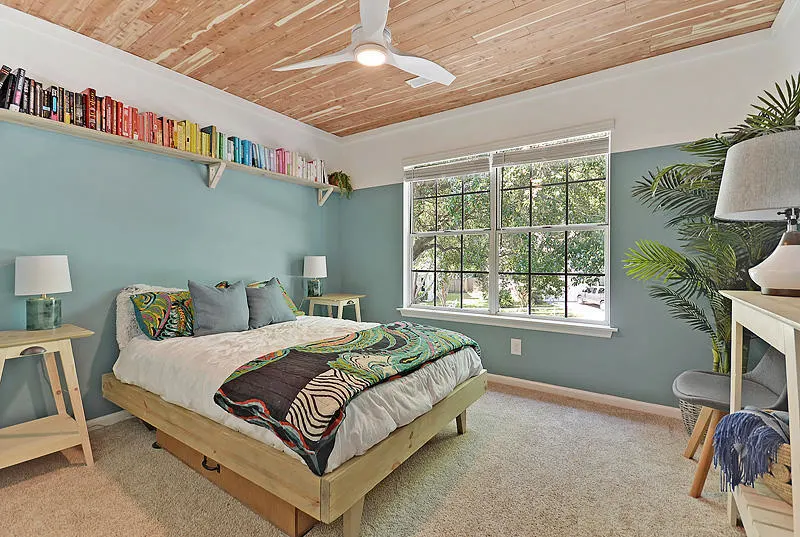 Tips for Successful Execution
As with any DIY project, one of the most important parts of painting an accent wall is the planning and prep work.
Here are some things to consider before committing to your accent wall color.
Consider Lighting
Assess how natural and artificial light interact with your chosen paint color to ensure the desired effect.
Remember: cool lighting (like LED light bulbs or north-facing windows) will make wall colors look cooler. Warm lighting like south-facing windows will make wall colors look more yellow.
It's super important to swatch colors on your actual wall and look at it day in natural light and night in artificial light and be sure you like how it looks in all lighting situations.
Furniture and Decor
Unless you are replacing all of the furniture in your room, you are going to want to pick an accent wall paint idea that coordinates with your existing furniture.
Consider if you want a monochromatic color that matches the furniture or a contrasting accent wall color.
If you want a monochromatic look, I suggest choosing a shade 2-3 shades lighter or darker than your furniture so you still have contrast.
Accent Wall Placement
Accent walls are typically the wall that you face when you enter a room.
However, there are a few other options. If your room already has a focal point – like a fireplace or wall behind a headboard – this would be the natural place to do an accent wall.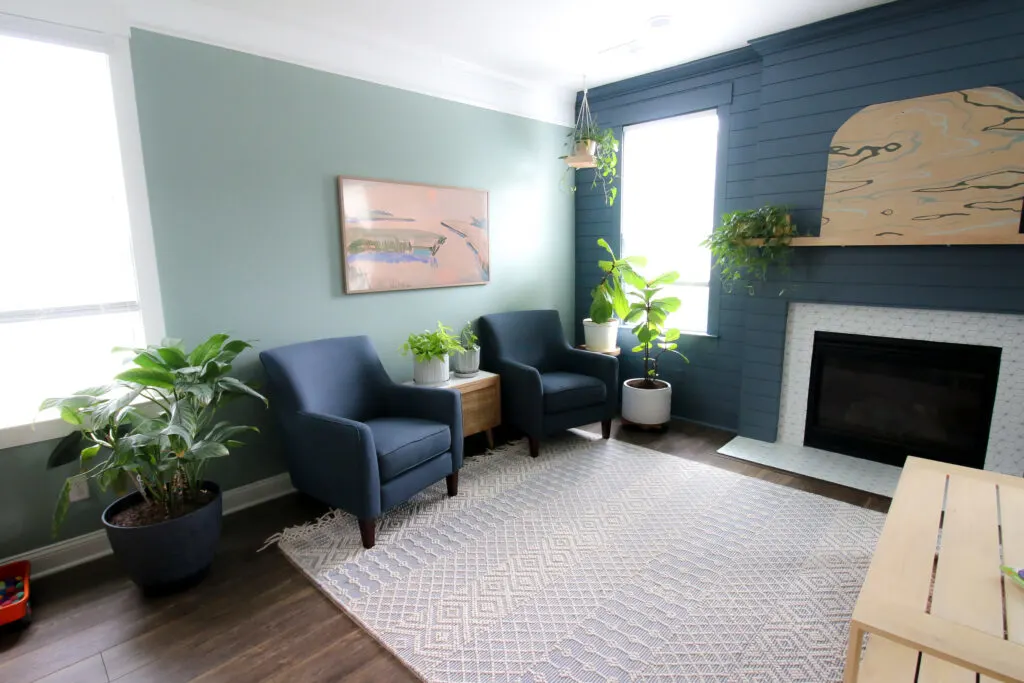 The best accent wall colors
Here are some popular accent wall colors broken down by color family.
The Power of Dark and Moody Tones
Moody colors are a great way to add drama without adding too much bright color to your accent wall.
Elegant and Timeless: Deep Navy
Deep navy blue is a classic paint color that adds a sophisticated touch to any room. It pairs well with metallic accents, white trims, and warm wood tones.
Navy accent wall colors:
See all of my favorite navy blue paint colors here.
Luxurious and Intense: Charcoal Gray
Charcoal gray is a super versatile paint color that complements both modern and traditional aesthetics. Charcoal comes in both warm and cool tones to pair with most color schemes.
Charcoal accent wall colors: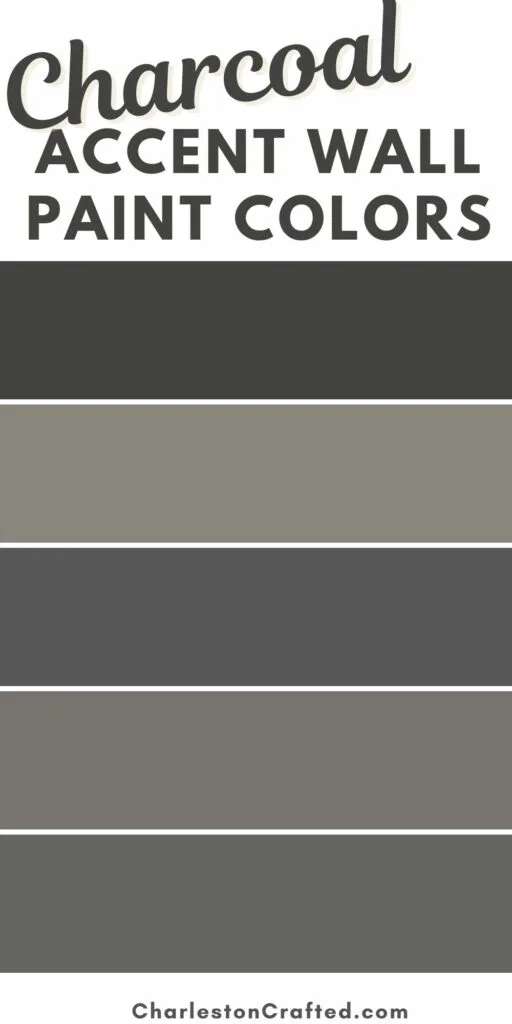 Modern Chic: Dark Brown
Dark Brown is actually trending right now due to the rise in popularity of warm paint colors. It's a great option if you have a lot of other warm accents like furniture, tile, or flooring.
Dark Brown accent wall colors: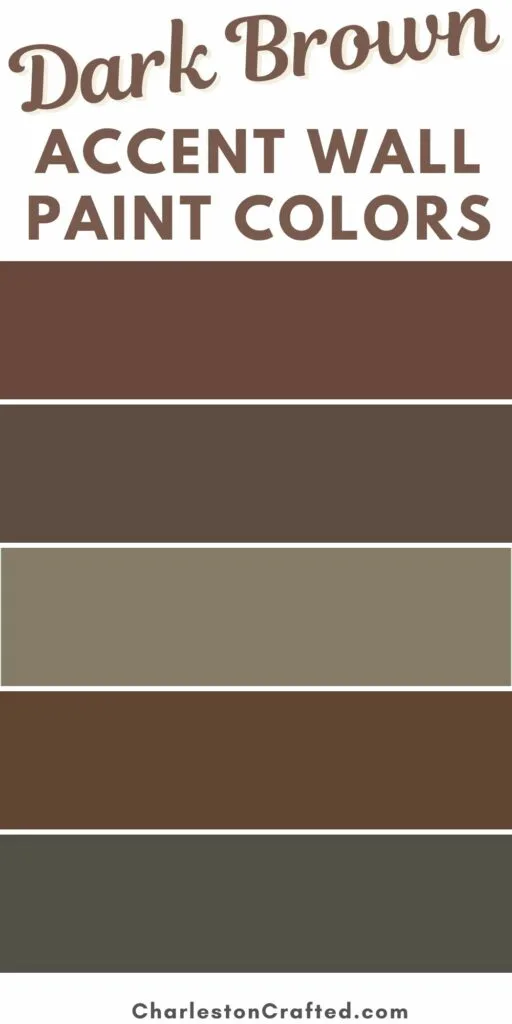 Embracing Rich Jewel Tones
Prefer more color? Jewel tones are definitely a dramatic choice, but are a good option if you want you wall to add bold color to the room.
Regal and Opulent: Emerald Green
A bold emerald green infuses a sense of luxury and freshness into a space. I love a deep green wall paired with gold and white accents – that's the look we went for in both our primary and guest bedrooms!
Emerald Green accent wall colors: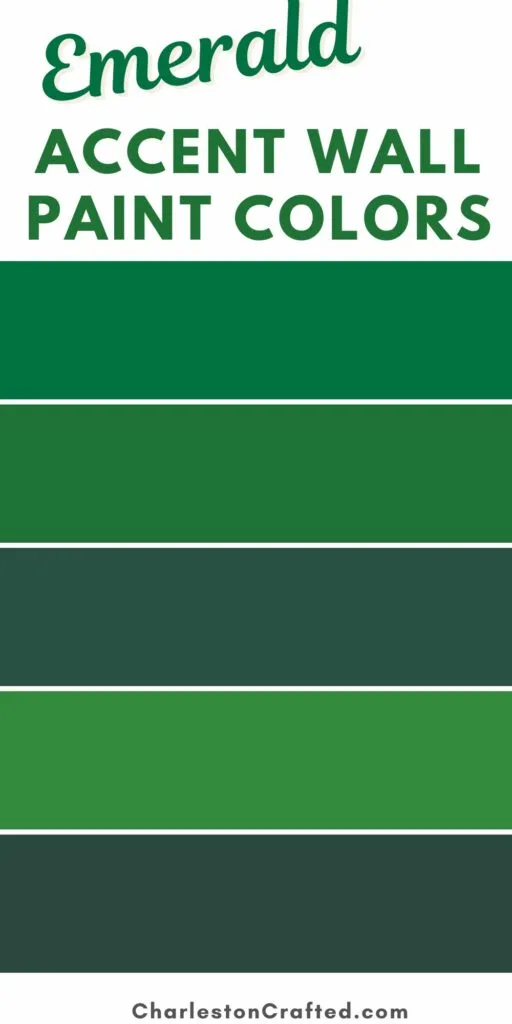 Vibrant and Passionate: Ruby Red
Red is a super bold paint color that I do not personally prefer to decorate with. However, it is a really popular option for an accent wall, especially in "masculine" designed spaces.
Red accent wall colors: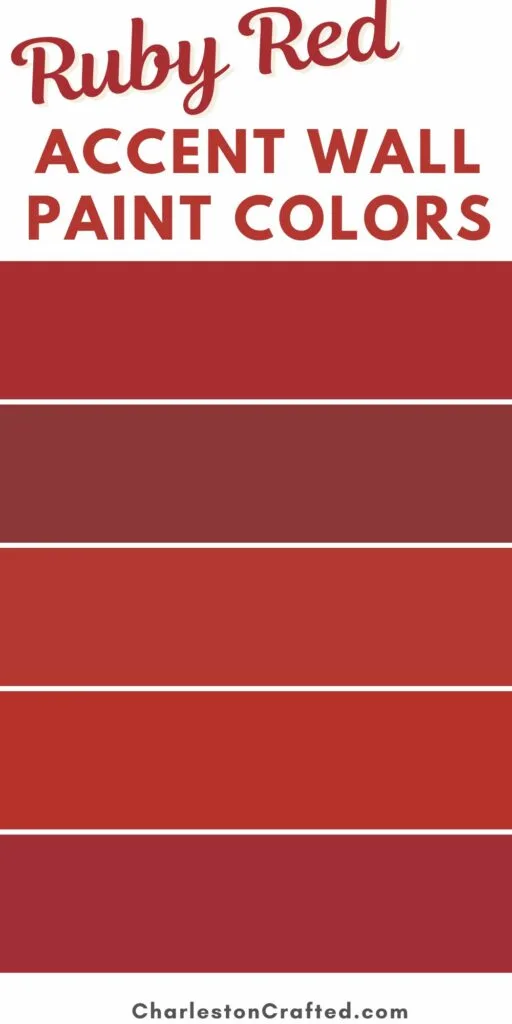 Modern feature wall colors
Black and green accent walls are both really having a moment right now. Here are some of my favorite shades!
Earthy and Cozy: Sage Green
Sage Green is one of my favorite paint colors at the moment. It's a nice soft pop of color that pairs really nicely with neutrals. It's a great option for an accent color that feels bold next to neutral, but is not overpowering.
Sage Green accent wall colors:
Click here to see all of my favorite sage green paint colors!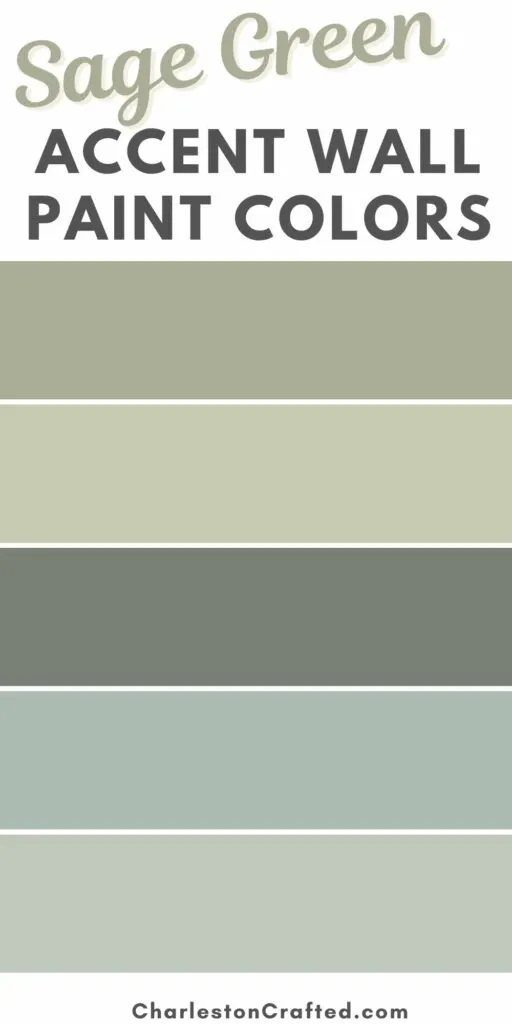 Striking and Enigmatic: Charismatic Black
Black can be a powerful choice for an accent wall, bringing with it a sense of drama and sophistication.
I love a matte black wall in a really modern space – it can be surprisingly cozy!
Black accent wall colors: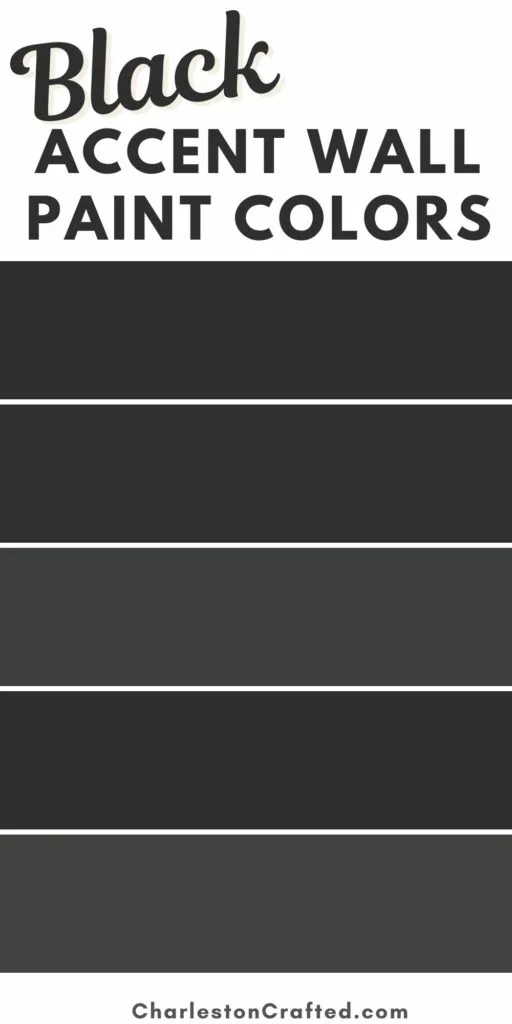 With these captivating paint color suggestions, you're now equipped to create a show-stopping accent wall that will elevate your home's interior design.
Happy painting!
Any more questions about accent wall paint colors?