Have a small bathroom? These over the toilet storage ideas will help you maximize every square foot!
Over the toilet storage is a surprisingly controversial topic. And I get it – traditional over the toilet free standing shelves can look cheap and bad.
But, let's be real. If you have a small bathroom, the area over your toilet is prime real estate. Sure, in a spa-sized bathroom it's where you'd hang your personally commissioned oil paintings. But, here in the real world, it's the perfect space for storage.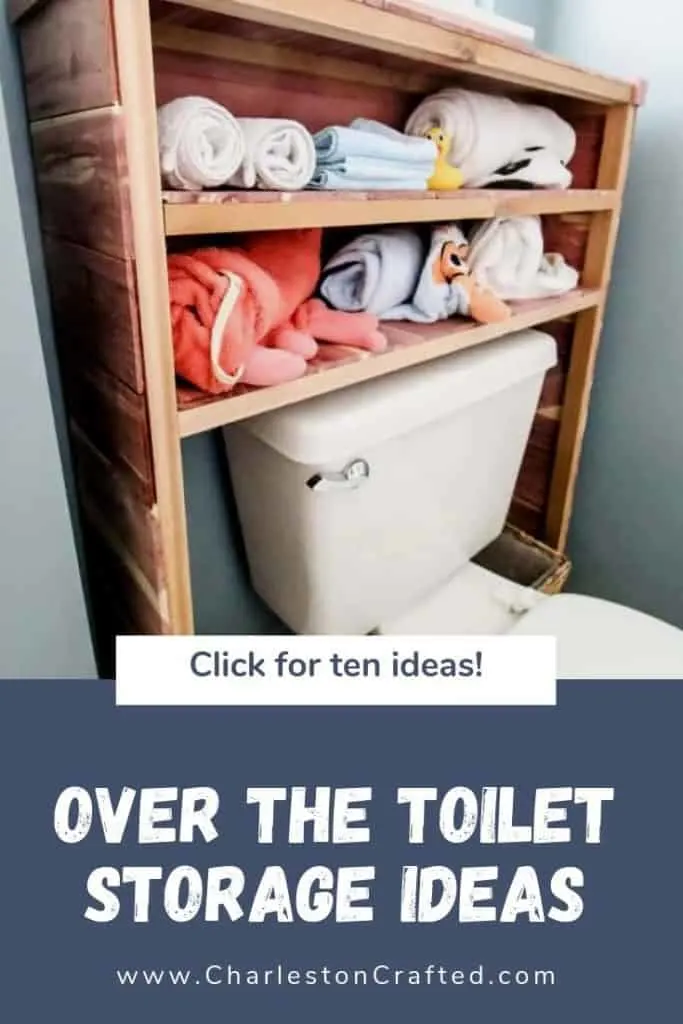 Types of over the toilet storage
There are two main types of over the toilet storage:
Free standing over the toilet organizer
Wall mounted over the toilet shelves
Each have their pros and cons.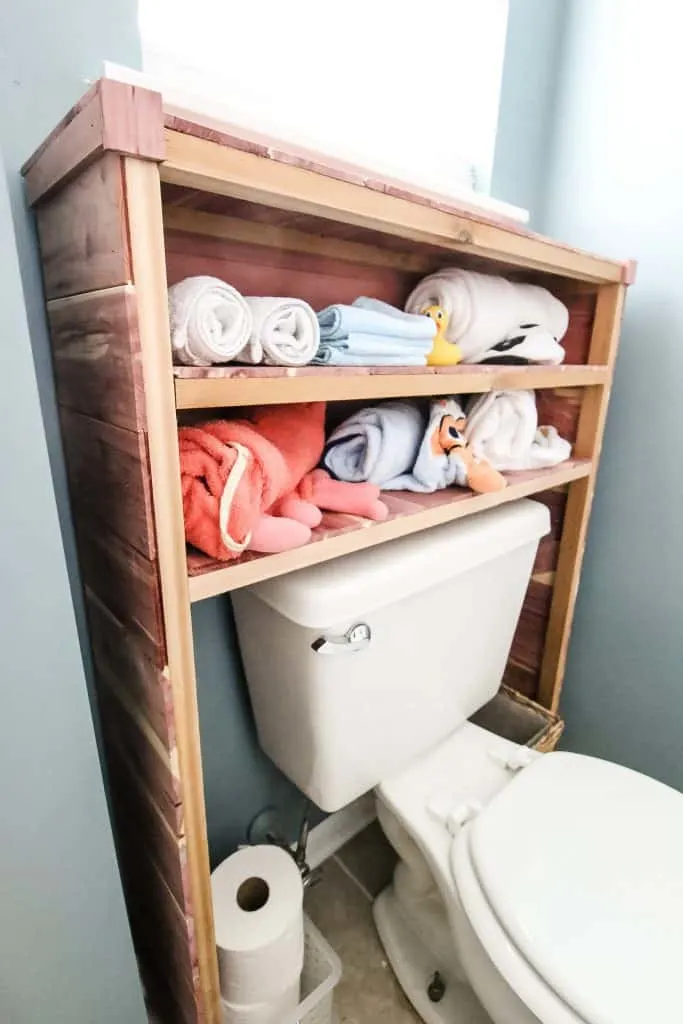 Free standing over the toilet storage
If you are a renter and can't put holes in the wall, free standing is the way to go. They are completely free standing and independent from the walls.
Another good use case for over the toilet shelving is if you have a window over your toilet tank. Windows don't leave room for wall mounted shelves, but freestanding units will often work.
Think outside the box – you don't need an official "over the toilet" system. A leaning blanket ladder works really well for towels and often fits right over the toilet. You can always easily remove the bottom rung to make it work!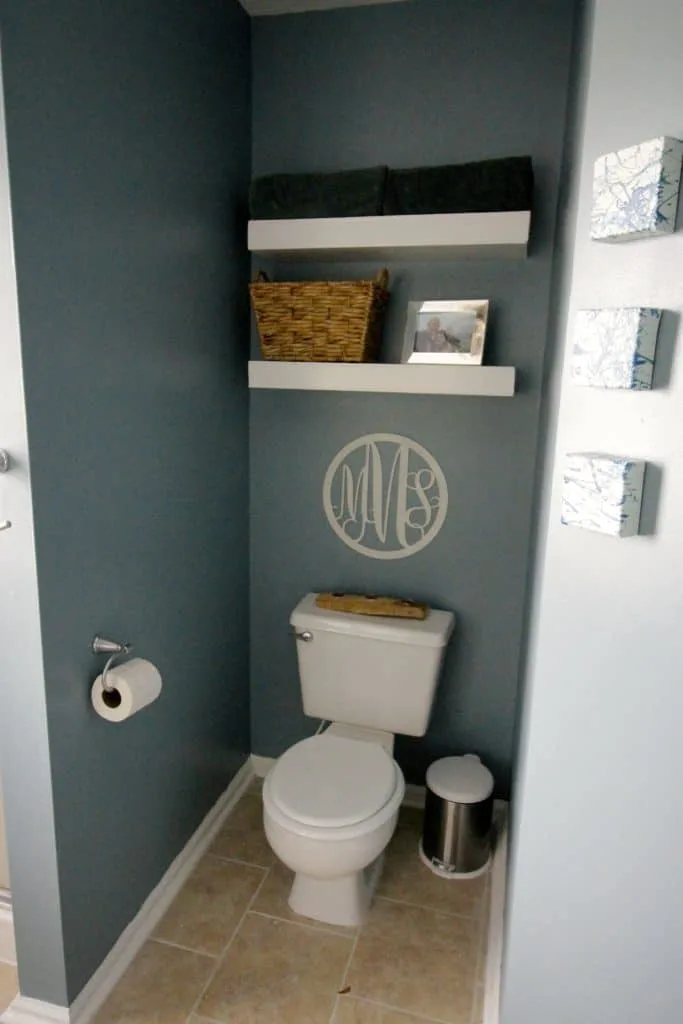 Wall mounted over the toilet storage
Wall mounted shelves often look more custom and high end than freestanding units. You can add any kind of shelving into the space over your toilet for a totally custom look.
These don't take up any floor space whatsoever – making them great for extra small bathrooms.
Installing shelves can be a really easy project – you can buy floating shelf kits at places like Target if you don't want to worry about building them from scratch.
Shelves are the perfect place to display some decor in your bathroom, too. The bathroom can be a weird part of the home to decorate, and you definitely want a "less is more" mindset. However, a few pretty touches can really soften the space up!
We have both types of over the toilet storage in our home – we mounted floating shelves in our master bathroom and built a cedar over the toilet freestanding shelf in our guest bathroom.
Additionally, you could always mount a cabinet over the toilet. Our condo bathrooms had cabinets over the toilets. You could pick one up second hand and mount it like we did in our laundry room!
Mounting a cabinet works really well in a small space, too, and can look really high-end with the right decor!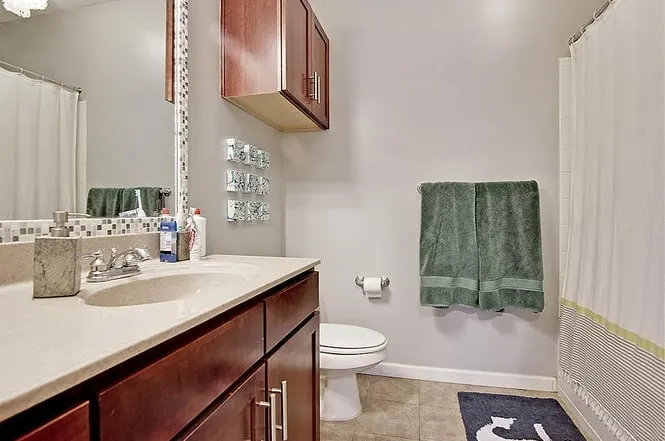 DIY Over the toilet storage
Your best bet for custom-looking over the toilet storage is to DIY it! And, it's easier than you might think.
Whether you prefer a rustic, wood look, or a sleek and modern look, there is something here for you.
Here are some of my favorite DIY over the toilet storage ideas from some of my favorite bloggers!
Over the toilet storage ideas
The area over your toilet is a valuable place to get additional storage, especially in a small bathroom. Here are some fantastic ideas to maximize that space!
This over the toilet storage solution provides you with shelves to store frequently used bathroom items and uses dead space. Using cedar adds a nice aroma to the bathroom and is resistant to water.
If you're looking to add some clean looking shelves to your room, here's how to build and install floating shelves.
Photo Credit: www.houseonlongwoodlane.com
This bathroom makeover features beautiful floating wooden shelves over the toilet nook.
Photo Credit: www.houseonlongwoodlane.com
This bathroom features wooden shelves with decorative metal brackets over the toilet.
Photo Credit: www.livingletterhome.com
This bathroom features a combination of shelves & hooks over the toilet for really functional storage.
Photo Credit: www.diybeautify.com
This tiny bathroom features leaning ladder style freestanding storage over the toilet for a farmhouse look.
Photo Credit: housefulofhandmade.com
If you want a more traditional look, consider building a custom w
Photo Credit: repurposeandupcycle.com
Instead of plain floating shelves, what about shelves with unique, geometric brackets?
Photo Credit: www.pillarboxblue.com
I love the fact that this unique over the toilet shelf was upcycled from an old drawer!
Photo Credit: www.amazon.com
If you'd prefer to purchase a ready-to-go toilet shelf, this one is really good looking!
Looking for more simple bathroom storage ideas? You'll love our DIY open shelving from an old medicine cabinet!
Frequently Asked Questions
I hope that these tips help to make your bathroom decorating and organizing project a breeze!
How high should a bathroom cabinet or shelves be hung over the toilet?
Shelves and cabinets should be hung two feet above the top of the toilet tank! Shelving should be high enough that you won't hit your head, but still within reasonable reach.
We found 2 shelves the magic number, but if you add a third up high – don't store anything that you need to access frequently on it!
How deep should bathroom shelves be?
Shelves should be at least 3 or 4 inches deep to be functional. If you don't have the space, consider a picture ledge instead.
If your toilet is in a nook, you can have deeper shelving. Don't go deeper than the depth of the toilet tank to avoid hitting your head.
How do you space a shelf?
Shelves should be between 8 and 12 inches apart on the wall. If you have taller items to store, you can make them up to 15 inches apart, but be sure to fill the space so it doesn't look awkward.
Where to put towels in a small bathroom
There are a few choices for where to put towels in a bathroom. Obviously, if you have a linen closet, that's a great spot. I will assume that you don't if you are asking this question.
Other simple options are:
Rolled or folded on a shelf
Inside a cabinet
Under the sink
In a basket or bin
Add a hook to hang them on
On a towel rod
How to decorate floating shelves in bathroom
Bathroom shelves should be decorated with a variety of both practical and beautiful items.
Practical items such as toiletries are often more attractive if they are stored in a bin or basket. Consider bins with lids if you want to keep the things you are storing private from guests.
How to store medicine without a medicine cabinet
If you want to store medicine, you have a few options. One is to put it inside a cabinet. Your best bet is inside a clear plastic bin. Here is how I organized under our sink including medicine.
You can also get an attractive non-clear bin or basket and place medicine inside it on a shelf.
How high above a toilet should you hang a picture?
The center of your art or photo should be between 56 and 60 inches from the floor. The toilet is low enough that it should not interfere with your art.
How wide can shelves be without support?
Shelves more than 36 inches wide typically need a center support bracket, though this will vary depending on the shelf material and how heavy of things you put on it.
Can you hang paintings in the bathroom?
You can definitely hang art in the bathroom! Just be sure it's not paper-based and can withstand moisture, if the bathroom has a shower.
Can you use kitchen cabinets in a bathroom?
You can use kitchen cabinets in a bathroom function-wise, but you might find the sizing off. Bathroom cabinets tend to be smaller and less deep than kitchen cabinets, so be sure to measure twice before making that purchase.
What do you think of over the toilet storage?