RSVP is a major topic on WeddingBee, so I wanted to write a post about our experience.
I know that a lot of people worry about how many people they should invite and actually expect and who will even RSVP, depending on a variety of factors. Here is our case study.
For the record, we sent out 83 invitations to a total of 146 guests. We sent invitations on the 31st of January and had an RSVP by date of March 1st. We also sent out save the dates last fall.
Of our guests, 10 RSVPed within a week of sending the invitation, and 48 RSVPed before the March 1st deadline. We had to "hunt down" 35 invitation RSVPs. Two of those said they never got the invitation. Some of the rest were still making up their mind, some were in the mail when we called (5 days after the deadline) and some just never returned their RSVP cards.
In total, we have 103 people who said they will attend our wedding. That means that 43 can't make it. A whole lot of our guests are out of state, so we were expecting that.
Out of local guests, 10 out of 12 invitations RSVPed yes. As far as out of state guests go, 53 out of 74 invitations RSVPed yes.
We had a 76 percent friend acceptance rate, 56 percent (non-immediate) family acceptance rate, and 100 percent bridal party and immediate family acceptance rate! 🙂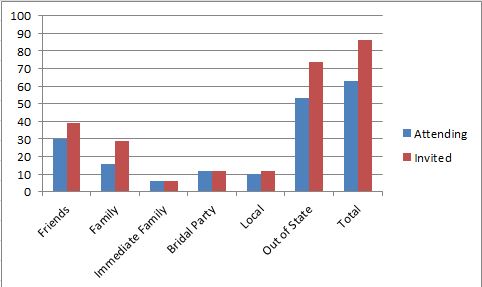 What kind of responses did you get for your RSVPs?